On November 6, 2021, at the 83rd Congress in Antalya, Turkey, Watanabe Morinari will face off with Farid Gayibov for the FIG presidency.
When Watanabe was elected president, it was a big deal. Let's take a look at what was said in the Japanese press at the time.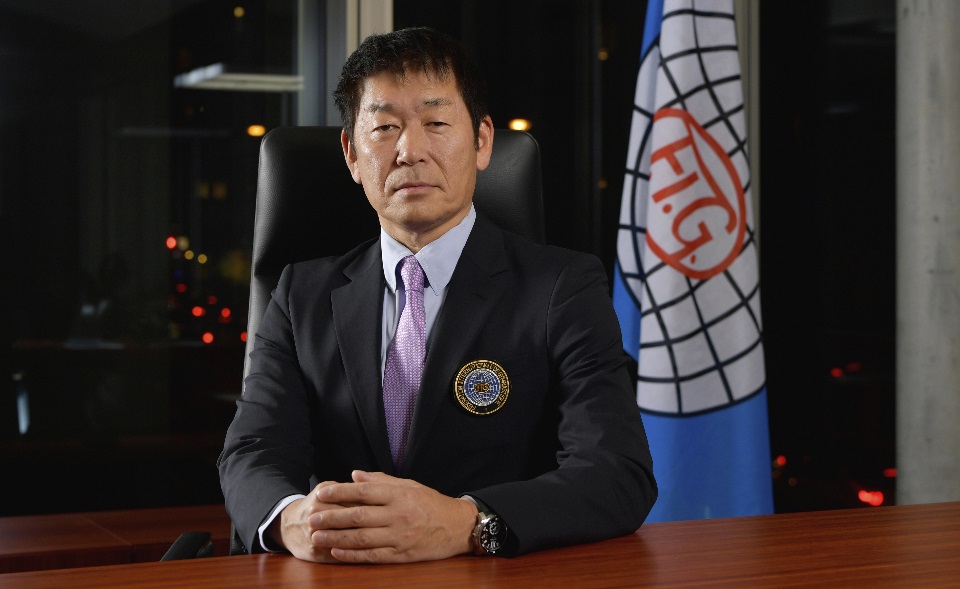 Stronger Japanese presence in international sports federations will boost influence
It is hoped that the ongoing trend will heighten Japan's position in the international arena, thereby gaining a foothold toward turning our country into a powerhouse of sports.
A growing number of Japanese are being chosen as officials of international federations for competitive sports.
Morinari Watanabe, former secretary general of the Japan Gymnastics Association (JGA), has been inaugurated as president of the International Gymnastics Federation. His election means that a non-European figure has been chosen to head gymnastics' world governing body for the first time. It also marks the first time in 22 years that a Japanese has become president of an international federation for an Olympic event.
Although he produced few notable achievements during his athletic career, Watanabe established a rhythmic gymnastics school at a major distribution company where he obtained employment, and also increased the number of corporate sponsors during his days at JGA.
We would like Watanabe to utilize the abilities he has acquired to strive for the further development of Japanese gymnastics, a sport at which Japan can be said to be especially skilled.
Important posts at many international sports federations are held by figures from Europe and the United States, allowing them to exercise a strong influence on the management of these bodies. In the past, rule changes were made that would adversely affect Japanese athletes, such as restrictions on the length of skis to be used in ski jumping.
A similar situation was also true even with judo, a sport of Japanese origin. There was a time when no Japanese was included in the list of directors at the international governing body for judo. In 2014, Japan was not able to obtain information about a planned meeting of directors. This caused our country to suffer the bitter experience of failing to bring an international judo contest to Japan.
Better reflect Japan's stance
There are great advantages to assuming a senior position at an international sports federation. Doing so makes it easier for Japan to reflect its opinion in the organizational management of such a body. It is possible to become strategically involved in revising pertinent rules. If athletes are provided with information promptly, they will be able to take carefully thought-out steps to deal with the situation. Efforts to bring an international competition to Japan will also be supported.
Japan has been making its presence felt internationally in the form of such contributions as sponsoring international competitions and offering equipment and materials. If this is combined with an increased number of Japanese personnel who actively work at international federations, it will further enhance trust in our nation.
Last fiscal year, the government started supporting bids to have Japanese personnel elected as officials of international federations, pursuing a strategy to double the number of such personnel. This support includes helping to cover lobbying expenses, holding receptions at diplomatic establishments overseas and devising plans for such electoral bids.
The number of Japanese officials at international federations stands at 21 at 20 bodies, an increase from 17 at 16 federations two years ago. A Japanese person has been appointed as a vice president of the international triathlon federation. At the world rowing federation, a Japanese was elected as a director for the first time. Daichi Suzuki, commissioner of the Japan Sports Agency, is expected to be elected as director at FINA, the governing body of swimming.
Concerted efforts by the government, the Japanese Olympic Committee and sports associations are gradually bearing fruit. This trend needs to be accelerated.
The JOC is holding a course of lectures in which abilities can be acquired such as foreign language skills and techniques for giving presentations and advancing proposals, thereby training personnel tipped as prospective officials at international federations. About 150 personnel from sports associations have so far taken the course.
Besides senior positions at international federations, there is a wide range of areas in which personnel can be actively engaged overseas in this respect, including duties such as technical committee member and management staff for competitions.
Personnel who can work internationally will become a great asset in the management of events of the 2020 Tokyo Olympics and Paralympics.
Japan News, January 16, 2017
---
First, note that the Japanese government was looking to use these positions as a way of advancing the opinions and positions of the Japanese sports delegations. This isn't an apolitical endeavor. It is very political and nationalistic.
Second, after you read that article, things make more sense. It's not surprising that the Japanese government has been doing everything in its power to ensure Watanabe's re-election in 2021:
The Japanese Government is using its Embassies around Europe to drum up support for Morinari Watanabe's campaign to be re-elected as President of the International Gymnastics Federation (FIG), insidethegames can reveal.

At the same time, Watanabe is approving requests from national governing bodies around the world to provide them with free equipment.
Only time will tell if the Japanese government's efforts will pay off.