After Čáslavská scored two 10.0s at the 1967 European Championships, a flurry of 10.0s appeared in national competitions during the lead-up to the Mexico City Olympics. Two of the recipients were Erika Zuchold and Karin Janz.
At the East German Championships in July of 1968, Zuchold scored 10.0s on both optional floor and vault, and Janz scored a 10.0 on her optional vault.
What follows is a translation of an article from Neues Deutschland.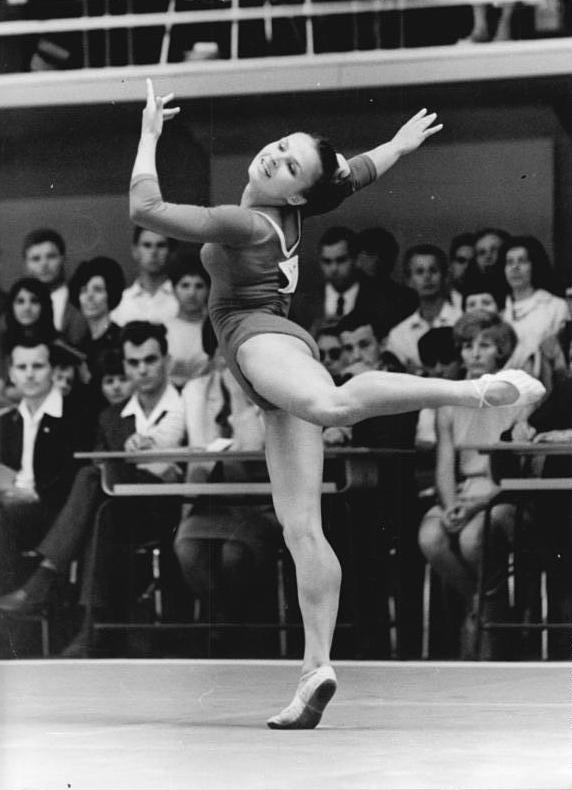 Two 10s for Erika – one for Karin
Erika Zuchold in excellent form, all-around champion in gymnastics ahead of defending champion Karin Janz
Unsatisfactory performance of the next athletes
The absolute highlight of the gymnastics championship of our women in the Olympic year was the floor exercise of the 21-year-old Erika Zuchold from Leipzig on Sunday afternoon in the new gym in Halle-Neustadt. Her exercise is the most original and beautiful that a GDR gymnast has ever shown. It is characterized by high musicality and joyful gymnastics as well as gymnastics-acrobatic connections. All of this is lively and polished down to the smallest detail, seemingly effortless and rousing and spirited. When Erika saluted the judges, there was a storm of applause that the new sports facility has probably never seen before. Erika had to go back to the floor and receive the ovations from the enthusiastic audience. The jury reached deep into the scoring box and rewarded this world-class exercise with the highest possible score, the 10, which is rarely given. With that, Erika became the all-around champion in 1968 and received the honorary award from the chairman of the GDR State Council, Walter Ulbricht.
Defending champion Karin Janz, who had dethroned Erika last year, gave her a good run this time around. A tiny 0.05 point separated the two after the compulsory competition. On the uneven bars, Karin's strongest piece of equipment, the Dynamo gymnast was able to even out the scores again right at the beginning of the optionals portion of the competition. On the balance beam, Karin's usual security and caution were missing for the first time. Uncertainties were clearly noticeable three times. Enough to let Erika pull away again with a 0.35 lead. And then this floor exercise! Karin had performed on this apparatus before Erika and received a remarkable, international 9.80 points. Their deficit had grown to 0.55 points and could not be made up in the final event, vault, either.
It shows the high athletic spirit and the seriousness with which our gymnasts prepare for the Olympic Games that neither one nor the other of our by far best gymnasts lost her concentration. Both also showed exemplary performances on vault. Again, this time for both of them, the dream rating of all gymnasts in the world, the maximum score of 10, appeared on the scoreboard.
In addition to this duel at the top, which Erika won with 78.90 out of a possible 80 points, what is of particular interest is the strength of the top six athletes, which is necessary for a team victory. Third place in the team competition, achieved by the men at the World Championships in Dortmund [in 1966], has also been the goal of our women's gymnastics team for years. Unfortunately, after the end of these title fights, one cannot say that we have made significant progress here. The gap between the new champion and the third-place gymnast, 16-year-old Marianne Noack, who improved considerably in the optionals, is 2.5 points. Another nine-tenths of a point back follows Ute Starke, who repeatedly proves to be a calming influence on the team. Then there is the only 14-year-old, very talented Christine Schmitt, who lacked the necessary sureness on vault and who finished ahead of Magdalena Schmidt, who performed carefreely and explosively as usual, but came up with a weak optional bar routine. Angelika Striegler came in seventh, with a strong floor and poor vaulting performance.
The talented 18-year-old Maritta Bauerschmidt from Leipzig, who is also a candidate for Mexico, fell back to eighth place due to great uncertainties on the uneven bars, and the 23-year-old silver medalist from Tokyo, Birgit Radochla, failed to prove in her overall performance that she had her earlier verve and found the courage to fight.
A championship with shining lights at the top and shadows in the team field. The gap between the champion and the sixth-place finisher is 3.85 points. An unacceptable difference that must be reduced with all possible efforts by late autumn.*
Results: 1. Erika Zuchold (SC Leipzig) 78.90; 2. Karin Janz (SC Dynamo Berlin) 78.35; 3. Marianne Noack (SC Empor Rostock) 76.40; 4. Ute Starke (SC Leipzig) 75.50; 5. Christine Schmitt (SC Empor Rostock) 75.10; 6. Magdalena Schmidt 75.05; 7. Angelika Striegler (beide SC Dynamo Berlin) 75.00; 8. Maritta Bauerschmidt (SC Leipzig) 74.90; 9. Birgit Radochla 73.70; 10. Sigrid Limberg (beide SC Dynamo Berlin) 73,05
Events: Vault: 1. Karin Janz 19.975; 2. Erika Zuchold 19.950; 3. Ute Starke 19.225. Uneven Bars: 1. Karin Janz 19.775; 2. Erika Zuchold 19.725; 3. Marianne Noach und Magdalena Schmidt (tie) 19.225. Beam: 1. Erika Zuchold 19.825; 2. Marita Bauerschmidt 19.425; 3. Christiane Schmitt 19.300. Floor: 1. Erika Zuchold 19.950; 2. Angelika Striegler und Karin Janz (tie) 19.500.
Neues Deutschland, July 8, 1968
Read the original German here.
*The Olympics were in October.
⁂ ⁂ ⁂
Spoiler: While the sportswriter Herbert Wolf struck a dire tone in his article, the team went on to finish third at the 1968 Olympics, achieving its goal.
Meanwhile, on the men's side, the top score at the East German Championships was 9.80. Let's take a look…
---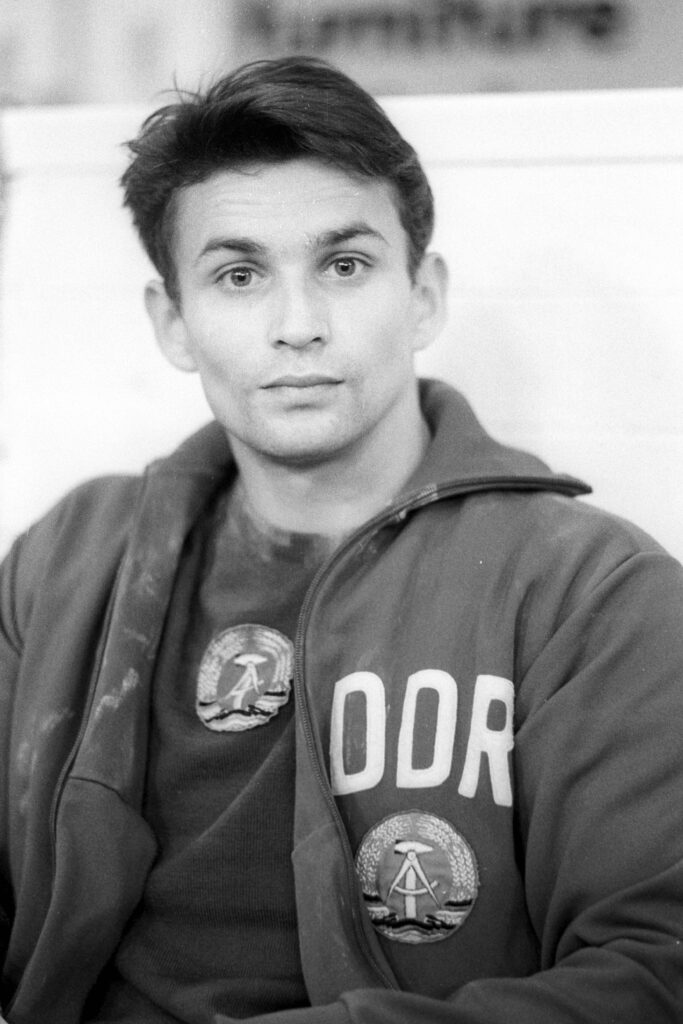 Klaus Köste All-Around Champion with Excellent 115.60 Points
Hard fight for places at the gymnastics championships in Schwerin
Peter Weber and Matthias Brehme runners-up with the same number of points
No records are kept in gymnastics, because the performance of the athlete cannot be measured exactly by meters or seconds, but the point values ​​- although given according to precisely defined criteria by a multi-member judge – are often subject to considerable fluctuations. However, since one can certify that the jury of the German championships of the GDR in artistic gymnastics for men evaluated objectively in the Schwerin Sports and Congress Hall and applied a strict standard, the 115.60 points of the new all-around champion Klaus Köste can rightly be considered a record number of points. That score has not yet been achieved by any of our gymnasts.
9.80 – The Highest Rating
The tanned Leipzig man with the narrow face said after receiving the award from the first secretary of the Central Committee, Walter Ulbricht: "I knew that I was in good shape and had expected to become a champion if I didn't have any breaks on the apparatus. I owe the title above all to my balanced performance on all apparatuses and I am happy that I was able to increase my best score to date by two-tenths of a point." Klaus Köste was never endangered from the first to the last event, with 9.80 points for his compulsory floor exercise, the highest score of the entire competition, and more than 9.60 points no less than eight times out of twelve scores. With this excellent championship result, he is also considered the number one contender for the Olympic ticket to Mexico.
Exciting Duel: Weber-Brehme
There was an exciting fight, which was only decided on the last event, for the next places. The Potsdam ASK gymnast Peter Weber, who had been injured for a long time, worked his way up to third place in the compulsory competition with admirable energy behind Matthias Breheme, our most successful world championship participant from 1966. Even on the first optional apparatus, the army sportsman sat in front of his competitors, expanding the initially wafer-thin lead from event to event. He even succeeded in doing this on the dreaded pommel horse, which had given defending champion Siegfried Fülle and Dynamo gymnast Lothar Förster considerable point deductions. Peter was able to extend his lead up to three-tenths of a point, which Siegfried Fülle had brought close on vault (9.70). Everything had to be decided on the last two pieces of equipment, parallel bars and horizontal bar for Brehme, vault and parallel bars for Weber. Brehme's parallel bar exercise, well done but not particularly exciting, earned him 9.45 points. Then Peter Weber on vault. Nice flight on the 'Yamashita', but when landing a Japanese skill, involuntary bow appropriate for the name of the skill – 9.15 – a vulnerable point deduction. The second vault was a complete failure – 8.35. This means that the 'bowing vault' is scored and the three-tenths of a point that was painstakingly won are gone: a tie with 103.95 points each. Siegfried Fülle, third in the bunch, is keeping a thin lead, and three gymnasts now have legitimate prospects for the two medals still to be awarded, because Klaus Köste can no longer be caught.
Siegfried Fülle puts in a good 9.60 on the horizontal bar. According to the motto all or nothing, Peter Weber swings on the bars. There is no sign of the fact that after a long break he is fighting in his first all-around competition. Every skill comes out like a razor, the tiny inaccuracies are insignificant: 9.70. Matthias Brehme also does his high-bar exercise with large swings and clean positions: also 9.70. There are two runners-up who, thanks to their exemplary fighting spirit, have recommended themselves well for Mexico.
Rocky Parallel Bars and Pommel Horse
Not all participants were able to cope with the heavy strain of the last elimination match for the Mexico tickets as well as the three medal winners. Fluctuating performance as a result of excessive nervousness particularly marked Werner Dölling's seventh place. Siegfried Fülle missed much of the usual sureness, and even with Günter Beier and Gerhard Dietrich, not everything went according to plan, although the latter, like Lothar Förster, showed that he was coming back after a long break from illness. Overall, the weakest events turned out to be parallel bars and pommel horse during the compulsory and optional competition. The latter in particular, the gymnast's "fear apparatus," was the undoing of many and prevented higher overall scores. So the balance of the performances of the first seven is to be regarded with compromises, and a lot of fine work will be necessary if the team's third-place finish is to be defended in Mexico and one of the individual gymnasts is to achieve a top position.
From the next generation of champions, the young Potsdam ASK gymnast Peter Kunze has proven himself to be eighth in the all-around and will certainly make a lot of talk in the coming years.
Results, All-Around: 1. Köste 115.60 points; 2. Brehme (beide SC DhfK Leipzig) and Weber (ASK Postdam) (tie) 113.65; 4. Fülle (SC DHfK Leipzig) 113.50; 5. Beier 112.70; 6. Dietrich 112.30; 7. Dölling 112.15; 6. Kunze (alle ASK Postdam) 111.20; 9. Förster (SC Dynamo Berlin) 110.60; 10. Bachmann (SC DHfK Leipzig) 109.70
Five Individual Titles for Klaus Köste
In the final competition on the individual apparatuses, new evaluation criteria were used for the first time, which was decided by the International Gymnastics Federation (FIG) for Mexico. In order to give the jury the opportunity to properly reward originality, riskiness, and virtuosity, only 9.7 points are the base score for the evaluation. If a competitor does his exercise properly with the level of difficulty required in the regulations, he can receive a maximum of 9.7 points. The remaining one- to three-tenths of a point can also be awarded by the jury if a competitor is particularly original, particularly risky, or particularly virtuoso. The highest score awarded in this mode in the Schwerin finals was twice the 9.7 for Klaus Köste on parallel bars and horizontal bar, who, in addition to the all-around title, also achieved five championship titles on the individual apparatuses.
Events, Floor: 1. Köste (DHfK) 19.325 points; Pommel Horse: 1. Köste (DHfK) 19.175; Rings: 1. Köste (DHfK) 19.275; Vault: 1. Fülle (DHfK) 19.175; Parallel Bars: 1. Köste (DHfK) 19.350; Horizontal Bar: 1. Köste (DHfK) 19.400
Neues Deutschland, July 15, 1968
You can read the German original here.
⁂ ⁂ ⁂
Spoiler: The East German men, like the East German women, went on to win the team bronze medal.
Next up: The flurry of 10.0s in the Soviet Union in the lead-up to the Mexico City Olympics. Stay tuned.
---
More on 1968
More on Perfect 10s
---
Appendix A: The German Original for WAG
Zweimal "10" für Erika — einmal für Karin
Erika Zuchold in hervorragender Form
Achtkampfmeisterin im Turnen vor Titelverteidigerin Karin Janz
Ungenügende Leistungsdichte der Nächstplazierten
Absoluter Höhepunkt der Turnmeisterschaft unserer Frauen im olympischen Jahr war am Sonntagmittag in der neuen Turnhalle von Halle-Neustadt die Bodenkür der 21jährigen Leipzigerin Erika Zuchold. Ihre Übung ist die originellste und schönste, die bisher jemals von einer DDR-Turnerin gezeigt wurde. Sie zeichnet sich durch hohe Musikalität und glückliche gymnastiche sowie turnerisch-akrobatische Verbindungen aus. Das alles wird spritzig und bis ins kleinste ausgefeilt vorgetragen, scheinbar mühelos und mitreißend temperamentvoll. Als Erika dem Kampfgericht ihre Reverenz erwies, erhob sich ein Beifallssturm, wie ihn die neue Sportstätte wohl noch nicht erlebt hat. Erika mußte noch einmal auf den Teppich und die Ovationen des begeisterten Publikums in Empfang nehmen. Das Kampfgericht aber griff ganz tief in den Wertungskasten und belohnte diese Übung von Weltniveau mit der höchstmöglichen Note, der 10, die nur ganz selten vergeben wird. Damit stand Erika als Achtkampfmeisterin 1968 fest und erhielt dafür den Ehrenpreis des Vorsitzenden des Staatstrates der DDR, Walter Ulbricht.
Titelverteidigerin Karin Janz, die Erika im Vorjahr entthront hatte, war ihr auch diesmal nichts schuldig geblieben. Winzige 0,05 Punkte trennte beide nach dem Pflichtwettbewerb. Am Stufenbarren Karins stärkstem Gerät, konnte die Dynamo-Turnerin gleich zu Beginn der Kür wieder gleichziehen. Am Schwebebalken vermißte man dann erstmals die gewohnte Sicherheit und Umsicht Karins. Dreimal waren deutlich Unsicherheiten spürbarl. Genug, um Erika mit 0,35 Punkten erneut davonziehen zu lassen. Und dann diese Bodenübung! Karin hatte an diesem Gerät vor Erika geturnt und international beachtliche 9,80 Punkte erhalten. Ihr Rückstand war damit auf 0,55 Punkte angewachsen und auch beim abschließenden Pferdsprung nicht mehr aufzuholen.
Es zeugt von hohem sportlichem Geist und dem Ernst, mit dem sich unsere Turnerinnen auf die olympische Bewährungsprobe vorbereiten, daß weder die eine noch die andere unserer mit Abstand besten Turnerinnen in ihrer Konzentration nachließ. Beide zeigten auch beim abschließenden Pferdsprung mustergültige Leistungen. Erneut, diesmal für beide erschien an der Anzeigetafel die Traumwertung aller Turnerinnen und Tuner der Welt, die absolute Note 10.
Neben diesem Zweikampf an der Spitze, den Erika mit 78,90 von 80 möglichen Punkten gewann, interessiert vor allem die für einen Mannschaftssieg notwendige Leistungsdichte der sechs Erstplatzierten. Der dritte Platz im Mannschaftswettbewerb, von den Männern bei den Weltmiesterschaften in Dortmund erreicht, ist seit Jahren auch das Ziel unserer Turnfrauen. Leider kann man nach Beendigung dieser Titelkämpfe nicht sagen, daß wir hier wesentlich vorangekommen wären. Bereits der Abstand der Dritten, der 16jährigen Marianne Noack, die sich in der Kür erheblich steigerte, beträgt zur neuen Meisterin 2,5 Punkten. Weitere neun Zehntelpunkte zurück folgt die sich immer wieder als Ruhepol in der Mannschaft erweisende Ute Starke. Dann kommt die erst 14jährige, sehr talentierte Christine Schmitt, die beim Pflictpferdsprung die nötige Sicherheit vermissen ließ, vor Magdalena Schmidt, die unbekümmert und explosiv wie gewohnt turnte, aber mit einer schwachen Balkenkür aufwarten. Auf Platz sieben schließlich Angelika Striegler, mit starker Bodenkür und schwacher Sprungleistung.
Die talentierte und gleichfalls zum Kandidatenkrels für Mexiko zählende 18jährige Leipzigerin Maritta Bauerschmidt fiel durch große Unsicherheiten am Stufenbarren auf Platz acht zurück, und die 23jährige Silbermedaillengewinnerin von Tokio, Birgit Radochla, blieb in ihrer Gesamtleistung den Beweis schuidig [schuldig], daß sie ihren früheren Elan und Kampfesmut wiedergefunden hat.
Eine Meisterschaft also mit stahlendem Licht an der Spitze und Schatten im Mannschaftsfeld. Der Abstand von der Meisterin zur Sechsten beträgt 3,85 Punkte. Eine nicht vertretbare Differenz, die es bis zum Spätherbst mit allen Kräften zu verringern gilt.
Ergebnisse: 1. Erika Zuchold (SC Leipzig) 78,90. 2. Karin Janz (SC Dynamo Berlin) 78,35. 3. Marianne Noack (SC Empor Rostock) 76,40. 4. Ute Starke (SC Leipzig) 75,50. 5. Christine Schmitt (SC Empor Rostock) 75,10. 6. Magdalena Schmidt 75,05. 7. Angelika Striegler (beide SC Dynamo Berlin) 75,00. 8. Maritta Bauerschmidt (SC Leipzig) 74,90. 9. Birgit Radochla 73,70 10. Sigrid Limberg (beide SC Dynamo Berlin) 73,05.
Finale an den Geräten: Pferdsprung: 1. Karin Janz 19,975. 2. Erika Zuchold 19,950. 3. Ute Starke 19,225. Stufenbarren: 1. Karin Janz 19.775. 2. Erika Zuchold 19.725. 3. Marianne Noach und Magdalena Schmidt je 19,225. Schwebebalken: 1. Erika Zuchold 19,825. 2. Marita Bauerschmidt 19,425. 3. Christiane Schmitt 19,300. Bodenturnen: 1. Erika Zuchold 19,950. 2. Angelika Striegler und Karin Janz je 19,500.
---
Appendix A: The German Original for MAG
Klaus Köste Zwölfkampfmeister mit ausgezeichneten 115,60 Punkten
Harter Kampf um die Plätze bei den Turnmeisterschaften in Schwerin
Peter Weber und Matthias Brehme punktgleich Vizemeister
In Turnen werden keine Rekorde geführt, weil man die Leistungen der Aktiven weder nach Metern noch nach Sekunden exakt messen kann, die Punktwerte aber — obwohl nach genau festgelegten Gesichtspunkten von einem mehrköpfigen Kampfgericht erteilt — oft recht erheblichen Schwankungen unterliegen. Da man jedoch dem Kampfgericht der deutschen Meisterschaften der DDR im Kunstturnen der Männer bescheinigen kann, daß es in der Schweriner Sport- und Kongreß-halle objektiv wertete und einene strengen Maßstab anlegte, dürfen die 115,60 Punkte des neuen Zwölfkampfmeisters Klaus Köste zu recht als Rekordpunktzahl gewertet werden. Sie wurden bisher von keinem unserer Turner erreicht.
9,80 — die höchste Wertung
Der braungebrannte Leipziger mit dem schmalen Gesicht meinte nach Empfang des Wanderpreises des Ersten Sekretärs des ZK, Walter Ulbricht: "Ich wußte daß ich gut in Shuß bin und hatte damit gerechnet, Meister zu werden, wenn es keinen Einbruch an irgendeinem Gerät geben würde. Ich verdanke den Titel vor allem meiner ausgeglichenen Leistung an allen Geräten und freue mich, daß ich meine bisher beste Punktzahl noch um zwei Zehntelpunkte steigern konnte." Klaus Köste war vom ersten bis zum letzten Gerät niemals gefährdet, erhielt mit 9,80 Punkten für seine Pflichtübung am Boden die höchste Wertung des gesamten Wettkampfes und nicht weniger als achtmal von zwölf Wertungen mehr als 9,60 Punkte. Mit diesem hervorragenden Meisterschaftsergebnis gilt er auch als Anwärter Nummer eins auf die Olympiafahrkarte nach Mexiko.
Spannendes Duell: Weber-Brehme
Einen spannenden Kampf, der erst am letzten Gerät entschieden wurde, gab es um die nachfolgenden Plätze. Der lange Zeit verletzt gewesene Potsdamer ASK-Turner Peter Weber hatte sich im Pflictwettbewerb mit bewundernswerter Energie auf den dritten Platz hinter Matthias Breheme, unseren efolgreichsten Weltmeisterschaftsteilnehmer von 1966 geturnt. Schon am ersten Kürgerät setzte sich der Armeesportier dann vor seinen Konkurrenten, den anfangs hauchdünnen Vorsprung von Gerät zu Gerät ausbauend. Das gelang ihm selbst am gefürchteten Seitpferd, das sowohl Titelverteidiger Siegfried Fülle als auch dem Dynamo-Tuner Lothar Förster erhebliche Punktabzüge beschert hatte. Bis auf drei Zehntelpunkte konnte Peter seinen Vorsprung ausdehnen, dem Siegfried Fülle mit einem Mustersprung (9,70) dicht auf den Pelz gerückt war. An den letzten beiden Geräten, Barren und Reck für Brehme, Pferdsprung und Barren für Weber, mußte sich alles entscheiden. Brehmes Barrenübung sauber geturnt, aber nicht sonderlich aufregend, brachte ihm 9,45 Punkte. Dann Peter Weber beim Pferdsprung. Schön der Flug beim 'Yamashita', doch beim Aufsprung eine japanische, dem Name der Darbietung angemessenen unfreiwillige Verbeugung — 9,15 — empfindlicher Punktabzug. Der zweite Sprung verunglückte völlig — 8,35. Damit wird der 'Verbeugungssprung' gewertet und die mühsam ergatterten drei Zehntelpunkte sind dahin: Gleichstand mit je 103,95 Punkten. Siegfried Fülle als Dritter im Bunde hält seinen hachdünnen Rückstand, und drei Turner haben nun berechtigte Aussichten auf die noch zu vergebenden zwei Medaillen, denn Klaus Köste ist nicht mehr einzuholen.
Siegfried Fülle legt am Reck eine gute 9,60 vor. Nach dem Motto alles oder nichts schwingt sich Peter Weber in die Barrenholme. Nichts ist davon zu spüren, daß er nach langer Pause seinen ersten Zwölfkampf bestreitet. Jede Phase kommt wie gestochen, nur unbedeutend die winzigen Ungenauigkeiten: 9,70. Auch Matthias Brehme turnt seine Reckübung mit weiten Schwüngen und in sauberer Haltung: ebenfalls 9,70. Es gibt zwei Vizemeister, die sich auch dank ihres vorbildlichen Kampfgeistes nacträglich für Mexiko empfohlen haben.
Barren und Seitpferd die Klippen
Nicht alle Teilnehmer konnten die hohe Belastung des letzten Ausscheidungskampfes um die Mexikofahrkarten so gut meistern wie die drei Medaillengewinner. Schwankende Leistungen infolge übergroßer Nervosität kennzeichneten besonders den siebenten Platz Werner Döllings. Siegfried Fülle ließ viel von der gewohnten Sicher heit vermissen, und auch bei Günter Beier und Gerhard Dietrich lief längst nicht alles nach Wunsch, wobei Letzterer ebenso wie Lothar Förster erkennen lie​ß​, daß er nach langer Krankheitspause wieder im Kommen ist. Als schwächste Geräte erwiesen sich insgesamt gesehen in der Kür wie schon beim Pflichtwettbewerb Barren und Seitpferd. Vor allem letzteres, das "Angstgerät" der Turner, wurde vielen zum Verhängnis und verhinderte höhere Gesamtnoten. So ist die Ausgeglichenheit der Leistungen der ersten sieben doch mit Abstrichen zu betrachten, und es wird noch viel Feinarbeit nötig sein, wenn der dritte Mannschaftsrang in Mexiko verteidigt und der eine oder andere Einzelturner einen vorderen Platz erriechen soll.
Vom Nachwuchs der Meisterklasse hat sich der junge Potsdamer ASK-Turner Peter Kunze als Achter des Zwölfkampfes ausgezeichnet bewährt und wird sicher in den kommenden Jahren noch viel von sich reden machen.
Ergebnisse, Zwölfkampf: 1. Köste 115,60 Punkte. 2. Brehme (beide SC DhfK Leipzig) und Weber (ASK Postdam) je 113,65 4. Fülle (SC DHfK Leipzig) 113,50 5. Beier 112,70 6. Dietrich 112,30, 7. Dölling 112,15 6. Kunze (alle ASK Postdam) 111,20 9. Förster (SC Dynamo Berlin) 110,60 10. Bachmann (SC DHfK Leipzig) 109,70
Auf fünf Einzeltitel für Klaus Köste
Bei den Finalkämpfen an den Einzelgeräten kam erstmalig eine Wertungsneuheit zur Anwendung, die vom Internationalen Turnverband (FIG) für Mexiko beschlossen wurde. Um dem Kampfgericht die Möglichkeit zu geben, Originalität, Risikoreichtum und Virtuosität gebührend zu belohnen, werden als Wertungsgrundlage nicht wie bisher 10, sondern nur 9,7 Punkte angenommen. Turnt also ein Wettkämpfer seine Übung einwandfrei mit den im Reglement geforderten Schwierigkeitsgraden, kann er maximal 9,7 Punkte erhalten. Die restlichen ein bis drei Zehntelpunkte können vom Kampfgericht zusätzlich vergeben werden, wenn ein Wettkämpfer besonders originell, besonders risikovoll oder besonders virtuos turnt. Die höchste nach diesem Modus vergebene Note im Schweriner Finale war zweimal die 9,7 für Klaus Köste an Barren und Reck, der neben dem Mehrkampftitel noch fünf Meistertitel an den einzelnen Geräten eerang.
Finalkämpfe; Boden 1. Köste (DHfK) 19.325 Punkte; Seitpferd: 1. Köste (DHfK) 19,175; Ringe 1. Köste (DHfK) 19,275; Sprung: 1. Fülle (DHfK) 19,175; Barren: 1. Köste (DHfK) 19,350; Reck: 1. Köste (DHfK) 19,400