I've covered the first Olympic Games in Athens. Now, it's time to discuss the first World Championships, which were held in Antwerp.
First things first, the competition wasn't called a world championship at the time. It was referred to as the International Gymnastics Tournament ("Tournoi International de Gymnastique" in French or "Internationale Turntornooi" in Dutch). The competition was held in conjunction with the Belgian Federal Festival, August 14-18, 1903.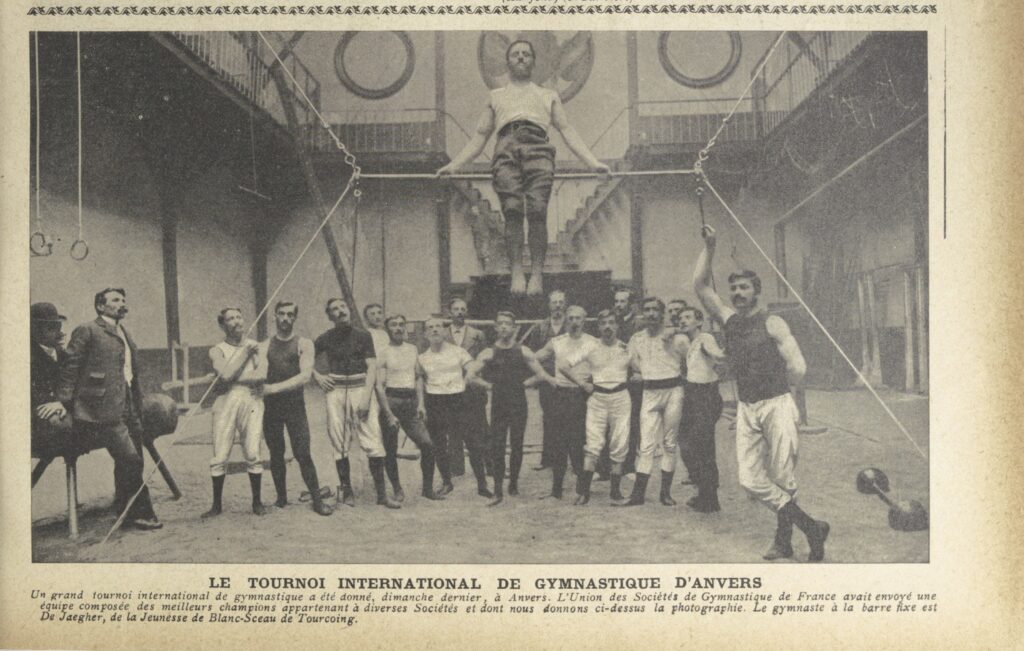 Note: I'll refer to an article written by Pierre Hentgès, Sr. in this post. If you don't know who he is, he was a Luxembourgish gymnast who competed at the 1912 Olympics. He later became the President of the Men's Technical Committee of the FIG in 1954.
What was the First International Tournament?
Organized by the Bureau des Fédérations Européennes de Gymnastique (Bureau of European Gymnastics Federations), it was essentially a team competition between the best gymnasts of each participating country.
This is an innovation: for the first time we have seen elite gymnasts of various nationalities compete among themselves, chosen by each Federation from among its best men.

C'est là une innovation: pour la première fois on a vu concourir entr'eux des gymnastes d'élite de nationalités diverses, choisis par chaque Fédération parmi ses meilleurs hommes.

Le Matin, August 17, 1903
Nicholas J. Cupérus (Belgium), Charles Cazalet (France), and Karel Muller (Netherlands) were the masterminds behind the Tournament.
Reminder: Before the FIG became the International Gymnastics Federation, it was the Bureau of European Gymnastics Federations.
Which countries?
Only four countries participated:
Belgium
France
Luxembourg
The Netherlands
Italy was present, but the federation did not compete in the International Tournament. Here's what the Belgian newspaper Le Matin reported:
The Italians will not take part in the Tournament, in the sense that they will not compete for the prizes. But, out of international courtesy and with the intention of giving the Belgian Federation a special proof of esteem, they will work all the same.

This esteem is manifested in an even more special way, because President Guerra is responsible for presenting the Belgian Federation, on behalf of the Italian Federation, with a superb gold medal.

Les Italiens ne prendront pas part au Tournoi, en ce sens qu'ils ne concourront pas pour les prix. Mais, par courtoisie internationale et dans l'intention de donner à la Fédération belge une preuve d'estime particulière, ils travailleront tout de même.

Cette estime se manifeste d'ailleurs d'une façon plus spéciale encore, car M. le président Guerra est chargé de remettre à la Fédération belge, au nom de la Fédération italienne, une superbe médaille d'or.

Le Matin, August 16, 1903
100 Years of the FIG claims that the Italians were intimidated by the French:
The Italian team came, but after observing the absolute superiority of the French, the Italians chose to watch the competition as spectators.
How many gymnasts per team?
15 gymnasts in total: 9 competitors and 6 replacement athletes.
Each of them formed a group of fifteen elite gymnasts, nine of whom formed the effective team, and the other six being alternates.

Chacune d'elles avait formé un groupe de quinze gymnastes d'élite, dont neuf formaient l'équipe effective, et les six autres étant des suppléants.

Le Matin, August 17, 1903
Note: The Dutch press stated that there were only three replacement athletes. It's possible that the Dutch federation chose to send only three replacement athletes.
Each federation is represented by 9 members and 3 alternate members, who were delegated on behalf of their Association.

Elke Bond is vertegenwoordigd door 9 leden en 3 plaatsvervangende leden, die voor rekening van hun Bond werden afgevaardigd.

Algemeen Handelsblad, August 18, 1903
On which apparatus did the gymnasts compete?
Ensemble Routines:
6 Compulsory Floor Routines (without portable hand devices)
Compulsory Routines:
Pommel Horse
Rings (2 sets of compulsory ring routines)
Parallel Bars (2 sets of compulsory parallel bar routines)
Horizontal Bar (2 sets of compulsory high bar routines)
Long Horse Vault
Optional Routines:
Pommel Horse
Rings
Parallel Bars
High Bar
In other words, they didn't perform an optional routine on vault.
Track and Field:
Other:
Lifting a 40 kg weight 20x
Here's how the Dutch newspaper Algemeen Handelsblad described it:
The activities consist of: the general exercises of the Federal festival, 2 compulsory exercises on the 4 main apparatus, high bar, parallel bars, horse, and rings, and an optional exercise for each of the four apparatuses mentioned, in addition to the obligation to participate in three so-called "People's Exercises," running, weightlifting, and high jump.

De werkzaamheden bestaan uit: de algemeene oefeningen van het Bondsfeest, 2 verplichte oefeningen aan de 4 hoofdtoestellen, rek, brug, paard en ringen en een keuze-oefening aan elk der vier genoemde toestellen, benevens de verplichting deel te nemen aan drie z.g. "Volksoefeningen", hardloopen, gewichtheffen en hoogspringen.

Algemeen Handelsblad, August 18, 1903
What scoring system was in place?
The 6 Preliminary Ensemble Routines:
5 points per gymnast and per exercise
2 points for the comportment of the team
Apparatus (i.e. rings, parallel bars, horse, and horizontal bar):
5 points per gymnast and per exercise
1 point for going to the apparatus
1 point for leaving the apparatus
For a total of 21 points per apparatus

7 points: 5 points for the first compulsory routine + 1 point for going to the apparauts + 1 point for leaving the apparatus
7 points: 5 points for the second compulsory routine + 1 point for going to the apparatus + 1 point for leaving the apparatus
7 points: 5 points for the optional routine + 1 point for going to the apparatus + 1 point for leaving the apparatus
Track and Field
150 m

10 points maximum for 18 seconds
Deductions staggered by ⅗ or ⅘ of a second

High jump with a tremplin dur

10 points maximum for 1.75 m (roughly 5 feet 9 inches)
1 point for 1.20m (roughly 3 feet 11 inches)
Weight Lifting (40 kg, roughly 88 lbs):
Maximum of 10 points
0.5 points for each correct lift
Essentially it was a snatch to an overhead press (Hentgès described it as such: "Depuis la station tendue: épauler, développer, épauler et abaisser à la station tendue")
Note: Though the gymnasts performed different exercises on both pommel horse and vault, their scores were lumped together into one category called "horse," which was made up of:
Compulsory Pommel Horse

5 points for the routine
2 points for approaching and leaving the apparatus

Optional Pommel Horse

5 points for the routine
2 points for approaching and leaving the apparatus

Compulsory Long Horse Vault

5 points for the routine
2 points for approaching and leaving the apparatus

Total: 21 points
What was the composition of the juries?
While the names of the judges are unknown, each federation sent three judges.
The assessment is entrusted to an international jury, three members of each participating association.

De beoordeeling is toevertrouwd aan een internationale jury, van eiken deelnemenden Bond drie leden.

Algemeen Handelsblad, August 18, 1903
What were the compulsory routines?
You can see them here: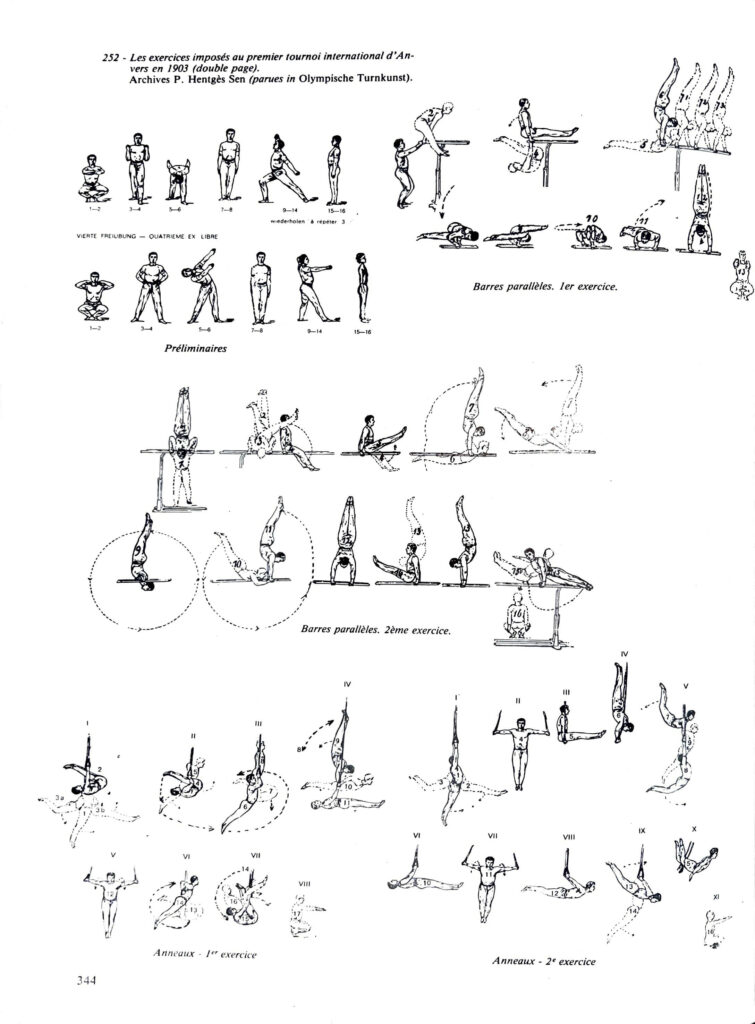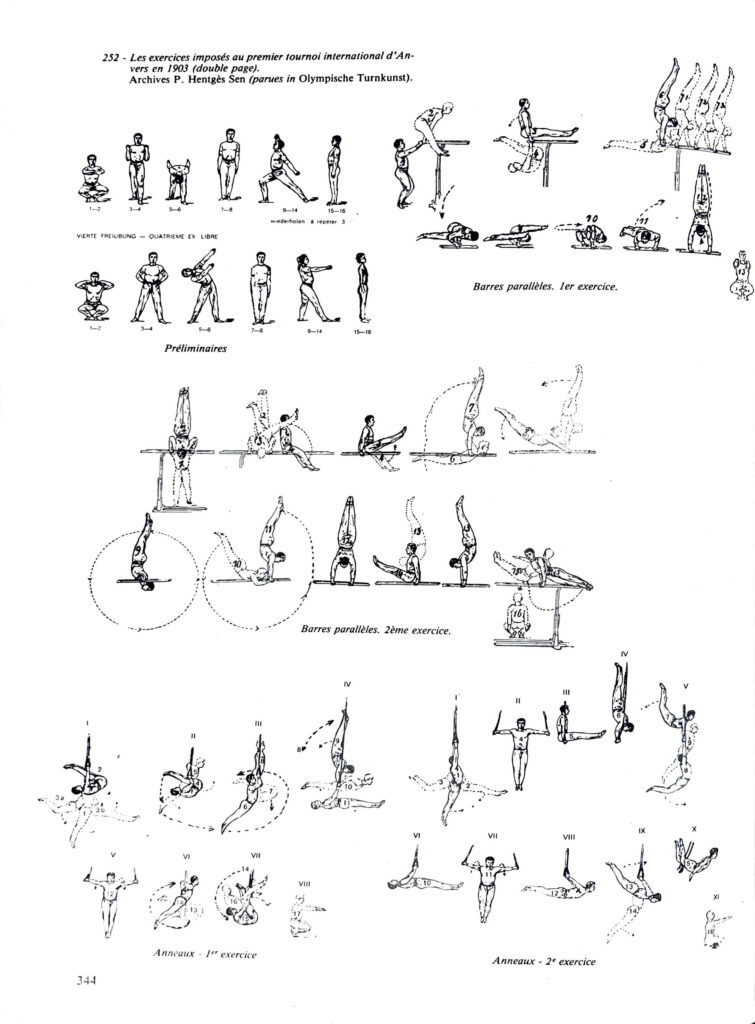 Notes
Compulsory ensemble floor routines
They were the same as the preliminaries performed by the societies at the Belgian Federal Festival.
Each exercise consisted of 16 counts at a rate of 60 per minute, and was to be performed 4 times (Olympische Turnkunst, July 1966).
They were performed to music:
After a few rounds, under the direction of the Mr. Willem Koopal, six floor exercises were performed with music accompaniment, which may be called excellent in terms of composition as well as performance. This performance must have made an excellent impression on the thousands of spectators, because there was no shortage of acclaim.

Na eenige omgangen werden onder leiding van den heer Willem Koopal een zestal vrije oefeningen uitgevoerd met muziekbegeleiding, die zoowel wat samenstelling als uitvoering uitstekend mogen genoemd worden. Op de duizenden toeschouwers moet deze uitvoering een voortreffelijken indruk gemaakt hebben, want aan bijvalsbetuigingen ontbrak het niet.

Algemeen Handelsblad, August 17, 1903
Note: It was fairly common to perform these preliminary exercises to music. While I don't have the music from the 1903 International Tournament, here are two of the pieces from the 1896 French Federal Festival to give you an idea of the type of music being used during this time period. (Note: These pieces would have been played with other instruments like trombones, etc., and they would have been repeated in a loop as the gymnasts repeated the movements. I only played through the songs once to spare you the monotony.)
Compulsory routines on rings, parallel bars, and high bar
The first routine was a strength routine, which was meant to be performed slowly.
The second was a swinging routine.
Rings
Notice the the triangular shape of the rings in the illustrations above.
According to Pierre Hentgès, there were both triangular and circular rings available to competitiors (Olympische Turnkunst, July 1966).
Triangular and circular rings, as we saw in the history of flying rings, go back to the nineteenth century. Jahn's second edition of Die Deutsche Turnkunst (1847) depicted both.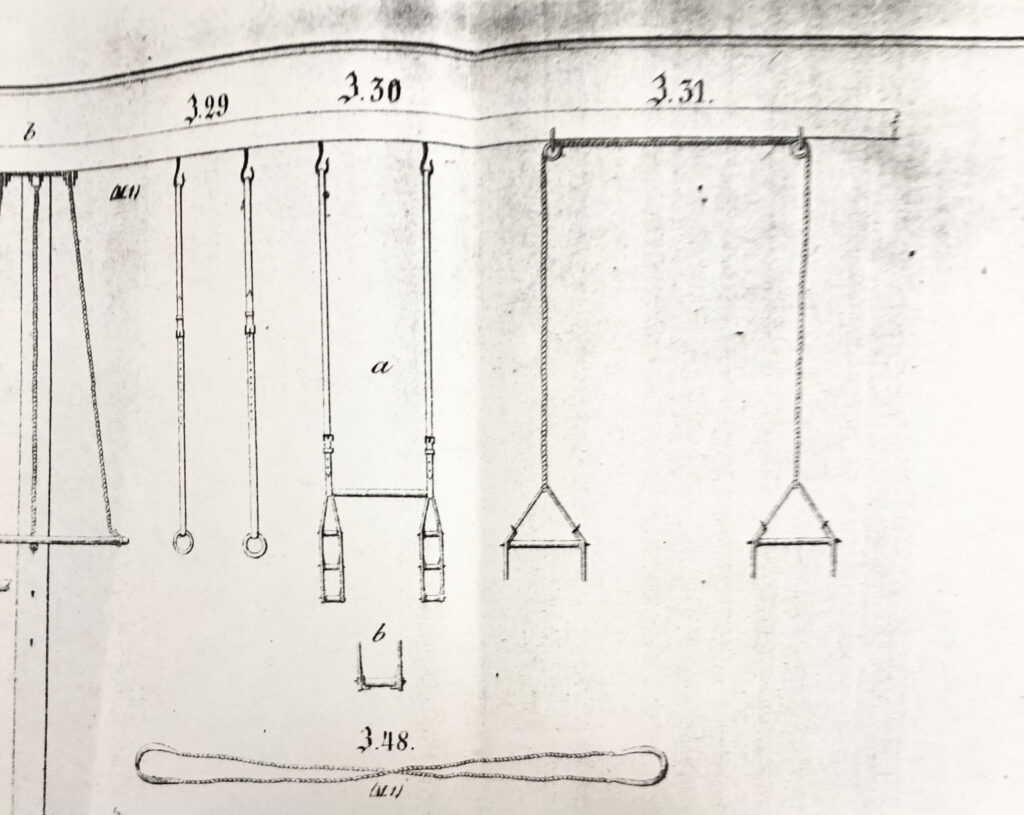 Who made up these routines?
The exercises are composed by a technical committee consisting of Mr. Karel Muller (Amsterdam), Mr. Van Aken (Rotterdam) and Mr. W. Koopal (Antwerp), and it must be said that these men have high standards. The group that leaves the arena with their first prize will have to have trained extraordinarily.

De oefeningen zijn samengesteld door eene tech. commissie bestaande uit de heeren Karel Muller (Amsterdam), v. Aken (Rotterdam) en W. Koopal (Antwerpen) en het moet gezegd worden dat deze heeren hooge eischen gesteld hebben. De groep welke dan ook met don eersten prijs uit het strijdperk treedt zal zich buitengewoon geoefend moeten hebben.

Algemeen Handelsblad, August 18, 1903
The aforementioned men were all part of the Bureau's technical committee, which, according to Pierre Hentgès, was made up of the following members at the time:
N. J. Cupérus (Belgium)
Charles Cazalet (France)
Karel Muller (Netherlands)
L. Moulkers (Belgium)
W. Koopal (Beglium)
Cyr. Wachmar (France)
S. Van Aken (Netherlands)
What were the results of the International Tournament?
As printed in the newspapers at the time:
France: 116 points
Belgium: 109 points
Luxembourg: 101 points
Netherlands: 95 ½ points
When the results are printed today, they are often multiplied by nine (for the nine gymnasts on each team):
France: 1,044 points
Belgium: 981 points
Luxembourg: 909 points
Netherlands: 859.5 points
Individual Scores
Important Note
The International Tournament was only a team competition.
There weren't any individual all-around or event winners at the time. In the newspaper accounts from the time, there aren't any individual results printed, and 100 Years of the FIG states:
There was only one team score, established on the total of the points obtained by all members of the team. (Individual scores were introduced in 1922, first for all-around events, then also for apparatus.)
With that caveat out of the way, here are the top (unofficial) individual scores.
All-Around
| | | |
| --- | --- | --- |
| Gymnast | Country | Result |
| 1. Joseph Martinez | FRA | 122.00 |
| 2T. Joseph Lux | FRA | 121.50 |
| 2T. Georges Wierinckx | BEL | 121.50 |
| 4. Georges de Jaeghere | FRA | 121.00 |
| 5. Jules Lecoutre | FRA | 119.00 |
| 6. Charles van Hulle | BEL | 118.50 |
| 7. Eugène Dua | BEL | 115.00 |
| 8. Pierre Pissié | FRA | 114.50 |
Rings
| | | |
| --- | --- | --- |
| Gymnast | Country | Total |
| 1. Joseph Martinez | FRA | 20.00 |
| 2T. Joseph Lux | FRA | 19.00 |
| 2T. François Walraevens | BEL | 19.00 |
Parallel Bars
| | | |
| --- | --- | --- |
| Gymnast | Country | Total |
| 1T. Joseph Martinez | FRA | 20.00 |
| 1T. François Hentgès | LUX | 20.00 |
| 3T. Eugène Dua | BEL | 19.50 |
| 3T. André Bordang | LUX | 19.50 |
Horse (Combined Pommel and Vault)
More on the horse category here.
| | | |
| --- | --- | --- |
| Gymnast | Country | Total |
| 1T. Georges de Jaeghere | FRA | 18.00 |
| 1T. Joseph Lux | FRA | 18.00 |
| 1T. Hendricus Thisjen | NED | 18.00 |
Thisjen is sometimes spelled Thyssen in the literature.
High Bar
| | | |
| --- | --- | --- |
| Gymnast | Country | Total |
| 1. Joseph Martinez | FRA | 20.50 |
| 2T. Pierre Pissié | FRA | 20.00 |
| 2T. Jules Lecoutre | FRA | 20.00 |
| 2T. Charles van Hulle | BEL | 20.00 |
Martinez's high bar routine was one of the highlights of the International Tournament:
Both sessions literally enthralled gymnasts, and laymen were no less interested in them. Indeed, the spectacle was interesting, the men working admirably, some—French and Belgians in particular—getting cheers every time they finished their "turn." In the afternoon, during the optional exercises on the high bar, we saw truly extraordinary tricks performed, ones not even performed by professional gymnasts. Above all, Martinez carved out a great success for himself with his marvelous optional turn on the high bar; the audience, thrilled, shouted encore as if it had been a production of the festival.

Les deux séances ont littéralement passionné les gymnastes et les profanes ne s'y sont pas moins intéressés. De fait, le spectacle était intéressant, les hommes travaillant admirablement, d'aucuns — des Français et des Belges notamment—se faisaient acclamer chaque fois qu'ils terminaient leur "tour." L'après-midi, pendant les exercices libres au reck on a vu réaliser des tours réellement extraordinaires, tel que n'en produisent pas des gymnastes professionnels. Martinez s'est surtout taillé un beau succès par son merveilleux tour libre au reck, le public, emballé, criait bis comme s'il se fut agi d'une production de fête.

Le Matin, August 17, 1903
Note #1: In the morning, they performed the preliminary ensemble routines, high jump, and weight lifting. In the afternoon, they had apparatus exercises and the 150 m race. That's what the article is referring to when it mentions "both sessions."
Note #2: According to the rules of the European Gymnastics Federation, gymnasts could not be professionals. See the minutes from the 1896 Congress.
What did the victors win?
The awards were very different from today's gold, silver, and bronze medals.
1. Union of Gymnastic Societies of France, with 116 points, diploma with natural laurel wreath and vermeil cup, gift of H.M. Leopold II, King of the Belgians.

2. Belgian Gymnastics Federation, with 109 points, diploma and cup in Sèvres porcelain, gift of Mr. Em. Loubet, President of the French Republic.

3. Union of Luxembourgish Societies of Gymnastics, with 101 points, diploma and chalice in embossed and silvered copper, gift of Mr. N. J. Cupérus, president of the Bureau of European Federations.

4. Dutch Gymnastics Association, with 95 1/2 points, diploma and vermeil branch.

1. Union des Sociétés de gymnastique de France, avec 116 points, diplôme avec couronne en laurier naturel et la Coupe en vermeil, don de S. M. Léopold II, roi des Belges.

2. Fédération belge de gymnastique, avec 109 points, diplôme et Coupe en porcelaine de Sèvres, don de M. Em. Loubet, président de la République Française.

3. Union des Sociétés luxembourgeoises de gymnastique, avec 101 points, diplôme et calice en cuivre repoussé et argenté, don de M. N. J. Cupérus, président du Bureau des Fédérations européennes.

4. Nederlandsch Gymnastisch Verbond, avec 95 1/2 points, diplôme et branche en vermeil.

Le Matin, August 19, 1903
Note #1: Prize money was frowned upon by the European Gymnastics Federation. Again, see the minutes from the 1896 Congress.
Note #2: Vermeil is a gold-finished object in which a thick layer of gold is poured over solid sterling silver.
Additional tidbits about the teams?
Much of the newspaper coverage discussed the banquets and festivities. Nevertheless, here are a few additional details about the teams at the International Tournament.
Team France
According to Le Gymnaste (August 12, 1903), the French team had to switch its line-up:
The French team was originally: Martinez, De Jaeghere, Bollet, Cardenau, Pissié, Fahy, Lecoutre, Lux, and Cattier.
The replacements were: Allègre, Daube, Dubois, Charmoille and Castille.
But Fahy (couldn't travel), Cardenau (neglected his training), and Cattier (injury) had to drop out.
As a result, Allègre, Daube, and Charmoille took their spots.
Team Belgium
Coming into the Tournament, the top Belgian gymnasts were:
Wierinckx, Boom
Walraevens, Gymnastiche Volkskring
Lamie, Boom
Those were the results of the Tournament trials held in June of 1903. (Le Matin, June 16, 1903).
The Dutch Team
The Dutch team struggled with the compulsory routines.
It is not the place here to dwell on the nature of the exercises, this belongs more in the professional journal, but as far as we have been able to ascertain, the material was too rich for our Dutch group.

Het is hier niet de plaats over den aard van de oefeningen uit te weiden, dit behoort meer in het vakblad thuis, maar voorzoover wij hebben kunnen nagaan, was de stof voor onze Nederlandsche groep te machtig.

Algemeen Handelsblad, August 18, 1903
Injuries
Two athletes were injured during the competition.
There have, moreover, been a few falls; a Dutchman and a Frenchman sprained themselves when they fell, but the devoted stretcher-bearers of the Red Cross had set up an aid station at the velodrome and they treated the crippled so well that accidents would have no serious consequences.

Il y a, d'ailleurs, eu quelques chutes; un Hollandais et un Français se sont fait des entorses en tombant, mais les dévoués brancardiers de la Croix Rouge avaient installé un poste de secours au vélodrome et ils ont si bien soigné les éclopés, que les accidents n'auront aucune conséquence grave.

Le Matin, August 17, 1903
How did the First International Tournament come about?
For many years, Charles Cazalet, the President of the French Federation, wanted to host an international tournament among the best gymnasts, but there was opposition within the European Bureau, including from Cupérus, the president:
The leaders of gymnastics defended the formative value of gymnastics against the invasion of sports, likely to stimulate personal ambition to the detriment of collective progress. The president of the Belgian Federation and president of the European Federation was the most fervent follower of this conception. However, other leaders did not share his view, including the [Union of the Gymnastics Societies of France] President Charles Cazalet. It is to him that we owe the initiative for the creation of international tournaments. In 1897, he made his proposal at the 3rd Congress of the European Federation in Brussels.

Les dirigeants de la gymnastique défendaient la valeur formative de celle-ci contre l'envahissement des sports, propres à stimuler l'ambition personnelle au détriment du progrès collectif. Le président de la Fédération Belge et président de la Fédération Européenne était le plus fervent adepte de cette conception. Néanmoins, d'autres dirigeants ne partageaient pas son point de vue, notamment le président de l'USGF Charles Cazalet. C'est à lui que l'on doit l'initiative de la création des tournois internationaux. Dès 1897, il formule sa proposition lors du 3ème Congrès de la Fédération Européenne à Bruxelles.

Les étapes de la gymnastique au sol et aux agrès en France et dans le monde
Note: The paragraph specifically uses the English term "sport." At the time, "sport" referred to the British model of competitive sports among the upper classes and social elite. For more, see, for example, Vanessa Heggie's "Bodies, Sport, and Science in the Nineteenth Century."
However, it wasn't until 1902 when Mr. N. J. Cupérus, President of the European Gymnastics Federation, came around to the idea. Here's how Pierre Hentgès described it:
It took five years, however, before the first step towards realization could be taken. On the memorable day of September 14, 1902, Mr. N. J. Cupérus, Belgium, President-Founder of the Bureau of the European Gymnastics Federations, had invited to his property at Heirust, near the Belgian-Dutch border, his two friends, Mr. Charles Cazalet, France, and Mr. Karel Muller, the Netherlands, to "discuss the common interests of all gymnasts."

Each of the three guests was the president of his national federation. It was then considered: "that the time had come to welcome Mr. Cazalet's proposal concerning the International Tournament."

Il fallut cependant cinq ans avant que le premier pas vers la réalisation put être fait. Au jour mémorable de 14 septembre 1902, M. N. J. Cupérus, Belgique, Président-fondateur du Bureau des Fédérations Européennes de Gymnastique, avait invité à sa propriété de Heirust (Repos de Bruyère), près de la frontière belgo-hollandaise, ses deux amis, MM. Charles Cazalet, France et Karel Muller, Pays-Bas, pour s' "entretenir des intérêts communs à tous les gymnastes" — Chacun des trois convives était président de sa fédération nationale.

On estima alors e.a.: "que l'heure était venue d'accueillir la proposition de M. Cazalet concernant le Tournoi International".

Olympische Turnkunst, July 1966
What was the expressed purpose of this tournament?
The mission didn't involve competition. It was about physical development:
From the beginning, it was formally declared that "the Tournament must be an apotheosis of physical education under all aspects and sanction the principle of integral development."

Dès le début, il fut formellement déclaré que "le Tournoi doit être une apothéose de l'éducation physique sous toutes les faces et sanctionner le principe du développement intégral."

Olympische Turnkunst, July 1966
A Dutch sportswriter expressed a similar sentiment, highlighting the lasting benefits of gymnastics.
More than once we have had occasion to appreciate the highly moral significance of physical education, in the form of gymnastics, in the broadest sense of the word; yet it seems to us that it cannot be repeated enough what must be understood by the word gymnastics and what it aims at. Many — and it is a real shame for our nation — when the word gymnastics still thinks too much of tricks and breakneck feats on apparatus, of high-flying feats, giant swings and saltos, of something very dangerous, to which they themselves and those dear to them prefer not to venture. That here and there such work, such dismay in the name of gymnastics (turnen) — which is the same as gymnastics (gymnastiek) — have been given for the best, we unfortunately agree completely and have not hindered the progress of gymnastics a little, but this has been mistakenly considered to be the essence of the gymnastics.

Gymnastics in its true sense is something higher, something nobler. It is physical activity par excellence, which develops the body harmoniously, gives strength, quickness and grace in all its doings, which stirs you up to work and makes you forget the fatigues of your day's work, and gives you zest for life into old age. It will be clear to anyone who has been able to observe gymnastics more closely that this refinement of the body also makes its influence felt on the inner life, and Antwerp will receive thousands of gymnasts these days to give testimony to what has been done and can be obtained in the vast field of exercise. It will be a festival, which, at the end of all the festivities that have taken place during this week, will be the most important and attractive.

Reeds meer dan eens hebben wij gelegenheid gehad om de hooge moreele beteekenis van de lichamelijke opvoeding, in den vorm van gymnastiek, in den ruimsten zin des woords te betoogen; toch komt het ons voor dat het niet genoeg herhaald kan worden wat toch wel onder het woord gymnastiek moet worden verstaan en wat zij beoogt. Velen — en het is werkelijk schande voor onze natie — denken bij het woord gymnastiek nog te veel aan kunstjes en halsbrekende toeren aan toestellen, aan hoogstanden, reuzenzwaaien en waagstukken, aan iets heel gevaarlijks, waaraan zij zich zelve en die hun dierbaar zijn liefst niet wagen. Dat hier en daar zulk work, zulke vertoomngen onder den naam van turnen — wat hetzelfde is als gymnastiek — zijn ten beste gegeven, beamen wij helaas volkomen en hebben niet weinig den voortgang der gymnastiek belemmerd, maar ten onrechte heeft men dit voor het wezen der turnerij gehouden.

Turnen in zijn ware beteekenis is iets hoogers, iets edelers. 't Is de lichamelijke bezigheid bij uitnemendheid, die het lichaam harmonisch ontwikkelt, kracht, vlugheid en bevalligheid in al zijn doen en laten geeft, die u tot arbeid opwekt en u de vermoeienissen van uw dagtaak doet vergeten, en u levenslust tot op hoogen leeftijd verschaft. Dat deze veredeling van het lichaam zijn invloed ook op het zieleleven doet gevoelen, zal voor ieder, die meer van nabij het turnen heeft kunnen waarnemen, duidelijk zijn, en zoo zal Antwerpen in deze dagen duizenden turners ontvangen om getuigenis af te leggen van hetgeen gedaan en verkregen kan worden op het uitgestrekte veld van lichaamsoefeningen. Het zal een feest zijn, dat tot besluit van al de feestelijkheden, die in deze week hebben plaats gehad, het belangrijkste en aantrekkelijkste zal zijn.

Algemeen Handelsblad, August 17, 1903
What were the banquets like?
To this day, there are banquets at the World Championships. If you're reading this post, you've probably attended one, seen the videos, or heard the stories.
In 1903, the celebrations were quite extensive. That's because the 1903 Belgian Federal Festival happened to mark an anniversary for Cupérus. He had been the President of the Belgian Gymnastics Federation for 25 years.
The contemporary newspaper reports tended to focus on the parties and banquets. An article from Luxembourgish press perhaps summarized the atmosphere best.
The speech [by Brasseur], which was received with applause, was followed by new songs and fresh tankards until late, and the empty barrels called for a hearty farewell.

Diester mit Applaus aufgenommenen Rede folgten neue Lieder und frische Humpen bis die vorgerückte Stunde und die leeren Fässer zum herzlichen Abschied mahnten.

Bürger und Beamten, August 20, 1903
In honor of Cupérus's milestone, the Dutch newspaper Algemeen Handelsblad highlighted some of Cupérus's accomplishments:
First of all, we owe it to him that an international agreement was concluded between the various gymnastics federations with the lofty aim of promoting gymnastics science, of strengthening the ties of friendship between the various federations, so as to achieve fraternization between peoples. Mr. Cupérus was considered to be the most suitable person to preside over this international federation, which initially consisted of three, now 14 federations, representing as many countries. Furthermore, Mr. Cupérus has made a great contribution to the gymnastics hall or the terminology of gymnastics, and the Northern and Southern Netherlands owe their gymnastics language to him.

In his quality of municipal councilor, he has also raised gymnastics education for the schools to a level that will be found nowhere else in Belgium.

Allereerst hebben wij aan hem te danken dat tusschen de verschillende turnbonden, een internationale overeenkomst werd gesloten met het verheven doel, de turnwetenschap te bevorderen, de vriendschapsbanden tusschen de verschillende Bonden nauwer aan te halen, om zoodoende de verbroedering tusschen de volkeren te verkrijgen. Den heer Cupérus vond men den geschiktsten persoon als voorzitter voor dezen internationalen Bond, die aanvankelijk eerst uit drie, thans uit 14 Bonden, vertegenwoordigende even zoovele landen, bestaat. Verder heeft zich de heer Cupérus zeer verdienstelijk gemaakt voor de turnzaal of wel de terminologie der gymnastiek en Noord- en Zuid-Nederland hebben hun turntaal aan hem te danken.

In zijn qualiteit van gemeenteraadslid heeft hij voorts het turnonderwijs voor de scholen tot een hoogte opgevoerd, zooals nergens dn geheel België te vinden zal zijn.

Algemeen Handelsblad, August 17, 1903
Note #1: Only member federations could attend the federal festivals of other member federations. According to Hentgès, there were twelve affiliated federations, which included: Belgium, Bohemia (Czech), Denmark, Spain, France, Great Britain (England, Scotland, Ireland), Italy, Luxembourg, Hungary (Magyar Birodalam), Norway, the Netherlands, and Sweden. The German, Swiss, and "North American" federations were recognized but not officially affiliated.

Meanwhile, the book 100 Years of the FIG lists the following members: Belgium (1881), France (1881), Italy (1881), Netherlands (1881), Czechoslovakia (1897), Hungary (1898), Canada (1899), and Luxembourg (1900).
Note #2: The article refers to the development of a gymnastics vocabulary. According to 100 Years of the FIG, Cupérus wrote an essay on French and Dutch gymnastic terminology (1885) and held a Congress of Dutch terminology in 1886 and a Congress of French terminology in 1887.
The federations gave Cupérus and the Belgian federation many gifts. For example, the gold medal from the Italian federation mentioned above. But no one could top the French delegation, which named Cupérus a Knight of the Legion of Honor:
It was then the turn of Mr. Cazalet, President of the Union of French Gymnastics Societies, who, in a warm speech, characterized the career of Mr. Cupérus, made of duty, honor and dedication. He said that Mr. Cupérus has for years been a true apostle of gymnastics, enlightening gymnasts around the world and guiding them to port. He then depicted the private man, good, loyal, honest, and finally, he offered him, in the name of all the foreign federations, a superb marble, reproduction of an ancient masterpiece, the "Athlete."

This speech had been interrupted many times by applause, which resumed when Mr. Cazalet offered a personal gift to Mr. Cupérus. But the enthusiasm overflowed when Mr. Cazalet announced that the French government, wishing to give a striking proof of esteem to Mr. Cupérus, named him "Chevalier de la Légion d'Honneur."

The cheers rolled like thunder when Mr. Cazalet fastened on the chest of Mr. Cupérus, the insignia of the Legion of Honor and it was necessary to wait several minutes to be able to resume the speeches.

Ce fut alors le tour de M. Cazalet, président de l'Union des sociétés de gymnastique françaises, qui, en un discours chaleureux, caractérisa la carrière de M. Cupérus, faite de devoir, d'honneur et de dévouement. Il a dit que M. Cupérus est depuis des années un véritable apôtre de la gymnastique, éclairant les gymnastes du monde entier et les guidant vers le port. Il a dépeint ensuite l'homme privé, bon, loyal, intègre et enfin il lui a offert, au nom de toutes les fédérations étrangères, un superbe marbre, reproduction d'un chef d'oeuvre antique, l'"Athlète".

Ce discours avait été interrompu maintes fois par des applaudissements, qui reprirent lorsque M. Cazalet offrit un cadeau personnel à M. Cupérus. Mais l'enthousiasme déborda quand M. Cazalet annonça que le gouvernement français désirant donner une éclatante preuve d'estime à M. Cupérus, le nommait Chevalier de la Légion d'Honneur.

Les acclamations roulèrent comme un tonnerre, quand M. Cazalet attacha sur la poitrine de M. Cupérus, les insignes de la Légion d'Honneur et il fallut attendre plusieurs minutes pour pourvoir reprendre les discours.

Le Matin, August 16, 1903
Onto Women's Gymnastics in 1903…
While female gymnasts did not compete at the 1903 International Tournament, they did do gymnastics, and their performances were quite the sensation.
That's the subject of the next post…