At the 1970 World Championships, the favorite for the men's all-around title should have been Kato Sawao, the winner of the all-around in Mexico City in 1968. However, in February of 1970, he tore his right Achilles tendon while tumbling on floor. It was a major topic of conversation at the World Championships in Ljubljana. Here's just one news report on the matter:
Endo: "Early this year [Kato] suffered an Achilles tendon injury during a dismount, which was difficult to heal. By the time things got going again, he was already eliminated. Too bad for him, but there was nothing that could be done about it."

De Tijd, Oct. 31, 1970

Endo: "Begin dit jaar kreeg hij bij een afsprong een achillespeesblessure, die moeilijk genas. Toen het weer een beetje ging, was hij al geëlimineerd. Jammer voor hem, maar daar was niets aan te doen."
The injury wasn't just a major topic of conversation at the 1970 World Championships; it was also a major moment in Kato's life. In his autobiography, The Path of Beautiful Gymnastics: The Story of Kato Sawao (美しい体操の軌跡加藤沢男物語), Kato dedicates two entire chapters to his Achilles tear, his recovery, and his mindset after the injury. What follows are translations of short excerpts from his book.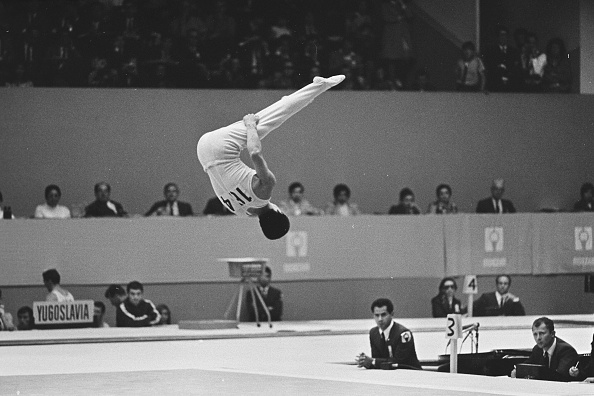 Achilles Tendon Rupture

My life in gymnastics has been haunted by injuries. At the 1968 Olympics in Mexico, I was severely injured in practice just before the vault final and returned home with a cast on my chest. Next spring, I finally returned to full practice. It's a little embarrassing to say it myself, but I practiced hard every day because I didn't feel comfortable unless I practiced diligently.

Currently, the World Championships are held every year except for the years of the Summer Olympics, but back then it was held every two years with the Olympics in between. In 1970, it was scheduled to be held in October in Ljubljana, Yugoslavia. But I couldn't participate in it.

The winter of 1969-1970 was very cold. The university gym in Hatagaya, Shibuya-ku, Tokyo was also cold. Unlike today, the floor was hard. Cold weather contracts the muscles, making them more vulnerable to injury. The incident occurred during a practice in February.

When I pushed off the floor in an attempt to do a backward layout somersault, I heard a "pop" noise. It felt like being hit with a volleyball, but I didn't feel much pain. I thought, "What?" and tried to stand up, but could not. I ruptured my Achilles tendon in my right foot. I had surgery and was forced to withdraw from qualifying rounds for the World Championships.

I was told not to move my leg for at least four weeks, so it was hard. Six weeks later, I was finally able to raise and lower my heels.

But I was taught at the time, "turn anything into profit." In other words, "If you can't use your legs, you can use your hands" or "If you can't use your limbs, you can use your head." I had parallette bars and resistance bands brought to the hospital and hid them under my bed. I pretended to go out for a walk on crutches, and I worked out my upper body with pebbles strapped to my arms. I stayed strong and thought, "Look, I'm going to get stronger and get out of the hospital!"

The Japanese men's team was also very successful at the World Championships in Ljubljana. They dominated the podium in the individual all-around. Kenmotsu Eizo won the gold medal, Tsukahara Mitsuo the silver medal, and Nakayama Akinori the bronze medal. 1970 was a year of patience for me.

Knowing Failure

By 1971, the year before the Munich Olympics, my torn right Achilles tendon had healed, and my physical condition was completely back to normal.

I spent most of my time "practicing failure." I took on adventures when I didn't have a big competition. Of course, I made a lot of mistakes. I valued the experience of "knowing failure." You never know what will happen in a competition. Practicing how to deal with any situation is the golden rule when facing big competition.

I understand the feeling of not wanting to show a failure to coaches and peers, even during practice. But I believe that failure makes people stronger. I regret that many athletes practice while being embarrassed or afraid of making mistakes.

In this respect, Kohei Uchimura's mindset is very similar to mine. He said, "It's okay to fail many times. You just need to be successful in the competition." I believe Uchimura's repetitive "practice failure" supports his imposing performance.

Anything that comes out of failure is valuable. No matter how many times you try, you can't do what you can't do. If you can accept with your senses that you can't do it, you shouldn't do it in a competition. You don't have to ruin yourself by forcing yourself to attempt a technique you can't do in the actual performance.

I often hear people say, "Be nothing" or "Focus." However, it's very difficult to reach such a state of mind. I also often hear people say, "You have to be at your 100%," but I believe it's difficult to do that as well. I'm sure that the ability to endure any situation comes only from hard practice.

People have the desire to win. Sometimes it's good to have a performance that consists of adding only the strengths that you have acquired without any adventures or failures. But I think it's equally important to experience a "fluke," and it does not last long.

You can't predict what will happen in an actual competition. True athletes know failure.

Kato Sawao, The Trail of Beautiful Gymnastics: The Story of Kato Sawao
Note: Above, Kato commented on the temperature at the time of his injury. Japanese gyms had a reputation for being cold. In November of 1964, a few Americans traveled to Japan for a national competition, and they reported back:
Moreover, the building was unheated and in Northern Japan at this time of year, it is COLD. Most competitors warmed up with gloves on and then warmed their hands during competition over small heaters placed by the apparatus. The temperature outside ranged between 35 and 40 degrees [Fahrenheit] and inside between 50 and 55 degrees. Very few complaints were heard, however, because Japanese gymnasts are accustomed to this.

Modern Gymnast, May/June 1965