Whereas men competed in gymnastics at the very first Olympic Games in 1896, women had to wait until the 1928 Games in Amsterdam. Unfortunately, the Official Report provides little commentary on the women's competition — save for the results, the names of the athletes, and a photo of the French team climbing the double ropes.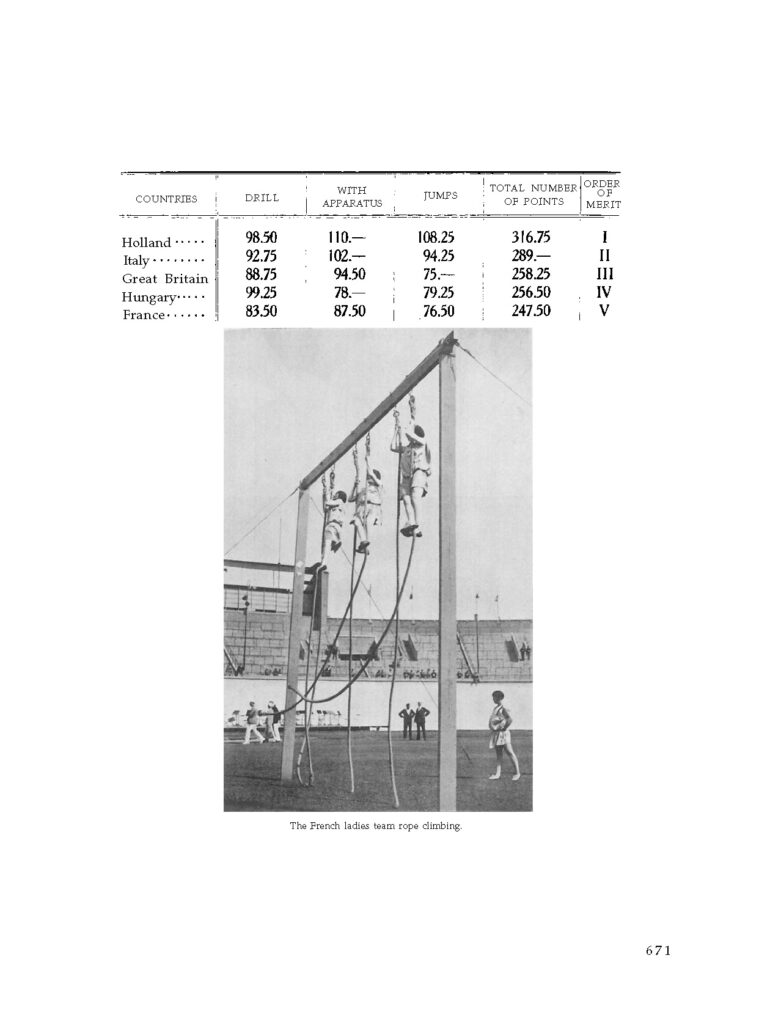 But there were newspaper accounts of the events.
In this post, we'll dive a bit deeper and look at two perspectives: that of the Dutch and that of the French. (The former was written for a general audience, while the latter was written for the gymnastics nerds.)
As we'll see, there were some glaring issues that needed to be addressed in women's gymnastics.
Which teams participated?
Five teams competed at the first women's gymnastics competition at the Olympic Games:
Holland
Italy
Great Britain
Hungary
France
Note: The French team wasn't a French national team, per se. Rather, it was one of the local societies, specifically the "Jeunesse du Blanc-Sceau" from Tourcoing (Raymond Barrull, Les étapes de la gymnastique au sol et aux agrès en France et dans le monde).
What was the program?
According to the rules…
Each participating country will present a team of 10 female gymnasts, who should execute the following exercises:

13-15 minutes: ensemble exercises: exercises with or without portable hand apparatus, or exercises with and without portable hand apparatus

13-15 minutes: exercises with apparatus

9-10 minutes: vaults

In total: 35-40 minutes

Each country will be entirely free in the composition of its exercises, in the choice of the apparatus and the exercises which will be executed, as well as in the choice of vaults.
You can read the full regulations here, and you can read the FIG's summary of the event here.
Note: The open-ended nature of the competition allowed women to compete on everything from flying rings to parallel bars to stall bars to vaulting over teammates. It stood in stark contrast with the women's competition at the 1925 Workers' Olympics, which had specific apparatus that the women competed on.
My thought bubble: On the one hand, the open-ended nature allowed each country to display its traditions. On the other hand, it made it impossible to judge. How do you compare a routine on stall bars to a routine on flying rings? And how can you expect judges to know about every possible apparatus in the world of gymnastics?
What were the results?
| | | | | |
| --- | --- | --- | --- | --- |
| Country | Drill | Apparatus | Vault | Total |
| 1. The Netherlands | 98.50 | 110.00 | 108.25 | 316.75 |
| 2. Italy | 92.75 | 102.00 | 94.25 | 289.00 |
| 3. Great Britain | 88.75 | 94.50 | 75.00 | 258.25 |
| 4. Hungary | 99.25 | 78.00 | 79.25 | 256.50 |
| 5. France | 83.50 | 87.50 | 76.50 | 247.50 |
Note: You can see every score from every judge in this post.
Is there video footage?
There is. But don't be misled. The opening footage is from an exhibition — not the competition. You can tell for two reasons:
There are too many gymnasts performing. Only 10 gymnasts could compete at a time.
The women competed on a giant area painted green.
To see a portion of the women's ensemble competition, you have to fast forward to the 1:33 mark. You can watch it here.
How was the judging?
The judging was, literally, all over the place. For the French team's ensemble exercise with or without hand apparatus, they received the following scores:
Score: 83.50 with each juror's points: 9, 12, 14.50, 15, 16.25, 16.75.

L'éducation physique et sportive féminine, October/November 1928
It was a world where one judge could give a team a 9 out of 20, while another judge could give a team a 16.75 out of 20.
---
The Dutch Perspective
The Dutch newspaper Arnhemsche courant covered the gymnastics competition extensively. On August 9, 1928 and August 10, 1928, it ran two articles that discussed the women's gymnastics competition. (You can read the original Dutch here.)
If you'd like to jump to a section, here are links: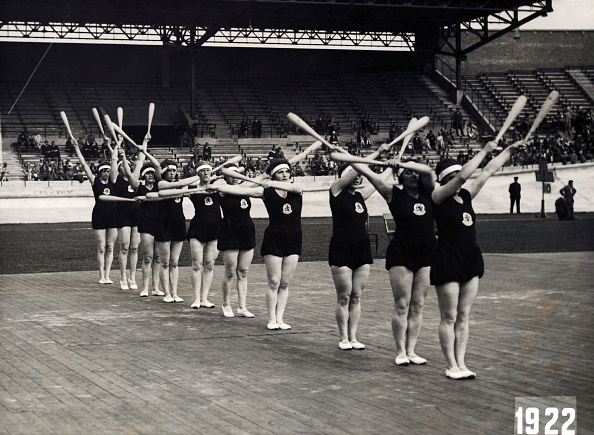 Drill
At 3 pm, the Dutch women's team coached by Mr. Landvliet, the Hague, enters the field. A platform has been placed in the middle, on which the free exercises will be performed. The program that the women have to go through consists of, among other things: a. free exercises, b. apparatus, and c. vaulting.

Considering that the women are participating in the Olympic gymnastics competitions for the first time, the Technical Committee of the International Gymnastics Federation has given them free choice of their exercises.

In contrast to yesterday on the demonstration day, Holland made a fantastic impression.

After some fierily performed marching exercises, we got a beautiful series of free exercises, during which difficult scales were performed exceptionally well. The 10 Dutch girls were well-trained, yet every movement was perfect.

Because the exercises had to be performed for 15 full minutes, the leaders also included some other exercises in the program. From the start to the finish, the ladies maintained their beautiful ensemble performance. The audience loudly cheered our compatriots.

The jury rewarded the performance with 98 1/2 points out of 120.

A difficult task was then assigned to the countries that had to perform after Holland.

Italy opened the series with ten fiery young ladies. In regular alternation, the running and free exercises succeeded one another. Here, too, the scales and the complete leg bend on 1 leg were perfectly executed. However, the entire performance was not as good qualitatively as the one by the Dutch ladies. As such, the jury gave them a score of 92 3/4.

The third team was England. The ladies were dressed in a scarlet tunic with black stockings, a gym outfit that looked a bit out of the ordinary to us Dutch people.

Their free exercises were strongly derived from the Niels-Bukh method. Yet, the performance was not as good as their predecessors. The total score was only 88.75.

Hungary was the 4th team. Free exercises in free-flowing form were of good quality. However, this was followed by a series of exercises that were executed in a very fast pace, which were among the best we have seen in the Netherlands. Nevertheless, we thought that Holland was just a tiny bit better. The jury had a different opinion, though, and rated the performance with a score of 99 1/4.

The French women were the last team to enter the platform. They certainly beat their predecessors in terms of elegance, yet the gymnastic value was significantly less. Everything happened at a rather slow pace. This didn't escape the attention of the jury, who gave our Gallic sisters a score of 83 1/2.

Arnhemsche courant, August 9, 1928
Note #1: The article refers to a demonstration day. In addition to the competition, countries could send troops to perform exhibitions. The Dutch women's exhibition was less than spectacular.
According to the newspaper De Maassbode (August 8, 1928), the gymnasts were out of sync. When the first row of women bent over, the next row was already rising, giving a serpentine look to the performance ("De vrije oefeningen worden dan ook niet geheel correct uitgevoerd, want als de eerste rij dames poogt te bukken, gaat de achterste afdeeling al overeind. Het geeft zoo den indruk van een kronkelende slang of een weggeworpen serpentine.")
Note #2: Niels Bukh was a Danish gymnastics instructor who published his Primitiv Gymnastik eller Grundgymnastik (Primitive or Basic Gymnastics) in 1922. Instead of holding static and rigid positions, he infused the positions with rhythm, movement, and suppleness in a brisk tempo. (He also had his undressed male gymnasts appear in little black boxer shorts.)
You can see an example here.
Apparatus
Beautiful apparatus gymnastics by the Dutch ladies.

The Hungarian and French ladies opted for some lighter exercises, which was insufficient to beat the subsequent gymnastics performances shown by the Dutch and Italians.

The Italian ladies preferred the stall bars. The work by the team that consisted of five ladies was unsurpassable, but it was a pity that they limited themselves to only one piece of equipment. In that regard, the Netherlands made a fortunate choice. The Dutch gymnasts performed on a low set of parallel bars, followed by a high set of parallel bars and ending with a turn on the rings. Just like yesterday's free exercises, everything was performed meticulously. Beautiful exercises, not too difficult, composed logically, performed classically and neatly, beautiful in order and leadership, in one word: sublime.

The jury did show its appreciation for the performance of the Dutch gymnasts in its scoring. They received 110 out of 120 points. Italy got 102, England 94.50, France 84.50 and Hungary 78.

After two components, the total ranking of the women is: 1. The Netherlands 208.50 points; 2. Italy 194.75 p.; 3. England 183.25 p.; 4. Hungary 177.25 p.; 5. France 168 p.

Arnhemsche courant, August 10, 1928
Note #1: France originally received an 84.50, but after a protest, the score was raised to 87.50. More below in the French section.
Note #2: Technically, the Dutch article states that the women competed on a low bar (singular) followed by a high bar (singular). However, the article uses the term "brug," which is the word for parallel bars in the plural form (bruggen). Plus, the French article indicated that the Dutch team competed on two different types of parallel bars. Hence the translation above.
Vault
On Thursday afternoon the gymnastics tournament started with women's vaulting (last component). France was not able to perform above average in this component either. Everything was too simple and looked more like the work of aspiring gymnasts than skilled ladies. Holland, on the other hand, made a much better impression. The vaulting was classical on six horses: 2 low, 2 with springboards and two arranged longitudinally. Everything was performed meticulously. The pretty large audience—at least for gymnastics—enjoyed numerous daring vaults.

Flanks, handstands, and finally all the ladies did a somersault. It was truly of the very best shown at the Olympics by any woman. After the judgment was finalized, Holland had achieved such a result that the first prize could no longer escape them. This was a stunning success, which, considering the monthslong preparation under the leadership of M. Sandvliet, was certainly deserved!

After the Netherlands, the Italians once again showcased superb vaulting exercises. The leader of the Italians had noticeably spent a lot of time working on the classical aspect. Among other things, they did side-by-side scales with 5 ladies, followed by the other five ladies jumping over them. Nevertheless, they got 94% points compared with Holland's 108. The total result was as follows: 1. Holland 316.75; 2. Italy 289; 3. England 258.25.

The formal Olympic tribute that took place for the Dutch women was magnificent. After the Wilhelmus was over, Mr. Sandvliet and Kleerekoper received beautiful flowers.

His Royal Majesty Prince Hendrik, who attended the ceremony, complimented the winning team and shook everyone's hand.

The Dutch gymnasts certainly enjoyed a beautiful day today.

Arnhemsche courant, August 10, 1928
First victory in Olympic Gymnastics Tournament for Holland.

At fifteen past five, the Orange-blanje-bleu slowly got louder and the Wilhelmus was played in the Stadium. What had happened? Well, the first victory in the Olympic gymnastics tournament was achieved by taken 316.75 points in the national teams competition (three components). In the stands the following songs were sang loudly and proudly: "Hé, hé, hé, Holland spreekt een woordje mee! Je "mentendree", hé, hé, hé" and the famous "Hou zee, hou zee K. N. G. V.!"

Meanwhile, the leader of the Dutch ladies, Mr. Sandvliet, who had trained the ladies so well and practiced the exercises with the utmost patience, was given a garland as well as the ensign of the women's team.

The cheering reached its climax, however, when His Royal Majesty Prince Hendrik came forward and said a few words to the leader and shook the hand of each participant. They proceeded by marching past the grandstand to the beat of music, while the audience cheered them on loudly, and then our ladies, who gave us our first victory, disappeared under the stand toward their dressing rooms. Will the men follow in their footsteps?

Arnhemsche courant, August 10, 1928
Spoiler: The Dutchmen did not follow in the women's footsteps.
---
The French Perspective
In the October/November 1928 issue of L'éducation physique et sportive féminine, E. Bougouin provided his notes and commentary on the women's competition. E. Bougouin was a professor of physical education at the University of Reims and an esteemed director of instructor training for the Union of Gymnastics Societies in France. He was also one of the judges at the 1928 Olympics.
You can read a translation of the article below. (French original here.)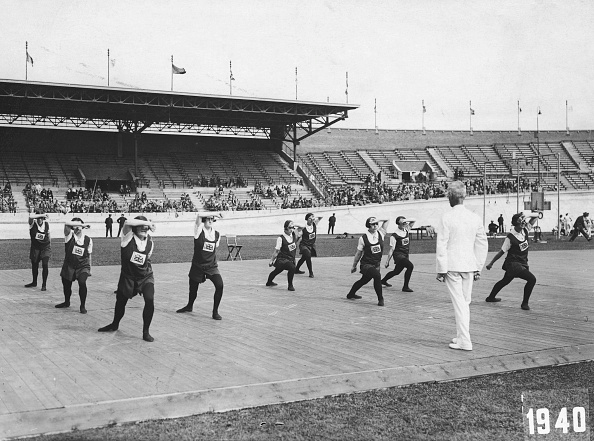 If you'd like to jump to a section, here are links:
⁂ ⁂ ⁂
Competition. Group exercises (order of appearance)

The women's competitions began on Wednesday August 8, at 2:30 p.m. at the Olympic stadium, by group exercises. A very large floor, painted green, was placed on the lawn, with a piano at one of the corners.

Holland. — 1st — Commanded patterns and stretching exercises of the Swedish method executed with jerks and rigidity. Lots of ensemble and good individual execution.

[Note: The team leader could give commands during the routine. Hence the references to commanded routines vs. routines without commands throughout this section. You can see the team leader in the photo of the British women above.]

2nd — A few movements of the wrists, arms, and legs, rounded and continuous, performed to music.

3rd — Very nice series with light clubs.

In summary beautiful varied combinations very well presented.

Score: 98.50 out of 120.

The scores were displayed and visible to the spectators. They were also announced by the loudspeaker in Dutch, then in French.

Italy. — 1st — Exercises of order and very varied patterns, very long and very mechanical. The 10 young girls, of the same size, small, kept perfect alignment, had the same stride length, the same elevation of the arms in the swings, stiffened arms, wrists, fingers.

[Note: The Italian team's average age was 14.]

2nd — A fairly complete series of free-hand movements executed partly with jerks, partly without jerks, but always with a lot of unity.

3rd — Reprise of the patterns of the beginning.

This performance, well-directed by voice by the leader, would have won with fewer order exercises. Rating 92.75.

Great Britain. — Commanded exercise.

1st — Patterns with normal gait, without stiffness.

2nd — Stretching exercises of the Swedish method performed with maximum energy and stiffness. Lots of movement on the ground.

3rd — Walk and patterns. Too many steps. Score: 88.75

Hungary. — Execution to music of a series of exercises, on two sides, comprising a fairly complete series of movements, sometimes jerky, sometimes continuous and rounded, without hand apparatus and with light clubs.

This performance did not include any steps. The mark of 99.25 was too high in my opinion because the very good execution was due to the absence of any difficulty.

France. — The whole presentation is done to music, without any command.

1st — Warm-up by moving in a circle.

2nd — Execution of the three preliminaries of the Federal festival, on two sides.

3rd — Rhythmic gymnastics.

Score: 83.50 with each juror's points: 9, 12, 14.50, 15, 16.25, 16.75.

Not wanting to give a personal opinion explaining this low score, I will content myself with reporting the words of a foreign juror who knows very well and greatly appreciates the French method.

"Your performance executed with a beautiful ensemble has some weaknesses in the individual execution; a young girl placed in the first row, had her head constantly lowered and seemed to suffer from kyphosis. The combination is incomplete: Lack of figures in the patterns, warm-up with too easy movements, repeated too long. If the 2nd part is good, the finale resembles a ballet whose positions leave the arms, the wrists and the fingers always bent, no amplitude in the movements and a lot of Sauvages and ½ Sauvage, names given to these skippings by one of your best female teachers. In summary, I believe that a complete presentation of your excellent method by your graceful French would have obtained the best score."
Apparatus exercises. (Order of passage), Thursday morning August 9.

Great Britain. — 1st — On the small parallel bars. Simultaneous exercises including: crossing over of the legs at the end, seated splits, swings with progressions, rolls, supine supports [levers] (front and back), bent inverted stands, straight handstands by kicking up of the feet placed on a bar, dismounts by somersaults at the end of the bars.
2nd — Swinging rings. Swings with two steps on the ground, forwards, then backwards, pull-ups, ½ turn, crossed ropes, dismounts by inverting or by letting go of the arms, either in the front swing or in the backswing.

Very good presentation. Rating 94.50.

Hungary. — Alternate work, working one at a time, good execution. Crossing over of the legs, swings, seated splits, sitting on 1 or 2 legs on a bar, supine supports [levers] (front and back), pivots, bent inverted stands on one shoulder, plank on a rope, front and back dismounts and somersaults. Score: 78.

France. — 1st — Simultaneous by 3 on the small parallel bars: Execution of the 3 degrees of the federation, then of 3 difficult degrees, very well composed and presented with a beautiful ensemble and a good individual execution.

2nd — Climb the twin ropes with the help of the legs, simultaneously by 3 and descent without the legs. Note 84.50 then 87.50.

Very surprised on seeing this score. I went to see the calculators and asked for the scores of each judge. Here they are: 6, 10, 15, 17, 17.75, 18.75. The English judge had put 6. I complain to the president of the jury who is very surprised at such a difference between the best and the worst mark. He intervenes with the English judge to make him raise his score. After a long discussion, the score is raised to 9!!! I was sorry, as well as the president of the jury, who was powerless, because no decision, concerning the large point differences, had been made about the team competition. Truly such partiality is intolerable. French performance, considered from the point of view of muscular development that must not be exceeded for women — if it could have been supplemented by exercises on the beam, would it have been the best?

Holland. — Simultaneously by 5:

1st — On the small parallel bars (Same exercises as Great Britain).

2nd — On the parallel bars. Being on the side of the bars, entry by inversion with ½ turn, in front support, rolls, supports on the elbows, hanging under the bars and recovery for a short moment, in the seated straddle, bent stands on one shoulder, dismounts by circles or splits at the end of the bars.

3rd — Rings, by 2 simultaneously. Two instructors launch the young girls. Big swings, recoveries in bent support, then straight, swings being in bent dorsal suspension (exercise very painful for the chest), dismounts by inverting forward or backward. Score: 110.

This high mark shows that the jurors were impressed by the great difficulty of these exercises, as well as by the presentation which was perfect. The spectators, mostly Dutch, were enthusiastic. For the cause of female physical education, I do not think that such difficult movements are to be recommended.

Italy. — Very nice combination of supports and suspensions, on the stall bars. Perfect execution, simultaneously by 5. This apparatus not allowing any exercise of swing, the Italian team did show its value. Score: 102.

Vaulting Competition (order of appearance, Thursday afternoon).

France. — 1st — Varied vaults simultaneously by 3, over the beam placed at 0m. 90.

2nd — Vaults with side run-up over boards placed at 1 m. and 1 m. 20, simultaneously by 3. Score 76.50.

As you will see, we always have two jurors who want to knock out the French team. Here are the points:

6, 9, 13, 14, 17.50. The English judge put 6 and the Hungarian 9.

There is no doubt that the score would have been better if the beam had been higher.

Holland. — Vaults of a wide variety of great difficulty, on the side horse, and simultaneous by 5. Height of the horse 1 m. 40, elastic board [See this post for explanation]. A few forward somersaults, side jumps over young girls seated on the horse, somersault jumps through the straight handstand. We pass judgment on the acrobatics. Rating: 108.75.

Italy. — Very original performance executed without apparatus on the cinder track, with a completely mechanical stiffness. The performers seemed to be automatons.

Simultaneous little varied vaults, 5 young girls in often very graceful scales, serving as obstacles that the others crossed. The positions, before the vaults, were preceded by walking in line with ½ turns; the alignment remaining perfect. More walking and patterns than vaults. Rating: 94.25.

[In other words, they jumped over one another.]

Great Britain. — Vaults over a transverse horse. The competitors passing individually. Good execution, but no difficulty and too many repetitions of the same vaults. Rating: 75. (I contributed a lot to make this score bad).

Hungary. — Same vaults as Great Britain. The instructor helping the young girls and keeping them in a plank position above his head, as if for a personal exhibition. This performance felt like a training session. Score: 79.25, unearned.

[…]
Conclusion

France is 5th in the women's' gymnastics competition in Amsterdam.

Should we blame young girls for this? No, certainly not, because they put all their heart into making our colors triumph and executed well what their instructor, our friend Delescluze, had taught them; but they would have made more difficult performances with as much enthusiasm and in the spirit of our method, if we were to ask them. We could thus gain two places.

Let's not blame the climate anymore, because the women's competitions were visited by the sun. Only the chauvinism of certain judges was the cause of our defeat and caused us to lose at least one place, if not two.

How to admit that the points of 4 jurors give a total of 58.50, that is to say, an average of 17, that the notes of two other jurors only give a total of 16, average 8. I consider that such a difference in interpretation is scandalous because, in these conditions, one does not judge with one's conscience, but with one's flag, which makes any international competition impossible.

Pierre Bardel, sent by the Echo des Sports to Amsterdam, wrote in his diary of September 13:

"Jurors are men, therefore fallible… and unfortunately only men. They do not know how to resist their inclinations and give in to their passions.

Chauvinism manifests itself at every international competition, and most often in an outrageous way. You would have to be blind or in bad faith to deny it. And it is infinitely regrettable for this ideal that Sport should be."

Finally, we must not increase the difficulty of scoring, by forcing jurors to judge exercises using completely different methods or by certain teams performing almost acrobatic movements and going beyond what is allowed to be asked of amateur women.

It is necessary that in the future, for the international competitions of women's gymnastics, a Technical Committee, composed of qualified representatives, of various nations, works out a program and imposes exercises or gives more precise directives than at the last Olympic games.

The cause of women's gymnastics can only win there and France will no longer come out last at the Olympics.
---
On the Development of the Women's Technical Committee
Bougouin's suggestion came to fruition five years later.
In 1933, a special committee was created with Countess Jadwiga (Hedwig) Zamoyska as the president. Also on the committee were Mr. Hentgès (Luxembourg), Mr. Krizmanich (Hungary), and Mr. Sommer (Netherlands). They were responsible for creating the rules for the women's competition at the 1934 World Championships:
A ce même congrès, le comité technique désigna trois de ses membres, MM. Hentges, Krizmanich et Sommer pour constituer, avec Mme la comtesse Jadwiga Zamoyska comme présidente, une commission spéciale chargée d'élaborer le règlement du 1er tournoi en gymnastique féminine.

Olympische Turnkunst, Feb. 1968
Here's the blurb that ran in the Polish federation's periodical when the Countess was appointed to this committee:
The convention was attended by Countess J. Zamoyska, whom the FIG entrusted with the development of the regulations for the participation of women in international competitions.

Na zjeździe obecna była dh. nacz. J. Zamoyska, której F. I. G. powierzyła opracowanie regulaminu udziału kobiet w zawodach międzynarodowych.

Przewodnik Gimnastyczny "Sokół," 1933, n. 4
Note: Her election was overshadowed by that of her father-in-law, Adam Zamoyski, who was elected President of the FIG in 1933.
At the 1934 F.I.G. Congress, it was decided to create a permanent Women's Technical Committee.
After the successful participation of women's teams in the 10th international tournament, the creation of a permanent women's technical committee ended in complete triumph for Mrs. Zamoyska, who had been entrusted with the task of preparing and presenting this issue. As of this year, the F. I. G. has gained, apart from the men's committee, a permanent women's committee, consisting of representatives of the women's element of the various national federations. The difficulties arising from the fact that some countries (France and Finland) have separate women's federations have been left to those countries to resolve.

​​Sprawa utworzenia stałej komisji technicznej żeńskiej, po udatnym udziale zespołów kobiecych w X turnieju międzynarodowym, skończyła się całkowitym triumfem dhny nacz. Zamoyskiej, której przygotowanie i zreferowanie tej sprawy uprzednio zlecono. F. I. G. zyskuje od roku obecnego, obok komisji męskiej, komisję żeńską stałą, złożoną z przedstawicielek elementu kobiecego poszczególnych federacyj narodowych. Trudności, wynikające z posiadania przez niektóre kraje (Francja i Finlandja) oddzielnych federacyj żeńskich, pozostawiono do rozstrzygnięcia tym krajom.

Przewodnik Gimnastyczny "Sokół," n. 6, 1934
Then, in 1935, an all-female committee was elected. Marie Provazníková of Czechoslovakia and Julianne Carminata of Italy were elected as vice president and secretary, respectively.
According to the Polish federation's publication, one of the reasons for forming the Women's Technical Committee was to prevent the formation of a second gymnastics federation, which would have created one international gymnastics federation for men and another for women.
One of the most important resolutions of this congress was the final approval of the International Women's Technical Committee. It is important to highlight the fact that the approval of this new and so important women's establishment took place precisely in Brussels, where 54 years ago the great Nicolas Cupérus created the International Gymnastics Federation.

[…]

The final version of the regulations was adopted at a meeting of the Women's Technical Committee in Brussels on 18 July this year. At this meeting, elections were also held for a four-year period, i.e. until the next Olympiad.

Countess Jadwiga Zamoyska, the head of the Polish Falconry Association, was elected chairperson of the international women's committee, the vice-chairperson was Marie Provazníková, the head of the Czechoslovak Sokol Association, the secretary was Julianna Carminati from the Italian Gymnastics Federation.

An executive committee was also elected for a 4-year period, consisting of a chairperson, vice-chairperson, secretary, and two members, Ms. Warninghoff (Germany) and Ms. Laroc (Belgium).

As the plenary meetings of the International Women's Technical Commission will only be held during the International Conventions, all the work falling within the scope of this Committee will be prepared by the Executive Committee, whose meetings will be convened by the President as and when necessary.

Now, therefore, the women's technical committee of the International Gymnastics Federation will not only be able to ensure the proper running of women's gymnastics in all the associations affiliated to the F.I.G., but will also strive to develop it.

The creation of the F.I.G. Women's Technical Commission has finally eliminated the unhealthy separatist aspirations of a certain faction, aiming to organize a separate international women's federation.

Jedną z ważniejszych uchwał tego zjazdu było ostateczne zatwierdzenie żeńskiej międzynarodowej komisji technicznej. Należy podkreślić fakt, że zatwierdzenie tej nowej, a tak ważnej placówki kobiecej — nastąpiło właśnie w Brukseli, gdzie 54 lata temu wielki Mikołaj Cuperus stworzył Międzynarodową federację gimnastyczną.

[…]

Na przewodniczącą międzynarodowej komisji żeńskiej wybrano Jadwigę hr. Zamoyską, naczelniczkę Związku sokolstwa polskiego, na wiceprzewodniczącą Marję Provaznikową, naczelniczkę Związku sokolstwa czechosłowackiego, na sekretarkę Juliannę Carminati z Federacji gimnastycznej włoskiej.

Na przewodniczącą międzynarodowej komisji żeńskiej wybrano Jadwigę hr. Zamoyską, naczelniczkę Związku sokolstwa polskiego, na wiceprzewodniczącą Marję Provaznikową, naczelniczkę Związku sokolstwa czechosłowackiego, na sekretarkę Juliannę Carminati z Federacji gimnastycznej włoskiej.

Wybrana została również na okres 4-letni komisja wykonawcza, w skład której weszły: przewodnicząca, wiceprzewodnicząca, sekretarka i dwie członkinie: p. Warninghoff (Niemcy) i p. Laroc (Belgia).

gia). Ponieważ plenarne zebrania żeńskiej międzynarodowej komisji technicznej odbywać się będą tylko podczas zjazdów międzynarodowych, wszystkie prace, wchodzące w zakres tej komisji, przygotowywać będzie komisja wykonawcza, której posiedzenia zwołuje przewodnicząca, w miarę potrzeby.

Teraz więc żeńska komisja techniczna Międzynarodowej federacji gimnastycznej będzie mogła nietylko czuwać nad właściwem prowadzeniem gimnastyki kobiecej na terenie wszystkich związków, zrzeszonych w F.I.G., lecz również dążyć do jej rozwoju

Utworzenie żeńskiej komisji technicznej F. I. G. ostatecznie już zlikwidowało niezdrowe dążenia separatystyczne pewnego odłamu, zmierzającego do zorganizowania odrębnej federacji międzynarodowej żeńskiej.

Przewodnik Gimnastyczny "Sokół," 1935, n. 10
---
The Dutch Original
Om 3 uur komt de Hollandsche damesploeg onder leiding van den heer Landvliet, Den Haag, het veld op. In het midden is thans een plankier neergelegd, waarop de vrije oefeningen worden uitgevoerd. Het programma dat de dames hebben te verwerken bestaat uit: a. vrije oefeningen, b. toestellen en c. springen.
Daar de dames voor de eerste maal aan de Olympische turnwedstrijden deelnemen, zijn zij door de Technische Commissie van de Internationale Gymnastiek Federatie in de keuze van oefenstof geheel vrijgelaten.
Holland maakte in tegenstelling met gisteren op den demonstratiedag, een schitterenden indruk.
Na eenige pittig uitgevoerde marschoefeningen, kregen wij een fraaie serie vrije oefeningen, waarin moeilijke zweefhoudingen buitengewoon goed werden uitgevoerd. De 10 Hollandsche meisjes waren wel goed getraind, toch elke beweging was af.
Daar 15 minuten achter elkaar moest worden doorgeturnd, had de leider ook nog knodsoefeningen in zijn programma opgenomen. Van begin tot einde bleven de dames hun fraai ensemblewerk handhaven. Het publiek juichte onze landgenooten luide toe.
De jury beloonde het optreden met 98 1/2 punten van de 120.
Een moeilijke taak was thans opgedragen aan de landen, die na Holland moesten optreden.
Italië opende de rij met een tiental pittige jonge dames. In geregelde afwisseling volgden elkaar loopen en vrije oefeningen steeds op. Ook hier waren de zweefhoudingen en de heele beenenbuiging op 1 been prima verzorgd. Toch was het geheele optreden qualitatief niet zoo goed als van de Hollandsche dames. De jury kende dan ook 92 3/4 toe.
Als derde kwam Engeland. De dames waren gekleed in scharlaken roode tuniek met zwarte kousen, een turncostuum, dat voor ons Hollanders Wel een beetje vreemd aandeed.
Hun vrije oefeningen waren sterk ontleend aan de Niels-Bukh methode. Toch was het geheel niet zoo goed als van haar voorgangsters. Het puntenaantal werd dan ook maar 88.75.
Hongarije kwam als 4e aan de beurt. Vrije oefeningen in vloeienden vorm waren van goed gehalte. Doch daarna kwam een serie knodsoefeningen, die in een zeer snel tempo uitgevoerd, tot het allerbeste behoorde, dat wij in Nederland gezien hebben. Niettegenstaande vonden wij Holland toch nog wel iets beter. De jury dacht er echter anders over en beoordeelde haar met 99 1/4.
Als laatste kwamen de Françaises op het plankier. In élégance wonnen zij het zeker van haaf voorgangsters, doch de gymnastische waarde was belangrijk minder. Het ging alles in een slap tempo. De jury was dit dan ook niet ontgaan en gaf onze Gallische zusjes 83 1/2.
Arnhemsche courant, August 9, 1928
⁂ ⁂ ⁂
Fraai toestelturnen van de Hollandsche dames.
De Hongaarsclie ere Fransche dames hadden heel wat lichtere oefenstof gekozen, waarmede zij in geenendeele tegen het daarna vertoonde Nederlandsche en Italiaansche turnen op konden.
De Italiaansche dames hadden de voorkeur gegeven aan wanrek. Het werk van de uit vijf dames bestaande ploeg was onverbeterlijk, jammer was, dat zij zich tot slechts één toestel bepaalden. In dit opzicht had Nederland een gelukkige greep gedaan. De Hollandsche turnsters werkten aan lage, vervolgens aan hooge brug om met ringenzwaai te eindigen. Evenals gisteren bij de vrije oefeningen was ook thans alles tot in de puntjes verzorgd. Mooie oefenstof, niet te zwaar, logisch samengesteld, keurig klassikaal uitgevoerd, prachtig van orde en leiding, in één woord subliem.
De jury heeft dan ook in de punten haar waardeering voor het werken der Nederlandsche turnsters tot uiting doen komen. Zij kregen 110 van de. 120 punten. Italië kreeg 102, Engeland 94.50, Frankrijk 84.50 en Hongarije 78.
Na twee onderdeelen is de totale stand der dames: 1. Nederland 208.50 punten; 2. Italië 194.75 p.; 3. Engeland 183.25 p.; 4. Hongarije 177.25 p.; 5. Frankrijk 168 p.
[…]
Donderdagmiddag werd het Gymnastiektournooi begonnen met het Springen (laatste onderdeel) der dames. Frankrijk heeft zich ook met dit onderdeel niet boven het middelmatige kunnen verheffen. Alles was te eenvoudig en geleek meer op adspiranten dan op dameswerk. Daarentegen maakte Holland een veel beteren indruk. Er werd klassikaal gesprongen aan zes paarden, t.w. 2 laaggestelde, 2 met veerplanken en twee in de lengte gesteld. Het geheel was uiterst goed verzorgd. Het nu in vrij groote getale aanwezige publiek — althans voor gymnastiek — kon genieten van talrijke gedurfde sprongen.
Flanken, hand stand over slag en tot slot werd door alle dames een salto gesprongen. Het was werkelijk het beste wat er op damesgebied op de Olympische spelen vertoond werd. Nadat de beoordeeling geëindigd was, had Holland een dusdanig resultaat bereikt, dat het den eersten prijs niet meer kon ontgaan. Voorwaar een fraai succes, dat zeer zeker na de maandenlange voorbereiding, onder leiding van den heer M. Sandvliet, welverdiend was!
Na Nederland kwamen ook nu weer de Italianen prachtige springoefeningen vertoonen. Door den leider van de Italianen was bijzonder veel werk gemaakt van het klassikale. Zij maakten o.a. met 5 dames een zijdelingsche zweefstand, waarna de andere vijf dames er over heen sprongen. Niettemin kregen zij 94% punt tegen Holland 108. De totale uitslag luidt als volgt: 1. Holland 316.75; 2. Italië 289; 3. Engeland 258.25.
Het was een schitterende hulde, deze protocolaire Olympique, welke voor de Hollanders plaats vond. Nadat het Wilhelmus was uitgespeeld kregen de heer Sandvliet en Kleerekoper fraaie bloemen ten geschenke.
Z. K. H. Prins Hendrik, die de plechtigheid bijwoonde, complimenteerde de winnende afdeeling en drukte allen de hand.
De Nederlandsche turners hebben heden wel een schoonen dag gehad.
Eerste zege op het Olympisch Gymnastiektournooi voor Holland.
Om kwart over vijven rees heel langzaam het Oranje-blanje-bleu ten top en klonk het Wilhelmus over het Stadion. Wat was er dan geschied? Wel, de eerste overwinning in het Olympisch gymnastiek-tournooi werd behaald, door m den landen wedstrijd (driekamp) 316.75 punten te veroveren. Van de tribunes klonk het, als uit één mond: "Hé, hé, hé, Holland spreekt een woordje mee! Je "mentendree", hé, hé, hé" en het bekende ,,Hoü zee, hou zee K. N. G. V.!"
Inmiddels werd den leider der Hollandsche dames, de heer Sandvliet, die de dames zoo geoefend en de nummers met het meeste geduld had ingestudeerd, een krans aangeboden, zoomede den vaandrig der damesploeg.
Het gejuich steeg echter ten top, toen Z. K. H. Prins Hendrik naar voren trad en den leider eenige woorden toesprak en. ieder der deelneemsters een hand gaf. Daarna marcheerden zij op muziek even langs de eeretribune, door een ieder luide toegejuicht en toen verdwenen zij, onze dames, waaraan wij de eerste overwinning danken, onder de tribune naar hun kleedkamers. Zullen de heeren volgen?
Arnhemsche courant, August 10, 1928
---
The French Original
Concours. Exercices d'ensemble (ordre de passage)
Les concours dames commencèrent le mercredi 8 août, à 14 h. 30 sur le stade olympique, par les exercices d'ensemble. Un très grand plancher, peint en vert, était posé sur la pelouse, avec un piano à l'un des angles.
Holland. — 1° Évolutions commandées et exercices d'assouplissement de la méthode suédoise exécutés avec saccades et rigidité. Beaucoup d'ensemble et bonne exécution individuelle.
2° Quelques mouvements de poignets, de bras et de jambes, arrondis et continus, exécutés en musique.
3° Très belle série avec massues légères.
En résumé belles combinaisons variées très bien présentées.
Note: 98.50 sur 120.
Les notes étaient affichées et visibles pour les spectateurs. Elles étaient également annoncées par le haut-parleur en langue hollandaise, puis en langue française.
Italie. — 1° Exercices d'ordre et évolutions très variées, très longues et très mécaniques. Les 10 jeunes filles, de même taille, petites, conservaient un alignement parfait, avaient même longueur de pas, même élévation des bras dans les balancements, bras, poignets, doigts raidis.
2° Une série de mouvements à mains libres assez complète et exécutée partie avec saccade, partie sans saccade, mais toujours avec beaucoup d'ensemble.
3° Reprise des évolutions du début.
Cette production bien dirigée à la voix par le moniteur eut gagné avec moins d'exercices d'ordre. Note 92,75.
Grande-Bretagne. — Production commandée.
1° Évolutions avec marche normale, sans raideur.
2° Exercices d'assouplissement de la méthode suédoise exécutés avec un maximum d'énergie et de raideur. Beaucoup de mouvements à terre.
3° Marche et évolutions. Trop de marches. Note 88.75
Hongrie. — Exécution en musique, d'une suite d'exercices, sur deux faces, comprenant une série assez complète de mouvements tantôt saccadés, tantôt continus et arrondis, à mains libres et avec massues légères.
Cette production ne comprenait aucune marche. La note de 99.25 fut trop forte à mon avis, car la très bonne exécution fut due à l'absence de toute difficulté.
France. — Toute la présentation est faite en musique, sans aucun commandement.
1° Mise en train en se déplaçant en cercle.
2° Exécution des trois préliminaires de la fête Fédérale, sur deux faces.
3° Gymnastique rythmée.
Note 83,50 avec les points de chaque juré: 9, 12, 14,50, 15, 16,25, 16,75.
Ne voulant pas donner un avis personnel expliquant cette faible note, je me contenterai de rapporter les paroles d'une juré étranger connaissant très bien et appréciant beaucoup la méthode française.
«Votre production exécutée avec un bel ensemble a quelques faiblesses dans l'exécution individuelle; une jeune fille placée au premier rang, avait constamment la tête baissée et semblait atteinte de cyphose. La combinaison est incomplète : Manque de figures dans les évolutions, mise en train avec mouvements trop faciles, répétés trop longtemps. Si la 2e partie est bien, la finale ressemble à un ballet dont les attitudes laissent les bras, les poignets et les doigts toujours fléchis, aucune amplitude dans les mouvements et beaucoup de Sauvage et ½ sauvage, nomes donnés à ces sautillements par l'un de vos meilleurs professeurs dames. En résumé, je crois qu'une présentation complète de votre excellente méthode par vos gracieuses française eut obtenu la meilleure note.»
Exercices aux engins. (Ordre de passage), Jeudi matin 9 août.
Grande-Bretagne. — 1° Aux petites barres parallèles. Exercices en simultané comprenant : passements de jambes au bout, sièges écartés, balancements avec progressions, rouleaux, appuis couchés (facial et dorsal) appuis fléchis renversés, appuis tendus renversés par élan des pieds placés sur une barre, chutes par culbutes fléchies au bout des barres.
2° Anneaux de voltige. Balancements avec deux pas d'élan à terre, en avant, puis en arrière, tractions, ½ tour, cordes croisées, chutes par renversement ou en coupant les bras, soit au balancement avant, soit au balancement arrière.
Très bonne présentation. Note 94,50.
Hongrie. Travail alternatif, les concurrentes passant par une, bonne exécution. Passement de jambes, balancements, sièges écartes, sièges sur 1 ou 2 jambes, sur une barre, appuis couchés (facial et dorsal), pivots, appuis fléchis renversés sur une épaule, planche sur une corde, chutes faciales et dorsales et par culbutes. Note 78.
France. — 1° Simultané par 3 aux petites barres parallèles : Exécution des 3 degrés de la fédération, puis de 3 degrés difficiles, très bien composés et présentés avec un bel ensemble et une bonne exécution individuelle.
2° Grimper aux cordes jumelles avec l'aide des jambes, en simultané par 3 et descente sans les jambes. Note 84,50 puis 87,50.
Très surpris en apprenant cette note, je vais voir les calculateurs et je demande communication des notes de chaque juré. Les voici : 6, 10, 15, 17, 17,75, 18,75. Le juré anglais avait mis 6. Je me plains au président du jury qui se trouve très surpris d'une telle différence entre la meilleure et la plus mauvaise note. Il intervient près du juge anglais pour le faire remonter sa note. Après une longue discussion, la note est porté à 9 !!! J'étais navré, ainsi que le président du jury, lequel était impuissant, car aucune décision, concernant les grands écarts de points, n'avait été prise au sujet du concours en équipe. Vraiment une telle partialité est intolérable. La production française, considérée au point de vue du développement musculaire qu'il ne faut pas dépasser pour la femme, si elle avait pu être complétée par des exercices sur la poutre eut été la meilleure ?
Hollande. — En simultané par 5:
1° Aux petites barres parallèles (Mêmes exercices que la Grande-Bretagne).
2° Aux barres parallèles de fond. Étant sur le côté des barres, entrée par renversement avec ½ tour, à l'appui couché facial, rouleaux, appuis sur les coudes, suspension sous les barres et rétablissement par temps piqué, au siège écarté, appuis fléchis renversés sur les épaules, chutes par culbutes ou à l'écart au bout des barres.
3° Anneaux, par 2 en simultané. Deux moniteurs lancent les jeunes filles. Grands balancements, rétablissements à l'appui fléchi, puis tendu, balancements étant en suspension dorsale fléchie (exercice très pénible pour la poitrine), chutes par renversement en avant ou en arrière. Note 110.
Cette note élevée montre que les jurés furent impressionnés par la grande difficulté de ces exercices, ainsi que par la présentation qui fut parfaite. Les spectateurs, pour la plupart hollandais étaient enthousiasmés. Pour la cause de l'éducation physique féminine, je ne pense pas que ces mouvements d'agrès, si difficiles, soient à préconiser.
Italie. — Très belle combinaison d'appuis et de suspensions, à l'espalier. Exécution parfaite, en simultané par 5. Cet appareil ne permettant aucun exercice d'élan, l'équipe italienne ne donna pas la mesure de sa valeur. Note 102.
Concours de sauts (ordre de passage, jeudi après-midi).
France. — 1° Sauts variés en simultané par 3, par-dessus la poutre placée à 0m. 90.
2° Sauts avec élan de côté par-dessus des lattes placés à 1 m. et à 1 m. 20, en simultané par 3. Note 76,50.
Comme voue la verrez, nous trouvons toujours les deux jurés qui veulent assommer l'équipe française. Voici les points:
6, 9, 13, 14, 17,50. Le juge anglais a mis 6 et le hongrois 9.
Nul doute que la note eut été meilleure, si la poutre avait été plus haute.
Hollande. — Sauts d'une grande variété d'une grande difficulté, au cheval en largeur, et simultané par 5. Hauteur du cheval 1 m. 40, tremplin élastique. Quelques sauts périlleux avant, des sauts à l'écart par dessus des jeunes filles assises sur le cheval, sauts avec culbute en passant par l'appui tendu renversé. Nous jugeons de l'acrobatie. Note: 108,75.
Italie. — Production très originale exécutée sans engins sur la piste en cendrée, avec une raideur toute mécanique. Les exécutantes semblaient être des automates.
Sauts peu variés en simultané, 5 jeunes filles en des attitudes souvent très gracieuses, servant d'obstacles que les autres franchissaient. Les prises de positions, avant les sauts, étaient précédées de marche en ligne avec ½ tours ; l'alignement restant parfait. Plus de marche et d'évolutions que de sauts. Note: 94,25.
Grande-Bretagne. — Sauts au cheval en travers. Les concurrentes passant individuellement par une. Bonne exécution, mais aucune difficulté et trop de répétition des mêmes sauts. Note: 75. (J'ai beaucoup contribué à rendre cette note mauvaise).
Hongrie. — Mêmes sauts que la Grande-Bretagne. Le moniteur aidant les jeunes filles et les maintenant en planche au-dessus de sa tête, comme pour une exhibition personnelle. Cette production ressemblaient à une séance d'entrainement. Note: 79,25, non méritée.
[…]
Conclusion
La France est 5° au concours de gymnastique dames à Amsterdam.
Devons-nous en accuser les jeunes filles ? Non, certes, car elles mirent tout leur coeur pour faire triompher nos couleurs et exécutèrent bien ce que leur moniteur, notre ami Delescluze leur avait appris ; mais elles auraient rendu avec autant d'entrain des productions plus difficiles et dans l'esprit de notre méthode, si nous avions sur le leur demander. Nous pouvions ainsi gagner deux places.
N'accusons pas davantage le climat, car les concours féminins furent visités par le soleil. Seul, le chauvinisme de certains juges fut la cause de notre défaite et nous fit perdre au moins une place, sinon deux.
Comment admettre que les points de 4 jurés donnent un total de 58,50 c'est-à-dire une moyenne de 17, que les notes de deux autres jurés ne donnent qu'un total de 16, moyenne 8. Je considère qu'une telle différence d'interprétation est scandaleuse, car dans ces conditions, on ne juge pas avec sa conscience, mais avec son drapeau, ce qui rend toute compétition internationale impossible.
Pierre Bardel envoyé par l'Écho des Sports à Amsterdam, écrivait dans son journal du 13 septembre :
"Les jurés sont des hommes, par conséquent faillibles… et malheureusement rien que des hommes. Ils ne savent pas résister à leurs penchants et cèdent a leurs passions.
Le chauvinisme se manifeste à chaque compétition internationale, et, le plus souvent, de façon outrancière. Il faudrait être avec aveugle ou de mauvaise foi pour le nier. Et c'est infiniment regrettable pour cet idéal que doit être le Sport.».
Enfin, il ne faut pas augmenter la difficulté du pointage, en obligeant des jurés à juger des exercices de méthodes tout-à-fait différentes ou bien certaines équipes exécutant des mouvements presque acrobatiques et dépassant ce qu'il est permis de demander à des femmes non professionnelles d'exécuter.
Il faut qu'à l'avenir, pour les concours internationaux de gymnastique dames, une Commission technique, composée de réprésentants qualifiés, de différentes nations, élabore un programme et impose des exercices ou donne des directives plus précises qu'aux derniers jeux olympiques.
La cause de la gymnastique féminine ne pourra qu'y gagner et la France ne sortira plus dernière aux olympiades.
E. Bougouin
L'éducation physique et sportive féminine, October/November 1928