The London Olympics were only the third official Olympic competition for women. (Previously, women had competed at the 1928 and 1936 Olympics. There had been exhibitions at previous Olympics, and they had competed at the 1934 and 1938 World Championships.)
Needless to say, women's gymnastics was still in a state of flux. So, let's dive in and see what happened at this competition with rhythmic ensemble routines and flying rings.
Note: You can find out more about the rules and apparatus norms here.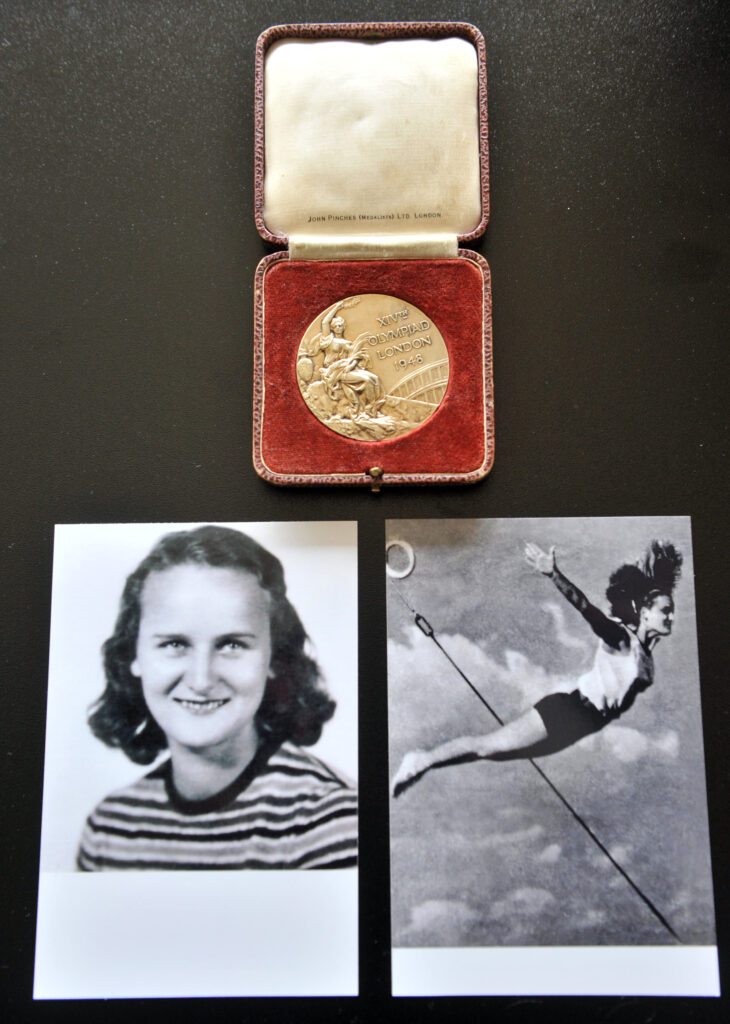 Historical Context | Results | General Commentary | Czechoslovak Commentary | British Commentary | U.S. Comments on Judging | The Awards Ceremony
Historical Context
A few dates to remember:
May 7, 1945: General Alfred Jodl signed surrender documents for all German forces.
September 2, 1945: Japanese Emperor Hirohito signed the documents of surrender
November 20, 1945: The Nuremberg Trials began
May 3, 1946: The Tokyo War Crimes Tribunal began
October 1, 1946: The Nuremberg Trials ended
November 12, 1948: The Tokyo War Crimes Tribunal ended
September 8, 1951: The Treaty of San Francisco is signed, re-establishing peaceful relations between Japan and the Allied Powers.
In other words, while the fighting in World War II had ended before the London Olympics in 1948, diplomatic relations had not resumed.
On top of that, a new fight between democracy and communism was emerging. An article in the Chicago Daily Tribune touched upon this:
In a world still engaged in a struggle to decide whether it will remain free or succumb to totalitarian dictatorship, Wembley is a symbol of that struggle. Today Bulgaria, from behind the iron curtain of Red Russia, announced its withdrawal because of "transportation difficulties."

Russia, of course, never entered the international competition. However, athletes are here from Poland, Czechoslovakia, and Yugoslavia. Defeated Italy has sent its teams. Germany and Japan, still outlawed because of the war, were not permitted to compete.

Chicago Daily Tribune, July 29, 1948
It's important to note that World War II did have an impact on the gymnastics community.
Before the official outbreak of the war, Nazism had impacted who competed at the 1936 Olympics. For example, Pearl Perkins, a Jewish-American gymnast, made the U.S. team, but her parents asked her not to go to Berlin to compete. Though she missed her Olympic opportunity, she went on to win the 1937, 1941, and 1943 U.S. all-around titles (AAU).
Sadly, several Olympic gymnasts lost their lives during World War II. That included:
Stella Agsteribbe, NED, Auschwitz-Birkenau concentration camp
Lea Nordheim, NED, Sobibór concentration camp
Ans Polak, NED, Sobibór concentration camp
Judikje Simons, NED, Sobibór concentration camp
---
Results
The Slovak-language press stated that women's gymnastics teams performed their ensemble exercises without apparatuses first, which meant that the Czechoslovak team had to dig themselves out of a hole. Here were the standings after the first ensemble exercise:
1. Sweden – 63.90
2. Hungary – 63.75
3. USA – 63.20
4. Czechoslovakia – 62.80
5. Netherlands – 61.55
(Pravda, August 13, 1948)
Despite trailing early on, the Czechoslovak team ended up winning the competition. Reminder: The maximum team score was 500 points.
| | |
| --- | --- |
| Country | Total |
| 1. Czechoslovakia | 445.45 |
| 2. Hungary | 440.55 |
| 3. United States | 422.60 |
| 4. Sweden | 417.95 |
| 5. The Netherlands* | 408.35 |
| 6. Austria | 405.45 |
| 7. Yugoslavia | 397.90 |
| 8. Italy | 394.20 |
| 9. Great Britain | 392.95 |
| 10. France | 384.65 |
| 11. Belgium | 353.60 |
*The official report lists the country as Holland
The key to Czechoslovakia's victory over Hungary was its ensemble exercise with hand apparatuses (similar to rhythmic gymnastics today). Here's a comparison of the team's counting scores on each apparatus.
| | | |
| --- | --- | --- |
| Event | Czechoslovakia | Hungary |
| Beam | 135.35 | 135.40 |
| Vault | 127.05 | 128.75 |
| Rings | 54.30 | 52.55 |
| Team Exercise | 62.80 | 63.75 |
| Team with Hand Apparatus | 65.95 | 60.10 |
I have not found any footage of the 1948 Olympics, but you can see the Czechoslovak team training ensemble routines with hand apparatus here:
As the rules stated, there weren't any individual event medals in women's gymnastics. Nevertheless, the Official Report still mentioned the individual all-around winner:
Although there was no individual championship for the women, certain outstanding competitors must be mentioned. Z. Honsova, of Czechoslovakia, scored the highest number of marks on all the apparatus combined, including first place on both beam and rings. This was a very fine performance, achieved with all the certitude of the practised and experienced gymnast. Pigtailed L. Micheli of Italy, a serious little girl of 17, was placed third in total marks. What an achievement at that age against so much experience! On one occasion, when she had just finished an exercise perfectly, she forgot all her seriousness and ran back to the team with kisses all round!

The Official Report of the Organising Committee for the XIV Olympiad
Note #1: You can read a profile of Honsová here.
Note #2: The interest in pigtailed teenagers started already in 1948 — long before Olga Korbut in 1972.
---
General Comments
Rain Delay
The gymnastics competition was supposed to take place August 9-11 with women's artistic gymnasts performing their individual routines on August 10 and the ensemble routines on August 11. However, because of the rain, the competition had to be moved indoors, and the schedule had to be rearranged.
The gymnastics competition had been postponed Monday from the outdoor Olympic Stadium at Wembley to the large enclosed arena in London because of bad weather. Three days of competition now are being compressed into two days.

New York Times, August 13, 1948
How were competitors supposed to find out about the change of venue?
By reading chalkboards in the subway.
The gymnastics tournament has moved from Wembley to the Empress Hall in Earls Court and sporting performance could benefit from that. Competitions in the rain on a slippery balance beam present additional difficulties and could have meant a significant handicap for many. The news of the postponement to Thursday and of the move has nevertheless come as a complete surprise to virtually everyone. The reporters, of course, knew nothing about it, because the information bureau has failed completely thus far, but the sports leaders of the various countries also remained ignorant until a short announcement was written on a blackboard at some stations of the underground in chalk. At that time, the Dutch team had already traveled to Wembley by bus for a long time and thus made a futile journey. In the meantime, the participants have been able to establish for themselves that the ground is indeed completely soaked due to the heavy rain on Saturday and Sunday and that the equipment would probably have sunk into it during gymnastics.

Het gymnastiektournooi is van Wembley verplaatst naar de Empresshall in Earls Court en de sportieve prestaties zou dat wel eens ten goede kunnen komen. Wedstrijden bij regen op een gladde evenwichtsbalk dragen extra moeilijkheden in zich en hadden voor menigeen een beduidende handicap kunnen betekenen. Het bericht van het uitstel tot Donderdag en van de verhuizing is niettemin voor feitelijk iedereen een volkomen verrassing geweest. De verslaggevers wisten natuurlijk van niets, want het informatiebureau faalde tot dusverre geheel, maar ook de sportleiders van de verschillende landen bleven onkundig tot op het moment dat op enkele stations van de underground een korte mededeling dienaangaande met krijt op een schoolbord geschreven werd. De Nederlandse ploeg was op dat moment al lang met een autobus naar Wembley en maakte dus een vergeefse "reis. Intussen hebben de deelnemers vanzelf kunnen constateren, dat de grond er door de vele regen van Zaterdag en Zondag inderdaad geheel en al doorweekt is en dat de toestellen er tijdens het turnen waarschijnlijk in weg zouden zijn gezakt.

Nieuwsblad van het Noorden, August 10, 1948
But the change of venue was for the best.
As the Dutch article noted, doing balance beam in the rain is dangerous. Besides, the apparatus would have sunk into the mud. After criticizing the lack of organization, the Dutch article highlighted the advantages of moving the competition to Empress Hall:
The huge circular hall in Earls Court offers many advantages in this regard. It is not unlikely that the gymnastics tournament will come into its own even better.

There is room for some seven hundred spectators, who will certainly feel much more at ease there than in the awe-inspiring Wembley Stadium, where they would, as it were, drown in space….

De enorme cirkelvormige hal in Earls Court biedt in dit opzicht vele voordelen. Het is niet onwaarschijnlijk dat het gymnastiektournooi er zelfs beter doortot zijn recht zal komen.

Er is plaats voor een zevenhonderd toeschouwers, die zich daar stellig heel wat beter op hun gemak zullen voelen dan in het ontzaggelijke Wembley Stadion, waar zij als het ware in de ruimte zouden verdrinken….

Nieuwsblad van het Noorden, August 10, 1948
Condensing the men's and women's competitions into two days made for really long days.
Women gymnasts still were working on the first day's events when the officials called a halt at 9 P.M. after twelve hours of competition. They will resume tomorrow morning.

New York Times, August 13, 1948
The women's competition ended, but the judges didn't announce the winners until the next day.
The competition ended last night but judges waited until today to render their decision.

New York Times, August 15, 1948
Ensemble Floor Music: Too Loud for the Men?
The organizers worried about the music playing as the men competed, so the men stopped competing when the women's teams performed their ensemble routines. However, the roar of the applause for the men's performances was a bigger factor.
As the women's work had to take place at the same time as the men's it was considered in the Federation meeting that the music used for the women's team exercises would interfere with the men's concentration. It was therefore decided that the men should cease work for the few minutes taken by the music. As it happened, however, many of the men took no notice of the music, which in any case was never very loud, and in fact the only interference to the competitors by noise came from the reverse direction. The Finnish men's team were on the horizontal bar, whilst the British women were on the swinging rings. One of the men had just finished a beautiful voluntary exercise, and such a roar of applause went up from the spectators, that the girl on the rings was startled and put "off her stroke" just as she was preparing for the finish. The finish was called a "saut perilleux," so it was with great relief that she was seen to land safely, although she undoubtedly lost some marks through this incident.

The Official Report of the Organising Committee for the XIV Olympiad
Note #1: Some of the men's teams thought that the audience swayed the judging. More on this in upcoming posts.
Note #2: This is in reference to the ensemble floor routines. Women did not compete on individual floor exercise at FIG events until the 1950 World Championships, and even then, they competed without music.
---
Notes on Czechoslovakia
The Czechoslovak athletes benefitted from the postponement of events due to the rain delay.
Postponement of the competition partially benefited our representatives because some had time to recover from the disease. Only the women had to start without E. Mišáková, who is very seriously ill and lies in a hospital.

Odsunutie súťaže našim reprezentantom čiastočne prospelo, pretože niektorí sa mali čas zotaviť z choroby. Len ženy musely nastúpiť bez E. Mišákovej, ktorá je veľmi ťažko chorá a leží v nemocnici.

Ľud, August 14, 1948
Note: In this article, it's unclear if other members of the team had polio as Mišáková did or if they had some other illness. But the Sokol publication clarified:
The women didn't do well either; they also suffered from furunculosis, and Eliška Misáková had to be replaced by her sister Růžičková due to her nausea, which was still seemingly mild at that time. It turned out to be an intelligent move that women had pushed through at least one replacement. The team of men had exactly eight members without anybody to replace them […].

Ani ženám se nevedlo lépe; také ony trpěly furunkulosou a Eliška Misáková musila být v důsledku své nevolnosti, tehdy ještě zdánlivě lehké, nahrazena sestrou Růžičkovou. Tady se ukázalo, jak bylo prozíravé, že si ženy prosadily aspoň jednu náhradnici. Muži měli přesně odpočítaných 8 cvičenců bez náhradníků […].

Sokol, 1948, 8-9
Eliška Misáková came down with polio and passed away in England. The Czechoslovak team dedicated their performance to her.
Without saying a word, they promised each other that they would fight for her and because of her. And in the middle of the line stood the equally upright sister of the one who had been ripped out of the line by a cruel disease. A sad but steady look assured her that, if she could not kneel by the bed of the dear patient, she would fight here in full force.

And with this on their minds, in this mood, our women fought. Penetrated by the spirit of the Sokol (falcon), the Czechoslovak Republic won the greatest victory, bringing it not only to the homeland, but also putting it at the feet of the one who could not win the greatest competition with them.

Všetky vedely, že do posledného dychu je s nimi a bez jediného pokynu si vzájomne sľubovaly, že budú bojovať za ňu a pre ňu. A uprostred radu stála rovnako vzpriamená rodná sestra tej, ktorú z radu vyrvala krutá nemoc. Smutný, ale pevný pohľad uisťoval, že keď nemôže kľačať pri lôžku drahej chorej, že bude tu bojovať z plných síl.

A v tomto anaméní, v tomto rozpoložení naše ženy bojovaly. Preniknuté duchom sokolstva vybojovaly ČSR najväčšie víťazstvo, aby ho priviezly nielen sokolstvn a vlasti, ale aby bo položily tiež k nohám tej, ktorá s nimi nemohla vybojovať najväčší pretek.

Práca, August 16, 1948
Note #1: Miloslava Misáková, Eliška's sister, was also on the team. She's the "equally upright sister" in the first paragraph.
Note #2: Gym nerds often tell the tale of Misáková's death, but few capture the magnitude of the situation. This was a really, really big deal in the Czechoslovak media. In 1948, almost every single Slovak article that I read about women's gymnastics mentioned Misáková's illness or death.
You can read a tribute to Eliška below.
The Czechoslovak team began on compulsory beam, where they had a decent performance.
Execution on the small balance beam was quite good. In the end, only three competitors forgot one element that probably resulted in bad scores.

Prevedenie na kladine maly celkom dobré len tri pretekárky zabudly na koniec jeden cvik čo im zrejme neprospelo.

Ľud, August 14, 1948
Note: It was a different time. You could forget an element and still win the team title.
Czechoslovakia's team gold medal was the most precious.
This gold medal has the highest moral value of all six gold medals won in London. It was fought with the most significant effort of mental and technical forces against the imaginably most unfortunate fate. And besides, it was worn by women. This victory belongs to the golden page of the book of Sokol virtues.

Této zlaté medaili přísluší ze všech šesti, získaných v Londýně, nejvyšší mravní hodnota, neboť byla vybojována s největším vypjetím duševních a technických sil proti osudu pomyslitelně nejnepříznivějšímu. A nadto ještě vybojována ženami. Tomuto vítězství patří zlatá stránka v knize sokolských ctností.

Sokol, 1948, 8-9
---
Notes on Great Britain
The British had improved since the last Olympics.
Just how well the girls did set about their task is evident by the fact that their coach was complimented by the Stockholm President, who told her that the British team had made great strides since 1936.

Shipley Times and Express, August 18, 1948
Clarice Bell was Great Britain's top gymnast coming into the Olympics, but an ankle injury took her out of the competition.
Sitting chin cupped in her hands, urging on her Olympic gymnast team mates at Empress Hall, London, yesterday, was disappointed Mrs. Clarice Bell, of 20, Hirstwoodroad, Shipley.

But for an ankle, sprained while practicing on a fixed beam a few days earlier, Mrs. Bell would have been competing. As a consolation, she was appointed flag bearer, and led the British team into the arena.

Mrs. Bell, an attractive 34-year-old brunette, was a member of the British team in the 1936 Olympics at Berlin, and this year she gained first place in the women's individual gymnast championships.

Bradford Observer, August 13, 1948
How does a vault disappear?
I don't know, but the British team's vault disappeared:
The British team had rather an upsetting start. Half an hour before performing on their own round pommelled "horse," they found it had been taken away and another to which they were not as accustomed substituted.

Eventually their own "horse" was found and they were then put through their paces.

Bradford Observer, August 13, 1948
Here's a photo of Empress Hall during the gymnastics competition in 1948. It was a bit chaotic and untidy, but there weren't that many places to hide a vault.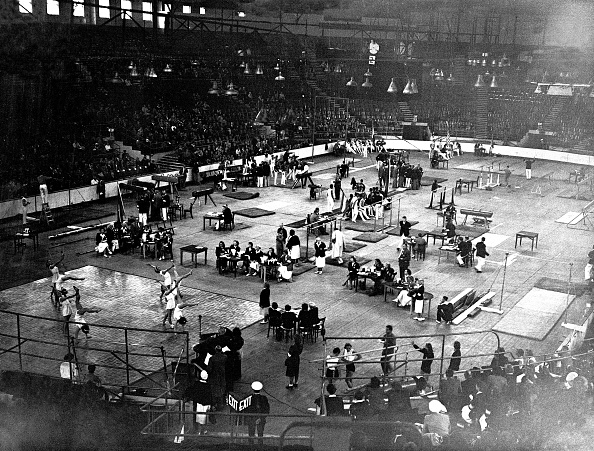 My thought bubble: This is probably one of many reasons why countries no longer bring their own apparatus to competition. Starting with the 1950 World Championships, the organizing committee would provide all fixed apparatus. (Women would still have to bring their portable apparatus like hoops for the ensemble exercises.)
All apparatus must be made available by the Organizing Committee. The latter is required to comply with regulatory provisions as well as with the instructions given by the Executive Committee.

A double set of apparatus will be used for team training a few days before the competition. No nation will be allowed to use its own equipment in the competition.

Tous les engins doivent être mis à disposition par le Comité d'organisation. Ce dernier est tenu de se conformer aux dispositions réglementaires ainsi q'aux instructions que la Commission exécutive lui donnera.

Un jeu double d'engins servira à l'entraînement des équipes quelques jours avant le concours. Aucune nation ne sera autorisée à utiliser ses propres engins au concours.

General Instructions for the 1950 World Championships, in Les étapes de la gymnastique au sol et aux agrès en France et dans le monde
Once the vault was found, there still were problems.
In the eyes of the British team, there was problematic judging on vault.
After two or three vaults, the team manager, Miss B. Newey, of London, complained that the judges were not sitting in positions where they could best see every part of the vaulters' performance. But the judges did not move, and the vaulting continued.

Next came a fault on the part of Irene Hirst. She began her vault before receiving the "go" signal from the coach, and was told she would lose 15 points, but a judges' conference reversed the decision and a re-vault was ordered. This time she vaulted perfectly.

Bradford Observer, August 13, 1948
Speaking of judging…
---
The United States' Commentary on Judging
According to the Americans, judging was biased and ineffective.
Comments from Dr. Margaret C. Brown, judge and U. S. delegate to F.I.G. Women's Division were: "Judges were nationalistic-minded; I filed four protests to the Jury of Appeal and was upheld; all judges should have international experience and training as gymnasts; judges should be a component part of team, even if at their own expense, and have opportunity to meet socially with other countries; third place for our women was a real honor." Dr. Brown, serving both as judge and delegate, had ample opportunity to see if decisions taken in the women's technical meetings were followed (as evidently they were not).

Report of the United States Olympic Committee, XIV Olympiad
The Americans thought that the Hungarians and Czechoslovaks were overscored.
In the eleven-nation contest, Sweden proved to be the chief threat. But such confusion prevailed in the officiating and judging that the conduct of the women's events was little short of chaotic. The International Gymnastic Federation had given the ladies authority to carry on the women's work. A number of the women judges were nationalistically inclined and possessed scarcely any working knowledge of the sport and its rules. As a result, near-perfect marks were given to mediocre performances by the Hungarians and Czechs. This was especially obvious on the vaulting horse and balancing beam, as well as the rings. The performance of the Czech girls on the flying rings, however, was excellent; perhaps the only high marks they rightfully earned.

Report of the United States Olympic Committee, XIV Olympiad
Clara Schroth's score on flying rings was hotly debated, leading George Gulack, the team manager, to claim, "Women were not qualified to act as judges."
Throughout the competition members of the men's technical committee had to be called in by protesting managers when the judges' marks varied up to five points. In one case, Clara Schroth, U.S.A., executed the required exercises on the rings. Count D'Alviella, president of the F.I.G., Dr. Klinger, president of the technical committee, and Messrs. Boddaert and Hentges (both of the men's technical committee) regarded Miss Schroth's performance as rating a 9.5. The marks actually given were 8.3; 8.4; 9.0 and 7.3; the official score average was 8.33.

These officials later admitted that women were not qualified to act as judges. They agreed that this should not be done in the future, Madame Provaznikova, president of the women's section of the F.I.G., acted as referee. But she was never on hand when a protest was made, and there were many of them. She kept close to her own Czech team. One of the women judges frankly admitted that she wanted her marks to stand, and for this reason she was endeavoring to strike a medium. This meant that it was more important to her to build a reputation as a judge than to judge fairly and without reservations. This same judge began an event by marking a 10.0 maximum exercise with 13.1. Such extraordinary conditions handicapped our women's team seriously throughout the competition.

Report of the United States Olympic Committee, XIV Olympiad
Reminder: Marie Provazníková defected from Czechoslovakia after the Olympics, and gymnastics was one of the reasons for her defection.
---
On the Awards Ceremony
As I noted above, Eliška Misáková came down with polio on the way to London, and she died in the hospital on August 14, 1948. The team dedicated their performances to her, and during the medal ceremony, the Czechoslovak flag was wrapped with a black ribbon.
Below, you can find a Slovak tribute to Misáková. (The Slovak original is quite poetic.)
Eliška was missing…

The weight of the tragic death of the Czechoslovak gymnast Eliška Misáková was felt on Saturday before the morning announcement of the winners of the gymnastics competition at the XIV Olympic Games. Our women's team did not want to attend the ceremony at all at first. But in the end, they did so so as not to disrupt the pre-determined program of ceremonies. The Sokolists entered the hall led by Vlasta Děkanová, the team's coach, while one of the girls carried a state flag, wrapped in a black ribbon. Vlasta Děkanová took her place on the podium and her teammates followed her, while the Hungarian and American teams took their sides at Empress Hall. There was a grave silence when the first sublime sounds of the Czechoslovak national anthem were heard — sounds that seemed like a famous requiem for the deceased, for you, whose fate did not allow her to stand here next to her loved ones. Truly mournful music for the winning ceremony…

Milada Misáková, the sister of the deceased, throughout the glorious ceremony, bravely struggled to hold back her tears, which, like all the citizens of Czechoslovakia present, were falling from her eyes. Never before have so many people looked with their eyes and their mouths fixed on the ground than on this glorious but so sad Saturday in Empress Hall.

After the ceremony, Milada Misáková told reporters that her sister was completely healthy before leaving for London and that she was only a little sick on the plane. About a week ago she laid down in Northwood, where the Czechoslovak competitors are staying. When her condition did not improve, she was taken to Northwood Hospital and later to Uxbridge. There she received the best medical treatment, Eliška Misáková lay for four days in the iron lungs, but even these did not help. Doctors initially assured her that there was hope for her recovery, and even on Wednesday, when Milada came to visit her sister, she thought things were getting better for Eliška. But on Friday night, when they called her to Eliška, she knew all hope was in vain.

Eliška chýbala . . .

Londýn — Sobotné pred predpoludňajšie vyhlásenie víťazov z telocvičných pretekov XIV. olympských hier bolo pod dojmom tragického skonu československej pretekárky Elišky Misákovej. Naše družstvo žien nechcelo zpočiatku na slávnostný ceremoniál vôbec nastúpiť. Ale nakoniec predsa len tak urobilo, aby nerušilo už predom určený slávnostný program. čs. sokolky vstúplly do sály vedené Vlastou Děkanovou, vedúcou pretekárkou družstva, pričom jedna z dievčat niesla štátnu zástavu, zahalenú v čiernu stuhu. Vlasta Děkanová zaujala miesto na stupienku a za ňou nastúpily jej sverenky, kým po ich stranách nastúpily družstvá maďarské a americké V Empress Hall bolo hrobové ticho, keď zazněly prvé velebné zvuky československej štátnej hymny, zvuky, ktoré pripadaly ako slávne rekviem za zosnulou, za tú, ktorej osud nedoprial stáť tu vedľa svojich najbližších. Skutočne tklivá hudba pre viťazný ceremoniál …

Milada Misáková, sestra zosnulej, po celý čas slávneho obradu sa statočne premáhala, aby zadržala slzy, ktoré sa jej rovnako tak, ako všetkým prítomným občanom ČSR, draly do očú. Nikdy sa toľko ľudi nepozeralo s očami upretými a s ústami pevne sovretými do zeme v Empress Hall, ako v túto slávnu, ale tak smutnú sobotu.

Po slávnosti vyhlásila Milada Misáková pýtajúcim sa novinárom, že jej sestra pred odchodom do Londýna bola úplne zdravá a že len v lietadle jej bolo trocha zle. Asi pred týždňom uľahla v Northwoode, kde sú čs. pre. tekári ubytovaní. Keď sa jej stav nezlepšil, previezli ju do northwoodskej nemocnice a neskoršie do Uxbridge. Tam sa jej dostalo najlepšieho lekárskeho ošetrenia, štyri dni ležala Eliška M'Sáko. vá v železných pľúcach, ale ani tle nepomohly. Lekári zpočiatku uisťovali, že je nádej na jej zachránenie a aj v stredu, keď Milada prišla svoju sestru navštíviť, zdalo sa jej, že Eliške je lepšie Ale v noci s p'atka na sobotu, keď ju privolali k Eliške, poznala, že je už všetka nádej márna.

Práca, August 16, 1948
Interesting tidbit: Děkanová, the team's coach, worked as part of the resistance during World War II, copying and distributing illicit publications.
The Sokol publication added:
This ceremony was not ruined and will forever be kept in the memory of all Czechoslovaks present, remembering at that moment the sad story of one performer who did not make it to the next beautiful day.

Tento ceremoniel neměl kazu a zůstane navždy vryt do paměti všech přítomných Čechoslováků, vzpomínajících v té chvíli pietně cvičenky, která se nedočkala..

Sokol, 1948, 8-9
---
Documents
---
More on 1948