The big trend in floor music in 1992: Flamenco, flamenco, and more flamenco.
For decades, flamenco music has been a constant during women's floor exercise, but the trend perhaps hit its crescendo during the 1992 Barcelona Olympics. (You can read a little about the politics of flamenco at the bottom of the page.)
Yello: In 2021, Billie Eilish was the big contemporary music sensation during floor routines. In 1992, it was Yello.
Throwbacks from 40ish years prior: The nostalgia machine is always alive during floor exercise, trying to target audience members and judges in their 40s and 50s and beyond. In 1992, it emerged in pieces like "Boogie Woogie Bugle Boy" and "An American in Paris Ballet."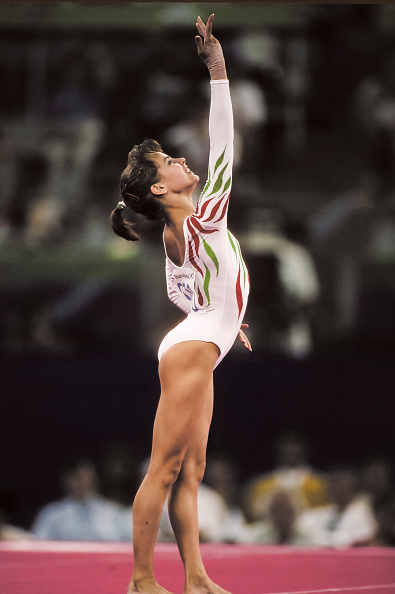 Below, you can find a partial list of floor music used at the 1992 Barcelona Olympics. Due to the limited number of (or poor quality of) videos online, there's a lot missing. So, if you have any corrections or additions, feel free to use the comments at the bottom of this page.
Note: The Spotify playlist does not include all the songs mentioned below, and sometimes, it includes a different version of a song. But it is fun to listen to. I play the songs for my son to expose him to a variety of music.
Bulgaria
Mitova, Silvia
"Blues for Klook," Eddy Louiss
Vodenitcharova, Deliana 
"Farrucas"
Maslarska, Tanya
"L'amour est un oiseau rebelle" (Habañera), Bizet, Carmen (Remix)
Panayotova, Kristina
"Amazonas," Strunz and Farah
Todorova, Svetlana
"Sweet Thunder," Yello
Khristakieva, Snezhana
"On the Run," Yello
---
Canada
Umeh, Stella
"Mother Tongue," Dead Can Dance
---
China
Lu Li
"Sleigh Ride"
Yang Bo
"Theme from Lawrence of Arabia," Cincinnati Pops Orchestra
He Xuemei
"Malagueña"
---
Guatemala
Portocarrero, Luisa
"On the Run," Yello
---
Hungary
Ónodi, Henrietta
"Hungarian Rhapsody, Number 2," Franz Liszt (Orchestral)
---
Romania
Miloșovici, Lavinia
"Boogie Woogie Bugle Boy," Andrews Sisters (Boston Pops Orchestra)
---
Spain
Martínez, Silvia
"An American in Paris Ballet," Johnny Green and His Orchestra
---
The Unified Team
Boginskaya, Svetlana
"Liberte," Gipsy Kings
Lysenko, Tatiana
"Malagueña"
Gutsu, Tatiana
"That's a Plenty," Benny Goodman
Chusovitina, Oksana
"Spartacus, Act 1, Scene 1: The Triumph of Rome," Aram Khachaturian
Galieva, Roza
"Katyusha"
"Yablochko," The Red Army Choir
---
United States
Zmeskal, Kim
"Rock Around the Clock," Bill Haley and His Comets
"Johnny B. Good," Chuck Berry
Dawes, Dominique
"Toot, Toot, Tootsie," Joe Constanzo
Miller, Shannon
"The Mail," Sándor Lakatos
"The Magic Fiddle," Sándor Lakatos
Strug, Kerri
"Music, Music, Music," Jo Ann Castle
Okino, Betty
"Piedra del Monte," The Golden Nightingale Orchestra
Bruce, Wendy
"Lay All Your Love on Me," Information Society (ABBA)
---
Compulsory Music
"Violin Concerto No. 2 in B Minor," Niccolò Paganini
---
A Note on Flamenco Music
If you're not familiar with Spanish music, here are two things you should know:
First: Barcelona is located many, many miles away from Andalusia, the region of Spain known for flamenco music.
Second: Flamenco music has a complicated history in Spain. On the one hand, the genre of music was exploited by dictator Francisco Franco to project an attractive image to the rest of the world. (Franco died in 1975, so many Spaniards still remembered his legacy in 1992.) On the other hand, it was used by musicians to critique the brutal policies of the Franco government:
Throughout the 1950s, past associations of flamenco with a left-wing or anti-Francoist stance were eroded. The regime aggressively pursued external cultural policies built around flamenco music, singing, and especially dance. The regime had relied on isolation and autarky throughout the 1940s, but, after the end of the Second World War, circumstances had changed. The Spanish government was now trying to establish itself as an ally to the United States and a staunchly anti-Communist member of the Western Bloc in its own right. Flamenco became the symbol of an exotic but appealing Spain, a country that still clung to the old ways in many respects (for example, patriarchal social structures or a lack of parliamentary democracy), but was at the same time not excessively threatening, willing to embrace some of the perks of Western modernity.

With flamenco having traveled abroad more easily and successfully than other Spanish cultural products, international audiences could expect to find something they were relatively familiar with. Within Spain, flamenco was also promoted to a considerable extent, and flamenco-themed films became enormously popular, with some actors developing successful careers on the basis of these. Some voices, though, resisted the new tide: from the 1960s, a new generation of flamenco singers appeared who did not always shy away from including explicitly political anti-Franco messages in their lyrics.

Eva Moreda Rodríguez, "What Did Franco's Spain Do to Spanish Music?"