A Big Trend in 1996: Americana.
Just as there was a lot of flamenco music during an Olympics held in Spain, there was a fair amount of U.S. music, particularly from the American gymnasts and the Romanian gymnasts.
Another Big Trend: Songs from movie soundtracks.
The French team pulled from recent movies like The Mask and Basic Instinct. But there were songs from older movies, including Galieva's Charlie Chaplin tribute and Marinescu's music from the Italian film Investigation of a Citizen Above Suspicion.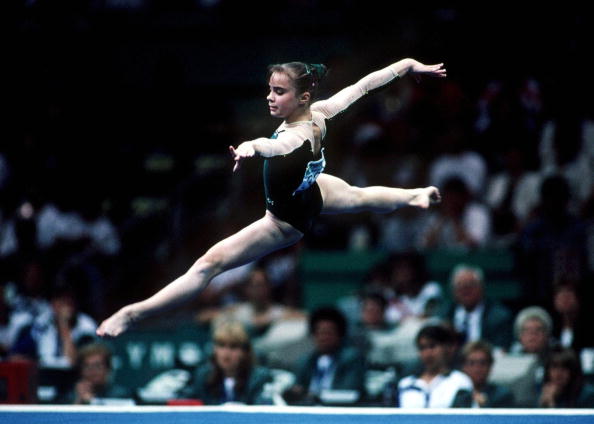 Below, you can find a partial list of floor music used at the 1996 Atlanta Olympics. If you have any corrections or additions, feel free to use the comments at the bottom of this page.
Note: The Spotify playlist does not include all the songs mentioned below, and sometimes, it includes a different version of a song.
Australia
Kantek, Nicole
"Also sprach Zarathustra, Op. 30: Prelude," Richard Strauss
Side note: Kantek was daring enough to do the worm to such an iconic piece of classical music.
Moro, Lisa
"Sinfonia per un addio," Gian Piero Reverberi and Rondò Veneziano
Smith, Jennifer
"Dark Star," Mike Oldfield
Hughes, Joanna
"Hard to Say I'm Sorry / Get Away," Chicago
---
Belarus
Boginskaya, Svetlana
"Mélodie d'amour," Kaoma
"Jambé Finète," Kaoma
"Dancando Lambada," Kaoma
Piskun, Yelena
"Swan Lake: Spanish Dance," Tchaikovsky
Yurkina, Olga
"Gypsy Legend," Jolly Kunjappu
---
Canada
Tousek, Yvonne
"Havana Club," Ottmar Liebert
---
China
Ji Liya
"Radar Love," Golden Earring
Liu Xuan
"Czárdas," Vittorio Monti
Mao Yanling
"Hungarian Rhapsody, Number 2," Franz Liszt (Orchestral)
Kui Yuanyuan
"Sorochintsi Fair, Act 1: Gopak (Hopak)," Modest Mussorgsky
Mo Huilan
"Yellow River Piano Concerto," Yin Chengzong, Chu Wangshua, Sheng Lihong
Qiao Ya
"Dance of She Monsters," China Central Ballet Troupe Orchestra
---
France
Furnon, Ludivine
"Hey Pachuco," Royal Crown Revue (The Mask)
Canqueteau, Cecile
"Roxy Loses," Jerry Goldsmith (Basic Instinct)
Teza, Elvire
"Pistolero," Dave Grusin
"Fiesta," Dave Grusin
Severino, Isabelle
"Demasiado Corazón," Willy DeVille
Volle, Emilie
"Blues for Klook," Eddy Louiss
---
Germany
Pioch, Yvonne
"Dreamer," Vienna Symphonic Orchestra Project
---
Great Britain
Reeder, Annika
"Malagueña"
Lawrence, Sonia
"Hernando's Hideaway," Jerry Ross, (The Pajama Game, a musical)
---
Greece
Margariti, Constantina
"In the Mood," Glenn Miller
Mamouti, Ekaterina
"Olé Guapa (Tango 33)," Hugo Strasser Und Sein Tanzorchester
---
Hungary
Krausz, Nikolett
"Pacífico," Pablo Cárcamo and Enrique Ugarte
Óváry, Eszter
"Hungarian Blue," The Vienna Symphony Orchestra
---
Japan
Sugawara Risa
"We Will Rock You," Queen
---
Puerto Rico
Diaz, Eileen
"Moi Je Suis Tango," Guy Marchand
---
Romania
Loaieș, Ionela
"Ma Tit Fille," Buckwheat Zydeco
"Hey Good Lookin'," Buckwheat Zydeco
Țugurlan, Mirela
"Promoroacă." Radu Simion
Marinescu, Alexandra
"Indagine Su Un Cittadino Al Di Sopra Di Ogni Sospetto," Ennio Morricone (Film)
Miloșovici, Lavinia
"Hooked on America," Royal Philharmonic Orchestra
Gogean, Gina
"Havenu Shalom Alechem"
Amânar, Simona
"Nut Rocker," B. Bumble and the Stingers
---
Russia
Grosheva, Elena
"Sinfonia per un addio," Gian Piero Reverberi and Rondò Veneziano
Khorkina, Svetlana
"Carmen Ballet Suite: II. Dance," Bizet, Rodion Shchedrin
Dolgopolova, Elena
"Jalousie," Jacob Gade, Václav Hybš
Kochetkova, Dina
"Czárdas," Vittorio Monti (Event Finals)
"Bei Mir Bistu Shein" (Team Finals and All-Around Finals // Thanks to Beth on Twitter for helping identify this song)
Galieva, Roza
"Terry's Theme," Charlie Chaplin (Limelight)
"Nonsense Song (Titine)," Charlie Chaplin (Modern Times)
---
Slovakia​​
Kinská, Klaudia
"Lost Again," Yello
---
Spain
Castro, Verónica
"Main Title from Havana," Dave Grusin
Juárez, Joana
"Malagueña"
Paz, Gemma
"Delicado [Tico Tico]," Raúl Di Blasio
---
Ukraine
Podkopayeva, Lilia
"The Barber of Seville: Largo al Factotum," Gioachino Rossini
"The Marriage of Figaro: Non Piu Andrai," Mozart
Zelepukina, Svetlana
"Hooked on a Song," Royal Philharmonic Orchestra
Mirgorodskaya, Anna
"Danse Macabre," Camille Saint-Saëns
Shaparna, Olena
"Ravel: Bolero"
Sheremeta, Lioubov
"Barinya"
---
United States of America
Moceanu, Dominique
"Devil Went Down to Georgia," Charlie Daniels
Dawes, Dominique
"Near the Valley," Kovriga Balalaika Orchestra
"Ukrainian Fantasy," Kovriga Balalaika Orchestra
Miller, Shannon
"Les deux guitares," Paul Mauriat
Strug, Kerri
"Guitar Boogie Shuffle," The Virtues
"Petite Fleur," Chris Barber's Jazz Band
Borden, Amanda
"High School Confidential," Gerald McGee, Jerry Lee Lewis
"Breathless," Jerry Lee Lewis
Phelps, Jaycie
"The Race," Yello
---
Uzbekistan
Chusovitina, Oksana
"Phantom of the Opera: Overture," Andrew Lloyd Webber
---
Compulsory Music
Title: Die Fledermaus
Composer: Johann Strauss