Major Theme: Very, very, very 1980s.
Here are a few examples:
"Sixty-Second Sonata" (1980)
Montage of music from Cats, which debuted in 1981
"Axel F" from Beverly Hills Cop (1984)
"Bullish" (1984)
"Electric Kingdom" (1984)
"One Night in Bangkok" (1984)
Montage of music from Rocky IV (1985)
"True Faith" by New Order (1987)
"Macho Mozart" (1987)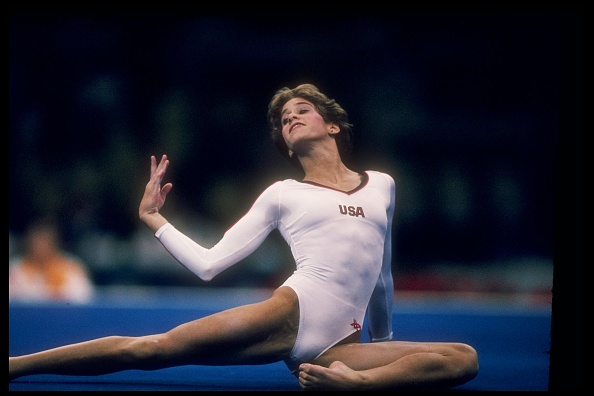 Below, you can find a partial list of floor music used at the 1988 Seoul Olympics. If you have any corrections or additions, feel free to use the comments at the bottom of this page.
Note: The Spotify playlist does not include all the songs mentioned below, and sometimes, it includes a different version of a song.
---
Brazil
Parente, Luisa
"Axel F," Harold Faltermeyer (Beverly Hills Cop)
---
Bulgaria
Dudeva, Diana
"War/Fanfare," Vince DiCola (Rocky IV)
"Training Montage, Vince DiCola (Rocky IV)
Vodenitcharova, Deliana
"Country Girl," Günter Noris
Hrabrova, Hrabrina
"Bolero," Maurice Ravel
Kartalova, Mariya
"Toccata," Emerson & Lake & Palmer
Raikova, Ivelina
"Pasodobles populares," Luis Cabos
Stoyanova, Boryana
"The Greek Tycoon," Frakie Holiday, Stúdió 11 & Vonószenekar
---
Canada
Strong, Lori
"True Faith," New Order
Covacci, Monica
"Bullish," Herb Alpert & the Tijuana Brass
---
China
Chen Cuiting
"Pegase," Paul Mauriat
Fan Di
"Alla Figaro," Paul Mauriat
Wang Wenjing
"Caprice Basque, Op. 24," Pablo de Sarasate
---
Czechoslovakia
Poloková, Iveta
"Funeral for a Friend / Love Lies Bleeding," Elton John
Říčná, Hana
"Love Me Baby," Sheila & B. Devotion
Dřevjaná, Alena
"Czardas," Vittorio Monti
Velíšková, Martina
"Malagueña"
---
East Germany
Thümmler, Dörte
"Jazz Carnival," Azymuth
Klotz, Ulrike
"Nut Rocker," B. Bumble and the Stingers
Shieferdecker, Bettina
"Carmen Ballet Suite: II. Dance," Bizet, Rodion Shchedrin
---
France
Boucher, Karine
"Yablotchka," Micha Makarenko
Romano, Catherine
"Down by the Riverside," Kurt Edelhagen
---
Hungary
Storczer, Beáta
"The Rite of Spring: The Sacrifice," Stravinsky
Óváry, Eszter
"West Side Story: Overture," Leonard Bernstein
Ladányi, Andrea
"La Danza, Op. 104" (Arranged by: Franck Pourcel)
Csisztu, Zsuzsa
"Dances of Galánta," Zoltán Kodály
---
Italy
Volpi, Giulia
"Sixty Second Sonata," Debby Boone
---
Shinoda Miho
"Czardas," Vittorio Monti
---
Romania
Silivaș, Daniela
"Macho Mozart," The Latin Rascals
Dobre, Aurelia
"Joy OD," The Latin Rascals
"Yo Elise," The Latin Rascals
Potorac, Gabriela
"Ciocarlia"
Golea, Eugenia
"Chatanooga Choo-Choo," Hugo Strasser
Voinea, Camelia
"Electric Kingdom," Twilight 22
Popa, Celestina
"Tea for Two Cha Cha," Tommy Dorsey Orchestra
---
South Korea
Han Kyung-Im
"The Electronic Jungle," Jean Schulteis
---
The Soviet Union
Shushunova, Yelena
"Tsyhanochka" (Цыганочка), Studio Danilenko "Koresh"
Boginskaya, Svetlana
"Carmen Suite: VI. Scene," Rodion Shchedrin
Laschenova, Natalia
"Gogol – Suite IV. The Overcoat," Alfred Schnittke
Note: The Overcoat (Шинель) is a short story published by Gogol in 1842.
Shevchenko, Yelena
"Pink Panther," Henri Mancini Orchestra
"Big Spender," Peggy Lee
---
Spain
Muñoz, Laura
"El Vito," Gran Orquesta Española
Rueda, Eva
"New York, New York," Fred Ebb, John Kander
---
United States
Mills, Pheobe
"Addams Family Theme," Vic Mizzy
"Red River Rock," Silicon Teens (Planes, Trains, and Automobiles)
Garrison, Kelly
"One Night in Bangkok," Murray Head (from the musical Chess)
Stack, Chelle
"Hooked on Guitars," Harold Wheeler
Johnson, Brandy
"Romanian Rhapsody in A, Op. 11, No. 1," Enescu
Spivey, Hope
"Cats: The Jellicle Ball," Andrew Lloyd Weber
"Cats: The Rum Tum Tugger," Andrew Lloyd Weber
Marlowe, Missy
"Touch of a Button," Andy Quin
---
Compulsory Music
Based on: "Mouvements," André Gagnon