A big trend in 2000: Movie soundtracks.
In Sydney, the floor music included songs from The Rock, Addams Family Values, The Mummy, and The Truman Show, among others.
A small surprise: In 1984, 1992, and 1996, several floor routines featured music associated with the host country. In 2000, that trend was not as pervasive. Of course, there were exceptions — like McIntosh's use of "Waltzing Matilda" or Slater's use of "I Still Call Australia Home," which was contentious, by the way. (More on that below.)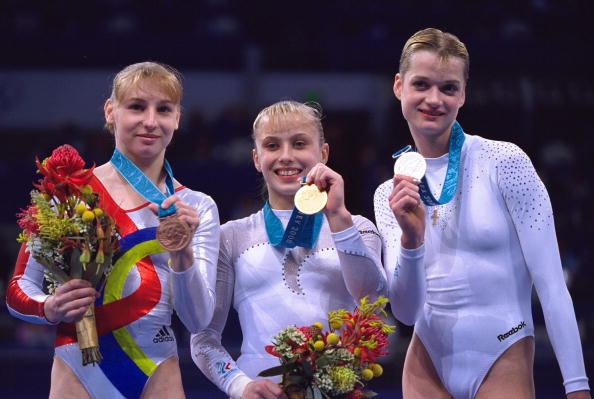 Below, you can find a partial list of floor music used at the 2000 Sydney Olympics. If you have any corrections or additions, feel free to use the comments at the bottom of this page.
Note: The Spotify playlist does not include all the songs mentioned below, and sometimes, it includes a different version of a song.
---
Australia
Skinner, Lisa
"Raksat Shahrazad," Emad Sayyah
Walker, Brook
"Hava Nagila"
Slater, Allana
"I Still Call Australia Home," Peter Allan
Croak, Alexandra
"Waltz," Eugen Doga
McIntosh, Trudy
"Waltzing Matilda," (originally John Collinson)
---
Belarus
Polozkova, Alena
"On the Run," Yello
---
Belgium
Persoon, Sigrid
"Symphony No. 25 in G-Flat Minor K. 183, I. Allegro con brio," Mozart
---
Brazil
Hypólito, Daniele
"Tuareg Attack," Jerry Goldsmith (The Mummy)
Comin, Comila
"La Cumparsita," Lalo Schifrin
---
Canada
Richardson, Kate
"Hellena," 101 Strings Greece
Tousek, Yvonne
"The Abyss: Main Title," Alan Silvestri
"Trouble's Tango/There Is That In Me," Terry Dame
Leveille, Lise
"Dark Moon, High Tide," Afro Celt Sound System
Beaulieu, Julie
"Aral," Catherine Lara
Conway, Michelle
"That's Right," Jesse Cook
---
China
Liu Xuan
"Le Cocher de La Troika," Paul Mauriat
Ling Jie
"Hör' Ich Zimbalklänge," Franz Lehár, André Rieu
Dong Fangxiao
"Zorba's Dance," Mikis Theodorakis
Huang Mandan
"Symphony No. 7 in D Minor, Op. 7, B. 141, IV. Finale," Dvořák
---
Czech Republic
Komrsková, Jana
"Hummell Gets the Rockets," Hans Zimmer, Nick Glennie-Smith (The Rock)
Marešová, Kateřina
"It's an Addams!," Marc Shaiman (Addams Family Values)
---
France
Regease, Delphine
"Taureg Attack," Jerry Goldsmith (The Mummy)
"The Sand Volcano," Jerry Goldsmith (The Mummy)
Ramassamy, Nelly
"Riverdance: Firedance," Bill Whelan
Soler, Alexandra
"Vampire Hunters," Wojciech Kilar (Dracula)
Endeler, Anne-Sophie
"Underground (Storm)," Burkhard Dallwitz (The Truman Show)
---
Great Britain
Reeder, Annika
"Malagueña"
---
Hungary
Nyeste, Adrienn
"Toccata and Fugue in D Minor, BMV 565, Bach" (Vanessa-Mae)
---
Japan
Yamawaki Kana
"One Jump Ahead," Brad Kane (Aladdin)
---
Romania
Olaru, Maria
"Black Cat White Cat," Dejan Sparavalo
Răducan, Andreea
"Reel Around the Sun," Bill Whelan (Riverdance)
Isărescu, Andreea
"Hooked on Classics," Royal Philharmonic Orchestra
---
Russia
Chepeleva, Anna
"Druē Dzies̩mina par Zosa/Skumjš," Raimonds Pauls
Lobaznyuk, Yekaterina
"Hava Nagila"
Zamolodchikova, Elena
"Big and Bad," Big Bad Voodoo Daddy
"Who's That Creepin'," Big Bad Voodoo Daddy
"Daddy-O," Hipster Daddy-O and the Handgrenades
Produnova, Yelena
"The Ride," James Horner (The Mask of Zorro)
"The Fencing Lesson," James Horner (The Mask of Zorro)
Khorkina, Svetlana
"Pistolero," Dave Grusin
---
Spain
Moya, Esther
"Mambo No. 5," Lou Bega
"Mambo, Mambo," Lou Bega
Martínez, Laura
"Tiburón," Proyecto Uno
Moro, Sara
"Salomé," Chayanne
Moro, Paloma
"(I) Can Can (You)," Vanessa-Mae
---
Ukraine
Karpenko, Viktoria
"The Saint," Orbital
Rozshchupkina, Olha
"La marche de Ménilmontant," Michel Legrand, Stéphane Grappelli
"Sous le ciel de Paris," Michel Legrand, Stéphane Grappelli
Yarosh, Tatyana
"Carnaval de Paris," Dario G
Tyryk, Galina
"Fiddler on the Roof: L'Chaim – To Life," Jerry Bock, Sheldon Harnick
Teslenko, Olha
"Invisible Circus," Vienna Symphony Orchestra
---
United States
Maloney, Kristen
"Istanbul," Joe Carr
"Piano Concerto N. 2 in B-Flat Major, Op. 83: Allegro Appassionato," Brahms
"Puttin' on the Ritz," Terry Snyder
Dantzscher, Jamie
"La cumparsita"
Ray, Elise
"Malagueña"
Chow, Amy
"Yellow River Piano Concerto" Yin Chengzong and Chu Wanghua, based on the "Yellow River Cantata" by Xian Xinghai
Note: Mo Huilan used this piece of music in 1996.

Dawes, Dominique
"Journey," Nova Menco
---
Uzbekistan
Chusovitina, Oksana
"Phantom of the Opera: Overture," Andrew Lloyd Webber
---
A Note about the Song "I Still Call Australia Home"
The airline Qantas was not an Olympic sponsor in 2000. At the time, the company's advertising jingle was "I Still Call Australia Home." Ansett Australia, a Qantas competitor, was an Olympic sponsor and banned the song from the Olympics. Slater was given a special dispensation.
Peter Allen's classic song, I Still Call Australia Home, was banned from all Olympic events but one, Ansett said yesterday.

Ansett and SOCOG granted the Boy from Oz's home town of Tenterfield, near the NSW-Queensland border, sole permission to perform the late entertainer's song when the Olympic torch passes through there later this month.

Ansett, an Olympics sponsor, decided to silence renditions of the popular tune at all other Olympic events because of its close link with rival airline Qantas.

In the only other exception, SOCOG earlier cleared West Australian gymnast Allana Slater to perform her floor routine at the Games to the song.

"Ansett shoots down Allen's classic," Illawarra Mercury, August 10, 2000