At the 1930 World Championships (originally called the International Tournament), tragedy struck. Yugoslav gymnast Anton Malej fell during his rings routine and was taken to the hospital, where he later died on July 15, 1930. He was 23.
Despite the accident, the Yugoslav gymnasts kept competing and took home third place. Fellow countryman Josip Primožič won the all-around.
The results, though, should have an asterisk next to them, given that the gymnasts didn't compete in five of the scheduled events.
The competition was originally scheduled for July 12 and 14, 1930. However, rainy weather on July 14 resulted in a premature end to the competition, and the organizers decided to count only the scores from the first day (i.e. the scores from the apparatus gymnastics portion of the competition).
Reminder: This was not the first time that inclement weather caused problems during the International Tournament. In 1911, Cupérus, the FIG President at the time, wanted the athletes to compete in inclement weather rather than end the competition or finish it the next day. And two years prior, at the 1928 Olympics, the FIG was upset that the stadium was not prepared for inclement weather.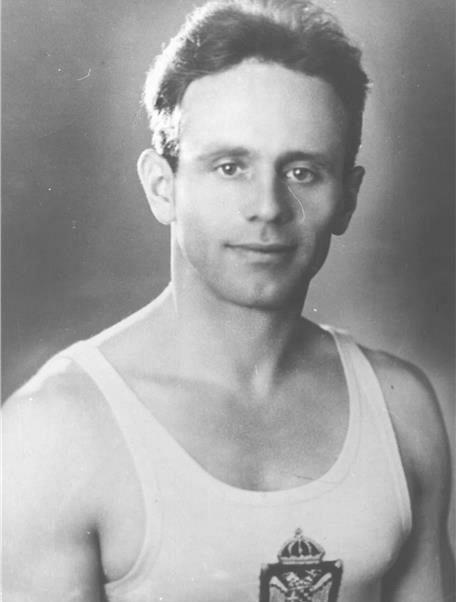 Gymnastics Context | The Events | Results | The Death of Anton Malej | Competition Commentary | Appendix A: All-Around Results – 11-45 | Appendix B: Every Score from Every Judge
Gymnastics Context
To refresh your memory, here were the top teams leading up to the 1930 International Tournament.
1920
OLY*
1922
WC
1924
OLY
1926
WC
1928
OLY
First
ITA
TCH
TCH
TCH
SUI
Second
FRA
YUG
SUI
YUG
TCH
Third
BEL
FRA
YUG
FRA
YUG
Other
TCH – 4th
*Note: There was also a "Swedish System" team competition in 1920, which, not surprisingly, Sweden won.
1920
OLY
1922
WC
1924
OLY
1926
WC
1928
OLY
First
Zampori,
ITA
Šumi,
YUG

Pecháček,
TCH
Štukelj,
YUG
Šumi,
YUG
Miez,
SUI
Second
Torrès,
FRA
Pražák,
TCH
Effenberger,
TCH
Hänggi,
SUI
Third
Gounot,
FRA
Derganc,
YUG
Šupčík,
TCH
Vácha,
TCH
Štukelj,
YUG
Note: At the 1922 and 1926 World Championships, there weren't awards for second and third places in the all-around.

Note #2: Because the World Championships included track and field events, the top all-around contenders were different at the World Championships and the Olympic Games.
---
The Events
Compulsory routines:
Floor exercise
Pommel Horse
Rings
Parallel Bars
High Bar
Optional routines:
Floor exercise
Pommel Horse
Rings
Parallel Bars
High Bar
Track and Field:
100m
Long jump
Pole vault
Shot put, alternating arms
Other
Source for distances and times: Olympische Turnkunst, Dec. 1967.
The big change: Ensemble calisthenics were no longer an event. They were replaced with individual artistic floor exercises, both compulsory and optional.
The 1923 "Memorandum" mentioned earlier had been referred to a committee of technicians. Among other things, it contained the following suggestions for the rules of the tournaments: a) A more active role for the reservists, in that the six best overall scores from 6-8 equal gymnasts would be taken into account; the proposal was already used at the 8th tournament and remained in force until the Basel tournament (1950), from which point on the 6 best scores on each apparatus counted. — b) equalization of calisthenics with apparatus gymnastics, i.e. an artistic floor exercise with the individual performance of compulsory and optional, instead of the previous moderately difficult mass exercises of team gymnastics: this innovation was only able to assert itself starting in 1930 in Luxembourg. — c) Adaptation of athletic exercises to the rules of sports federations; was accepted, but later became irrelevant.

Olympische Turnkunst, October 1967, Emphasis my own

Das bereits erwähnte "Memorandum" aus dem Jahre 1923 war einer Kommission von Technikern überwiesen worden. Es enthielt u. A. folgende Vorschläge zu den Regeln der Turniere: a) Aktivere Rolle der Reservisten, indem von 6-8 gleichberechtigten Turner die sechs besten Gesamtnoten in Anrechnung kämen; der Vorschlag kam schon beim 8. Turnier in Anwendung und blieb in Kraft bis zum Turnier von Basel (1950), von wo ab an jedem Gerät die jeweilig 6 besten Noten zählten. — b) Gleichstellung der Freiübungen mit dem Gerätturnen, d. h. ein kunstgerechtes Bodenturnen mit Einzelauführung von Pflicht und Kür, anstelle der bisherigen mittleschweren Massenübungen des Sektionsturnens: diese Neuerung hat sich erst ab 1930 in Luxemburg durchsetzen können. — c) Anpassung der leichtathletischen Übungen an die Regeln der Sportverbände; wurde angenomnmen, ist jedoch später gegenstandslos geworden.
In the FIG's report on the 1928 Olympic Games, Alphonse Huguenin, treasurer of the FIG and President of the Jury, called for the death of the ensemble exercises:
ENSEMBLE ROUTINES. — They lived, they must disappear. A sound and fair judgment of this part of the competition is not feasible, precisely because of the formation of the jury representing such diverse conceptions, appreciations, and methods. What we saw in Amsterdam is convincing and exempts us from any further comments. On the other hand, it is inadmissible that the classification of the teams is so strongly influenced by the scoring of this routine. Each gymnast having presented ten individual exercises in the execution of which he put all his soul, all his heart, all his bravery, it is not right that the result of this ultimate effort be modified and compromised by that of the ensemble performance, which, on its own, totals a number of points greater than the maximum that the gymnast can total in his individual routines.

PRODUCTION D'ENSEMBLE. — Elles ont vécu, elles doivent disparaître. Un jugement sain et équitable de cette partie du concours n'est pas réalisable, précisément à cause de la formation du jury représentant des conceptions, des appréciations et des méthodes si diverses. Ce que nous avons vu à Amsterdam est convaincant et nous dispense de tous autres commentaires. D'autre part, il est inadmissible que le classement des équipes soit si fortement influencé par la taxation de cette production. Chaque gymnaste ayant présenté dix exercices individuels dans l'exécution desquels il a mis toutes son àme, tout son cœur, toute sa vaillance, il n'est pas juste que le résultat de cet ultime effort soit modifié et compromis par celui de la production d'ensemble qui, à elle seule, totalise un nombre de points supérieur au maximum de ce que peut totaliser le gymnaste dans ses productions individuelles.
---
The Results
Note: You can click on the table and scroll to the right to see more scores.
Team Results
Floor
Ex.
Parallel
Bars
High
Bar
Pommel
Horse
Rings
Behavior
Punctuality
Total
1. Czechoslovakia
174.00
171.85
172.95
166.85
181.75
9.90
20
897.30
2. France
176.20
170.05
163.00
163.35
169.45
9.70
20
871.75
3. Yugoslavia
169.15
162.60
155.25
173.65
159.10
10.00
20
849.75
4. Hungary
161.55
150.60
170.10
109.75
159.75
9.00
20
780.75
5. Luxembourg
165.10
144.85
156.95
112.90
145.45
9.60
20
754.85
6. Belgium
167.10
145.50
120.60
135.70
128.25
9.50
20
726.65
Here are the results with a little more detail. Note that the orientation of the table has changed to accommodate additional data.
1. TCH
2. FRA
3. YUG
4. HUN
5. LUX
6. BEL
Floor
Ex
Comp.
87.05
88.90
84.15
82.35
84.65
85.10
Opt.
86.95
87.30
85.00
79.20
80.45
82.00
Total
174.00
176.20
169.15
161.55
165.10
167.10
Parallel
Bars
Comp.
86.80
85.90
82.30
77.65
74.30
71.95
Opt.
85.05
84.15
80.30
72.95
70.55
73.55
Total
171.85
170.05
162.60
150.60
144.85
145.50
High
Bar
Comp.
83.40
76.30
78.30
88.50
81.20
65.10
Opt.
89.55
86.70
76.95
81.60
75.75
55.50
Total
172.95
163.00
155.25
170.10
156.95
120.60
Pommel
Horse
Comp.
83.85
82.55
87.20
51.45
52.60
66.10
Opt.
83.00
80.80
86.45
58.30
60.30
69.60
Total
166.85
163.35
173.65
109.75
112.90
135.70
Rings
Comp.
90.95
85.45
76.00
82.30
67.10
62.60
Opt.
90.80
84.00
83.10
77.45
78.35
65.65
Total
181.75
169.45
159.10
159.75
145.45
128.25
Behavior
9.90
9.70
10.00
9.00
9.60
9.50
Punctuality
20
20
20
20
20
20
Final
Score
897.30
871.75
849.75
780.75
754.85
726.65
The Czechs showed the world that they were excellent at apparatus gymnastics, even though they finished second at the 1928 Olympics in Amsterdam.
By eliminating athletics and counting only the result of the apparatus competition, we showed our absolute superiority on apparatus to those who made it impossible for us in Amsterdam.

Sokol, 1930, 7-8

Tím, že odpadl prostý tělocvik a počítal se pouze výsledek závodu nářaďového, ukázali jsme svoji naprostou převahu i na nářadí těm, kdož nám to znemožnili v Amsterodamě.
In 1909, the Czech team finished second to the French team in Luxembourg. Their performance in 1930 in Luxembourg was their atonement.
Luxembourg in 1909 is atoned for.

Sokol, 1930, 7-8
Je odčiněn i Luxemburk z r. 1909.
According to the Czechs, the Swiss did not attend because they were not good at track and field.
At least the Swiss admitted honestly that their performance in athletics does not guarantee them victory.

Sokol, 1930, 7-8

Švýcaři aspoň poctivě doznali, že jejich výkony v tělocviku prostém nedávají jim záruky na vítězství.
The All-Around Results
Ctry
Floor
Ex.
High
Bar
Par.
Bars
Rings
Pom.
Horse
Total
1. Primožič,
Josip
YUG
Comp.

15.30
15.55
15.40
14.80
16.00
Opt.
15.05
14.35
15.75
14.85
15.40
152.45
2.Gajdoš,
Jan
TCH
Comp.
14.95
15.25
14.45
15.20
15.80
Opt.
14.90
15.25
14.80
15.25
14.70
150.55
3. Löffler,
Emanuel
TCH
Comp.
15.05
15.10
14.95
16.00
13.75
Opt.
15.10
15.10
13.75
16.00
13.85
148.65
4. Solbach,
Armand
FRA
Comp.
14.95
14.80
15.10
14.50
14.10
Opt.
15.05
15.55
14.20
14.40
14.70
147.35
5. Vácha,
Ladislav
TCH
Comp.
14.60
11.95
14.55
14.80
14.30
Opt.
14.50
15.10
15.35
15.60
15.00
145.75
6. Logelin,
Mathias
LUX
Comp.
14.75
15.55
14.20
14.90
14.45
Opt.
13.95
14.80
13.50
14.65
14.95
145.70
7. Leroux,
Georges
FRA
Comp.
14.70
15.10
14.70
13.75
14.95
Opt.
14.95
14.65
14.80
13.75
14.10
145.45
8. Šupčík,
Bedřich
TCH
Comp.
14.25
14.35
14.45
15.25
14.40
Opt.
14.20
14.65
13.75
15.45
14.40
145.15
9. Pelle,
István
HUN
Comp.
14.10
16.00
12.60
15.05
13.30
Opt.
14.75
16.00
13.30
15.25
12.85
143.20
10. Itten,
Marcel
FRA
Comp.
14.65
14.50
15.40
14.80
13.00
Opt.
14.50
14.50
13.90
13.85
11.65
140.75
Source: Štukelj, Mojih sedem svetovnih tekmovanj

For the rest of the all-around scores, jump to Appendix A.

The Perfect Scores
Certainly this was the first case in the whole competition between the two wars, where all the judges on any apparatus gave three competitors the highest score.

Štukelj, Mojih sedem svetovnih tekmovanj

Gotovo je bil to prvi primer v vsem tekmovanju med obema vojnama, do so vsi sodniki na kateremkoli orodju trem tekmovalcem pdelili najvišjjo oceno.
Perfect Totals
Gymnast
Team/Country
Total
Event
István
Pelle
Hungary
32.0
High Bar
Emanuel
Löffler
Czechoslovakia
32.0
Rings
As was the case in 1926, there were three judges. Each judge gave the score a score from 0 to 10. The sum of the scores was divided by two, so a perfect score for the routine portion was 15. On top of that, there was an additional point for the approach and departure from the equipment, making a 16.0 the perfect score.
Additional Perfect Scores
Gymnast
Team/Country
Total
Event
Nikolaus
Péter
Hungary
16.0
High Bar,
Optionals
Leon
Štukelj
Yugoslavia
16.0
High Bar,
Optionals
Josip
Primožič
Yugoslavia
16.0
Pommel Horse,
Compulsories
---
The Death of Anton Malej
Anton Malej died after falling on a simple element during the rings exercise.
On the rings, during a simple part — an inverted pike hang — the young Yugoslavian gymnast Anton Malej fell so badly that he had to be taken to the hospital immediately for professional treatment with a cervical vertebrae injury.

Olympische Turnkunst, December 1967.

An den Ringen, in einfachem Übungsteil aus dem Sturzhang, fiel der junge jugoslawische Turner Anton Malej so unglücklich, daß er sofort mit einer Halswirbelverletzung zu fachgerechter Behandlung ins Spital überführt werden mußte.
Leon Štukelj was one of the first people to reach Malej. Here's what he recalls.
I jumped up to him first, knelt down and leaned on both hands, bent down to his face and first asked him if he could feel his legs. Malej was quite confused for a few moments, he closed and opened his eyes, but finally he stopped with his eyes open and stared into my face. Then he regained consciousness and nodded to me again when asked if he could feel his legs. He had both arms stretched back.

Meanwhile, others arrived, followed by Count Zamoyski. He pulled a small bottle of cognac from his pocket and wet Malej's lips.

Gregorka was told by Malej that he could feel his hands, but that his fingers were tingling.

Before he was taken to the clinic by ambulance, he encouraged our gymnasts to compete well.

Štukelj, Mojih sedem svetovnih tekmovanj
Gregorki je Malej rekel, da roke čuti, pač pa da so prsti mravljinčasti.

Preden so ga z rešilnim avtom odpeljali na kliniko, je še bodril naše telovadce, naj dobro tekmujejo.

Prvi sem skočil k njemu, se v pokleku in oprt na obe roki sklonil k njegovemu obrazu in ga najprej vprašal, ali čuti noge. Malej je bil nekaj trenutkov čisto zmeden, zapiral in odpiral je oči, končno pa obstal z odprtimi očmi in mi zrl v obraz. Takrat se je zavedel in mi na ponovno vprašnje, ali čuti noge, odkimal. Obe roki pa je imel stegnjeni nazaj.

Medtem so priskočili tudi drugi, takoj za menoj grof Zamoyski. Iz žepa je potegnil mali flakon s konjakom in Maleju namočil ustnici.
Reminder: Adam Zamoyski would be elected the FIG president in 1933. Apparently, he carried a small bottle of cognac with him to gymnastics meets.
All of Luxembourg mourned Malej's death.
The tragic event resonated deeply in the city, ceremoniously ready to receive and greet the many gymnasts and representatives of the Luxembourg Gymnastics Associations who came to the federal rally, and especially to honor all foreign guests who came to IX International Tournament. The whole city was in state Luxembourg flags, which at the funeral were lowered to half-mast and many wrapped in a black veil like bowed heads of mourning friends silently saying goodbye to the extinct youth of a dear guest.

Štukelj, Mojih sedem svetovnih tekmovanj
Tragični dogodek je globoko odmeval v mestu, svečano pripravljenem, da sprejme in pozdravi številne telovadce in predstavnike luksemburških telovadnih društev, ki so prišli na zvezni zlet, še prav posebej pa, da počasti vse tuje goste, došle na IX. mednarodno tekmo MTZ. Vse mesto je bilo v državnih luksemburških zastavah, ki so se ob pogrebu, spuščene do pol droga in mnoge ovite v črn pajčolan kot sklonjene glave žalujočih prijateljev nemo poslavljale od ugasle mladosti dragega gosta.
You can read Malej's obituary here.
---
Competition Commentary
According to the Czechs, the Slavs needed to stop acting as one voting bloc during the meetings.
The Slavs, present at the meeting, acted as one block. We have achieved some minor successes, but I do not see any success in that in the future if we speak as a Slavic group. It is quite dangerous and it could easily happen that another bloc is formed against us and we would not have the opportunity to take a negative position against such a procedure. In fact, when I look at things in the Federation, it is not far from the time when there will be the closest cooperation in terms of progress in the Federation between the Swiss, Italy and the Dutch.

Sokol, 1930, 7-8

Slované, přítomní na schůzi, vystupovali jsme jako jeden blok. Některých menších úspěchů jsme sice docílili, ale do budoucna nevidím v tom žádný, úspěch, budeme-li mluvit jako skupina slovanská. Je to dost nebezpečné a mohlo by se lehko státi, že by se proti nám utvořil jiný blok a neměli bychom možnosti proti takovému postupu zaujmout odmítavé stanovisko. Ba zdá se mi, pozoruji-li věci ve Federaci, že není daleka doba, kdy dojde k nejužší spolupráci, pokud se týče postupu ve Federaci, mezi Švýcary, Italy a Holanďany.
The New Stadium
Luxembourg had just constructed a new stadium, and it was a big deal.
The mayor remarked:
Today, we link our sports spectacles, which will now be able to flourish in this ideal place, to the great traditions of the ancient Olympiads. — We will have achieved everything we could wish for, if all those who come here to exercise, to test, to confront their muscles and their flexibility remain a little penetrated by this harmonious and sublime atmosphere which was the atmosphere of Greece, if they contribute to forming a race of Luxembourgers, with a harmonious body, a valiant heart, a clear mind, melted and confused in the love of the True, the Good, and the Beautiful.

L'indépendance luxembourgeoise, July 14, 1930

Nous relions aujourd'hui nos spectacles sportifs qui pourront s'épanouir dorénavant dans ce lieu idéal, aux grandes traditions des Olympiades antiques. — Nous aurons réalisé tout ce que nous pouvions souhaiter, si, tous ceux qui viendront ici exercer, éprouver, confronter leurs muscles et leur souplesse restent un peu pénétrés de cette atmosphère harmonieuse et sublime qui fut l'atmosphère de la Grèce, s'ils contribuent à former une race de Luxembourgeois, au corps harmonieux, au coeur vaillant, à l'esprit clair, fondus et confondus dans l'amour du Vrai, du Bien et du Beau.
Meanwhile, the Czechs poked fun at the tininess of Luxembourg and its stadium, comparing them to the dwarves from Gulliver's Travels.
Luxembourg is a small state. Tiny Switzerland. One wonders where these people took the courage to ask for international competitions for the second time. They opened the stadium. Tiny stadium. Something seemed to me when I looked at things like Gulliver's travels when he found himself among the dwarves and saw them standing up. Tiny, orderly, and there was their pride in it.

Sokol, 1930, 7-8

Luxemburk je malý stát. Malinkaté Švýcarsko. Člověk žasne, kde ti lidé vzali odvahu, žádat již po druhé o pořádání mezinárodních závodů. Otvírali stadion. Stadioneček. Leccos mi připadalo, když jsem se tak po věcech díval, jako v Gullvierových cestách, když octnul se mezi trpaslíky a viděl je, jaký mají stát. Maličký, spořádaný, a v tom vězela jejich hrdost.
The Trouble with Rain
Due to rain, the apparatus competition had to move indoors on the first day. The Czechs felt like the judging changed after the competition was moved indoors.
The competition, which started in fairly good weather, attracted a lot of audiences. Soon, however, it began to rain, and the judiciary decided to interrupt them and relocate the continuation to one spacious garage and school. Team leaders are asked if they agree with the measure, and it is left to them whether they want to repeat the exercises or not. Until the interruption, we had mandatory floor exercise and continued in the garage with our optional routines. It seemed to me that the judges already had a different standard here than at first. Other apparatus were also judged more severely than at the beginning of the competition.

Sokol, 1930, 7-8

Závody, které začaly za dosti slušného počasí, přilákaly značně obecenstva. Brzo však po zahájení počalo pršeti a soudcovský sbor se usnesl je přerušiti a přeložiti jich pokračování do jedné prostorné garáže a do školy. Vůdci družstev dotázáni, zda s opatřením souhlasí a ponecháno jim na vůli, zda cvičení již počatá chtějí opakovati či nikoliv. Do přerušení měli jsme povinná prostná a pokračovali v garáži ve cvičeních volných. Zdálo se mi, že tu soudci již měli jiné měřítko, než prve na povinných. I ostatní nářadí bylo souzeno již přísněji než s počátku závodu.
The athletics portion had been rained out, so the organizers decided to use only the equipment results.
On the following rest day [July 13], the weather conditions had apparently improved. But no sooner had the athletics exercises started the next day than heavy rain set in again and flooded the stadium. It had become impossible in terms of time and space to continue. In joint consultation between the competition management, the judges, and the team captains, it was decided to stop and calculate the results solely on the basis of artistic gymnastics.

Olympische Turnkunst, Dec. 1967

Am folgenden Ruhetage hatte sich die Wetterlage scheinbar gebessert. Kaum aber waren anderntags die leichtathletischen Übungen angelaufen, als auch wieder heftigster Regen einsetzte und das Stadion überschwemmte. Es war zeitlich und räumlich unmöglich geworden, weiterzufahren. In gemeinsamer Beratung der Wettkampfleitung mit den Kampfrichtern und den Mannschaftsführern wurde beschlossen, abzubrechen und die Resultate lediglich auf Grund des Kunstturnens zu errechnen.
Apparatus gymnastics without athletics was supposed to be an exception — not the rule:
"But," it was unanimously agreed, "this should only be considered an exception, because in future the athletic exercises, which are so valuable for physical education, should be retained."

Olympische Turnkunst, Dec. 1967

"Aber," so wurde einstimmig fetsgelegt, "dies darf nur als Ausnahmefall gelten, denn in Zukunft sollen die für die physische Erziehung so wertvollen leichtathletischen Übungen beibehalten werden."
The Czechs felt like the organizers should have planned for rain.
The competition in Luxembourg was a lesson for us. We can't run competitions in the future without having a covered place in case of rain and not having carefully prepared running tracks and training grounds, both of which can withstand any influx of water.

Sokol, 1930, 7-8

Závod v Luxemburku byl pro nás poučením. Nemůžeme v budoucnu pořádat závody, aniž bychom neměli krytého místa pro případ deště a neměli pečlivě připravené dráhy na běh a cvičiště, jež obé snese jakýkoliv příval vody.
Because the competition came to an abrupt end, Šumi didn't truly have an opportunity to defend his all-around title.
Had there been an athletics competition, would Šumi have made up the difference between him and Primožič? Štukelj thought so.
We could have looked forward to him especially after two similar consecutive victories of Peter Šumi as Primožič's predecessor, if our joy had not covered a veil of grief because of the death of Tone Malej.

With the elimination of athletics from the competition, Šumi could no longer count on a repeat of the victory in Lyon in 1926, although his ranking in 11th place with a difference of 11.90 points from Primožič is considered good and so successful that he could probably fight for it in athletics.

Prav posebej bi se ga bili lahko veselili po dveh podobnih zaporednih zmagah Petra Šumija kot Primožičevega predhodnika, če bi ne prekrival pajčolan žalosti našega veselja s smrtjo Toneta Maleja.

Z izločitvijo atletike iz tekmovanja Šumi ni mogel več računati na ponovitev zmage v Lyonu 1926, čeprav je šteti njegovo uvrstitev na 11. mesto z razliko 11,90 točke od Primožičeve za dobro in toliko uspešno, da bi se bil verjetno zanjo lahko boril v atletiki.
Finally…
If you look at each individual judge's scores below, you can see why the FIG created an acceptable range of scores. The scores were all over the place.
---
Appendix A: All-Around Results – Places 11-45
Note: You can click on the table and scroll to the right to see more scores.
Country
Floor
Ex.
High
Bar
Parallel
Bars
Rings
Pommel
Horse
Total
11T. Šumi
YUG
Comp.

13.85
13.30
14.20
13.95
15.70
Opt.
13.80
13.45
12.40
15.00
14.90
140.55
11T. Péter
HUN
Comp.
14.40
15.70
13.95
15.30
12.80
Opt.
13.40
16.00
13.90
13.10
12.00
140.55
13. Tintěra
TCH
Comp.
13.60
14.35
14.40
14.90
12.45
Opt.
13.70
14.80
13.90
14.25
12.35
138.70
14. Effenberger
TCH
Comp.
14.60
12.40
14.00
14.80
13.15
Opt.
14.55
14.65
13.50
14.25
12.70
138.60
15. Rousseau
FRA
Comp.
14.45
11.50
14.25
14.50
14.60
Opt.
13.85
13.60
13.20
13.00
14.55
137.50
16. Antosiewicz
YUG
Comp.
14.00
11.50
13.80
14.50
14.05
Opt.
14.80
12.85
14.70
12.10
14.35
136.65
17. Kraus
FRA
Comp.
15.15
5.30
15.00
14.70
12.60
Opt.
14.95
14.95
15.00
14.80
13.70
136.15
18. Rybak
TCH
Comp.
14.95
14.20
12.80
13.80
13.55
Opt.
14.40
13.45
14.15
11.90
12.45
135.65
19. Gounot
FRA
Comp.
15.00
15.10
11.45
13.20
13.30
Opt.
14.00
13.45
13.05
14.20
12.10
134.85
20. Ban
YUG
Comp.
13.85
11.65
12.65
12.50
14.15
Opt.
13.90
11.80
14.00
13.75
15.05
133.30
21. Žilič
YUG
Comp.

13.85
13.90
13.75
12.50
12.95
Opt.
14.00
11.80
11.40
14.15
13.25
131.55
22. Reynaert
BEL
Comp.
14.15
13.00
11.50
9.00
13.25
Opt.
14.60
13.30
13.00
11.50
13.85
127.15
23. Kugeler
LUX
Comp.
14.20
14.80
14.40
13.75
7.75
Opt.
13.75
13.45
12.30
13.95
7.65
126.00
24. Zuang
LUX
Comp.
13.80
13.75
12.50
11.45
10.30
Opt.
13.15
13.00
13.50
13.00
10.85
125.30
25. Gregorka
YUG
Comp.
13.30
12.40
12.50
7.75
14.35
Opt.
13.45
12.70
12.05
13.25
13.50
125.25
26. Gibens
BEL
Comp.
14.80
10.75
13.40
12.85
12.20
Opt.
13.80
10.75
13.00
9.50
10.75
121.80
27. Kende
HUN
Comp.
13.70
15.70
13.25
14.90
4.00
Opt.
13.20
14.20
10.75
13.95
7.05
120.70
28. Boros
HUN
Comp.
12.25
13.75
12.20
13.65
13.35
Opt.
11.85
12.25
10.80
11.00
7.30
118.40
29. Defer
BEL
Comp.
13.30
12.25
13.20
11.40
11.80
Opt.
13.05
8.80
11.90
11.60
10.95
118.25
30. Hegedűs
HUN
Comp.
14.15
14.50
12.40
11.90
4.00
Opt.
13.70
11.20
11.50
12.25
9.80
115.40
31. Lencz
HUN
Comp.

13.75
12.85
13.25
11.50
4.00
Opt.
12.30
11.95
12.70
11.90
9.30
113.50
32. Deck
BEL
Comp.
14.35
6.70
11.60
12.75
9.30
Opt.
13.50
7.75
11.60
12.90
11.05
111.50
33. Skulany
HUN
Comp.
13.60
14.50
14.05
14.60
4.90
Opt.
12.85
2.50
11.60
13.25
8.65
110.50
34. Erang
LUX
Comp.
14.35
13.50
11.30
9.25
5.50
Opt.
13.55
9.55
12.00
13.00
8.10
110.10
35. Roeser
LUX
Comp.
13.30
14.35
12.05
5.50
7.30
Opt.
12.50
13.90
10.00
12.15
9.00
110.05
36. Gysbrechts
BEL
Comp.
14.15
11.50
12.25
6.60
10.65
Opt.
13.70
6.25
11.50
9.45
13.70
109.75
37. Claeys
BEL
Comp.
14.35
10.90
10.00
10.00
8.90
Opt.
13.35
8.65
12.55
10.70
9.30
108.70
38. Schanen
LUX
Comp.
14.25
9.25
9.85
12.25
7.30
Opt.
13.55
11.05
9.25
11.60
9.75
108.10
39. Chanteur
FRA
Comp.
14.65
8.50
13.10
8.50
8.20
Opt.
14.10
4.75
12.75
12.25
8.70
105.50
40. Scholtes
LUX
Comp.
13.55
9.95
8.25
11.50
7.85
Opt.
13.00
10.45
8.40
9.60
10.35
101.90
41. Staudt
LUX
Comp.
13.75
9.70
8.90
5.00
4.00
Opt.
12.70
12.55
8.90
11.50
10.60
97.60
42. Tikal
TCH
Comp.
14.90
11.80
13.10
–
11.15
Opt.
13.95
–
14.45
–
12.65
92.00
43. Van Dael
BEL
Comp.
13.30
3.25
9.25
5.25
7.20
Opt.
14.30
6.25
8.50
10.70
11.00
89.00
44. Wilmot
BEL
Comp.
13.75
5.80
5.75
10.80
8.90
Opt.
13.55
4.00
2.95
11.80
10.30
87.60
45. Castelli
FRA
Comp.
14.40
–
13.10
11.25
6.60
Opt.
13.95
–
9.25
10.50
7.90
86.95
Note: Italicized text indicates that the gymnast's scores did not count for the team total.
Anton Malej's scores:
Floor Comp: 14.25
Floor Opt: 13.60
High Bar Comp: 13.15
High Bar Opt: 13.15
Rings Comp: 13.25
---
Appendix B: Every Score from Every Judge
In Štukelj's autobiography Mojih sedem svetovnih tekmovanj, he includes every score from every judge. There was quite a range of scores for certain routines. For example, one judge gave French gymnast Kraus a 9.80 for his compulsory floor routine. Meanwhile, another judge gave him an 8.90 for that same routine.
Floor Exercise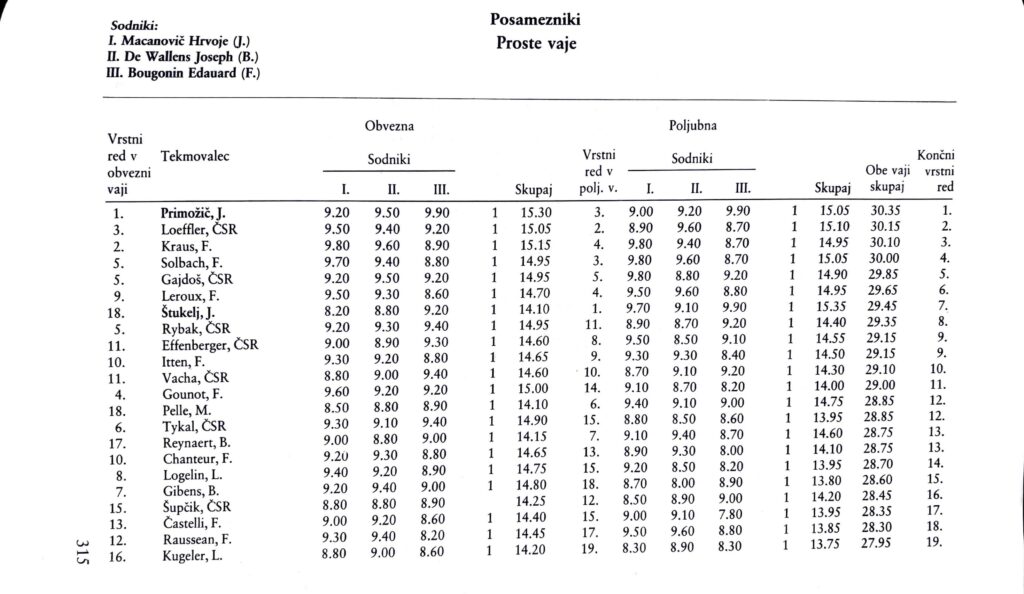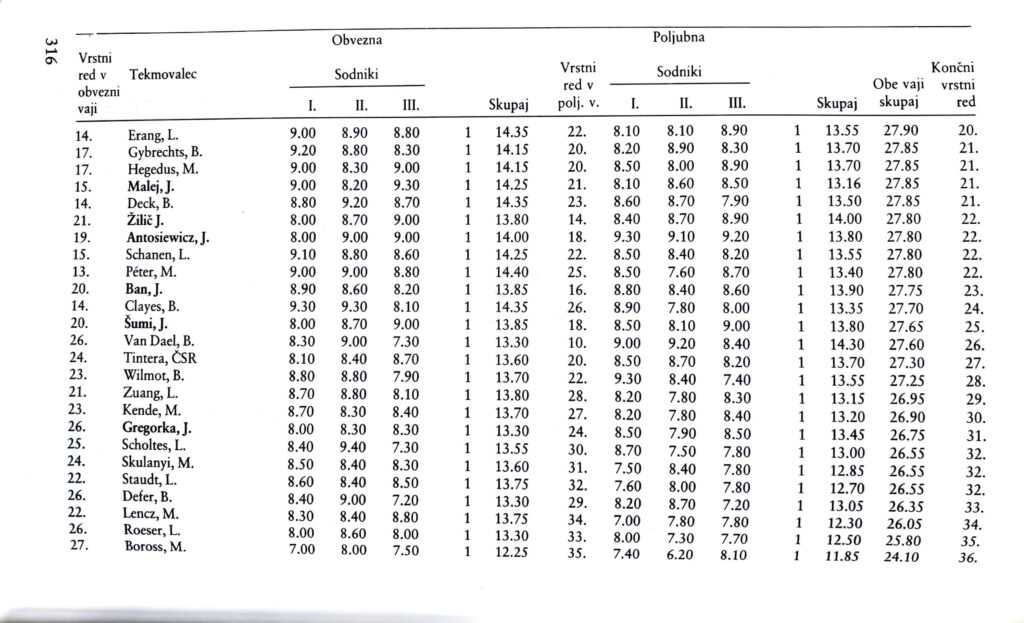 Pommel Horse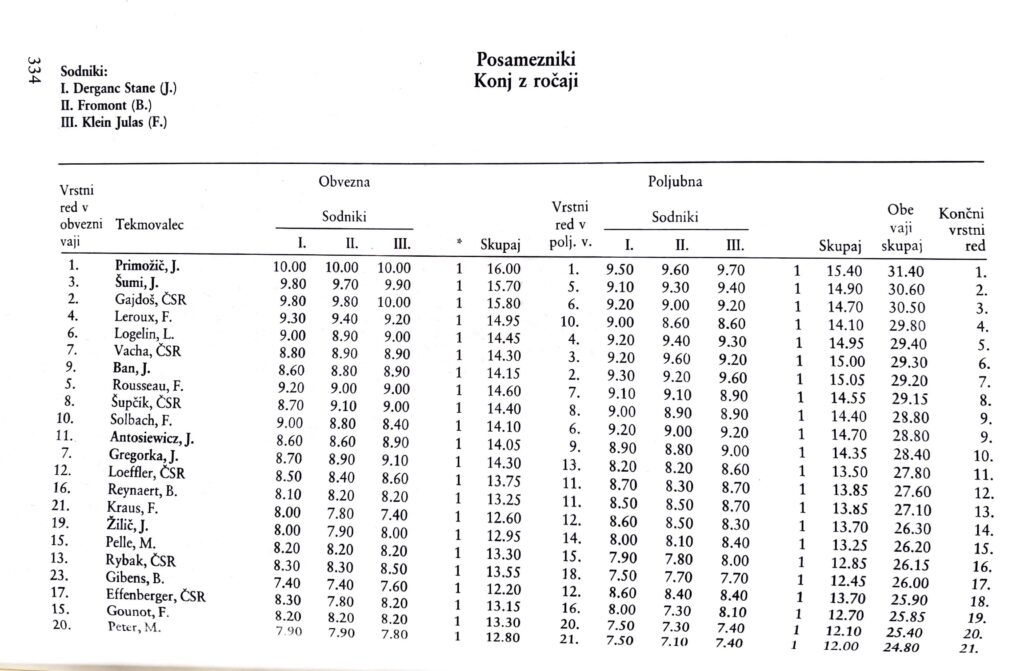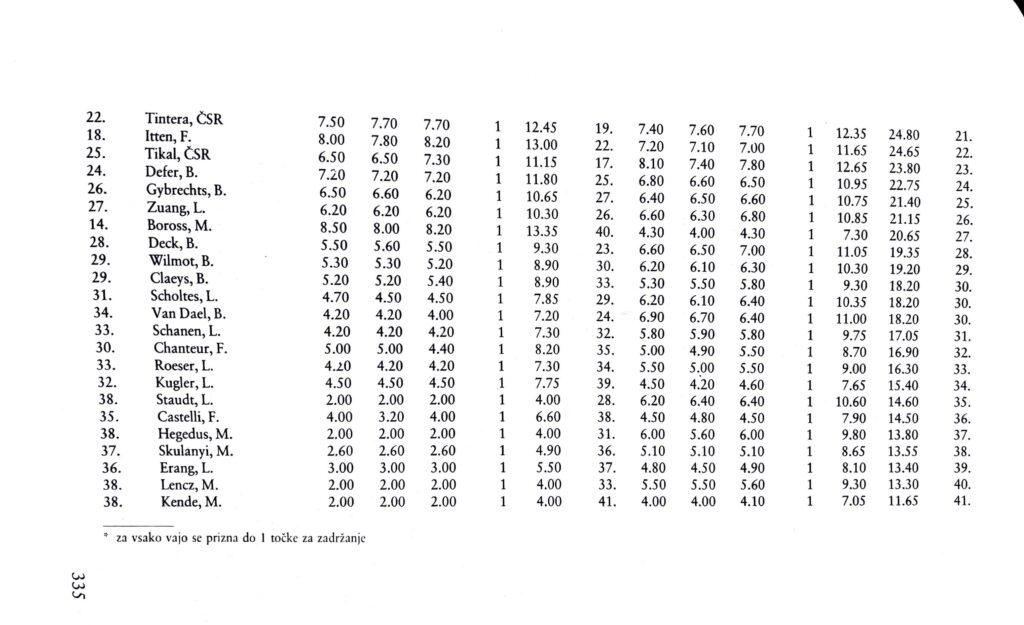 Rings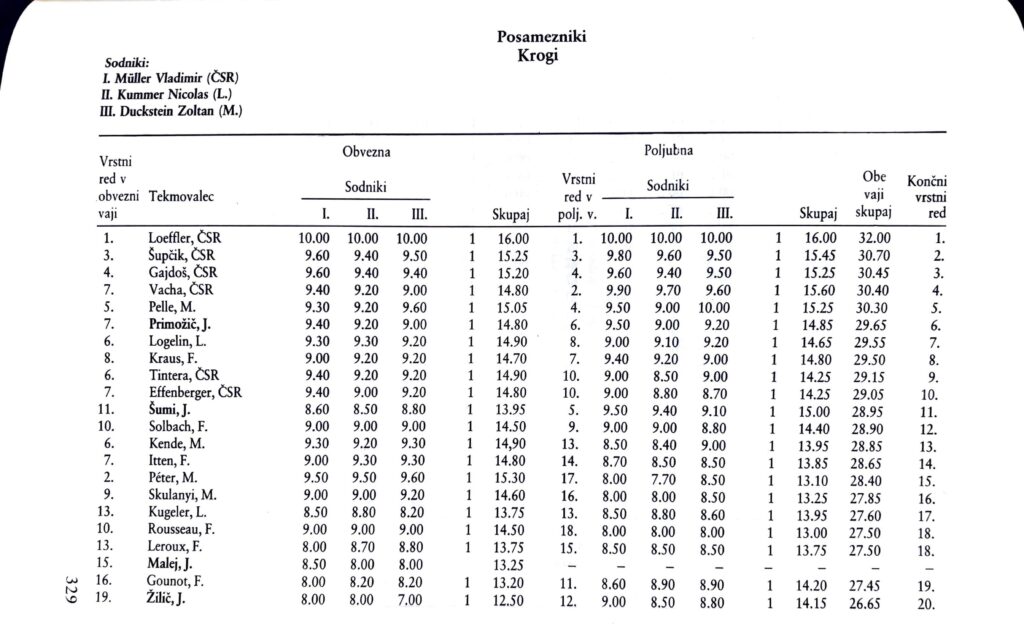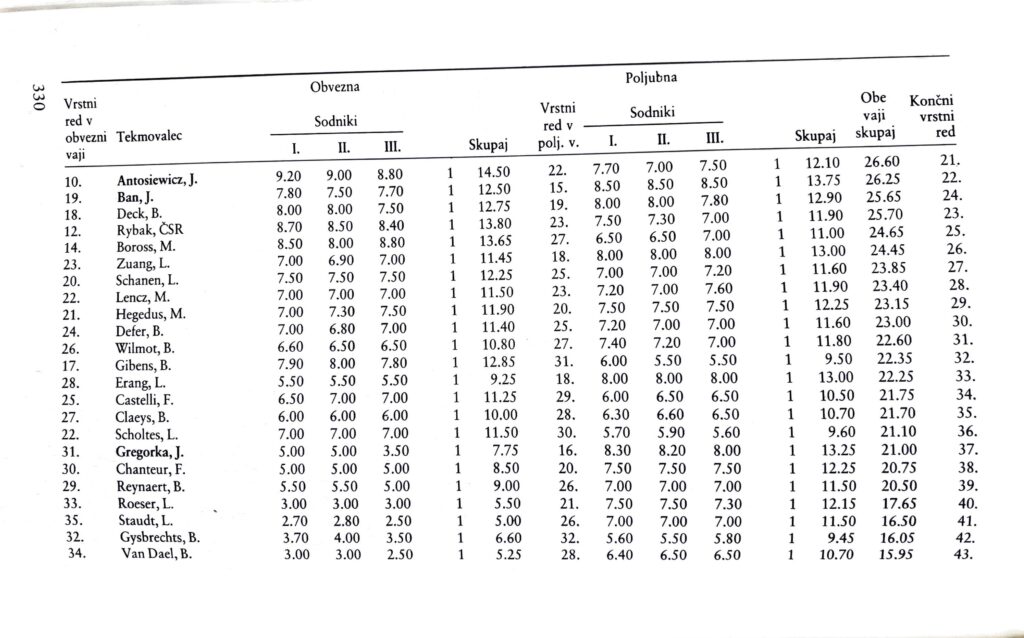 Parallel Bars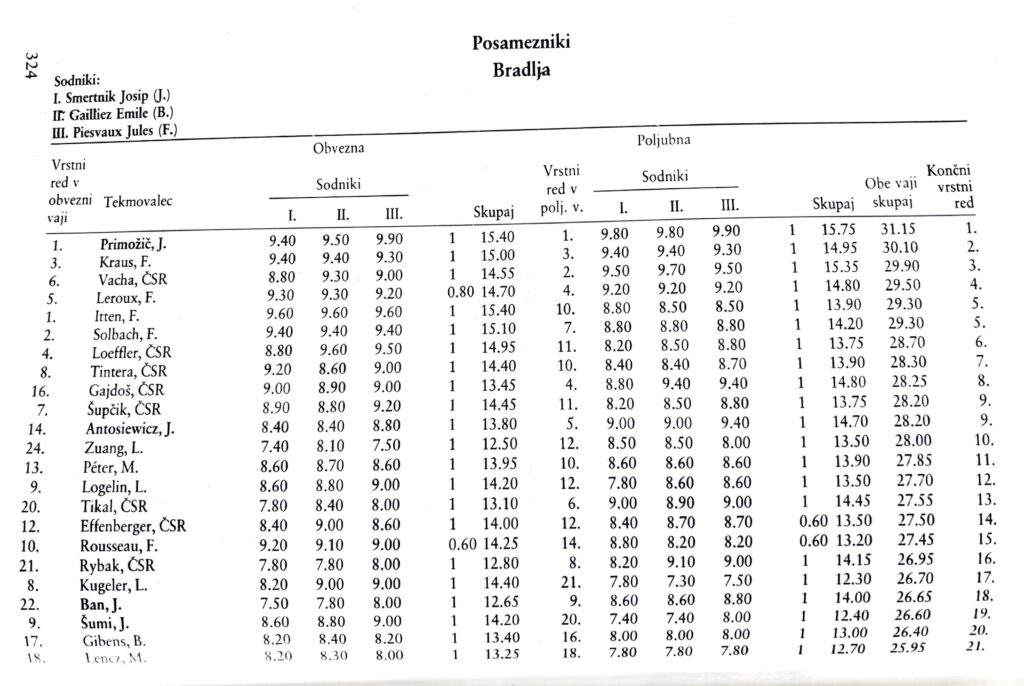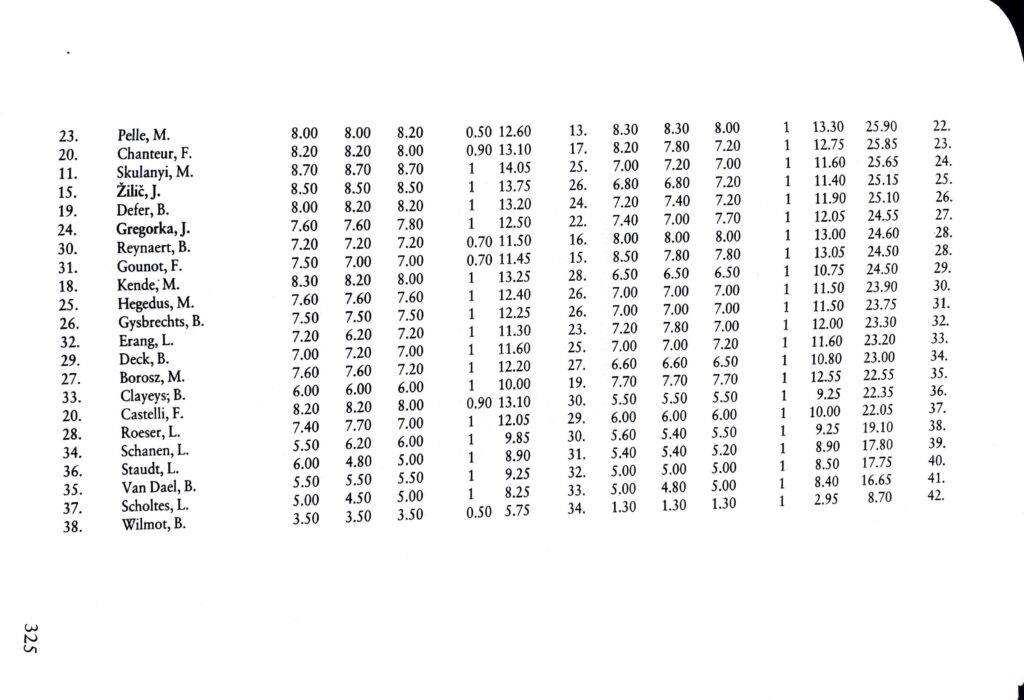 High Bar