During the 1928 Olympics, the Czechoslovak publication Sokol lamented that there weren't any Slavic people in positions of power at the FIG. Well, that changed.
Dr. Klinger of Czechoslovakia became a vice president on the Executive Committee in 1932. (The Executive Committee would become the Men's Technical Committee.)
One year later, Charles Cazalet, who was president of the FIG after Cupérus, died in January of 1933, and Count Adam Zamoyski of Poland was elected the next president of the FIG that same year.
As we'll see, his election was celebrated across the Slavic gymnastics community.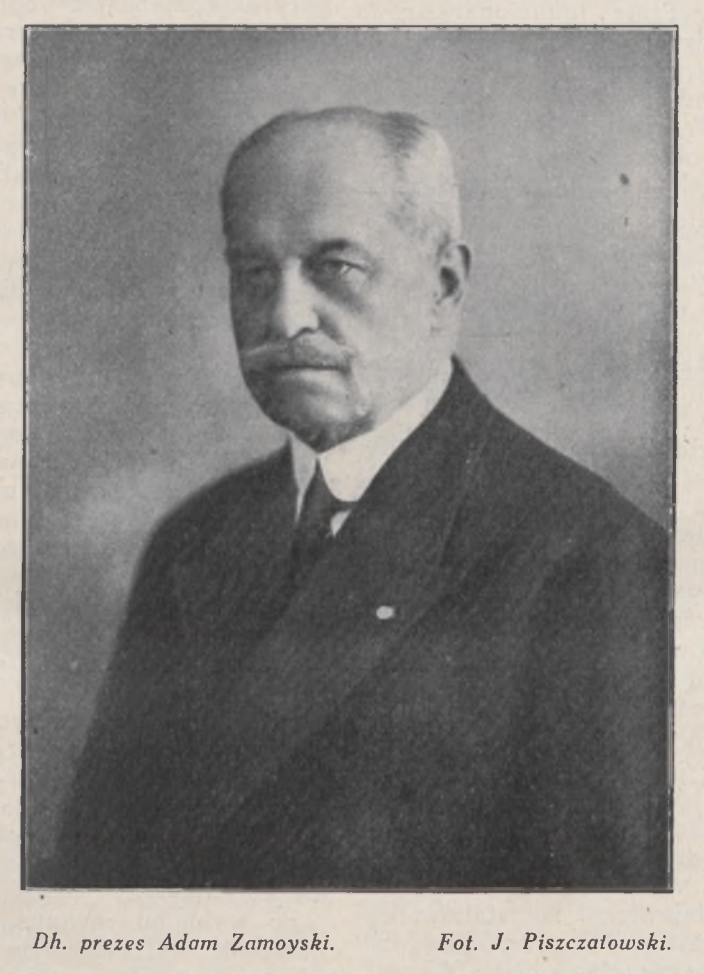 Election | Congratulations from Slavic Countries | A Biography of Zamoyski | Polish Texts
Zamoyski's Election
Here's what the Polish federation's publication reported:
No. 16 of Le Gymnaste Suisse magazine brings a detailed report on the 20th meeting of the International Gymnastics Federation, which is worth special attention for us, as it brought the president of the Polish Sokols to first place among the gymnasts of the world. According to the announcement made in the previous issue of "Guide," this report is given in summary.

The congress was held on April 11 and 12 in Parc de Mon Repos in Lausanne. Of the 26 nations belonging to the FIG (of which 6 are non-European), 10 were represented, with 5 excused absences. The meeting was attended by 20 delegates, representatives of Belgium, Czechoslovakia, France, Holland, Yugoslavia, Luxembourg, Poland, Switzerland, Hungary, and Italy. The delegates of the local municipality, the Olympic committee, and J. Zamoyska, as a representative of women's participation in international gymnastics congresses, were present. Mr. Thoeni from Geneva came on behalf of the Swiss Gymnastic Association.

The meeting was opened with a speech by President Zamoyski, as vice-president of the FIG and dean by age. After him, the following spoke: the representative of the municipality Mr. Simon, the representative of the Olympic committee Mr. O'Berder, welcoming the newcomers. Three speeches dedicated to the memory of the late president Cazalet were made by president Zamoyski, Mr. Gaudier, president of the French federation, and Count Goblet d'Alviella, president of the Belgian federation.

After the opening of the meeting, those assembled went to the Normal School building to watch a film of the Aarau Gymnastic festivities. This was followed by a pre-morning reception at the Hotel under the Bear, under the presidency of Colonel Huguenin (Switzerland), who was surrounded by universal sympathy.

After lunch, a meeting of the technical committee, chaired by the same Col. Huguenin, was held at Mon Repos to determine the rules for the 1934 international congress in Budapest. At the same time, the rest of the meeting participants took a tour of Lausanne and the surrounding area.

The rules passed by the technical committee and later adopted by the general assembly are undoubtedly worthy of more extensive discussion in the pages of "Guide" or its technical supplement by a competent pen. Let us just say that in the evening the technical committee watched Brullmann (Switzerland) and Peter (Hungary) rehearse their compulsory exercises. Thanks to Mrs. Zamoyska's energetic defense of the principle that women should also be able to participate in the Budapest congress, this was allowed as a trial.

The next day the plenary session was held under the chairmanship of Colonel Huguenin. After accepting without change the proposal of the technical committee, they proceeded to elect a president of the FIG, to fill the seat vacated by the death of the late Mr. Cazalet. The election required two rounds. During the second ballot, President Zamoyski emerged from the ballot box; his opponent, Count Goblet d'Alviella, was elected Vice President of the F.I.G. by the same vote. The second vice-president was elected by acclamation Mr. Marco Cappelli, president of the Italian federation. The Secretary of the FIG is Mr. Hubert Clement (Luxembourg), the Treasurer, Mr. Vladimir Müller (Czechoslovakia). The secretary of the executive committee is still the experienced Mr. J. Dalbanne (France). The executive of the technical committee is under the chairmanship of Col. Huguenin; the vice-presidents are Dr. M. Klinger (Czechoslovakia) and J. Paillot (France), the secretary, P. Hentges (Luxembourg), the members, M. Carrias (Italy), J. Krizmanich (Hungary) and J. de Wallens (Belgium).

After the election, the council of state and the Lausanne municipality received the participants with breakfast at the Lausanne-Palace Hotel. During the breakfast, speeches were made by State Councillor Fischer, President Zamoyski, C. Thoeni, and E. Richeme.

This was followed by the closing of the 20th FIG meeting, the proceedings of which, thanks to the businesslike and energetic work of the participants and the warm hospitality of the hosts, left everyone with the best memories.

Przewodnik Gimnastyczny "Sokół" : organ Związku Towarzystw Gimnastycznych "Sokół" w Polsce. R.50 (1933), nr 5
Note: You can read about Countess Zamoyska's election and the formation of the Women's Technical Committee here.
Congratulations from Slavic Countries
As we mentioned in the previous issue, the news of the election of President Zamoyski as President of the FIG spread around the world, echoing everywhere, and filling the Sokols with particular joy.

The Slavic Sokol Association, in a letter dated April 19 of this year, signed by Vice President Gangel and Secretary Stepanek, writes as follows:

"Noble Brother!

It is with real joy that we learn of your election as President of the International Gymnastics Federation, and we hasten to offer you, on behalf of our Federation, our heartfelt congratulations. We appreciate very much the recognition that this has been given to the leader of the brotherly Polish Sokols and, at the same time, to our current vice-president.

We rejoice in the hope that the moment which has placed the leadership of the Federation in your hands, will be an epoch in its history, a progress in training and organizational work, based on your knowledge and perspective.

Accept from us heartfelt wishes for the best of success in the work that falls to you. Serve it and the cause with all your strength.

Cheers!"

The Sokol Association of the Kingdom of Yugoslavia, expressing its joy at the election, says in a beautiful letter dated April 26 of this year:

"The Federation… sees in your election a great victory for the Sokols and the system of physical education that the Sokols stand for…"

In a speech delivered at the union's council in Belgrade on April 23 of that year, Vice President Gangi, to loud applause, declared:

"Our idea has prevailed, and the victors – cheer brotherly!"

Long shouts "Cheers!" welcomed president Zamoyski on the new position.

The same thought is stated in his letter dated April 18 by President Dr. Pavlas of the Novi Sad district, chairman of the legal section of the Union leadership. This letter proves how deeply the Yugoslav Sokols are overjoyed about this.

Of course, there were many congratulations in Poland. They are led by a beautiful letter from the chairmanship of the Wielkopolska district dated April 14 of this year:

"The Most Honorable Second President of the Federation!

During yesterday's meeting of the presidency, we received the news that the International Gymnastics Federation has appointed the Most Distinguished Fellow President to the honorable and prominent position of its president, vacated by the death of the late Mr. Cazalet. As representatives of an important part of the Polish Sokol Association, we feel this momentous fact with great joy, which testifies to the serious position occupied by the Polish Sokols in the international gymnastics world, and which should also have a positive influence on strengthening our organizational position in Poland. This honor, which has met the Polish Sokols in the person of its president, is of course also largely due to you, the Most Honorable Second President – to your personal qualities, and especially to your skillful and self-sacrificing representation of the Polish Sokols in the international arena.

In full understanding and appreciation of these merits, we send to the Very Dear President our best wishes and best wishes for the most fruitful work in the new, so responsible position.

At the same time, we would like to send our best wishes for a healthy and happy Easter and Sokol festivities to the Chief Executive and his family, so devoted to the cause of the Sokols.

Salute! (-) W. Fellner

Secretary.

(-) A. Wolski,

President."

In addition, we received greetings from: the leadership of the Association, districts of Małopolska, Śląsk and Mazowsze, many districts and gyms of the Pomeranian and Krakow districts, with a particularly beautiful letter from President E. Kubaiski on behalf of the Krakow district and gyms, from individual gyms, male, female, and other individuals.

President Zamoyski, unable to respond to everyone as he would have liked, would like to thank you personally for your remembrance and good wishes.

However, it is impossible not to underline the characteristic paragraph of the answer sent to the Association of Slavic Sokols:

… I believe that just as you have graciously expressed your wishes on the occasion of my election as president of the FIG, so also your, Dear Brothers, cooperation with the Sokols, will unfailingly help me in coping with new duties in this difficult and responsible position, to which our beloved Sokols has risen. I believe that only the increased work of the Sokols in all its manifestations will give us the assurance of maintaining and strengthening ourselves in this post of such a high level."

These words can be applied to all Sokols, both abroad and at home.

In response to numerous congratulatory letters and messages received from all the Gymnastic Associations which are members of the FIG, President Adam Zamoyski, unable to answer them individually, has issued the following circular, briefly outlining the program which he intends to pursue in his position:

"Warsaw, in May 1933

Dear Colleagues!

Elected in April this year at the international congress of gymnastic federation representatives in Lausanne as the president of the International Gymnastics Federation, I would like to immediately establish communication with you and tell you how proud I am to hold this dignity, difficult perhaps, but more honorable than others. In fact, the International Gymnastics Federation, created by the inspiration of the great Cupérus, led in recent years by the talent and energy of the unforgettable president C. Cazalet, is a bastion that is becoming more and more important.

All-world gymnastics associations, combined in FIG, constitute the element of spiritual and bodily health, and FIG is undoubtedly one of the mainstays of peace and universal harmony which remain to us, despite all the negative influences which seek to undermine the brotherhood of peoples.

In your persons I bow before your patriotic and noble nation, I bow before the thousands of gymnasts who have united to strive for the ideal of the harmonious development of individuals, to serve God, fatherland, and humanity.

I am sure that the work of the FIG, in spite of the heavy loss which has befallen it, will not be impaired, and that, working together, we shall attain that goal which is dear to us all – universal harmony.

With this thought in mind, for the happiness of mankind, for the prosperity of all peoples who, preserving their qualities, are destined to understand each other and to extend to each other the hand of friendship, I call upon you to work in the name of the FIG, on behalf of the great community dear to us all.

Your efforts vouch for the victory of the idea that invigorates us!"

Przewodnik Gimnastyczny "Sokół" : organ Związku Towarzystw Gimnastycznych "Sokół" w Polsce. R.50 (1933), nr 5
---
A Biography of Adam Zamoyski
In case you want to learn more about Adam Zamoyski, here's a biography that was printed in the official gymnastics periodical of the Polish federation in 1933. For starters, he was the thirteenth child in his family.
As you read this, remember that this biography was written for the official publication of the Polish federation. So, it wasn't a critical biography by any stretch of the imagination. Rather, it was meant to paint a glowing picture of the newly elected President of the FIG.
It is an undeniable truth that outstanding individuals exert an overwhelming influence on the environment in which they live. But what if, having become leaders, they lead this environment. It happens then that the whole is enriched by the traits of the leading individual, but the latter usually involuntarily takes on the traits that characterize the guided group. The interpenetration of each other results in the phenomenon of harmony, necessary to achieve great results.

Ten years ago, all of Polish Sokols, united into one Union the day after Poland regained its independence, looked for a new leader after the resignation of its first president, Bernard Chrzanowski. The choice fell on the then president of the Union of Polish Societies and president of the Warsaw rowing society, Count Adam Zamoyski, who had been a Sokol for several years already, a meritorious chairman of the organizing committee of the 1st national rally in 1921.

Undoubtedly, the greatness of the family, serving the country without a stain for several centuries, the fortune, allowing a broader social work, could attract many to this choice. However, this was not what the Sokols wanted. The decisive factor was the personal qualities of the candidate, his ambition for social work, proven energy, firmness of national convictions, zeal in faith, and sincere generosity, whenever there was a national need. Adam Zamoyski, appointed to the post of President, had either inherited these qualities from home tradition or had acquired them during his half-century-long life.

Born on 18th June 1873 in Podzamcze, as the thirteenth child of Count Stanisław Zamoyski and Countess Rosa Potocki, the future President of the Polish Sokol Association did not have an easy and carefree life ahead of him.

After finishing his school education in Riga and military service in the cavalry, Adam Zamoyski joined the management of the estates and interests of the Zamoyski family, where he served his first apprenticeship and soon gained a managerial position. After marrying Countess Maria Potocka from Peczary, he managed the family estate for some time and administered the sugar factory. In time, he leased his present Kozłówka estate, which, after he obtained the right of ordination for it, passed to him by inheritance, together with the palace at Foksal in Warsaw.

A stay at Riga schools showed the young boy closely the German nobility on the Baltic Sea, with its influence and extraordinary privileges, which it enjoyed in the tsarist state. In the mind of a teenage boy, brought up in a traditionally patriotic home and deeply affected by every concern of the homeland, the idea arose that Poles under the Russian yoke should try to gain influence which would allow them to effectively fight the temptations of the bureaucracy sent to Poland.

The idea was not new, although it was spontaneously born. Aleksander Wielopolski, and before him – Duke Drucki-Lubecki, Minister of Treasury of the Congress Kingdom. This idea, apart from having a general national background, was based on the conviction that the aristocracy played an active and leading role in the life of the nation. This moment in President Zamoyski's ideas had to be comprehensively taken into account as it was the basis for his further actions.

Very soon drawn into the modest social activities of the end of the previous century, Adam Zamoyski felt in every work he undertook a strong and organized opposition from the local administrative authorities. Having convinced himself that this resistance was unbreakable, he became firmly entrenched in his youthful idea and began to cheat the bureaucracy where he had greater access to it, namely at the court in St Petersburg.

It is difficult to enumerate here a long series of approved associations, open churches, cleverly abolished state functionaries; these facts seem small to us today, but then they were significant victories, allowing the depressed society to breathe a little.

Adam Zamoyski made a significant move by organizing a Polish hospital in Warsaw during the Japanese war and taking part in a sanitary expedition to the Far East, to which many of his compatriots called up for military service owed their lives.

​​ The moment World War I broke out came. Adam Zamoyski, who had been pro-Coalition from the start, enlisted in the army with the rank of non-commissioned officer, without taking advantage of the high dignity of court ceremonial master which he held. He earned his officer ranks successively, ending up with the rank of staff-rotormaster.

If pre-war times had allowed Adam Zamoyski to do much for people, it is easy to understand how many opportunities to help the unfortunate arose during the war. If, once again, all those who benefited from his help were willing to give their names here, the list would be very long.

The most important thing, however, was that Adam Zamoyski's function at headquarters was to look after the military attachés of the allied powers. It was not the interests of individuals but the Polish interests that won the day.

With his innate sense of propaganda, he missed not a single opportunity to remind the miracle-workers with whom he came into contact of the need to revive Poland. The voluminous archives from these times, which fortunately survived despite numerous searches by Palace "guards," who would even stealthily search the luggage of adjutants, as well as subsequent Bolshevik revisions, contain an abundance of documents testifying to his stubborn, uninterrupted activity on behalf of the Polish national cause.

Here it may be appropriate to give, as an example, the fact that, a year before the Russian Revolution, the more serious military attachés received as a gift from Adam Zamoyski gold cigarette-cases with the inscription engraved inside: "Souvenez-vous de la Pologne!" (Remember Poland!). It is seemingly a trifle, but for such trifles one could go far…

After the outbreak of the revolution, Adam Zamoyski was the only adjutant who fulfilled his duty as an officer to the end, without leaving his post. Even the members of the revolutionary government rated this highly; the Empress also raises this in her ante-mortem diary.

Released from his oath, Adam Zamoyski remained at headquarters for some time, collaborating in the formation of Polish formations. The First Corps owed a great deal to him; at the same time, the propaganda campaign conducted previously among foreign missions and attachés increased immeasurably. The battle of Krechowce owes a large part of its publicity, and thus of its political significance, to the fact that it was duly emphasized at headquarters and before the heads of missions, as regimental documents testify.

When his stay in Russia became pointless, Adam Zamoyski went to France via Sweden, summoned by the National Committee. There he took an active part in preparatory military work, and his son Aleksander was adjutant to General Massenet. Adam Zamoyski's wide-ranging contacts in the political and military spheres of the coalition allowed him to render many important services to the activists of the National Committee.

The same role had to be played by Adam Zamoyski on his return to Poland. Foksal Palace became a forge of national propaganda, making foreigners from the military and diplomatic world aware of the needs of the resurrected Poland. The strange thing was that Adam Zamoyski had never held any political office or mandate in Poland, he did not belong to any political party, yet his voice had weight, and all those who had made a difference in the life of the capital came to Foksal.

All the distinguished guests of Warsaw also frequented Foksal: The then Nuncio Ratti (today's Holy Father Pius XI), Marshal Foch, foreign deputies, heads of missions, delegates. Some receptions were attended by several thousand people in the palace and garden. The late Countess Adamowa Zamoyska, who died prematurely, fulfilled her role as mistress of the house with an unspeakable grace of beauty and kindness.

At the same time Adam Zamoyski threw all his unused energy and abilities into social life. During the Ukrainian and Bolshevik wars, he was the leader of auxiliary civic action; he also played a leading role in the Vilnius and Silesian plebiscite campaign and during the Silesian uprisings. He also developed the institution of Resursa Obywatelska ("Citizens' Meeting House"), giving it a broad, social, and national character.

His most important work, however, was the creation of the Union of Polish Associations, a central body encompassing the whole of social life in Poland. The union allowed individual organizations to permeate each other and was a factor of social emulation and mutual cooperation.

In 1923, when the Polish Sokols appointed Adam Zamoyski as their president, they knew what they were doing because they could see the fruits of his work.

Indeed: the choice was a very fortunate one. The new president did not regard his position as a ceremonial post: he set to work himself, involved his whole family, and poured a lot of energy into the work of the Sokols.

The Sokols owes its position on the international arena to President Zamoyski above all. He was able to use his diplomatic and propaganda skills to the full. In 1925, in his house, the Slavic Sokols' Association was founded on new, post-war foundations. President Zamoyski presided over it for the first year of its existence and has now been its deputy president until recently, after the death of its late president, Dr Scheiner. President Zamoyski has perfectly grasped and put into practice the traditional Slavic cohesion of the Sokols, which nothing stands in the way of today. Therefore, his personal popularity among brother Slavic Sokols is enormous, and with it, the importance of the Polish Sokols grows.

At the International Gymnastics Federation our influence with president Zamoyski has also grown year by year, which was crowned this year, after the death of president Cazalet, with Zamoyski's election as president of this huge association uniting 27 nations. The President's wide knowledge of the world makes him an excellent guide for the Federation.

In terms of internal work, it is necessary to emphasize, in addition to the consistent suppression of all politics in the "Sokół" (Falcon), the organization of a large rally in Poznań in 1929, but above all, this model of Sokol work, which is the kozłowiecki nest, the site of the union courses. Both chairman Zamoyski and his whole family are shining examples of Sokol work, duty, sacrifice, and devotion.

It would be impossible to enumerate here – in fact, it is superfluous, because everyone knows it – that President Zamoyski is not used to missing rallies, often even nest rallies, that he never hesitates to go abroad when the interests of the Union require it, and that he does not spare his strength, funds and time, just to bring Sokols closer to the ideal he has dreamed of for it. For he loves it with all his heart, perhaps a little tyrannically, but so sincerely and warmly that we all envy this love. Therefore all the Sokols pay for the president's heart with heart – and one can say that Adam Zamoyski is one of the most popular people in Poland.

Today, when we are fortunate to wish him, on the double occasion of his 60th birthday and 10th anniversary of presiding over the Polish Sokols, long years of fruitful work, it is a point of honor for all of us to live up to our president's love for the Sokol cause, his eternal enthusiasm and undaunted perseverance.

Let our threefold "Salute!" ring out for him strongly and cordially; let it be picked up by the rustle of the trees in Kozłówka and in Foksal, and let its echo fly out into the wide world, wherever there are Polish or Slavic Sokols, in his heart, his work more and more strongly and inseparably united.


Przewodnik Gimnastyczny "Sokół" : organ Związku Towarzystw Gimnastycznych "Sokół" w Polsce. R.50 (1933), nr 9
---
The Polish Original
20-TE POSIEDZENIE F. I. G
Nr. 16-ty czasopisma ,,Le Gymnaste Suisse" przynosi dokładne sprawozdanie z 20-go posiedzenia Międzynarodowej Federacji Gimnastycznej, godnego dla nas szczególnej uwagi, ponieważ wysunęło prezesa sokolstwa polskiego na pierwsze miejsce pośród gimnastyków świata. Stosownie do zapowiedzi w poprzednim numerze ,,Przewodnika", dajemy to sprawozdanie w streszczeniu.
Kongres odbył się w dn. 11 i 12 kwietnia r. b. w parku Mon Repos w Lozannie. Z 26 narodów, należących do F. I. G. (z czego 6 pozaeuropejskich), reprezentowanych było 10, przy 5-ciu usprawiedliwionych co do nieobecności. W posiedzeniu uczestniczyło 20-tu delegatów, przedstawicieli Belgji, Czechosłowacji, Francji, Holandji, Jugosławji, Luksemburgu, Polski, Szwajcarji, Węgier i Włoch; obecni byli delegaci municypalitetu miejscowego, komitetu olimpijskiego oraz dh. nacz. J. Zamoyska, jako referentka udziału kobiet w międzynarodowych kongresach gimnastycznych. W imieniu szwajcarskiego Stów, gimnastycznego przybył p. K. Thoeni z Genewy.
Posiedzenie otworzył przemówieniem dh. prezes Zamoyski, jako wiceprezes F. I. G. i dziekan z wieku. Po nim przemawiali: przedstawiciel municypalności p. Simon, przedstawiciel komitetu olimpijskiego p. O'Berder, witając przybyłych. Trzy przemówienia, poświęcone pamięci zgasłego ś. p. prezesa Cazalet, wygłosili: dh. prezes Zamoyski, p. Gaudier, prezes federacji francuskiej i hr. Goblet d'Alviella. prezes federacji belgijskiej.
Po otwarciu posiedzenia, zebrani udali się do gmachu szkoły normalnej, aby obejrzeć film święta gimnastycznego w Aarau. Następnie odbyło się przedobiednie przyjęcie w hotelu pod Niedźwiedziem, pod prezydencją otoczonego powszechną sympatją płk. Huguenin (Szwajcarja).
Po obiedzie w Mon Repos odbyło się posiedzenie komisji technicznej pod przewodnictwem tegoż płk. Huguenin, celem ustalenia zasad kongresu międzynarodowego w r. 1934 w Budapeszcie. W tymże czasie reszta uczestników posiedzenia odbyła wycieczkę po Lozannie i okolicach.
Zasady, uchwalone przez komisję techniczną i przyjęte potem przez zebranie ogólne, niewątpliwie zasługują na szersze omówienie na łamach "Przewodnika'1 lub jego dodatku technicznego przez kompetentne pióro. Powiemy więc tylko tyle, że komisja techniczna wieczorem przypatrywała się próbom ćwiczeń projektowanych, dokonanym przez Brullmanna (Szwajcarja) i Petera (Węgry). Dzięki energicznej obronie przez dh. nacz. Zamoyską zasady, aby kobiety mogły również uczestniczyć w kongresie budapeszteńskim, zezwolono na to, tytułem próby.
Następnego dnia obrady plenarne toczyły się pod przewodnictwem płk. Huguenin. Po przyjęciu bez zmian propozycyj komisji technicznej, przystąpiono do wyboru prezesa F. I. G., na miejsce, opróżnione przez zgon ś. p. Cazaleta. Dokonanie wyboru wymagało dwóch skrutynjów. W drugiem wyszedł z urny dh. prezes Zamoyski; kontrkandydat jego, hr. Goblet d'Alviella, został przez to samo wiceprezesem F. I. G. Drugim wiceprezesem obrano przez aklamację p. Marco Cappelli, prezesa federacji włoskiej. Sekretarzem F. I. G. jest p. Hubert Clement (Luksemburg), skarbnikiem — p. Vladimir Muller (Czechosłowacja). Sekretarzem komitetu wykonawczego pozostaje nadal doświadczony p. J. Dalbanne (Francja). Egzekutywa komisji technicznej znajduje się pod przewodnictwem płk. Huguenin; wiceprezesami są pp dr. M. Klinger (Czechosłowacja) i J. Paillot (Francja), sekretarzem— p. P. Hentges (Luksemburg), członkami — pp. M. Carrias (Włochy), J. Krizmanich (Węgry) i J. de Wallens (Belgja).
Po wyborach, rada stanu i municypalność lozańska przyjmowały uczestników śniadaniem w hotelu Lausanne-Palace. Podczas śniadania przemówienia wygłosili: radca stanu Fischer, dh. prezes Zamoyski, p. K. Thoeni i p. E. Richeme.
Potem nastąpiło zamknięcie 20 posiedzenia F. I. G., którego przebieg, dzięki rzeczowej i energicznej pracy uczestników oraz dzięki serdecznej gościnności gospodarzy, zostawił wszystkim najlepsze wspomnienia.
**
Jak już wzmiankowaliśmy w poprzednim numerze, wiadomość o wyborze dh. prezesa Zamoyskiego prezesem F. I. G szeroko rozeszła się po świecie, wywołując wszędzie echo, a szczególną radością napełniając sokolstwo.
Związek sokolstwa słowiańskiego, w liście z 19 kwietnia r. b,, podpisanym przez dh. wiceprezesa Gangla i dh. sekretarza Stepanka, pisze, co następuje:
"Przezacny Bracie!
Z prawdziwą radością dowiadujemy się o Twym obiorze na godność prezesa Międzynarodowej Federacji Gimnastycznej i śpieszymy złożyć Ci imieniem naszego Związku serdeczne powinszowania. Cenimy sobie wielce uznanie, jakie przez to okazano przywódcy bratniego sokolstwa polskiego, a jednocześnie naszemu urzędującemu zastępcy prezesa.
Cieszymy się nadzieją, że chwila, która złożyła w Twe dłonie prowadzenie Federacji, będzie epoką w jej dziejach, postępem w ćwiczebnej i organizacyjnej pracy, opartej o Twe wiadomości i widnokrąg.
Przyjmij od nas serdeczne życzenia najlepszego powodzenia w przypadającej Ci pracy. Służ jej i sprawie ze wszystkich Twych sił.
Na zdar!"
Związek sokoli królestwa Jugosławji, wyrażając swą radość z wyboru, mówi w pięknem piśmie, datowanem z 26 kwietnia r. b.:
"Związek… widzi w Twym wyborze więlkie zwycięstwo sokole oraz tego systemu wychowania fizycznego, jakiemu hołduje sokolstwo…"
W przemówieniu, wygłoszonem na radzie Związku w Belgradzie 23 kwietnia r. b., dh. wiceprezes Gangi, przy grzmiących oklaskach, oświadczył:
"Nasza idea zwyciężyła, a zwycięzcy — bratnie zdravo!"
​​Długo niemilknące okrzyki ,-Zdravo!" powitały dh. prezesa Zamoyskiego na nowem stanowisku.
Tę samą myśl zaznacza w swym liście z dn. 18 kwietnia dh. prezes dr. Pavlas z żupy Novi Sad, przewodniczący sekcji prawnej przewodnictwa Związku. Pismo to jest dowodem, jak głęboką sokolstwo jugosłowiańskie przejęte jest radością z tego powodu.
Oczywiście w Polsce gratulacyj nadeszło bardzo wiele. Przoduje im piękny list przewodnictwa dzielnicy wielkopolskiej z dnia 14 kwietnia r. b.:
"Wielce Szanowny Druhu Prezesie Związku!
Podczas wczorajszego posiedzenia przewodnictwa doszła nas wiadomość, że Międzynarodowa federacja gimnastyczna powołała Wielce Szanownego Druha Prezesa na zaszczytne i wybitne stanowisko swego prezesa, opróżnione przez zgon ś. p. Cazalet'a. Jako przedstawiciele poważnej części Związku sokolstwa polskiego, żywo i radośnie odczuwamy ten fakt doniosły, który świadczy o powaźnem stanowisku, zajmowanem przez sokolstwo polskie w międzynarodowym świecie gimnastycznym i który wpłynąć powinien jak najbardziej dodatnio również na umocnienie naszej pozycji organizacyjnej w kraju samym. Zaszczyt ten, który spotkał sokolstwo polskie w osobie jego prezesa, jest oczywiście w znacznej mierze także Twoją, Wielce Szanowny Druhu Prezesie, zasługą — zasługą Twoich zalet osobistych, a w szczególności Twej umiejętnej i ofiarnej reprezentacji sokolstwa polskiego na terenie międzynarodowym.
W pełnem zrozumieniu i wdzięcznem uznaniu tych zasług, przesyłamy Wielce Szanownemu Druhowi Prezesowi najszczersze powinszowanie, a zarazem życzenia jak najowocniejszej pracy na nowem, tak odpowiedzialnem stanowisku.
​​Równocześnie załączamy dla Wielce Szanownego Druha Prezesa, jak i Jego najbliższej Rodziny, tak szczerze oddanej sprawie sokolej, serdeczne życzenia zdrowych i szczęśliwych świąt wielkanocnych oraz sokole nasze:
Czołem! (—) W. Fellner
Sekretarz.
(—) A. Wolski,
Prezes.
Ponadto nadeszły życzenia od: przewodnictwa Związku, dzielnic — małopolskiej, śląskiej i mazowieckiej, wielu okręgów i gniazd dzielnic pomorskiej i krakowskiej, w czem szczególnie piękny list dh. prez. E. Kubaiskiego w imieniu okręgu i gniazd krakowskich, od poszczególnych gniazd, druhów i druhen oraz osób prywatnych.
Dh. prezes Zamoyski, nie mogąc odpowiedzieć wszystkim, jakby pragnął, osobiście, na tem miejscu serdecznie za pamięć i dobre życzenia dziękuje.
Niepodobna wszakże nie podkreślić charakterystycznego ustępu odpowiedzi, przesłanej Związkowi sokolstwa słowiańskiego:
​​,,… Wierzę, że jak przez Was łaskawie wyrażone życzenia z racji mego wyboru na prezesa F. I. G., tak i Wasza, Drodzy Bracia, współpraca sokola, dopomogą mi niezawodnie w podołaniu nowym obowiązkom na tem trudnem i odpowiedzialnem stanowisku, na które wzbiło się nasze ukochane sokolstwo. Uważam, że jedynie wzmożona praca sokola we wszystkich swych przejawach da nam zapewnienie utrzymania się i umocnienia na tej placówce o tak wysokim poziomie".
Słowa te odnieść można do wszystkich sokołów, tak zagranicą, jak i w kraju.
W odpowiedzi na liczne pisma i depesze gratulacyjne, otrzymane od wszystkich Związków gimnastycznych, wchodzących w skład F. I. G., dh. prezes Adam Zamoyski, nie mogąc odpowiedzieć na nie poszczególnie, wystosował poniższy okólnik, ujmujący pokrótce program, jakim zamierza kierować się na objętem stanowisku:
"Warszawa, w maju r. 1933
Kochani Koledzy!
Obrany w kwietniu r. b. na zjeździe międzynarodowym przedstawicieli Federacyj gimnastycznych w Lozannie prezesem Międzynarodowej federacji gimnastycznej, pragnę natychmiast nawiązać łączność z wami i oświadczyć wam, jaką mnie napawa dumą piastowanie tej godności, ciężkiej być może, ale zaszczytniejszej od innych. W istocie, Międzynarodowa federacja gimnastyczna, stworzona natchnieniem wielkiego Cuperusa, kierowana w ostatnich latach talentem i energją niezapomnianego prezesa K. Cazałeta, jest bastjonem, który staje się coraz ważniejszy.
Związki gimnastyczne wszechświatowe, połączone w F. I. G., stanowią pierwiastek zdrowia duchowego i cielesnego, i F. I. G. jest bezwątpienia jedną z tych ostoi pokoju i zgody powszechnej jakie nam pozostały, pomimo wszelkich ujemnych wpływów, dążących do podkopania braterstwa ludów.
W osobach waszych skłaniam się przed waszym patrjotycznym i szlachetnym narodem, skłaniam się przed tysiącami gimnastyków, którzy zjednoczyli się, aby zdążać do ideału harmonijnego rozwoju jednostek, aby służyć Bogu, ojczyźnie i ludzkości.
Pewny jestem, że działalność F. I. G. pomimo ciężkiej straty, jaka ją spotkała, nie dozna nadwątlenia i że, pracując wspólnie, osiągniemy ten cel, który drogi jest nam wszystkim — harmonję powszechną.
W tej myśli, dla szczęścia rodzaju ludzkiego, dla pomyślności wszystkich ludów, które, zachowując swe właściwości, stworzone są na to, aby się zrozumieć i wyciągnąć do się bratnią dłoń — wzywam was do pracy w imieniu więlkiej i drogiej nam wszystkim zbiorowości — w imieniu F. I. G.
Wysiłek wasz jest rękojmią zwycięstwa ożywiającej nas idei!"
---
DRUH ADAM ZAMOYSKI. W DZIESIĘCIOLECIE PREZESURY.
Niezaprzeczoną jest prawdą, że jednostki wybitne wywierają przemożny wpływ na środowisko, w jakiem przebywają. Cóż dopiero, jeżeli, stanąwszy na czele, środowisku owemu przewodzą. Zdarza się wówczas, że ogół wzbogaca się cechami jednostki kierującej, ale i ona zwykle mimowoli nabiera znamion, odznaczających kierowany zespół. Z przenikania się wzajemnego wynika zjawisko harmonji, niezbędne dla osiągnięcia wielkich wyników.
Przed dziesięciu laty ogół sokolstwa polskiego, zjednoczony nazajutrz po odzyskaniu niepodległości ojczyzny w jeden Związek, po ustąpieniu pierwszego swego prezesa, dh. Bernarda Chrzanowskiego, szukał sobie nowego kierownika. Wybór padł na ówczesnego prezesa Zjednoczenia stowarzyszeń polskich i prezesa Warszawskiego towarzystwa wioślarskiego, Adama hr. Zamoyskiego, sokoła już od lat kilku, zasłużonego prezesa komitetu organizacyjnego 1-go zlotu ogólno-krajowego w r. 1921.
Niewątpliwie, wielkość rodu, służącego krajowi bez plamy od kilku wieków, fortuna, pozwalająca na szerszą pracę społeczną, mogły pociągać przy tym wyborze niejednego. Nie o to jednak sokolstwu chodziło. Czynnikiem rozstrzygającym były zalety osobiste kandydata, jego ambicja pracy społecznej, wypróbowana energja, stałość przekonań narodowych, żarliwość w wierze i szczera ofiarność, ilekroć zjawiła się krajowa potrzeba. Te zalety powołany na stanowisko prezesa dh. Adam Zamoyski odziedziczył z tradycji domowej lub posiadł w ciągu półwiecznego żywota.
Urodzony 18 czerwca r. 1873 w Podzamczu, jako 13-te zkolei dziecko Stanisława hr. Zamoyskiego i Róży z hr. Potockich, przyszły prezes Związku sokolstwa polskiego nie miał przed sobą łatwego i beztroskiego życia Pieczołowite wychowanie domowe uczyniło, co mogło, aby dziedzica pięknego imienia uzbroić do walki z trudnościami egzystencji.
Po zakończeniu nauk szkolnych w Rydze i odbyciu służby wojskowej w kawalerji, Adam Zamoyski wstąpił do zarządu dóbr i interesów rodziny Zamoyskich, gdzie odbył pierwszą praktykę życiową i zdobył rychło stanowisko kierownicze. Po poślubieniu Marji hr. Potockiej z Peczary, gospodarował czas jakiś w dobrach rodzinnych i administrował cukrownią. Z czasem objął w dzierżawę obecne swoje dobra Kozłówkę, które, po uzyskaniu dla nich praw ordynacji, przeszły na niego drogą spadku, wraz z pałacem na Foksalu w Warszawie.
Pobyt w szkołach ryskich pokazał młodemu ich wychowańcowi zbliska niemiecką szlachtę nadbałtycką, z jej wpływami i nadzwyczajnemi przywilejami, jakiemi cieszyła się w państwie carów. W głowie kilkunastoletniego chłopca, wychowanego w domu tradycyjnie patrjotycznym i przeżywającym głęboko każdą troskę ojczyzny, powstała wówczas myśl, że Polacy pod jarzmem rosyjskiem powinniby się postarać o wpływy, któreby im pozwoliły zwalczać skutecznie zakusy nadsyłanej do Polski biurokracji.
Myśl to była nie nowa, aczkolwiek samorzutnie zrodzona; nie czego innego chciał w swoim czasie dla swego kraju margr. Aleksander Wielopolski, a przed nim— ks. Drucki – Lubecki, minister skarbu Królestwa Kongresowego. Myśl ta, po za ogółnem podłożem narodowem, oparta była na przeświadczeniu o aktywnej i przodującej roli arystokracji w życiu narodu. Ten moment w koncepcjach prezesa Zamoyskiego musi być wszechstronnie brany pod uwagę, bo na nim oparło się konsekwentnie dalsze jego postępowanie.
Bardzo rychło wciągnięty w skromne poczynania społeczne końca ubiegłego stulecia, Adam Zamoyski w każdej podejmowanej pracy czuł mocne i zorganizowane przeciwdziałanie lokalnych władz administracyjnych. Przekonawszy się, że opór ten jest nie do przełamania, umocnił się w swej młodzieńczej idei i zaczął biurokrację szachować tam, gdzie większy miał od niej dostęp, mianowicie — przy dworze w Petersburgu.
Trudno tu wyliczać długi szereg zatwierdzonych stowarzyszeń, otwartych kościołów, zlikwidowanych zręcznie funkcjonarjuszów państwowych; te fakty wydają się nam dziś drobne, a wówczas były znacznemi zwycięstwami, pozwalającemi nieco odetchnąć zgnębionemu społeczeństwu.
Wydatnem posunięciem Adama Zamoyskiego stało się zorganizowanie w czasie wojny japońskiej polskiego szpitala w Warszawie i wzięcie udziału w ekspedycji sanitarnej na Daleki Wschód, której zawdzięcza życie niejeden z powołanych wówczas do wojska rodaków.
​​Przyszła chwila wybuchu wojny światowej. Adam Zamoyski, od początku zorjentowany prokoalicyjnie, stawił się do wojska w posiadanym stopniu podoficerskim, nie korzystając z wysokiej godności mistrza ceremonji dworu, którą piastował. Stopnie oficerskie zdobywał kolejno, kończąc na szarży sztab-rotmistrza.
Stosunki z dworem panującym sprawiły jednak, że powołano go wkrótce do kwatery głównej, na stanowisko oficera ordynansowego przy wodzu naczelnym wojsk rosyjskich, wielkim księciu Mikołaju Mikołajewiczu. Na stanowisku tem pozostawał i potem, gdy dowództwo naczelne objął Mikołaj II; mianowany został fligel-adjutantem cesarskim.
Jeżeli czasy przedwojenne pozwoliły Adamowi Zamoyskiemu czynić wiele dla ludzi, to łatwo można zrozumieć, ile sposobności do pomagania nieszczęśliwym zjawiło się podczas wojny. Gdyby znowu wszyscy, którzy korzystali wówczas z jego pomocy zechcieli tu podać swoje nazwiska, urosłaby bardzo długa lista.
Najważniejszą jednak rzeczą było, że funkcje Adama Zamoyskiego w kwaterze głównej polegały na roztaczaniu opieki nad attachćs wojskowymi sprzymierzonych mocarstw. Na tem już nie interesy jednostek, ale sprawa polska wiele wygrała.
Z wrodzonem sobie poczuciem propagandy, nie pominął ani jed nej sposobności, aby cudoziemcom, z którymi się stykał, nie przypominać o konieczności wskrzeszenia Polski. Obfite archiwum z tych czasów, jakie na szczęście ocalało, pomimo licznych rewizyj "ochrany" pałacowej, przetrząsającej ukradkiem nawet bagaże fligel – adjutantów, pomimo następnie rewizyj bolszewickich—- zawiera nader liczne dokumenty, stwierdzające uparte, nieprzerwane działanie na rzecz sprawy narodowej.
Tu miejsce może będzie podać, jako przykład, fakt, że na rok przed rewolucją rosyjską poważniejsi attachśs wojskowi otrzymali od Adama Zamoyskiego w darze złote papierośnice z wyrytym wewnątrz napisem: "Souvenez-vous de la Pologne!" (Pamiętaj o Polsce!). Jest to pozorny drobiazg, ale za takie drobiazgi można było pojechać daleko…
Po wybuchu rewolucji, Adam Zamoyski był jedynym z fligeladjutantów, który swój obowiązek oficerski spełnił do końca, nie opuszczając stanowiska, jakie zajmował. Nawet członkowie rewolucyjnego rządu ocenili to wysoko; podnosi to talkże w swoim pamiętniku przedśmiertnym cesarzowa.
Zwolniony z przysięgi, Adam Zamoyski pozostał czas jakiś w kwaterze głównej, współdziałając przy tworzeniu formacyj polskich. Zawdzięcza mu dużo I korpus; jednocześnie prowadzona poprzednio akcja propagandowa wśród misyj i attachćs zagranicznych wzrosła niezmiernie. Bitwa pod Krechowcami znaczną część swego rozgłosu, a więc i znaczenia politycznego, zawdzięcza, jak o tem świadczą dokumenty pułkowe, należytemu jej podkreśleniu w kwaterze głównej i wobec szefów misyj.
Kiedy pobyt w Rosji stał się bezcelowy, Adam Zamoyski przez Szwecję udał się do Francji, wezwany przez Komitet Narodowy. Tam brał żywy udział w pracach przygotowawczo – wojskowych a syn jego, Aleksander, był adjutantem gen. Masseneta. Szerokie znajomości Adama Zamoyskiego w sferach politycznych i wojskowych koalicji pozwoliły mu oddać działaczom z Komitetu Narodowego niejedną ważną przysługę.
Tę samą rolę wypadło grać Adamowi Zamoyskiemu po powrocie do kraju. Pałac na Foksalu staje się kuźnią propagandy narodowej, uświadamiającej cudzoziemców ze świata wojskowego i dyplomatycznego o potrzebach zmartwychwstałej Polski. Rzecz dziwna: Adam Zamoyski nie piastował nigdy żadnego w Polsce urzędu, ani mandatu politycznego, do żadnego stronnictwa nie należał, a głos jego miał wagę, i na Foksalu bywali wszyscy, którzy się czemkolwiek w życiu stolicy odznaczali.
Na Foksalu bywali również wszyscy znakomici goście Warszawy: ówczesny nuncjusz mgr. Ratti (dzisiejszy Ojciec Święty Pius XI), marszałek Foch, posłowie zagraniczni, szefowie misyj, delegaci. Na niektórych przyjęciach bywało po kilka tysięcy osób, w pałacu i ogrodzie. Przedwcześnie zgasła ś. p. hr. Adamowa Zamoyska z niewysłowionym wdziękiem urody i dobroci wywiązywała się ze swej roli pani domu.
Jednocześnie całą swoją niewykorzystaną energję i zdolności rzucił Adam Zamoyski w życie społeczne. W czasie wojny ukraińskiej i bolszewickiej stał na czele pomocniczej akcji obywatelskiej; odegrał także kierowniczą rolę w akcji plebiscytowej wileńskiej i śląskiej oraz podczas powstań śląskich. Dla Towarzystwa Wioślarskiego zdobył na własność siedzibę i położył podwaliny pod przystań na Wiśle; rozwinął szeroko instytucję Resursy Obywatelskiej, nadając jej szeroki, społeczny i narodowy charakter.
Najważniejszem wszakże jego dziełem było stworzenie Zjednoczenia stowarzyszeń polskich, centrali, obejmującej całokształt życia społecznego w Polsce. Zjednoczenie pozwoliło poszczególnym organizacjom na przenikanie się wzajemne, było czynnikiem emulacji społecznej i wzajemnego współdziałania.
W r, 1923 sokolstwo polskie, powołując dh. Adama Zamoyskiego na prezesa, wiedziało, co czyni, bo miało przed oczyma plon jego prac.
Istotnie: wybór był bardzo szczęśliwy. Nowy prezes nie uważał swego stanowiska za synekurę honoris causa: sam stanął do pracy, wciągnął do niej całą swoją rodzinę i wlał wiele energji w pracę sokolą.
Dh. prezesowi Zamoyskiemu sokolstwo zawdzięcza przedewszystkiem swoje stanowisko na terenie międzynarodowym. Walory swoje dyplomatyczne i propagandowe umiał prezes wykorzystać w całej pełni. W r. 1925, w jego domu, założono, na nowych, powojennych podstawach oparty, Związek sokolstwa słowiańskiego. Dh. prezes Zamoyski przewoniczył mu przez rok pierwszy istnienia i przewodniczył teraz zastępczo do niedawna, po zgonie ś. p. dh. prezesa dr. Scheinera. Dh. prezes Zamoyski wybornie pojął i wcielił w czyn tradycyjną spójnię słowiańską sokolstwa, której nic dziś na przeszkodzie nie staje. To też popularność jego osobista wśród bratnich sokołów słowiańskich jest olbrzymia, a z nią rośnie i znaczenie sokolstwa polskiego.
Na terenie Międzynarodowej federacji gimnastycznej wpływy nasze przy dh. prezesie Zamoyskim wzrastały również z roku na rok, co ukoronowane zostało w r. b., po śmierci prezesa Cazaleta, obiorem dh. Zamoyskiego na prezesa tego olbrzymiego zrzeszenia, jednoczącego 27 narodów. Szerokie znajomości prezesa na całym świecie sprawiają, że jest on dla Federacji wybornym przewodnikiem.
W zakresie pracy wewnętrznej podkreślić trzeba, po za konsekwentnem tępieniem wszelkiej polityki w "Sokole", realizację wielkiego zlotu w Poznaniu w r. 1929, ale nadewszystko — ten wzór pracy sokolej, jakim jest gniazdo kozłowieckie, teren kursów związkowych. Zarówno dh. prezes Zamoyski, jak cała jego rodzina, świecą przykładem pracy sokolej, obowiązkowości, ofiarności i oddania.
Niepodobna tu wyliczyć — zresztą jest to zbyteczne, bo wszyscy o tem wiedzą — że dh. prezes Zamoyski nie zwykł jest opuszczać zlotów, często nawet gniazdowych, że nigdy nie zawaha się wyjechać zagranicę, gdy tego interes Związku wymaga, że nie żałuje sił swoich, funduszów i czasu, aby tylko zbliżyć sokolstwo do ideału, jaki dlań wymarzył. Kocha je bowiem całem sercem, może aż trochę tyrańsko, ale tak szczerze i serdecznie, że nam tej miłości wszyscy zazdroszczą. To też ogół sokolstwa prezesowi za serce sercem płaci — i śmiało rzec można, że dh. Adam Zamoyski jest jednym z najpopularniejszych w Polsce ludzi.
Dziś, kiedy mamy szczęście życzyć mu, z okazji podwójnej — 60- lecia urodzin i 10-lecia przewodniczenia sokolstwu polskiemu — długich lat owocnej pracy, za punkt honoru stawiamy sobie wszyscy, aby w umiłowaniu sprawy sokolej, w wiecznie młodym zapale i niczem niezrażonej wytrwałości sprostać naszemu prezesowi.
Trzykrotne nasze "Czołem!" niech mu zadźwięczy mocno i serdecznie; niech je podchwyci szum drzew w Kozłówce i na Foksalu, a echo niech poleci w szeroki świat, gdziekolwiek są polscy, czy słowiańscy sokoli, w jego sercu, jego pracą coraz mocniej i nierozerwalniej spojeni.