What were the compulsory routines for the World Championships in Ljubljana?
Unfortunately, at the time of this writing, there aren't videos of the routines on YouTube. But in this post, you can find the English text and drawings for both the men's and women's compulsories.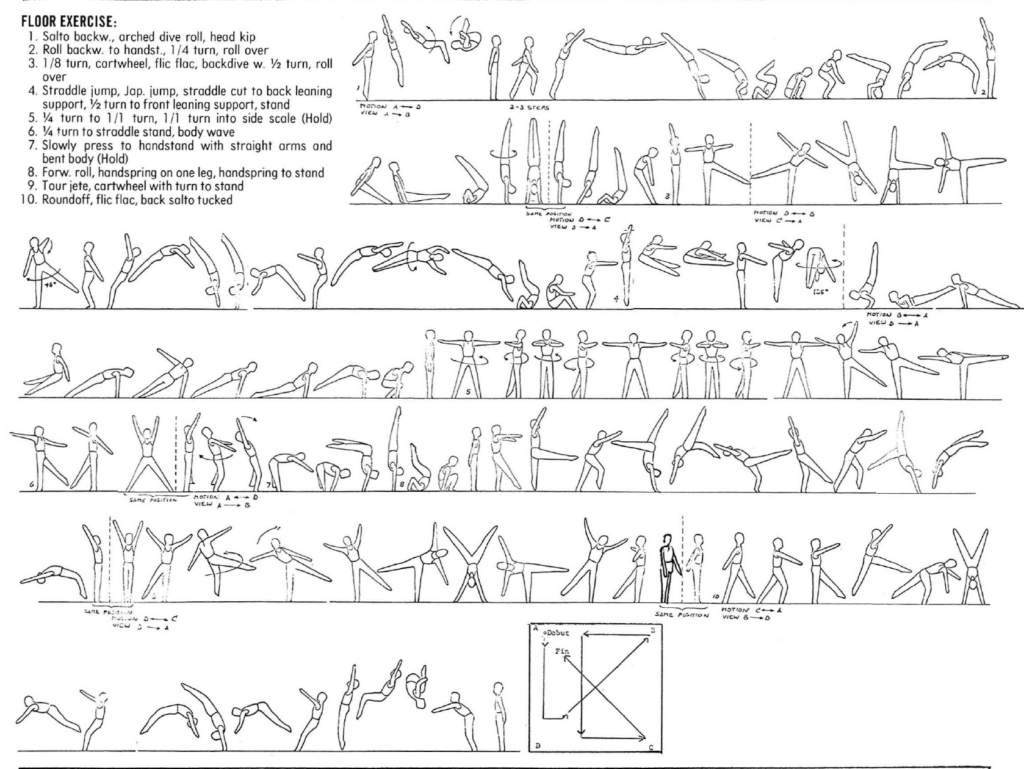 It's always interesting to see which skills were deemed to be compulsory at a specific moment in time. Here are a few elements that caught my attention.
On the Men's Side:
A tour jeté on floor
Chaîné turns (or something similar) on floor
German giants on high bar
Front pikes on both rings and parallel bars — at a time when backward dismounts were much more common
On the Women's Side:
A cartwheel on beam was compulsory.

Why this is interesting: Just six years prior, at the 1964 Olympics, cartwheels were one of the more challenging acrobatic skills in the event finals; Čáslavská's back walkovers were extremely rare.
In the 1964 Code of Points, a cartwheel was an "international grouping" skill — one of the most challenging skills.
In the 1970 Code of Points, the cartwheel on beam was downgraded to an element of "medium" difficulty.

A handspring vault instead of a cartwheel vault.

Note: The cartwheel vault was the compulsory vault for a while. It required gymnasts to land sideways, and there were knee injuries as a result.
For example: American gymnast Shelly Cale never competed again after injuring her knee on the compulsory vault (Modern Gymnast, Jan. 1969).
Spoiler alert: Compulsory beam is where many teams struggled during the 1970 World Championships, and the judges were reportedly stringent.
Download
You can download the men's compulsory routines here:
And the women's compulsory routines here:
---
Bonus: The 1970 Compulsory Floor Music
Here's a recording of the music for the 1970 compulsory floor routine.
You can find more compulsory floor music here.