At the 1972 Olympics, the men's compulsories followed the standard format: set routines that each gymnast had to perform exactly as the text stated. (Reminder: In 1969, the FIG decided to make compulsories valid for four years rather than having separate compulsories for the World Championships and Olympic Games.)
The women's compulsories, on the other hand, took a different path: there were specific skills and a specific order in which those skills had to be performed, but each national team was responsible for designing its own routines.
Let's take a look at the compulsory routines.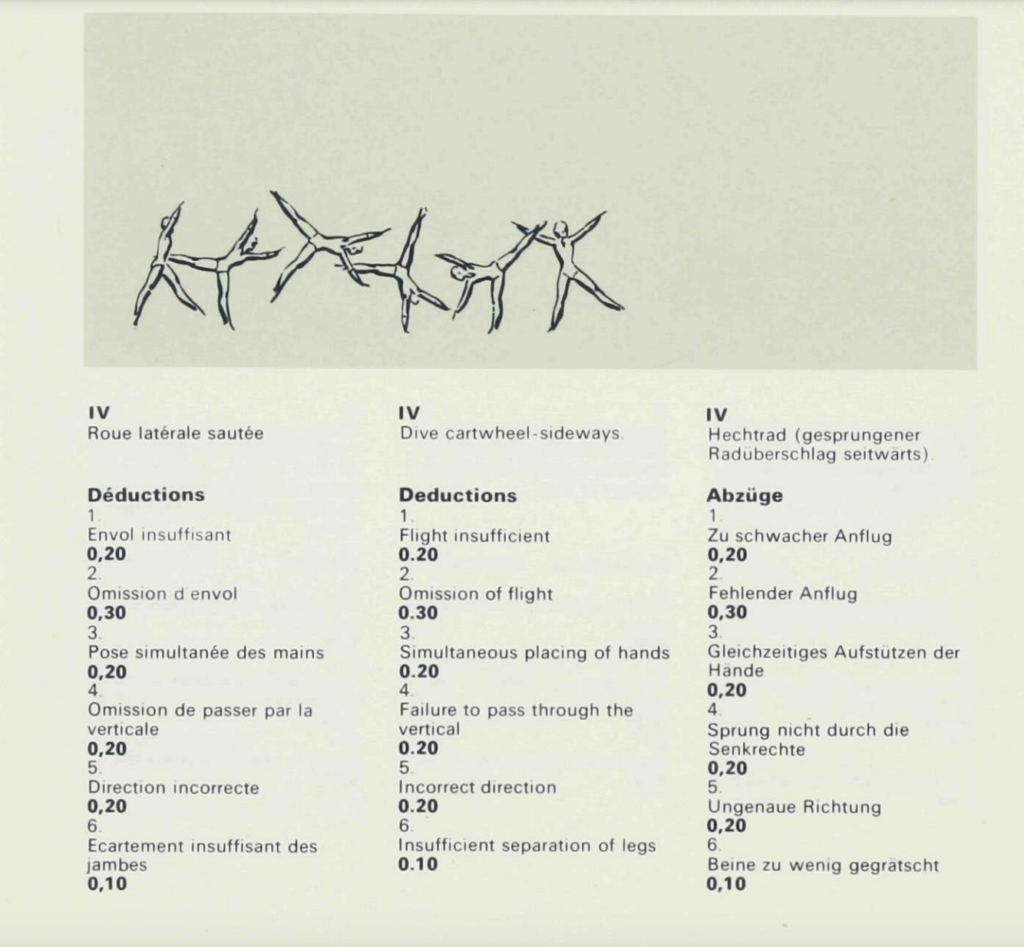 The Men's Compulsories
On the men's side, there was a definite straddle theme: a straddle jump on floor and straddle dismounts off both rings and high bar.
One skill that should be called out is the Arabian dive roll on floor. Swiss gymnast Hans Ettlin sprained his neck on this skill at the Olympic Games.
Also, there was some debate as to how the dismount on parallel bars should be performed. The Japanese gymnasts did it incorrectly at the 1971 Japan vs. Europe competition.
The Women's Compulsories
As mentioned in the introduction, the Women's Technical Committee gave gymnasts specific skills that they had to perform in a specific order. But the connections between the skills and the choice of floor music were up to each team. (You can read more about the WTC's rationale behind this decision here.)
Here's how the WTC described the connections between the elements:
Linkages

Uneven Bars

Only connections that are non-acrobatic in nature are allowed between the set elements

Floor and Beam

The following can be used as linkages: elements from modern gymnastics [i.e. rhythmic gymnastics], turns, pivots, hops, dance steps, balances, movements of flexibility

Excluded are all acrobatic elements such as round-offs, cartwheels, flic-flacs, handsprings, headsprings, saltos, leaps, split leaps, handstands, as well as all elements of suppleness, walkovers etc.

Games of the XXth Olympiad, Munich 1972: Gymnastics Regulations
The rules added:
No other element of difficulty may be added to those officially prescribed.

Games of the XXth Olympiad, Munich 1972: Gymnastics Regulations
So, for example, the United States' compulsory floor routine looked different from the Soviet Union's routine, and the two countries had different music on floor.
You can see Cathy Rigby's compulsory routines here:
As we'll see, even though countries could design their own routines, balance beam was still a challenge for most teams.
A small note: The dismount from the uneven bars was a Tanac salto. When Joyce Tanac (USA) competed the skill at the 1968 Olympics, it was relatively new. By 1972, it was considered a compulsory skill.
---
Download the Compulsory Routines
The Men's Compulsory Routines
The Women's Compulsory Routines