In 1967, Japan's men's team was coming off three consecutive all-around gold medals and two consecutive team titles at the University Games. (The 1961 University Games did not have a team competition.) Needless to say, the pressure was on the Japanese men to maintain their dominance, especially since Japan was hosting the 1967 University Games.
As for the Japanese women, they sent only two gymnasts to the University Games in 1965, so sending a full team in 1967 was progress. (Spoiler: The Japanese women ended up winning team gold.)
Here's how Japan selected its artistic teams for the Universiade.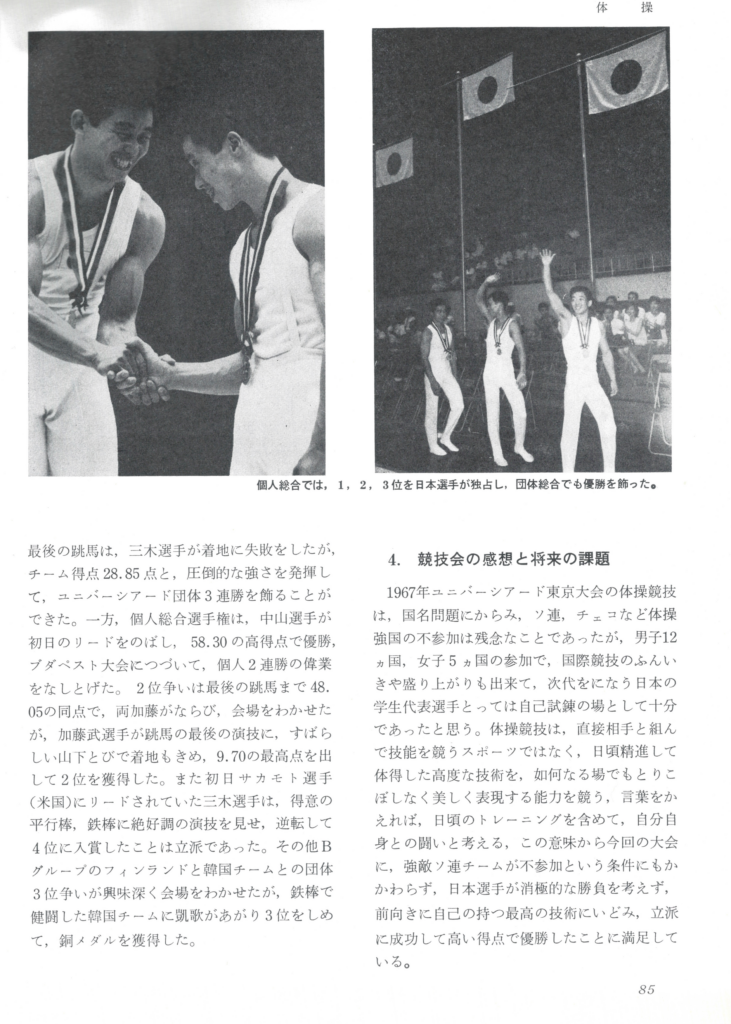 Background of Athlete Selection

Due to the nature of gymnastics, a two-month training period is necessary to prepare for an upcoming competition, so the student-athletes may have had considerable difficulty in conditioning at the selection round at the beginning of the school year. However, the selection competition was held on June 18, which was an appropriate time considering the Universiade was held at the end of August.

In the past, the selection competitions were held only for student-athletes, and four student-athletes were selected. In addition, one young alumnus was selected by the association from among the Japan Gymnastics Association's athletes who meet the criteria for participation at the Universiade: under 28 years old and within two years of university graduation, for a total of five athletes to be sent as representatives.

Since Japan is the host country of the Universiade this time, the competition was held with the policy of having the strongest men's and women's team members, including students and alumni who are eligible to participate in the competition, with the restriction that they must have placed 36th or better in last year's All Japan Championships and All Japan Student Championships.

As a result, 34 men and 24 women participated in the selection competition, including Nakayama Akinori, Hirai Tomihiro, Konishi Yoshiaki, and Ueda Yuzukazu, who participated in the 1965 Universiade in Budapest and won the team and individual titles; last year's All Japan champion Kato Takeshi, National Athletic Tournament winner Fujita Hajime and his alumni team; up-and-coming Kato Sawao, Miki Shiro, Sasaki Toru, and Takei Yoshiaki representing the students. In the women's team, we have Katori Mitsuko and Ikenaga Hiroko, who competed in last year's World Championships; Sachiko Tajima, who participated in the Japan-Soviet competition as a high school student and performed very well; and up-and-coming students, Matsuhisa Miyuki and Iwamoto Nobuko. The competition was a tough and interesting one, with a full lineup of qualified male and female athletes.

Japan's Official Report on the 1967 University Games

1. 選手選考の経緯

体操競技の性格上,臨戦対策を考えると,どうしても、 2ヵ月の強化練習期間が必要であるので,学生選手にとっては,学年はじめの選考会で,コンディショニングに相当苦労があったと思うが, 8月末日のユニバーシアード大会を考えると, 6月18日の選考競技会は順当な時期であった。

過去の選考競技会は、学生選手のみを対象として開催され, 4名の学生選手を選考し, そのうえに日本体操協会の強化選手の中から、ユニバーシアード大会の参加資格である, 満28才以下, 大学卒業2年以内の基準にあう若手OB1名を,協会で選考して計5名の選手を代表として送り出していた。

今回は日本がホストの国として,ユニバーシアード大会を開催する立場にあるので、男女とも最強メンバーを構成して競技会に臨む方針から, 大会に参加する資格のある学生, OBを含め、 昨年の全日本選手権ならびに全日本学生選手権大会において, 36位以内にあるものという参加制限を加えて開催された。

その結果、男子34名, 女子24名が参加して選考競技会が開かれ, 男子では1965年のユニバーシアード・ブダペスト大会に参加して, 団体優勝,個人総合優勝を飾った, 中山彰規, 平井富弘,小西義明,上田湧一の各選手や、 昨年の全日本選手権者 加藤武司選手, 国民体育大会優勝者・藤田一選手のOB連に, 学生陣を代表する新進気鋭の加藤沢男, 三木四郎,佐々木徹,武井義明の各選手が加わり, また女子では,昨年の世界選手権に出場した香取光子, 池長博子選手に, 日ソ対抗に高校生で参加して, 大活躍をした田島幸子選手, 学生陣の新進、 松久ミュキ,岩本伸子選手など,男女とも有資格者を網羅した、全く予想の出来ない、 厳しい興味深い選考会となった。
---
Japan National Gymnastics Team Selection Competition

Date 06/18/1967 (Sunday)
Place: Komazawa Gymnasium
Hosted by: Japan Gymnastics Association
All Japan Student Gymnastics Federation
Supported by: NET Television

The selection competition started with the women's competition, and the men's competition was held after the women's competition, which was very well received by the participants. As the competition was to determine Japan's representatives in international competitions, it was filled with a strange tension, and many competitors were overwhelmed by the special atmosphere, showing their youth and making mistakes, but those with abundant experience and practice performed at their own pace and placed high. The gymnastics competition, which is a battle against oneself, not against others, proved that experience in big competitions and the quality and quantity of daily practice to gain confidence are necessary.

In the men's competition, Nakayama was by far the strongest and showed that he is still going strong, but most of the other expected alumni athletes failed on pommel horse, which is a pity, even though it shows how tense the competition was. On the other hand, it was a great achievement for newcomers Miki, Katozawa, and Sasaki to finish the all-around without a fall, and to finish in the top ranks, and I want to commend the students for their good performance and rejoice in the improvement of male students' gymnastics skills.

[Note: The author of this is Fukai Ichizo, who was the head coach of the team at the Universiade.]

As for the women's competition, alumni athletes Katori, Yamagami, and Hashiguchi showed solid performances, and student newcomers Matsuhisa, Iwamoto, and Oda did well to finish in the top places, but Ikenaga, who was expected to do well, could not show her ability due to a knee injury, and Tajima fell off the uneven bars and balance beam. It was a pity that they were not selected due to two major errors, but we hope that this valuable experience will help them to improve their conditioning for the high-stress competitions, and to learn how to compete in the competitions.

日本代表体操選手選考競技会

期日  1967.6.18 (日)

場所   駒沢体育館
主催   日本体操協会
           全日本学生体操競技連盟
後援    NETテレビ

選考競技会は,まず女子競技から開始され,女子競技が終了してから, 男子競技を実施する方法がとられ, 選考会を盛り上げる点で, 非常に好評であった。 国際競技に参加する日本代表を決定する競技会だけに、 異様な緊張感がただよい,特別なふんいきに圧倒されて,若さを見せ失敗する選手が続出したが, 経験と練習量の豊富な選手が、自己のペースで演技を行ない,上位をしめたことは立派であった。 他人との戦いではなく、自分自身との戦いである体操競技は,やはり大きな大会の経験と、 自信をうるための日常練習の質と量とが必要であることを証明した。

男子競技では, 中山選手が圧倒的に強く, 健在なことを見せてくれたが,他の期待されたOB選手達のほとんどが, 鞍馬の演技で失敗,選考会における緊張感の強さを物語るとはいえ,残念なことであった。 一方, 学生新人の三木,加藤沢,佐々木選手が, オールランドに失敗なく得点して,上位に入ったのは立派なもので、学生陣の健闘をたたえるとともに,男子学生の体操技術の向上を心から喜びたい。

女子競技では,OGの香取,山上,橋口選手が堅実な演技を見せ、また学生新人の, 松久,岩本,小田選手が健闘して上位をしめたが、 注目された池長選手はひざの負傷で実力が発揮できず, また田島選手は,段違い平行棒,平均台で落ち,2つの大過失で選にもれたのは,特に期待が大きかっただけに残念なことであった。緊張度の高い選考会にいどむためのコンディショニングや、勝負の方法など,この貴重な体験を,将来の進歩のため生かしてほしいものである。
Men's Competition Results (Top 12)
Gymnast
FX
PH
SR
VT
PB
HB
Total
1. Nakayama
Akinori
9.70
9.55
9.75
9.15
9.70
9.70
57.55
2. Miki
Shiro
9.50
9.45
9.35
9.40
9.60
9.50
56.80
3. Kato
Takeshi
9.45
8.55
9.60
9.50
9.50
9.60
56.20
4T. Kato
Sawao
9.35
9.50
9.10
8.95
9.55
9.45
55.90
4T. Sasaki
Toru
9.30
9.20
9.45
9.50
9.10
9.35
55.90
6. Konishi
Yoshiaki
9.40
8.45
9.60
9.30
9.40
9.60
55.75
7. Hirai
Tomihiro
9.50
8.50
9.20
9.50
9.45
9.45
55.60
8. Ueda
Yuizukazu
9.55
8.50
9.45
9.20
9.30
9.50
55.50
9. Asakura
Norio
9.30
9.00
9.25
9.45
9.15
9.25
55.40
10. Matsuda
Kazuyuki
8.75
9.35
9.45
9.20
9.30
9.30
55.35
11. Tomari
Taizo
9.35
8.85
9.30
9.15
9.10
9.45
55.20
12. Tateishi
Akira
9.30
8.95
9.45
9.30
8.80
9.35
55.15
Women's Results
Gymnast
VT
UB
BB
FX
Total
1. Katori
Mitsuko
9.300
9.466
9.233
9.233
37.232
2. Matsuhisa
Miyuki
9.633
9.066
8.700
9.466
36.865
3. Yamagami
Keiko
8.866
8.900
9.200
9.400
36.366
4. Hashiguchi
Kayoko
8.566
9.233
900
9.400
36.199
5. Iwamoto
Nobuko
9.266
8.866
8.633
9.300
36.065
6. Oda
Chieko
9.100
9.266
8.500
9.000
35.866
7. Yoshida
Kyoko
8.300
8.866
9.100
9.033
35.299
8. Ishikawa
Yoshiko
9.266
9.000
8.000
8.933
35.199
9. Tajima
Sachiko
9.233
8.400
9.366
9.166
36.165
10. Sekiguchi
Hajime
8.733
9.066
7.866
8.800
34.465
11. Ikenaga
Hiroko
7.866
8.600
9.100
8.800
34.366
12. Sakuma
Hiromi
8.200
8.700
8.700
8.766
34.366
The results of the competition were as described above, but Kato Sawao and Sasaki Toru tied for 4th place in the men's competition, so it is decided that the final representative will be decided based on the results of the optional performance at the NHK Cup competition on June 25.

以上のような競技成績であったが, 男子の場合,加藤沢男,佐々木徹選手は,同点4位のため,6月25日, NHK杯競技会自由演技の成績によって、 正選手を決定することになり、 同競技会の結果, つぎのような成績で, 加藤沢選手が正選手と決定された。
Gymnast
FX
PH
SR
VT
PB
HB
Total
Kato
Sawao
9.60
8.95
9.35
9.50
9.70
9.65
56.75
Sasaki
Toru
9.30
8.60
9.30
9.40
9.15
9.35
55.10
---
More on the University Games