Before the ESPN Body Issue existed, Cathy Rigby posed nude for Sports Illustrated. At the time, it was a big enough sensation that Arthur Gander, the FIG president, commented on the matter.
Let's take a look at what he said…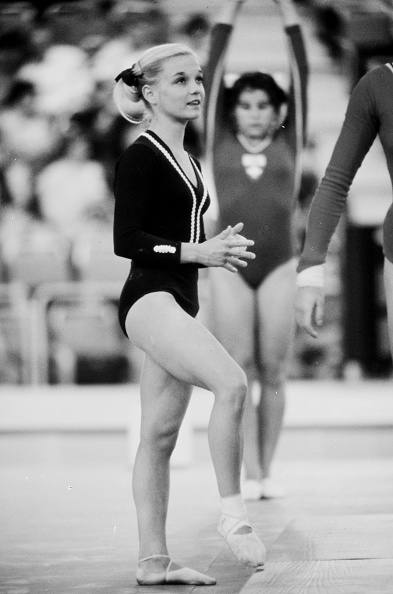 Warning: This article will touch upon body image issues and eating disorders.
Note: This is part of a series of posts on the FIG leadership in the late 1960s and early 1970s. Other posts include:
Contextualizing Nudity
It's important to note that, in the late 1960s, nudity wasn't just reserved for the pages of adult magazines like Playboy. As more and more people questioned social norms and societal taboos, more and more theater productions were bringing nudity to the stage, and nudity became a question of artistic expression.
For example, in 1968, at the Shakespeare Memorial Theater, Helen of Troy wore only a tiara in a performance of Marlowe's Dr. Faustus. (NYTimes, Dec. 15, 1968).
Earlier that year, in April, the musical Hair debuted on Broadway. Its first act ended with several naked actors. And in 1969, when the musical Hair was coming to Paris, the Swiss newspaper L'Express remarked:
The famous comedy-event Hair, where the nudity of the actors shocked the English more than the "pop" music of the libretto, will be staged in Paris.

La fameuse comédie-happening « Hair », où la nudité des acteurs a plus choqué les Anglais que la musique « pop » du livret, sera montée à Paris.

L'Express, April 17, 1969
On June 22, 1969, the New York Times dedicated several pages to the topic of nudity in the theater, with authors arguing both in favor and against it.
Shelley Winters, who won Academy Awards for The Diary of Anne Frank and A Patch of Blue, wrote:
I think [nudity on the stage] is disgusting, shameful, and damaging to all things American. But if I were 22 with a great body, it would be artistic, tasteful, patriotic, and a progressive, religious experience.

New York Times, June 22, 1969
Margo Sappington, who would later be a Tony Award nominee for her choreography, declared:
Dance has always simulated nudity for years, and has not been questioned because it is an abstraction and exaggeration of reality.

This simulation of a naked body, that is, covering the parts of the body with something as clinging as a leotard and tights, is in many ways distracting — whereas the actual naked body is beautiful in itself. The skin becomes the most expensive and valuable fabric ever used because it allows the motivation of expression to be seen.

New York Times, June 22, 1969
All this is to say: nudity was a divisive topic in American (and global) society, and there wasn't just one way to view nudity at the time.
And soon, that divisiveness would spill over into the gymnastics world.
---
Cathy Rigby has grown up.
In the late 1960s and early 1970s, some coaches believed that the best gymnasts were like Peter Pan, in that they never grew up. Bud Marquette, Cathy Rigby's coach, was one of those coaches.
In 1972, Sports Illustrated profiled U.S. gymnast Cathy Rigby. In it, Rigby spoke about her relationship with her coach, Bud Marquette, and how he wanted her to stay young:
"He doesn't want me to grow up," says Cathy.

"It changes the center of gravity," says Marquette, "and she may never regain her former sense of balance. Cathy still looks the way she did nine years ago when she joined the SCATs."

Sports Illustrated, August 21, 1972
(You can find more quotes from the SI article below.)
Rigby's statement stood in stark contrast with the photos that accompanied the article. Rigby posed nude for that issue, clearly establishing that she was no longer a child and had, in fact, grown up. Her body was no longer the same as it was nine years ago — no matter what her coach claimed.
The Sports Illustrated issue came out right before the 1972 Olympics, and it was a big deal — so big that Arthur Gander, the President of the FIG, was asked for a comment, which brings me to the next section.
---
Gander's Response
Reminder: Berthe Villancher, the president of the Women's Technical Committee at the time, had unwritten rules. She felt that visible tan lines were a step too far.
While there isn't a record of her response to Rigby's photos in Sports Illustrated, there is a record of Arthur Gander's response.
What follows is a translation of an article by the Dutch newspaper De Telegraaf.
Sex and Games

This theme also plays an ongoing role at the Olympics in Munich. It does this in particular in the gymnastics hall, where beautiful girls from all over the world show their skills. Cathy Rigby is there, as well. The 19-year-old from Florida has nothing more to hide. Sports Illustrated, the largest American sports magazine, took care of that. The latest issue of the magazine is in the stands everywhere. On the cover: Cathy Rigby stark naked in a challenging position on the balance beam.

The leaders of the International Gymnastics Federation are shocked. "A most painful affair," says FIG president Arthur Gander, who doesn't really know what to do with the affair that has stirred many tongues (and eyes and eyes!) And Cathy Rigby herself, who is getting married in a few months? "The shot was taken a year ago. My coach thought that, in this way, I could perfectly express modern gymnastics".

And why not? More and more taboos are being broken on Olympus too. […]

Sex en Spelen…

Ook op de Olympus in München speelt dit thema een in het ook lopende rol. Met name doet het dat in de turnhal, waar beeldschone meisjes aller landen hun kunsten vertonen. Cathy Rigby is er ook bij. De 19-jarige uit Florida heeft niets meer te verbergen. Daarvoor zorgde "Sports Illustrated" het grootste Amerikaanse sportmagazine. Overal ligt het laatste nummer van het magazine op de tribunes. Op de cover: Cathy Rigbv spiernaakt in een uitdagende stand op de evenwichtsbalk.

De leiders van de Internationale Turnfederatie zijn geschokt. "Een hoogst pijnlijke zaak". meent ITB-president Arthur Gander, die eigenlijk niet goed raad weet met de veel tongen (en ogen en ogen!) in beweging gebracht hebbende affaire. En Cathy Rigby zelf. die over enkele maanden gaat trouwen? "De opname is al een jaar geleden gemaakt. Mijn trainer vond dat ik op die manier het moderne turnen voortreffelijk tot uitdrukking zou kunnen brengen".

En waarom niet? Ook op de Olympus worden hoe langer hoe meer taboes doorbroken- Sex en spelen […]

De Telegraaf, Sept. 1, 1972
The article goes on to talk about sex testing.
⁂ ⁂ ⁂
It was "a most painful affair."
Painful for whom, Mr. Gander? 🤔
---
Appendix: A Few Tidbits from the Sports Illustrated Article
Cathy Rigby's gym received anonymous hate mail.
"PLEASE quit cramming Rigby down our throats! To you, she is your baby, to us, she is just another gymnast—nothing more. You have built her up so——big, it is getting to be pretty ridiculous….

"We, as a group…are planning a trip to Long Beach, but for God's sake don't ruin our trip by making the competition a one-deal thing—namely, Rigby. Remember, there IS Metheny, Pierce and Chace. Where does that leave Rigby…? It would be too bad if she broke a leg, etc.—what would you do then…? Rigby is a smart aleck. She can't even speak to people anymore. You have made her that way…. You should teach your team (what team?)…respect for other people. They walk out on the floor and think they can take over any piece of equipment….

"As far as we are concerned, Metheny will be (and is) No. 1—but, with the politics involved, I imagine Rigby has already been nominated.

"We will be there—and watching. Maybe Rigby will break her big toe—oh, too bad."

—A group of FED-UPS
The tension between Metheny and Rigby was fierce.
Recently, Linda Metheny was quoted as saying, "I beat Cathy every time we competed before the 1968 Olympics, and two out of three since then. Her coach wouldn't let her compete against me, except when he thought I was ill or injured."
Her coach, Bud Marquette, had strict rules, and he didn't trust his gymnasts or their parents to follow them without his surveillance.
Marquette has set up such obvious rules as "no alcoholic beverages" and "no smoking," but the contract also includes a 10:30 p.m. curfew which is sometimes hard to observe. Therefore, he makes a point of calling up parents at night to make sure their daughters are home. "There is never any trouble with Cathy," he says.

Journalists have called Cathy Rigby "Pixie," "Kewpie doll" and "Barbie doll," much to her embarrassment. Still, since her blonde hair began to darken, she has dyed it regularly "to keep up the image" she says. "I would like to let my hair grow, but Bud wouldn't let me." Long hair is frowned upon by gymnastics judges. Cathy keeps her pigtails pinned back and fastened so tightly with ribbons that she gets headaches.
Those strict expectations extended to the gymnasts' bodies.
"[Marquette] doesn't want me to grow up," says Cathy.

"It changes the center of gravity," says Marquette, "and she may never regain her former sense of balance. Cathy still looks the way she did nine years ago when she joined the SCATs."
Note: Cathy Rigby suffered from bulimia for many years.
Rigby's mom was partially paralyzed.
Her mother has been partially paralyzed for 21 years. Anita Rigby contracted polio while she was pregnant with her second child. She could not walk for many years, and even today needs crutches.
Money was tight for the Rigby family.
Two and a half years ago Mr. Rigby lost his job as an aeronautical engineer in a general layoff at Douglas, and his wife became the main breadwinner for the family, which included five children. She made $110 a week as a material analyst at Douglas, while her husband helped out by working as a truck driver and a bartender.

Cathy Rigby never had much spending money, and she never dared ask for more than a couple of dollars when she left on trips. She made money baby-sitting and saved her $3 per diem so she could buy Christmas presents. One year she returned from Japan with a 36-piece china set for her parents. She hand-carried it so that it would not break. Paul Rigby was hired by North American last April.

…

There are times when Cathy Rigby thinks about her financial future, but not too seriously. Two months ago she started a savings account with a $60 deposit. She now has a balance of $3. "They are charging mc 50¢ for overactivity," she says.
Reminder: At the time, gymnasts had to be amateurs in order to compete at the Olympics. The opening of the Olympic Charter made that quite clear:
The Olympic Games are held every four years. They assemble amateurs of all nations in fair and equal competition. No discrimination in them is allowed against any country or person on grounds of race, religion or politics.

Olympic Rules and Regulations, 1972
Here's how the Olympic Charter defined amateurism:
Individuals subsidized by governments, educational institutions, or business concerns because of their athletic ability are not amateurs. Business and industrial concerns sometimes employ athletes for their advertising value. The athletes are given paid employment with little work to do and are free to practise and compete at all times. For national aggrandizement, governments occasionally adopt the same methods and give athletes positions in the Army, on the police force or in a government office. They also operate training camps for extended periods. Some colleges and universities offer outstanding athletes scholarships and inducements of various kinds. Recipients of these special favours which are granted only because of athletic ability are not eligible to compete in the Olympic Games.

Olympic Rules and Regulations, 1972
Regarding the engagement mentioned in the Dutch article above…
Ostensibly, Cathy has not been allowed to date until after the Olympics, but this week she disclosed her engagement to Tommy Mason, 33, the former All-Pro running back who now plays for the Washington Redskins. "I met him two years ago," Cathy says. "We hardly ever went out. We always had dinner at home with my parents. I thought Bud didn't know, and I was afraid to tell him."

"I've known about it for nearly a year," says Marquette. "The other day we had a real good daughter-daddy talk and I said, you have to bring it out into the open, but it can't interfere with your training. Since we had that talk her workouts have been out of sight."
The couple was married from 1972 until 1981.
The Rigby Family Monkey
In 1968, Rigby's parents promised her a monkey if she made the Olympic team:
Making an Olympic team has its advantages, especially since Cathy's parents promised to buy her a pet monkey if she made the team.

New York Times, Oct. 10, 1968
In the Sports Illustrated piece, you can see a photo of Cathy with her pet monkey and pet alligator!
She lives in a burgundy-colored house with her parents, one brother, a sister, a dog, a gopher snake, an alligator named Beauregard Frump, a desert tortoise and a monkey.