As we saw with Villancher's commentary on the 1968 women's Code of Points, gymnastics does not happen in a vacuum. It interacts with the culture around it.
To help you understand where the FIG leadership stood on some social and cultural issues, the next two posts will be dedicated to the FIG president's reaction to the worldwide counterculture movement (broadly defined) that whipped through the world in the 1960s and 1970s.
First up: The 1971 European Championships and Arthur Gander's response to Ole Bendiktsen's long hair.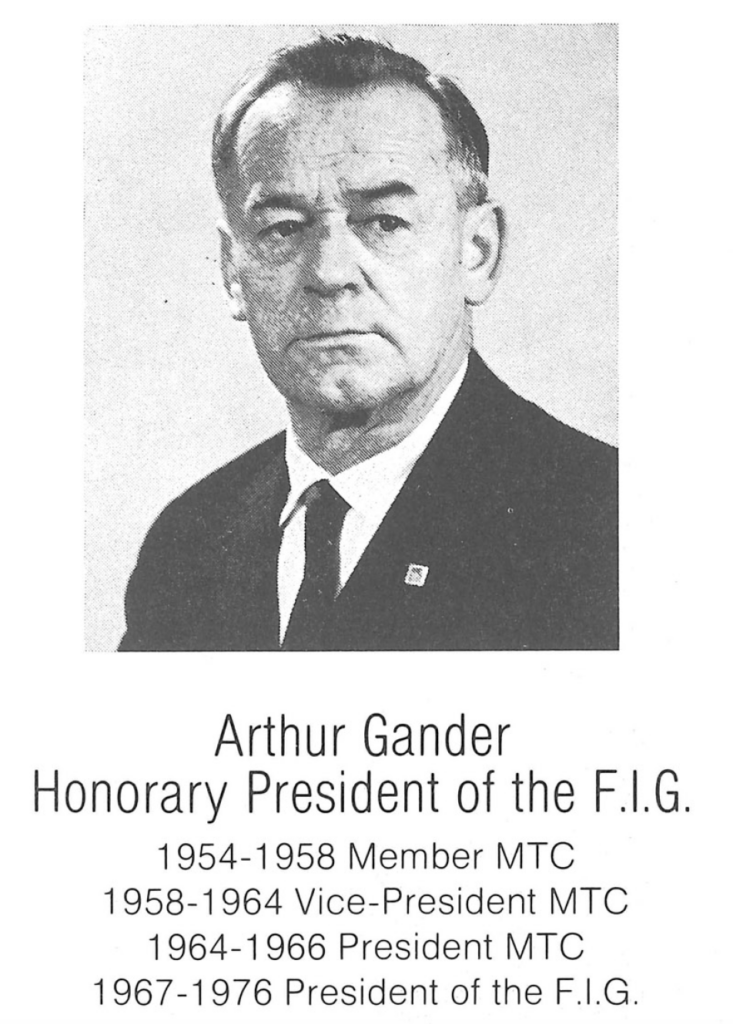 Contextualizing Hair
The 1960s ushered in a counterculture revolution, which challenged accepted social norms — one of those being men's hairstyles. While women opted for shorter haircuts, men grew their shaggy locks and facial hair.
In the United States, it was a major issue in schools. In 1968, the Supreme Court refused to hear the complaint of three teenagers who were banned from a Dallas high school in 1966 due to their "Beatle haircuts."
Justice William O. Douglas filed a sharp dissent, saying he had supposed that a nation founded on the Declaration of Independence would permit "idiosyncrasies to flourish, especially when they concern the image of one's personality and his philosophy toward Government and his fellow men." He said the court should have heard the case.

New York TImes, October 15, 1968
In another Texas case, the Federal court supported the students:
A Federal judge ruled yesterday that a San Jacinto College sophomore could return to school wearing his beard. Judge John Singleton Jr. ruled that Carlos Calbillo, 20 years old, could sport the whiskers despite the school's rules against long hair and beards. Judge Singleton decreed that the school violated the First Amendment.

New York Times, Nov. 2, 1969
Why was long hair so contentious? Some might argue that it had to do with the aesthetic look of long hair. But more importantly, the issue had to do with what long hair symbolized in the mainstream culture. For example, it was often associated with, what critics might deem, seedy behavior, such as drug use.
To cite one example, during a conference about drug addiction in Switzerland, one of the doctors said:
In our country, he was to point out, a young person with long hair can find hashish or LSD in ten minutes. You just have to know where to turn. Which is not difficult.

Dans notre pays, devait-il souligner, un jeune avec des cheveux longs peut trouver du haschisch ou du LSD en dix minutes. Il suffit de savoir où s'adresser. Ce qui n'est pas difficile.

L'Express, January 14, 1971
The 1971 European Championships
When gymnasts showed up to the 1971 European Championships in Madrid with long hair, the Swiss president of the FIG, Arthur Gander, didn't take to it well. What follows is a translation of a Dutch article from Leeuwarder courant.
Action against long-haired gymnasts?

Arthur Gander, the Swiss president of the International Gymnastics Federation, has announced that a bulletin will be sent to all 64 member countries next week asking them to be mindful of the hairstyles of male gymnasts. In an interview, he said: "Something has to be done to preserve the beautiful image of gymnastics. After all, this is an aesthetic sport, a kind of art. This is in contrast, for example, with football or athletics [track and field]."

The discussion has been started by, among others, the Dane Ole Bendiktsen who entered the European Championships in Madrid earlier this month wearing a headband to keep his long hair in check. "That went too far," said Gander. "We've already discussed it in Madrid. If we don't put an end to this, we'll soon have more of that grotesque thing in gymnastics."

Gander said judging panels should consider giving deductions between 0.1 to 0.3 points for "unaesthetic facial appearance." The bulletin will not make precise recommendations to national associations but will ask them to ensure that the gymnasts' hair is "'good, groomed, and of normal height.' I realize we have a big discussion ahead of us."

Actie tegen langharige turners?

Arthur Gander, de Zwitserse president van de internationale gymnastiekfederatie, heeft aangekondigd dat de volgende week een circulaire naar alle 64 aangesloten landen gestuurd wordt waarin gevraagd wordt te letten op de haardracht van manlijke gvmnasten. In een vraaggesprek zei hij: "Er moet iets gedaan worden om het mooie beeld van de gymnastiek te bewaren. Per slot van rekening is dit een estetisehe sport, een soort kunst. Dit in tegenstelling biivoorbeeld met voetbal of atletiek".

De discussie is o.a. op gang gebracht door de Deen Ole Bendiktsen die eerder deze maand aan de Europese kampioenschappen in Madrid meedeed met een hoofdband om zijn lange haar in bedwang te houden. "Dat ging te ver", zei Gander, "we hebben het reeds in Madrid besproken. Au hier geen eind aan komt, dan krijgen wij spoedig meer van dat groteske gedoe in de gymnastiek"

Gander zei dat overwogen moet worden in jury's 0.1 tot 0.3 punt te laten aftrekken voor "onestetisch gezicht". De circulaire zal niet nauwkeurige aanbevelingen aan de nationale bonden doen, maar zal ze vragen er voor te zorgen dat het haar van de gymnasten "goed verzorgd en van normale lengte is". Ik besef dat ons een grote discussie te wachten staat".

Leeuwarder courant, May 29, 1971
"We'll soon have more of that grotesque thing in gymnastics."
Gander's statement gets to the heart of the aesthetic subjectivity of the sport.
What is "grotesque" for Arthur Gander might not be the same as what is grotesque for someone else.
So, by whose sense of taste and aesthetic beauty should we judge the sport?
---
Appendix: Hair Discussions in the Men's NCAA
Men's hairstyles were an issue that gymnastics organizations across the globe were dealing with. Here are a few of the articles that ran in Modern Gymnast leading up to the 1971 European Championships.
Beards
In 1967, Modern Gymnast ran a guest editorial in favor of beards on male gymnasts, which sparked quite the response in the magazine's pages.
Here's a paragraph from the original letter:
As a show of good faith, coach, let your gymnast wear a neatly trimmed beard. Encourage individuality. (At least give the question serious thought.) Show that you can be progressive. You'll see, performances won't crumble; gymnastics won't go to rot. Besides, it might be sort of interesting to see a triple twisting beard at next year's meets.

Modern Gymnast, March 1967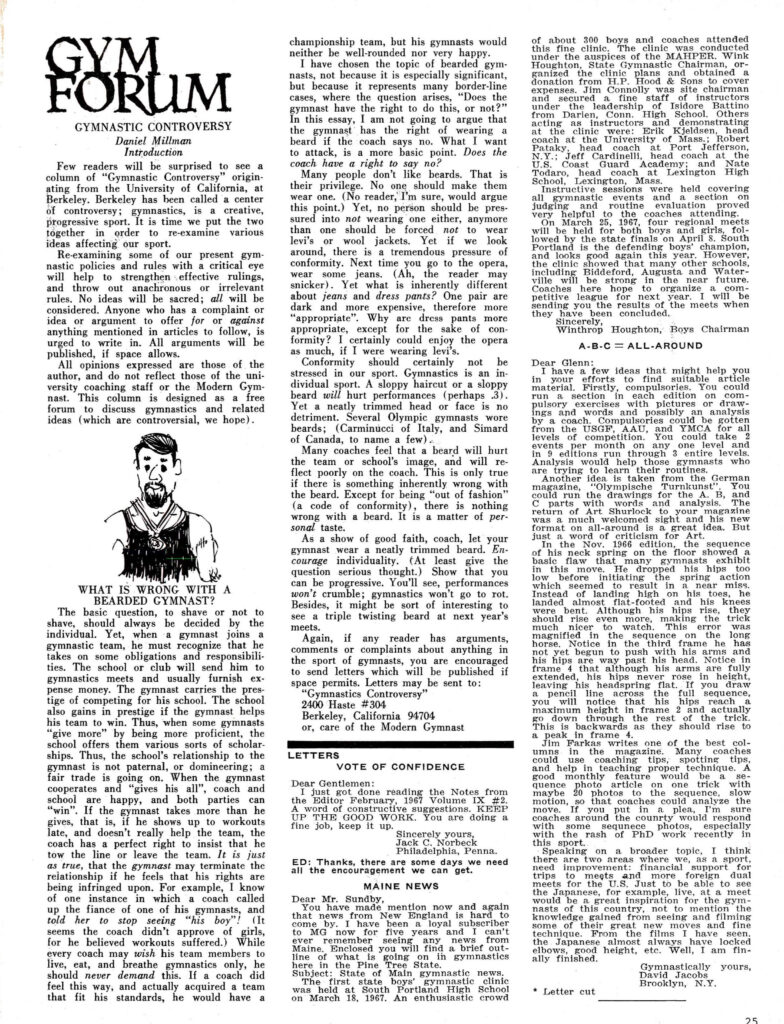 Competition Wigs in the NCAA
During the 1970 NCAA Championships, a few gymnasts bought wigs to hide their long hair.
A couple of gymnasts solved a problem in a rather unique, albeit expensive, way. They bought wigs to cover their shoulder-length hair. While some scoffed at the solution, it did enable them to compete without risking the verbal condemnation of the gymnastics establishment (let alone their coach) or the unspoken deductions of the judges.

Modern Gymnast, May 1970
In Favor of Short Hair
In the February 1971 issue of Modern Gymnast, before the European Championships and Gander's statements, an article in favor of short hair appeared — along with some photos of hairstyles. The article opened with this paragraph:
As a high school gymnastics coach, I have run into a problem with the appearance of my gymnasts in regards to hair! I have given much thought to this situation and I have come to the following conclusion: High school gymnasts should not have long hair!

Modern Gymnast, Feb. 1971
Modern Gymnast, Feb. 1971
Note: None of these articles touch upon race.
Once again, a series of letters flooded the pages of Modern Gymnast, including one from a 15-year-old gymnast, who said:
In all the pictures that you showed not one person (in my opinion) had "long" hair. In fact, I feel everyone looked very good with their hair, and I would be proud to have them on a team, if I were a coach.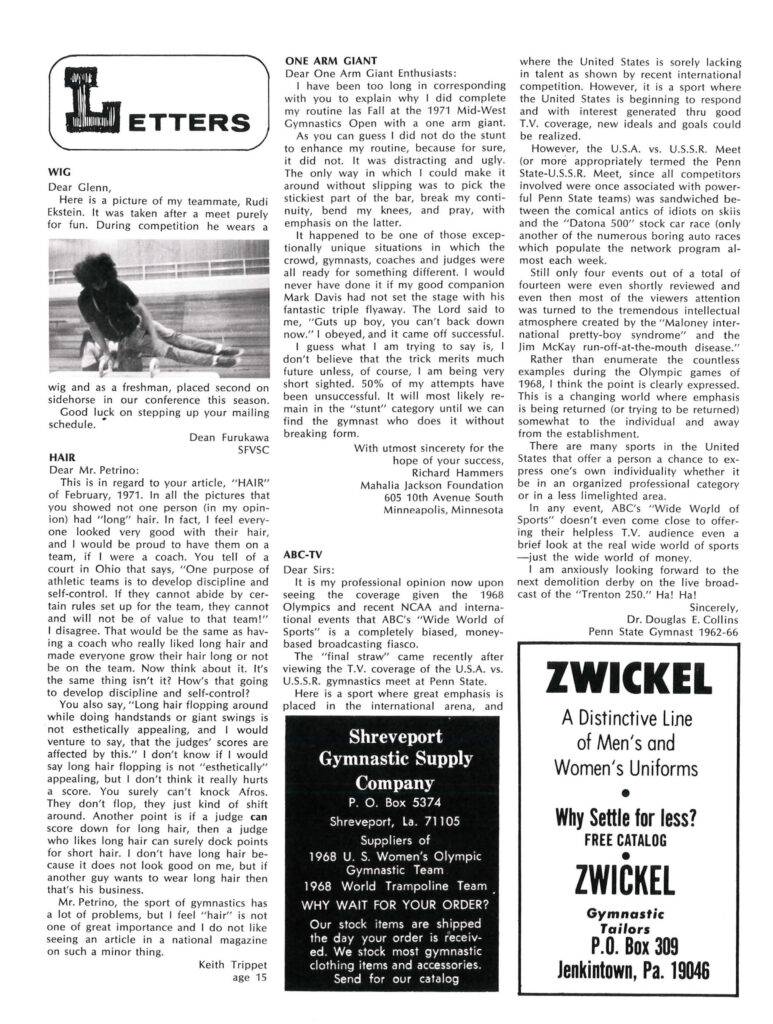 In another letter, a judge cited the 1968 Code of Points to support his anti-long-hair stance:
By being deducted for long hair (for those who seem not to know why), I mean unwarranted movements of the body in order to get the hair out of the eyes, face and even, the mouth. In article 36-1, page 19 of the F.I.G. Code of Points, the Code governing all gymnastics competition, it states, "poor position of the … hands, head, and body … at instances where this is not required by the movement, every time … 0.10 to 0.30" (points). Or, in other words, for a simple flick of the head or brushing of the hair with the hands, the gymnast loses 1/10, 2/10 or 3/10ths of a point, each time! If he is an all-around gymnast he could lose 2 or more points from his total just for one unnecessary movement in each routine. And, in all truth, I've seen individuals lose places, and teams lose meets, only because of hair.

Modern Gymnast, August/September 1971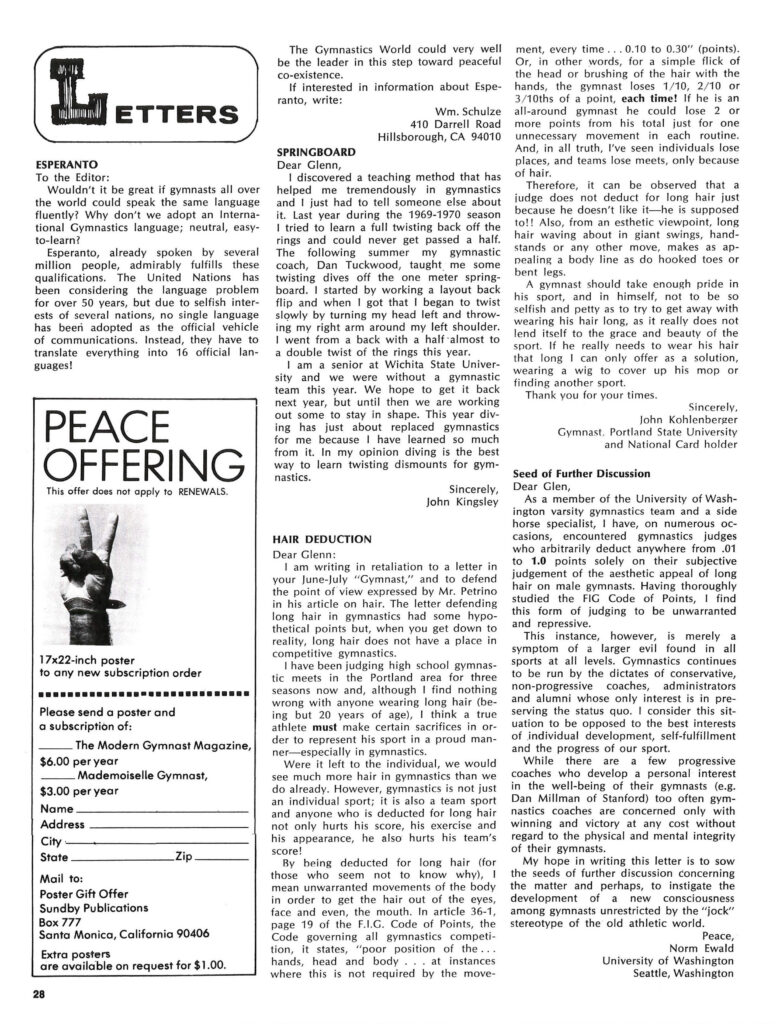 Like I said, hair was a contentious issue.