The 1905 International Tournament (now called the World Championships) almost didn't happen.
Why?
Because of a debate over rings.
Which teams participated in 1905?
As we saw in 1903, just four teams attended:
Belgium
France
Luxembourg
The Netherlands
The competition was held in conjunction with the French Federal of Gymnastics, which took place in Bordeaux on April 22 and 23.
Which events?
Ensemble Routines:
5 Compulsory Floor Routines (without portable hand devices)
Compulsory Routines:
Pommel Horse
Parallel Bars (2 sets: 1 strength and 1 swing)
Horizontal Bar (2 sets: 1 strength and 1 swing)
Long Horse Vault
Optional Routines:
Pommel Horse
Parallel Bars
High Bar
Track and Field:
150 m
Long Jump, alternating feet, with a "tremplin dur"
Other:
Throwing a 15 kg stone, alternating arms
So, if you're keeping track…
Event
1903
1905
Ensemble FX Routines
6
5
Pommel Horse
1 compulsory
1 optional
1 compulsory
1 optional
Long Horse Vault
1 compulsory
1 compulsory
Parallel Bars
2 compulsories
1 optional
2 compulsories
1 optional
High Bar
2 compulsories
1 optional
2 compulsories
1 optional
Rings
2 compulsories
1 optional
Not contested
Race
150 m
150 m
Jump
High Jump
Long Jump, alternating feet
Other
Lifting a 40 kg weight
Throwing a 15-kg stone
As we'll see below, rings were not contested in 1905 because the teams could not agree on still rings or flying rings for the optional portion of the competition.
What were the ensemble floor routines?
Think of them as group calisthenics. You can see the routines for 1905 here: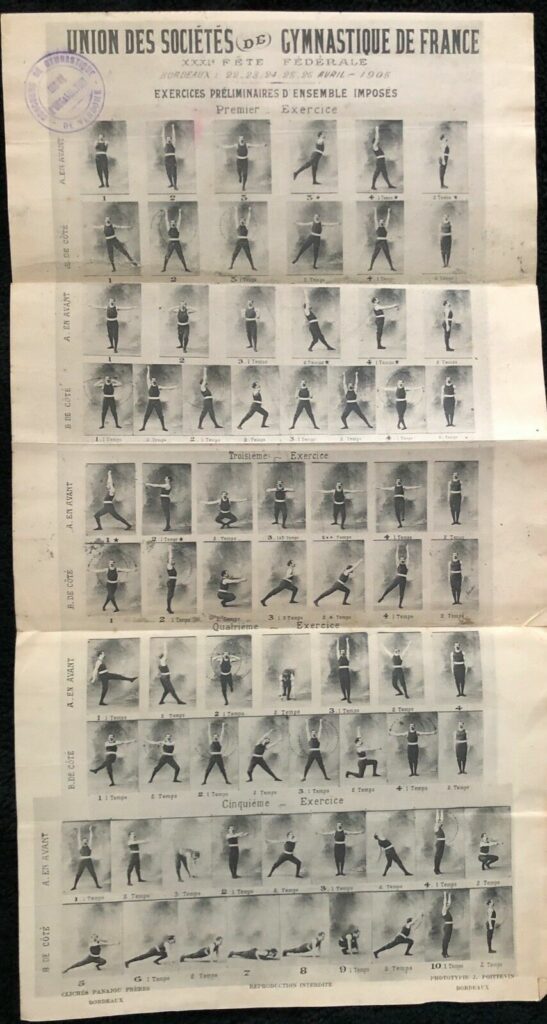 Here's a closer look at each of the exercises.
First Exercise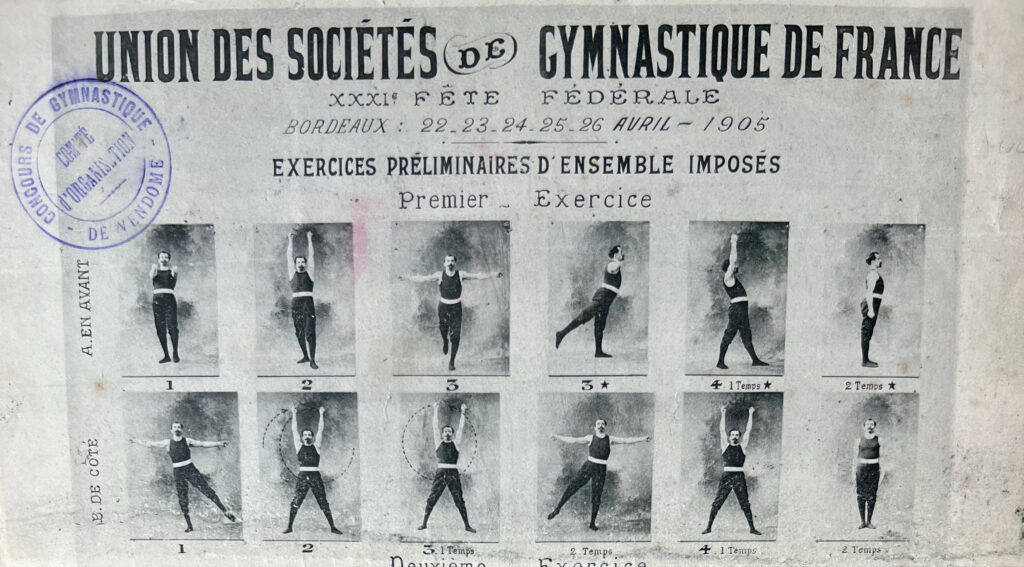 Second Exercise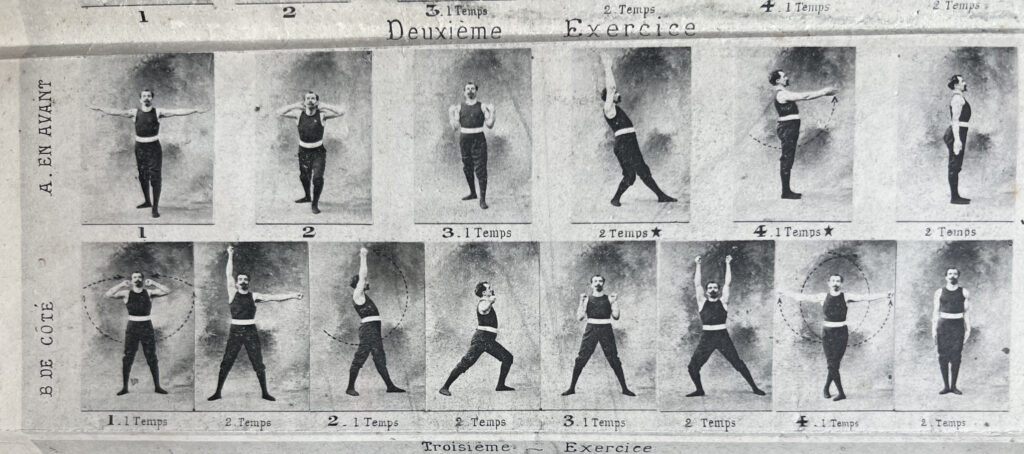 Third Exercise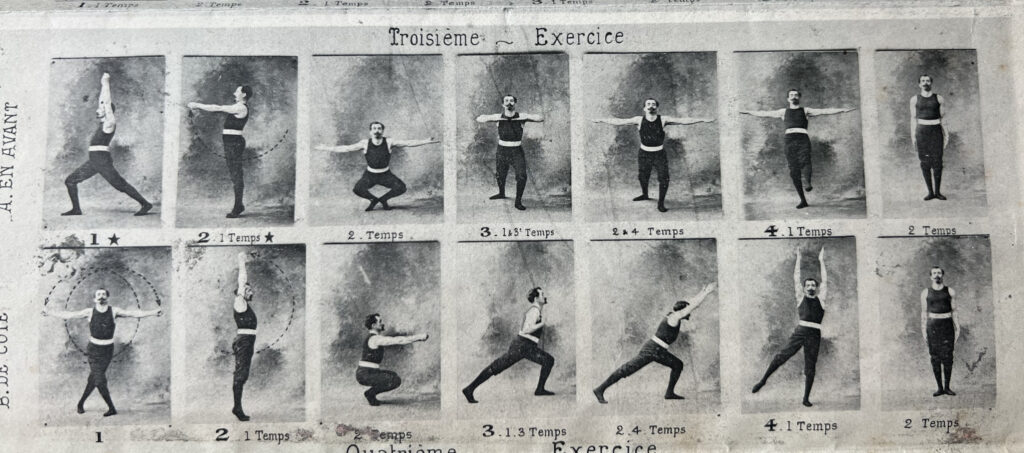 Fourth Exercise

Fifth Exercise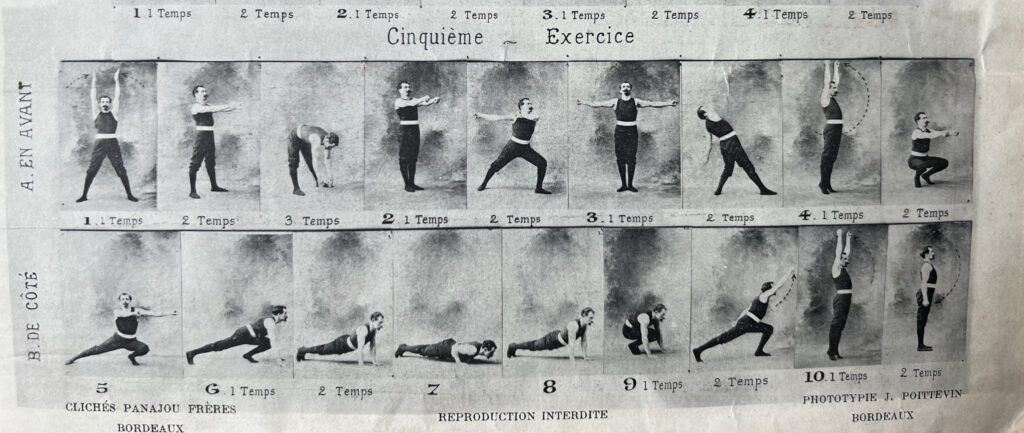 How did the scoring work?
The 5 Preliminary Ensemble Routines:
5 points per gymnast and per exercise
2 points for the comportment of the team
Apparatus (i.e. parallel bars, horse, and horizontal bar):
5 points per gymnast and per exercise
1 point for going to the apparatus
1 point for leaving the apparatus
For a total of 21 points per apparatus

7 points: 5 points for the first compulsory routine + 1 point for going to the apparauts + 1 point for leaving the apparatus
7 points: 5 points for the second compulsory routine + 1 point for going to the apparatus + 1 point for leaving the apparatus
7 points: 5 points for the optional routine + 1 point for going to the apparatus + 1 point for leaving the apparatus
Other Events
150 m

20 points maximum for 18 seconds

Long jump with a tremplin dur

One jump with the right foot, another with the left
20 points maximum for 5.60 m average

Stone Throwing (15 kg)

Alternating Arms
20 points for a 6 m average
Note: Though the gymnasts performed different exercises on both pommel horse and vault, their scores were lumped together into one category called "horse," which was made up of:
Compulsory Pommel Horse

5 points for the routine
2 points for approaching and leaving the apparatus

Optional Pommel Horse

5 points for the routine
2 points for approaching and leaving the apparatus

Compulsory Long Horse Vault

5 points for the routine
2 points for approaching and leaving the apparatus

Total: 21 points
---
The Results
This was a team-only competition, which France won once again:
France 1075.50
Netherlands 941.75
Belgium 906.75
Luxembourg 784.75
Source: Olympische Turnkunst, July 1966
So, if you're keeping track…
| | | |
| --- | --- | --- |
| Place | 1903 | 1905 |
| 1st | France | France |
| 2nd | Belgium | Netherlands |
| 3rd | Luxembourg | Belgium |
| 4th | Netherlands | Luxembourg |
As for individual results, there weren't any. It was a team-only competition. According to 100 Years of the FIG, individual results were introduced in the 1920s, starting with the all-around scores in 1922. So, the following results were not official.
With that caveat out of the way, here are the top (unofficial) individual scores.
All-Around:
1. Lalu, France, 185.50
2. Lavielle, France, 184.25
3. Demanet, France, 179.25
4. Dejaeghère, France, 176.50
5. Payssé, France, 173.75
6. HR Reeder, NED, 169.75
7T. Martinez, France, 168.75
7T. FJN Lambert, NED,168.75
9. JH Schmitt, NED, 163.75
10. J. De Hoe, BEL, 156.25
11. P. Mangin, BEL, 154.50
12. V. d. Roye, BEL, 151.50
Parallel Bars
1T. Martinez, France, 33.50
1T. Lalu, France, 33.50
3. Payssé, France, 32.75
Horse
1. Dejaeghère, France, 34.75
2. Lalu, France, 34.50
3. Lavielle, France, 33.75
High Bar
1. Lalu, France, 36.00
2. Martinez, France, 35.75
3T. Demanet, France, 35.50
3T. Payssé, France, 35.50
Source: Olympische Turnkunst, July 1966
Note: A 36 meant that Lalu had received perfect 12s on all of his high bar routines (2 compulsories and 1 optional). There may have been more perfect scores at this competition, but without the official results, it's impossible to say.
Note #2: In The Story Goes on: 125 Years of the FIG, the FIG retroactively recognizes the individual winners, even though there weren't individual winners at the time.
---
Commentary
Pierre Hentgès, Sr. recounted what happened in an article for Olympische Turnkunst in July of 1966.
After the encouraging success of the first attempt, it was decided to organize a second tournament in 1905 and thus inaugurate a biennial periodicity. It took place in Bordeaux, in the city of Charles Cazalet, on the occasion of the 31st French federal festival, on April 22 and 23.

Once again, all the affiliated and recognized federations were invited. But it was only the same four that participated. And again, the tournament was nearly not held, because the four had fallen into disagreement about rings: stationary apparatus or swinging apparatus, that was the question that could turn tragic. Similar difficulties had already arisen in Antwerp [in 1903] in relation to the optional exercise. Finally, as good comrades, we found the right solution, as wise as it was simple, by eliminating the disputed apparatus. So there were only 3 apparatus. Moreover, with the series of ensembles only having 5 exercises, the total number of events was reduced to 17.

Except for these modifications, the regulations remained analogous to those of Antwerp. — The pommel exercise was somewhat modernized, and the jump was identical to No. 5 of the current Code of Points (horse 1.10 m high and 2 m long). — The race was also the same. — The high jump was replaced by two "wide" jumps, one with the left foot, the other with the right foot, on a hard springboard; average of the 2 jumps, 5 m. 60 for the max. — The 3rd athletics test was the throwing of a stone of 15 kilos, without momentum, from each brazier, with an average of 6 m. for the max. — The gymnastic exercises were taxed at 10 points, those of athletics at 20 pts.

The events take place at the "Cirque Plège", except for the race which takes place at the "Allées d'Orléans."

Olympische Turnkunst, July 1966

Après la réussite encourageante du premier essai, on décida d'organiser un deuxième tournoi en 1905 et d'inaugurer ainsi une péiodicité biennale. Il eut lieu à Bordeaux, dans la ville de Charles Cazalet, à l'occasion de la 31me fête fédérale française, les 22 et 23 abril.

De nouveau, on avait invité toutes les fédérations affiliées et reconnues. Mais ce ne furent que les mêmes quatre qui participaient. Et encore, il s'en fallait de peu que le tournoi n'eût pas lieu, car les quatre étaient tombés en désaccord au sujet des anneaux: engins immobiles ou engins balançants, telle fut la question qui risque de tourner au tragique. De difficultés pareilles avaient déjà surgi à Anvers par rapport à l'exercice à volonté. Finalement, en bons camarades, on trouva la bonne solution, aussi sage que simple, en éliminant l'engin litigieux. Il n'y eut donc que 3 engins. De plus, la série des ensembles ne comptant cette fois que 5 exercices, le total des épreuves se trouva réduit à 17.

Sauf ces modifications, le règlement resta analogue à celui d'Anvers. — L'exercice aux arçons se trouva quelque peu modernisé, et le saut était identique au No. 5 du Code des Pointage actuel (cheval haut de 1 m. 10 et long de 2m.). — La course fut aussi la même. — Le saut en hauteur fut remplacé par deux sauts en «largeur», l'un avec appel du pied gauche, l'autre de pied droit, au tremplin dur; moyenne des 2 sauts, 5 m. 60 pour le maximum. — La 3me épreuve d'athlétisme fut le lancement d'une pierre de 15 kilos, sans élan, de chaque bras, avec une moyenne de 6 m. pour le maximum. — Les exercices de gymnastique furent taxés à 10 points, ceux d'athlétisme à 20 pts.

Les épreuves lieu au «Cirque Plège», sauf la course qui se fait aux «Allées d'Orléans».
Note: In the 1964 Code of Points, vault number 5 was the following:

---
Pomp and Circumstance
The newspaper accounts from 1905 focused on the pomp and circumstance. Émile Loubet, the President of France at the time, attended the Federal Festival, and his presence is what newspapers tended to focus on.
Here's what L'indépendance luxembourgeoise reported on April 24, 1905:
Never, in Bordelais memory, has Bordeaux has made such an effort to receive the Head of State. Everywhere people competed in zeal to give the city, already so attractive, a grandiose appearance.

The triumphal arches, the bundles of flags, the garlands were lavished. In addition to all the public buildings, many private houses are adorned with flags. There is feverish activity for the final preparations.

There are already so many foreigners that the hotels are full of people. Many improvident people who have not secured a place to stay may not find one. It is estimated that more than 100,000 people will come to Bordeaux for the celebrations. Many have already come from England, Spain, Switzerland, etc.

The gymnasts, numbering 5,000, a figure that has never been reached for any of the previous federal holidays, have already all arrived. They throw the cheerful note in the streets.

In the walkways of Tourny, huge platforms, including those reserved for Mr. Loubet and officials, will receive several thousand guests. They occupy almost the entire eastern corner of the corridors.

Yesterday, the statue of Gambetta was covered with a large tricolor flag, which will fall on Tuesday morning, at the inauguration ceremony which Mr. Loubet will chair. The huge Quinconces esplanade is completely fenced; it is there that the federal meetings of the 31st gymnastics competition and the international tournament will be held, the musical festival in which the music of the Republican Guard will participate, etc., etc.

We are fitting out the great hall of the Stock Exchange, which will be splendidly decorated for the banquet which M. Loubet will preside over on Monday evening. Nearly 700 people will take part.

In summary, wherever Mr. Loubet goes during his stay, he will be received with enthusiasm, and in a setting worthy of the Head of State.

Mr. Marot, president of the Organizing Committee of the 31st federal festival, and Mrs. Marot offered a 70-person lunch in honor of the foreign delegates and their wives.

We noticed: Mr. and Mrs. Mignot (Belgium), Mrs. Luperus, Mr. Muller (Holland), Mrs. Van Aken (Holland), Mr. Ennesch (Luxembourg), Mr. Sully and Mr. Browy (England), Mr. Dalhman (Denmark), Mr. Todaro, Senator, President of the Union of Italian Societies, Mr. Minelle, Mayor of Arras; Mr. Mérillon, president of the shooting societies; Mr. Sansboeuf, former president of the federation; Mr. Belle, senator; Mr. and Mrs. Charles Cazalet, etc.

Warm toasts were offered by Mr. Marot, Mr. Cazalet, Mr. Luperus, and Mr. Todaro, senator, who drank to the union of France and Italy, a union cemented by Mr. Loubet's trip to Rome.

Jamais, de mémoire de Bordelais, Bordeaux ne s'est autant mis en frais pour recevoir le chef de l'Etat. Partout on a rivaliser de zèle pour donner à la ville, déjà si séduisante, un aspect grandiose.

Les arcs de triomphe, les faisceaux de drapeaux, les guirlandes ont été prodigués. Outre tous les édifices publics, de nombreuses maisons particulières sont pavoisées. Il règne une activité fébrile pour les derniers préparatifs.

Les étrangers sont déjà si nombreux que les hôtels regorgent de monde. Bien des imprévoyants, qui ne se sont pas assuré un gîte, risquent de n'en pas trouver. On estime que plus de 100,000 personnes viendront à Bordeaux pour les fêtes. Il en est déjà venu quantité d'Angleterre, d'Espagne, de Suisse, etc.

Les gymnastes, au nombre de 5,000, chiffre qui n'a jamais été atteint pour aucune des précédentes fêtes fédérales, sont déjà tous arrivés. Ils jettent la note gaie dans les rues.

Dans les allées de Tourny, d'immenses estrades, dont celles réservées à M. Loubet et aux personnages officiels, recevront plusieurs milliers d'invités. Elles occupent presque tout le coin est des allées.

Hier, la statue de Gambetta a été recouverte d'un grand drapeau tricolore, qui tombera mardi matin, à la cérémonie d'inauguration que présidera M. Loubet. L'immense esplanade des Quinconces est entièrement clôturée ; c'est là que se tiendront les assises fédérales du 31e concours de gymnastique et du tournoi international, le festival musical auquel participera la musique de la garde républicaine, etc., etc.

On aménage le grand hall de la Bourse, qui sera splendidement décoré our le banquet que présidera M. Loubet lundi soir. Près de 700 personnes y prendront part.

En résumé, partout où M. Loubet se rendra pendant son séjour, on le recevra avec enthousiasme, et dans un cadre digne du chef de l'Etat.

M. Marot, président du Comité d'organisation de la 31e fête fédérale, et Mme Marot ont offert un déjeuner de 70 couverts en l'honneur des délégués étrangers et de leurs femmes.

On remarquait : M. et Mme Mignot (Belgique), Mme Luperus, M. Muller (Hollande), Mme Van Aken (Hollande), M. Ennesch (Luxembourg), MM. Sully et Browy (Angleterre), M. Dalhman (Danemark), M. Todaro, sénateur, président de l'Union des sociétés italiennes, M. Minelle, maire d'Arras ; MM. Mérillon, président des sociétés de tir; Sansbœuf, ancien président de la fédération ; Belle, sénateur ; M. et Mme Charles Cazalet, etc.

Des toasts chaleureux ont été portés par MM. Marot, Cazalet, Luperus et Todaro, sénateur, qui a bu à l'union de la France et de l'Italie, union cimentée par le voyage de M. Loubet à Rome.
In 1903, the newspapers were also interested in writing about the lavish banquets of the federal festival.
---
The President's Continued Reluctance
As we saw in 1903, Cupérus, the president of the Bureau of European Gymnastics Federations, was reluctant to organize a large gymnastics competition. Even after two successful International Tournaments, he was still skeptical.
Here's how Pierre Hentgès, Sr. recounts it:
In his official report on the 2nd tournament, N. J. Cupérus, while acknowledging the efforts of the organizers as well as the gymnasts and the judges, nevertheless expresses some rather pessimistic reflections: "The organizational difficulties, he says, have not been less than the first time, quite the contrary, and the general opinion is that the result obtained does not correspond to the pains, time and money spent." However, he continues to recognize that it would be wrong "to abandon entirely the idea so generous and so worthy of bringing gymnasts from different countries to measure themselves on the peaceful field of physical redemption". Then he makes the following proposal: "to invite the federations to form a section of gymnasts whose number would be left to their choice, performing exercises according to their ideas; — and find a mode of appreciation that does not necessarily entail a ranking and the obligation to award prizes. Thus we would open the door widely to all participations since this new process would not exclude anyone and admit all processes and all methods."

N. J. Cupérus, therefore, did not abandon his cherished ideal: to make good propaganda through instructive and spectacular demonstrations, without competition. — Who will want to deny the eloquent impression of the many demonstrations, presented at our festivals of all kinds, from local and national organizations to their world crowning achievement, the "Gymnaestrade?" Could the purpose, nature, and value of the latter have been better defined?

However, it was not necessary to want to go from one extreme to the other, because to the question "competitions or demonstrations?" there can only be one answer: you need both that complement each other but do not exclude each other! — Consequently, at the Fifth International Meeting held in Bern on July 14, 1906, the delegates entrusted to the powerful federation of the Czech Sokols the organization of a 3rd tournament which took place in Prague, on June 30, 1907, in the framework of the Fifth Czech Federal Gymnastics Festival.

Olympische Turnkunst, June, Number 3, 1967

Dans son rapport officiel sur le 2me tournoi, N. J. Cupérus, tout en reconnaissant les efforts tant des organisateurs que des gymnastes et des juges, émet pourtant quelques réflexions, plutôt pessimistes: «Les difficultés d'organisation, dit-il, n'ont pas été moindres que la première fois, bien au contraire, et l'avis général est que le résultat obtenu ne répond pas aux peines, au temps et à l'argent consacrés». Il continue cependant à reconnaître qu'il serait faux «d'abandonner entièrement l'idée si généreuse et si digne d'amener les gymnastes des différents pays à se mesurer sur le champ pacifique de la rédemption physique». Puis il émet la proposition suivante: «inviter les fédérations à former une section de gymnastes dont le nombre serait laissé à leur choix, exécutant des exercices suivant leurs idées; — et trouver un mode d'appréciation n'entraînant pas forcément un classement et l'obligation d'accorder des prix. Ainsi on ouvrirait la porte largement à toutes les participations, puisque ce nouveau procédé n'excluerait personne et admettre tous les procédés et toutes les méthodes».

N. J. Cupérus n'aviat donc point abandonné son idéal chéri: faire de la bonne propaganda par démonstrations instructives et spectaculaires, sans compétition. — Qui voudra d'ailleurs nier l'impression éloquente des nombreuses démonstrations, présentées à nos fêtes de tout genre, depuis les organisations locales et nationales jusqu'à leur couronnement mondial, la «Gymnaestrade»? Aurait-on pu mieux définir le but, la nature et la valeur de cette dernière?

Il ne fallait cependant pas vouloir passer d'un extrême à l'autre, car à la question «compétitions ou demonstrations?» il ne peut y avoir qu'une seul réponse: il faut les deux qui se complètent mais ne s'excluent pas! — Conséquemment, à la Vme Réunion internationale tenue à Berne, le 14. 7. 1906, les délégués confièrent à la puissante fédération des Sokols Tchèques l'organisation d'un 3me tournoi qui eut lieu à Prague, le 30 juin 1907, dans le cadre de la Ve fête fédérale tchèque de gymnastique.

And the 1907 International Tournament will be the subject of the next posts.