Bond, Bond, and More Bond: There was a lot of music from the group Bond during the Athens Olympics. The band's albums Born and Shine came out in 2000 and 2002, respectively. Their music straddled the worlds of contemporary music and classical orchestral music.
The title of a 2004 article gives you an idea of how the musical group was perceived at the time: "Unbreakable Bond; They're young. They're sexy. And they're turning the classical music industry on its head." (Sarasota Herald Tribune, Nov. 26, 2004).
Movie Soundtracks: As was the case in 2000, movie soundtracks were big in 2004. Examples included Braveheart, Pirates of the Caribbean, Moulin Rouge, and Matrix Revolutions.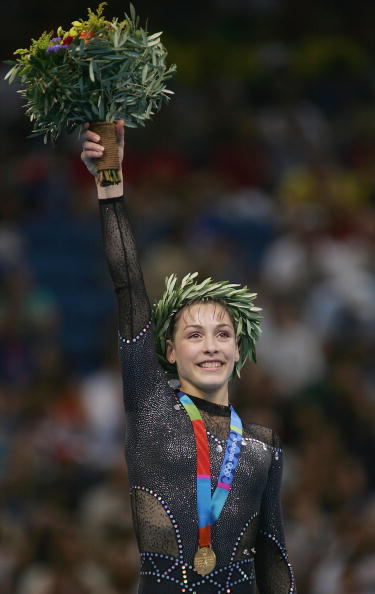 Below, you can find a partial list of floor music used at the 2004 Athens comments at the bottom of this page.
Note: The Spotify playlist does not include all the songs mentioned below, and sometimes, it includes a different version of a song.
---
Australia
Nguyen, Karen
"Allegretto," Bond
Moorhouse, Stephanie
"Eyes Like Yours (Ojos así)," Shakira
Munro, Melissa
"Careless Whisper (South East Players Mix)," The Sax Brothers
Slater, Allana
"El tango de Roxanne," Sting, Craig Armstrong, Anu Malik, Marius de Vries (Moulin Rouge)
---
Brazil
Dos Santos, Daiane
"Brasileirinho"
Hypólito, Daniele
"Moment of Glory," Scorpions and Berlin Philharmonic Orchestra
Rodrigues, Ana Paula
"Dancing with the Muse," Chris Spheeris
Souza, Lais
"Glenn Miller Melody Medley," André Rieu
Comin, Comila
"Il Guarany: Overture," Antônio Carlos Gomes
---
Canada
Banville, Melanie
"Flamenco Nights," Pavlo
Plante, Amelie
"Profondo Rosso," Daemonia
Purnell, Heather Mary
"Fuego," Bond
Stone, Kylie
"Trouble," Elvis Presley
"Rubberneckin'," Elvis Presley
Richardson, Kate
"Enterprise Savannah," Rakota Jaona
---
China
Cheng Fei
"Don Quijote: Act IV: Basilio's Variation," Ludwig Minkus
"Don Quijote: Act I: Quiteria's Variation," Ludwig Minkus
Fan Ye
"Itt járt Lily," Dave Stewart
Lin Li
"Rodrigo," The Planets
Wang Tiantian
"Hurricane 2000," Berliner Symphoniker (The Scorpions)
Zhang Nan
"Peacocks Ballet," Tele Music
---
France
Chacon, Coralie
"The Black Pearl," Klaus Badelt (Pirates of the Caribbean)
Chaouch, Soraya
"Tetsujin," Don Davis (Matrix Revolutions)
Debauve, Marine
"Another Cha-Cha / Cha Cha Suite," Santa Esmeralda
Severino, Isabelle
"Mujer latina," Thalia
---
Germany
Musik, Yvonne
"Spanish Steps," John Tesh
---
Great Britain
Lennon, Katy
"Music to Watch Girls By," Joe Loss & His Orchestra
Tweddle, Elizabeth
"Hi De Ho," K7
"Another Cha Cha," Santa Esmeralda
---
Greece
Apostolidi, Maria
"Manitilatos," Trihordo
---
Mexico
Magaña Almaral, Brenda
"Fire on Ice," Bijan Mortazavi
Moreno Garza, Laura del Carmen
"Tetsujin," Don Davis (Matrix Revolutions)
---
The Netherlands
Harmes, Suzanne
"The Black Pearl," Klaus Badelt (Pirates of the Caribbean)
---
Romania
Ban, Oana
"Conga," Miami Sound Machine
Eremia, Alexandra
"Lăutarul," Benone Sinulescu
Ponor, Cătălina
"Geia," Despina Vandi
"Egyptian Disco," DJ Disse
Șofronie, Nicoleta
"Marbella," Armik
---
Russia
Khorkina, Svetlana
"Goodbye My Love, Goodbye," Ricky King
Kryuchkova, Maria
"Gypsy Rhapsody," Bond
Pavlova, Anna
"Winter," Bond
Zamolodchikova, Elena
"Vaha Bit," G-Night
"Sur-o-Lahari," Debashish Bhattacharya, Bob Brozman
---
Spain
Gener, Tania
"Moliendo café," Fanfare Ciocãrlia
Gómez, Elena
"Respirando," Ana Belén
Moreno, Patricia
"Qué bueno está," Dany Cohiba & Mijangos
---
Ukraine
Akhunu, Mirabella
"Honey Dripper," Jools Holland
Kozich, Alina
"La Valse a Margaux," Richard Galliano
"Tacot Blues," Richard Galliano
Kvasha, Alona
"Rundales Pils," Zodiaks
Yarotska, Irina
"De Corte Antiguo," Jorge Arduh Orquestra
---
United States of America
Bhardwaj, Mohini
"Red Skies," Omar Faruk Tekbilek
Humphrey, Terin
"Armenian Tango," Samvel Yervinyan, Rouben Amirbekyan, and Garo Sarafyan
Kupets, Courtney
"Wedding (Čoček)," Goran Bregović
"India," Gypsy Brass Orchestra
"Levovete V Marki," Sashka Vaseva
McCool, Courtney
"Peter Gunn Mambo," Jack Constanzo
Patterson, Carly
"Hi De Ho," K7
"Mr. Pinstripe Suit," Big Bad Voodoo Daddy
---
Uzbekistan
Chusovitina, Oksana
"Mornay's Dream," James Horner (Braveheart)
"For the Love of a Princess," James Horner (Braveheart)