The 1967 WAG European Championships are a crucial moment in the history of artistic gymnastics. Let's take a look at why this competition matters…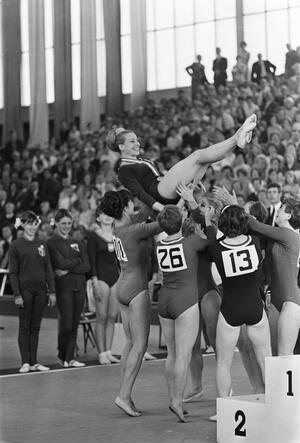 Gymnastics Context | Results | Video Footage | Newspaper Report | So What? | The New Uneven Bars
Gymnastics Context
Saturday, May 27, 1967: Optionals-only all-around competition
Sunday, May 28, 1967: Event finals with the top 6 gymnasts on each apparatus
Location: Amsterdam, the Netherlands
Reigning European Champion
Věra Čáslavská was the reigning European Champion on every single event. Yup, she swept all five gold medals at the 1965 Euros in Sofia.
Reigning World Champion
Čáslavská was the reigning World and Olympic Champion in the all-around. The Czechoslovak team also won gold in 1966, and Čáslavská won gold on vault, and silver on beam and floor.
A Rematch
The gymnastics world was looking forward to a rematch between Čáslavská and Soviet gymnast Natalia Kuchinskaya.
Kuchinskaya finished third on vault, second in the all-around, and first on bars, beam, and floor at the 1966 Worlds. The Soviet Union won silver as a team.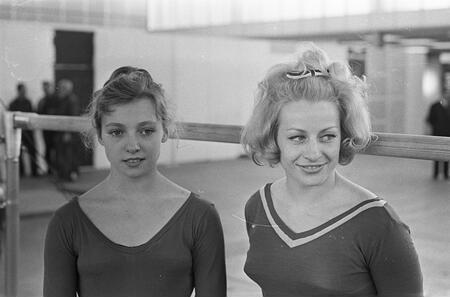 The Importance of the European Championships
While the World Championships and Olympics were held every four years, the European Championships were held every two years, during the odd-numbered years between Worlds and Olympics.
Because the top gymnastics teams were in Europe, the European Championships were often seen as a bellwether for the World Championships and Olympic Games on the women's side.
What's more, the organization of the European Championships fell under the purview of the FIG's Women's Executive Committee — just as the World Championships and Olympic Games did (Mademoiselle Gymnast, May/June 1968). That lent the competition more stature.
Taking the 10.0 International
Čáslavská had scored a 10.0 domestically at the Czechoslovak Nationals in June of 1966, but Čáslavská had never scored a 10.0 at an international event like the European Championships.
How to Score a 10.0
In 1967, there were five judges. (This would change in 1968.) The high and low scores were dropped, and the remaining three scores were averaged. That meant, to receive a 10.0, at least four of the five judges needed to give a gymnast a 10.0.
Gymnasts like Latynina, Druzhinina, and Čáslavská had received 10.0s from judges at major international competitions like the World Championships.
But on the women's side, no one had received enough 10.0s to receive a final score of 10.0 at a major international competition…
Until 1967.
(On the men's side, Albert Séguin of France scored the first 10 at the 1924 Olympic Games.)
---
Results
All-Around – Top 10
| | | | | | | |
| --- | --- | --- | --- | --- | --- | --- |
| Name | Country | VT | UB | BB | FX | Total |
| 1. Čáslavská | TCH | 9.833 | 9.433 | 9.833 | 9.866 | 38.965 |
| 2. Druzhinina | URS | 9.500 | 9.500 | 9.733 | 9.800 | 38.533 |
| 3. Krajčírová | TCH | 9.600 | 9.433 | 9.566 | 9.600 | 38.199 |
| 4. Janz | GDR | 9.533 | 9.433 | 9.733 | 9.366 | 38.065 |
| 5. Zuchold | GDR | 9.700 | 9.166 | 9.666 | 9.366 | 37.898 |
| 6. Oroszi | HUN | 9.333 | 9.400 | 9.566 | 9.266 | 37.565 |
| 7. Letourneur | FRA | 9.333 | 9.100 | 9.533 | 9.400 | 37.366 |
| 8. Karachka | BUL | 9.200 | 9.300 | 9.233 | 9.400 | 37.133 |
| 9. Kuchinskaya | URS | 9.600 | 7.766 | 9.766 | 9.833 | 36.965 |
| 10. Bánfai | HUN | 9.233 | 9.400 | 9.433 | 8.600 | 36.666 |
Source: U.S. Gymnast, August 1967
Side Horse Vault
| | | | | |
| --- | --- | --- | --- | --- |
| Gymnast | Country | AA | Finals | Total |
| 1. Čáslavská | TCH | 9.833 | 9.900 | 19.733 |
| 2. Zuchold | GDR | 9.700 | 9.833 | 19.533 |
| 3. Janz | GDR | 9.533 | 9.800 | 19.333 |
| 4. Krajčírová | TCH | 9.600 | 9.633 | 19.233 |
| 5. Kuchinskaya | URS | 9.600 | 9.600 | 19.200 |
| 5. Druzhinina | URS | 9.500 | 9.700 | 19.200 |
Source: U.S. Gymnast, August 1967
Uneven Parallel Bars
| | | | | |
| --- | --- | --- | --- | --- |
| Gymnast | Country | AA | Finals | Total |
| 1. Čáslavská | TCH | 9.433 | 9.766 | 19.199 |
| 2. Janz | GDR | 9.433 | 9.733 | 19.166 |
| 3. Krajčírová | TCH | 9.433 | 9.633 | 19.066 |
| 4. Druzhinina | URS | 9.500 | 9.466 | 18.966 |
| 5. Oroszi | HUN | 9.400 | 9.533 | 18.933 |
| 6. Bánfai | HUN | 9.400 | 9.500 | 18.900 |
Source: U.S. Gymnast, August 1967
Balance Beam
| | | | | |
| --- | --- | --- | --- | --- |
| Gymnast | Country | AA | Finals | Total |
| 1. Čáslavská | TCH | 9.833 | 10.000 | 19.833 |
| 2. Kuchinskaya | URS | 9.766 | 9.900 | 19.666 |
| 3. Druzhinina | URS | 9.733 | 9.766 | 19.499 |
| 4. Janz | GDR | 9.733 | 9.733 | 19.466 |
| 5. Krajčírová | TCH | 9.566 | 9.566 | 19.132 |
| 6. Zuchold | GDR | 9.666 | 9.433 | 19.099 |
Source: U.S. Gymnast, August 1967
Floor Exercise
| | | | | |
| --- | --- | --- | --- | --- |
| Gymnast | Country | AA | Finals | Total |
| 1. Čáslavská | TCH | 9.866 | 10.000 | 19.866 |
| 2. Kuchinskaya | URS | 9.833 | 9.900 | 19.733 |
| 3. Druzhinina | URS | 9.800 | 9.866 | 19.666 |
| 4. Krajčírová | TCH | 9.600 | 9.766 | 19.366 |
| 5. Filipescu | ROU | 9.433 | 9.733 | 19.166 |
| 6. Ceampelea | ROU | 9.500 | 9.533 | 19.033 |
Source: U.S. Gymnast, August 1967
---
Competition Footage
Čáslavská's Beam
New Beam Composition: She added a front handspring step-out to her routine. (Some might call it a fast front walkover.)
Imperfect 10.0: Čáslavská set a precedent. Like Comăneci's first 10.0 during compulsories at the 1976 Olympics, Čáslavská's routine had errors, including a small step on the landing. But Kuchinskaya had scored a 9.9 for her routine, and Čáslavská's routine was superior. So, the judges awarded her a 10.0.
Čáslavská's Floor
1966 Reprised: Čáslavská performed her 1966 routine to Smetana's "Vltava."
No Surprise: Gym nerds were skeptical of Čáslavská's 10.0s.
"That's impossible," insiders said at the time. "No exercise is perfect." ("Dat is onmogelijk, zeiden de insiders toen, geen enkele oefening is volmaakt." Het Vrije Volk, Oct. 26, 1968)
---
Golden Girl: A Newspaper Account
On May 29, 1967, the Dutch newspaper Utrechtsch Nieuwsblad ran an article about the competition. Below is a translation. (You can read the original text in Dutch here.)
—-
The Czech gymnast stayed ahead of all of her opponents and won all the gold medals.
VERA SUPREME
Kuchinskaya in second place
AMSTERDAM – Věra Čáslavská, the "golden girl of Prague," has shown top-level gymnastics again full of grace, charm, acrobatic saltos, beauty, bravery, and a with a great competition élan, she combined sports and art into a harmonious whole.
On Saturday, the prima ballerina from the Czech capital city underlined her supremacy in women's gymnastics in an unambiguous way and grabbed the highest possible title: the championship of Europe.
The way in which the 25-year-old blonde Czech did this, will be engraved in the almost 100 year-old books of the K.N.V.G.* in gold letters. The hegemony of Věra, in women's artistic gymnastics, has still not come to an end.
Plenty of joy for Věra Čáslavská; a piece of tragedy for the small Natalia Kuchinskaya. The Russian stayed in the race for the title until the last apparatus but lost the chance in a few seconds due to some unfortunate failures. In one fell swoop, she degraded from favorite to figurant.
A few seconds decided the biggest title fight. Věra Čáslavská started, by her own standards, very mediocre on the uneven bars. There was a hitch in her graceful and quick-paced uneven bar routine. She landed on the low bar with bent legs. Vera kept smiling, but the judges were unforgiving. She only received a 9.433. A debacle for "Golden Věra."
The bigger was the blow that the Czech received when her big opponent Natalia Kuchinskaya performed a flawless beam routine in another corner of the RAI Arena. Her perfect pirouettes were rewarded very high: 9.766.
Natalia felt that this was her chance. A perfect floor exercise, competed with the same elements as she did at the World Championships in Dortmund, got her a 9.833. The Czech drew deep in her rich arsenal of ornament and skill. Beam gave her, under thunderous applause, a 9.833, and her floor exercise performed to 'Moldau' by Smetana was an explosion of charm and it earned her the highest score of the afternoon: 9.866.
Failed
The fact that Natalia struggled to deal with this was noticeable on her easy piked handspring** over the vaulting horse: 9.6 and that was followed by more drama on the uneven bars. She missed her pirouette and fell. Natalia wasn't herself anymore when her hecht dismount completely failed. The judges were inexorable: 7.766.
A few seconds, simple failures turned her into a figurant. And when Věra competed a perfect Yamashita on vault : 9.833 it was clear who the champion was: the prima ballerina, the World-, Olympic- and European Champion had extended her title again.
In the shadows of the battle between Věra and Natalia, 40 other gymnasts competed for the silver and bronze medal. The Russian Zinaida Druzhinina grabbed the silver in peerless style. A second Czech gymnast, Marianna Krajčírová, replacement athlete for Jaroslava Sedláčková, took home the bronze.
It would go too far to talk about all the achievements on this unforgettable day of gymnastics, but the way the two Dutch girls Jannie Vierstra and Margo Klees were able to distinguish themselves was great. In this world-class gymnastics battle, it's actually very grand.
Fourteenth
The 20-year-old Margo Klees, daughter of a pastry chef from Beverwijk, had the meet of her life. All scores were well into the nines, and she ended in 14th place. Jannie Viersma was unlucky on the uneven bars, when she missed the connection from the high bar to the low bar. The judges were unforgiving in their judgment: 8.066, but with all other scores into the nines, Jannie ended in a deserving 23rd place. And that was much more than people had expected from the Dutch girls.
Věra Again
On Sunday, Věra Čáslavská, the Czech gymnast, stole the show in the RAI Arena in Amsterdam again. On the second day of competition, she wasn't scared of any of the competitors, not even on one of the apparatuses. Věra came, saw, and conquered. On Saturday, she won the all-around. On Sunday, she earned four more medals. She matched her top performance from the European Championships in Sofia in 1965, when she also won all (5) gold medals available.
Her class is unbelievably great. The level was also unbelievably high. What is the limit of human ability? In gymnastics, the achievements are still rising, and that in itself is very gratifying.
Věra started on vault with a beautiful piked handspring, for which she earned a 9.9. Almost perfect. On the uneven bars, she had fierce competition from Russia's Zinaida Druzhinina, but a small execution error cost the Russian the title. All 6 finalists were very talented. 15-year-old Karin Janz from East Germany got a thunderous ovation for her routine on the uneven bars. Her score: 9.733. Only 0.033 behind Věra. The judges had to express the difference in thousandths.
Five Tens
What the beam finalists showed was sublime. Natalia Kuchinskaya got a 9.9 for a perfect routine. And when Věra Čáslavská performed her routine right after that, the judges couldn't do anything but reward it with a 10.0. A unique event, something that had never happened in gymnastics before.
Věra's hegemony wasn't easy to break. During the floor exercise, where Smetana's music inspired her to such a phenomenal performance that Věra got another 10.
Is it a miracle that Věra Čáslavská stole the hearts of the four thousand spectators? Věra was the happiest girl in Amsterdam. She was so happy, that she gave her flower bouquet away to princess Margriet, who had been at the meet the entire afternoon with her husband Pieter van Vollenhoven.
*The Royal Dutch Gymnastics Association
**Kuchinskaya usually competed a half-on + half-off, so it would be surprising if she performed a Yamashita.
---
So What?
Why am I making such a hullabaloo about Čáslavská? Why should you care?
We, gym nerds, need to be careful how we tell our sport's history.
Just as Christian history is divided into a "before Christ" era and an "after Christ" era, gym nerds have tended to divide gymnastics history into the "before Nadia" and "after Nadia" eras.
With a few exceptions, the focus of gymnastics history has been on the "after Nadia" era, and there are consequences for this type of historiography: a lot of the accomplishments of "before Nadia" gymnasts have been forgotten.
Case in point
Čáslavská's 2x medal sweep at the European Championships.
Čáslavská was not the first gymnast to sweep all the gold medals at the European Championships. (Latynina did it in 1957. Tourischeva did it in 1973, and Boginskaya did it in 1990.)
But Čáslavská is the only non-Soviet gymnast to do it.
And, to date, Čáslavská is the only gymnast who has swept all five individual golds twice.
Case in point
Think about how many gymnastics books you've read that do not mention Čáslavská's two 10.0s at the European Championships.
For example, in Letters to a Young Gymnast (2004), Comăneci's ghostwriter implies that Nadia scored the first 10.0 ever, in any competition:
"I never set out to be 'Nadia–the first gymnast to receive a perfect 10 in competition, with a new power and body-type that would change the face of gymnastics forever."
Similarly, The End of the 10 traces the history of the 10.0 but never mentions Čáslavská's 10.0s in 1967.
Nota bene: I am not trying to question Comăneci's legacy. She was a phenomenal gymnast, whose performances left an indelible mark on the sport. Nor am I trying to bash the aforementioned authors. Each book made its own contribution to the history of gymnastics.
My point: We need to recognize that our sport's history builds upon itself, and while Comăneci was a unique gymnast, she was also part of the ongoing evolution of the sport.
To put it differently, what happened before Nadia is just as important as what happened after her — but we have barely scratched the surface of what happened before 1976.
Speaking of evolution…
---
The New Bars
If you watched the video of Kuchinskaya on uneven bars (above), you may have noticed something: the uneven bars have changed.
Starting with the 1967 European Championships, the FIG changed the type of uneven bars being used. You can read about them in the apparatus supplement from the time: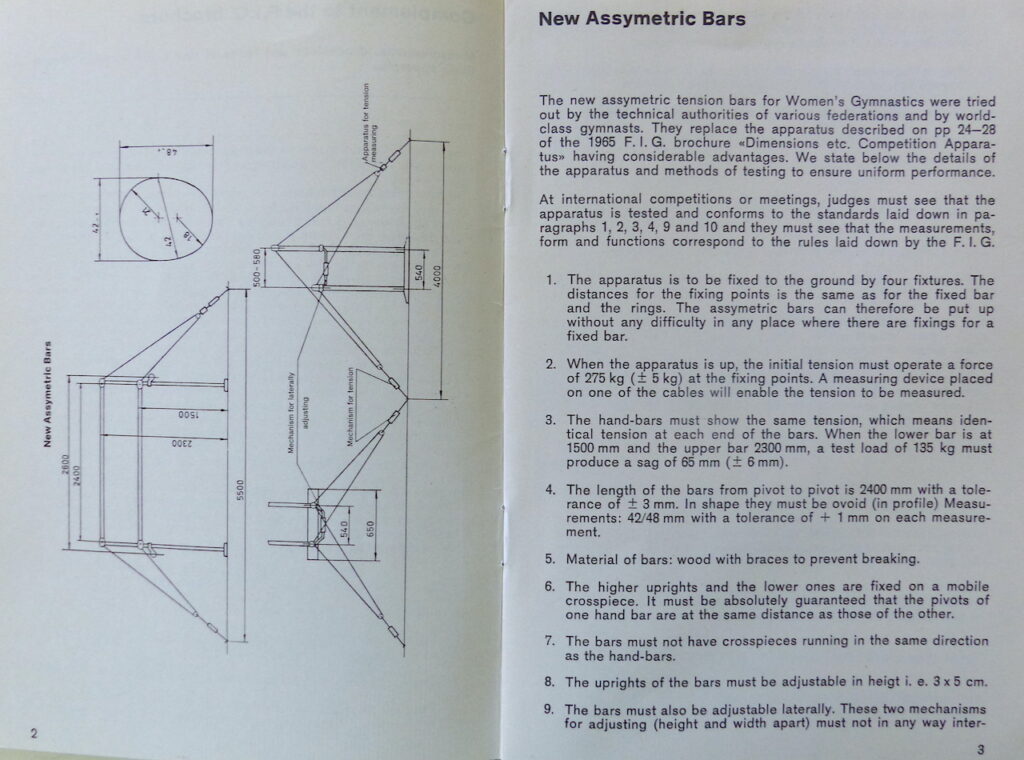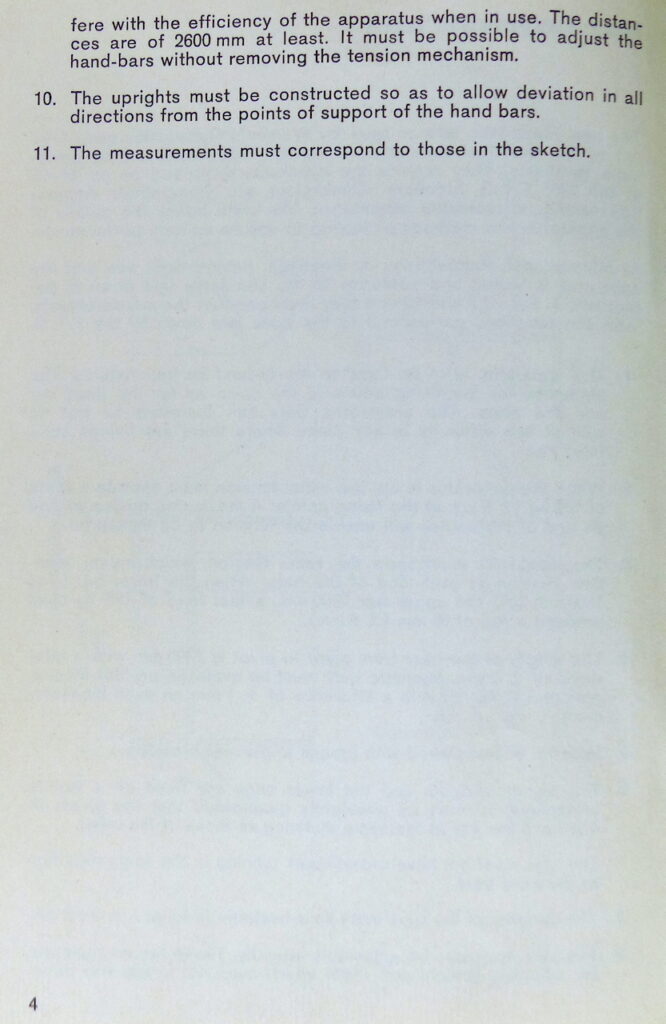 The women's technical committee wrote:
The former asymmetric bars have developed into asymmetric tension bars, and these are much better suited to this kind of apparatus.
That's it.
Using the cables, gymnasts could adjust the tension of the bars, and there was also a spreader that allowed the bars to be adjusted from 50 cm (19.69 in.) and 58 cm (22.83 in.). (Previously, the widest setting was 52 cm.) That's really close.
Nowadays, we no longer measure the width of the bars in this manner. Rather, the FIG measures the bar width as the distance from the high bar to the low bar (rather than the distance from one upright to the other upright). That distance is now between 130 cm (51.18 in.) and 180 cm (70.87 in.).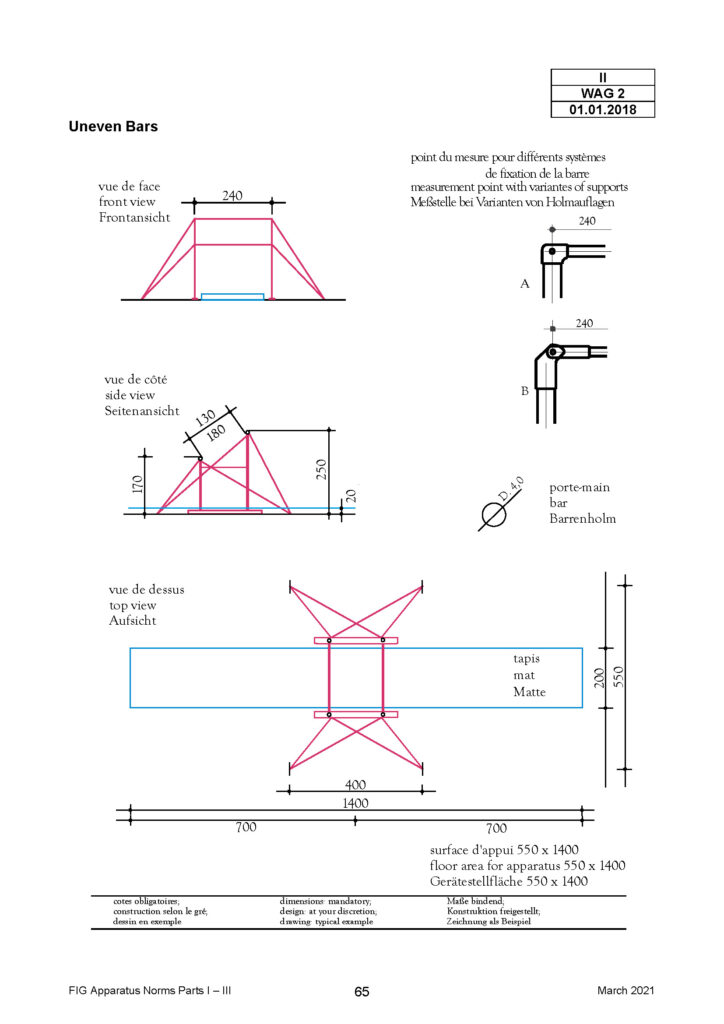 In 1967, the distance from the high to the low bar would have been about 94 cm (37 in.) to 99 cm (38.98 in.). So, a little more than half today's distance.
One more thing: compared to today's apparatus norms, both the high and low bars in 1967 were about 20 cm (7.87 in.) lower than they are today.
---
The Dutch Original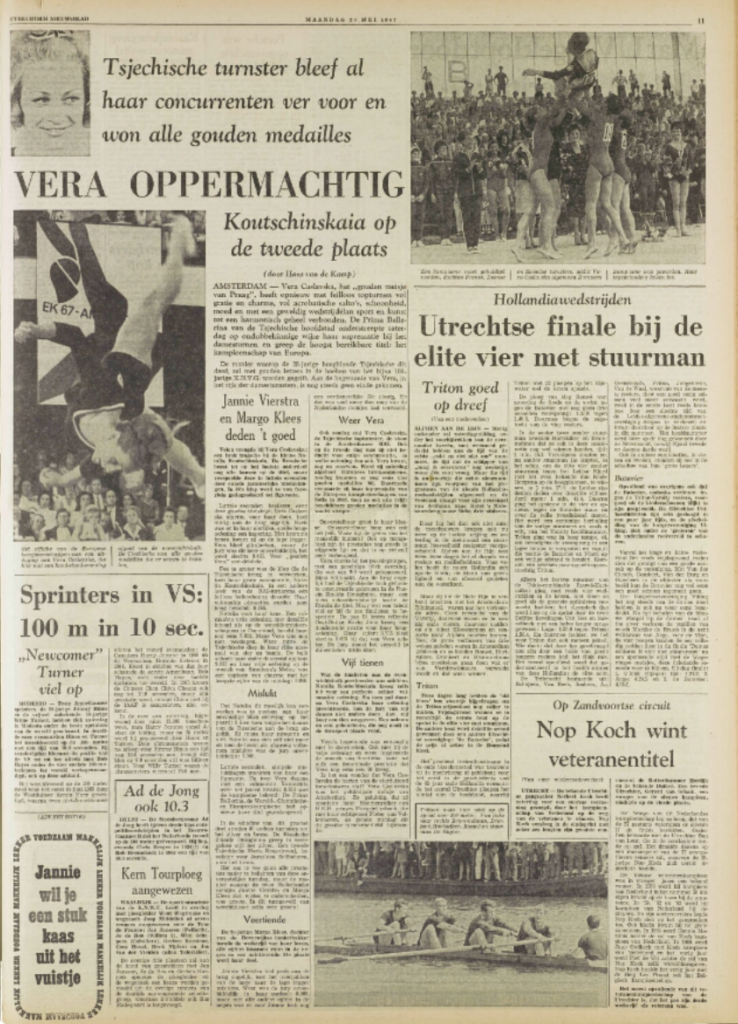 Tsjechische turnster bleef al haar concurrenten ver voor en won alle gouden medailles
VERA OPPERMACHTIG
Koutschinskaia op de tweede plaats
AMSTERDAM — Vera Caslavska, het "gouden meisje van Praag", heeft opnieuw met feilloos toptumen vol gratie en charme, vol acrobatische salto's, schoonheid, moed en met een geweldig wedstrijdélan sport en kunst tot een harmonisch geheel verbonden. De Prima Balle rina van de Tsjechische hoofdstad onderstreepte zaterdag op ondubbelzinnige wijze haar suprematie bij het damestumen en greep de hoogst bereikbare titel: het kampioenschap van Europa.
De manier waarop de 25-jarige hoogblonde Tsjechische dit deed, zal met gouden letters in de boeken van het bijna 100 – jarige K.N.V.G. worden gegrift. Aan de hegemonie van Vera, in het rijk der damesturnsters, is nog steeds geen einde gekomen.
Volop vreugde bij Vera Caslavska ; een brok tragedie biJ de kleine Natalia Koutschinskaia. De Russische bezat tot op het laatste onderdeel nog alle kansen op de titel, maar verspeelde deze in luttele seconden door enkele Jammerlijke mislulddngen. In één klap werd ze van favoriete sedegradeerd tot figurante.
Luttele seconden beslisten over deze grootse titelstrijd. Vera Caslavska startte, voor haar doen, heel matig aan de brug ongelijk. Even was er in haar sierlijke, snelle brugoefening een hapering. Met kromme ijenen Icwam zij op de lage legger. Vera bleef glimlachen, maar de jury was dit keer onverbiddelijk, het werd slechts 9.433. Voor "gouden Vera" een debacle.
Des te groter was de klap die de Tsjechische kreeg te verwerken, toen haar grote concurrente, Natalia Koutschinskaia, in een andere hoek van de RAI-tumarena een feilloze balkoefening draaide. Haar volmaakte pirouettes werden zeer hoog beloond: 9.766.
Natalia rook haar kans. Een volmaakte vrije oefening, met dezelfde inhoud als op de wereldkampioen schappen te Dortmund, bracht haar nog eens 9.833. Maar Vera was nog niet verslagen. Weer putte de Tsjechische diep In haar rijke arsenaal van sier en kunde. De balk schonk haar onder daverend applaus 9.833 en haar vrije oefening op de muziek van Smettena's Molau was een explosie van charme met het hoogste cijfer van de middag : 9.866.
Mislukt
Dat Natalia dit moeilijk kon verwerken was te merken aan haar eenvoudige bück overslag op het paard : 9.6 en toen volgde het drama van de Russische aan de brug ongelijk. Zij miste haar pirouette en viel. Natalia was zich zeU niet meer en toen de hecht als afsprong volkomen mislukte was de jury onverbiddelijk : 7.766.
Luttele seconden, simpele mislukkingen maakten van haar een figurante. En toen Vera daarna met een volmaakte Yamashita over het paard Irwam : 9.833 was de kampioene bekend : De Prima Ballerina, de Wereld -, Olympische – en Europeeskampioene had op – nieuw haar titel geprolongeerd.
In de schaduw van dit grootse duel streden 40 andere turnsters om het zilver en brons. De Russische Zinaide Drouginina greep in weergaloze stijl het zilver. Een tweede Tsjechische Maria Kraycirovaj, invalster voor Jaroslava Sedlackova nam het brons.
Het zou te ver gaan alle prestaties nader te belichten van deze onvergetelijke tumdag, maar de manier waarop de twee Nederlandse meisjes Jannie Vierstra en Margo Klees zich wisten te onderscheiden, was groots. In dit turngeweld van wereldklasse zelfs zeer groots!
Veertiende
De 20-jarige Margo Klees, dochter van de Beverwijkse banketbakker turnde de wedstrijd van haar leven, alle cijfers kwamen ruim in de negen en een schitterende Me plaats werd haar deel.
Jannie Vierstra had pech aan de brug ongelijk, toen het overpakken van de hoge naar de lage legger mislukte. Weer was de jury onverbiddelijk in haar oordeel: 8.066, maar met alle andere cijfers in de negen was er voor Jóinnie toch nog een verdienstelijke 23e plaatg, En dat was veel meer dan men van de Nederlandse meisjes had verwacht.
Weer Vera
Ook zondag stal Vera Caslavska, de Tsjechische topturnster, de show in de Amsterdamse RAI. Ook op de tweede dag was zij niet beducht voor enige concurrentie, in welke oefening dan ook. Vera kwam, zag en overwon. Werd zij zaterdag algeheel Europees tumkampioene, zondag kwamen er nog eens vier gouden medailles bij. Daarmede evenaarde zij haar topprestatie van de Europese kampioenschappen van Sofia in 1965, toen ze ook alle ( vijf ) beschikbare gouden medailles In de wacht sleepte.
Onverstelbaar groot is haar klasse. Onvoorstelbaar hoog was ook het peil. Waar Ugt de grens van hef menselijk kunnen? Ook op turngebied zijn de prestaties nog steeds in stijgende lijn en dat is op zichzelf zeer verheugend.
Vera startte bij het paardspringen, met een prachtige bück overslag, die met een 9.9 werd gehonoreerd. Bijna volmaakt. Aan de brug ongelijk had de Tsjechische toch geduchte concurrentie gekregen in de Russin Zinaide Drouginina, maar een klein schoonheidsfoutje kostte de Russin de titel. Maar wat een talent viel er bij de zes finalisten te be – speuren. De pas 15 lentes tellende Oost-Duitse Karin Janz kreeg een donderende ovatie voor haar brug – oefening. Haar cijfer : 9.733 bleef slechts 0.033 bij dat van Vera achter. De jury moest het verschil in duizendsten uitdrukken.
Vijf tienen
Wat de finalisten aan de even – vvichtsbalk presteerden wa.s subliem. Natalia Koutschinskaia kreeg zelfs 9.9 voor een perfecte schier volmaakte oefening. En toen pal daar na Vera Caslavska haar oefening presenteerde, kon de jury van vijf dames niet anders doen dan vijf keer een tien weggeven. Een unicum en een gebeurtenis, die nog nooit in de turnsport plaats vond.
Vera's hegemonie was eenvoudig niet te doorbreken. Ook niet bij de vrije oefening en weer inspireerde de muziek van Smettena baar tot zulk een fenominale prestatie dat Vera nog eens een 10 kreeg.
Is het een wonder dat Vera Caslavska de harten van de vierduizend toeschouwers stal ? Vera Caslavska was het gelukkigste meisje van Amsterdam. Zo gelukkig, dat zij spontaan haar bloemenruiker aan H.K.H, prinses Margriet schonk, die met haar echtgenoot Pieter van Vollenhoven, de gehele middag dit dit grootse tumevenement bijwoonde.