In 1950, women competed at their third World Championships, and guess what happened.
The vault judges botched the scoring so badly that they had to be replaced.
Who said that old gymnastics meets were boring?
Oh, and unlike the 1934 and 1938 World Championships, the competitors did not compete in track and field events in 1950. (The men did.)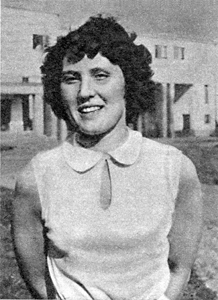 Results | Swiss Coverage | Rakoczy's Refusal | Flying Rings vs. Uneven Bars | Opinions from Judges and FIG Officials | Appendix A: Luxembourgish Coverage | Appendix B: The 1996 Judging Fiasco
Reminder: You can read about the rules for the women's competition in 1950 here.
Judges
Superior Judges
Beam: Taylor, GBR
Vault: Herpich, HUN
Bars and Flying Rings: Herpich, HUN
Floor Exercise: Villancher, FRA
The Judges by Country
Belgium: Coutelle, Sevryns, Dever
Yugoslavia: Sepa, Madjic
Poland: Zavaada, Skirlinska
Italy: Beretta, Gotta, Rosati
Sweden: Näsmark, Ljunggen
France: Jacquot, Berger, Bagot
Austria: Endres, Luft
Note: Berthe Villancher claimed that there was a lot of partisan judging at the meet.
Results
Team Results
According to the July 17, 1950 edition of Der Bund, these were the standings after compulsories:
Italy — 273.716
Sweden — 268.016
France — 266.333
Yugoslavia — 261.483
Poland — 260.883
Sweden stood out during compulsories. But beam cost them.
[Sweden] is the squad that the writer of these lines liked best from the start. The soft, relaxed movements during floor exercise; the impeccable posture on the balance beam, where they, however, were the unlucky ones; the beautiful, elegant approach when vaulting; all this revealed great training, which creates momentum and rhythm in the smallest muscle bundles.

Es ist die Riege, welche dem Schreiber dieser Zeilen von vornherein am besten gefiel. Die weiche, lockere Bewegungsführung bei den Freiübungen; die tadellose Haltung auf der Schwebekante, bei welcher sie allerdings den Pechvogel markierten; das schöne, elegante Anschweben beim Pferdsprung; das alles verriet hohe Schule, die Schwung und Rhythmus in die kleinsten Muskelbündel schafft.

Luxembourg's Le Gymnaste, September 25, 1950
Meanwhile, during compulsories, the French…
[…]did excellently on floor and parallel bars, but appeared very excited on the balance beam and had to record a few falls, and were among the best on vaulting.

[…]welche an Boden und Barren vorzügliches leisteten, auf der Schwebekante jedoch sehr aufgeregt erschienen und einige Abstürze zu verzeichnen hatten, am Sprungpferd wiederum zu den besten zählten.

Luxembourg's Le Gymnaste, September 25, 1950
Reminder: A fall was a 2-point deduction.
Final Team Results
Reminder: The maximum would have been 680 points.
Team Ensemble Results
In addition to the team all-around results, there were awards for the team ensemble routines.
Sweden: 72.8
Yugoslavia: 70.0
France: 69.2
Poland: 68.2
Belgium: 66.4
Italy: 65.4
Austra: 64.2
All-Around Results
According to the July 17, 1950 edition of Der Bund, the leaders after compulsories were:
Rakoczy, Helena, POL, 36.533
Pettersson, Ann-Sofie, SWE, 36.483
Reindlowa, Stefania, POL, 36.100
Micheli, Laura, ITA, 35.650
Macchini, Licia + Marja Nutti, ITA, 34.950
Rakoczy stood out immediately:
Among [the Polish team], the world champion Helen Rakoczy attracted attention right away on this first day with her calmness, precision, and security.

Bei ihnen fiel gleich an diesem ersten Tage die Weltmeisterin Helen Rakoczy durch ihre Ruhe, Präzision und Sicherheit auf.

Luxembourg's Le Gymnaste, September 25, 1950
Final All-Around Results
Reminder: The maximum would have been 100 points.
Note: To this day, Rakoczy's all-around title is Poland's highest all-around placement.
You can see part of Rakoczy's beam routine here:
And part of Rakoczy's floor routine here:
Reminder: Women's artistic gymnasts wouldn't use floor music until the 1958 World Championships in Moscow.
Event Results
Reminder #1: There weren't event finals at the time.
Reminder #2: The maximum score would have been a 25. (10 for the compulsories and 15 for the optionals.)
Vault
Balance Beam
Flying Rings or Uneven Bars
Note: Only Rakoczy and Gerbec competed on uneven bars. The rest of the top finishers competed on flying rings.
Floor Exercise
---
Swiss Coverage of the Event
What follows is a translation of an article from the Gazette de Lausanne on July 18, 1950. The opening paragraphs give you an idea of how certain countries viewed women's sports at the time.
⁂ ⁂ ⁂
Grace combined with strength made the beauty of the women's events
Regrettable absence of the Swiss women
Many were the spectators of the world championships in Basel, most notably the female gymnasts from our country, who wondered why Switzerland had not delegated a women's team, whereas our representatives could have won, just like their male comrades, great laurels in the Schützenmatte Stadium. The reason is that the leaders of our federation do not want to put our ladies in competition, considering that the latter is not reserved for representatives of the weaker sex. Are they wrong, are they right?
For our part, and based solely on the Basel performances and events, we are convinced that the female gymnasts lose neither their grace nor their dignity when they descend into the arena, and that the composition of the gymnastics program such as it was presented in Basel could not affect their physical condition in any way.
The Compulsory Program
The ladies, in fact, had to present 4 exercises in the following areas: Beam: on a beam about 5 meters long, each competitor had to engage in flexibility and balance exercises, in acrobatic maneuvers where all their muscles were working. The compulsory and optional exercises allowed us to witness beautiful, always harmonious movements.
The second event – optional and compulsory – consisted of a suspension exercise, either on the uneven bars or on the rings, the apparatus generally chosen and where the ladies swung gracefully.
Vault, which many of the competitors performed by doing a handstand and which required a normal vault with tight legs for the compulsory exercises, and the floor exercises — which obviously best suit the temperament of the woman and her capabilities — completed the range of these presentations.
There was of course an ensemble exercise by national teams, we will come back to that.
Competitors and Their Achievements
In the individual classification, first place went very clearly to the beautiful Polish athlete Helena Rakoczy. Those who saw her on Sunday afternoon, admirably adorned in her bright, red outfit, will have seen the usefulness of practicing gymnastics. The Polish woman, in addition to the general title, won three individual events, on beam, on floor exercise, and on vault, while the suspension exercises were won jointly by the Austrian Kolar and the Swede Petërsson.
We have long expected the final victory of the friendly Italian team. They were ranked first in the compulsory routines, and their routines had the good fortune to please the public by their good quality. But the graceful Swedes, each one more blond and slender than the next, made a remarkable effort on Sunday. They managed to achieve the team victory thanks to the excellent performances of their individual competitors and their ensemble exercise. The French women also fought fiercely, finishing immediately behind the Nordic women.
Group Exercises
On a podium on the ground, the various national teams performed on Sunday morning, with the accompaniment of music for the performances, which were left to the sole inspiration of the coaches. The competitors were only required to have some kind of apparatus: ball, hoop, or rope in this case.
We saw admirable performances. The Swedes — dressed in white, a red ball in their hands — did wonders, and their ensemble was perfect.
The French women, with a resplendent hoop, the Italians (with the same instrument), the Poles, the Belgians with their ropes were very remarkable but less than the Yugoslavs who took second place with a presentation quite similar to that of the Swedish.
About the Jury
An incident, which had no adverse consequences, marked the vault exercises on Saturday afternoon: while the Italians presented their optional vault, the jury, who did not sufficiently judge their handstand vaults, was strongly booed. Finally, the Italian team left without finishing their exercise; and the audience applauded. There was no ill will on the part of the judges. Rather, it was a matter of incompetence, due to the fact that there had been no international competition since 1938. [This is not true. The Olympics happened in 1948.]
An interesting fact, which is symbolic of the chivalrous spirit which reigned in Basel, the failing jury was replaced, all the teams presented themselves again before a new judging tribunal and the incident was settled.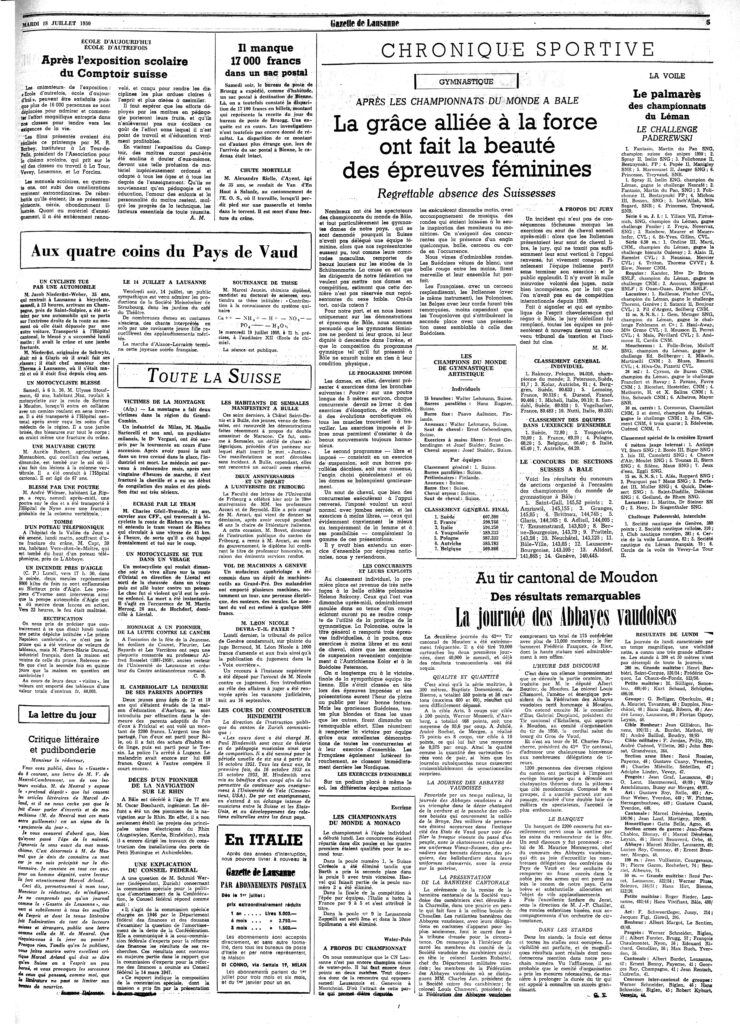 ⁂ ⁂ ⁂
Note #1: This wasn't the only time that the judges botched the scoring at a World Championship. It happened in 1996, too. Learn more here.
Note #2: If you want more coverage of the women's competition, check out the Luxembourgish coverage below.
Note #3: Valerie Herpich (Nagy) was the superior judge on vault when the debacle happened in 1950. She was also at the center of a judging controversy at the 1968 Olympics.
---
Rakoczy's Refusal
In the article translated above, the author states that all the teams redid their vaults after the vault judges were deemed unfit to judge.
That's mostly true — except for the fact that one gymnast refused to redo her vaults with the new judges in place.
That gymnast was the all-around winner, Helena Rakoczy.
Controversial classification

The judges were closely monitored and it happened that the vault judges did not have a firm grasp, which meant that all gymnasts had to complete this discipline again with a new jury. Helena Rakoczy, who recorded 94.016 points including the vault and could be considered world champion, refused to repeat vault. It is not listed in the provisional final classification of the individual all-around, and the jury will have to decide who will finally win the world title.

Umstrittenes Klassement

Die Kampfgerichte wurden scharf überwacht und es ereignete sich, dass die Kampfrichter für den Pferdsprung nicht sattelfest befunden wurden, was zur Folge hatte, dass sämtliche Turnerinnen diese Disziplin mit einer neuen Jury nochmals zu absolvieren hatten. Helena Rakoczy, die zusammen mit dem ersten Pferdsprung 94,016 Punkte notierte und als Weltmeisterin gelten konnte, weigerte sich, die Hebung zu wiederholen. Im provisorischen Schlussklassement des Einzelwellkampfes ist sie nicht aufgeführt und die Jury wird zu entscheiden haben, wem der Weltmeistertitel endgültig zufallen wird.

Der Bund, July 17, 1950
In other words, the all-around scores for the rest of the field were based on scores from the second set of vault judges, but Rakoczy's all-around score was based on scores from the first set of vault judges.
So, the ensuing debate was whether she could be crowned world champion using a vault score from a different judging panel.
In the end, the organizers recognized her 94.016 and named her the world champion.
---
Swinging Rings vs. Uneven Bars
At the 1950 World Championships, gymnasts had the choice of flying rings or uneven bars. The Swiss coverage above suggested that flying rings were commonly chosen.
But that's not true. Only two teams chose to perform on the flying rings.
Only 2 nations performed swinging rings: Sweden and Austria. The rest chose parallel bars, with bars set at 2.30 and 1.50, a wonderful piece of equipment, especially for women's gymnastics.

Schaukelringe turnten nur 2 Nationen: Schweden und Oesterreich. Die übrigen wählten den Barren, dessen Holme auf 2,30 und 1,50 standen, ein wunderbares Gerät, besonders für das Frauenturnen.

Luxembourg's Le Gymnaste, September 25, 1950
Note: The minutes from the FIG congress also confirm this:
Regarding the choice of the suspension apparatus, only two nations have opted for the rings: SWEDEN AND AUSTRIA.

Concernant le chois de l'engin de suspension, deux nations seulement ont opté pour les anneaux: SUEDE ET AUTRICHE.
The choice of flying rings or uneven bars made judging difficult.
A certain anomaly was that sub 3 could choose one or the other apparatus. This created uncertainty from the outset, since it could not be easy, especially in the optional exercise, to bring the rating on one apparatus to the same level as that on the other. Nevertheless, there were no objections in this regard.

Eine gewisse Anomalie bestand darin, dass man sub 3 das eine oder andere Gerät wählen konnte. Dadurch bestand von vornherein eine Unsicherheit, da es besonders in der Kürübung nicht leicht sein konnte, die Wertung an dem einen Gerät mit jener an dem andern auf einen gleichen Nenner zu bringen. Dennoch gab es in dieser Hinsicht keine Beanstandungen.

Luxembourg's Le Gymnaste, September 25, 1950
Note: "Sub 3" refers to the choice between flying rings and uneven bars
As we already saw, most of the top finishers on the suspension apparatus chose flying rings.
The optional routines on flying rings were monotonous.
The flying rings always offered the same picture: a lot of swings, some nice intermediate pieces and a high dismount, which amazed the layman, but we can by no means get enthusiastic about this apparatus in competition.

Die Schaukelringe boten immer das gleiche Bild: viel Schaukeln, manch schöne Zwischenstücke und hoher Abgang, der den Laien zum Staunen trieb, wir können uns aber für dieses Gerät im Wettkampf keineswegs begeistern.

Luxembourg's Le Gymnaste, September 25, 1950
Meanwhile, spectators were pleasantly surprised by the performances on uneven bars. They didn't use the low bar as a balance beam.
On the parallel bars [optionals], we were surprised with peak performances that we hadn't expected and that happily highlighted the device's uniqueness in combining swing, support, and hang elements. (It wasn't "a balance beam with a support bar" that our gymnasts let themselves be tempted to do with bridges, splits, and the like!)

Am Barren wurden wir mit Spitzenleistungen überrascht, die wir uns nicht erwartet hatten, und die die Eigenart des Gerätes für Verbindung von Schwung, Stütz und Hang in glücklicher Weise hervorkehrten. (Es war nicht «eine Schwebekante mit Stützstange», zu welcher Uebungsart unsere Turnerinnen sich mit Brücke, Spagat und dgl. Verleiten lassen!)

Luxembourg's Le Gymnaste, September 25, 1950
My thought bubble: It's not surprising that the women's technical committee voted against flying rings for the 1952 Olympic Games. Only two countries chose to perform on the apparatus, and the optional routines were practically compulsory. Plus, as we'll see in the next section, there was resistance to the apparatus in the gymnastics community.
Additional Opinions from Judges and FIG Officials
The following opinions were gathered in Revue de l'Éducation Physique et du Sport, Oct/Nov. 1950.
Pierre Hentgès
At the time, Hentgès was the President of the Luxembourg Gymnastics Federation and the Secretary of the Men's Technical Committee at the FIG. He chaired the technical committee meetings in 1949, which led to the 1949 Code of Points. In 1954, he became the President of the Men's Technical Committee.
He was against the swinging rings.
As for the choice left to the competitors, between the swinging rings and the bars at 2 heights, I believe that it was only a stopgap. It is impossible to judge these two apparatus on the same basis. I remain a convinced opponent of the swinging rings as a competition apparatus.

Quant au choix laissé aux concurrentes, entre les anneaux balançants et les barres à 2 hauteurs, j'estime que ce ne fut qu'un pis-aller. Il est impossible de juger ces deux engins sur la même base. Je reste un adversaire convaincu des anneaux balançants comme engin de concours.
The competitors don't know how to use the low bar
On uneven bars, too many competitors do not know how to properly use the lower bar, but it will come.

Aux barres doubles, trop de concurrentes ne savent pas utiliser comme il conviendrait la barre inférieure, mais cela viendra.
Judging Suggestions
Harmonize the technical regulations and codes of points for ladies and men.

Why score once on 10, once on 15? Why a difference in scoring for falls?

The system of four judges plus one referee seems sufficient.

Identifier les règlements techniques et les codes de pointage des dames et des hommes.

Pourquoi noter une fois sur 10, une fois sur 15 ? Pourquoi une différence d'appréciation sur les chutes ?

Le système de quatre juges plus un arbitre paraît suffisant.
Reminder: The women's compulsories were judged out of 10 and optionals out of 15. Whereas the women had five judges, the men had four judges and a referee (superior judge). Hence the need to harmonize both the men's and women's judging.
Make the ensemble exercises their own competition
They were of quality, but I am for their removal in a world championship. Better to make it a special competition.

Elles furent de qualité, mais je suis pour leur suppression dans un championnat du monde. Mieux vaudrait en faire une compétition spéciale.
Note: This would eventually happen in 1963, when rhythmic gymnastics (gymnastique moderne) would have its own World Championships.
Floor exercise needs music
Those performed by the ladies are too acrobatic, and elegant sequences are lacking. It would be desirable that they were performed with musical accompaniment. The Slavs strongly insist that this also be the case with men.

Ceux exécutés par les dames sont trop acrobatiques, et les enchaînements élégants font défaut. Il serait souhaitable qu'ils fussent exécutés avec accompagnement musical. Les Slaves insistent vivement pour qu'il en soit également ainsi pour les hommes.
Note: The women would use floor music starting with the 1958 World Championships.
Andrée Jacquot
Ms. Jacquot was an international judge and the secretary of the French Interfederal Women's Committee.
On the progress of the French women
Since the London Games, the French have progressed by leaps and bounds. The pre-Olympic training period made it possible to work together and created the homogeneity necessary for any ensemble event, such as rhythm.

Our gymnasts still have to acquire this extreme ease of dancing which will allow them to "free themselves" to better "express themselves."

Depuis les Jeux de Londres, les Françaises ont progressé à pas de géants. Les stages préolympiques ont permis le travail en commun et créé l'homogénéité nécessaire à toute épreuve d'ensemble, comme la rythmique.

Nos gymnastes ont encore à acquérir cette extrême facilité à danser qui leur permettra de se « libérer » pour mieux « s'exprimer ».
On uneven bars
The apparatus pleases and responds to the physical possibilities of young girls.

L'engin plaît et répond aux possibilités physiques des jeunes filles.
Optional exercises on the beam
The falls are fewer, the sequences more learned and the movements more difficult than in London in 1948. Currently, Italy, Yugoslavia and France seem to have the most assurance and have figured out the form to be given to any exercise on the beam.

Les chutes sont moins nombreuses, les enchaînements plus savants et les mouvements plus difficiles qu'à Londres en 1948. Présentement. Italie. Yougoslavie et France semblent avoir le plus sûrement compris la forme à donner à tout exercice à la poutre.
Berthe Villancher
At the time, Villancher was an international judge and secretary of the Women's Technical Committee of the FIG. Villancher would later become the president of the Women's Technical Committee.
Compulsory exercises
Lots of text errors, rhythm errors, and few perfect executions.

Beaucoup d'erreurs de texte, de rythme et peu d'exécutions parfaites.
On the optional exercises
Big evolution in this work where acrobatics takes an increasingly precise part in spite of the opposition of some nations.

Doing something beautiful and difficult is a path where you should venture out with caution.

Grosse évolution dans ce travail où l'acrobatie prend une. part de plus en plus précise malgré l'opposition de quelques nations.

Faire beau et difficile est un chemin où il convient de nt s'aventurer qu'avec circonspection.
Note: Villancher never departed from this path. She would continue to preach against performing too much difficulty at the expense of execution.
Lots of bias in judging
They were not always up to their task. Numbers in hand …. we see that depending on the team judged, the score varied too significantly. It would be desirable for a team of absolutely neutral judges to be formed.

Ils ne furent pas toujours à la hauteur de leur tâche. Chiffres en mains…. on constate que suivant l'équipe jugée, la note variait trop sensiblement. Il serait souhaitable que l'on constituât une équipe de jurés absolument neutres.
Jean A. Latte
Jean Latte was the Secretary-General of the French Federation of Gymnastics at the time.
The experiment of both uneven bars and flying rings didn't work.
For our part, we had the feeling that the judges, despite their goodwill, gave higher scores to the gymnasts who had chosen the rings (Swedes in particular) than the most skilful competitors on bars. The experiment was inconclusive. Have the courage not to not renew it.

Pour notre part, nous avons eu le sentiment que les jurés, malgré leur bon vouloir, ont donné des notes plus élevées aux gymnastes qui avaient choisi les anneaux (Suédoises en particulier) qu'aux concurrentes les plus habiles aux barres. L'expérience n'a pas été concluante. Ayons le courage de ne pas la renouveler.
---
Appendix A: Additional Coverage from Luxembourg
On Optional Floor Exercise: The Italian gymnasts were too flashy.
When it came to calisthenics, I liked the Swedes best, even though their exercises weren't peppered with such acrobatic feats. The Italians could have spared themselves some showmanship. The French showed high-quality rhythmic art by combining dance and acrobatics with verve and chic.

Bei den Freiübungen gefielen mir wiederum die Schwedinnen am besten, trotzdem ihre Uebungen nicht so mit akrobatischen Bravourstücken gespickt waren. Die Italienerinnen hätten sich manche Effekthascherei ersparen können. Die Französinnen zeigten hochwertige rhythmische Kunst, indem sie Tanz und Akrobatik mit Schwung und Chic zu verbinden wussten.

Luxembourg's Le Gymnaste, September 25, 1950
Another account of the vault fiasco.
The unheard of happened on vault: one squad was so disappointed with the scoring that they left the terrain in protest, followed by a second. It took all the energy of the competition organizers to create order: a new jury was formed, all sections that had already performed had to start again — and so, despite everything, the whole thing ended in harmony.

Auf dem Sprungbrett geschah das Unerhörte: eine Riege war von der Wertung derart enttäuscht, dass sie unter Protest das Terrain verliess, gefolgt von einer zweiten. Es bedurfte der ganzen Energie der Wettkampfleitung, um Ordnung zu schaffen: Man bildete ein neues Jury-korps, alle Sektionen mussten, soweit sie bereits passiert waren, neu antreten, — und so endete trotz allem das Ganze in Harmonie.

Luxembourg's Le Gymnaste, September 25, 1950
Well, almost everyone vaulted again.
The hoop was the most popular hand apparatus, and the Austrians knew how to use it best.
The group gymnastics. – The hoop seems to be preferred as this device allows for beautiful connections. The French offered excellent choreographic variety and had some difficult positions, but for us, the hoop, with its twists and turns, seemed to be of secondary importance. The same can be said of the Italians, while the Austrians knew best how to use the peculiarity of the device.

Das Gruppenturnen. – Der Reifen scheint bevorzugt zu sein, da dieses Gerät wunderschöne Verbindungen ermöglicht. Die Französinnen boten vortreffliche choreographische Abwechslungen und hatten manch schwierige Stellungen, aber uns schien für sie der Reifen mit seinen Drehungen und Schwüngen eher Nebensache zu sein. Aehnliches kann man von den Italienerinnen sagen, während die Oesterreicherinnen die Eigenart des Gerätes am besten zu verwerten wussten.

Luxembourg's Le Gymnaste, September 25, 1950
The Polish gymnasts used too much wrist and not enough body when they swung the clubs.
Poland in the bright red dress brought club exercises. With extreme dexterity, they mastered the trickiest swings in the wrist, but this club swinging neglects too much "body" exercise, and this is precisely what matters, which is why, in our opinion, modern club swinging is rightly structured differently.

Polen im knallroten Kleid brachte Keulenübungen. Mit äusserster Geschicklichkeit meisterten sie zwar die knifflichsten Schwünge im Handgelenk — aber dieses Keulenschwingen vernachlässigt allzusehr die «Körper»-Uebung, und auf diese kommt es gerade an, weshalb das moderne Keulenschwingen nach unserer Auffassung mit Recht anders aufgebaut ist.

Luxembourg's Le Gymnaste, September 25, 1950
Sweden had evolved and was stunning with their ball work.
Yugoslavia and Sweden did gymnastics with balls. This device also has its own character, and both squads did justice to it to a large extent. The Swedes were by far the best. "They completed the whole program of physical and movement training with the ball", which, like their apparatus and floor exercises, gave an impressive picture of their extensive skills and modern Swedish women's gymnastics, in which, however, there was absolutely nothing left of that stubborn and rigid pedantry of the old Swedish school, against whose adherents we had to defend ourselves so much at the time. The final victory of the Swedes, which was already in sight, was now certain.

Mit Bällen turnten Yougoslawien und Schweden. Auch dieses Gerät hat seine Eigenart, und beide Riegen wurden derselben in weitgehendem Maasse gerecht. Die Schwedinnen waren weitaus die besten. «Sie absolvierten mit dem Ball das ganze Programm der Körper- und Bewegungsbildung», die wie ihr Gerät- und Bodenturnen ein eindrucksvolles Bild abgaben ihres umfangreichen Könnens und des modernen schwedischen Frauenturnens, in welchem aber auch rein gar nichts mehr von jener sturen und starren Pedanterie der alten Schwedenschule übriggeblieben ist, gegen deren Anhänger wir uns seinerzeit so sehr zu wehren hatten. Der Endsieg der Schwedinnen, welcher schon in Sicht war, stand nunmehr fest.

Luxembourg's Le Gymnaste, September 25, 1950
---
Appendix B: The 1996 Judging Fiasco
When the World Championships were held in 2021, it had been 25 years since there was a World Championships in the same year as the Olympic Games. In 1996, though, the World Championships in San Juan preceded the Olympics in Atlanta.
Here's a little judging anecdote that has been forgotten over the years.
Judges' miscue highlights gym championships

Not even the judges could nail down their routine at the 1996 World Gymnastic Championships on Thursday when the men and women began their semifinals.

The judges were forced to revise the finishing order in the uneven parallel bars semifinal after a revision showed they had given the wrong starting values to several gymnasts.

The judges' mishap worked in favor of Romania's Lavinia Milosovici, who had finished in 12th place in the original order but moved all the way up to first in the revision.

The Daily Yomiuri, April 20, 1996