The men's gymnastics competition at the 1948 Olympics was a bit chaotic, but by all accounts, it was an exciting competition between the Swiss and the Finnish teams. (Though, there were a fair amount of complaints about the judging.)
At the time of this writing, I have not found any extant competition footage. But the newspaper accounts paint a fairly clear picture of the competition and its controversies.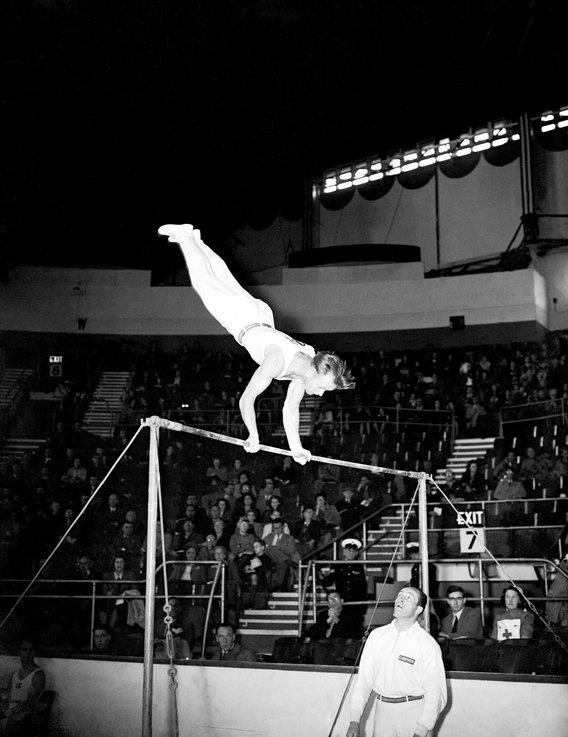 Historical Context | Results | General Commentary | Finnish Commentary | Swiss Commentary | Czechoslovak Commentary | U.S. Commentary | Judging | Documents
Historical Context
A few dates to remember:
May 7, 1945: General Alfred Jodl signed surrender documents for all German forces.
September 2, 1945: Japanese Emperor Hirohito signed the documents of surrender
November 20, 1945: The Nuremberg Trials began
May 3, 1946: The Tokyo War Crimes Tribunal began
October 1, 1946: The Nuremberg Trials ended
November 12, 1948: The Tokyo War Crimes Tribunal ended
September 8, 1951: The Treaty of San Francisco is signed, re-establishing relations between Japan and the Allied Powers.
In other words, while the fighting in World War II had ended before the London Olympics in 1948, diplomatic relations had not resumed.
On top of that, a new fight between democracy and communism was emerging. An article in the Chicago Daily Tribune touched upon this:
In a world still engaged in a struggle to decide whether it will remain free or succumb to totalitarian dictatorship, Wembley is a symbol of that struggle. Today Bulgaria, from behind the iron curtain of Red Russia, announced its withdrawal because of "transportation difficulties."

Russia, of course, never entered the international competition. However, athletes are here from Poland, Czechoslovakia, and Yugoslavia. Defeated Italy has sent its teams. Germany and Japan, still outlawed because of the war, were not permitted to compete.

Chicago Daily Tribune, July 29, 1948
It's important to note that World War II did have an impact on the gymnastics community. Here's a partial list of the male Olympic gymnasts who died during World War II:
Abraham d'Oliveira, NED, Sobibór concentration camp
Alfred Flatow, GER, Theresienstadt concentration camp
Gustav Flatow, GER, Theresienstadt concentration camp
Jan Gajdoš, TCH
Isidore Goudeket, NED, Sobibór concentration camp
Győző Halmos, HUN, Mauthausen-Gusen concentration camp
Mozes Jacobs, NED, Sobibór concentration camp
Elias Melkman, NED, Auschwitz-Birkenau concentration camp
Nicolaas Moerloos, BEL
Abraham Mok, NED, Auschwitz-Birkenau concentration camp
František Pecháček, TCH, Mauthausen-Gusen concentration camp
Janez Porenta, YUG
Gino Ravenna, ITA, Auschwitz-Birkenau concentration camp
Paolo Salvi, ITA, Mauthausen-Gusen concentration camp
Jonas Slier, NED, Auschwitz-Birkenau concentration camp
Ladislav Vácha, TCH
Israel Wijnschenk, NED, Auschwitz-Birkenau
Also: The Winter War was fought between Finland and the Soviet Union after the USSR invaded Finland in November 1939. A prominent figure in the world of Finnish gymnastics died as a result:
But today we must not forget Jyrä Nykänen, the coach who fell in the Winter War

Men i dag får vi inte glömma Jyrä Nykänen, tränaren som stupade i vinterkriget

Hufvudstadsbladet, October 14, 1948
---
Results
Team Standings after Compulsories
| | |
| --- | --- |
| Country | Compulsory Score |
| 1. Finland | 899.35 |
| 2. Switzerland | 893.30 |
| 3. Hungary | 877.95 |
| 4. France | 870.70 |
| 5. Czechoslovakia | 854.10 |
| 6. Italy | 843.95 |
| 7. Denmark | 823.45 |
| 8. United States | 808.25 |
| 9. Yugoslavia | 746.20 |
| 10. Luxembourg | 722.20 |
| 11. Austria | 684.35 |
| 12. Great Britain | 662.60 |
| 13. Egypt | 657.85 |
| 14. Cuba | 539.30 |
| 15. Argentina | 426.95 |
| 16. Mexico | 178.10 |
Those were the compulsory totals for the top 8 gymnasts from each team, but it was impossible to predict a team's final score based on the compulsory numbers.
According to the rules, at the very end of the competition, each team subtracted the all-around scores of its 7th- and 8th-ranked gymnasts in the all-around.
And a team's 7th-ranked all-arounder after compulsories might not be its 7th-ranked gymnast at the end of the competition.
For example, Thalmann of Switzerland had the sixth-highest compulsory total (110.3) on his team, but his all-around score ended up being subtracted from the team total because his total all-around score after optionals landed him in 7th place on the Swiss team.
Team Finals
Country
Rank after
Compulsories
Final Total
1. Finland
1
1,358.30
2. Switzerland
2
1,356.70
3. Hungary
3
1,330.85
4. France
4
1,313.85
5. Italy
6
1,300.30
6. Czechoslovakia
5
1,292.10
7. United States
8
1,252.50
8. Denmark
7
1,245.40
9. Austria
11
1,212.15
10. Yugoslavia
9
1,194.80
11. Luxembourg
10
1,150.45
12. Great Britain
12
1,114.40
13. Egypt
13
1,057.95
14. Cuba
14
950.70
15. Argentina
15
863.85
16. Mexico
16
343.85
For complete results, see the Official Report.
Reminder: The maximum team score was 1,440 points.
Team Switzerland made up some ground in the optionals. But ultimately, vault and — to a lesser degree — pommel horse were the Swiss team's downfalls.
Here's a comparison of Finland's and Switzerland's counting scores on each event. This table combines compulsories and optionals.
| | | |
| --- | --- | --- |
| Event | Finland | Switzerland |
| Floor | 216.20 | 215.90 |
| Pommel Horse | 226.50 | 225.10 |
| Rings | 225.30 | 228.90 |
| Parallel Bars | 232.10 | 232.30 |
| Horizontal Bar | 228.90 | 232.40 |
| Vault | 229.30 | 222.10 |
| Total | 1,358.30 | 1356.70 |
All-around after Compulsories – Top 10
| | | |
| --- | --- | --- |
| Gymnast | Country | Comp. Total |
| 1T. Huhtanen, Veikko | FIN | 114.50 |
| 1T. Stalder, Josef | SUI | 114.50 |
| 3. Lehmann, Walter | SUI | 114.10 |
| 4T. Aaltonen, Paavo | FIN | 113.80 |
| 4T. Figone, Guido | ITA | 113.80 |
| 6. Růžička, Zdeněk | TCH | 113.70 |
| 7. Studer, Emil | SUI | 113.60 |
| 8. Kipfer, Christian | SUI | 113.40 |
| 9. Savolainen, Heikki | FIN | 113.05 |
| 10T. Sántha, Lajos | HUN | 112.90 |
| 10T. Dot, Raymond | FRA | 112.90 |
All-Around Finals – Top 15
Gymnast
Country
Rank
after
Comp.
Comp.
Opt.
Total
1. Huhtanen
FIN
1T
114.50
115.20
229.70
2. Lehmann
SUI
3
114.10
114.90
229.00
3. Aaltonen
FIN
4T
113.80
115.00
228.80
4. Stalder
SUI
1T
114.50
114.20
228.70
5. Kipfer
SUI
8
113.40
113.70
227.10
6. Studer
SUI
7
113.60
113.00
226.60
7. Růžička
TCH
6
113.70
112.50
226.20
8. Laitinen
FIN
12
112.75
112.90
225.65
9. Figone
ITA
4T
113.80
111.50
225.30
10T. Rove
FIN
14T
112.20
113.00
225.20
10T. Toth
HUN
14T
112.20
113.00
225.20
12. Teraesvirta
FIN
13
112.50
112.50
225.00
13. Sántha
HUN
10T
112.90
111.40
224.30
14. Savolainen
FIN
9
113.05
110.90
223.95
15. Lucy
SUI
16
111.90
111.40
223.30
Reminder: The maximum was 240 points.
What happened to Stalder? He was tied with Huhtanen after compulsories.
Here's a comparison of Stalder's and Huhtanen's optional scores.
| | | |
| --- | --- | --- |
| Event | Stalder | Huhtanen |
| Floor | 18.40 | 18.50 |
| Pommel Horse | 18.40 | 19.50 |
| Rings | 19.50 | 19.10 |
| Parallel Bars | 19.80 | 19.60 |
| Horizontal Bar | 19.90 | 19.60 |
| Vault | 18.20 | 18.90 |
Pommel horse and vault got to Stalder during the optionals portion of the competition.
Here's what the Swiss press said about Stalder's pommel horse performance:
Stalder, who was very important in this exercise, was a little nervous and finished his work too early.

Stalder sur qui l'on comptait beaucoup dans cet exercice, a été un peu nerveux et a terminé trop tôt son travail.

L'Impartial, August 14, 1948
My thought bubble: It's not clear what the Swiss newspaper means when they said he finished his routine too early. According to the rules, a fall was 1.5 to 2 points. So, my guess is that Stalder just dismounted early when he was off-balance or pretended like his fall was his dismount.
Top Performances on Each Apparatus
Note: There weren't event finals. Placements on each apparatus were based on a gymnast's compulsory and optional scores.
Floor Exercise
| | | | | |
| --- | --- | --- | --- | --- |
| Gymnast | Country | Comp. | Opt. | Total |
| 1. Pataki | HUN | 19.30 | 19.40 | 38.70 |
| 2. Mogyorósi-Klencs | HUN | 19.50 | 18.90 | 38.40 |
| 3. Růžička | TCH | 19.10 | 19.00 | 38.10 |
| 4. Dot | FRA | 18.80 | 19.00 | 37.80 |
| 5. Gronne | DEN | 18.45 | 19.20 | 37.65 |
| 6T. Benetka | TCH | 18.90 | 18.70 | 37.60 |
| 6T. Sotorník | TCH | 18.80 | 18.80 | 37.60 |
| 8. Karas | TCH | 18.80 | 18.60 | 37.40 |
| 9. Sántha | HUN | 18.90 | 18.40 | 37.30 |
| 10T. Mathiot | FRA | 18.50 | 18.70 | 37.20 |
| 10T. Zanetti | ITA | 18.60 | 18.60 | 37.20 |
Pommel Horse
| | | | | |
| --- | --- | --- | --- | --- |
| Gymnast | Country | Comp. | Opt. | Total |
| 1T. Huhtanen | FIN | 19.20 | 19.50 | 38.70 |
| 1T. Aaltonen | FIN | 19.20 | 19.50 | 38.70 |
| 1T. Savolainen | FIN | 19.30 | 19.40 | 38.70 |
| 4. Zanetti | ITA | 18.90 | 19.40 | 38.30 |
| 5. Figone | ITA | 19.00 | 19.20 | 38.20 |
| 6. Cumiskey | USA | 18.80 | 19.10 | 37.90 |
| 7. Reusch | SUI | 18.60 | 19.20 | 37.80 |
| 8T. Stalder | SUI | 19.30 | 18.40 | 37.70 |
| 8T. Studer | SUI | 18.70 | 19.00 | 37.70 |
| 8T. Saarvala | FIN | 19.20 | 18.50 | 37.70 |
Rings
| | | | | |
| --- | --- | --- | --- | --- |
| Gymnast | Country | Comp. | Opt. | Total |
| 1. Frei | SUI | 19.80 | 19.80 | 39.60 |
| 2. Reusch | SUI | 19.50 | 19.60 | 39.10 |
| 3. Růžička | TCH | 18.80 | 19.70 | 38.50 |
| 4. Lehmann | SUI | 19.20 | 19.20 | 38.40 |
| 5T. Stalder | SUI | 18.80 | 19.50 | 38.30 |
| 5T. Studer | SUI | 18.90 | 19.40 | 38.30 |
| 7. Karas | TCH | 18.90 | 19.30 | 38.20 |
| 8. Savolainen | FIN | 19.00 | 19.10 | 38.10 |
| 9T. Rove | FIN | 18.80 | 19.10 | 37.90 |
| 9T. Baranyai | HUN | 18.70 | 19.20 | 37.90 |
Note: Frei is an example of a gymnast whose all-around total didn't count toward the team total. But he still won an individual event medal.
Parallel Bars
| | | | | |
| --- | --- | --- | --- | --- |
| Gymnast | Country | Comp. | Opt. | Total |
| 1. Reusch | SUI | 19.80 | 19.70 | 39.50 |
| 2. Huhtanen | FIN | 19.60 | 19.60 | 39.20 |
| 3T. Stalder | SUI | 19.30 | 19.80 | 39.10 |
| 3T. Kipfer | SUI | 19.70 | 19.40 | 39.10 |
| 5. Lehmann | SUI | 19.50 | 19.50 | 39.00 |
| 6. Savolainen | FIN | 19.20 | 19.70 | 38.90 |
| 7T. Aaltonen | FIN | 19.00 | 19.80 | 38.80 |
| 7T. Růžička | TCH | 19.60 | 19.20 | 38.80 |
| 9. Sántha | HUN | 19.40 | 19.30 | 38.70 |
| 10. Rove | FIN | 19.50 | 19.10 | 38.60 |
Horizontal Bar
| | | | | |
| --- | --- | --- | --- | --- |
| Gymnast | Country | Comp. | Opt. | Total |
| 1. Stalder | SUI | 19.80 | 19.90 | 39.70 |
| 2. Lehmann | SUI | 19.70 | 19.70 | 39.40 |
| 3. Huhtanen | FIN | 19.60 | 19.60 | 39.20 |
| 4T. Saarvala | FIN | 19.00 | 19.80 | 38.80 |
| 4T. Studer | SUI | 19.50 | 19.30 | 38.80 |
| 4T. Sántha | HUN | 19.40 | 19.40 | 38.80 |
| 4T. Dot | FRA | 19.30 | 19.50 | 38.80 |
| 8. Teraesvita | FIN | 19.50 | 19.20 | 38.70 |
| 9T. Kipfer | SUI | 19.20 | 19.40 | 38.60 |
| 9T. Toth | HUN | 19.00 | 19.60 | 38.60 |
Vault
| | | | | |
| --- | --- | --- | --- | --- |
| Gymnast | Country | Comp. | Opt. | Total |
| 1. Aaltonen | FIN | 19.60 | 19.50 | 39.10 |
| 2. Rove | FIN | 19.60 | 19.40 | 39.00 |
| 3T. Pataki | HUN | 19.00 | 19.50 | 38.50 |
| 3T. Mogyorósi-Klencs | HUN | 18.90 | 19.60 | 38.50 |
| 3T. Sotorník | TCH | 19.10 | 19.40 | 38.50 |
| 6. Huhtanen | FIN | 19.50 | 18.90 | 38.40 |
| 7. Teraesvita | FIN | 19.30 | 19.00 | 38.30 |
| 8T. Salmi | FIN | 19.20 | 18.90 | 38.10 |
| 8T. Lehmann | SUI | 19.00 | 19.10 | 38.10 |
| 10T. Laitinen | FIN | 19.30 | 18.70 | 38.00 |
| 10T. Studer | SUI | 19.20 | 18.80 | 38.00 |
| 10T. Toth | HUN | 18.90 | 19.10 | 38.00 |
| 10T. Várkõi | HUN | 18.60 | 19.40 | 38.00 |
Top Score of the Competition — 19.9
Stalder – High Bar – Optionals
---
General Commentary
It was a bit disorganized.
The only thing that left something to be desired was the organization. Until the end, the English relied on improvisation. Their welcome was always charming, their goodwill unfailing, but very little had been planned before the competitions began.

La seule chose qui a laissé à désirer fut l'organisation. Jusqu'à la fin, les Anglais se sont fiés à l'improvisation. Leur accueil était toujours charmant, leur bonne volonté sans défaillance, mais fort peu de chose avait été prévu avant que débutent les compétitions.

L'Impartial, August 17, 1948
The Finnish team was the most experienced, and it showed.
There is no doubt that champions of any sport require experience as well as skill to perform at the high standard of the Olympic Games, and it was noticeable that this was present in several of the teams. This was sometimes reflected in the age of the team. For instance, Finland's average age was 33.7, whilst that of Great Britain was 27.5. The main evidence of the experience of the Finnish team, however, was in their controlled movements, their perfect timing and all the other qualities which, combined, enabled them as a team to come out on top. These same comments apply to a great extent also to the Swiss team, the runners-up.

The Official Report of the Organising Committee for the XIV Olympiad
The gymnastics competition had to be rescheduled and moved indoors because of rain.
Owing to the rain-soaked condition of the turf at Wembley Stadium and the resulting humidity making it impossible to use apparatus, it has been found necessary to cancel the Gymnastics programme for to-day, Tuesday, and Wednesday.

Sessions will be held at the Empress Hall, Earls Court on Thursday, Friday, and Saturday of this week and tickets already issued will be available for those three days at Earls Court.

Yorkshire Evening Post, August 9, 1948
Originally, before the rain delay, the plan was to keep the three-day competition schedule. However, it ended up being a two-day competition.
Originally, the men were supposed to compete compulsories on all events and optional vault on August 9.
During the morning of August 10, the men were supposed to finish their optional exercises, except for the top four teams from August 9. Those teams were scheduled to perform their optionals in the afternoon on August 10.
On August 11, if it was possible, there would be an exhibition of the top men on each event.
The rain made the event organizers alter those plans.
Because the gymnastic competition was postponed three days on account of weather conditions and moved indoors to Empress Hall, it was a rather confused schedule, but Hon. Secretary Simmonds of Britain's Amateur Gymnastic Association and his large corps of workers really did a wonderful job in finishing the three-day program in two days.

Report of the United States Olympic Committee, XIV Olympiad
Empress Hall was a bit chilly and chaotic with men's and women's competitions being held simultaneously.
It was too cold in Empress Hall, and all the teams suffered. There was also a lack of a space. Although the rectangular arena was very spacious, it was difficult to compare current men's and women's competitions, and it was no wonder there was a dispute between the top teams.

V Empress Hallu bylo syrové chladno, kterým všechna družstva krutě trpěla. Neblaze také působila tíseň o místo. Třebaže obdélná manéž byla velmi prostorná, těžko se v ní srovnaly současné závody mužů a žen a nebylo divu, docházelo-li mezi družstvy ke sporům o místo.

Sokol, 1948, 8-9
There wasn't assigned seating during the competition. Audience members moved from location to location to cheer on their teams.
In general, the competition had a somewhat bazaar effect, optically and musically, especially when the music, accompanied by the group exercises, joined this weird commotion. Consider as well the constant relocation of the audience, which moved to that section of the auditorium where it was closest to their favorite Teams; think of their noisy cheering, and you get a complete picture of a loud kaleidoscope, which, however, did not add any calm or concentration to any of the competitors.

Vůbec působila soutěž poněkud bazarově nejen opticky, ale i sluchově, zvláště když se do vřavy připojila hudba, doprovázející skupinová cvičení. Přimyslete si k tomu ještě stálé stěhování obecenstva, které se přemisťovalo do onoho úseku hlediště, kde bylo nejblíže svému družstvu, jeho hlučné podněcování a máte barvitý obraz halasného kaleidoskopu, který ovšem nikomu ze závodníků nepřidal ani klidu, ani soustředěnosti.

Sokol, 1948, 8-9
---
Finnish Competition Notes
The Finnish training strategy leading up to the Olympics
We had trained hard for a period, then rested for two days, then trained hard again and then rested the last two days before the competitions, and that turned out to be the right way.

Vi hade gått in för att träna hårt en period, därpå vila två dagar, så träna hårt igen och så vila de två sista dagarna före tävlingarna, och det visade sig vara det rätta sättet.

Hufvudstadsbladet, August 14, 1948
The Finnish team used a score-building strategy for their lineups.
The Finnish team followed the tactic of putting in the weakest first and saving the trump cards for the end. The result was that the climax was reached in the right way, which certainly also affected the judges' assessment.

Den finländska lagledningen följde den taktiken att sätta in de svagaste först och spara trumfkorten till sist och följden var att klimax nåddes på rätt sätt, vilket med säkerhet även Inverkade på domarnas bedömning.

Hufvudstadsbladet, August 14, 1948
Heikki Savolainen's did an inadvertent one-armed giant
There was an occasion when one of the Finnish team missed his grasp on the horizontal bar—during a "long swing "—and swung round the bar on one arm. His beautiful recovery into a different movement without a break in rhythm drew a roar of applause from the knowledgeable people nearby, and the judges showed their appreciation of the clever recovery by only a small penalisation in the marking.

The Official Report of the Organising Committee for the XIV Olympiad
According to the Official Report, there was only a small penalty for the mistake, but the Finnish press told a different story.
There was a judging dispute after Savolainen's routine with his one-armed giant.
He invested too much and the beginning of the movement went perfectly, but then he took a little too big of a risk, his hand let go. However, he mastered the difficult situation superbly, continued, and finished with a beautiful swan jump. Two judges showed 8.8 and one had over 9, but the fourth judge, a Swiss, shook his head and showed 7.5. The Swiss, who were were just ahead in the competition and protested against the verdict, rushed over. It all resulted in a five-minute discussion, which, however, ended with Savolainen getting 17.6, i.e. the sum of the two middle scores.

Han satsade på för fullt och början av rörelsen gick perfekt, men så tog han en aning för stora risker, ett grepp brast. Han bemästrade emellertid den svåra situationen suveränt, fortsatte och avslutade med ett vackert svanhopp. Två domare visade 8,8 och en hade över 9, men den fjärde domaren, en schweizare, skakade på huvudet och visade fram 7,5. Schweizarna, som inom parentes strax höll sig framme och protesterade i ett mot domsluten, rusade till och det hela resulterade i ett fem minuters parlamenterande, som emellertid slutade med att Savolainen fick 17,6, alltså summan av de två mellersta noteringarna.

Hufvudstadsbladet, August 14, 1948
Teräsvirta ended his routine with a full-twisting layout flyaway.
Teräsvirta ended his movement with a full-twisting layout flyaway, a dismount that has never been performed before in any competition.

Teräsvirta och avslutade sin rörelse med en sjömansvolt med helskruv, ett hopp som aldrig tidigare utförts vid någon tävling.

Hufvudstadsbladet, August 14, 1948
Note #1: I cannot verify whether this was, in fact, the first time someone performed this dismount.
Note #2: Thanks to the Swedish Twitter gymternet and the people at the Swedish federation who tried to help me figure out what a "sjömansvolt" is.
Note #3: Both Saarvala and Huhtanen did double backs as their dismounts (dubbelvolt).
The Finnish team was happy to end on vault.
Then only the vault remained, and, on this apparatus, the risks of failure were lower because each participant had to perform two jumps, of which the best was counted.

Sedan återstod endast hoppen och i den grenen var riskerna för ett misslyckande mindre, emedan varje deltagare fick utföra två hopp av vilka det bästa räkna-des.

Hufvudstadsbladet, August 14, 1948
At the end of the competition, no one knew what was going on.
While the Finnish team was competing, we had hardly had time to give the Swiss a thought. We were aware that they did not match our scores on pommel horse and vault, but on the other hand they did brilliant performances on rings. No results or points were announced. Everyone had to try to keep up to date with the situation to the best of their ability, and when we added up our scores, we could only state that Finland presumably must have won.

Medan det finländska laget kämpade hade vi knappast hunnit ägna schweizarna en tanke. Vi konstaterade bara i förbigående att de inte kom upp till våra poäng på häst, och inte heller i hoppen, men däremot gjorde de över lag strålande prestationer på ringar. Några resultat eller poäng kungjordes inte. Var och en fick själv försöka hålla sig å jour med läget efter bästa förmåga, och när vi summerade ihop våra anteckningar kunde vi bara konstatera att Finland i all rimlighets namn måste ha vunnit.

Hufvudstadsbladet, August 14, 1948
The Official Report concurs that it was a bit of an imbroglio.
The hurried rearrangement of the event from Wembley to Empress Hall made it impossible to provide for a Scoreboard on which to record the progress of events, and recourse had to be made to the loudspeaker. This proved to be a drawback in many ways; firstly, the announcements tended to interfere with the competitors; secondly, it distracted the spectators when they wanted to watch something especially interesting; and thirdly, it was found that people did not really listen after a time, and consequently announcements which needed action did not get the attention required.

The Official Report of the Organising Committee for the XIV Olympiad
---
Swiss Commentary Notes
Joseph Stalder was the top gymnast coming in.
He finished first at their trials.
Joseph Stalder, 115.50
Walter Lehmann, 113.55
Christian Kipfer, 111.65
Robert Lucy, 110.90
Karl Frey, 110.85
Melchor Thalmann, 110.25
Source: Gazette de Lausanne, July 5, 1948
Stalder flubbed his first attempt on compulsory high bar.
Our team had a bad moment because we saw Joseph Stalder make a mistake. Fortunately, our representative resumed the exercise with extraordinary calm and obtained not only the best Swiss score but the absolute best result with 19.8.

Notre équipe a passé par un mauvais moment car l'on a vu Joseph Stalder trébucher. Notre représentant heureusement, a recommencé avec un calme extraordinaire l'exercice et il a obtenu non seulement la meilleure note suisse mais le meilleur résultat absolu avec 19,8.

L´Impartial, Augustt 13, 1948
Reminder: Male gymnasts could repeat their compulsory routines.
Pommel horse was a struggle for the Swiss team.
During compulsories…
On pommel horse, the Swiss were less brilliant. None of our representatives except Studer exceeded the score 19.

Au cheval, les Suisses ont été moins brillants. Aucun de nos représentants sauf Studer n'a nu dépasser la note 19.

L'Impartial, August 13, 1948
…and during optionals.
Our [routines on pommel horse] unfortunately are not as precise and virtuosic as the Finns and are losing ground.

Les nôtres malheureusement ne sont pas aussi précis et virtuoses que les Finlandais et perdent un peu de terrain.

L'Impartial, AUgust 14, 1948
But in the final analysis, it was vault that was the undoing for the Swiss…
…and the press blamed the vault judges and the change of competition dates.
In gymnastics, we finished 1.5 points behind the Finns. You might even think that, if the competition had not been moved by three days and if we had had less severe judges on vaulting, we would have taken first place in the international standings. Obviously, the deferment of the competitions and the waiting had a psychological effect on our representatives, while the placid and phlegmatic Finns did not have the same reaction. In addition, on vault, the results recorded were significantly lower than our usual performances. If we want to remember that after the imposed exercises, we are six points behind that we have failed to make up, we can only consider ourselves satisfied.

En gymnastique, nous terminons à 1,5 point des Finlandais. On peut même penser que si la compétition n'avait pas été déplacée de trois jours et si nous avions eu des juges moins sévères au saut de cheval, nous aurions enlevé la première place au classement international. Visiblement, le renivoi des concours et l'attente ont eu un effet psychologique sur nos représentants, alors que les placides et flegmatiques Finlandais n'ont pas eu les mêmes réactions. De plus, au saut de cheval, les résultats enregistrés ont été très nettement inférieurs aux performances habituelles des nôtres. Si l'on veut bien se rappeler qu'après les exercices imposés, nous avons six points de retard que nous avons manqué combler, on ne peut que s'estimer satisfait.

L'Impartial, August 17, 1948
---
Czechoslovak Commentary
Unlike the Swiss, the Czechoslovak team was happy to have a few extra days due to the rain delay.
Postponement of the competition partially benefited our representatives because some had time to recover from the disease. Only the women had to start without E. Mišáková, who is very seriously ill and lies in a hospital.

Odsunutie súťaže našim reprezentantom čiastočne prospelo, pretože niektorí sa mali čas zotaviť z chrooby. Len ženy musely nastúpiť bez E. Mišákovej, ktorá je veľmi ťažko chorá a leží v nemocnici.

Ľud, August 14, 1948
The men's team had several injuries.
Karas had a deep ulcer on his knee, Benetka a bruised thumb and Sotorník a painful wrist.

Karas měl hluboký vřed na koleně, Benetka pohmožděný palec a Sotorník bolestivé zápěstí.

Sokol, 1948, 8-9
The Czechoslovak contingent thought that the judging was guided by the public, and it heavily favored the Northern Europeans.
The great judges were influenced by the audience, which cheered especially for the northerners, especially the Swiss. For example, the Hungarian judged our competitors worse than others on rings, and the Swiss and the English helped the Swiss gymnast by judging him half a point better than he deserved. Our judges underestimated the competitors.

Vel'ký vplyv na rozhodcov malo obecenstvo ktoré prialo najmä severanom, hlavne Švajčiarom. Pri prostých ocenil napríklad Maďar našich borcov horšie od ostatných na kruhoch Švajčiar a Angličan pomohli Švajčiarovi a ocenili pól bodá lepšie než si tó zaslúžil. Našich pretekárov však podceňovali.

Ľud, August 14, 1948
The Finnish and the Swiss were too loud.
Each of the two leading teams brought with them a large colony of compatriots, and they celebrated every good score of their gymnasts so loudly that the others could barely perform.

Každé z oboch vedúcich mužstiev priviezlo so sebou početnú kolóniu krajanov, a tí oslavovali každučkú dobrú sostavu svojho borcu tak hlučne, že ostatní sotva mohli cvičiť.

Práca August 16, 1948
The Czechoslovak team couldn't train much during World War II.
The Sokols have been waiting for this moment for ten years. While others continued their systematic training even during the wars, we only vegetated.

Desať rokov čakali sokoli na túto chvíľu. Zatiaľ čo iní aj za vojny viedli svoj systematický výcvik, u nás sa iba živorilo.

Práca August 16, 1948
Reminder: Germany occupied Czechoslovakia during World War II.
Czechoslovakia was between generations of gymnasts, and their competitors were inexperienced.
The London Games caught us at the turn of the generations, and the team, made up almost entirely of newbies, was given a very responsible task. Technically, the team was not totally at the Olympic level, especially when the bar and the horse were not finished, physically struggled with indispositions before and during the race, and psychologically lacked support in international experience. So far, other nations have made extensive progress in the 12 years since the last Berlin Games. But it would be too unfair to judge sixth place in the Olympic games as a failure.

Londýnské hry nás přistihly právě na zlomu generací a na družstvo, složené téměř celé z nováčků, byl vložen úkol velmi odpovědný. Technicky nebylo družstvo plně na olympijské výši, zejména hrazda a kůň na šíř byly nedohotoveny, fysicky zápasilo před závodem i při něm s indisposicemi a psychologicky mu chyběla opora v mezinárodní zkušenosti. Zatím učinili druzí národové v době 12 let od posledních her berlínských netušený pokrok. Ale bylo by příliš nespravedlivé hodnotit šesté místo na čestné olympijské tabuli jako neúspěch.

Sokol, 1948, 8-9
The Czechoslovak men won the team title at the 1938 World Championships, and even though they fell to sixth at the 1948 Olympics, they thought the future was bright.
But the biggest surprise was the performance of the Hungarians, French, and Italians. There has been an improvement that we will have to catch up with! We'll talk about everything after the Olympics. But again, only those who do not understand things well enough can be disappointed by the placement of the men of our country. Because we, on the other hand, have a very good hope for the near future. We start with quite young people and how we saw Ružička, Benetku and Karas, as we have seen them overcome their injuries and fight in an environment that did not suit them for judging, so we look today with the greatest hopes for the very near future.

Ale najväčším prekvapením boly výkony Maďarov. Francúzov a aj Talianov. U nich nastalo zlepšenie, ktoré budeme musieť doháňať! O všetkom si povieme po olympiáde. Ale opäť môže byť umiestením mužov u nás sklamaný iba ten, kto veci dosť dobre nerozumie. Lebo my, naopak, máme veľmi dobrú nádej do najbližšej budúcnosti. Začíname s celkom mladými ľuďmi a ako sme tu videli Ružičku, Benetku a Karasa, ako sme ich videli prekonávať zranenia a bojovať v v prostred, ktoré im pri rozhodovaní neprialo, tak hľadíme aj dnes s najväčšími nádejami do veľmi blízkej budúcnosti.

Práca August 16, 1948
Czechoslovakia was proud of its apparatus finishes.
Then we got three bronze medals, which they won in the individual race by brother Růžička for rings and calisthenics and Sotorník for long-horse vault. If we add to these successes the other three sixth places that won Karas in the rings, Benetka and Sotorník equally in the floor exericse, our Sokols stood on the winning line eight times, which is more than a third of the 22 Czechoslovak successes achieved in London. So the Sokol competitors deserve a big thank you and recognition for their Olympic performances.

Tím více pak tří bronzových medailí, které získali v závodě jednotlivců br. Růžička za kruhy a za prostná a Sotorník za koně na dél. Přičteme-li k těmto úspěchům další tři šestá místa, o která se zasloužili Karas na kruzích, Benetka a Sotorník stejným dílem v prostných, zjistíme, že se naši Sokolové umístili čestně osmkrát, což jest více než třetina z 22 československých úspěchů v Londýně dosažených. Zaslouží si tedy sokolští borci za své olympijské výkony dík a uznání.

Sokol, 1948, 8-9
---
U.S. Commentary
The U.S. Olympic Team (as a whole) was short on money.
Avery Brundage today notified the committees controlling the American Olympic team that it will be "necessary to curtail the squads unless funds are subscribed before the ship sails for London July 14."

[…]

Owen V. Van Vamp, Olympic treasurer, revealed that out of a budget of $500,000, only $330,00 is in hand. Another $80,000 is pledged, leaving a deficit of $90,000.

It had been planned to take 385 athletes to England for the Games starting July 29. A deficit of $90,000 could result in 70 being left home.

Brundage said he had sent a special appeal to 5,000 individuals asking for help.

Los Angeles Times, July 7, 1948
According to the Los Angeles Times (July 13, 1948), most athletes sailed to London on the S.S. America out of Pier 61 in New York City. The fencing and yachting teams traveled on the British Liner Queen Elizabeth. The men's swimming and water polo teams flew.
Injury to Louis J. Bordon
Louis J. Bordon of Philadelphia, a member of the United States men's team, injured his ankle in a fall from the horizontal bar. Bordon, 28, hit his heel on the bar during a dismount and fell to the mat. He was taken to a hospital.

New York Times, August 13, 1948
The U.S. team believed that the team was at a disadvantage because they used a different set of rules for domestic meets.
This shortcoming of previous U. S. gymnastic teams is due to our present misunderstanding of true gymnastics. Our national rules and system of gymnastics continue, most unfortunately, to deviate from the international rules in some important respects. In addition, we have collegiate rules and an entire gymnastic set-up which are entirely different from international requirements. How can the United States expect to compete with marked success, or even fair success, internationally when many of our promising men are not trained under rules which conform with international requirements? Until we establish uniformity of rules we cannot hope to select and prepare a really formidable team for Olympic competition.

Report of the United States Olympic Committee, XIV Olympiad
---
On the Judging
The judges flashed their scores all at the same time.
That's how the Finnish team was able to observe the Swiss judge's score on high bar.
The fact that the people stayed in their seats throughout the day demonstrated the fact that they were deeply interested in the events. The visual method of judging did much to stimulate this interest. By this method, when the competitor has finished his exercise, the four judges show the marks given by raising cards. This is done simultaneously by the judges so that they will not be influenced by the marks given by any of the other judges. The scorers then eliminate the highest and lowest marks, the remaining two counting. Not only did this add to the interest of the spectators, but it was an easy method of allowing the competitor to know how many marks he had obtained, and so of deciding whether or not he would exercise his right to repeat the set exercise if he thought he could do better. This method of judging had been used in the women's event in the 1936 Games, but had not been the practice with the men.

The Official Report of the Organising Committee for the XIV Olympiad
The FIG published each judge's individual scores.
The judging in the men's event of 16 nations, with a few exceptions, was excellent, and for the first time the F.I.G. will publish and distribute to all nations each individual judge's marks under his own name.

Report of the United States Olympic Committee, XIV Olympiad
While the U.S. thought the judging was "excellent," the Official Report alludes to a different reality.
Judging in Gymnastic competitions is always a difficult matter, calling for a complete knowledge of the sport, of the exercise, and of the right approach. Continued concentration on points during the performance of the exercise is also very tiring, and all honour is due to the judges who worked much longer hours than the competitors. It was natural that there were differences of opinion on the value to be placed on any particular movement, for from the different positions one judge could see a small fault, whilst another one differently placed would not see it, and varying marks would reflect these differences. Each country had to give a declaration as to the competence and integrity of their judges but, so that every aspect of the judging might be considered in retrospect, it was decided at the meeting of the Federation that all judges' marks would be published throughout the world. In this way it would be established if any were excessively severe, too easy or of unreliable judgment, and in such cases they would not be allowed to judge in future.

The Official Report of the Organising Committee for the XIV Olympiad
As we saw above in the Finnish and Czechoslovak commentary, there were allegations of nationality bias.
Arthur Gander would later state that the entire competition was subpar.
We quote the honorary president of the FIG, Arthur Gander: "The first post-war international competition was held in London, in 1948. The performances were practically the same as those before the war.…

"Negative remarks: Great chaos in the organization, as much from the organizers as the FIG authorities: quasi-total lack of competition requirements and evaluation; each nation brought their own apparatus resulting in inconveniences and so on…"

The circumstances forced the FIG authorities to reconsider the question of scoring and standardization of equipment.

100 Years of the FIG
Reminder: Gander was Swiss, so that may have colored his perceptions to some degree.
Plus, it should be noted that Gander himself would be accused of biased judging at the 1948 Olympics by U.S. gymnast Frank Cumiskey:
"I approached Arthur Gander who was a judge and asked why [I only received] a 9.00—his answer was that the good teams had not performed yet! Mr. Gander was later to head FIG, and I always hoped that I had misunderstood him."

International Gymnast, October 1983
Note: A 9.00 would have been an individual judges's score. In 1948, the men added the two middle numbers rather than averaged them. So, a perfect score was a 20 — not a 10.
One year later, there was a Code of Points to govern all men's gymnastics competitions. But, as we will see at the 1950 World Championships, the 1949 Code of Points didn't suddenly fix the judging problems.
---
Documents
---
More on 1948