In 1949, the first Code of Points for men's gymnastics was published. Five years later, in 1954, the document was updated.
The 1954 Code of Points was a supplement to the 1949 Code, adding more detail about the evaluation of men's optional exercises. It specified:
The breakdown of the 10.0
The number of required elements
The types of movements that should be included on each apparatus
The difficulty levels of various elements.
Assigning difficulty levels to elements was a request from the Soviet Union:
As the Russians proposed, a table of difficulties has been worked out, which can be used in Rome [at the World Championships].

Gazette de Lausanne, January 7, 1954

On a mis au point, sur proposition russe, une table des difficultés qui pourra être utilisée à Rome.
So, here's a summary of the 1954 Code of Points, as well as the original French text, as printed in the magazine Le Gymnaste, May 1955. Thanks to the Bibliothèque nationale de France for providing the documents.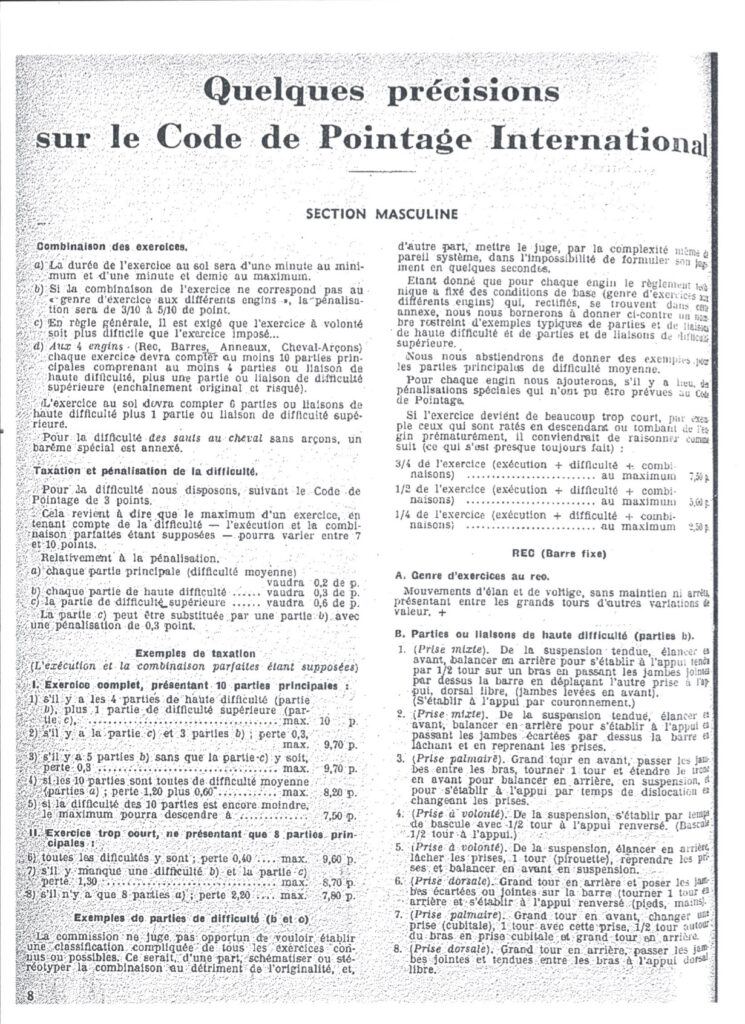 A Summary of Updates
General Rules Governing Optional Routines
Optional exercises must be more difficult than compulsory exercises.

Note: More guidance was provided in the 1958 Code.

On high bar, parallel bars, rings, and pommel horse, 10 elements are required:

4 elements must be of high difficulty (B parts)
At least 1 element must be of superior difficulty (C parts)

On floor exercise:

6 elements of high difficulty (B parts)
1 element of superior difficulty (C parts)
The Breakdown of the 10 for Optionals
Difficulty: 3 points

Each main element: 0.20
Each element of high difficulty (B parts): 0.30
Each element of superior difficulty (C parts): 0.60

Execution and combination: 7 points
The Kinds of Exercises
Floor
Duration from 1:00 to 1:30.

Note: The 1949 Code of Points specified that floor routines should be between 1 and 2 minutes.

Combined movements of flexibility, jumps (tumbling), strength elements, holds, and balances.
The exercise must present rhythm and harmony.
The gymnast must move in different directions, not using too many running steps.
The gymnast's run must be taken in the right proportion to the difficulty of the tumbling that follows
Examples of high difficulty:
Flic flac + back salto
3 back handsprings or front handsprings
A running punch front
Examples of superior difficulty:
A front or back salto with a minimum of a ½ twist
Circles (minimum of 3).
Pommel Horse
Vaults without stopping or holding
Circles and scissors without superfluous intermediate swings
Continuous work on both sides, at least part of the exercise (scissors and circles of one or both legs) to be performed on the opposite side
Circles of both legs should predominate and the gymnast should use all three parts of the apparatus.
Examples of high difficulty:
Examples of superior difficulty:
Scissor with a hop ½ turn
Russian circle
Rings
No flying rings
Movements combined in swing, strength, and holds
At least two handstands, including one from strength and one from swing that starts or passes through a hang position
At least one strength hold
Examples of high difficulty:
Cross, held for 3 seconds
Front lever hang
Examples of superior difficulty:
Vault
Gymnasts can execute two identical or different vaults.
Examples of 10.0 vaults:
Handspring with hands on the neck (far end of the horse)
Handspring with hands on the croup (near end of the horse)
Parallel bars
Combined movements in swing and releases, strength and holds
Swinging and release elements must predominate.
There must be at least one movement of strength and at least one part under and over the bars when releasing the grip.
There cannot be more than three pronounced stops.
Examples of high difficulty:
Straddle cut to L-sit
Salto to hand or arm support
Examples of superior difficulty:
Stützkehre to handstand
One-handed handstand (3-sec. hold)
High bar
Movements of swing and vaulting without holds or stops should be used as other elements of value between giant swings.
Examples of high difficulty:
Front giant to stoop to dislocation to eagle giant and change of grips to support
A full turn at the end of a backswing to regrasp
Examples of superior difficulty:
Eagle giants with changing of grips in handstand to under-grip giants
Double back dismount
Full-twisting salto forwards (dismount)
A Note on Timing
According to the rulebook for the 1954 World Championships, the 1949 Code of Points was still in effect. In his history of the Code of Points, Pierre Hentgès, Sr., notes that the supplement was approved at the 1954 FIG Congress in Rome:
After the Olympic Games in Helsinki, the committee decided to give the Code a supplement concerning the composition and the difficulty of the optional exercises. The minimum number of elements was fixed, as well as that of the difficult parts. The classification of movements and connections in degrees of difficulty A, B, and C, as well as the establishment of typical examples, was a very complicated task. But, the work having been distributed among the members of the committee completed by Mr. Duca from Italy, it was brought to a successful conclusion in January 1954 in Zurich, under the chairmanship of Mr. Erneste Maurer.

A few months later, in Rome, the new provisions were unanimously accepted.

Olympische Turnkunst, April 1968

Après les J.O. d'Helsinki, l commission décida de donner au Code un supplément concernant la composition et la difficulté de l'exercice à volonté. On en fixa le nombre minimum des éléments, ainsi que celui des parties difficiles. La classification des mouvements et des liaisons en degrés de difficulté A–B et C, ainsi que l'établissement d'exemples typiques, furent une tâche bien compliquée. Mais, le travail ayant été réparti entre les membres de la commission complétée par M. Duca d'Italie, il fut mené à bonne fin en janvier 1954 à Zurich, sous la présidence de M. Erneste Maurer.

Quelques mois plus tard, à Rome, les nouvelles dispositions furent acceptées à l'unanimité.
Download
Download the 1954 Code of Points from Le Gymnaste here. Courtesy of the BnF.