In 1958, before the World Championships in Moscow, the Code of Points for men's gymnastics was updated again. By and large, this version of the Code combined the 1949 Code of Points and the 1954 supplement in one single document.
That said, there were a few changes in the 1958 Code of Points. Below, you'll find a summary of the major changes, as well as the original French text, as printed in the magazine Le Gymnaste, May 1958. Thanks to the Bibliothèque nationale de France for the documents.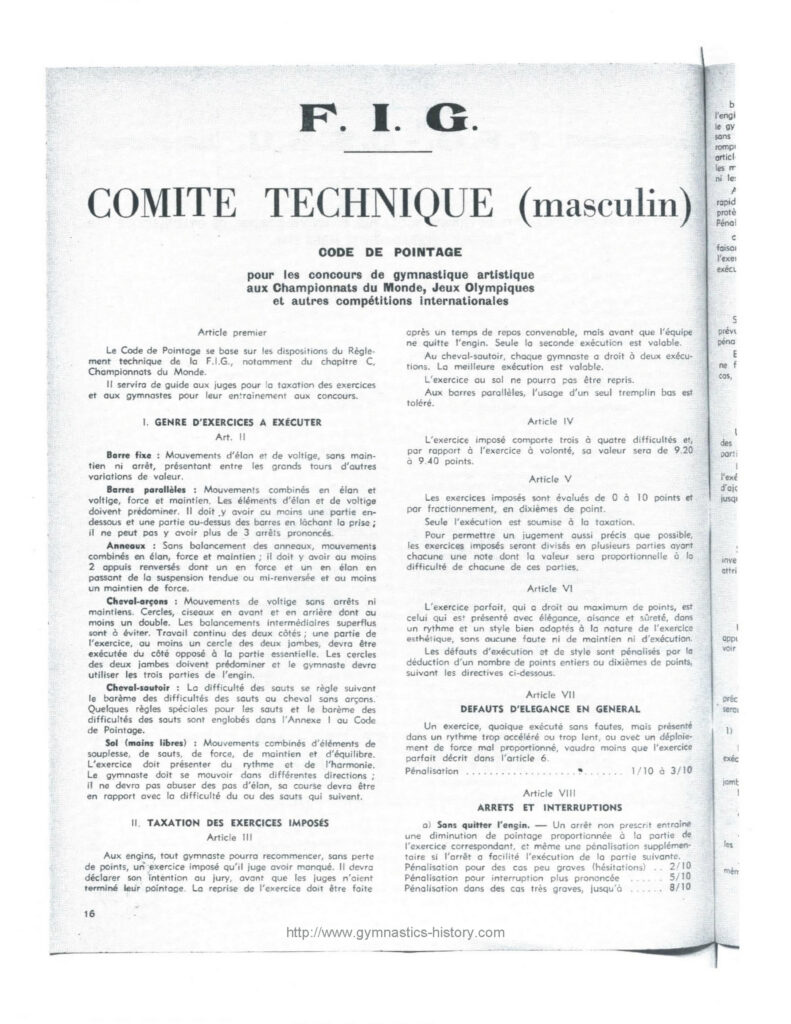 A Summary of the Major Changes
Note: You can find the 1949 Code of Points here, and the 1954 supplement here. As mentioned above, the 1958 Code of Points did not have too many major changes.
Compulsory Routines
Gymnasts could repeat their compulsory routines (except for floor).
Only the second routine counted.
Compulsories had to be easier than optional routines: "The compulsory exercise has three to four difficulties and, compared to the optional exercise, its value will be 9.20 to 9.40 points."

Note: The 1954 document specified that optional routines had to be more difficult than compulsory routines, but it did not assign a point value to the compulsory routines.
Breaking down the 10
The 1958 Code of Points separated the combination and execution categories once again:
Difficulty: 3 points

A is worth 0.20
B is worth 0.30
C is worth 0.60

Combination: 2 points
Execution: 5 points
To recap:
| | | | |
| --- | --- | --- | --- |
| | 1949 | 1954 | 1958 |
| Difficulty | 3 pts. | 3 pts. | 3 pts. |
| Combination | 2 pts. | (7 pts.) | 2 pts. |
| Execution | 5 pts. | (7 pts.) | 5 pts. |
Previously, in 1954, combination and execution were lumped together in one category for a total of 7 points. The text did not explain how to separate combination and execution.
Difficulty Requirements
There were no changes from 1954, but to recap the requirements:
Pommel horse, rings, parallel bar, and high bar:

10 parts total
4 B parts
1 C part

Floor exercise:
You can find examples of B and C skills in English here.
On the Combination and Execution
Combination

The exercise had to correspond to the nature of each apparatus.

For example, no flying rings.
You can find a full list of the acceptable types of elements for each apparatus here.

There had to be a mount and dismount of value.
The essential parts had to be linked smoothly and elegantly.
Superfluous swings, abusive repetitions, and extremely easy parts were to be avoided.

Execution

Special attention had to be paid to perfect technique and ease of performance.
The exercise had to correspond to the capabilities of the gymnast in terms of difficulty.
Exercises that were too difficult for the gymnast were to be judged severely.
Gymnasts had to control their bodies with elegance and assurance.
Routine Composition
The acceptable types of movements for each apparatus did not change significantly between 1954 and 1958. On pommel horse, there was an additional requirement:
Leg circles and scissors, forward and backward (one of these at least twice in succession)
---
Download
You can download the 1958 Code of Points here. Courtesy of the BnF.
---
More on the Code of Points