In May of 1973, the Chinese gymnastics team traveled to New York City, where they competed against U.S. gymnasts at Madison Square Garden.
This was a big deal. I repeat: A big deal.
From a gymnastics perspective, the visit was part of China's re-emergence in the international gymnastics scene. In 1964, China withdrew from the FIG due to the organization's two China policy, and during the Great Cultural Revolution, Chinese gymnasts all but disappeared from international competitions. Then, in the early 1970s, Chinese gymnasts began to compete in smaller competitions. For example, they traveled to Romania in 1972.
But there was something different about this trip in 1973. Whereas Romania was a communist country, the United States was the symbol of capitalism. So, from a political perspective, the visit signaled the further thawing of U.S-Chinese relations and was further evidence of a pronounced shift in China's foreign policy. (Previously, U.S. ping pong players had traveled to Beijing in April of 1971, and President Richard Nixon had visited China in February of 1972. More on that in the appendix.)
What follows are the results, as well as newspaper accounts from China and the U.S.
Note: If you've watched Gymnastics' Greatest Stars, this is the competition where the Chinese pianist improvised after Nancy Thies's tape broke.
Quick Links: Results | Chinese Coverage (with translations) | U.S. Coverage | Video Footage | Appendix: Ping Pong Diplomacy
Results
Men's Results
| | | | | | | | |
| --- | --- | --- | --- | --- | --- | --- | --- |
| Country | FX | PH | SR | VT | PB | HB | Total |
| CHN | 26.90 | 27.70 | 27.30 | 27.70 | 27.30 | 27.90 | 164.80 |
| USA | 26.60 | 27.20 | 27.80 | 27.50 | 27.70 | 27.30 | 164.20 |
Men's All-Around
Gymnast
Ctry
FX
PH
SR
VT
PB
HB
Total
1. Yang
Mingming
CHN
8.80
9.40
9.40
8.60
9.30
9.40
54.90
2. Avener
Marshall
USA
8.70
9.50
9.30
9.30
9.20
8.70
54.70
3T. Ivicek
James
USA
8.70
8.60
9.60
9.00
9.30
9.30
54.50
3T. Cai
Huanzong
CHN
9.00
9.20
9.20
9.40
9.40
8.30
54.50
5. Yao
Jusheng
CHN
9.00
9.10
8.70
9.20
8.60
9.20
53.80
6T. Morava
Gary
USA
9.30
8.50
8.90
9.20
9.20
8.60
53.70
6T. Culhane
James
USA
8.60
9.10
8.80
8.90
9.00
9.30
53.70
8. Yin
Xinan
CHN
8.90
8.50
8.50
9.10
8.00
9.30
52.30
Note: Yang Mingming was the 1972 Chinese National Champion.

Women's Results
| | | | | | |
| --- | --- | --- | --- | --- | --- |
| Country | VT | UB | BB | FX | Total |
| 1. USA | 28.40 | 28.25 | 27.65 | 27.60 | 111.90 |
| 2. CHN | 27.20 | 27.60 | 27.30 | 27.30 | 109.40 |
Women's All-Around
Gymnast
Ctry
VT
UB
BB
FX
Total
1. Anderson
Janette
USA
9.30
9.50
9.40
9.30
37.50
2. Fike
Debbie
USA
9.35
9.40
9.45
9.00
37.20
3. Jiang
Shaoyi
CHN
9.30
9.25
9.30
9.20
37.05
4. Dunbar
Diane
USA
9.60
9.35
8.70
9.10
36.75
5. Ding
Zhaofang
CHN
9.10
8.70
9.00
9.20
36.00
6. Liu
Qunli
CHN
8.50
9.30
9.00
8.90
35.70
7. Thies
Nancy
USA
9.45
8.00
8.80
9.20
35.45
8. Tang
Qixie
CHN
8.80
9.05
8.70
8.65
35.20
Note: Jiang Shaoyi was the 1972 Chinese National Champion.
---
Chinese Coverage
China leaves for the U.S.
Chinese gymnastics team visits the U.S. and Canada

Xinhua News Agency, May 15, 1973 – The 31-member Chinese gymnastics team, led by Gong Kefei and deputy leaders of Lu Wenchun and Yin Xinan, left Beijing today for a friendly visit to the United States and Canada.

Yu Buxue, head of the National Sports Commission, Li Menghua, head of the All-China Sports Federation, Cheng Qihong, Lin Chen, Guo Lei, Mu Zuoyun, Xu Zhenyu, and athletes from various sports in our country went to the airport to see them off.

[John H.] Holdridge, Deputy Director of the Liaison Office of the United States of America in the People's Republic of China, and [William G.] Saywell, First Secretary of the Canadian Embassy in China, also saw them off at the airport.

Jiefangjun Bao (PLA Daily), May 16, 1973

我体操队去美国和加拿大访问

新华社一九七三年五月十五日讯 以宫克非为领队,陆文春、尹锡南为副领队的中国体操队一行三十一人,今天离开北京前往美国和加拿大进行友好访问。

国家体委负责人于步血、中华全国体育总会负责人李梦华和有关方面负责人程齐虹、林晨、郭雷、牟作云、徐振宇及我国各运动项目的运动员,前往机场送行。

美利坚合众国驻中华人民共和国联络处副主任霍尔德里奇,加拿大驻中国大使馆一等秘书塞魏尔,也到机场送行。
On the competition
Chinese and American Gymnastics Teams Held a Friendly Competition in New York

Xinhua News Agency, New York, May 21, 1973 – The Chinese gymnastics team held a friendly competition with the American gymnastics team in New York on the evening of May 21.

The stadium is hung with Chinese and American flags, and a red banner reads in Chinese and English: "A warm welcome to the Chinese gymnastics team."

Present at the competition were Alexander Eckstein, former president of the National Committee on U.S.-China Relations, Douglas Murray, vice chairman, and Frank Bare, president of the American Gymnastics Association and Arthur Gander, president of the International Gymnastics Federation. Tang Mingzhao, deputy secretary general of the United Nations Federation, also came to watch.

[Reminder: China was not part of the FIG at the time, so Gander's presence was a big deal.]

Also present at the competition were Huang Hua, China's permanent representative to the United Nations, Zhuang Yan, and Wang Runsheng, deputy representatives, Qian Dayong, official of the Chinese Liaison Office in the United States and members of the China News Representative Group headed by Zhu Muzhi.

There were more than a thousand overseas Chinese living in New York among the spectators.

When the gymnastics teams of the two countries entered the venue, the spectators stood up and applauded for a long time. The gymnasts of the two countries exchanged souvenirs.

After playing the national anthems of China and the United States, Murray delivered an opening speech, saying that the spirit of the Chinese gymnastics team "friendship first, competition second" will promote friendship and mutual understanding between the peoples of China and the United States.

Attending tonight's men's all-around competition were China's Yin Xinan, Yang Mingming, Cai Huanzong and Yao Jusheng, and the United States' Marshall Avener, James Ivicek, Gary Morava, and James Culhane. Attending women's all-around competition were China's Jiang Shaoyi, Ding Zhaofang, Tang Qixie, and Liu Qunlin, and the United States' Janette Anderson, Debbie Fike, Nancy Thies, and Diane Dunbar.

The result of the competition was that the Chinese men's team won with a total score of 164.4 points, and the US men's team obtained 164.2 points. The U.S. women's team won with a total score of 111.9 points, and the Chinese women's team obtained 109.4 points.

Yang Mingming, who participated in the international competition for the first time abroad, won the men's all-around championship with a score of 54.9. Avener of the United States acquired the second with 54.7 points, while Cai Huanzong of China and Ivicek of the United States tied for third with 54.5 points.

Janette Anderson of the United States won the women's all-around championship with a score of 37.5. The American athlete Debbie Fike finished second in the women's all-around with a score of 37.2, and the Chinese athlete Jiang Shaoyi finished third with a score of 37.05.

At the end of the competition, athletes of China and the United States congratulated each other. Chinese athletes said they want to learn from American friends. Many spectators approached the Chinese athletes to ask for their autographs as a souvenir.

After the Chinese gymnastics team arrived in New York on May 18, they paid a visit. On the afternoon of May 20, they practiced with the American gymnastics team together. On the evening of May 20, Huang Huawei, China's permanent representative to the United Nations, hosted a reception for the Chinese gymnastics team visiting the United States. Eckstein, Bare, Murray, members of the USA Gymnastics Team, and other members and friends of the American sports community were invited to the reception. Tang Mingzhao, deputy secretary general of the United Nations, also attended the reception. The reception took place in a warm and friendly atmosphere.

Jiefangjun Bao (PLA Daily), May 23, 1973

中美两国体操队在纽约举行友谊比赛

新华社纽约一九七三年五月二十一日电 中国体操队五月二十一日晚在纽约同美国体操队举行友谊比赛。

体育馆里悬挂着中国和美国的国旗,一条红色模幅上用中文和英文写着:"热烈欢迎中国体操队"。

出席观看比赛的有美中关系全国委员会前主席亚历山大・艾克斯坦、副主席道格拉断・默里、美国体操协会主席弗兰克・贝尔和国际体操联合会主席阿瑟・甘德。联合国副秘书长唐明照也前来观看。

出席观看的还有中国常驻联合国代表黄华、副代表庄焰和王润生、中国驻美国联络处官员钱大镛和以朱穆之为团长的中国新闻代表团成员。

观众中有一千多名住在纽约的华侨。

当两国体操队进场时,观众起立,长时间鼓掌欢呼。两国体操运动员交换了纪念品。

在演奏了中国和美国的国歌以后,默里致开幕词说,中国体操队"友谊第一,比赛第二"的精神,将促进中美两国人民之间的友谊和相互了解。

今晚参加男子全能比赛的有中国的尹锡南、杨明明、蔡焕宗和姚菊生,美国的马歇尔・艾佛纳、詹姆斯・艾维塞克、加里・莫拉瓦和詹姆斯・卡尔汉。参加女子全能比赛的有中国的蒋绍毅、丁照芳、唐其解和刘群琳,美国的珍妮特・安德森、德比・菲克、南希・西斯和迪安・邓巴尔。

比赛结果是:中国男子队以总分一百六十四点四分获胜,美国男子队的总分是一百六十四点二分。美国女子队以总分一百一十一点九分获胜,中国女子队的总分是一百零九点四分。

第一次在国外参加国际比赛的杨明明以五十四点九分的成绩获得男子全能冠军。美国的艾佛纳以五十四点七分获第二名,中国的蔡焕宗和美国的艾维塞克以五十四点五分并列第三名。

美国的珍妮特・安德森以三十七点五分的成绩获得女子全能冠军。美国运动员德比・菲克获女子全能第二名,得分三十七点二,中国运动员蒋绍毅获第三名,得分三十七点零五。

比赛结束时,中、美两国运动员互相祝贺。中国运动员表示要向美国朋友学习。许多观众走过来请中国运动员签名留念。

中国体操队在五月十八日到达纽约后,进行了参观访问。五月二十日下午,他们同美国体操队一起共同练习。五月二十日晚,中国常驻联合国代表黄华为中国体操队访问美国举行招待会。艾克斯坦、贝尔、默里、美国体操队队员以及其他美国体育界人士和朋友,应邀参加了招待会。联合国副秘书长唐明照也参加了招待会。招待会在热烈友好的气氛中进行。
---
U.S. Coverage
From the New York Times
Chinese, U.S. Gymnasts in Friendly Strife

In an atmosphere of such unending cordiality that Chinese coaches consoled Americans who slipped, and Americans gave pats on the back to the Chinese, the countries' gymnastic squads attracted 13,857 fans to Madison Square Garden last night.

It was believed to be the first time a People's Republic of China squad competed in an Olympic event in this country, and several thousand Chinese American fans were on hand.

About 11 years ago the mainland Chinese gave up international gymnastic competition. Now they are ready again for the world arena.

The Chinese men had a silky movement in the free‐form floor exercises, often giving the impression that their toes didn't touch the mat. Throughout the evening they appeared more concerned with style and form.

The Americans, though, attacked. Whether it was 14‐year‐old Diane Dunbar of Pleasanton, Calif., smashing purposefully into the uneven parallel bars, or Marshall Avener of Levittown, L. I., spinning round a pommel horse, there was a sense of force.

The American women scored a decisive victory by 111.9 points to 109.4 for the Chinese, while the Chinese men gained a narrow decision, 164.4 to 164.2.

The crowd was more reserved than the hero‐worshipping throng of more than 19,000 who saw Olga Korbut and the Soviet Union's women team here recently. A feeling, perhaps, of accord was the dominant one last night.

"They're so friendly, I hate to look at this as a competition," explained Avener, a senior at Penn State. "We've really been close. They are probably the friendliest, warmest bunch of people I've competed against."

This was the first stop of an eight‐city North American tour, and the only one labeled as a competition. The others will be exhibitions.

While the Chinese in the crowd snapped away with their Japanese cameras or shot home movies, two judges looked at each event. Normally, there are five, with each holding up a card. But again, in the spirit of friendly competition, only one score was posted after the judges mutually agreed.

The Chinese came out first, to a standing ovation. The crowd applauded them, they applauded the crowd. Then they applauded an official of the National Committee on United States‐China Relations after he translated his remarks into Chinese. Then the Americans were applauded at their introductions, and the Americans in turn applauded the Chinese.

Except for the first hour, when first‐time spins and leaps elicited "wow's" and whistles, the remainder of the competition was probably more interesting to the hard‐core gymnastic fans. For others, it was perhaps too special — like watching two hours of flamenco dancing.

The most dramatic events occurred toward the end of the evening. First, the taped music to Nancy Theis's [sic] floor exercise came out garbled. After two false starts, her coach, Mrs. Muriel Grossfeld, took a chance and asked the Chinese piano accompanist to accompany Miss Theis, a 15‐year‐old from Urbana, Ill.

She wound up with a 9.2 (out of a perfect 10) and received a standing ovation. Then she kissed the piano player.

Janette Anderson of Seattle wound up with a different sort of problem. Toward the end of her floor routine, she sprained her right ankle. She finished and collapsed into the arms of a group of Chinese.

But she won the all-around women's title with a score of 37.5. She was held up at the winner's podium by the second-place finisher, Debbie Fike of Cypress, Calif., and Chiang Shaoyi, who finished third. Miss Fike had a 37.5, and Miss Chiang a 37.2

Yang Ming-ming won the all-around men's championship with a 54.9. Avener was second at 54.7, and James Ivicek of Rochester, Pa., and Tsai Huan-tsung tied for third with 54.5.

"Gymnastics isn't really a man-to-man competition anyway," said Avener. "It's like diving. You do your thing against yourself. Maybe later in the program, when you knew the scoring, you're conscious of doing better than the next guy."

NY Times, May 22, 1973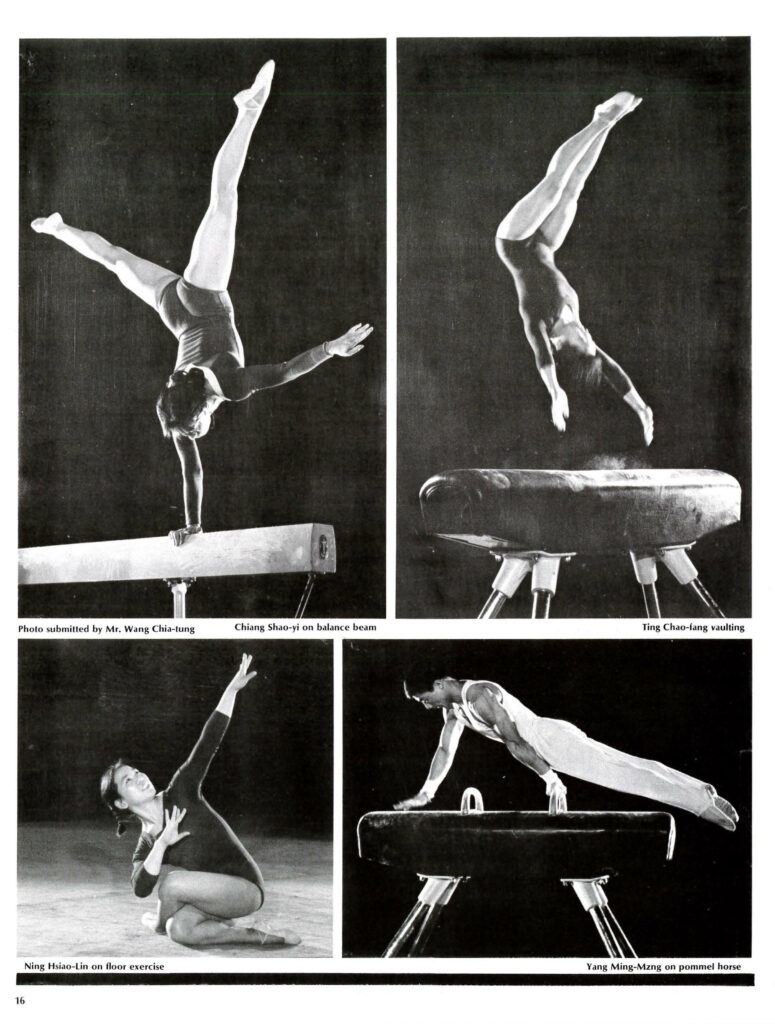 Below, you can read Gymnast's coverage (June/July issue), which didn't offer too much additional information.
---
Video Footage
---
Appendix: Notes on Ping-Pong Diplomacy
For more political context: Ping-pong diplomacy refers to the exchange of table tennis players between the United States and the People's Republic of China. Their interactions effectively paved the way for Nixon's visit to China in February of 1972.
Here's a quick overview of the key events:
In January 1970, at the 135th regular Warsaw meeting, the Chinese broke away from the routine patter of angry exchanges over the status of Taiwan and mentioned the possibility of having future talks 'at a higher level through other channels acceptable to both sides'. Coincidentally an American statement at the same meeting suggested that the United States might 'be prepared to consider sending a representative to Peking for direct discussions with your officials'. On 1 December, the Chinese National Day, Chairman Mao invited Edgar Snow, the American journalist and author of the famous Red Star Over China (1938), to stand beside him on the reviewing platform at celebrations in Beijing of the 21st anniversary of the founding of the PRC. Unfortunately no one in the US government realised this was a signal for rapprochement.

The Chinese had to find another channel. The opportunity arrived at the 31st World Table Tennis Championships in Japan between 25 January and 3 February 1971. The Chairman of the Japanese Table Tennis Association, the organiser of the Championships, came to Beijing and invited China to attend. The PLA officers in the Sports Ministry did not dare make the decision. Premier Zhou asked Mao for instructions. Mao responded: 'Our team should go, even if there is danger of death. However, our athletes should not be afraid of death and hardship'. He set out principles of participation for the Chinese team: friendship first, competition second.

The Chinese team went and acted on the following instructions: 'If you meet the U.S. team do not initiate communication, but do not refuse to communicate. If you compete with the U.S. team, do not exchange flags, but shake hands instead'. During the meeting, the American and Chinese players became friends. When the Americans knew that the Chinese had invited Britain, Australia, Canada, Colombia and Nigeria to visit China after the Championships the Chairman of the American Table Tennis Association asked whether they could visit China. Mao agreed. The gesture was overt and clear, the opportunity was too good to let go. Within days, the era of 'Ping-Pong diplomacy' was declared to be at hand. On 14th April 1971, the United States table tennis players were received by Premier Zhou Enlai at the People's Hall, Beijing. He warmly said:

You have opened a new chapter in the relations of the American and Chinese people. I am confident that this new beginning of our friendship will certainly meet with [the] majority support of our two peoples. We welcome you.

The Americans immediately invited the Chinese team to the States. Without hesitation this time Zhou gave a positive response.

Thus the political door was opened unexpectedly by table tennis. On 11 July 1971 Henry Kissinger, Nixon's national security adviser, travelled to China to meet with Zhou and plan the details of a visit by President Nixon. On 15 July the public announcement of a presidential visit was made on radio and television by Nixon himself in California. On 25 October, Communist China renewed its seat in the United Nations (UN). On 21 February, 1972 President Nixon and Chairman Mao met in Beijing. Seven days later, a 'joint communiqué' was issued in Shanghai. This document marked a major policy shift for both countries. The People's Daily proudly announced that China had now come back to the international family. Richard Nixon commented that the agreement of 1972 had built a bridge across 16,000 miles and 22 years of hostility and it had changed the world. Sport had played a significant role in bringing the two nations together and the opportunity for China's global realignment. The moment (and sport) marked a turning point in China's foreign relations. Wu Shaozu, the Sport Minister, later wrote: 'The Chinese have learned from Ping-Pong diplomacy that sport and politics are inseparable. Athletes have shouldered heavy responsibilities. They are our political ambassadors'.

F. Hong and L. Zhouxiang, "Sport in the Great Proletarian Cultural Revolution, 1966–1976"
In the book Olympic Dreams: China and Sports, 1895-2008, Xu Guoqi explains the aftermath of ping-pong diplomacy at the IOC. Allegiances shifted from Taipei (Taiwan) to Beijing:
Ping-pong diplomacy was Beijing's diplomatic offensive that convinced many countries to switch their diplomatic recognition from Taipei to Beijing. Xu Heng (Henry Hsu), who was chosen by Brundage's dubious methods to be an IOC member in Taiwan in 1970 without the IOC executive board's prior approval, wrote an extremely secret report to the Nationlist government dated April 3, 1972, that Taiwan's position in the IOC after 1972 was in "extreme danger" (ji qi xian e) because the pro-Taiwan president Brundage was retiring; without his advocacy, many more IOC members in Europe were likely to vote with Beijing. "It is extremely urgent for us to figure out how to safeguard our position in the IOC… …If the communist bandits' entry into the IOC becomes a reality, then Taiwan's participation in international sports would be negatively affected and it will even become difficult for us to take part in friendly games… not only will our international sports be eliminated but the effect on our diplomacy will be negative." Xu Heng suggested that the Nationalist government act quickly and decisively by working closely with South Korea's IOC members, who were pro-Taiwan, and by making sure that Taipei would be represented at any international sports meetings and gatherings. The National government seemed to grasp Xu Heng's urgency and adopted his suggestions, thus establishing a high-level cross-ministry group to handle international sports issues.

But the tide seemed to be turning against Taipei. Even formerly friendly nations like Japan began to question the legitimacy of Taiwan's membership in the Olympic movement as a representative of China. In response, Taiwan's IOC member Xu Heng pointed out, "Some supporters of the All-China Sports Federation may contend that there is only one China and the IOC has to make a choice between the two Chinas. As a Chinese, I deplore the fact that China is now in a divided state with two governments. But since we are gathering here as sports leaders rather than politicians, there is nothing we can do to alter this political fact of life."

Taipei's position eroded further during the late 1970s. In May 1978, the IOC executive board decided that the time had come to solve the two-China problem by sending a mission to Beijing and Taipei with the goal of persuading Taiwan to remain independently recognized but change its name in the Olympic family to something acceptable to Beijing. The IOC president "reminded the members that if Taiwan refused to change its name the IOC would be obliged to go through the machinery of suspension." After an impasse of over two decades, new international developments promised to force a resolution of the problem through compromise by both sides. It was unclear, however, why the IOC had to be pushed by external forces before it dealt effectively with this issue.

Olympic Dreams: China and Sports, 1895-2008
---
More on Chinese Gymnastics