We've already discussed the men's performances at the 1962 World Championships. It's now time to discuss the women's.
This is another long post, so here are some links to help you jump around.
Historical Context | Gymnastics Context | Equipment Specifications | Ballet vs. Acrobatics | Competition Footage | Results | Commentary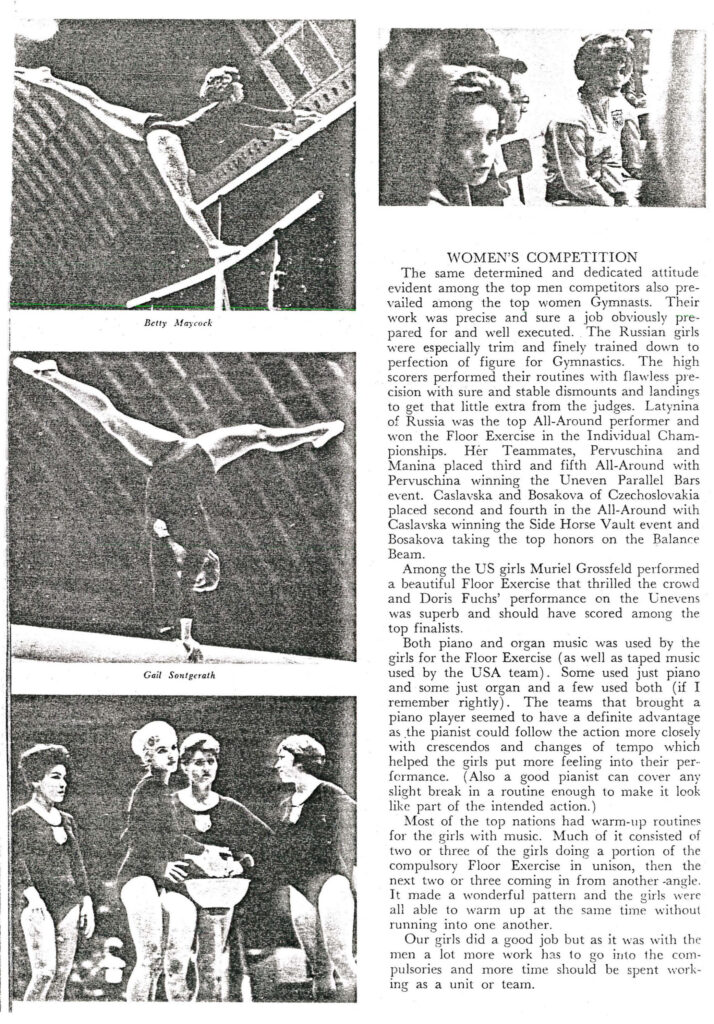 July 3-8, 1962
Prague, Czechoslovakia
132 Men
120 Women
Opening Ceremonies: Tuesday, July 3
Men's Compulsories: Wednesday, July 4
Women's Compulsories: Thursday, July 5
Men's Optionals: Friday, July 6
Women's Optionals: Saturday, July 7
Individual Championships: Sunday, July 8
Historical Context
Gymnastics doesn't happen in a vacuum. While we'd like to think that history and politics don't impact gymnastics, they do. They can impact judging. They can impact a country's expectations of its athletes. They impact which countries participate in a World Championships or at an Olympics. And they impact how journalists report on the events.
So, here's some information to get you situated.
The Cold War was in full swing.

The Hungarian Uprising: In 1956, a revolt broke out against the Hungary People's Republic. Immediately afterwards, many of the revolutionaries were executed. In 1962, the government declared the general amnesty of revolutionaries.
On July 11, 1960, the National Assembly approved a new Czechoslovak constitution, declaring ecstatically, "Socialism has triumphed in our country!"
In 1961, the Berlin Wall was built between East and West Germany, there was a failed attempt to invade Cuba at the Bay of Pigs, and Soviet astronaut Yuri Gagarin completed the first orbit of Earth by a human.
In 1962, the year of the World Championships, Soviet missile bases discovered in Cuba triggered a crisis that almost brought the U.S. to war with the U.S.S.R. John Glenn became the first American to orbit the Earth.

The Great Chinese Famine (1958ish to 1962ish): China was nearing the end of a famine that resulted in the death of tens of millions of people as a result of starvation.
Meanwhile, Japan was on a growth trajectory. In 1960, Prime Minister Hayato Ikeda challenged the country to double its income in the next decade.
---
Gymnastics Context
1960: Larisa Latynina was crowned the Olympic AA champion in the all-around. Sofia Muratova finished second, and Polina Astakhova was third in Rome.
1960: The Soviet Union won the team competition in Rome, with Czechoslovakia taking silver and Romania taking bronze.
1961: Larisa Latynina won the all-around at the European Championships. Polina Astakhova was the silver medalist, and Věra Čáslavská tied for the bronze with Ingrid Föst in Leipzig, East Germany.
1961: Polina Astakhova (AKA "The Russian Birch Tree") was the European champion on bars and beam in 1961, but she made only the floor finals at the World Championships in Prague. Her silver at Europeans in 1961 was followed by an 8th place finish in 1962 at Worlds.
1961: Věra Čáslavská tied for the AA bronze with Ingrid Föst at the 1961 European Championships. Her silver in the AA at Worlds in 1962 represents a slow rise in the rankings on her way to gold at the 1964 Tokyo Olympics.
U.S. gymnastics was in a state of transition. The United States Gymnastics Federation had just been formed to oust the AAU as the national governing body.
Republic of China vs. People's Republic of China: Mainland China didn't participate in the 1960 Olympics due to a political dispute between the Republic of China (commonly referred to as Taiwan) and the People's Republic of China (commonly referred to as mainland China). You can read about it here and here.

This was the last World Championships that the People's Republic of China would participate in until 1979.
They withdrew from the FIG in 1964 when the FIG allowed the Republic of China (Taiwan) to become a member.
You can read the statement here.

1958 Code of Points: To see a translation of the 1958 Code of Points, check out this post.
The Equipment
Vault: The vault at the time was 110 centimeters high, which is 15 centimeters lower than it is today. Essentially, it was a men's pommel horse without the handles.
Beat Boards: Gymnasts didn't use springboards. They used beat boards, which looked something like this.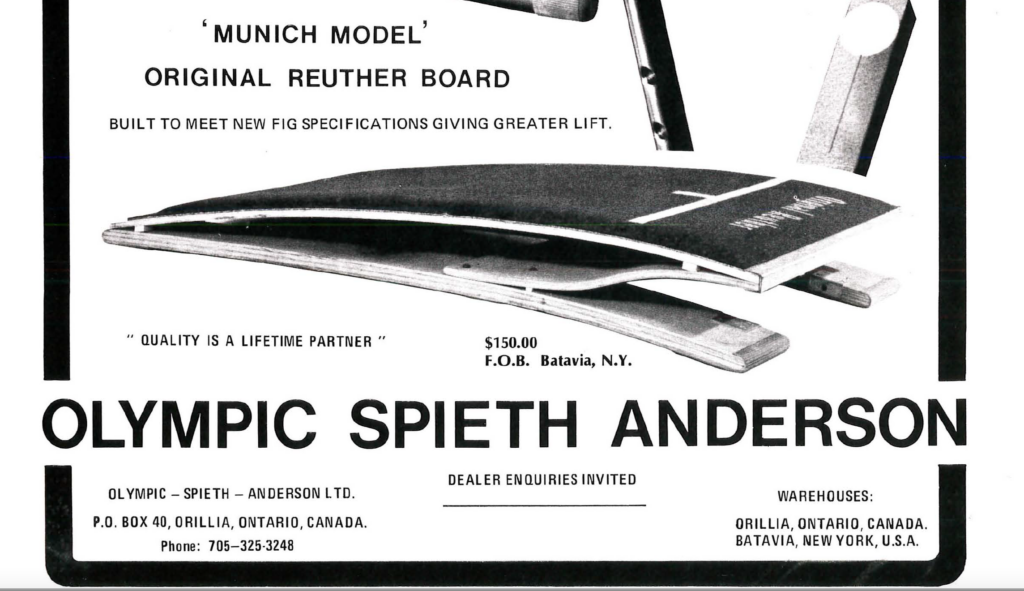 Bars: The low bar was set to 150 centimeters (20 centimeters lower than today). The high bar was set to 230 cm (20 cm lower than today).
Floor: In U.S. competitions, the only thing that separated a gymnast from the ground was a thin (1/4″) layer of carpeting. That's it.
Here's an advertisement for a FX carpet from 1963.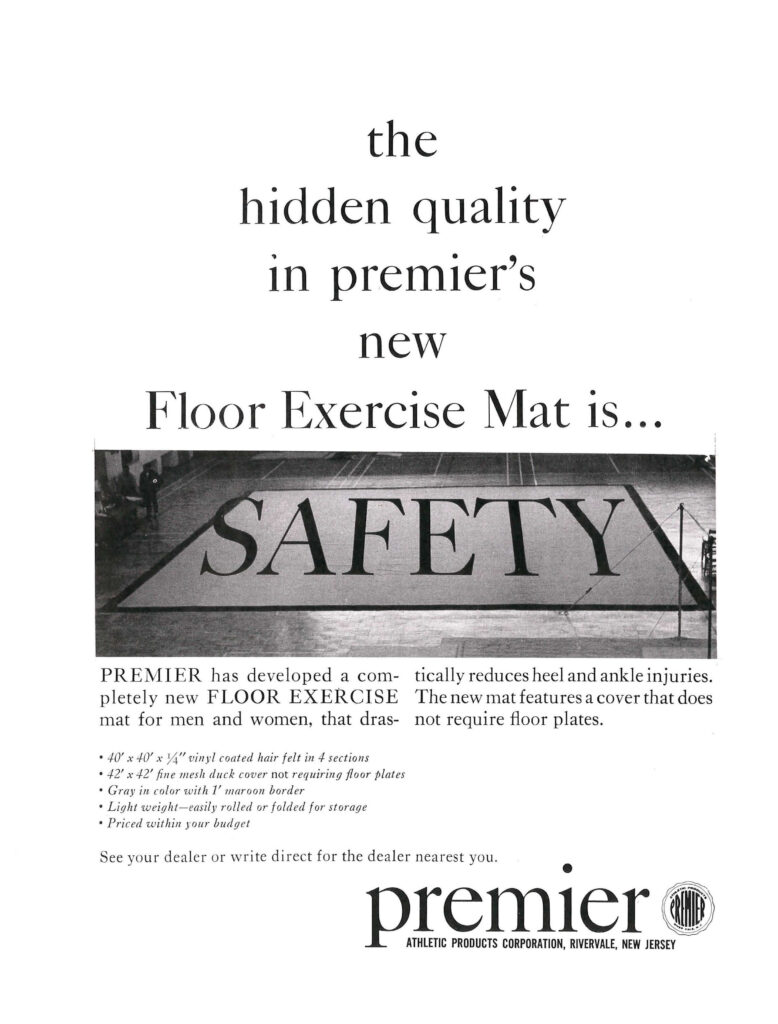 At international competitions, there may have been a Reuther floor, which was two pieces of wood with smaller pieces of wood that would flex and offer some cushioning and spring. However, this was not required at FIG competitions until 1965.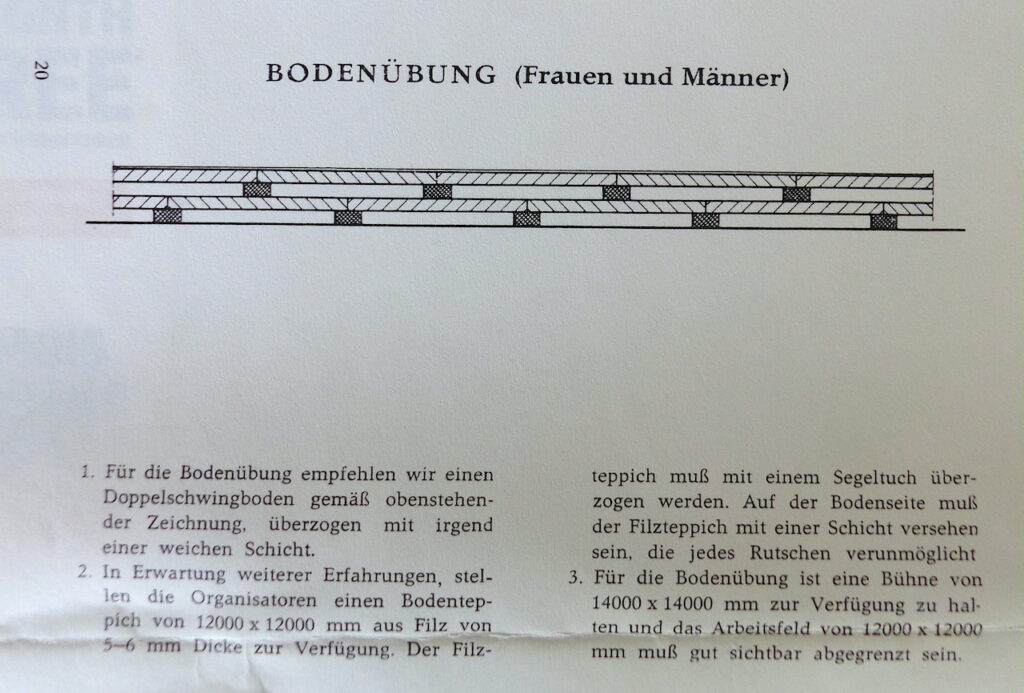 ---
The Emerging Tension between Ballet and Acrobatics
Concern about the state of ballet — and dance more generally — is not a new topic for women's gymnastics. It was already present in the early 1960s.
A 1963 profile of Latynina gives us a glimpse into the emerging tension between ballet and acrobatics — a tension that was closely tied to concepts of womanhood in Latynina's mind. (To learn more about gender expectations in women's gymnastics, read Georgia Cervin's Degrees of Difficulty.)
Larisa Latynina represented a balletic tradition.
No one of those who write about Larisa Latynina forget, in their articles, to mention that the absolute champion of the world and Olympic victor loved ballet from the beginning. This is the reason for her lightness and grace of movement so admired by thousands upon thousands of onlookers.

Modern Gymnast, September 1963
I'm not kidding when I say that she was all about ballet.
Ballet elements are always included in her warm ups. Beside this, she not only attends ballet productions but fairly often attends ballet classes and ballet corps rehearsals of the Kjov opera. She considers her lessons with the best Ukrainian ballet masters very beneficial.

Modern Gymnast, September 1963
Don't believe me? More ballet…
Optional calisthenics [floor exercise] are composed by Latynina together with her trainer, and teachers of artistic gymnastics and ballet. The greatest part, however, is composed by Latynina herself. She devotes a great deal of time to style and character of the routine. She loves floor exercises best of all. They are rich in leaps, pirouettes and various dance elements—in these she has always shown her greatest talent.

Modern Gymnast, September 1963
For Latynina, Dance = Feminine; Too Much Acrobatics = Not
"Gymnastics are leading in the right direction and will continue to improve. According to my opinion, optional floor exercises are on the right path. However, I should judge that excessive partiality to acrobatics in the future, (as the trend of some gymnasts indicates) is not right because 1 minute and 20 seconds should include artistic grace and artistic skills and if gymnasts will execute only a series of acrobatic combinations, they will not be capable of including all of the above in the allotted time. After all, a woman should remain a woman."

Modern Gymnast, September 1963
My thought bubble: In 1962, women's gymnastics was at a crossroads. It's not that the sport was going to abandon its ballet roots at this point in time. Rather, it was questioning what the right mix was. How much of a routine should be dance and how much should be acrobatics?
Latynina clearly favored more ballet and believed that dance was an expression of femininity. However, there was a growing group of gymnasts who were tipping the scales in favor of acrobatics.
We'll see this tension in the footage below.
Note: The Czechoslovak media picked up on this tension, too.
It is becoming more and more evident that one cannot be a good gymnast unless they have passed the school of ballet or artistic gymnastics. This is best demonstrated by the exercises of Latynina, Pervushina, the ageless Muratova, Astakhova. The perfect posture, the softness and flexibility of the arms, the mastery of the movement of the legs right from the toes, all this gives the most difficult element the crown of lightness.

Stadión, July 13, 1962

Stále více a více se ukazuje, že nemůže být dobrou gymnastkou ta, která neprošla školou baletu nebo umělecké gymnastiky. Nejlépe to dokazují cvičení Latyninové, Pěrvušinové, nestárnoucí Muratovové, Astachovové. Dokonalé držení těla, měkkost a ohebnost paží, zvládnutí pohybu nohou přímo od špiček, to všechno dává nejobtížnějšímu prvku korunu lehkosti.
---
Video Footage
As I stated above, women's gymnastics was at a crossroads, and it wasn't clear where the sport was heading at the 1962 World Championships. But it is fun to watch the footage and see a mixture of routines: some that favor dance moves and others that favor acrobatic skills.
Čáslavská on FX (0:46): Today's gym nerds tend to lump together Čáslavská and Latynina as if they were the same, but they were different gymnasts.
Sure, you can see the balletic influence in Čáslavská's work. Perhaps most obvious is her tour jeté and her flic jeté (split leap).
That said, her routine definitely leans more acrobatic:
While most gymnasts were doing one layout, she performed two layout stepouts in the same pass.
She moves from corner to corner by doing an aerial through to back handspring.
Her dance is accentuated with moves like a back walkover to a chest roll.
Even her illusion turn was considered an acrobatic element—not a dance element—at the time. It was seen as a progression from a front walkover (Modern Gymnast, January 1962).
Though Čáslavská didn't win gold for her floor routine, one judge did give her a 10.0 for her routine.
Latynina on FX (2:31): Her love for ballet is evident throughout the routine. Even her diagonal tumbling is highly balletic:
A front attitude turn into a temps levé before tumbling into her back tuck.
Immediately after that pass, Latynina does a straight jump, but she arches her back, making it look more like a temps du poisson from ballet.
Notice how her routine isn't peppered with as many acrobatic elements. Sure, there are a few here and there, but not as many as other gymnasts.
Bosáková on BB (6:06): While a gymnast like Latynina capitalized on dance elements, Bosáková put the "balance" in balance beam. A scale into a swing turn into a scale. A cartwheel that ends in an arabesque. Many, many balance elements.
Note: Both Bosakova and Latynina spent over an hour of their practices on beam.
Here was Bosáková's regimen: "I train on the beam daily for one hour or more. After thoroughly warming up I walk on the beam for a short time and immediately start combinations. First, I go through a whole optional routine 5 to 7 times. Compulsory routines are done even more. Then I work on individual elements and their 'connections'" (Modern Gymnast, Nov/Dec 1963).
Čáslavská on BB (4:28): You can see how she is pushing the envelope in terms of acrobatics. While most of her competitors are doing a cartwheel in isolation, Čáslavská performed a cartwheel in combination: Front walkover walk through to a cartwheel to her back layout dismount.
Ikeda Keiko (15:10 in the clip above): You can tell that she doesn't have the refined ballet technique of someone like Latynina. But she opens her routine with a press handstand–an extremely uncommon strength move for women at that time.
Uneven bars: Notice how the gymnasts were still pausing before big skills. Uneven bars work hadn't reached a point where one skill flowed into the next. That said, there are some fun moments like Čáslavská's tucked double front hip circle mount and her toe shoot to the high bar, a skill that would make a strong reappearance in the late 2000s.
Of Note: Latynina received 10.0s from two judges on uneven bars.
A Note about Music
Unfortunately, the extant videos do not have the gymnasts' floor music. To give you an idea of their song selections, here's what a few gymnasts performed to, according to Modern Gymnast May/June 1963:
Natalia Kot, Poland, Tchaikovsky's Piano Concerto in B-Flat Minor
Ikeda Keiko, Japan, Grieg's Piano Concerto in A Minor
Betty-Jean Maycock, USA, Dvořák's Slavonic Dance No. 8
Zdenka Prusnik, Yugoslovia, Schubert's Scherzo in B-Flat Major
Roselore Sonntag, GDR, Addinsell's Warsaw Concerto
Renate Schneider, GDR, Lara's Granada
Katalin Makrai, Hungary, Gershwin's Rhapsody in Blue
Ivana Antic, Yugoslavia, Gershwin's Rhapsody in Blue
Tamara Manina, USSR, Montand's Les feuilles mortes
Lidia Ivanova, USSR, Modungo's Nel blu, dipinto di blu ("Volare")
---
Competition Results
Team Competition
| | | | |
| --- | --- | --- | --- |
| | Compulsories | Optionals | Total |
| 1. Soviet Union | 190.461 | 194.527 | 384.988 |
| 2. Czechoslovakia | 188.562 | 194.028 | 382.590 |
| 3. Japan | 186.861 | 192.662 | 379.523 |
| 4. Hungary | 185.562 | 192.228 | 377.790 |
| 5. East Germany | 184.626 | 190.660 | 375.286 |
| 6. People's Rep. of China* | 183.795 | 189.193 | 372.988 |
| 7. Poland | 181.726 | 190.161 | 371.887 |
| 8. United States | 179.936 | 188.426 | 368.352 |
| 9. Romania | 180.859 | 186.061 | 366.920 |
| 10. Sweden | 181.194 | 185.661 | 366.855 |
| 11. Yugoslavia | 179.228 | 183.526 | 362.754 |
| 12. France | 179.262 | 182.661 | 361.923 |
| 13. West Germany | 175.226 | 179.692 | 354.918 |
| 14. Finland | 171.262 | 180.860 | 352.122 |
| 15. Israel | 170.495 | 175.494 | 345.989 |
| 16. Canada | 160.693 | 170.292 | 330.985 |
| 17. Cuba | 137.095 | 154.727 | 291.822 |
*The magazine refers to the PRC as "Communist China"
Modern Gymnast, Sept/Oct 1962
Format: 6 gymnasts competed, top 5 scores counted on each event for compulsories and optionals.
The All-Around
| | | |
| --- | --- | --- |
| 1. Latynina | URS | 78.030 |
| 2. Čáslavská | TCH | 77.732 |
| 3. Pervuschina | URS | 77.465 |
| 4. Bosáková | TCH | 76.898 |
| 5. Manina | URS | 76.865 |
| 6. Ikeda | JPN | 76.832 |
| 7. Föst | GDR | 76.631 |
| 8. Astakhova | URS | 76.330 |
| 9. Hámori | HUN | 76.264 |
| 10. Shirasu | JPN | 76.064 |
| 11. Ono | JPN | 75.965 |
| 12. Kot | POL | 75.931 |
| 13. Ivanova | URS | 75.831 |
| 13. Cmiralova | TCH | 75.831 |
| 15. Švédová | TCH | 75.798 |
| 16. Muratova | URS | 75.665 |
| 17. Ducza | HUN | 75.598 |
| 18. Radochla | GDR | 75.497 |
| 19. Hidegkuti | HUN | 75.432 |
| 20. Jovan | ROU | 75.363 |
| USA | | |
| 31. Grossfeld | USA | 74.331 |
| 40. Fuchs | USA | 73.897 |
| 51. Maycock | USA | 73.231 |
| 54. Walther | USA | 73.096 |
| 59. Tiber | USA | 72.730 |
| 63. Sontgerath | USA | 72.165 |
Modern Gymnast, Sept/Oct 1962
There wasn't a separate all-around competition as there is today. At the same time that gymnasts competed for the team title, they competed for the all-around title. Their all-around totals were the sum of their optional and compulsory routines.
Note: The Czechoslovak media wrote about the challenges of the compulsory routine when it covered the country's 1961 national championships. For example, the bar routine was difficult for short gymnasts.
Side Horse Vault
| | | |
| --- | --- | --- |
| 1. Čáslavská | TCH | 19.6495 |
| 2. Latynina | URS | 19.6325 |
| 3. Manina | URS | 19.5495 |
| 4. Radochla | GDR | 19.4830 |
| 5. Föst | GDR | 19.4665 |
| 6. Pervuschina | URS | 19.4330 |
Modern Gymnast, Sept/Oct 1962
Uneven Parallel Bars
| | | |
| --- | --- | --- |
| 1. Pervuschina | URS | 19.5665 |
| 2. Bosáková | TCH | 19.4665 |
| 3. Latynina | URS | 19.4495 |
| 4. Astakhova | URS | 19.3995 |
| 5. Čáslavská | TCH | 19.3665 |
| 6. Makrai | HUN | 19.3160 |
Modern Gymnast, Sept/Oct 1962
Balance Beam
| | | |
| --- | --- | --- |
| 1. Bosáková | TCH | 19.4990 |
| 2. Latynina | URS | 19.4160 |
| 3. Ducza | HUN | 19.3660 |
| 3. Ikeda | JPN | 19.3660 |
| 5. Čáslavská | TCH | 19.3330 |
| 6. Pervuschina | URS | 19.2500 |
Modern Gymnast, Sept/Oct 1962
Floor Exercise
| | | |
| --- | --- | --- |
| 1. Latynina | URS | 19.716 |
| 2. Pervuschina | URS | 19.616 |
| 3. Čáslavská | TCH | 19.550 |
| 4. Astakhova | URS | 19.466 |
| 4. Bosáková | TCH | 19.466 |
| 6. Shirasu | JPN | 19.416 |
Modern Gymnast, Sept/Oct 1962
---
Commentary from the Time
Unfortunately, there isn't much commentary about the meet from that time. Even the FIG completely glosses over the 1962 women's competition in its 100 Years of the FIG document.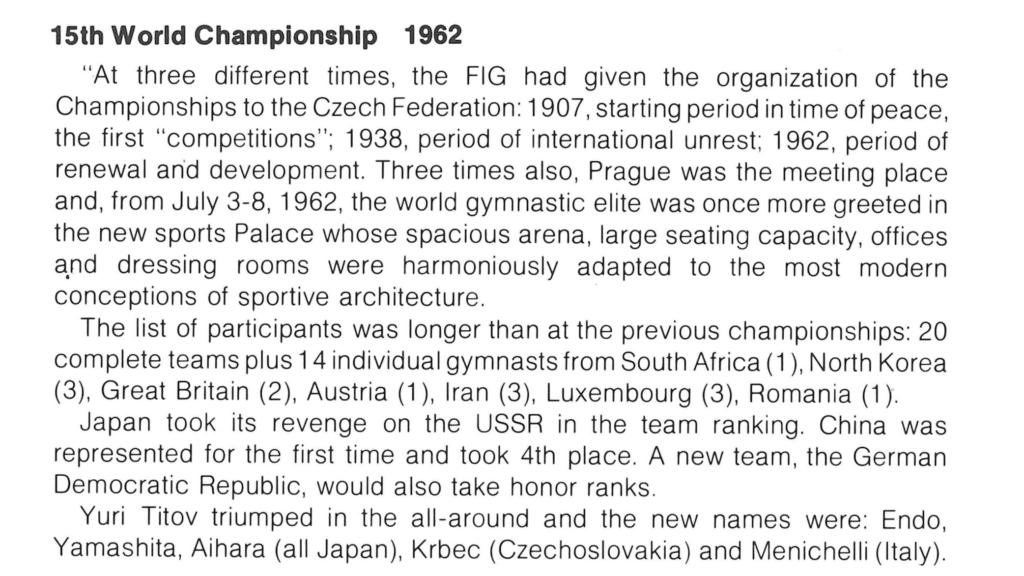 Berthe Villancher, the president of the Women's Technical Committee, wrote an article about the competition. I have translated it in full here.
According to the Czechoslovak media, the Soviets did have one weakness: vault.
The Soviet team completed the competition as a single, solid unit, without any fluctuations. However, it is beginning to suffer from our former malady: the imperfect vault. Especially the second flight phase will certainly be the subject of hard work in further preparation.

Stadión, July 13, 1962

Sovětské družstvo absolvovalo závod jako jednolitý, pevný celek, bez jakéhokoli výkyvu. Začíná však trpět naší bývalou nemocí: nikoli dokonalým přeskokem. Obzvlášť druhá fáze skoků bude jistě předmětem usilovné práce v další přípravě.
The Czechoslovak media were thrilled with the results.
First of all, the Czechoslovak team attacked the global hegemony of the Soviet gymnasts sharply, both in the all-around and on floor exercise. Bold routines containing elements of the highest difficulty well above the norm while maintaining aesthetics and femininity were a positive sign of the right direction of our gymnastics school, which is making its way into the methodology and routines of the gymnastics world. Today, we can not only speak of the balance beam as "the Czechoslovakian apparatus," but we can proudly claim the same moniker for the uneven bars. We have the right to do so. After all, it was the Czechoslovak women who first astonished with this apparatus in 1934, and it was the same at the Jubilee World Championships.

Stadión, July 13, 1962

Především v tom, že československé družstvo zaútočilo prudce na světovou prioritu sovětských gymnastek, a to na všech nářadích i v prostných. Odvážné sestavy obsahující vysoko nad normu prvky nejvyšší obtížností při zachování estetiky a ženskosti, to byl klad ukazující správný směr naší gymnastické školy, která si razí cestu do metodiky a sestav gymnastického světa. Dnes můžeme mluvit nejen o kladině jako "československém nářadí", ale hrdě se můžeme přihlásit stejným přízviskem i k bradlům o nestejné výši žerdi. Máme na to právo. Vždyť to byly československé ženy, které s tímto nářadím poprvé v roce 1934 udivily, Na jubilejním mistrovství světa tomu bylo zrovna tak.
… but were disappointed in Romania and the U.S.
We expected more from the Romanian and U.S. teams. They remain indebted to their reputation, especially the Romanians. Too bad.

Stadión, July 13, 1962

Více jsme očekávali od družstev Rumunska a USA. Zůstala dlužna pověsti, obzvláště Rumunky. Škoda.
Much of the extant commentary is shallow and sexist.
From the Modern Gymnast…
The same determined and dedicated attitude evident among the top men competitors also prevailed among the top women Gymnasts. Their work was precise and sure a job obviously prepared for and well-executed. The Russian girls were especially trim and finely trained down to perfection of figure for Gymnastics. The high scorers performed their routines with flawless precision with sure and stable dismounts and landings to get that little extra from the judges.

Modern Gymnast, Sept/Oct 1962
But… there are some interesting tidbits out there.
Doris Fuchs: Foreshadowing the 1966 World Championships Dortmund, Germany
Doris Fuchs' performance on the Unevens was superb and should have scored among the top finalists.

Modern Gymnast, Sept/Oct 1962
If you don't know what happened with Doris Fuchs in 1966, here's the story.
Ikeda Keiko: Competing Three Months Post Partum
Experts were amazed at the performance of Keiko Ikeda, of Japan, who is running seventh in the individual standings.

Only three months ago, she had her first baby. Her husband, who is also her trainer, could not come along to Prague. "He had to stay home and watch the baby," Ikeda said.

The Yomiuri, July 7, 1962
She won a bronze medal on beam three months after giving birth.
Piano Music: Better Than Taped Music?
Both piano and organ music was used by the girls for the Floor Exercise (as well as taped music used by the USA team). Some used just piano and some just organ and a few used both (if I remember rightly ). The teams that brought a piano player seemed to have a definite advantage as the pianist could follow the action more closely with crescendos and changes of tempo which helped the girls put more feeling into their performance. (Also a good pianist can cover any slight break in a routine enough to make it look like part of the intended action.)

Modern Gymnast, Sept/Oct 1962
And yes, there really was an organ on site. You can see it at the 3:12 mark here:
Canada had some music problems, but Poland's pianist saved the day.
One of the biggest problems that confronted the girls was the different electric current in Europe which meant that all their music tapes for their floor exercise routines were useless. Fortunately, Mr. A. Dobrowolski, pianist of the Polish Gym Team, offered to accompany the Canadian girls during their practice sessions and competitions. In fact, he even composed the accompaniment for one of the routines.

Reet Nurmberg, A History of Competitive Gymnastics in Canada, 1970
More on Team Canada
The Canadian Women's team, coached by Monica Lindeman and chaperoned by Fay Weiler, was composed of Gail Daley (16 yrs.) from Saskatoon, Leissa Kroll (16 yrs.) from Windsor, Maureen McDonald (17 yrs.) from Saskatoon, Irene Hawthorn (16 yrs.) from Saskatoon, Lynn Wozniak (17 yrs.) from Vancouver, and Bonnie Dertell (16 yrs.) from Saskatoon.

The best performances by the girls were given in the side horse vault event, and in this event, Gail Daley placed 66th, the best placing achieved by any of Canada's gymnasts, men or women, at these competitions. Gail was also Canada's best performer, finishing 91st in a field of 116 competitors.

Reet Nurmberg, A History of Competitive Gymnastics in Canada, 1970
Canada's team was entirely under the age of 18. In 1963, 10 year-old Glenna Sebestyen was the second-best gymnast during the Canadian Pan-American Trials. Yes, 10 years old. So much for the myth that Bela Károlyi created the prepubescent gymnastics trend, huh?
How much did it cost to travel to Prague?
The Fitness and Amateur Sport Directorate of the Department of Health and Welfare was providing financial assistance to individuals and teams representing Canada in international competition. The Government offered a grant of $8,000 to assist six men, six women, two coaches, and a manager to attend the 1962 World Championships in Prague. However, each gymnast still had to pay $300 in order that the total expense was covered. This was the first time that Canada had sent complete teams, both men and women, to the World Championships.

Reet Nurmberg, A History of Competitive Gymnastics in Canada, 1970
In a few short years, the dynamics will shift. It will become harder to find commentary on men's gymnastics and much easier to find commentary on women's gymnastics.
In the meantime, let's test your gym nerd knowledge with some trivia about the 1962 World Championships.