Unlike much of the Czechoslovak team, Marianna Krajčírová was Slovak — not Czech. She was part of the 1964 Czechoslovak team in Tokyo, as well as the 1966 World Championships team that won gold. On a personal level, 1967 was her break-out year. At the 1967 European Championships, she finished third in the all-around and third on bars. Then, at the 1967 "Little Olympics" in Mexico City (essentially an Olympics Test Event), she finished second behind Soviet gymnast Natalia Kuchinskaya.
Here's a 1967 profile from Stadión on Krajčírová, whose father built her a balance beam to train on at home. Plus, there's a translation of a short interview with Krajčírová (Némethová at the time) from 1970.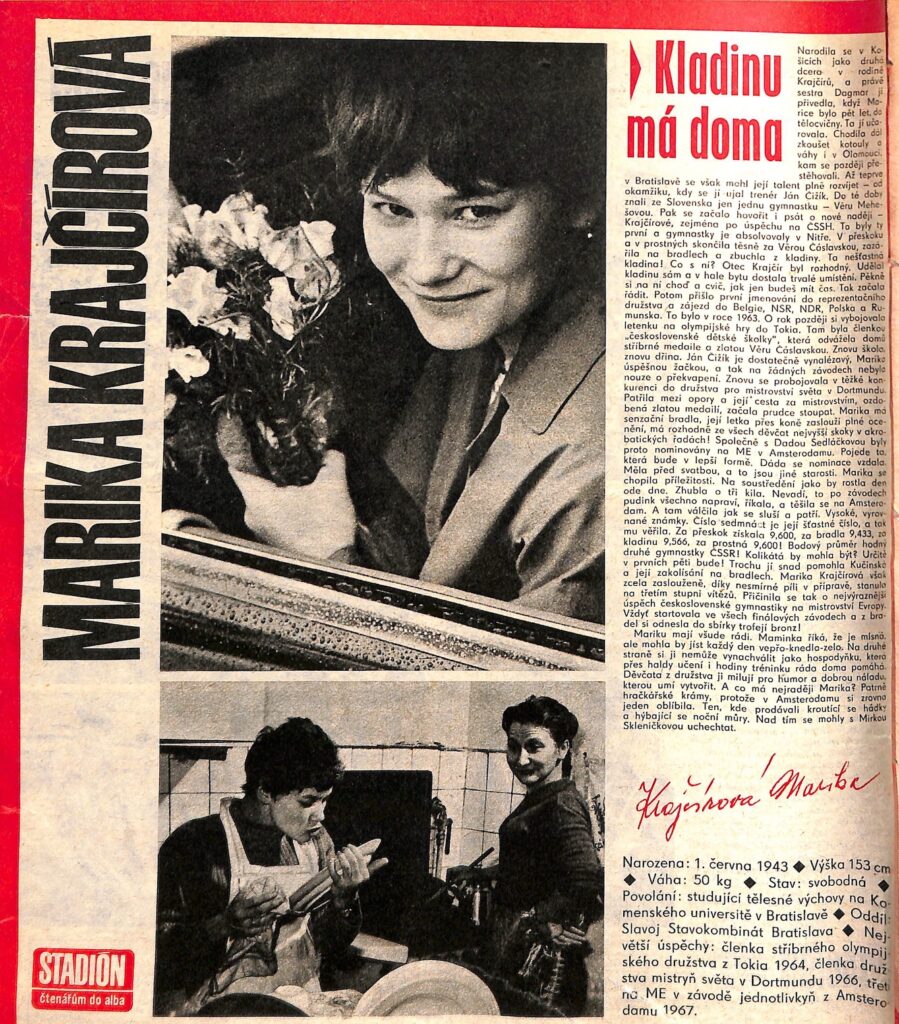 She Has a Balance Beam at Home

She was born in Košice as the second daughter of the Krajčír family, and it was her sister Dagmar who brought her to the gym when Marika was five years old. She was enchanted by it. She continued to try somersaults and scales in Olomouc, where they later moved. It was only in Bratislava, however, that her talent could fully develop — from the moment her coach Ján Čižík took her under his wing. Until then, they knew only one gymnast from Slovakia — Věra Mehešová, then they started to talk and write about a new hope — Krajčírová, especially after her success at the Czech Gymnastics Championships. Those were the first ones, and the gymnasts competed in Nitra. She finished just behind Věra Čáslavská on vault and floor exercise; she shone on the uneven bars and fell from the balance beam. That unfortunate balance beam! What to do about it? Father Krajčír was determined. He made a balance beam himself, and it was placed permanently in the apartment hall. Go and practice on it as much as you can. So she went on a rampage. Then came the first appointment to the national team and a trip to Belgium, GDR, Poland, and Romania. That was in 1963. A year later, she won a ticket to the Tokyo Olympics. There, she was a member of the "Czechoslovakian kindergarten" that took home silver medals and Věra Čáslavská's gold. School again, hard work again. Ján Čižík is sufficiently inventive; Marika a successful pupil, and so there was no shortage of surprises at any competition. Once again, she fought her way onto the team for the World Championships in Dortmund. She was one of the mainstays, and her path to the championship, adorned with a gold medal, began to soar. Marika has sensational uneven bars, her hecht over the horse deserves full credit, she definitely has the highest tumbling of all the girls in the acrobatic ranks! Together with Dáda Sedláčková, they were therefore nominated for the European Championships in Amsterdam. The one who is in better shape will go. Dáda gave up her nomination. She was preparing to get married, so she had different things to take care of. Marika seized the opportunity. At the training camp, she seemed to grow day by day. She'd lost three kilos. Never mind, the pudding will fix everything after the competition, she said, and she was looking forward to Amsterdam. High, even marks. Seventeen was her lucky number, and so she trusted it. She got 9.600 for the vault, 9.433 for the uneven bars, 9.566 for the beam, 9.600 for the floor exercise! A point average worthy of the second-best gymnast in Czechoslovakia! How high could she rank? Definitely in the top five! Maybe Kuchinskaya and her fall on the uneven bars helped her a bit. Marika Krajčírová, however, deservedly, thanks to her immense diligence in preparation, stood on the third level of the podium, and thus contributed to the most significant success of Czechoslovak gymnastics at the European Championships. After all, she competed in all the final competitions and took bronze from the uneven bars to her trophy collection!

Marika is loved everywhere. Her mother says Marika likes to eat good food, but she could eat pork with dumplings and cabbage every day. On the other hand, she can't praise her enough as a housewife who likes to help out at home despite the heaps of studying and hours of training. The girls on the team love her for her humor and the good mood she can create. And what is Marika's favorite? Probably toy stores, because she just loved one in Amsterdam. The one where they sold moving snakes and nightmares. Marika and Mirka Skleničková could not stop laughing about this.

Stadión, June 15, 1967

Kladinu má doma

15. Června 1967

Narodila se v Košicích jako druhá dcera v rodině Krajčírů, a právě sestra Dagmar ji přivedla, když Morice bylo pět let, do tělocvičny. Ta jí učarovala. Chodila dál zkoušet kotouly a váhy i v Olomouci, kam se později přestěhovali. Až teprve v Bratislavě se však mohl její talent plně rozvíjet — od okamžiku, kdy se ji ujal trenér Ján Čižík. Do té doby znali ze Slovenska jen jednu gymnastku — Věru Mehešovou, Pak se začalo hovořit i psát o nové naději — Krajčírové, zejména po úspěchu na ČSSH. To byly ty první a gymnastky je absolvovaly v Nitře. V přeskoku a v prostných skončila těsně za Věrou Čáslavskou, zazářila na bradlech a zbuchla z kladiny. Ta nešťastná kladina! Co s ní? Otec Krajčír byl rozhodný, Udělal kladinu sám a v hale bytu dostala trvalé umístění. Pěkně si na ní choď a cvič, jak jen budeš mít čas. Tak začala řádit. Potom přišlo první jmenování do reprezentačního družstva "a zájezd do Belgie, NSR, NDR, Polska a Rumunska. To bylo v roce 1963. O rok později si vybojovala letenku na olympijské hry do Tokia. Tam byla členkou "československé dětské školky", která odvážela domů stříbrné medaile a zlatou Věru Čáslavskou. Znovu škola, znovu dřina. Ján Čižík je dostatečně vynalézavý, Marika úspěšnou žačkou, a tak na žádných závodech nebyla nouze o překvapení. Znovu se probojovala v těžké konkurenci do družstva pro mistrovství světa v Dortmundu. Patřila mezi opory a její cesta za mistrovstvím, ozdobená zlatou medailí, začala prudce stoupat. Marika má senzační bradla, její letka přes koně zaslouží plné ocenění, má rozhodně ze všech děvčat nejvyšší skoky v akrobatických řadách! Společně s Dadou Sedláčkovou byly proto nominovány na ME v Amsterodamu. Pojede ta, která bude v lepší formě. Dáda se nominace vzdala. Měla před svatbou, a to jsou jiné starosti. Marika se chopila příležitosti. Na soustředění jako by rostla den ode dne. Zhubla o tři kila, Nevadí, to po závodech pudink všechno napraví, říkala, a těšila se na Amsterodam, A tam válčila jak se sluší a patří. Vysoké, vyrovnané známky. Číslo sedmnáct je její šťastné číslo, a tak mu věřila. Za přeskok získala 9,600, za bradla 9,433, za kladinu 9,566, za prostná 9,600! Bodový průměr hodný druhé gymnastky ČSSR! Kolikátá by mohla být? Určitě v prvních pěti bude! Trochu jí snad pomohla Kučinská a její zakolísání na bradlech. Marika Krajčírová však zcela zaslouženě, díky nesmírné píli v přípravě, stanula na třetím stupni vítězů, Přičinila se tak o nejvýraznější úspěch československé gymnastiky na mistrovství Evropy. Vždyť startovala ve všech finálových závodech a z bradel si odnesla do sbírky trofejí bronz!

Mariku mají všude rádi. Maminka říká, že je mlsná ale mohla by jíst každý den vepřo-knedlo-zelo. Na druhé straně si ji nemůže vynachválit jako hospodyňku, která přes haldy učení i hodiny tréninku ráda doma pomáhá. Děvčata z družstva ji milují pro humor a dobrou náladu kterou umí vytvořit. A co má nejraději Marika? Patrně hračkářské krámy, protože v Amsterodamu si zrovna jeden oblíbila. Ten, kde prodávali kroutící se hádky a hýbající se noční můry, Nad tím se mohly s Mirkou Skleničkovou uchechtat.
---
A Short Interview with Marianna from 1970
• Do you have a favorite artist in some sphere of cultural life?

Sure, there's someone in each sphere, but who to single out as the absolute favorite? I've got it — Henryk Sienkiewicz. You'll be surprised, but — even though I suffer, like other active athletes, from a chronic lack of time — I am terribly fond of historical novels. Sweeping tales of how people lived, rejoiced, and suffered long before our time.

• Which art do you admire the most?

Music, I like to listen to any music. But neither in concert nor in the theater, I like it best at home. Either from the radio, gramophone, or tape recorder, in peace, undisturbed. In classical music, I love Smetana and Dvořák's operas the most, and all modern music. One of my favorite singers is Elvis Presley.

• When and what was the last time you had an interesting cultural experience?

That was in the cinema, it couldn't have been anywhere else. As much as I like music at home, I prefer going to the movies over TV, and I have to see every good movie. I've been most impressed with The Bridge at Remagen as of late.

Stadión, November 5, 1970

• Máte oblíbeného umělce v některé sféře kulturního života?

Jistěže, v každé někoho, ale koho z nich vyzdvihnout jako nejoblíbenějšího? Už to mám — Henryka Sienkiewicze. Budete se divit, ale já mám — i když trpím jako ostatní aktivní sportovci chronickým nedostatkem času — strašné ráda historické romány. Rozsáhlá povídání o tom, jak žili, jak se radovali a trpěli lidé dávno před naší dobou.

• Kterému umění se nejvíc obdivujete?

Hudbě, ráda poslouchám jakoukoliv. Ale ani na koncertě, ani v divadle, nejlíp je mi doma. Buď z rádia, gramofonu nebo magnetofonu, v klidu, nerušeně. Z vážně hudby nejvíc miluju Smetanovy a Dvořákovy opery, moderní hudbu snad všechnu. K mým oblíbeným zpěvákům patří Elvis Presley.

• Kdy a při čem jste měla naposledy zajímavý kulturní zážitek?

To bylo v kině, jinde to nemohlo být. Jak mám ráda hudbu doma, tak zas dávám přednost biografu před televizí a musím vidět každý pěkný film. Z poslední doby na mne udělal největší dojem "Most u Remagenu".