In 1973, one of the first profiles of the Károlyis was printed. It wasn't published in the main sports newspaper in Romania, Sportul. Rather, it was published in A Hét, a Hungarian-language newspaper out of Bucharest. (Both Károlyis are ethnic Hungarians.)
The profile in A Hét calls the couple "heroes" and includes the basic contours of the Károlyis' backstory, which differ from those found in a profile of Comăneci published weeks earlier in Sportul. In that profile, Károlyi suggests that he discovered Comăneci on a playground, a myth that has been repeated for decades. But here, in this Hungarian-language interview, the writer makes it clear that the Károlyis inherited already established groups of gymnasts when they moved to Oneşti. Though, Comăneci's first coach, Marcel Duncan, is never mentioned by name.
The profile of Károlyi in A Hét was printed after Comăneci's early success in 1973 — after she had won all the golds at the 1973 Romanian International as well as the all-around during a dual meet with the Soviets. And according to Károlyi, the best was yet to come. In fact, he insinuated that Comăneci might become the first woman to compete a triple twist. (Japan's Kenmotsu had attempted the skill at the 1970 World Championships and 1972 Olympics.)
A short sidenote: In this article, we find out an interesting tidbit: Márta Károlyi's first name in Hungarian is reportedly Gyöngyi. (Erőss is her maiden name.) It was not uncommon for Hungarians to use alternate given names. For example, Valerie Nagy, a long-time member of the Women's Technical Committee, did not use her Hungarian given name (Jenőné) outside of Hungary.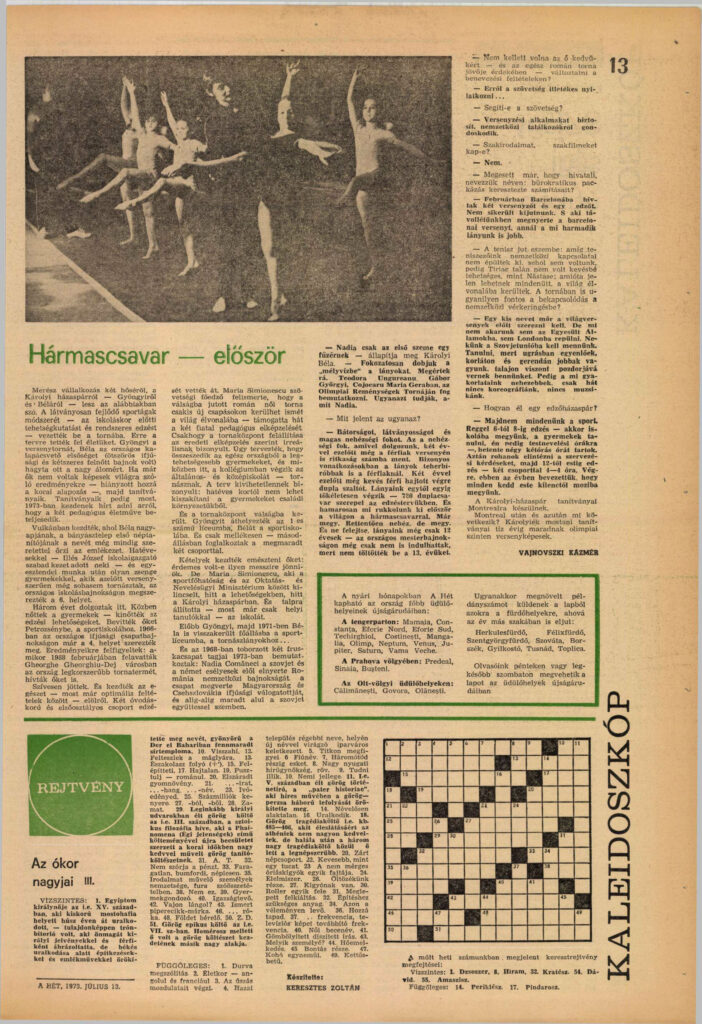 Triple Twist — for the First Time

We are going to talk about the Károlyi married couple — Gyöngyi and Béla — the heroes, who undertook a bold enterprise. They introduced a method employed by sports that develop in a spectacular manner, and that is a pre-school talent search and regular training. They devoted their lives to this plan. Gyöngyi left competitive gymnastics, while Béla left his first place as a national hammer thrower (he was a five-time junior champion and two-time adult champion) for this big dream. If they could not achieve earth-shattering results — they lacked the early foundation — then their students will. Their students, now in 1973 seem to show that the life's work of the two teachers finally seems to materialize.

They started out at Vulcan, where Bela's granddad is still fondly remembered as he was the first teacher at the mining village. With six-year-olds — Illés József school principal gave him a free hand— and after one year of hard work they won 6th place at the national school championship with kids, who, before that, never did gymnastics competitively.

[Note: Béla and Márta started off in separate mining towns: Béla in Vulcan and Márta in Lupeni.]

They worked there for three years. And in the meantime, the kids were growing — they grew out of the training opportunities. They took them to Petroşani, to the sports school. In 1966 they won 4th place at the national junior team competition. Their results started to get recognition: when in February of 1968 the country's most modern gym, in Gheorghe Gheorghiu-Dej, was launched they were also invited.

[Note: At first, after the couple moved, Béla taught handball at the sports school, and Márta worked alongside Maria Simionescu and Valeriu Munteanu at the gymnastics training center.]

And they came gladly. They started the whole thing — now in optimal conditions — once again from the beginning. They took over the training of two kindergarten groups and one group of first graders. Maria Simionescu, the national head coach, realized that Romanian female gymnastics reached a crisis and it can only be placed among the best in the world with new gymnasts — that is why she supported the vision of the two young teachers. But having a sports center in terms of the original concept seemed to be unrealistic. Their plan was to collect the most talented kids in the country. They would be attending their elementary and secondary school studies and doing gymnastics at the same time. The plan proved to be impracticable as children should not be taken away from their families at this age.

And thus, the sports center was in crisis. Gyöngyi was transferred to Lyceum 1, while Béla worked at the sports school. They only worked with the remaining two groups in their spare time.

They started to have doubts: was it worth coming so far away? But Maria Simionescu was still visiting the sports authority and the Ministry of Education and Training, she still believed in the possibilities, and she still believed in the Károlyi couple. And she managed to make the school happen, but now with local students.

Gyöngyi was transferred back first as a full-time teacher at the sport lyceum to train the gymnasts, Béla followed her in 1971…

And then the two groups recruited in 1968 made up of young girls finally got to introduce themselves in 1973: Nadia Comaneci won the Romanian International Championship preceding the Soviet and German front runners, the team beat Hungary's and Czechoslovakia's junior team, and they were not much behind the Soviet group either.

— Nadia is only the first name on this string — says Béla Károlyi.

— We will gradually throw the girls into the deep end. They are ready for it. Teodora Ungureanu, Gábor Györgyi, and Cojocaru Maria Geraban will be introduced at the Olympics Hopes Tournament. They can produce the same results as Nadia. 

— What do you mean by the same results?

— Bravery, spectacle, and a high degree of difficulty. The degree of difficulty at which we work was two years ago a rarity even at the male level. The girls at some level bear the load better than men do. Two years ago, not many men did a double twist. Our girls can all do it perfectly — we have double twists in our training plan. And we will be the ones who will soon introduce the triple twist. We can already do it. It is incredibly difficult, but we can do it. And one more thing, our girls are only 12 years old — they cannot even compete at the national masters' championships, because they are not yet 13. 

— Should there be a rule change for their sake — and the sake of Romanian gymnastics in these conditions?

— This can only be commented on by the committee …

— Does the committee help you?

— It provides us with opportunities where we can compete, and it also handles international meets.

— Do you get any expert literature and films?

— No.

— Has it ever happened to you that some bureaucratic games prevented you from doing something?

— In February two competitors and coaches were invited to Barcelona. We could not go. And the person who won this competition was worse than our third-best girl.

— It reminds me of tennis: we got nowhere before our tennis players managed to develop international connections, yet Tiriac was not less talented than Nastase, since they can attend everything, they are among the best players. Is being part of the international community just as important in the case of gymnastics as well?

— Well, it is always worth getting some recognition before international competitions. But we don't want to fly to the USA or London. We have to go to the Soviet Union. We have to learn, because we are just as good at vaulting, and we are better on bars and beam, but on floor, we have no chance against them. Even though our exercises are harder than theirs, we lack the choreography, we have no music.

— What is the life of a coach pair like?

— It is almost all about sports. Training from 6 to 8 am — then we go to school, the kids go to learn, and I have PE classes — each week I have four classes lasting for two hours. Then I rush to manage organizational questions, then I have training from 12 am until the evening — with two groups, 4 — 4 hours. Finally, this year we made a deal that we go to the cinema each Tuesday at 9 pm.

The students of the Károlyi couple are preparing for Montreal.

And what comes after Montreal? Their students will be ready to compete on an Olympic level for ten years after that. 

A Hét, July 13, 1973

Note: A Hét was a "social—political—cultural" weekly, according to the publication's own branding.

Hármascsavar — először 

Merész vállalkozás két hőséről, a Károlyi házaspárról — Gyöngyiről és Béláról — lesz az alábbiakban szó. A látványosan fejlődő sportágak módszerét — az iskoláskor előtti tehetségkutatást és rendszeres edzést — vezették be a tornába. Erre a tervre tették fel életüket. Gyöngyi a versenytornát, Béla az országos kalapácsvető elsőséget (ötszörös ifjúsági és kétszeres felnőtt bajnok volt) hagyta ott a nagy álomért. Ha már ők nem voltak képesek világra szóló eredményekre — hiányzott hozzá a korai alapozás —, majd tanítványaik. Tanítványaik pedig most, 1973-ban kezdenek hírt adni arról, hogy a két pedagógus életműve beteljesedik. 

Vulkánban kezdték, ahol Béla nagyapjának, a bányásztelep első néptanítójának a nevét még mindig szeretettel őrzi az emlékezet. Hatévesekkel — Illés József iskolaigazgató szabad kezet adott neki — és egyesztendei munka után olyan zsenge gyermekekkel, akik azelőtt versenyszerűen még sohasem tornásztak, az országos iskolásbajnokságon megszerezték a 6. helyet. 

Három évet dolgoztak itt. Közben nőttek a gyermekek — kinőtték az edzési lehetőségeket. Bevitték őket Petrozsénybe, a sportiskolához. 1966- ban az országos ifjúsági csapatbajnokságon már a 4. helyet szerezték meg. Eredményeikre felfigyeltek: amikor 1988 februárjában felavatták Gheorghe Gheorghiu-Dej városban az ország legkorszerűbb tornatermét, hívták őket is. 

Szívesen jöttek. Elkezdték az egészet — most már optimális feltételek között — elölről. Két óvodáskorú és elsőosztályos csoport edzését vették át. Maria Simionescu szövetségi főedző felismerte, hogy a válságba jutott román női torna csakis új csapásokon kerülhet ismét a világ élvonalába — támogatta hát a két fiatal pedagógus elképzelését. Csakhogy a tornaközpont felállítása az eredeti elképzelés szerint irreálisnak bizonyult. Úgy tervezték, hogy összeszedik az egész országból a legtehetségesebb gyermekeket, és miközben itt, a kollégiumban végzik az általános- és középiskolát a tornásznak. A terv kivihetetlennek bizonyult: hatéves kortól nem lehet kiszakítani a gyermekeket családi környezetükből. 

És a tornaközpont válságba került. Gyöngyit áthelyezték az 1 es számú líceumba, Bélát a sportiskolába. És csak mellékesen a másodállásban foglalkoztak a megmaradt két csoporttal. 

Kételyek kezdték emészteni őket: érdemes volt-e ilyen messzire jönniük. De Maria Simionescu, aki a sportfőhatóság és az Oktatás- és Nevelésügyi Minisztérium között kilincselt, hitt a lehetőségekben, hitt a Károlyi házaspárban. És talpra állította — most már csak helyi tanulókkal — az iskolát. 

Előbb Gyöngyi, majd 1971-ben Béla is visszakerült főállásba a sportlíceumba, a tornászlányokhoz… 

És az 1968-ban toborzott két fruskacsapat tagjai 1973-ban bemutatkoztak: Nadia Comaneci a szovjet és a német esélyesek elől elnyerte Románia nemzetközi bajnokságát, a csapat megverte Magyarország és Csehszlovákia ifjúsági válogatottját, és alig-alig maradt alul a szovjet együttessel szemben. 

— Nadia csak az első szeme egy füzérnek — állapítja meg Károlyi Béla. — Fokozatosan dobjuk a "mélyvízbe" a lányokat. Megértek rá. Teodora Ungureanu, Gábor Györgyi, Cojocaru Maria Geraban, az Olimpiai Reménységek Tornáján fog bemutatkozni. Ugyanazt tudják, amit Nadia. 

— Mit jelent az ugyanaz? 

— Bátorságot, látványosságot és magas nehézségi fokot. Az a nehézségi fok, amivel dolgozunk, két évvel ezelőtt még a férfiak versenyén is ritkaságszámba ment. Bizonyos vonatkozásokban a lányok teherbíróbbak is a férfiaknál. Két évvel ezelőtt még kevés férfi hajtott végre dupla szaltót. Lányaink egytől egyig tökéletesen végzik — 720 duplacsavar szerepel az edzéstervükben. És hamarosan mi rukkolunk ki először a világon a hármas csavarral. Már megy. Rettentően nehéz, de megy. És ne felejtse, lányaink még csak 12 évesek — az országos mesterbajnokságon még csak nem is indulhattak, mert nem töltötték be a 13. évüket. 

—Nem kellett volna az ő kedvükért — és az egész román torna jövője érdekében — változtatni a benevezési feltételeken ? — Erről a szövetség illetékes nyilatkozni … 
— Segíti-e a szövetség? 
— Versenyzési alkalmakat biztosít, nemzetközi találkozókról gondoskodik. 
— Szakirodalmat, szakfilmeket kap-e? 
— Nem. 
— Megesett már, hogy hivatali, nevezzük néven: bürokratikus packázás keresztezte számításait? — Februárban Barcelonába hívtak két versenyzőt és egy edzőt. Nem sikerült kijutnunk. S aki távollétünkben megnyerte a barcelonai versenyt, annál a mi harmadik lányunk is jobb. 
— A tenisz jut eszembe: amíg teniszezőink nemzetközi kapcsolatai nem épültek ki, sehol sem voltunk, pedig Tiriac talán nem volt kevésbé tehetséges, mint Nastase, amióta jelen lehetnek mindenütt, a világ élvonalába kerültek. A tornában is ugyanilyen fontos a bekapcsolódás a nemzetközi vérkeringésbe? 
— Egy kis nevet már a világversenyek előtt szerezni kell. De mi nem akarunk sem az Egyesült Államokba, sem Londonba repülni. Nekünk a Szovjetunióba kell mennünk. Tanulni, mert ugrásban egyenlőek, korláton és gerendán jobbak vagyunk, talajon viszont pozdorjává vernek bennünket. Pedig a mi gyakorlataink nehezebbek, csak hát nincs koreográfiánk, nincs muzsikánk. 
— Hogyan él egy edzőházaspár? 
— Majdnem mindenünk a sport. Reggel 6-tól 8-ig edzés — akkor iskolába megyünk, a gyermekek tanulni, én pedig testnevelési órákra —, hetente négy kétórás órát tartok. Aztán rohanok elintézni a szervezési kérdéseket, majd 12-től estig edzés — két csoporttal 4—4 óra. Végre, ebben az évben bevezettük, hogy minden kedd este kilenctől moziba megyünk.

A Károlyi-házaspár tanítványai Montrealra készülnek.

Montreal után és azután mi következik? Károlyiék mostani tanítványai tíz évig maradnak olimpiai szinten versenyképesek. 

---
Appendix: More on the Origin Stories
In September of 1976, the Romanian Secret Police wrote a report on who discovered Comăneci and when. In Stejarel Olaru's book Nadia Comăneci and the Secret Police, he provides the following translation:
In 1965, in Gheorghe Gheorghiu-Dej Municipality, under the supervision of teacher-trainer Duncan Marcel, a female gymnastics sports nucleus came into being, which operated within the Flame Sporting Association. Subsequently, at the beginning of 1966, gymnast Nadia Comăneci was selected by Duncan.

In the same period, husband and wife Maria and Gheorghe Simionescu, specialist teachers, were assigned to the Gheorghe Gheorghiu-Dej Municipality, who together with teacher Duncan Marcel made their contribution to training and laying the foundations of competition gymnastics.

The first competition gymnastics group began its activity in 1968 at the Flame Sporting Association, female gymnastics section, run by trainer Duncan Marcel until 1969, of which, among others, Nadia Comăneci and Georgeta Gabor were part.

Husband and wife Marta and Béla Károlyi were assigned to the Gheorghe Gheorghe-Dej Municipality during the course of 1968, respectively to the General Culture Lycée No. 1 and the Sports School.

In 1969, when the Female Gymnastics Lycée was established, teacher Marta Károlyi was selected and assigned to this school, where she took over the small group that had been trained by Duncan Marcel, and together with teacher Munteanu Valerică from Bucharest they worked with the group until 1972.

In 1972, when teacher Munteanu Valerică was recalled to the Romanian Gymnastics Federation, Károlyi Béla was appointed to replace him, having theretofore worked in the handball department of the local sports school. This competition gymnastics group, whose members included Nadia Comăneci, Teodora Ungureanu, Gabor Georgeta and others, was taken over with a view to continuation of training by the Károlyis under the supervision of federal gymnastics trainer Maria Simionescu and her husband Gheorghe Simionescu, who at the time was director of the lycée. This group, which included the best gymnasts, took part in national and international international competitions, including the 1976 Montreal Olympics, Canada.

Duncan Marcel operated within the Municipality until 1969, when he left with his whole family, initially going to Galaţi, and at present he is in Israel (legal emigrant).

Husband and wife Maria and Gheorghe Simionescu are at present in Bucharest, the first a federal trainer and international gymnastics referee, and the second a gymnastics teacher at a lycée in Bucharest.

Munteanu Valerică is also in Bucharest, teaching at a sports school.

Stejarel Olaru, Nadia Comaneci and the Secret Police
Note: For those interested, Olaru's book contains much more information about the Károlyis' start in gymnastics.
---
More Interviews and Profiles