I think it's important to document the floor music used at major gymnastics competitions. It tells us a lot about the general cultural zeitgeist in the world, as well as what gymnasts and their coaches think the judges will or will not like.
Here are a few trends this year…
"Paint It Black"
I loved this song as a teenager, so I'm not complaining. But there was a fair amount of this song by the Rolling Stones.
80s Nostalgia
The nostalgia machine is always live and well at gymnastics competitions. The goal is to target judges and audience members in their 40s and 50s (and beyond) by using songs from their youth (i.e. roughly 40 years ago).
This year, we listened to Madonna's "Material Girl," Kenny Loggins's "Footloose," and George Michaels's "Careless Whisper," among others.
Y2K Nostalgia
Here are a few of the songs from the turn of the century:
Sex and the City debuted in 1998
"The Next Episode" by Dr. Dre (1999)
"Let's Get Loud" by Jennifer López (1999), but originally by Gloria Estefan
"Bye Bye Bye" by NSYNC (2000)
"Survivor" by Destiny's Child (2001)
"Lose Yourself" by Eminem (2002)
Pop Strings
This is not a new trend. It was also big at the 2004 Olympics with the group Bond. Now, there are a lot of options with Lindsey Stirling being the most prominent figures. (Sunisa Lee won in 2021 with a Lindsey Stirling song.)
TV and Movies
Soundtracks are a tried and true genre of floor music. This year was no exception. Gymnasts used songs from everything from Aladdin and Puss in Boots to West World and Game of Thrones.
EDM
Electronic dance music has been a staple of NCAA floor routines for quite some time. Now, they are becoming more prevalent at the World Championships with songs like Timmy Trumpet's "Party Till We Die" and "Flamenco."
With no Further Ado…
So, here's a long list of (almost) all the floor music used. I probably missed a few gymnasts and songs along the way. (Sorry, it wasn't done intentionally. Feel free to leave corrections or additions in the comments.)
Note: There are a few songs that aren't on Spotify.
Algeria
Salem, Lahna
"Paint It Black," Ramin Djawadi from West World (Originally The Rolling Stones),
Nemour, Kaylia
"Diabolus," Alibi Music
"Protector of the Land," Harpazz
Argentina
Carraro, Brisa
"Soul Awakening," Thomas Howe & Stephen Tait
Estarli Lucila
"Revolt," Nathan Lanier
Iribarne, Nicole
"Stampede (feat. Lindsey Stirling)," Alexander Jean
Australia
Whitehead, Emily
"Boom Boom," 2WEI
Pass, Ruby
"Shallow Grave Theme," Simon Boswell
Godwin, Georgia
"Feeling Good (In the Style of Michael Bublé)," The Tributes (Originally Cy Grant in the musical The Roar of Greasepaint, later popularized by Nina Simone)
Scott, Breanna
"Xap," The Hit House
Austria
Frysak, Bianca
"Careless Whisper," Dyke of Sound (Originally George Michael)
Bohle, Leni
"Danse Roumaine No. 3," Béla Bartók
"Puttin' on the Pizzazz," RetroElectric Big Band
Kickinger, Selina
"Perro Viejo," Otros Aires
Moerz, Charlize
"Rich Man's Frug," 2005 Broadway Revival Cast, from Sweet Charity
Azerbaijan
Teymurova, Nazanin
"Feel It Still," Starstruck Backing Tracks (Originally Portugal. The Man)
Gahramanova, Samira
"King of Swing," Big Bad Voodoo Daddy
Barbados
Kelly, Olivia
"Mas Que Nada," Sérgio Mendes & The Black Eyed Peas
"Mas Que Nada (Brazilian Football Mix)," Maya Maracana
"Se Baila Pegao," Mega Perreo Brasileño
Pilgrim, Anya
"Run This Down," Thisisski (Originally Rihanna, Jay-Z, and Kanye West)
"Sex With Me," Rihanna
"Where You Been," Shontelle Phoenix
"Lands of Seas," Markuum
Belgium
Verkest, Jutta
"Navras," Juno Reactor
Pinxten, Erika
"1989," Laake
Enghels, Fien
"Ook Al Heb Je Verdriet," Bernadette Kraakman (Snow White)
Dandois, Margaux
"Valse Sentimentale, Op. 51, No. 6, " London Festival Orchestra, Josef Sakonov, Tchaikovsky
Brazil
Barbosa, Jade
"Cell Block Tango (Backing Track with Background Vocals)," All Star Backing Tracks, from Chicago with music by Fred Ebb
Soares, Júlia
"Friend Like Me," from Aladdin, with music by Alan Menken
Andrade, Rebeca
"End of Time," Beyoncé
"Movimento da Sanfoninha," Anitta
"Baile de Favela," MC JOÃO
Saraiva, Flávia
"Girl from Ipanema," Originally by Antônio Carlos Jobim
"Aquarela do Brasil," Ary Barroso
"Canto das tres raças," Mauro Duarte and Paulo César Pinheiro
"Canta, Brasil," Alcyr Pires Vermelho and David Nasser
Canada
Stewart, Ava
"Final Descent," Drehz
"Surrender," Drehz
Tran, Aurelie
"La Bohème," Roby Lakatos & Lakatos
"La Bohème," Pianista Sull'Oceano
Black, Elsabeth
"Rat d'hôtel," Maxime Rodriguez
"Pandemonium," Worakls
Lee, Cassandra
"Dark Fate," Tom Holkenborg from Terminator: Dark Fate
Chile
Pinto Adasme, Makarena
"Sube a nacer conmigo, hermano," Los Jaivas
"Mambo de Machaguay," Los Jaivas
China
Qiu, Qiyuan
"Inferno," Mari Clare
Ou, Yushan
"Song of Four Seasons," Liu Ziling (四季歌 by 刘紫玲)
Colombia
Valenzuela, Yiseth
"Pink Panther Theme," Dream Chaser (Originally Henry Mancini)
Escobar Betancur, Ginna
"Gangsta's Paradise / Lose Yourself / Let Me Blow Ya Mind / Candy Shop," Ember Trio
"The Next Episode," Dr. Dre
Czech Republic (Czechia)
Ponížilová, Dominika
"The Deep, The Dark," Tamer
Trnková, Lucie
"Voilà," Barbara Pravi
Denmark
Rasmussen, Camille
"Vivace," Andre Soueid
"Babylon," AxLi
"African Dream – African Beats," Zumba Fitness
Ecuador
Perea, Alais
"Cachondea," Fruk y Sus Tesos
Egypt
Elsadek, Sandra
"The Grand Bizarre," Beats Antique
Finland
Siikala, Adeliina
"In scimmia," Horus Su Maccu
"Batucada," Phillybloco
Vaettoe, Olivia
"Charleston," Sobe
Tanskanen, Kaia
"Swing It," Bobo and Sean
France
Boyer, Marine
"Mi Refugio," Daniel Casares
"Sor Bulería," Moraíto
Oyssek-Reimer, Morgane
"In the Middle Somewhat Elevated," Thom Willems
De Jesus Dos Santos, Mélanie
"Sahara," Sofiane Pamart
Devillard, Coline
"Rebirth," Lord Kra Ven
Germany
Schönmaier, Karina
"The Enola Holmes Detective Agency," Daniel Pemberton
Quaas, Lea Marie
"Can't Help Falling in Love (feat. Profitt)," Tommee Profitt (Originally Elvis Presley)
Schäfer-Betz, Pauline
"Bye Bye Bye," Joseph William Morgan (Originally NSYNC)
Voss, Sarah
"Thanks fr th Mmrs," Fall Out Boy
Note: I had no clue that's how the title of the song was spelled.
Great Britain
Achampong, Ondine
"Let's Get Loud," Hauser (Originally Jennifer López)
Evans, Ruby
"Dangerous Thoughts," Brand X Music
Kinsella, Alice
"Miami," Josh Vietti
Gadirova, Jessica
"Cloak and Dagger," Eternal Eclipse
"Fate of the Clockmaker," Eternal Eclipse
Greece
Katsali, Elvira
"Arabesque (Orchestral Version)," Nightwish
Mesiri, Athanasia
"Brahms: Hungarian Dance No. 5 in G Minor," Martynas
Haiti
Brown, Lynnzee
"Control," Janet Jackson
Hungary
Székely, Zója
"Esperanza," Maxime Rodriguez
Mayer, Gréta
"No Twerk," Panther
"Trouble," Wiwek & Gregor Salto
"He's a Pirate (Chris Joss, Ship Ahoy Tribal Mix)," Geoff Zanelli, Hans Zimmer & Klaus Badelt
Szilágyi, Nikolett
"Flamenco," Timmy Trumpet & JETFIRE
"Mexicana," Opal Ocean
Iceland
Aðalsteinsdóttir, Thelma
"One Choice," Sam Cushion
"A Break in the Glass," Sam Cushion
Kristinsdóttir, Margrét Lea
"Paint It Black (Cello Version)" Jamie Evans Music
Indonesia
Irfanaluthfi, Rifda
"Theme from Sex and the City," The Pop Allstars (Originally Douglas J. Cuomo and Tom Findlay)
Ireland
Hilton, Halle
"Bleed," Timmy Trumpet & SCNDL
"Good Golly," The S.P.Joy
"Party Till We Die," MAKJ & Timmy Trumpet
Slevin, Emma
"If I Lose Myself," Simply Three
Israel
Raz, Lihie
"Paint it Black," Ralph Benatar (Originally the Rolling Stones)
Italy
Esposito, Manila
"Tocando el Cielo," Carlos Olmo
D'Amato, Alice
"Mercy in Darkness," Two Steps from Hell, Nick Phoenix
"Stanga (Radio Version)," Sagi Abitbul and Guy Haliva
Iorio, Elisa
"Hit the Road Jack (Extended Mix)," Throttle
Belardelli, Arianna
"Fate of the Clockmaker," Eternal Eclipse
Japan
Fukasawa, Kokoro
"The Puss Suite," Henry Jackman from Puss in Boots
Hatakeda, Chiaki
"Purusha," NVDES
Miyata, Shoko
"Eastbound," Peter Muller
Kishi, Rina
"Bandoneon Acorazado (Malente Remix)," Tango Fusion Club
Kazakhstan
Yassinskaya, Darya
"Good News," Apashe
Bauyrzhanova, Aida
"Kung Fu," Dabin
"Знаешь кто," SVT
Latvia
Ananjeva, Anastasija
"Merry-Go-Round," Joe Hisaishi (from Howl's Moving Castle")
Ratobilska, Valerija
"Bella Ciao" Remix (Originally Goran Bregović)
Luxembourg
Mordenti, Céleste
"Money, Money, Money," Royal Philharmonic Orchestra (Originally ABBA)
Mexico
Loustalot, Cassandra
"See What I've Become," Zach Hemsey
"Episode 'The Queen's Justice'" (Game of Thrones), Ramin Djawadi
Escalera, Natalia
"Vivo Tango," Maxime Rodriguez
Moreno, Alexa
"Zenitsu Theme," Samuel Kim (from Demon Slayer)
Sandoval, Ahtziri
"Survivor," 2WEI (Originally Destiny's Child)
Netherlands
Visser, Naomi
"Voilà," Barbara Pravi
Thorsdottir, Eythora
"Shape of Lies," Eternal Eclipse
Van Pol, Vera
"Insomnia," Symphoniacs
New Zealand
Cobb, Reece
"Kashmir (feat. Slash)," Escala
Marshall, Madeleine
"Make Me Feel," Janelle Monáe
Norway
Roenbeck, Marie
"Say Goodnight," Labrinth from Euphoria
"Following Tyler," Labrinth
Kanter, Mari
"Please Don't Tease," Club des Belugas
Tronrud, Maria
"Intro (Infected)," Sickick
Panama
Heron, Hillary
"Stampede (feat. Lindsey Stirling)" by Alexander Jean
Navas, Karla
"Memories," Within Temptation
Herrera, Lana
"Le Cirque," Maxime Rodriguez
(Kyla Ross also used this music in Antwerp.)
Peru
Méndez, Ana Karina
"The Borrower," Elephant Music
"Winchester," Elephant Music
Philippines
Kvamme, Kylee Ann
"The Vinciguerra Affair," Daniel Pemberton
Finnegan, Aleah
"SloMo (Eurovision's Dancebreak Edit)," Chanel
"Loco (Inst.)," Itzy
Poland
Skalska, Kaja
"Footloose," Kenny Loggins
Portugal
Parente, Mariana
"Torn (Redux)," Nathan Lanier
Costa, Mafalda
"Revolt," Nathan Lanier
"Fractures," Kári Sigurðsson
Martins, Filipa
"Eviscerate," Atom Music Audio
"One Last Mission," Niklas Johansson
Romania
Preda, Andreea
"Touch Your Mind [Arias Remix]." Di Feno & Alls
"Higher," Reinaeiry
Cosman, Lilia
"Children of Sanchez," Marcin Wyrostek & COLORIAGE
Bărbosu, Ana Maria
"Royal Blood," Caleb Swift
Maneca-Voinea, Sabrina
"Baiao," Watazu
Singapore
Yap, Emma
"Charms," Abel Korzeniowski
Nathan, Nadine Joy
"Kairos," Derek Hough
Slovakia
Mokošová, Barbora
"Carol of the Bells," Lindsey Stirling
Slovenia
Trtnik, Zala
"Stay Alive (Instrumental)," Lin-Manuel Miranda (Hamilton)
South Africa
Anders, Caleigh
"Tango to Evora," Loreena McKennitt
Rooskrantz, Caitlin
"Für Elise Jam," The Piano Guys (Originally Beethoven)
Daries, Naveen
"Seven Nation Army," 2CELLOS (Originally The White Stripes)
Napier, Garcelle
"Til the Light Goes out," Lindsey Stirling
South Korea
Lee, Dayeong
"The Landlord's Walk," Blair Douglas
"Sweet Dreams," Escala (Originally Eurythmics)
Shin, Solyi
"Ego (Radio Edit)," Willy William
Yeo Seojeong
"Come and Danz," Debelah Morgan
"I'm A Lady, Meghan Trainor from SMURFS
"Airmail Special (Club Des Belugas Remix)," Club des Belugas & Ella Fitzgerald
Lee Yunseo
"Once upon a December," L'Orchestra Cinematique & Alala (from Anastasia)
Spain
Pérez, Ana
"Moi, Je Suis Tango," Guy Marchand
Font, Laia
"Varg Timmen," Die Spielgesellen
Casabuena, Laura
"Material Girl," Kris Bowers (Originally Madonna)
Petisco, Alba
"Freddie Mercury, Queen Medley," Royal Air Force College Band
Specifically: "Another One Bites the Dust"
Sri Lanka
Elpitiya Badalge Dona, Milka Gehani
"Shootin Stars (feat. Ddark)," Aero Chord
Sweden
Gravin, Elina
"Winds of Capadocia," Alexandre de Faria
Paulsson, Tonya
"Dernière Danse," Amadeus
Williams, Jennifer
"Senna," Shiro Sagaisu
"Nube Negra," Shiro Sagisu
Westlund, Emelie
"Devil and Angel," Maxime Rodriguez
Switzerland
Wu, Anny
"The Forbidden City," Antti Martikainen
Bickel, Lena
"Mezz'Ora di Sole," BLANCO
Taiwan
Lin, Yi-Chen
"Opa," Dimitri Vegas & Like Mike Vs. KSHMR
"Opa!" DJ Rocky
Ting, Hua-Tien
"Masquerade," Lindsey Stirling
Lai, Pin-Ju
"Attending Court," Brand X Music
Liao, Yi-Chun
"Diabolique," Raphael Beau
Turkey
Yıldız, Bengisu
"Better Off Alone," Alice Deejay
Kayışoğlu, Sevgi
"Zay Ma Ehna," Baha'a Sultan
"Lat Jaf," Mario Kirlis
"Crazy," Yaşar Akpençe
Ukraine
Krupa, Ilona
"Lose Yourself," David Garrett, Royal Philharmonic Orchestra & Franck van der Heijden
Lashchevska, Anna
"Independent Woman / Bills, Bills, Bills / Say My Name / Bootylicious," Ember Trio Medley (Originally Destiny's Child)
United States
Wong, Leanne
"Tashir," Charles Aznavour
Roberson, Joscelyn
"Stanga," Sagi Abitbul and Guy Haliva
Jones, Shilese
"Golden Hour," Jvke
"We All Fall Down," Michael Maas & Eurielle
Biles, Simone
"Unicorn," Noa Kirel
"I Like Boys," Todrick Hall
Uzbekistan
Aripova, Dildora
"Let's Get Loud" (Originally Jennifer López)|
"Mueve la Colita," Del Baldo
Vietnam
Tran, Doan Quynh Nam
"Kings and Queens [MOTi Remix]," Ava Max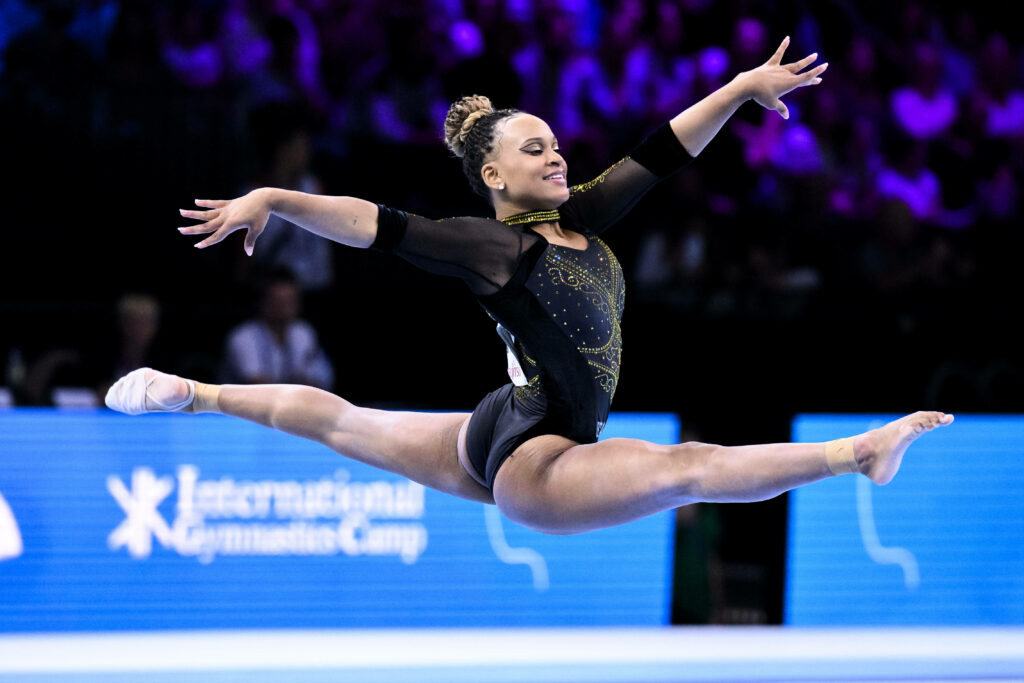 ---
More Floor Music