Moscow News, Russia's oldest English-language newspaper, held its first gymnastics competition in 1974. Over the years, legends like Nellie Kim, Yelena Shushunova, Yelena Mukhina, Natalia Yurchenko, Svetlana Boginskaya, Bogdan Makuts, Dmitri Bilozerchev, Valeri Liukin, to name a few, won the all-around title at this competition.
In 1974, the competition drew several top 1972 Olympians, including gold medalists Elvira Saadi (URS), Viktor Klimenko (URS), Klaus Köste (GDR), Tsukahara Mitsuo (JPN), and Kenmotsu Eizo (JPN).
From a historical perspective, the 1974 competition is important because Yelena Abramova (URS) landed the first double back on women's floor at a large international competition. As Sovetsky Sport reported, "It was not perfect though."
Here's what was reported about the event at that time.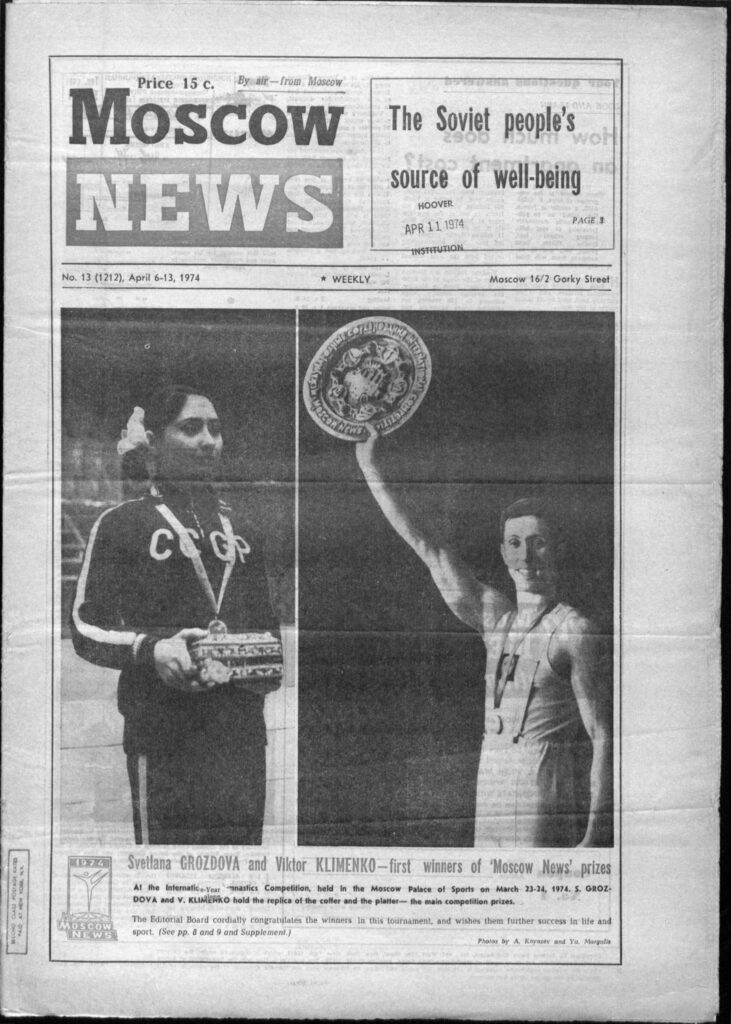 Quick Links: MAG Results | WAG Results | Sovetsky Sport's Report | Moscow News' Report
Men's Results
The All-Around – Top 20
CTRY
Total
1. Klimenko
Viktor
URS
56.65
2. Shamugia
Paata
URS
55.50
3T. Thüne
Wolfgang
GDR
55.45
3T. Tsukahara
Mitsuo
JPN
55.45
5. Mikaelian
Ruben
URS
54.70
6. Horide
Kazuo
JPN
54.70
7. Schukin
Vladimir
URS
54.10
8. Crosby
John
USA
54.00
9. Kim
Sun
PRK
53.90
10. Ivicek
Jim
USA
53.75
11. Bánrévi
Imre
HUN
53.45
12. Köste
Klaus
GDR
53.30
13. Tannenberger
Gustav
TCH
53.30
14. Grosse
Olaf
GDR
53.15
15. Kim
SI
PRK
53.05
16. Keranov
Andrey
BUL
52.50
17. Tabák
Jiří
TCH
52.45
18. Todorov
Georgi
BUL
52.35
19. Boutard
Michel
FRA
52.30
20. Iușan
Gheorge
ROU
51.65
Note: USGF News, June 1974 did not list first names, so I added them. I was not able to determine the first names for the North Korean gymnasts.
Floor
Gymnast
Country
Total
1. Crosby
John
USA
19.15
2. Klimenko
Viktor
URS
19.10
3. Horide
Kazuo
JPN
18.80
4. Keranov
Andrey
BUL
18.50
5. Tsukahara
Mitsuo
JPN
18.30
6. Köste
Klaus
GDR
18.25
USGF News, June 1974
Pommel Horse
Gymnast
Country
Total
1. Shamugia
Paata
URS
18.70
2. Mikaelian
Ruben
URS
18.60
3. Thüne
Wolfgang
GDR
18.55
4T. Richards
Roberto
CUB
18.40
4T. Kenmotsu
Eizo
JPN
18.40
6. Klimenko
Viktor
URS
18.30
USGF News, June 1974
Still Rings
Gymnast
Country
Total
1. Schukin
Viktor
URS
19.05
2. Mikaelian
Ruben
URS
18.90
3. Tsukahara
Mitsuo
JPN
18.65
4T. Thüne
Wolfgang
GDR
18.50
4T. Kenmotsu
Eizo
JPN
18.50
6. Shamugia
Paata
URS
18.45
USGF News, June 1974
Vault
Gymnast
Country
Total
1T. Klimenko
Viktor
URS
18.63
1T. Horide
Kazuo
JPN
18.63
3. Shamugia
Paata
URS
18.50
Note: USGF News did not provide results for places 4-6.
Parallel Bars
Gymnast
Country
Total
1. Klimenko
Viktor
URS
18.70
2. Thüne
Wolfgang
GDR
18.55
3. Shamugia
Paata
URS
18.50
4. Kim
Son Din
PRK
18.25
5. Tsukahara
Mitsuo
JPN
18.15
6. Horide
Kazuo
JPN
17.10
USGF News, June 1974
High Bar
Gymnast
Country
Total
1. Kenmotsu
Eizo
JPN
19.05
2. Thüne
Wolfgang
GDR
18.95
3. Tsukahara
Mitsuo
JPN
18.85
4. Boério
Henry
FRA
18.70
5. Shamugia
Paata
URS
18.45
6. Crosby
John
USA
16.95
USGF News, June 1974
---
Women's Results
The All-Around – Top 20
Gymnast
Country
VT
UB
BB
FX
Total
1. Grozdova
Svetlana
URS
9.30
9.30
9.70
9.60
37.90
2. Primak
Yelena
URS
9.40
9.45
9.35
9.30
37.50
3. Saadi
Elvira
URS
9.30
8.35
9.50
9.70
36.85
4. Abramova
Yelena
URS
9.25
9.25
9.25
8.90
36.65
5. Egervári
Márta
HUN
9.15
9.30
9.05
8.85
36.35
6T. Fike
Debbie
USA
9.25
9.05
8.90
9.10
36.30
6T. Blagoeva
Maya
BUL
9.00
9.00
9.10
9.20
36.30
8. Gayner
Kyle
USA
9.10
8.85
9.05
9.25
36.25
9. Bellák
Erzsébet
HUN
9.15
9.00
9.05
9.00
36.20
10. Trantow
Sigrid
GDR
9.00
8.80
9.00
9.25
36.05
11. Müller
Gislinde
GDR
9.00
8.85
8.95
9.15
35.95
12T. Diachun
Jennifer
CAN
9.20
8.75
8.70
9.15
35.80
12T. Ritter
Elke
GDR
8.85
8.90
9.00
9.05
35.80
14. Stoycheva
N.
BUL
9.00
8.95
8.80
9.00
35.75
15. McDonnell
Nancy*
CAN
9.00
8.90
8.85
8.75
35.70*
16. Dso
Ya
PRK
8.90
8.90
8.75
9.00
35.55
17. Sabău
Rodica
ROU
9.40
8.00
9.00
9.05
35.45
18. Audin
Nadine
FRA
9.20
8.80
8.60
8.80
35.40
19. Kim
Sin Gil
PRK
9.15
8.90
8.20
9.00
35.25
20. Theis
Nancy*
USA
9.10
8.90
9.00
8.85
35.25*
*An asterisk indicates that there is an error in the numbers from USGF News, June 1974. The individual event scores do not properly add up to the total listed.
Vault
Gymnast
Country
Qual
Finals
Total
1. Sabău
Rodica
ROU
9.40
9.40
18.80
2. Grozdova
Svetlana
URS
9.30
9.30
18.60
3T. Saadi
Elvira
URS
9.30
9.25
18.55
3T. Primak
Yelena
URS
9.40
9.15
18.55
5. Fike
Debbie
USA
9.25
9.20
18.45
6. Diachun
Jennifer
CAN
9.20
9.15
18.35
USGF News, June 1974
Uneven Bars
Gymnast
Country
Qual
Finals
Total
1. Primak
Yelena
URS
9.45
9.45
18.90
2. Egervári
Márta
HUN
9.30
9.40
18.70
3. Abramova
Yelena
URS
9.25
9.35
18.60
4. Grozdova
Svetlana
URS
9.30
9.25
18.55
5. Blagoeva
Maya
BUL
9.00
9.15
18.15
6. Fike
Debbie
USA
9.05
9.05
18.10
USGF News, June 1974
Balance Beam
Gymnast
Country
Qual
Finals
Total
1. Saadi
Elvira
URS
9.50
9.65
19.15
2. Grozdova
Svetlana
URS
9.70
9.20
18.90
3. Primak
Yelena
URS
9.35
9.15
18.50
4. Gayner
Kyle
USA
9.05
9.30
18.35
5T. Egervári
Márta
HUN
9.05
9.25
18.30
5T. Blagoeva
Maya
BUL
9.10
9.20
18.30
USGF News, June 1974
Floor Exercise
Gymnast
Country
Qual
Finals
Total
1. Saadi
Elvira
URS
9.70
9.70
19.40
2. Grozdova
Svetlana
URS
9.60
9.70
19.30
3. Primak
Yelena
URS
9.30
9.45
18.75
4T. Stodůlková
Renata
TCH
9.30
9.30
18.60
4T. Ichimura
Machiko
JPN
9.30
9.30
18.60
6. Gayner
Kyle
USA
9.25
9.25
18.50
USGF News, June 1974
---
Sovetsky Sport's Reports
On the all-around competition:
SPRING COLORS OF THE TOURNAMENT

BEST ALL-AROUNDERS SVETLANA GROZDOVA AND VIKTOR KLIMENKO

The grand opening of the competition was bright, colorful and matched with the spring mood of the participants from 18 countries. Women were to start the championship. To tell you the truth, we did not know who the main rivals of the Soviet gymnasts could be. Naturally, we thought of the GDR gymnasts, but very young and unknown gymnasts came to Moscow to compete from this country this time. Nevertheless, they drew attention, since the GDR gymnastics, especially among the youth, is now on the rise.

Our girls started with balance beam. I will mention that Lyubov Bogdanova, who was supposed to participate in the championship, was injured at the last training session, so Elena Abramova from Rostov-on-Don will participate instead. Thus, the Soviet team had only one experienced athlete – Olympic champion Elvira Saadi and three young girls – Elena Primak from Chelyabinsk, Svetlana Grozdova and Elena Abramova from Rostov. It was even more interesting to compare the skills of our 15-year-old debutantes with the other young gymnasts.

Svetlana Grozdova is a girl with a distinct talent. She has already performed in several international competitions and made the best showing. Her style stands out with power. This does not however mean that she lacks plasticity. On the contrary. Svetlana is perfectly coordinated for her age; her movements are light and graceful. Her routine on balance beam amazed the experts with highly complex elements, which she so far is the only one to perform in the world.

Grozdova's routines, which require plasticity, were particularly good. When she started her dance squatting on on the narrow beam at the same moment when a Hungarian gymnast was performing her floor exercise routine to Russian melodies, it looked extraordinary. The spectators were in awe.

Naturally, Elvira Saadi was considered the leader. However, she confessed to be somewhat exhausted after training. Her performance was a bit slow. Elvira was stiff on the beam, and it surely affected her performance. In the middle of the routine, she awkwardly turned on her toe, lost her balance and barely stayed on the beam. Her face stretched out even more, but Saadi held her ground and scored 9.5. Still, the Olympic champion failed to overpass Grozdova's score of 9.7.

When our gymnasts switched to floor exercise, Lena Abramova had her word to say here. For the first time, Moscow spectators saw a double tucked somersault – an extremely rare element in women's routines. It was not perfect though, and the judges were not generous enough to appreciate the risk – she scored 8.9. Saadi however was brilliant. Her score of 9.7 was the highest in this all-around event.

American gymnasts stood out with eccentric exercises. Debbie Fike with her balance beam exercise was particularly good. She clearly borrowed some combinations from Ludmila Tourischeva's program.

Rostov coach Ruslan Lavrov's trainees Grozdova and Abramova were gaining the pace from one apparatus to another. Grozdova boldly competed not only with foreign gymnasts, but also with E. Saadi. Saadi seemed to get scared. Her exercise on uneven bars started heavily. In the middle of the routine, she fell. 8.35 points. The leader of the first session was determined – it would be Svetlana Grozdova.

Chelyabinsk schoolgirl Elena Primak showed a unique exercise on uneven bars. It had something "à-la Korbut" and "à-la Turishtseva" at the same time. It looked superb. The mix of "stunt" and artistry brought Primak an advantage: she scored thus 9.45. It is the highest score on this apparatus.

At the end of the first session, Grozdova's total was 37.9, Primak got 37.5, Saadi's score was 36.85, and Abramova's – 36.65.

In the second session, gymnasts from other countries, and namely from Japan, Canada, and Cuba, stepped onto the platform. Will any of them be able to break the Soviet athletes' lead? Nobody did.

After awarding the winners of the women's tournament, it was time for men to compete. The competition turned out to be interesting. Many participants and our gymnasts in particular showed some novelties. They didn't manage all of the elements, but at the beginning of the season it is forgivable.

Everyone expected to see the rivalry between Soviet and Japanese gymnasts. The all-around world champion E. Kenmotsu, due to a slight injury, did not perform on floor, although on other apparatus he did and with a great success.

V. Klimenko took the lead from the very first event and kept it to the end. The second prize-winner of the world championship M. Tsukahara tried to catch up with Viktor, but all his attempts were in vain.

V. Schukin, R. Mikaelian, P. Shamugia fell on several occasions, so after five events Wolfgang Thüne from the GDR got ahead of them.

The third member of the Japanese team K. Horide performed worse than his famous teammates, but the Japanese school shows itself – his performance was clean and accurate. Unfortunately, the veteran of the GDR national team, the Olympic champion on vault, K. Köste performed not so well.

The best all-arounders became Klimenko – 56.65, Shamugia – 55.5. He beat Thüne by 0.05 points in the last event.

V. GOLUBEV,

Master of Sport.

Sovetsky Sport, 70, March 24, 1974


ВЕСЕННИЕ ТОНА ТУРНИРА

ЛУЧШИЕ МНОГОБОРЦЫ — СВЕТЛАНА ГРОЗДОВА И ВИКТОР КЛИМЕНКО

Торжественное открытие соревнований было ярким, красочным ин соответствовало весеннему настроению участников из 18 стран. Турнир открыли женщины. Откровенно говоря, мы не знали, кто может быть основными соперницами советских гимнасток. Конечно, мы предполагали, что конкуренцию составят девушки из ГДР, но из этой страны приехали в Москву совсем юные и неизвестные гимнастки. Тем не менее они привлекли внимание, ибо гимнастика в ГДР, особенно юношеская, сейчас на подъеме.

Наши девушки начали с упражнений на бревне. Замечу, что Любовь Богданова, которая должна была участвовать в турнире, на последней тренировке получила травму, и ее заменили Еленой Абрамовой из Ростова-на-Дону. Таким образом, в советской команде была только одна опытная спортсменка — олимпийская чемпионка Эльвира Саади н три молоденькие девчушки — Елена Примак из Челябинска, Светлана Гроздова и Елена Абрамова из Ростова. Тем интереснее было сравнить мастерство наших 15-летних дебютанток с мастерством других не менее юных гимнасток.

Светлана Гроздова — девушка с ярко выраженным талантом. Она уже выступала в нескольких международных соревнованиях и зарекомендовала себя с лучшей стороны. Же манере присущ силовой стиль. Но это вовсе не означает, что она не пластична. Наоборот. Светлана для своих лет прекрасно координирована, а движения ее легки и грациозны. Скажем, ее комбинация на бревне поразила знатоков редкими по сложности элементами, которые она исполняет пока единственная в мире.

Особенно Гроздовой удались связки, где требуется гибкость. И когда она пустилась вприсядку танцевать на узкой полоске бревна, а в этот момент венгерская гимнастка делала на вольных упражнениях под русские мелодии свою, комбинацию, то это выглядело необычайно эффектно. Зрительный зал — в восторге.

Естественно, Эльвира Саади считалась лидером. Но, как она сказала, немного устала на тренировках. А потому работала вяловато. На бревне Эльвира держалась скованно, и это, конечно, сказалось на её выступлении. В середине комбинации она неловко повернулась на носке, потеряла равновесие и чуть не упала. Ее личико вытянулось еще больше, но Саади все-таки устояла — 9,5. Олимпийской чемпионке не удалось превысить оценку Гроздовой, у которой было 9,7.

И вот когда наши перешли на вольные упражнения, то здесь, свое слово сказала Лена Абрамова. Московские зрители впервые увидели исполнение двойного сальто в группировке — элемента чрезвычайно редкого у женщин. Правда, Лена выполнила его не совсем удачно, а судьи поскупились оценить риск — 8,9. Зато вновь блеснула Саади. Ее оценка 9,7 — высшая в этом виде многоборья.

Американки отличались эксцентричными упражнениями. Особенно понравилась Дебби Файк в упражнениях на бревне. Она явно заимствовала некоторые связки из упражнения Людмилы Турищевой.

Воспитанницы ростовского тренера Руслана Лаврова — Гроздова н Абрамова от снаряда к снаряду набирали темп. Гроздова смело соперничала не только с зарубелсными гимнастками, но и также с Э. Саади. И вот, видимо, Саади дрогнула. Она довольно тяжело начала упражнения на брусьях. И в середине комбинации сорвалась — 8,35. Вопрос о лидере первой смены был решен. Им стала Светлана Гроздова.

Челябинская школьница Елена Примак показала на брусьях уникальное упражнение. Здесь было что-то «а ля Корбут» н «а ля Турищцева». Смотрелось это очень здорово. Синтез трюкового направления и артистизма дали Примак преимущество — 9,45. Это высшая оценка на снаряде.

Итак, после первой смены у Гроздовой — 37,9, у Примак 37,5, у Саади — 36,85, у Абрамовой— 36,65.

Во второй смене на помост вышли гимнастки других стран, и в частности, Японии, Канады, Кубы. Сможет ли кто-то из них нарушить гегемонию советских спортсменок? Этого не произошло.

После награждения призеров женского турнира в борьбу вступили мужчины. Соревнования гимнастов получились интересными. Многие участники показали новинки, особенно это относится к нашим ребятам. Хотя некоторые сложные элементы им не удались, но в начале сезона это простительно.

Все ожидали увидеть соперничество советских и японских гимнастов. Но абсолютный чемпион мира Э. Кенмоцу из-за легкой травмы не вышел на ковер, хотя выступал — и довольно успешно — на других снарядах.

Лидерство с первого же вида захватил В. Клименко и сохранил его до конца. Второй призер первенства мира М. Цукахара пытался догнать Виктора, но все его попытки оказались тщетными.

В. Щукин, Р. Микаэлян, П. Шамугия допустили несколько срывов, и их после пяти видов обошел Вольфтанг Тюне из ГДР.

Третий участник японской команды К. Хоридэ выглядел слабее своих именитых товарищей, но все-таки школа у него чистая, японская. К сожалению, неудачно выступал ветеран сборной ГДР олимпийский чемпион в опорном прыжке К. Кёсте.

Итак, лучшими в многоборье стали: Клименко —— 56,65, Шамугия — 55,5. Он обошел на 0,05 балла Тюне в последнем виде.

В. ГОЛУБЕВ,
мастер спорта.
⁂ ⁂ ⁂
On the event finals:
​​COMPLEX, INTERESTING, ORIGINAL

THE FIRST PART OF THE GYMNASTIC PERFORMANCE IS OVER. TODAY IN RIGA ATHLETES FROM NUMEROUS COUNTRIES WILL MEET ON THE PLATFORM AGAIN.

On the second day of the gymnastics competition for the Prize of Moscow News, the athletes competed in the event finals. Among women, the winners were E. Saadi – on balance beam and floor exercise, E. Primak – on uneven bars. R. Sabău (Romania) – on vault. Among men: V. Klimenko – on parallel bars and in vault, P, Shamuguiya – on pommel horse, V. Schukin – on rings, D. Crosby (USA) – on floor exercise, E. Kenmotsu (Japan) – on horizontal bar.

Before I talk about the finals, let us return to the events of the first day. At the press conference Viktor Klimenko, as always, gave a detailed and thorough analysis of his performance in the all-around. It was fundamentally important for him, since Viktor demonstrated his new exercises for the first time after spending a whole year to master them. This was the reason why he missed last year's national championship – by November his routines had not yet been polished enough, so he did not want to show the unfinished work.

Klimenko had already had complex routines, but he and his brother and coach, Mikhail, decided that they should prepare for the 1974 world championship such exercises, for which the judges would simply have to add precious tenth points for their high risk. Now the postgraduate student of the Moscow Regional Pedagogical Institute has the elements that belong to the category of the super-complex ones. Did it bring any advantage to our gymnast? The firm victory of Klimenko in the tournament gives a positive answer to this question.

Other members of the USSR national team did not waste time either. The complexity level got higher – their progress is huge. When Paata Shamuguiya and then Vladimir Schukin performed triple twists on floor, the always silent and withdrawn leading coach of the Japanese team, the Olympic champion of the Tokyo Olympics Yukio Endo, stirred up and excitedly told something to his trainees, pointing at our gymnasts. Overall, all Soviet athletes demonstrated such complex elements, which, of course, came as a complete surprise to their main rivals – the Japanese.

[Reminder: Kenmotsu first attempted a triple twist on floor at the 1970 World Championships.]

For example, Mitsuo Tsukahara at the Munich Olympics won a gold medal in horizontal bar, not without the help of an absolutely fantastic "moon salto," which he had been learning for several years. Just a year later, Nikolai Andrianov performed it at the European Championship, not only on horizontal bar, but on rings too. In Moscow, our other gymnasts also executed this exceptionally difficult dismount.

However, let us be objective. The Japanese did not hide their disappointment in Munich, when they managed to get only three of the six gold medals they planned in the event finals. On floor, and especially on vault, their stagnation was obvious. At the current tournament, the Japanese seemed to have come to their senses: we saw an improvement both on floor and vault. Young Kazuo Horide even received a special prize for his original vault.

The falls of Schukin and Ruben Mikaelian, by the way, the younger brother of the Olympian Edvard Mikaelian, are quite understandable; Ruben was performing in such a major tournament for the first time and was too nervous, and Schukin, whose preparation was beyond doubt, is now going through a process of some psychological crisis caused by his last year's injuries.

…At the Sports Palace, I met a young coach, Valery Sinko. He broke into a smile: "I brought my boys to watch the competition. They have never seen such a feast – they are enjoying it so much! I imagine already how great our Monday training will be. The guys are already dreaming of becoming champions, even if it has been their first year in gymnastics."

Indeed, in the stands during these two days were many newbies – young gymnasts from sports schools. They enjoyed it a lot. I think though that they were not the only ones who loved the championship; the spectators did, too. The organization of the competitions was excellent, the press service worked promptly, the journalists quickly received protocols in two languages, and they eagerly attended press conferences with the winners. All this means that we can hold the largest gymnastic tournaments at the highest level – the level of the Olympics.

Several words about the finals. The all-around world champion Eizo Kenmotsu performed only on three apparatus, and won in only one – on horizontal bar. Neither Tsukahara, nor Horide, nor the talented gymnast from the GDR, Wolfgang Thüne, managed to get ahead of our athletes. The American athlete John Crosby, that very Crosby, who during the Universiade in a Moscow hospital had an appendicitis surgery, now showed brilliant floor exercises. I must admit that his combination is very interesting, and his vaults are very high.

As for women, here the advantage of our girls was overwhelming. True, the Romanian R. Sabău won first place on vault thanks to her very sharp landing after her "Tsukahara."

All participants in the competition for the Prize of Moscow News went to Riga, where on March 26-28 they will compete for the awards of the traditional Riga-74 tournament.

V. GOLUBEV,

Master of Sport.


Sovetsky Sport, No. 71, March 26, 1974


СЛОЖНО, ИНТЕРЕСНО, ОРИГИНАЛЬНО!

ПЕРВАЯ ЧАСТЬ — ГИМНАСТИЧЕСКОГО СПЕКТАКЛЯ ЗАВЕРШЕНА. СЕГОДНЯ В РИГЕ СПОРТСМЕНЫ МНОГИХ СТРАН ВНОВЬ ВСТРЕТЯТСЯ НА ПОМОСТЕ.

Во второй день соревнований по гимнастике на приз газеты «Москоу ньюс» были разыграны награды в отдельных видах многоборья. У женщин победили: Э. Саади — на бревне и в вольных упражнениях, Е. Примак — на брусьях. Р. Сабеу (Румыния) — в опорном прыжке. У мужчин: В. Клименко — на брусьях и в прыжке, П, Шамугия — на коне, В. Щукин — на кольцах, Д. Кросби (США) — в вольных, Э. Кенмоцу (Япония) — на перекладине.

Прежде чем рассказать о финалах, я вернусь к событиям первого дня. На пресс-конференции Виктор Клименко, как всегда, подробно и обстоятельно разобрал «по косточкам» свое выступление в многоборье. Оно было для него принципиально важным, ибо Виктор впервые демонстрировал свои новые упражнения, которые разучивал целый год. Он даже пропустил из-за этого прошлогодний чемпионат страны — к ноябрю комбинации были еще не отшлифованы, а он не хотел показывать «недоделки».

У Клименко комбинации и раньше отличались сложностью, однако он и его брат Михаил, тренер, решили, что к первенству мира 1974 года они должны подойти с такими упражнениями, за которые судьи ввиду их особой рискованности обязаны «накидывать» драгоценные десятые балла. Теперь в программе аспиранта Московского областного педагогического института есть элементы, относящиеся к категории сверхсложных — «ультра-си». Дало ли это преимущество нашему гимнасту? Убедительная победа Клименко в турнире дает положительный ответ на этот вопрос.

И другие члены сборной СССР тоже времени даром не теряли. Прогресс в сложности у них налицо, и прогресс огромный. Когда, скажем, Паата Шамугия, а затем Владимир Щукин исполнили на ковре тройные пируэты, то всегда молчаливый и замкнутый выводящий тренер японской команды олимпийский чемпион токийской Олимпиады Юкио Эндо заволновался и стал возбужденно что-то говорить своим подопечным, показывая на наших ребят. Вообще все советские гимнасты продемонстрировали такие элементы, которые, безусловно, явились для их основных соперников — японцев — полной неожиданностью.

К примеру, Мицуо Цукахара на Олимпиаде в Мюнхене завоевал золотую медаль в упражнениях на перекладине не без помощи совершенно фантастического «лунного сальто», которое он разучивал в течение нескольких лет. А уже через год Николай Андрианов выполнил его на чемпионате Европы, причем не только на перекладине, но н на кольцах. В Москве же этот исключительный по сложности соскок делали и другие наши гимнасты.

Впрочем, будем объективны. Японцы не скрывали разочарования в Мюнхене, когда из шести запланированных золотых медалей в отдельных видах им удалось получить только три. На ковре и особенно в опорных прыжках у них наблюдался застой. Чувствовалось на нынешнем турнире, что японцы спохватились: и на ковре, и в прыжках они явно «прибавили». Молодой Кацуо Хоридэ получил даже специальный приз за оригинальный прыжок.

Срывы Щукина и Рубена Микаэляна, кстати, младшего брата олимпийца Эдварда Микаэляна, вполне объяснимы; Рубен дебютировал в столь крупном турнире и излишне нервничал, а Щукин, подготовка которого не вызывала сомнений, переживает сейчас процесс некоторого психологического кризиса, вызванного прошлогодними травмами.

…Во Дворце спорта я встретил молодого тренера Валерия Синько. Он расплылся в улыбке: «Привел посмотреть соревнования своих мальчишек. Они еще никогда не видели такого праздника — довольны страшно. Представляю, как здорово пройдет тренировка в понедельник. Ребята уже мечтают стать чемпионами, а занимаются всего первый год».

Да, школьников — юных гимнастов из спортшкол — было на трибунах в эти два дня превеликое множество. Они получили большое удовольствие. Но думаю, что турнир понравился не только им, а и всем зрителям. Организация состязаний была превосходной, пресс-служба работала оперативно, журналисты быстро получали протоколы на двух языках, охотно ходили они и на пресс-конференции с победителями. Все это говорит о том, что крупнейшие гимнастические турниры мы можем проводить на высшем — олимпийском — уровне.

Теперь коротко о финалах. Абсолютный чемпион мира Эйдзо Кенмоцу выступал только на трех снарядах, а выиграл однажды — на перекладине. Ни Цукахаре, ни Хоридэ, ни талантливому гимнасту из ГДР Вольфгангу Тюне не удалось опередить наших спортсменов. Зато американец Джон Кросби, тот самый Кросби, которому во время Универсиады в одной московской больнице сделали операцию аппендицита, ныне блеснул в вольных упражнениях. Надо признать, что комбинация у него интереснейшая, а прыжки высоченные.

Что же касается выступления женщин, то здесь преимущество наших девушек было подавляющим. Правда, румынка Р. Сабеу завоевала первое место в опорном прыжке, а для этого ей потребовалось точно встать в доскок после «цукахары».

Все участники соревнования на приз газеты «Москоу ньюс» отправились в Ригу, где 26—28 марта они будут спорить за награды традиционного турнира «Рига-74».

В. ГОЛУБЕВ,
мастер спорта
---
The Report in Moscow News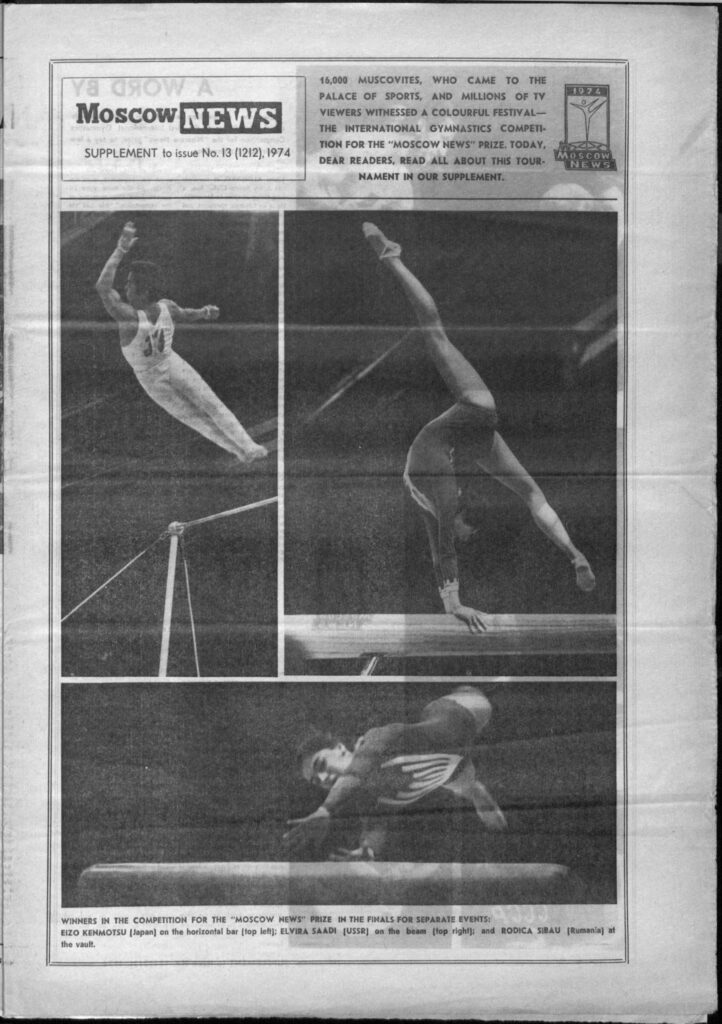 1st International Gymnastics Competition
for the Prize Offered by Moscow News

The First International Gymnastics Competition for the prize offered by Moscow News was held at the Palace of Sports in Moscow on March 23 and 24. Gymnasts from 18 countries — Algeria, Bulgaria, Hungary, Great Britain, the GDR, Cuba, the Korean People's Democratic Republic, Canada, the Netherlands, Poland, Rumania, the USA, Finland, France, Czechoslovakia, Switzerland, Japan, and the USSR (39 women and 40 men) — competed in the voluntary [i.e. optional] programme of the all-around event and for prizes in the separate events. The competition aroused keen interest among Muscovites and the capital's visitors. Over 150 Soviet and foreign journalists were accredited to the competition Press Centre.

The tournament opened with a parade of participants. Yakov LOMKO, Chairman of the Competition Organizing Committee and Editor-in-Chief of Moscow News, greeted the sportsmen and the many spectators. Then the Soviet national anthem was played and the gymnasts went over the top to win the coveted German silver coffer and the chased platter.

The First Event — The First Surprise.

The Soviet girls were, of course, favorites. They were Elvira Saadi (22), Lena Primak (15), Svetlana Grozdova (15) and Lena Abramova (14), who replaced Lyubov Bogdanova, injured while training the day before. They started with the beam. Naturally, everybody thought Elvira, the leader, stood the best chance, for last year she captured the overall national title. But it was just then, right after the starter's pistol went off, so to speak, that Svetlana Grozdova stunned her formidable rival with a score of 9.7! No one thought she could do it. However, her routine included some original and complex elements and the judges gave her her due. Saadi performed after Grozdova. She tried hard to do better but came up with only 9.4. Psychological shock? Maybe.

That was the tournament's surprise number one. The Soviet team was next scheduled to do the floor exercises which is Elvira's "speciality." Everybody was all agog, wondering whether she'd outpace Svetlana. Saadi scored 9.7, but failed to snatch the lead because Grozdova lost only 0.1 point to her and was still ahead in the overall total.

It was now obvious that a duel between these two girls would decide the destiny of first place, for all the others were hopelessly behind.

Then the girls did the vault. Here they drew and went over to the next exercise with Grozdova having 28.6 and Saadi 28.5 points.

Saadi was the first to perform on the asymmetrical bars. This gave her the opportunity of rattling her rival with an excellent performance. But the strain was, probably, more than she could stand, for she made a most elementary error — jumping to the floor in the middle of her combination. The judges were strict and gave her 8.35.

After that Svetlana had no need to take risks for she was already out of reach. However, sport is sport. Just when she seemed to have the cat in the bag, Svetlana fumbled, her toe caught on the bar and it took quite an effort for her to maintain her balance when landing.

The audience burst into applause when Svetlana Grozdova finished with a total of 37.9 points. And although the girls from the second shift had not yet performed, it was now clear that she was the overall winner. This forecast proved accurate.

Svetlana is an 8th-former at a Rostov-on-Don school. The winner's dream is a ticket to Varna. At our tournament Svetlana was also presented with an electric table clock, the prize for the best girl gymnast at the Moscow News competition, founded by the Japanese newspaper Chunichi.

The Young Dare.

It is said that 14-16 is just the right age to stun the onlooker with the most sophisticated elements in gymnastics. These girls haven't yet learned the meaning of fear. They demonstrate such jumps, pirouettes and vaults that one can only wonder where their frail young bodies get the strength and shrewd calculations.

Abramova is only 14. But she performs the double salto in the floor exercises. No other girl gymnast ever did that at competitions before her.

The girls likewise dominated in the other teams but they were no match for the hosts. Even the GDR girls were weaker than their Soviet counterparts. For example, Sigrid Trantow (GDR) placed only 10th (36.05) in the combined event.

The women reached the finish in the combined event with the following results: Svetlana Grodova—37.9; Yelena Primak—37.5; Elvira Saadi—36.85; Yelena Abramova—36.65; Marta Egervari (Hungary)—36.35; and Debbie Fike (USA)—36.3.

Saadi Takes Revenge.

Yes, next day Elvira carried off the gold in the floor exercises and the beam. Rodica Sabau (Rumania) struck gold in the vault and Yelean Primak on the asymmetrical bars. Marta Egervari (Hungary) was another foreign participant to win a prize. She was runner-up on the asymmetrical bars. At the closing ceremony Marta Egervari was presented a special prize established by the Sports Committee of Moscow for the foreign girl gymnast who chalks up the best score in the combined event.

The finals for the separate events always generate very keen interest so that the Palace of Sports had practically a full house on Sunday. Applause seemed never to stop in the stands and you should hear the unanimous shout "stand put!" when the gymnast would perform a hair-raising dismount! The festive atmosphere infected the athletes who once again demonstrated the most complex elements. Both the experts and the audience took a liking to Kyle Gaynor, the American girl, when she performed on the beam. Though placed fourth, she demonstrated things that merit the greatest attention.

Renáta Stodulková (Czechoslovakia) left a very nice impression. The charming fair girl placed fourth in the floor exercises. The journalists elected Renata "Miss Moscow News-74″ and presented here with a Palekh lacquerware coffer.

Well, and what about Svetlana Grozdova? She won 3 silver medals. She was near the top on the beam but fell from the treacherous piece. And only the day before she started her triumphant march to victory precisely from the beam.

Uncompromising Struggle.

The 40 men gymnasts from 16 countries went into battle after the girls were awarded the prizes. Although men compete in six events, the seasoned masters prefer to stop up the tempo at the very outset and have the others try and catch up with them. That's why the three main rivals — gymnasts from the USSR, Japan and the GDR — started on a very high note indeed. E. Kenmotsu (Japan) got 9.5 in his favorite event — the horizontal bar. M. Tsukahara, his teammate and Olympic champion for the horizontal bar — conceded only 0.1 point to him. R. Mikaelyan was first among the Soviet gymnasts who started with the long horse. He registered the same number of points as Tsukahara. V. Klimenko and P. Shamugiya, leaders in the USSR team, scored 9.35 points each. The GDR team commenced with the pommel horse. W. Thune, the GDR champion, emerged on top with 9.3 to his credit. That was how the leading sixsome took shape and they were all scraping for a fight. But the very next event changed the situation — E. Kenmotsu, the world overall champion, injured a leg and did not show up for the floor exercise and, eventually, for the long horse as well. However, K. Horide, 1973 Chunichi Cup winner, was a good stand-in for his teammate. His original floor exercises, in which he demonstrated extremely high somersaults and pirouettes, won him 9.4 points.

The Leader Emerges.

This happened after the second event when V. Klimenko (USSR) emerged to the fore. He totaled 18.8 in the long horse and parallel bars, but P. Shamugiya, another Soviet gymnast, 1973 USSR Cup winner, started gradually to win ground. The Japanese gymnasts M. Tsukahara and K. Horide "stumbled" on the pommel horse. The judges gave them 8.9 and 8.4 respectively. However, E. Kenmotsu, who dropped out of the combined event, hoping to win in the separate event, was splendid. W. Thune, 23-year-old gymnast from the GDR, went into a determined attack after the third apparatus. He moved into second place after scoring 9.35 on the parallel bars. Now only V. Klimenko was ahead of him, with a point gap of only 0.85. After four apparatuses the destiny of first place began to clear up. But behind the leader things were in a mess. M. Tsukahara and P. Shamugiya were both breathing hard down his neck, lagging a mere 0.1 behind, with a total of 36.85 each. The last but one event for the USSR team was the pommel horse. Klimenko did his job in a clear-cut and confident style. His 9.5 points deprived his rivals of all hopes, but Viktor turned down all congratulations, saying that it does happen that the rings (his next event) may well snap. The Japanese realized that there was no room for retreat and demonstrated an A-1 performance on the long horse, showing some of the tricks they had thus far kept up their sleeves. W. Thune and P. Shamugiya took up the challenge and scored as many points as the Japanese.

Fight to the End.

The last apparatus summed up the ultimate result. W. Thune got 9.05 points for the floor exercises. Our P. Shamugiya had to score 0.2 more to leave him behind, and Shamugiya did this. Meanwhile M. Tsukahara completed his exercise on the parallel bars with a spectacular dismount. The judges awarded him 9.4. That meant that he did manage to overtake the GDR gymnast in the combined event. That was an example of the acme of skill and ability to fight to the end, which is a feature of the Japanese gymnastics school. However, according to the competition rules, preference was given to W. Thune. And Viktor Klimenko, the first winner of the metal-chased platter, the main prize in the men's competition, climbed to the top step of the award dais. He passed through the grueling gymnastics competition evenly, without any mistakes, totaling 56.65 points. Paata Shamugiya was runner-up with 55.5. Wolfgang Thune (GDR) and M. Tsukahara (Japan), only 0.05 points less, shared third place.

When it was all over, B. Shakhlin, formerly a well-known gymnast and Olympic champion, gave the following resume — "The young gymnasts demonstrated a truly manly disposition. Real sportsmen can develop only in such an uncompromising struggle and putting all they have into it."

No One Wished to Make Room.

The men were granted the right to compete in the finals next day. We asked the chief in each of the judges' teams to comment on the winner's performance in each separate event.

The floor exercises were always considered a "Japanese" realm. Both Japanese finalists, K. Horide and M. Tsukahara, demonstrated well-worked-out programs, although the latter obviously lacked complexity, for which the judges gave him a lower mark. V. Klimenko's clear-cut end program enabled him to surge forward, but only until J. Crosby (USA) went through his paces. His excellent composition gave him 9.7 points and the gold medal. Klimenko was runner-up, with K. Horide placed third.

Vladimir Smolevsky (USSR): The distribution of prizes confirms to the real state of training as it stands today. Crosby is a well-merited gold medalist, his is a modern composition with a fair amount of complex elements, well arranged and suited to his physique.

Klimenko was in the lead before the pommel horse finals. But he was a mere 0.2 points ahead of the last one in this sixsome. It was assumed that E. Kenmotsu would be our champion's main rival. But the "horse," alas, again expressed its wayward character, and both Olympic champions failed to win prizes. The gold, silver and bronze medals went to P. Shamugiya, R. Mikaelyan and W. Thune. R. Richard, a gymnast from Cuba, placed fourth, merits praise.

H. Neumann (GDR): It's a pity the Olympians lost. Precision secured victory for P. Shamugiya. He did look best of all when compared with the others.

The performance by V. Shchukin, member of the USSR Olympic team, was unfortunate. His mistakes on the horse and the parallel bars placed him 7th in the combined exercise. But he shone in his "speciality," the rings, chalking up 19.05 points in the finals. The silver medal for the rings went to R. Mikaelyan and the bronze to M. Tsukahara.

Kim Yoi Se (KPDR): I liked to see all the finalists demonstrate original dismounts but Shchukin was best in the swings.

Three events passed, but V. Klimenko, the overall champion, didn't win a gold medal in any of them. The turning point came on the long horse. The average for two attempts gave Viktor 9.275 points and victory. He had to make room, however, for K. Horide, who also totaled 18.625. Both received gold medals.

Z. Leszczynsky (Poland): It was most pleasing that no "pure leader" was found on precisely our apparatus. It was simply impossible to choose the better of the two. They both deserve the title of the strongest.

In the parallel bars, however, none of the finalists could show anything new or complex, so that the judges "grudged" them good marks. Success on the first day permitted Klimenko to maintain the lead and win one more gold medal. W. Thune and P. Shamugiya placed second and third.

Sandor Urvari (HUN): Klimenko was on a par with the other two prizewinners for the difficult elements included in his combination, but his performance was slightly better. That assured him first place.

It is hard to recollect when and where the Japanese had lost the horizontal bar at big international competitions. No one thought things would turn out differently this time either. Unfortunately, this was the sole event in which only one Soviet gymnast, P. Shamugiya, managed to qualify for the finals. He could not, however, even put up a fight for a prize. The E. Kenmotsu and M. Tsukahara duet from Japan seemed best suited for the job. But W. Thune (GDR) managed to worm in between them at the very last moment. The final trio was E. Kenmotsu, W. Thune and M. Tsukahara.

Chiba Keigo (JPN): My countrymen, it seems to me, performed equally well. However, E. Kenmotsu's combinations were far more complex, which the judges could hardly overlook.

All the medals and prizes established by Moscow News for the final winners were distributed.

The cut-glass cup, set up by the Moscow Gymnastics Federation, for the most interesting program on the long horse was awarded to K. Horide (JPN).

The men's competition proved to be very interesting. All the gymnasts displayed tremendous willpower. No one wished to retreat without stiff resistance. That, of course, is the main and the most joyful result of our competition.

Moscow News, No. 13, 1974
A. Ivanov and I. Shifrin
Moscow News also published a supplement that printed quotes from the champions, along with quotes from coaches and gymnasts about how great the meet was. You can download the supplement below.
---
More on 1974