Erika Zuchold was an integral part of East Germany's rise in women's gymnastics. She missed the 1964 Olympics due to an Achilles tear, but when she returned to competition, she was one of the leaders of the German team at the 1968 and 1972 Olympics.
Zuchold earned a total of 10 World and Olympic medals. She was known for her impressive Yamashita on vault and is often credited as the first gymnast to perform a back handspring on beam. Today's fans know her because her name lives on in the Code of Points for the Zuchold transition on uneven bars.
At the 1970 World Championships, Zuchold came back from a meniscus tear (and "other complicated injuries") and won gold on both vault and beam.
As you'll see below, she was also a lover of ice cream.
What follows is a profile of Zuchold that ran in Neue Zeit right before the Olympic Games.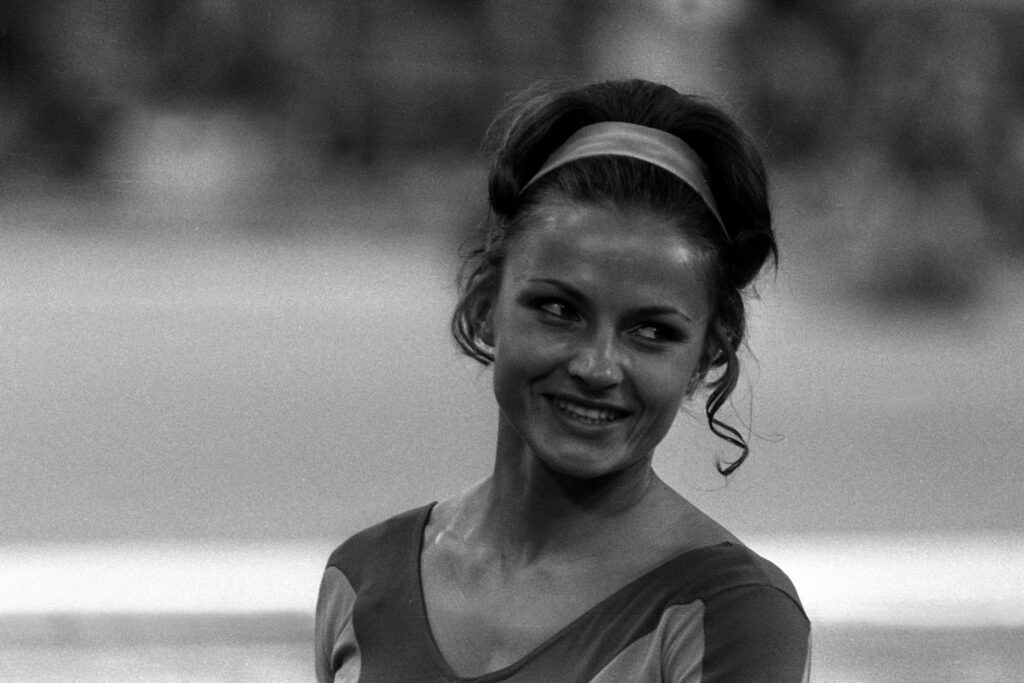 ​​The Artist on the Beam
A childhood dream of one of the best gymnasts in the world fulfilled
The question was often posed to young gymnasts during the Spartakiade last month: Who is your role model? The answer came many times: Erika Zuchold.
Those who saw the little girls, especially from Leipzig, clearly felt the role model effect of the world champion on uneven bars and vault. In their gestures during difficult combinations of exercises, they copied a lot from their famous club mate in the SC Leipzig: difficult and beautiful gymnastics, putting on a smile all the time, showing the exercises in a clean and precise manner. Kerstin Gerschau can be mentioned as an example. And this example is deliberately chosen, because her father, Helmut Gerschau, has been training Erika Zuchold for a good decade. Maybe in time, there will be an article about Kerstin here; already today, as a fourteen-year-old, she does gymnastics promisingly. The world champion also gives her a good future. "Kerstin is the type of person who doesn't let setbacks get her down."
"Would you become a gymnast again today as a child of the Spartakiade?" I addressed the question to Erika Zuchold. "Yes, I would become a gymnast again today. But it would be much more difficult to succeed. It takes a lot of idealism, a lot of love for the cause — and patience."
"What does gymnastics mean to you, past and present?"
"When I was a child, I dreamed of becoming a circus performer. I wanted to do something where I could move very fast. I would also have liked to become a figure skater or a diver. But then my father advised me — and I became a gymnast. Gymnastics offered me every opportunity to realize my childhood dream. To become a great gymnast one day, I didn't have that wish until much later."
Glamorous flic-flac
Erika's journey to the gymnastics stage was by no means smooth and seamless. A few days before her departure for the 1964 Olympic Games in Tokyo, her Achilles tendon ruptured during training on the floor. All hope of winning a medal on the beam was over. And it was on this apparatus that she showed a brilliant gymnastics performance at that time. She was the first woman in the world to perform a flic-flac.
In 1966, she won a silver medal at the World Championships, and in 1968, at the Olympic Games in Mexico City, she was once again a member of our squad. On vault, she again won a silver medal, and with the team, she won an Olympic bronze medal. Erika was 21 years old at the time. Decisive stations in her life lay behind her. Erika Barth had become Erika Zuchold: She married the cyclist Dieter Zuchold in Leipzig. Then she successfully completed her studies in education. In 1969, she held her first lesson. "I really enjoy being with children. It's their curiosity, their unquenched thirst for knowledge, their informality that makes the job of a teacher so interesting, so lively," she says.
In the months of 1969, Erika Zuchold suffered another setback. She underwent surgery on her meniscus and other complicated injuries. For a long time, we did not read anything about her in the newspapers. It was even said that Erika would never compete in gymnastics again. At that time, the Leipzig doctor Dr. Jungmichel, her coaches Helmut Gerschau and Roselore Sonntag, her many friends in the club, and especially her husband helped her to overcome this crisis.
Later I asked her in which gymnasium in the world she liked to do gymnastics the most. "Ljubljana," came the answer. There, in October 1970, she won two world titles and two silver medals. "It was for me the most difficult and the most important competition in my career. I wanted to prove that, with a lot of burning desire, with confidence in yourself, you can get out of the deepest crisis and that you can do it if you don't lose faith in your own ability. That's not only true in sports, but in all aspects of life."
Erika Zuchold is not someone who enjoys making grand statements. She modestly accepted the honor of Sportswoman of the Year 1970. Thousands of readers of Junge Welt had given her their vote. Months later, the Deutsche Sportecho awarded her the traditional ring of honor, which goes to those representatives of sports who have proven themselves as personalities and role models. I still have fond memories of the interview I conducted with her at the award ceremony. Excerpts from it give a little of the naturalness, the informality of this young woman.
How many times have you received a 10.0 in your career?
"As a child more often, and four times in the big ones at our 1968 championships in Halle. That was just before the Olympic Games."
How do you react when the piano man plays the wrong notes for your exercise?
"I smile about it and just keep on doing gymnastics. Every gymnast must be able to improvise a little. It's just that the judges mustn't notice."
Does the applause during the exercise bother you?
"On the contrary, it encourages me."
Do you think that, in the year 2000, there will still be a similar program as today?
"It will be similar, but gymnastics will develop enormously in difficulty."
What elements do you consider the most difficult in women's gymnastics at the moment?
"The salto on the beam and the double full on the floor.
What do you like most about Karin Janz?
"Her strong nerves…"
Her favorite food is ice cream
Have you ever completed a 5-km cross-country ski run?
"Yes, several times. But I didn't pay attention to the time. My husband is a much faster runner."
Were you brave enough to parachute out of an airplane?
"No, I'm not that brave."
And from the ten-meter tower in the swimming pool?
"I jumped once, but never again…"
Would you dare to do figure skating?
"In my own way, yes, I can skate.
What relationship do you have with women's soccer?
"None. But I mean, if girls and women like it, they should play. It's a little too rough for me, soccer."
Which athlete do you admire the most?
"Roland Matthes. He makes everything look so easy, but there's a lot of hard work behind it. His quest for new records also keeps me on my toes."
What is your favorite food, what can't you feed your husband as a homemaker?
"My husband eats everything, so I don't have any worries. My favorite food – ice cream!"
How many children would you like to have?
"Two."
What kind of music do you love most?
"Classical, but I don't avoid contemporary music."
What languages can you communicate in?
"English and Russian."
The last question has special topical content: What do the Olympic Games mean to you?
"They bring the athletes of the world closer together, they unite their wish that these competitions may never be interrupted by war. For me, it is a matter of giving everything in Munich for our team, to which I have belonged for so many years and from which I will leave afterward."
However, Erika Zuchold will remain faithful to gymnastics, she wants to coach children.
Neue Zeit, August 12, 1972
Hans-Jürgen Zeume
---
Die Artistin auf dem Balken
Erfüllter Kindheitstraum einer der besten Turnerinnen der Welt
Die Frage wurde während der Spartakiade im vorigen Monat oft an junge Turnerinnen gestellt: Wer ist dein Vorbild? Die Antwort kam vielmals: Erika Zuchold.
Wer die kleinen Mädchen vor allem aus Leipzig sah, spürte deutlich die Vorbildwirkung der Weltmeisterin am Stufenbarren und im Pferdsprung. In ihren Gesten bei schwierigen Uebungsverbindungen haben sie sich sehr viel von ihrer berühmten Klubkameradin im SC Leipzig abgeschaut: schwierig und schön turnen, immer ein Lächeln aufsetzen, sauber und exakt die Uebungen zeigen. Kerstin Gerschau sei da zum Beispiel genannt. Und dieses Beispiel ist bewußt gewählt, denn ihr Vater, Helmut Gerschau, trainiert Erika Zuchold schon ein gutes Jahrzehnt. Vielleicht wird in einiger Zeit an dieser Stelle ein Beitrag über Kerstin stehen; schon heute, als Vierzehnjährige, turnt sie vielversprechend. Auch die Weltmeisterin gibt ihr eine gute Zukunft. "Kerstin ist ein Typ, der sich selbst von Rückschlägen nicht unterkriegen läßt."
"Wurden Sie heute als Kind der Spartakiade noch einmal Turnerin werden?" richtete ich an Erika Zuchold die Frage. "Ja, ich würde auch heute wieder Turnerin werden. Aber es wäre weitaus schwieriger, sich durchzusetzen. Dazu gehört sehr viel Idealismus, sehr viel Liebe zur Sache — und Geduld."
"Was bedeutet Ihnen das Turnen, früher und heute?"
"Als Kind träumte ich davon, ein- mal Artistin in einem Zirkus zu werden. Ich wollte irgend etwas machen, wobei ich mich sehr schnell bewegen kann. Ich wäre auch gern Eiskunstläuferin oder Kunstspringerin geworden. Doch dann beriet mich mein Vater — und ich wurde Turnerin. Das Turnen bot mir alle Möglichkeiten, meinen Kindheitstraum zu verwirklichen. Einmal eine große Turnerin zu werden, diesen Wunsch hatte ich erst viel später."
Glanzvoller Flickflack
Erikas Weg auf die Turnbühne verlief keineswegs glatt und reibungslos. Wenige Tage vor dem Abflug zu den Olympischen Spielen 1964 nach Tokio riß beim Training am Boden die Achillessehne. Aus war alle Hoffnung, eine Medaille auf dem Balken zu gewinnen. Und gerade auf diesem Gerät wartete sie in jener Zeit mit einer turnerischen Glanzleistung auf. Als erste Frau der Welt zeigte sie den Flickflack.
1966 bei den Weltmeisterschaften errang sie Silber, und 1968 bei den Olympischen Spielen in Mexiko- Stadt stand sie erneut in unserer Riege. Im Sprung erkämpfte sie sich wiederum eine Silbermedaille, mit der Mannschaft erturnte sie olympische Bronze. Erika war damals 21 Jahre alt. Entscheidende Lebensstationen lagen hinter ihr. Aus Erika Barth war Erika Zuchold geworden: Sie hatte in Leipzig den Radsportler Dieter Zuchold geheiratet. Mit Erfolg absolvierte sie ein Pädagogikstudium. 1969 hielt sie ihre erste Unterrichtsstunde ab. "Ich bin sehr gern mit Kindern zusammen. Gerade ihre Neugier, ihr ungestillter Wissensdurst, ihre Ungezwungenheit macht den Beruf einer Lehrerin so interessant, so lebendig", meint sie.
In jenen Monaten des Jahres 1969 mußte Erika Zuchold einen neuerlichen Ruckschlag hinnehmen. Sie wurde am Meniskus operiert, andere komplizierte Verletzungen kamen hinzu. Lange lasen wir nichts in den Zeitungen von ihr. Es hieß sogar, Erika würde nie mehr turnen. Damals halfen ihr der Leipziger Arzt Dr. Jungmichel, ihre Trainer Helmut Gerschau und Roselore Sonntag, halfen ihr viele Freundinnen im Klub und vor allem ihr Ehemann, diese Krise zu überwinden.
Ich fragte sie später eimal, in welcher Turnhalle der Welt sie am liebsten geturnt hat. "Ljubljana", kam die Antwort. Dort erturnte sie sich in den Oktobertagen des Jahres 1970 zwei Weltmeistertitel und zwei Silbermedaillen. "Es war für mich der schwerste und der wichtigste Wettkampf in meiner Laufbahn. Ich wollte beweisen, daß man mit viel Heiß, mit dem Vertrauen zu sich selbst, aus der tiefsten Krise herauskommen kann und daß man es auch schafft, wenn man den Glauben an das eigene Leistungsvermögen nicht verliert. Das ist nicht nur im Sport so, sondern auch in allen Bereichen des Lebens."
Erika Zuchold ist keine Frau, die gern große Worte macht. Bescheiden nahm sie die Ehrung als Sportlerin des Jahres 1970 entgegen. Tausende Leser der "Jungen Welt hatten ihr die Stimme gegeben. Das "Deutsche Sportecho" verlieh ihr Monate später den traditionellen Ehrenring, der jenen Vertretern des Sports zukommt, die sich als Persönlichkeit, als Vorbild erwiesen haben. Noch heute ist mir jenes Interview in guter Erinnerung, welches ich mit ihr bei der Auszeicnnungsfeier führte. Auszüge daraus geben ein wenig wieder von der Natürlichkeit, der Ungezwungenheit dieser jungen Frau.
Wie viele Male haben Sie in Ihrer Laufbahn blanke 10 Punkte erhalten?
"Als Kind öfter, bei den Großen gleich viermal bei unseren Meisterschaften 1968 in Halle. Das war kurz vor den Olympischen Spielen."
Wie reagieren Sie, wenn der Mann am Klavier einmal falsche Noten für Ihre Uebung spielt?
"Ich schmunzle darüber und turne einfach weiter. Ein wenig muß jede Turnerin improvisieren können. Nur dürfen es die Kampfrichter nicht merken."
Stört Sie der Zwischenbeifall während der Uebung?
"Im Gegenteil, er spornt an."
Glauben Sie, daß man im Jahre 2000 noch ein ähnliches Programm wie heute turnen wird?
"Aehnlich wird es schon sein, aber das Turnen wird sich in der Schwie- rigkeit enorm weiterentwickeln."
Welche Elemente halten Sie momentan für die schwierigsten im Frauenturnen?
"Den Salto auf dem Balken und die doppelte Mühle am Boden."
Was gefällt Ihnen an Karin Janz besonders?
"Ihre Nervenstärke…"
Lieblingsspeise ist Eis
Haben Sie schon einmal einen 5-km-Skilanglauf absolviert?
"Ja, schon mehrere. Aber auf die Zeit habe ich da nicht geachtet. Mein Mann ist ein viel schnellerer Läufer."
Hatten Sie den Mut, aus dem Flugzeug mit dem Fallschirm zu springen?
"Nein, so mutig bin ich nun auch wieder nicht."
Und vom Zehnmeterturm Im Schwimmbad?
"Einmal bin ich gesprungen, aber nie wieder…"
Würden Sie sich eine Eiskunstlaufkür zutrauen?
"Auf meine Art ja, ich kann Schlittschuh laufen."
Welche Beziehungen haben Sie zum Damenfußball?
"Keine. Aber ich meine, wenn es den Mädchen und Frauen gefällt, dann sollten sie spielen. Er ist mir etwas zu rauh, der Fußball."
Für welchen Sportler hegen Sie die größte Bewunderung?
"Für Roland Matthes. Es sieht bei ihm alles so leicht aus, aber dahinter steckt sehr viel Fleiß. Sein Streben nach neuen Rekorden hält auch mich in Atem."
Was essen Sie am liebsten, was dürfen Sie Ihrem Mann nicht als Hausfrau vorsetzen?
"Mein Mann ißt alles, da habe ich keinen Kummer. Ich esse am liebsten — Eis!"
Wie viele Kinder möchten Sie einmal haben?
"Zwei."
Welche Musik lieben Sie besonders?
"Klassische, aber ich meide auch die modernen Rhythmen nicht."
In welchen Sprachen können Sie sich verständigen?
"In Englisch und Russisch."
Die zuletzt aufgeführte Frage hat besonderen aktuellen Gehalt: Was bedeuten Ihnen die Olympischen Spiele?
"Sie bringen die Sportler aller Welt einander näher, sie vereinen ihren Wunsch, daß diese Wettkämpfe nie durch einen Krieg unterbrochen werden mögen. Für mich gilt es in München alles zu leisten für unsere Mannschaft, der ich so viele Jahre angehören und aus der ich danach scheiden werde."
Erika Zuchold wird jedoch dem Turnen weiter treu bleiben, sie will dann Kinder trainieren.
Hans-Jürgen Zeume
---
More on 1972