In Voronin's 1976 autobiography titled Number One (Первый номер), he reflects on his final Olympic Games. By his standards, he struggled during the Soviet competitions prior to the Olympics, and while in Munich, he injured his ankle. Arthur Gander refused to let him pull out of the all-around final, so he competed after receiving an injection that made him black out. (Note: Korbut also got an injection before the all-around final that caused her legs to go numb.) 
In the end, the Soviet men's team won two golds, three silvers, and one bronze. They had made progress in the two years between the Ljubljana World Championships and the Munich Olympics. But in the end, Voronin recognized that they were unable to put together a team that could match Japan's team.
Here's what else he said about Munich…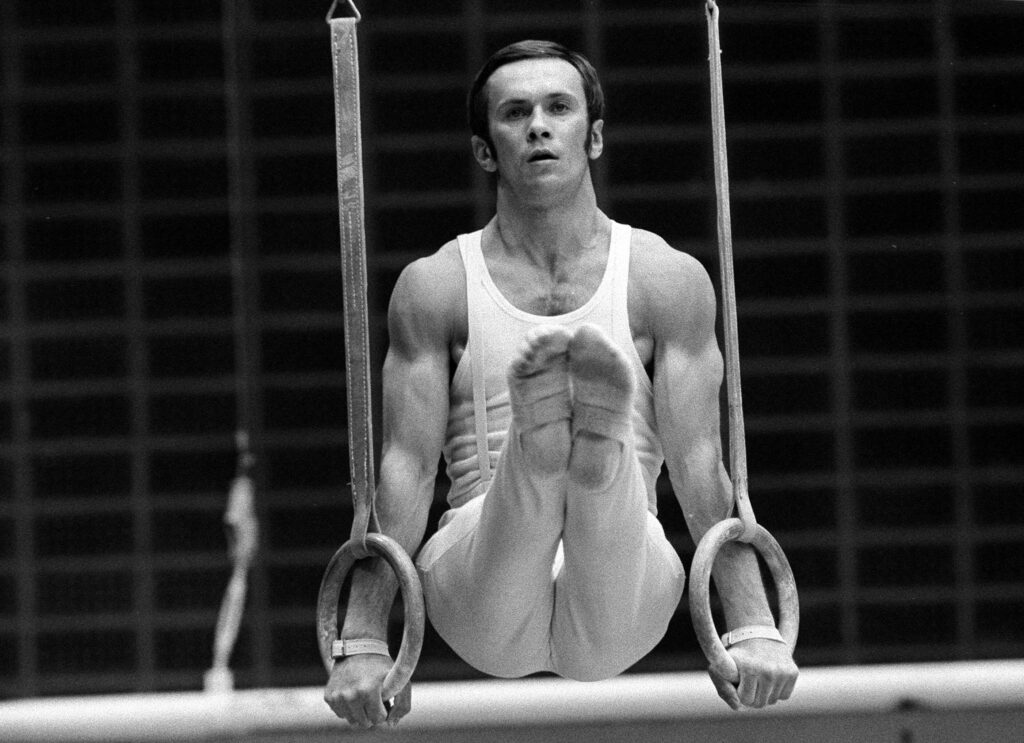 Note: Chapters of Voronin's book were translated into Estonian for the newspaper Spordileht, and I have translated the text from Estonian into English. The following excerpts come from the February 8, 1978, February 10, 1978, and February 13, 1978 issues of Spordileht.
I AM NO LONGER THE LEADER

I have heard a lot about the "Voronin phenomenon," of my exceptionality as a sportsman. Yes, I had more wins than losses during my sports career, but I cannot name any complete failures. Although for me, second place was also a failure, because after becoming an all-around world champion, I had sworn not to lose again.

And then, a few months before the Olympics at the USSR Cup, where championships in individual apparatus also took place, I sensed a decline in my athletic form. I felt noticeably tired and only wished for the championships to end faster. In the all-around, I fell off the pommel horse and finished third overall (again for the first time in my life!), beaten by Andrianov and Klimenko. I got only one gold medal. On rings.

Yevgeni Korolkov walked around perplexed, he did not understand what was wrong with me, but he still saw that I was exhausted and that I could not take it.

The top six looked like this: Andrianov, Klimenko, Voronin, Edvard Mikaelian, Vladimir Shchukin, Sergei Diomidov. You can imagine how happy I was for Seryozha [i.e. Diomidov]!

… Yes, it turns out that my memories of my last year in elite sport have a tinge of sadness. I catch myself thinking that I even enjoy my failures in some way.

Do you think it's easy to get over a loss? When people smile at you sympathetically, when you are told that it is nothing, that these things happen in life, that you will still make up for the defeat, when they tell you that the judges judged you too harshly, when you remember your mistake that led to failure with an aching heart, when you start to doubt yourself …

No, all of it is difficult to endure. It takes a lot of effort not to show others your frustration, to listen calmly to all of the necessary and pointless comforting words. If only there was one person who came to me and told me honestly: "Your performance was bad, you messed up the element and now you have to suffer the consequences. You either trained too little or did not take your responsibility seriously." I do not know what should have been said to me after the loss, but I needed to be shaken up.

I became that honest, ruthless person to myself. Of course not right away. I was not allowed to be raw when I saw others. When I was alone, I beat myself up. But being by myself did not save me; instead, it brought more suffering… However, by the next day, I was stronger, had gotten rid of my doubts, and went to the gym again, knowing that one of the leaders of Soviet gymnastics must not remain apathetic. He absolutely must train so as not to give up his position on the international stage.

As the captain of the team, I was primarily concerned about how strong the team would turn out to be and who would be on it. One could quite confidently say that Volodya Schukin, a 20-year-old serious young man from Minsk, would be joining our trio.

Several interesting young athletes appeared during the Olympic year. That was the result of the good work of the coaches. It is noteworthy that the talent of the coaches was manifested not in the capital, but in the so-called periphery.

In the past, it was believed that top gymnasts could only be trained in Moscow, where there is an excellent base, the most modern equipment, and good coaches. That is why boys were transferred to Moscow in various ways. This is what happened to Diomidov, Lissitsky, Ilyich, Boiko, Fogel, Braun, Tsapenko, and others. Smaller centers, therefore, remained empty, and coaches lost faith in themselves.

I will not forget the story of Leninsk-Kuznetsk's coach Innokenti Mametyev. He was a fanatic and a hard worker who did not leave the gym for days. With tremendous effort, he managed to achieve notable progress in his city. His students Fogel, Dubs, and Braun won top spots in youth competitions and were considered promising by all.

[Note: Mametyev would later coach Maria Filatova, a member of the 1976 and 1980 Soviet teams.]

But soon the group fell apart. The gymnasts moved to Moscow, the offended Mametyev made a fuss. Of course, he had many shortcomings, but it is clear that he should have been helped in a difficult moment like that. But only the young men were helped, to go to Moscow. They themselves longed for the "pleasant life" of the capital. But this did not give them as athletes anything: the boys did not grow up to be great gymnasts far from home, their mastery faded, and they never found their place in top sports …

There were several gymnastics centers in 1972. Minsk: Young determined coach Anatoly Ovsyak raised a whole pleiad of gymnasts (Schukin, Nedbalski, Pavlovski, etc.). Grozny: Kim Vasserman prepared Marchenko, Kinyev, Kondratov, Hussainov. Alma-Ata: Konstantin Sorvin trained Ulyanov, Potapov, Markelov. Tbilisi: Gons Burzhanandz prepared Samugia and Nozadze. Yerevan: Leonid Zakharyan coached the Mikaelian brothers. I named gymnasts who were already able to aspire to the national team …

… In a month, the third selection competition was to take place. Before that, there was a meeting of all candidates in Minsk. And something happened there, which to this day I do not understand: my coach Korolkov and some other instructors were not allowed in the camp. It was quite a painful blow for both him and me. The management had decided to tighten the disciplinary screws, while severely insulting someone.

■ THE THIRD ROUND WAS CONCLUSIVE 

Exactly a month before the Olympic Games, the third qualifying round was held in Minsk. By then, almost everything was decided, except for the sixth member and the backup.

For some reason, our leaders did not let Diomidov and Karasyov into the third round, who had the right to compete for a spot in the team. I understand that the specialists wanted to renew the team, bring new blood into it. But artificially weakening the competition cannot be helpful. In essence, the last competition turned out to be a formality: suddenly we found out that the fifth member of the team is Sasha Maleyev, and the sixth is Edvard Mikaelian from Yerevan.

It turned out that there were three newcomers in the team, four (including Andrianov) major competition debutants. It should be taken into account that Andrianov was a reserve competitor at the World Championships. So we had a big responsibility. It was only later revealed that the USSR team was the youngest at the Olympics: the average age was 22.9 years.

It seemed to me that Kolya Andrianov could pull the boys along with him. I was preparing myself to fight for the medal on rings and pommel horse. In the all-around, I was aiming for a spot in the top three.

I thought about all of this the night after the third selection round when the composition of the team was confirmed at an emergency meeting of the management.

The competition of Olympic gymnastics began on August 28, 1972.

■ THE LAST FIGHT IS THE MOST DIFFICULT

At the very beginning, I was unlucky: I injured my leg. My ankle swelled. It was painful not only to jump but also to walk. Everyone's frustration was great, but I insisted on competing and that I would not fail. Easy to say…

When I saw the Japanese training, I realized that they had put together a very strong team and they could not be defeated. I expressed my opinion only to Korolkov, who had arrived in Munich as a tourist.

Yes, the decision was that Viktor Chukarin, Mikhail Klimenko, and Vladimir Smolevsky would travel with the team as coaches. Others – instructors came to Munich as tourists.

I don't know if it is worth remembering and describing Munich: it seems that it was and is well remembered by everyone.

Olga Korbut and Ludmila Tourischeva, Nikolai Andrianov and Viktor Klimenko, Tamara Lazakovich, Elvira Saadi, Antonina Koshel, and Lyubov Burda were the ones receiving the gold medal.

Below I will focus on the most important details of the men's performances.

We were the penultimate to perform the compulsory routines, the Japanese were last. We had learned our routines well. However, as it turned out later, the Japanese surpassed us as a team in all events, except for pommel horse. After the first day, Japan was ahead of us with 2.85 points. Only Klimenko made a serious mistake on high bar, it cost half a point. But even with such a deduction, he took 6th place.

Kolya Andrianov was second, five-hundredths of a point behind the leader, Kato Sawao. Klaus Köste (German DR) and I were tied for 9th place.

I had assumed that Andrianov would be in the top three after the compulsory routines. When comparing his performance class and technique with the best Japanese competitors, it became apparent that there is no difference in mastery, and that Andrianov does gymnastics even better, and his technique is sometimes more perfect. In short, everyone understood that Kolya was our only hope in the all-around.

I was not feeling better, my leg hurt a lot. It was especially noticeable on vault and when landing from high bar.

I was not afraid of another loss, I was afraid of only one thing: that the boys would notice my pain, that their mood would drop, seeing the captain "wounded." And I did everything possible to hide my pain.

After the day, the team ranking was calculated. But everything was already clear: we would come second again. The scores of the second day were also included in the individual score.

I got the best score on my team. However, it had cost me dearly, by the evening my leg felt even worse. Yuri Titov appealed to the president of the International Gymnastics Federation with a request to exclude me from the competitions where the all-around champion is determined: That way, I could rest my leg and perform better on the last day when medal winners in the individual events are decided.

However, the president rejected the request, stating that Voronin would then be in a privileged position.

The day of the team competition was apparently a failure. Klimenko made two big mistakes on floor and high bar, Andrianov made an error on floor and pommel horse.

With the optional exercises, we lost to the Japanese even more than in the compulsory routine, namely 4.35 points. But the total difference was 7.2 p.

Individually, 32 athletes who had the best score in the team event competed for the title of All-Around Champion. Among them were all our gymnasts.

It was on this day that Andrianov showed that he was one of the strongest in the world. He got the best total of the day (57.3 points), ahead of leaders Kato, Kenmotsu, and Nakayama.

But a failure on pommel horse (8.8 points) did not allow him to rise above fourth place.

Individually, our men's rankings were: Andrianov 4th place, Klimenko sharing with Klaus Köste (German DR) 6th — 7th place, Voronin 12th, Shchukin 16th, Maleyev 18th, Mikaelian sharing with Wilhelm Kubica (Poland) 20th — 21st place.

My leg was very swollen, painkillers did not help. I was limping. When I went to the competition venue, I had an injection given to me. Everything went black, I almost passed out. But I couldn't back down: if I hadn't participated that day, I would not have been allowed to compete in the finals, where I was fighting to win a medal on rings and pommel horse. The Soviet delegation desperately needed medals and points, after all, the gymnasts were the first to compete at the Olympics.

[Note: Korbut also received an injection prior to the all-around final. According to her, she couldn't feel her legs due to the novocaine, resulting in her missed bar routine.]

… The results of the individual competitions did not make us very happy. They seemed particularly poor compared to the progress of our women competitors. The women's team won the gold medal, Ludmila Tourischeva became the all-around champion, Tamara Lazakovich was awarded the bronze medal. And they still had the finals ahead of them.

We pondered our medal-winning chances on individual apparatus. It turned out that all hope was not lost, that Andrianov and Klimenko had a chance to win medals in four events, and me, in two. The others did not make it to the finals. The three of us had to bear the weight of the upcoming competition.

The results of the men's individual events are now known: Nikolai Andrianov was the Olympic Champion on floor and Viktor Klimenko on pommel horse. Besides that, Kolya got a bronze medal on vault, and Vitya got silver. I won the silver medal on rings.

Some considered the first places of our gymnasts to be luck. On floor, Kato and Kenmotsu were unlucky, while on the pommel horse, gold medal contenders Kasamatsu, Kenmotsu, and Kato made serious mistakes. But it was no accident.

Both Andrianov and Klimenko were world leaders in gymnastics. They were able to compete even for first place in the all-around. True, they made some mistakes. But in such a competition, all components are important: class, difficulty of the exercises, stability, endurance. Both of our gymnasts performed very difficult exercises. Klimenko excelled on floor, vault, parallel bars, and, of course, pommel horse. Andrianov also had good results in these events. In essence, Viktor and Nikolai were only slightly behind the international level on high bar and rings.

I had every chance to win on rings. In the final competition, I got the same score as Nakayama, but he had a better preliminary result. It's a pity my compulsory dismount didn't turn out better…

IN CONCLUSION

Two gold, three silver, and one bronze medal were the result of the joint efforts of our team. A shift for the better compared to the World Championships in Ljubljana and for the worse compared to the Mexico Olympics. But I think it would be wrong to measure all achievements by awards and points alone. Had we also progressed in mastery?

[Reminder: Voronin won more medals at the 1968 Olympics than the entire Soviet men's gymnastics team did at the 1972 Olympics.]

I think we had, and quite well.

Our team was trumped mainly by the experienced Japanese Olympians from Mexico: Kato Sawao, Nakayama Akinori, Kenmotsu Eizo, and Tsukahara Mitsuo. These are top-class gymnasts. They had not stagnated but had added new elements to their skill sets.

What did my teammates achieve? They had high-quality, difficult, very difficult routines on some events. They had a large arsenal of elements belonging to the highest difficulty category. But only two men were able to compete for first place, and probably me too, if the injury hadn't happened.

Yes, a lot had been done in the two years since the World Championships in Ljubljana. New forces were welcomed to the team, the gymnasts had started to train more intensively. However, we still couldn't get together a team of equal levels.

The Japanese had surpassed us in terms of growth. They had a notable advantage in Ljubljana in all parameters. We could catch up with them, but not surpass them. We couldn't outdo ourselves. This is about the team. It is difficult to get on a new track in two years. Only the bright personalities made it to the forefront: Andrianov and Klimenko.

There was significant progress on vault. Here we surpassed the Japanese in many ways. But in other events, the progress of our main rivals was obvious. My teammates performed a double somersault on floor, but Kenmotsu did a triple twist. There were plenty of such examples.

A long chase … These elusive Japanese athletes did not surrender, they ran from our reach.

IN THE NEW FIELD

… Once an acquaintance of mine, a well-known athlete and an engineering candidate, said that sports have never been the most important thing for him. He said: "I didn't want to be a sports phenomenon. I don't need it, it's not the purpose of life." Yes, my friend had two main hobbies: working on his dissertation and sports, where he achieved high results. He claimed that he was not a child prodigy, he primarily wanted to prove to himself that even a mediocre young man like him could beat rivals. My friend was proud of being an engineer and not being fully devoted to sports. Having achieved brilliant victories, he lost interest in sports, as he himself said, because he had exhausted himself there. And he completely immersed himself in engineering.

I have to admit that I have never considered myself a professional either. But already at a young age, I decided to dedicate my life to sports. Our homeland needs coaches, physical education teachers, people working in sports. And to be a coach one has to study just as carefully as when becoming an engineer. That's why studying at the Institute of Physical Culture was intense and interesting for me, it helped me feel like an athlete.

After working for a long time in a research institute, my friend suddenly started to miss sports. He was tormented, suffering, and then decided to become a coach! He realized that he could not live without the environment that had given him the opportunity to realize himself, to become strong and courageous. Was it easy for him to go where he had to start from scratch? Yet no one judged him …

I know many examples of great athletes with an engineering education going back to their favorite field of work after giving up sports. Brothers Maiorov and Starshinov graduated from the Moscow Aviation Institute, but they work as trainers; Leonid Arkayev graduated from the Moscow Institute of Civil Engineers, but is currently the senior coach of the gymnastics team; Sambo world champion David Rudman graduated from the same institute, currently works as a wrestling coach; Vyacheslav Krashennikov graduated from the Moscow Institute of Highways, currently works as an acrobatic coach in "Krylia Sovetov"; Tamara Lyukhina (Zamotaylova) is a chemical engineer by profession, but she works as a headteacher at the Voronezh Sports School.

The choice of a profession is, of course, a serious matter. It is not at all easy to find a job you like. But why does the government waste large sums of money to train specialists, while they work in a completely different field? I am by no means calling for every outstanding athlete to choose a sports career, but experiences and life show that the one who has devoted his best years to sports and achieved brilliant results can no longer deviate from the path of sports. The experience and knowledge of a great master are also urgently needed by the young successors, and they are waiting for it.

Say what you want, but modern top sport completely engulfs a person. Yes, you can also study at a technical college, you can also work as an engineer, builder, or journalist, but at some stage of life, sport does not give you the time or the opportunities to deepen your knowledge in other fields.

MA EI OLE ENAM LIIDER

Olen palju kuulnud «Voronini fenomenist», oma erakordsusest sportlasena. Jah, spordikarjääri jooksul oli mul võite rohkem kui kaotusi. Kuid täielikke läbikukkumisi ei tea nimetada ühtki. Ent minule olid ebaõnnestumisteks ka teised kohad, sest pärast absoluutseks maailmameistriks tulekut olin tõotanud mitte enam kaotada.

Ja siis, paar kuud enne olümpiat NSV Liidu karikavõistlustel, kus mängiti välja ka meistritiitlid üksikaladel, tajusin sportliku vormi langust. Tundsin märgatavat väsimust ja unistasin ainuüksi sellest, et võistlused kiiremini lõppeksid. Mitmevõistluses kukkusin hobuselt ja jäin üldkokkuvõttes kolmandaks (jälle esmakordselt elus!), lastes mööda Andrianovi ja Klimenko. Sain ainult ühe kuldmedali. Rõngastel.

Jevgeni Korolkov käis ringi nagu vette kastetud, ta ei saanud aru, mis minuga lahti on, kuid nägi siiski, et olen otsa jäänud ja minu närvid ei pea vastu.

Esikuuik nägi välja selline: Andrianov, Klimenko, Voronin, Edvard Mikaeljan. Vladimir Stšukin, Sergei Diomidov. Võite endale ette kujutada, kuidas ma Serjoža pärast rõõmustasin!

… Jah, kukub nii välja, et minu mälestustel oma viimasest aastast tippspordis on nukruse hõngu. Taban end mõttelt, et ma koguni mingil moel naudin oma ebaõnnestumisi.

Kas arvate, et on kerge kaotust üle elada? Kui sulle kaastundlikult naeratatakse, kui öeldakse, et sellest pole midagi, et elus juhtub mõndagi, küll sa lüüasaamise veel tasa teed, kui väidetakse, et kohtunikud tegid sulle liiga, kui sa valutava südamega meenutad seda viga, millele järgnes põhjakõrbemine, kui hakkad endas kahtlema …

Ei, seda kõike on raske üle elada. Ja nõuab tohutut vaeva, et teiste ees mitte norgu vajuda, et teistele oma meelehärmi mitte näidata, et rahulikult ära kuulata kõik tarvilikud ja tarbetud lohutussõnad. Tuleks kas või üksainus inimene sinu juurde ja ütleks ausalt: «Vana, sa esinesid halvasti, keerasid elemendi vussi ja pead nüüd kahju kannatama. Sa kas oled treeninud vähevõitu või suhtusid vastutusrikkasse võistlusse üleolevalt.» Ma ei tea, mida pidanuks mulle pärast kaotust ütlema, kuid torgata mind tulnuks.

Sääraseks ausaks, enese vastu halastamatuks inimeseks sain ma ise. Muidugi mitte otsekohe. Ma ei tohtinud teiste nähes tooreks minna. Lintsisin ennast, kui olin üksi jäänud. Kuid üksindus ei päästnud, tõi hoopis uusi kannatusi… Seeeest aga olin järgmiseks päevaks tugevam, kahtlustest lahti saanud ja läksin jälle võimlasse kindla teadmisega, et Nõukogude võimlemise üks liidreid ei tohi apaatseks jääda. Ta peab, ilmtingimata peab treenima, et rahvusvahelisel areenil positsiooni mitte loovutada.

Meeskonna kaptenina tundsin eelkõige muret selle üle, kui tugevaks see kujuneb Ja
kes sinna pääsevad. Võis juba üsna täpselt öelda, et meie triole lisandub Volodja Stšukin, 20-aastane tõsine Minski noormees.

Olümpia-aastal ilmus mitu huvitavat noort. See oli treenerite hea töö tulemus. Märkimisväärne on asjaolu, et treenerite anne avaldus mitte pealinnas, vaid just n.-ö. perifeerias.

Varem oli valitsenud arvamus, et tippvõimlejaid saab ette valmistada ainuüksi Moskvas, kus on oivaline baas, kõige moodsam sisseseade ja head treenerid. Seepärast toodigi poisse mitmel viisil Moskvasse üle. Nii juhtus Diomidovi, Lissitski, Iljihhi, Boiko, Fogeli, Brauni, Tsapenko ja teistega. Väiksemad keskused jäid seetõttu tühjaks, treenerid kaotasid usu endasse.

Meelest ei lähe lugu Le-ninsk-Kuznetski treeneri Innokenti Mametjeviga. Ta oli fanaatik ja kõva töörügaja, kes päevade viisi võimlast ei väljunud. Tohutute pingutustega õnnestus tal oma linnas märgatavaid edusamme saavutada. Tema hoolealused Fogel, Dubs ja Braun hõivasid noortevõistlustel auhinnalisi kohti ja kõik pidasid neid perspektiivikaks.

Kuid varsti rühm lagunes. Võimlejad kolisid Moskvasse, solvunud Mametjev tõstis aga suurt kära. Muidugi, tal oli palju puudusi, kuid selgemast selgem, et teda oleks tulnud raskel hetkel abistada. Aga aidati vaid noormeestel Moskvasse sõita. Ka nad ise himustasid pealinna «mõnusat elu». Kuid see ei andnud neile kui sportlastele midagi: poistest ei kasvanud kodupinnast kaugel suuri võimlejaid, nende meisterlikkus tuhmus ja nad läksid tippspordile kaduma …

1972. a. oli olemas mitu võimlemiskeskust. Minsk: noor sihikindel treener Anatoli Ovsjak kasvatas terve võimlejate plejaadi (Stšukin, Nedbalski, Pavlovski jt.). Groznõi: Kim Vasserman valmistas ette Martšenko, Kinjevi, Kondratovi, Hussainovi. Alma-Ata: Konstantin Sorvini käe alt
sirgusid Uljanov, Potapov, Markelov. Tbilisi: Gons Burdžanandze koolitas välja Samugia ja Nozadze. Jerevan: Leonid Zakharjan andis vennad Mikealjanid. Ma nimetasin võimlejaid, kes juba olid suutelised pürgima koondisse …

… Kuu aja pärast pidi toimuma kolmas valikvõistlus. Enne seda oli Minskis kõigi kandidaatide õppekogunemine. Ja seal juhtus midagi seesugust, millest tänapäevani aru ei saa: laagrisse ei lubatud minu treenerit Korolkovi ja veel mõnda teistki juhendajat. See oli üsna valus hoop nii talle kui ka mulle. Juhtkond oli otsustanud distsipliinimutrid kõvemini kinni keerata, seejuures inimest rängalt solvates.

■ KOLMAS VOOR OTSUSTAS KÕIK

Täpselt kuu enne olümpiamänge peeti Minskis kolmas valikvoor. Selleks ajaks oli peaaegu kõik selge, välja arvatud kuues mees ja varu.

Millegipärast ei lasknud meie juhid kolmandasse vooru Diomidovit ja Karasjovi, kellel oli ometi õigus heidelda koha pärast meeskonnas. Ma saan aru, et spetsialistid tahtsid esindust uuendada, tuua sellesse värsket verd. Kuid konkurentsi kunstlik nõrgendamine ei saa asjale kasuks tulla. Sisuliselt kujunesid meeste viimased võistlused formaalseks: äkki saime teada, et meeskonna viies liige on Saša Malejev, aga kuuendana sõidab jerevanlane Eduard Mikaeljan.

Tuli välja, et meeskonnas on kolm uusikut, neli (kaasa arvatud Andrianov) suurvõistluste debütanti. Tuleb arvestada seda tõika, et Andrianov oli MM-võistlustel olnud varumees. Nii et meie õlul lasus suur vastutus. Alles hiljem selgus, et NSV Liidu meeskond oli olümpial kõige noorem: keskmine vanus 22,9 aastat.

Mulle tundus, et Kolja Andrianov võib poisse endaga kaasa tõmmata. Ise ma häälestasin ennast medaliheitluseks rõngastel ja toenghooglemises. Mitmevõistluse võtsin sihikule koha esikolmikus.

Kõigest sellest mõtlesin ööl pärast kolmandat valikvooru, kui juhtkonna erakorralisel nõupidamisel oli kinnitatud meeskonna koosseis.

Olümpiavõimlemine algas 28. augustil 1972.

■ VIIMNE HEITLUS ON KÕIGE RASKEM

Kohe alguses vedas mul viltu: vigastasin jala. Pahkluu läks paiste. Valus oli mitte ainult hüpata, vaid ka astuda. Kõigi meelehärm oli suur, kuid ma kinnitasin, et võistlen siiski ja alt ei vea. Kerge öelda …

Kui olin jaapanlasi treenimas näinud, siis mõistsin, et nad on väga tugeva meeskonna välja pannud ja neist küll jagu ei saa. Oma arvamust avaldasin ainult Korolkovile, kes oli Münchenisse saabunud turistina.

Jah, otsus oli selline, et meeskonnaga sõidavad treeneritena kaasa Viktor Tšukarin, Mihhail Klimenko ja Vladimir Smolevski. Teised – juhendajad tulid võimalust mööda Münchenisse turistidena.

Ma ei tea, kas maksab Münchenit meenutada ja kirjeldada: tundub, et see oli alles nüüdsama ja on kõigil hästi meeles.

Olga Korbut ja Ljudmila Turištševa, Nikolai Andrianov ja Viktor Klimenko, Tamara Lazakovitš, Elvira Saadi, Antonina Kosel ja Ljubov Burda olid need, kes said kuldmedali.

Alljärgnevalt peatun meeste esinemise olulisematel detailidel.

Kohustuslike harjutustega esinesime eelviimastena, jaapanlased viimastena. Selle kava olime hästi kätte õppinud. Ent nagu hiljem selgus, edestasid jaapanlased meid meeskondlikult kõigil aladel, peale toenghooglemise. Esimese päeva järel oli Jaapan meist ees 2,85 punktiga. Meil tegi tõsise vea vaid Klimenko kangil, see läks maksma pool punkti. Kuid isegi säärase mahaarvamisega hõivas ta 6. koha.

Kolja Andrianov oli teine, jäädes liider Sawao Katost maha viis sajandikku. Mina jagasin Klaus Kostega (Saksa DV) 9.—10. kohta.

Olingi oletanud, et Andrianov on kohustusliku kava järel esikolmikus. Tema esinemisklassi ja tehnikat parimate jaapanlastega võrreldes ilmnes, et meisterlikkuses vahet ei ole, et Andrianov võimleb isegi puhtamalt ning tema tehnika on kohati täiuslikum. Ühesõnaga kõik mõistsid, et Kolja on meie ainus lootus mitmevõistluses.

Minu enesetunne polnud paranenud, jalg valutas kõvasti. Eriti andis see tunda toenghüpetes ja kangilt maandumisel.

Ma ei kartnud uut kaotust, kartsin vaid ühte: et poisid märkavad minu valu, et nende meeleolu langeb, nähes kaptenit «haavatuna». Ja ma tegin kõik võimaliku, et oma piina mtte reeta.

Päeva pärast selgitati meeskondlik paremusjärjestus. Ent kõik oli juba niigi klaar: me tuleme jälle teiseks. Teise päeva hinded läksid ka individuaalarvesse.

Sain oma meeskonnas parima summa. See oli mulle aga kalliks maksma läinud, õhtuks andis jalg end veelgi rohkem tunda. Juri Titov pöördus Rahvusvahelise Võimlemisliidu presidendi poole palvega vabastada mind võistlustest, kus selgitatakse absoluutne meister: Siis saanuksin ma jalale puhkust anda ja võinuksin paremini esineda viimasel päeval, kui otsustatakse medalite saajad üksikaladel.

Ent president lükkas palve tagasi, tuues põhjenduseks, et Voronin oleks siis eelistatud olukorras.

Meeskonnavõistluse päev ilmselt ebaõnnestus. Klimenko tegi vabaharjutuses ja kangil kaks jämedat viga, Andrianov eksis vabaharjutuses ja toenghooglemises.

Valikharjutustega kaotasime jaapanlastele veelgi suuremalt kui kohustuslikus kavas, nimelt 4,35 punkti. Aga kokku oli vahemaa 7,2 p.

Individuaalselt konkureerisid absoluutse võitja tiitlile 32 sportlast, kes meeskonnavõistlusel olid parima punktisumma saanud. Nende hulgas kõik meie võimlejad.

Just sel päeval näitas Andrianov, et ta on üks maailma tugevamaid. Ta sai päeva parima kogusumma (57,3 punkti), edestades liidreid Katot, Kenmotsut ja Nakayamat.

Kuid ebaõnnestumine toenghooglemises (8,8 punkti) ei võimaldanud tal neljandast kohast kõrgemale tõusta.

Individuaalselt said meie mehed seesugused kohad: Andrianov 4., Klimenko jagas Klaus Kostega (Saksa DV) 6. — 7. kohta, Voronin 12., Stšukin 16., Malejev 18., Mikaeljan jagas Wilhelm Kubicaga (Poola) 20. —21. kohta.

Minu jalg oli tublisti paistes, valuvaigistavad vahendid ei aidanud. Lonkasin kõvasti. Kui võistluspaika läksin, lasksin endale süsti teha. Silme eest läks mustaks, pidin peaaegu minestama. Kuid taganeda ei tohtinud: kui ma sel päeval poleks kaasa teinud, siis ei oleks mind ka lastud finaalvõistlustele, kus ihusin hammast medalile rõngastel ja toenghooglemises. Nõukogude delegatsioonile oli hädasti medaleid ja punkte vaja heitlesid ju võimlejad olümpial esimestena.

… Individuaalvõistluste tulemused ei pakkunud meile just suurt rõõmu. Eriti nigelad tundusid need võrreldes meie piigade edusammudega. Naiskond sai kuldmedali, Ljudmila Turiitševa tuli absoluutseks võitjaks, Tamara Lazakovitš pälvis pronksi. Ja neil seisis finaal alles ees.

Kaalusime oma meäalziansse üksikaladel. Tuli välja, et kõik polnudki veel kadunud, et Andrianov ja Klimenko võisid medaleid taotleda neljal, mina kahel alal. Teised finaali ei pääsenud. Meil kolmekesi tuli kanda eelseisva võistluse raskust.

Meeste üksikalade tulemused on teada: Nikolai Andrianov oli olümpiavõitja vabaharjutuses ja Viktor Klimenko toenghooglemises. Peale selle sai Kolja pronksi hüpetes ja Vitja hõbeda selsamal alal. Mulle tuli hõbe rõngastel.

Mõned pidasid meie võimlejate esikohti juhuseks. Vabaharjutuses olevat Katol ja Kenmotsul viltu vedanud, toenghooglemises tegid jämedaid vigu põhiliselt kuldmedalipretendendid Kasamatsu, Kenmotsu ja Kato. Kuid see ei olnud juhus.

Nii Andrianov kui ka Klimenko olid maailma võimlemise liidrid. Nad olid võimelised konkureerima isegi absoluutse esikoha pärast. Tõsi, nad tegid vigu. Kuid niisuguses heitluses on olulised kõik komponendid: klass, harjutuste raskus, stabiilsus, vastupidavus. Meie mõlemad võimlejad esitasid väga raskeid harjutusi. Klimenko hiilgas vabaharjutuses, toenghüpetes, rööbaspuudel ja loomulikult toenghooglemises. Andrianov oli samuti neil aladel tubli. Sisuliselt jäid Viktor ja Nikolai vaid kangil ning rõngastel rahvusvahelisest tasemest veidi maha.

Mul oli täielik võimalus võita rõngastel. Finaalis sain Nakayamaga ühesuguse hinde, kuid temal oli etem eeltulemus. Kahju, kohustuslik mahahüpe polnud mul kõige paremini õnnestunud …

KOKKUVÕTTED

2 kulda, 3 hõbedat ja üks pronksmedal oli meie meeskonna ühiste pingutuste vili. Nihe paremusele, võrreldes Ljubljana MM-võistlustega, ja halvemusele, võrreldes Mexico olümpiaga. Kuid minu arust oleks väär kõiki saavutusi ainuüksi auhindade ja punktidega mõõta. Kas me ka meisterlikkuses olime edasi läinud?

Minu meelest olime ja üsna tublisti.

Meie meeskonna trumpas üle põhiliselt Jaapani vana kaardivägi, Mexico olümplased Sawao Kato, Akinori Nakayama, Eidzo Kenmotsu ja Mitsuo Tsukahara. Need on ekstraklassi võimlejad. Nad ei olnud paigale jäänud, vaid olid oma pagasit täiendanud uute elementidega.

Mida minu meeskonnakaaslased saavutasid? Neil olid kvaliteetsed, rasked, mõnel alal koguni väga rasked kombinatsioonid. Neil oli suur, kõrgeimasse raskuskategooriasse kuuluvate elementide arsenal. Aga esikoha pärast olid võimelised konkureerima ainult kaks meest ja tõenäoliselt ka mina, kui vigastust poleks juhtunud.

Jah, kahe aastaga, mis Ljubljana MM-võistlustest möödunud, oli palju ära tehtud. Koondisse tulid uued jõud, võimlejad olid hakanud intensiivsemalt treenima. Kuid jõult ühtlast meeskonda me siiski kokku ei saanud.

Jaapanlased olid meid kasvutempos edestanud. Neil oli Ljubljanas märgatav paremus kõigi näitude osas. Me võisime neile järele jõuda, kuid mitte ette minna. Me ei saanud iseendast üle hüpata. See jutt käib meeskonna kohta. Kahe aastaga on raske kõike uutele rööbastele panna. Esile küündisid vaid eredad isiksused: Andrianov ia Klimenko.

Tormilist progressi oli meil näha toenghüpetes. Siin me ületasime jaapanlasi mitmekülgselt. Aga teistel aladel olid meie pearivaalide edusammud ilmsed. Minu meeskonnakaaslased sooritasid vabaharjutuses kahekordse salto, aga Kenmotsu tegi kolmekordse. Sääraseid näiteid leidus rohkesti.

Pikale veninud tagaajamine … Need püüdmatud jaapanlased ei andnud end kätte, pagesid meie eest.

UUES AMPLUAAS

… Kord ütles mu tuttav, tuntud sportlane ja tehnikakandidaat, et sport ei ole temale ealeski olnud kõige tähtsam. Ta kinnitas: «Ma ei tahtnud spordifenomen olla. Mul ei ole seda vaja, see ei ole elu eesmärk.» Jah, minu sõbral oli kaks põhiharrastust: töö dissertatsiooni kallal ja sport, kus ta jõudis kõrgete tulemusteni. Ta väitis, et imelaps ta pole olnud, tahtis eelkõige iseendale tõestada, et rivaale võib ka temasugune keskpärane noormees võita. Sõber oli uhke selle üle, et on insener ega ole end täielikult spordile pühendanud. Saavutanud hiilgavaid võite, kaotas ta, nagu ise ütles, spordi vastu huvi, sest oli seal ennast ammendanud. Ja sukeldus täielikult inseneritöösse.

Tuleb tunnistada, et ka mina pole end ealeski elukutseliste hulka arvanud. Kuid juba noorena otsustasin oma elu pühendada spordile. Kodumaale on tarvis treenereid, kehalise kasvatuse õpetajaid, sporditööta jäid. Ja treeneriks peab õppima niisama hoolega kui insenerikski. Sellepärast oli õppimine kehakultuuriinstituudis mulle pingeline ja huvitav see aitas mul tunnetada ennast kui sportlast.

Töötanud pikemat aega uurimisinstituudis, hakkas minu sõber ühtäkki spordi järele igatsust tundma. Ta piinles, kannatas ja otsustas siis saada treeneriks! Ta mõistis, et ei suuda elada tolle keskkonnata, mis oli andnud talle võimaluse ennast teostada, saada tugevaks ja julgeks. Kas tal oli kerge minna sinna, kus tuli nullist alustada? Ometi keegi teda hukka ei mõistnud …

Ma tean palju näiteid, kus inseneriharidusega suured sportlased on pärast spordist loobumist ikka jäänud oma lemmikala juurde. Vennad Maiorovid ja Staršinov lõpetasid Moskva Avioinstituudi, kuid töötavad treeneritena; Leonid Arkajev lõpetas Moskva Ehitusinseneride Instituudi, praegu on võimlemiskoondise vanemtreener; sambomaailmameister David Rudman on lõpetanud sellesama instituudi, praegu töötab maadlustreenerina; Vjatšeslav Krašennikov on lõpetanud Moskva Autoteede Instituudi, praegu tegutseb akrobaatikatreenerina «Krõlja Sovetovis»; Tamara Ljuhhina (Zamotailova) on elukutselt keemiainsener, kuid töötab Vqroneži spordikoolis õppeala juhatajana.

Elukutse valik on loomulikult tõsine asi. Ei ole sugugi kerge meelepärast tööd leida. Kuid miks raiskab riik suuri summasid spetsialistide koolitamiseks, nemad aga töötavad hoopis teisel alal? Ma ei kutsu sugugi üles, et iga silmapaistev sportlane valiks endale spordielukutse. Kuid kogemused ja elu näitavad, et see, kes oma paremad aastad on pühendanud spordile ja saavutanud hiilgetulemusi, ei suuda enam sporditeelt kõrvale käänata. Suure meistri kogemusi ja teadmisi on ka noortele järglastele hädasti vaja, ja nad ootavad neid.

Räägi, mis sa tahad, aga nüüdisaegne tippsport neelab inimese täielikult. Jah, võib ka tehnikakörgkoolis õppida, võib ka insenerina, konstruktorina või ajakirjanikuna töötada, ometi ei anna sport mingil eluetapil aega ega võimalust süveneda muul alal.
---
More on 1972