Going into the 1972 Olympics, Tamara Lazakovich was one of the favorites. At the 1971 European Championships, she tied with Ludmilla Tourischeva for all-around gold. In addition, she won gold medals on the uneven bars and balance beam, as well as silver medals on vault and floor exercise. At the time, Berthe Villancher, President of the Women's Technical Committee, held Lazakovich up as the ideal on beam.
The magazine Soviet Life ran a short profile of Lazakovich before the Olympics. It gives the details of her career.
Note: You can read an interview with Lazakovich here. It gives some interesting details about her career. For example, Lazakovich wanted to quit the sport.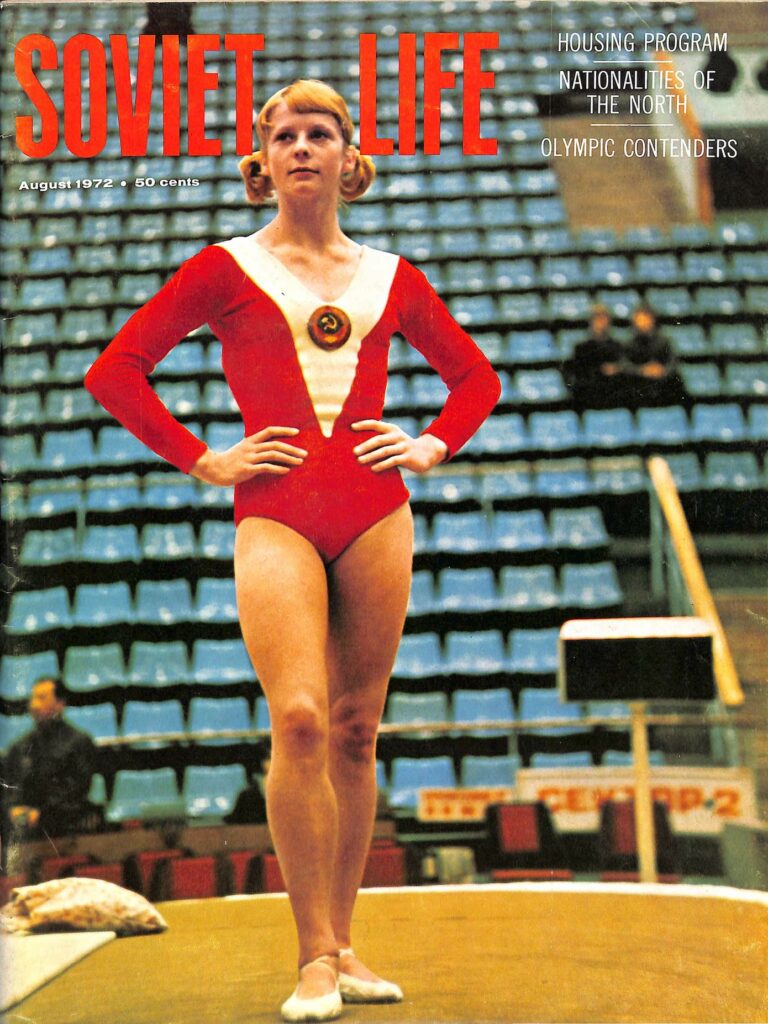 Gymnast Tamara Lazakovich
We are accustomed to seeing very young athletes mount the winner's stand at major international competitions. In swimming, for instance, world records have been smashed by 12-year-olds. That trend, however, does not seem evident in gymnastics, perhaps because the sport demands not only skill but psychological conditioning.
Tamara Lazakovich is 17. She first walked into a gym nine years ago. At 14 she became the youngest Master of Sports in gymnastics, and in 1968 she won the junior championship of the Soviet Union.
Tamara Manina, a leading Soviet gymnast and winner of many competitions, said at the time: "She has everything I like to see in a gymnast of her age—good proportions, purity of lines, an athletic look, and not a hint of stiffness."
Tamara won her first adult national championship on the beam, that trickiest piece of apparatus, in 1970. She made the national team, returning from the world championship with a gold medal for the team victory. Thus far, 1971 has been her peak year: She won three gold medals at the National Summer Games, became the all-around champion of the Soviet Union, and in the autumn shared first place with teammate Ludmila Turishcheva at the Eighth European Championship in Minsk.
Tamara lives in Vitebsk, Byelorussia, a town that has produced many famous gymnasts.
She met her present coach, Vikenti Dmitriyev, in 1964. Dmitriyev had already made a name for himself by training 15-year-old Larissa Petrik, the youngest USSR champion in the history of the sport. Quite naturally Tamara, who was 10 at the time, tried to copy Petrik and insisted on doing everything the older girl could do. Even then she showed her characteristic stubbornness and persistence.
Her natural plasticity, mastery of the most difficult elements of gymnastics, and doggedness combine to give her a unique image. Outwardly she appears rather withdrawn, but inside her everything seems to boil. Every turn of the head is deliberate, yet impulsive. Every movement of the arm is precise, yet soft and inspired.
After finishing secondary school, Tamara enrolled at a physical education college. With classes and vigorous training, her daily schedule is packed to the minute.
I followed her around on one occasion. The program for that day was not the most intensive. It called for polishing up just 810 elements and performing 22 full combinations [i.e. routines] with 350 elements.
At the European championships in Minsk some foreign newsmen called Lazakovich "a wonder among wonders." "Wonder" she may well be, but it's all explainable in human terms: talent and work with its victories and failures, which she doesn't take well, incidentally. But she is learning even that.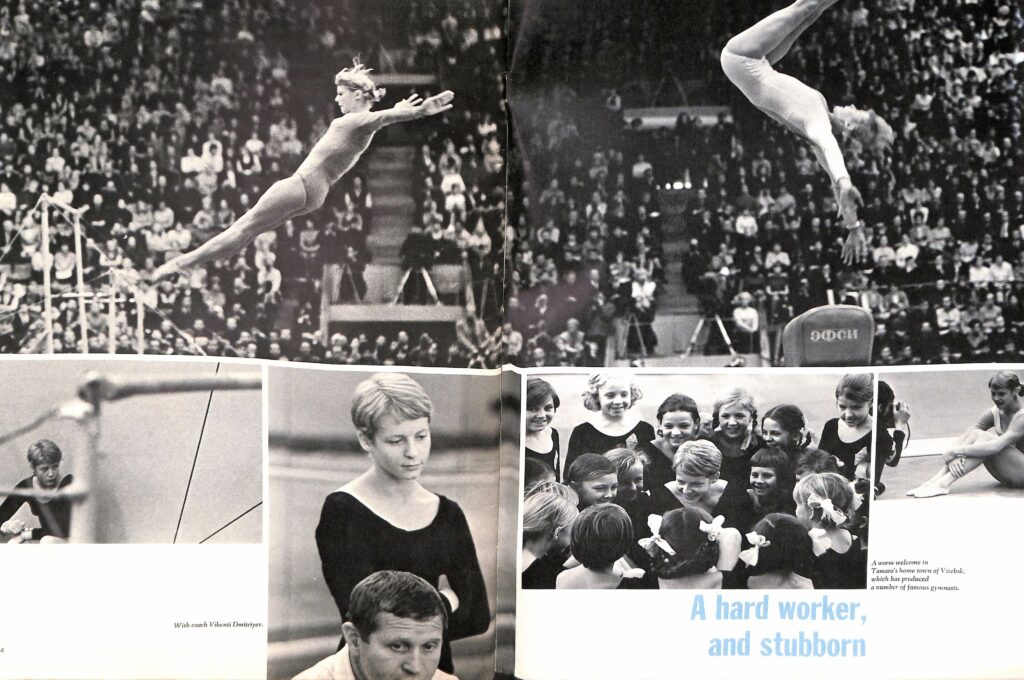 ---
More on 1972