At the beginning of 1972, the Japanese women's and men's teams did a tour of the United States. They stopped at San Fernando Valley State College, California State College at Fullerton, Chicago, Temple University, and Penn State. During the final stop, Nakayama Akinori scored a 10.00 on high bar.
Previously, when gymnasts like Čáslavská, Janz, or Zuchold scored 10s at their national championships, the numbers were reported in a tempered manner. But when Nakayama scored a 10.00 at Penn State, hundreds of words were dedicated to this moment in history. In many ways, the reporting on the dual meet in State College, PA, is a preview of the tone and hype that would appear at the 1976 Montreal Olympics.
So, with no further ado, here's the article from the Centre Daily Times on January 31, 1972.
Note: Curiously, Gymnast's coverage of the 1972 Japanese tour did not mention the 10.00.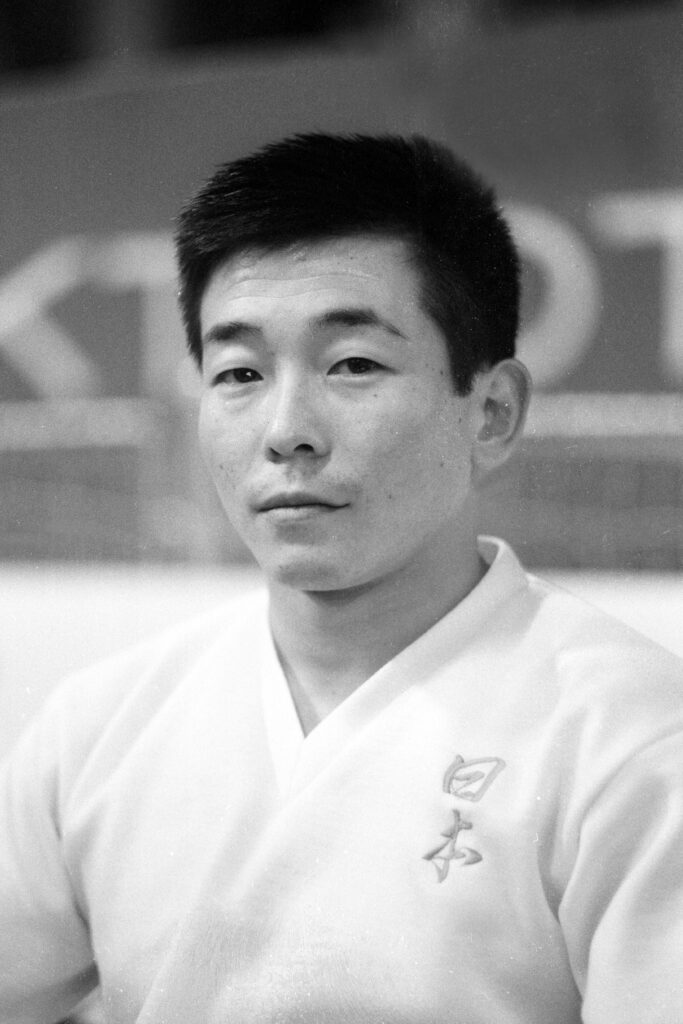 Nakayama Scores 10.00 on High Bar
Ron Bracken
The silence in Rec Hall was deafening.
Each of the some 7,300 pairs of eyes in the building were focused on the muscular body as it walked toward the high bar. All of the months of waiting, the anticipation, the previous night's performances, and those of this cold January evening led up to this moment.
Akinori Nakayama. The acknowledged champion of the world in three events, including this one. Akinori Nakayama. The man who had scored a 9.9 on the high bar just four days earlier in a meet at Temple. Akinori Nakayama. Probably the only man in the world who could possibly surpass the scores of 9.9 and 9.95 turned in by teammates Shigeru Kasamatsu and Mitsuo Tsukahara, respectively.
But wait a minute. How could anyone dare think in terms of the impossible? A 10.0, a perfect score, perhaps the rarest of all achievements in the realm of athletic competition. A perfect game, a 300-game, a hole-in-one, all are commonplace by comparison. For in each of those feats there is no cold, objective judge who must be impressed. The ball is either a strike or isn't, the pins fall or they don't. The ball either rolls into the cup, or it curls away.
Suddenly, it's over. The routine is completed and now a pregnant hush settles in.
The first indication of what has happened comes in the form of a shriek which splits the stillness. The scorecard goes up and as it rotates for all to see, the thunderous applause follows, like a sonic boom in the wake of a jet plane.
10.00.
Somewhere, high in the ancient rafters of Rec Hall where the ghosts of performances past now reside there must have been some scrambling as room was made to admit this newcomer.
Akinori Nakayama. A name which will always remain forever etched in the memories of those who saw him make Rec Hall history. A name which will stand beside, no, above those of Armando Vega, Jean Cronstedt, Steve Cohen, and Gregor Weiss. For even in their finest hour they could not attain perfection.
"I saw Nakayama at the 10.0," said Meet Director Gene Wettstone, a man who has seen a multitude of excellent gymnastics performances, many by his own people. "There was not one error mechanically, he executed every move to its fullest potential, there were no form breaks, his landing was perfect, without the slightest bobble and the routine also had a great deal of risk, originality, and virtuosity. In fact, it had so much risk and originality that he could have a slight step at the end and still [have] a 10.00.
"I [saw] Nakayama at the World Games where he won three championships and he was even better here. In this meet, he was king. In all my years, I've never seen a 10. But there's something mysterious about Nakayama. The way he walks and his facial expressions, it just makes you know he's a mysterious guy. I think he sensed the crowd, and there was something about it which brought it out of him.
"This is the best meet we've ever had here," Wettstone continued. "It moved a lot of people, and that's what we wanted. They were stimulated."
"I've seen maybe one or two 10's in my time," explained Frank Cumiskey, one of the judges. "He fulfilled all of the requirements. It made me feel good to see it. You have to be cold to be a judge, and it made me lose my coldness, it gave me a warm feeling. And the funny thing about it was that all three of the American judges gave him a 10.00 while the Japanese gave him a 9.9. We told him he wouldn't be allowed back into Tokyo after the word got out."
And while Nakayama was returning to the floor three times to acknowledge the thunderous standing ovation, there, politely waiting to get up on the bar and do the last routine of the meet, stood Tom Lindner.
By comparison, finding something to say to a naked lady would be easy. How do you follow perfection? Aside from falling off the bar, how do you even make the crowd aware of your presence? To Lindner's credit, he turned in a routine which was accorded a 9.70 by the judges. In other meets, on other nights, a 9.70 would have brought the house down. Tonight it drew a nice round of applause. But this night, in this meet, scores of 9.4, 9.5, and even 9.55 were rewarded with little more than yawns and a polite smattering of applause.
"About all you can do after something like that is go up and try to go through your routine cleanly without breaking," explained George Greenfield. "At a time like that, you try your hardest, and 90 percent of the time you make out alright. Lindner was in the same situation in Chicago where Nakayama got a 9.9 and he went up and got a 9.6. Tom's a good gymnast, he does well under pressure.
"Given the circumstances, I thought it was right that he got the 10.0. It was a fitting climax in many respects," Greenfield added. "In fact, I thought tonight was great. Truthfully, I was a little disappointed after Friday's performance. I had heard so much about the crowd here, and I guess I was a little letdown. But tonight the crowd was even more than I expected it to be. And I thought it was great showmanship when the Japanese were presented with the buckets of apples. It was great diplomacy when they began throwing the apples into the crowd too. It brought everyone together. In the other meets the Japanese remained rather aloof. But tonight they opened up."
"This is the first time in my life I have ever seen a 9.9 finish third," said Penn State's Marshall Avener, the U.S.A.'s highest finisher. "I never thought I'd see a 10.00. I was really surprised. But I think everyone felt it was coming by the pace of the meet. You could almost sense it."
Ah yes, the meet. It's easy to forget the meet in [the] shadow of a history-making performance.
What kind of meet was it?
It was a meet where excellence was commonplace and outstanding scores were expected rather than hoped for.
For the record, the American women defeated the Japanese 188.95-187.20. The Japanese men prevailed by 286.20-277.90. In truth, the women's victory was expected, even predicted by Wettstone. As for the men, according to Abie Grossfeld, the U.S.A. coach, it was his team's best performance on the tour and was a moral victory because the final margin was less than 10 points.
For the women, coached by Ginny Coco, the victory should be of great aid in their quest for international recognition. Led by Cathy Rigby, Joan Moore, and Roxanne Pierce, the first, second, and fourth-place finishers, respectively, in the all-around competition, the women established themselves as a threat for a medal in the coming Olympics.
"Right now, in my opinion, our women are third best in the world," Wettstone said. "They are right behind the Russians and the East Germans. But they won't get that high because the Rumanian, Hungarian, and Polish teams are also battling for third and they aren't about to let the U.S. have it. They might give Cathy Rigby the balance beam championship but they won't let this country finish third in the team standings."
The Japanese men took the first four spots in the all-around scoring. Nakayama, of course, was first with an incredible 58.45, an average of 9.74 for the six events. He was followed by Kasamatsu with a 58.30, Tsukahara with a 58.10, and Masanori Takahashi with a 56.05. Avener had a 56.00. Nakayama also won the parallel bars competition with a 9.90. John Crosby turned in the highest individual finish for this country with a 9.55, good for third on the long horse vault. Nakayama won four events, finishing second on the side horse [i.e. pommel horse] and in a tie for sixth in the vaulting.
Now the problem of deciding what to do for an encore lies on Wettstone's shoulders. Again, how do you follow perfection? How do you get something better than the champions of the world?
"They asked the same question after we had the Russians here last year," Wettstone laughed. "There's always someone better."
* * *
According to Grossfeld, there are at least three gymnasts who remained in Japan who have beaten Nakayama and all but assure the Japanese of the Olympic title… Grossfeld also predicted that Russia would finish second… When Nakayama was presented his antique brass bucket filled with apples for his first-place finish he could barely lift it. It was about the only difficulty he encountered during the meet… Athletic Director Ed Czekaj explained that he was to pretend the bucket was heavy and to stagger a little when he carried it out. He later reported that it was no act, the bucket was that heavy… Mike Jacobson, ex-Lion gym star, declared this was the best gymnastics meet he had ever seen… a near accident occurred when, after Shuji Tsurumi, the Japanese men's coach, was presented with a birthday cake, it almost fell from the antique wheelbarrow used to transport it… Tsukahara received two 10.00's from the judges for his high bar routine and wound up with a 9.95.
---
Results
Men's All-Around
Gymnast
Country
Total
1. Nakayama
Akinori
JPN
58.45
2. Kasamatsu
Shigeru
JPN
58.30
3. Tsukahara
Mitsuo
JPN
58.10
4. Takahashi
Masanori
JPN
56.05
5. Avener
Marshall
USA
56.00
6. Crosby
John
USA
55.85
7. Morioka
Toshiaki
JPN
55.15
8. Fujimoto
Shun
JPN
55.00
9. Greenfield
George
USA
54.50
10. Lindner
Tom
USA
54.40
11. Swetman
Richard
USA
54.00
12. Simmons
Brent
USA
53.95
Note: In Chicago, the men's podium was 1. Kasamatsu, 57.85; 2. Nakayama, 57.75; 3. Tsukahara, 57.70.
Women's All-Around
Gymnast
Country
Total
1. Rigby
Cathy
USA
38.40
2. Moore
Joan
USA
38.10
3. Hirashima
Eiko
JPN
38.15
4. Pierce
Roxanne
USA
38.10
5. Yabe
Nobue
JPN
37.50
6. Miyamoto
Toshiko
JPN
37.15
7. Nancy
Thies
USA
36.95
8. Hyodo
Junko
JPN
36.75
9. Hasegawa
Takako
JPN
36.65
10. Chace
Kim
USA
36.35
11. Komiya
Yuniko
JPN
36.25
12. Schuckman
Karen
USA
35.60
In Chicago, the podium was 1. Rigby, 38.50; 2. Moore, 37.85; 3. Pierce, 37.70. Source: Gymnast, February 1972
Videos
Unfortunately, I have not found a video of Nakayama's 10.0, but you can see footage of the performances duing the tour below.
The Men's Competition in Illinois
Kim Chace on Beam
---
More on 1972