Today's gymnastics fans may know Joan Moore as the mother of Ashleigh Gnat, a standout on the LSU gymnastics team. But in 1972, she was one of the best tumblers in the world, opening her floor routine with a high double full and doing a front layout — a rare skill that Japanese men's artistic gymnast Nakayama Akinori also competed.
The Philadelphia newspapers wrote a lot about Moore, and their profiles raised perennial questions:
How can elite athletes balance school with training?
How do parents manage their children's gymnastics careers?
Should the U.S. government do more to sponsor elite athletes?
How should gymnasts be educated?
How many stuffed mice does Joan Moore have?
Enjoy these profiles of Moore from before and after the Munich Olympics.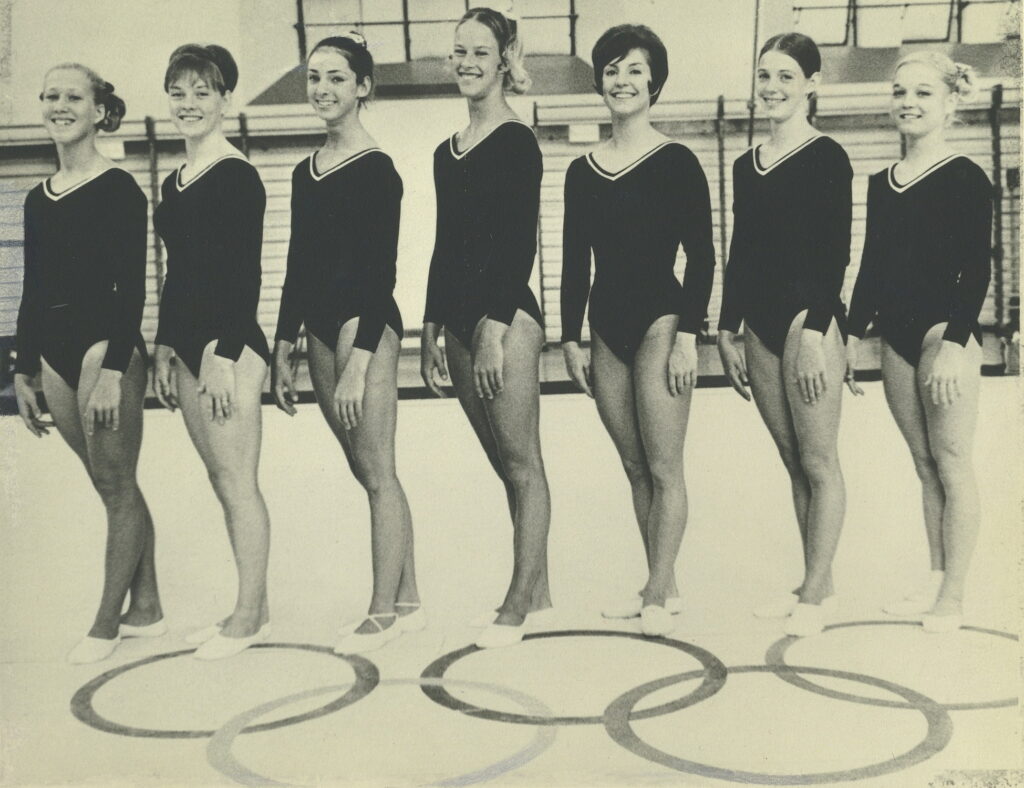 Quick Links:
---
Joan Moore: Gal with a Dream

Joan Moore is a 17-year-old senior at Philadelphia High School for Girls, but she has already done more traveling than most people do in a lifetime.

That's because she is a member of the U.S. national gymnastics team.

In the past two years, she has been to Yugoslavia, Rumania, France, Switzerland, Canada, and Russia for the invitational gymnastics competition[s]. Just last weekend she competed in the Olympic trials at Terre Haute, Ind.

Although Miss Moore was forced to drop out of the trials because of a knee injury, Olympic officials automatically advanced her to the finals of the trials, which will be held in June.

"They have a series of Olympic trials, and the field gets smaller and smaller until the finals in June," she explained. "I was very flattered that they thought enough of me to advance me."

*

MISS MOORE started gymnastics at age six and now practices nearly four hours a day with the Mannettes gym team, which practices six days a week at Temple University under the direction of Bill and Ginny CoCo. Her best international finish (sixth place) came in a meet against the Russians last year.

"All the women gymnasts in the communist countries seem much older," she said. "They don't have other things to do in terms of social events like dances. In Russia, I never saw much social activity at all.

"In the U.S., women don't stick with gymnastics because they grow up and want to get married. That doesn't seem to happen with woman athletes in communist countries."

In communist countries exceptional athletes are spotted at an early age — usually in elementary school — and encouraged to perfect their athletic abilities. The cream of the crop winds up in a central area where the best athletes of a particular sport train.

*

"IT DOESN'T really allow for a great deal of individuality, but I think it's good for the athletes in a communist country," Miss Moore said. "A great athlete is looked on with some importance over there and since the restrictions on the average citizen are so great it's something for them to hold on to."

Miss Moore said she doesn't believe that government-sponsoring is a good idea for the United States but does approve of government assistance for athletes.

"They say politics and sports are separate but that's not really true," she said. "The nation which wins the Olympics gains a lot of worldwide prestige."

"In gymnastics, for example, our national team would be much better if we could all train together and gain the benefit of more than one good coach.

"That's the way it is done in Russia, and I think several two-week training periods together would help our gymnasts here."

*

MISS MOORE'S participation in the national gymnastics team (six members are chosen every year) gives her a good chance at the 1972 Olympics.

"I've always thought about the Olympics — it's something that every amateur athlete thinks about," she said. "But I really became excited and thought I had a chance when I went to the World Games in 1970. Traveling gets you very excited."

She's done some other exciting things like appearing on the David Frost show last Monday.

"Most of my friends at school think the whole thing is great," she said. "It's a nice feeling to be able to do something that in some small way has importance."

While Miss Moore is given a good chance of making the Olympic team, another Philadelphian, 14-year-old Ann Carr, has also made it to the finals of the Olympic trials. She's a student at Woodrow Wilson Junior High School.

Chip Babcock
Philadelphia Inquirer, March 16, 1972
---
Moore Time Later for Diploma

Joan Moore, 16-year-old senior at Girls High, will not graduate this spring. She will spend another semester accumulating necessary credits.

It's not because of any academic tumble. The lighter course load allowed the young gymnast to work toward the Munich Olympics.

She was a tired petite passenger stepping off a United Airlines jet at International Airport late last night after two weeks in California, but she had her special goal. She finished fourth in the Olympic Trials at Long Beach.

"I NEVER REALLY thought I would be good enough to make the Olympics," she said. "I'm really excited about Munich, but I never thought it could be possible."

But others believed in her, including her parents, Harry and Helen, and her teachers and classmates.

"We were told it would be almost impossible for her to spend the necessary time working out while carrying a full roster of courses," Mrs. Moore said. "We consented for her to take a half roster. For something like this we felt that the extra half year in school would be worth it."

THE FORESIGHT of her mother has made the Olympics possible.

"When she was six, Joan used to tag along with her older sister Helen to Mann Recreation Center when she worked out in gymnastics," Mrs. Moore recalled. "Helen never got as far as I thought she could have in gymnastics."

"Helen attended a parochial school and could not get the permission to take the time off to really accomplish anything really big in gymnastics. Her father was deadset at the time against her going to a public school. Now she teaches for the Department of Recreation, but she might have gone a long way as a competitor if she had been given the opportunity."

MRS. MOORE was determined Joan would get that opportunity.

"It was one of the times I've put my foot down," she said. "I insisted that she go to a public school."

Joan is happy her mother put her foot down.

"My teacher[s] have been wonderful," she said. "They helped me as much as they possibly could, and it has made it much easier for me."

Her schoolmates got Olympic fever. The athletic association raised money for the Mannette Olympic Fund. Joan is a member of the Mannette Club.

"We really became interested after she came back from a meet in Japan," said senior Marasha Grant, athletic association head. "At first, we just decorated her locker when she returned but then we decided that we should really do a lot more. We ran a lot of cake sales. We sold tickets to our annual gymnastics contest, and we even collected $200 on Parents' Night. So far we have contributed $1,375 to the Olympic fund.

JOAN HAS SPENT six-day-a-week practicing at Temple under her coaches Bill and Ginny Coco. Bill, Temple's coach, has coached Joan since she was six.

"It started out just tumbling," she said. "After a couple of years, I began working out on the apparatus and in other events. I wasn't serious about actual competition until I was 10."

And last night it meant a special greeting from a former Olympian, John B. Kelly Jr., now City Councilman and president of the Amateur Athletic Association.

Dick Metzgar
Philadelphia Daily News, May 31, 1972
---
Of 10 Million Mice and Gymnastics and Joan Moore

MUNICH — American women are catching up to the rest of the world in gymnastics, and Joan Moore and her mice will be there when it happens.

The mice are stuffed, not real, and the pretty Philadelphia teenager totes them to gym meets for luck. She had them with her when she finished tied for 26th in the individual standings and helped leap, straddle, and tumble the American team to a gratifying fourth place.

"We were seventh in the world last year and we finished fourth here," Joan said Monday, during a gap in the grinding gymnastics schedule. "Two more years, and we'll be there."

BY THEN, Joan's mice family may create an excess baggage problem. "I've got 10 million of them at home. I only bring my favorite five or six to the meets, though."

Miss Moore, who was 21st on the individual list after the compulsory figures, slipped slightly in the optional exercises when she bobbled on the balance beam.

"I had that one break on my mount," she explained. "Nervous tension, I guess. I knew I'd been having trouble with that, but I just wasn't thinking."

IT IS SOMETIMES difficult to think when you are 17 and you're up against the toughest competition in the world. The three countries which finished ahead of the U.S. were Russia, East Germany, and Hungary, all Iron Curtain nations with different philosophies about sports.

"They have a different approach," Joan said thoughtfully. From what I've read about the way they train, it's more like a way of life there than a sideline. You have to go to school in the U.S.

"In some other countries, if you're good in sports, that's all you do. Would I like that system? That's a tough question. If I were brought up that way, it might be all right."

JOAN MOORE has been brought up differently. She chose to devote the time and effort necessary to hone her gym skills.

"Sure, sometimes you get discouraged," she admitted. "When you spend seven hours a day in a hot gym during the summer and you have to do so many routines, that's when it really gets to you. Then you come home here and you see all the advantages… and I guess it's all worthwhile."

The American girls were whispering about the chances for a bronze medal after the first day's action. "We did so well in the compulsor[ies]," she said.

BUT, WHILE PERKY Cathy Rigby lived up to expectations, finishing 10th overall, some of the other girls had letdowns, including Linda Metheny of Chicago.

"If I've learned anything, it has to do with mental attitude," Joan confessed. "That's what makes a difference, the right mental attitude. And you have to look relaxed."

Looking relaxed when your mind is churning with excitement and your heart is pounding and the crowd is yammering is difficult when you're only 17. It will be easier in two years and even in four years when the Olympics reconvene in Montreal.

Meanwhile, Joan Moore will be adding to her international experience and her mice collection.

Stan Hochman
Philadelphia Daily News, August 30, 1972
---
She Didn't Get a Medal, But She's a Winner

Joan Moore, Philadelphia's Olympic gymnast, is a mouse that roars. August born — a Leo — she has acquired the nickname "mouse."

According to Joan's sister Helen, herself a gymnast, it was their coach, Bill Coco, who gave teeny, tiny Joan the tag after the 6-year-old started her career at the Mann Recreation Center at 5th and Allegheny. The name, Helen explained, came "because she makes this sort of 'Peep' — a little high-pitched beep sound when she falls."

At the Olympic trials, says Helen, Joanie fell off the beam, and the audience cracked up.

JOAN'S NICKNAME — and her success — has brought her an incredible collection of mice — from shaped candles to Mickey Mouse hats to earrings to a beer mug that plays the Mickey Mouse song.

"And every time she gets a cake," says Helen of welcome home parties and birthdays, "it has to have a mouse drawn on it."

And there will probably be many mice in evidence when Joan and her mother return from Munich this week. Though the team came in fourth and Joan placed 21st in the individual competition, she's still a winner to her family and neighbors, who will join her father, Harry Moore, for the homecoming party. He would have gone to Munich, but he will be entering the hospital soon for an eye operation.

"He probably would have been seated back so far he wouldn't have been able to see her anyway," Helen explained.

HELEN, WHO competed on the national level a few years ago, will have another surprise for Joan when she gets home. Joan, who attended Girls' High in Philadelphia, was just accepted at Temple University, and Helen has already registered for her. She is not sure whether Joan will join her on Temple's gymnastic team — or if Joan will want to go on in competition toward the '76 Olympics.

"She's 18 now," Helen explained. "Most girls don't last very long in gymnastics. We had one girl on the Olympic team who was 25, but that was a very unusual case. The United States' girls come and go. Like half of them wind up getting married. Cathy Rigby is 18, and she is getting married in April. But, knowing Joanie, I think she'll still compete for a while.

"IT'S REALLY HARD to say what her feelings will be because of the way the Olympics are going," Helen continued, voicing a frustration felt by many who watched the competitions. "It's really such a political rat race. It's unbelievable.

"First, we don't have any American judges in gymnastics over in the Olympics. They're all from Russia and Germany and Hungary, and that's why those people came in first, second, and third. I'm not saying we should have come in first or second, because we shouldn't have, but we should have received third. I thought it was really unfair.

[Note: This is not true. Jackie Fie of the U.S.A. judged compulsory beam and optional floor.]

"Also, the American girls competed in the morning. Even if it's just a United States competition and they have it in two sessions, people who compete in the morning always get rooked a little because the judges can't start scoring too high. If they do and someone else really good comes along they get stuck, so they usually start low and that's what really hurt the American girls, being first in the morning. It happens in every meet. You just get used to it. But it really hurts in [the] Olympics. They should know what kind of caliber is coming up.

THE FAMILY — there are seven children — is a very close-knit one. As Helen says, "That's one thing, us kids stick together." But when she tells you that Joanie is really great, she's quick to add that it's not just because she's her sister.

"Joanie and I are like two complete opposites," Helen said. "I'm very outgoing and she's very quiet. You really have to know her before she'll even say anything. Like at schools, the kids will come in… like after she made the Olympic team… and say, 'What's new, Joanie?' and she said, 'Oh, nothing.' She's just that way. She's just very, very shy. Very quiet."

Marilynn Marter
Philadelphia Inquirer, Sept. 5, 1972
---
More on 1972