When we think of the 1968 Olympics in Mexico City, we think of the questionable judging in women's gymnastics and the political protest of Věra Čáslavská on the podium after the floor finals.
Over the years, a piece of FIG gossip has been forgotten. It happened after the men's compulsories. Arthur Gander, the FIG president, threatened to ban a coach from competition.
So, let's dive into the men's compulsories, eh?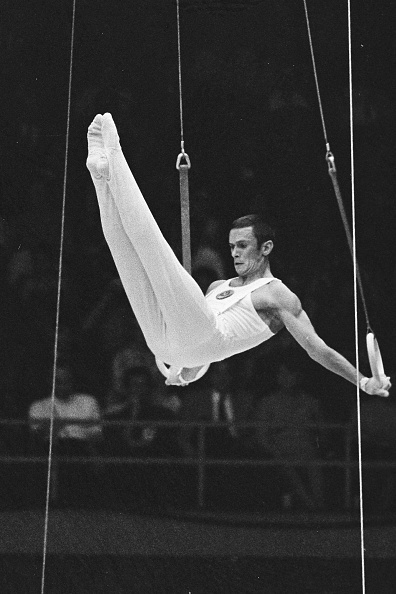 Background | Judging Assignments | Competition Notes
Background
Here's a little background to get you oriented.
Violence and Protest
Days before the Opening Ceremonies, violence erupted during a protest rally in the Plaza de las Tres Culturas. Afterward, Avery Brundage would declare that the Olympic Games would go on, adding:
"If the Olympic Games had to be interrupted every time politicians violated the laws of humanity, there would never be international sporting events."

"Si los Juegos Olímpicos tuvieran que ser interrumpidos cada vez que los políticos violan las leyes de la humanidad, jamás habría encuentros deportivos internacionales."

Informador, Oct. 8, 1968
More on the Tlatelolco Massacre here.
Altitude
Mexico City is roughly 7,350 feet (2,250 meters) above sea level, and many were concerned about athlete safety.
I wrote about the altitude concerns in my post about the Little Olympics.
The Favorites
Coming into the Olympic Games, the Japanese team was the clear favorite. They had won the team titles at the 1960 Olympics in Rome and the 1964 Olympics in Tokyo. And they had won two consecutive titles at the World Championships (1962, 1966).
As for the all-around, Mikhail Voronin was the reigning Olympic champion, but Nakayama Akinori and Sergei Diomidov were clear challengers. Diomidov won the "Little Olympics" all-around competition in 1967, and Nakayama finished second.
Voronin: Breaking from the Soviet Mold
Voronin's style of gymnastics was seen as different from the Soviet gymnasts of the past. He showed more rhythm and less strength. His gymnastics was seen as a "feast for the eyes."
Voronin, die vroeger eigenlijk liever voetballer wilde worden, streeft in zijn oefeningen naar perfectie, waarbij hij tot de uiterste grens gaat. Zijn ritmische, meeslepende wijze van turnen is een lust voor het oog en steekt sterk af bij de oude Russische stijl van de krachtturners. Voronins turnen is op zeer moderne leest geschoeid en de oefeningen worden in volmaakte houding uitgevoerd. Ofschoon overtuigd van eigen kunnen, had Voronin er nooit van gedroomd wereldkampioen te worden.

Nieuwsblad van het Noorden, Oct. 27, 1966
Oh, and he wanted to be a footballer/soccer player.
Kato Sawao: The Big Surprise (for the International Gymnastics Community)
The big surprise of the 1968 Olympics was Kato Sawao, the youngest of the two Kato brothers at these Olympics and a recent addition to the Japanese national team. In 1967, he wasn't the top Japanese gymnast. He finished third at the University Games, behind Nakayama and Kato Takeshi. At the Little Olympics in 1967, he finished 10th in the all-around and took home silver on floor and bronze on high bar.
So, it is unlikely that the international gymnastics community would have picked him to win the all-around gold.
However…
Kato Sawao: Not a Surprise for the Japanese Public
Prior to the Olympics, here's what the Japanese newspaper The Yomiuri reported:
Kato, 21, of Tokyo University of Education, finished first in the Olympic tryouts for the gymnastic squad with a total points of 114.55

The Yomiuri, Sept. 24, 1968
Kato Sawao's promise was highlighted again just prior to the Olympic Games:
Toshihiko Sasano, manager of the Japanese gymnastic team, said both men and women gymnasts are in best condition, particularly Yukio Endo and Sawao Kato.

The Yomiuri, Oct. 13, 1968
One big change to compulsories
Gymnasts were no longer allowed to repeat their compulsory routines.
A New Code
In 1968, the FIG published a new Code of Points. The Olympic Games would be the first major meet to follow the nearly 200-page document.
And you can find the compulsory routines here.
---
Modern Gymnast, Nov/Dec 1968
Judging Assignments
Compulsories
These are the judging assignments according to the official program. There were likely a few changes, given that Marcel Adatte was assigned to both pommel horse and parallel bars.
Floor Exercise
Judge-Referee:
Valentin Muratov (URS)
Alfred Schmidt (DDR)
Kaneko Akitomo (JPN)
Nicolai Kouly (BUL)
Ángel Franco (CUB)
Pedro Ortega (MEX)
Note: I assume that Ortega was the line judge.
Pommel Horse
Judge-Referee:
Alex Lylo (TCH)
Heinz Neumann (GDR)

Zbigniew Noskiewicz (POL)
Gianfranco Marzolla (ITA)
Marcel Adatte (SUI)
István Sárkány (HUN)
Rings
Judge-Referee:
George Gulack (USA)
Milos Stergar (YUG)
Esa Seeste (FIN)
Mario Sánchez (MEX)
Takemoto Masao (JPN)
Vault
Judge-Referee:
Pierre Hentgès (LUX)
Eberhard Pollrich (GDR)
Zdeněk Růžička (TCH)
Jacques Chouinard (CAN)
Sotero Tejada (PHI)
Enrique Sánchez (MEX)
Víctor Perea (MEX)
Note: I assume that Sánchez and Perea were the zone judges for hand placement.
Parallel Bars
Judge-Referee:
Rudolf Spieth (DDR)
Boris Shakhlin (URS)
Nilos Kaleka (TCH)
Georges André (FRA)
Marcel Adatte (SUI)
High Bar
Judge-Referee:
Tuomo Jalantie (FIN)
Rolf Bauch (GDR)
Armando Vega (USA)
Konstantin Darakachians (URS)
Tadeusz Bettyna (POL)
Reserve Judges:
Tadeusz Bettyna (POL)
Nicanor Villarreal (MEX)
---
Competition Notes
You can read a full report from Modern Gymnast in the image carousel above. What follows are the headlines, gathered from Modern Gymnast and various newspapers from around the world.
Competition Date: Tuesday, October 22, 1968
The Japanese Team Dominated
| | | |
| --- | --- | --- |
| Event | Japan | Soviet Union |
| Floor | 48.00 | 47.35 |
| Pommel Horse | 46.90 | 47.35 |
| Rings | 48.35 | 47.60 |
| Vault | 47.00 | 47.15 |
| Parallel Bars | 48.20 | 48.00 |
| High Bar | 47.95 | 47.70 |
| Total | 286.40 | 285.15 |
L'Impartial, Oct. 24, 1968
The Japanese out-scored the Soviet team on all but two events (pommel horse and vault).
Here were the team standings after the compulsories.
| | |
| --- | --- |
| Country | Compulsory Score |
| 1. Japan | 286.40 |
| 2. Soviet Union | 285.15 |
| 3. East Germany | 277.50 |
| 4. Czechoslovakia | 276.50 |
| 5. Poland | 275.15 |
| 6. Yugoslavia | 273.15 |
| 7. Finland | 272.05 |
| 8. Switzerland | 272.00 |
| 9. United States | 271.60 |
| 10. West Germany | 271.25 |
| 11. Italy | 270.65 |
| 12. Bulgaria | 268.50 |
| 13. Hungary | 264.05 |
| 14. Mexico | 255.30 |
| 15. Cuba | 252.30 |
| 16. Canada | 250.05 |
Modern Gymnast, Nov./Dec. 1968
"Other countries competing that did not field full teams were: Algeria, Australia, Denmark, Ecuador, France, Great Britain, S. Korea, Mongolia, Philippines, Sweden, and Taiwan"
Another victory for Voronin on the way?
After compulsories, Mikhail Voronin, the 1966 World champion, was just ahead of Nakayama Akinori: 57.90 against 57.60.
Top 10 in the all-around after compulsories
| | | | | | | | | |
| --- | --- | --- | --- | --- | --- | --- | --- | --- |
| Name | Country | FX | PH | SR | VT | PB | HB | Total |
| 1. Voronin | URS | 9.55 | 9.70 | 9.75 | 9.45 | 9.75 | 9.70 | 57.90 |
| 2. Nakayama | JPN | 9.60 | 9.40 | 9.75 | 9.45 | 9.70 | 9.70 | 57.60 |
| 3. Kato S. | JPN | 9.75 | 9.45 | 9.70 | 9.35 | 9.65 | 9.60 | 57.50 |
| 4. Kenmotsu | JPN | 9.55 | 9.45 | 9.55 | 9.40 | 9.60 | 9.55 | 57.10 |
| 4. Diomidov | URS | 9.50 | 9.50 | 9.60 | 9.45 | 9.45 | 9.60 | 57.10 |
| 4. Kato T. | JPN | 9.60 | 9.20 | 9.70 | 9.45 | 9.60 | 9.55 | 57.10 |
| 7. Klimenko | URS | 9.25 | 9.50 | 9.40 | 9.45 | 9.60 | 9.50 | 56.70 |
| 7. Karasev | URS | 9.55 | 9.35 | 9.45 | 9.40 | 9.55 | 9.40 | 56.70 |
| 9. Lisitsky | URS | 9.50 | 9.30 | 9.40 | 9.40 | 9.60 | 9.35 | 56.55 |
| 9. Cerar | YUG | 9.25 | 9.65 | 9.30 | 9.20 | 9.60 | 9.55 | 56.55 |
The Soviet gymnasts were overscored?
According to Jerry Wright of Modern Gymnast:
The Russian team was favored with many gift scores, as is their usual lot in these games, and were kept in the meet as a result. After the compulsory competition the Russians only trailed the Japanese by 1.25 and it should have been at least 5.0 points.
Overscoring is always subjective, but it sounds like the crowd agreed with Wright, which brings me to the next headline…
The crowd was highly involved.
They booed at Diamidov's "gift score" for his compulsory parallel bar routine:
On the parallel bars Diamidov suffered 3 major breaks and received the most outrageous gift score of the entire meet ( that was until his optional which was just as bad ). Diamodov missed his streili mount (bent his knees, feet came apart, toes hooked, and took steps with his hands; missed his peach in much the same manner and took steps after doing a poor dismount and received 9.45 and about 15 minutes of boos from the crowd.
They cheered for non-gymnastics events during the gymnastics competition.
One performer was caught up in the Mexican spirit as just as he prepared to mount the audience started to sing the Mexican National Anthem. The reason being that in some sections of the stands people were watching the swimming meet on portable TV sets and when the Mexican swimmer won a gold medal and stepped on the victory platform to receive it the people in the gymnastics meet stood up and sang along. The performer went ahead with his routine in spite of the interference and did a good job.
Note: We'll see the crowd involvement even more during the women's competition.
Menichelli tore his Achilles on his dismount on floor and still managed a 9.3 on the apparatus.
Why this mattered: Menichelli was the reigning Olympic floor champion and a favorite to contend for gold on the event. Plus, he had done a nice double back in the training halls. (Double backs were still rare at the time.)
His Achilles' tear would spark a conversation. In his report for Modern Gymnast, Jerry Wright wrote:
There were several injuries in the men's floor exercise and it occurs to me that it is about time for the FIG to start using a sponge mat like most of us do and get away from the wood floor they use (the system they use is like using a bunch of small size Reuther boards side by side only not as flexible).
Here were the apparatus specifications for floor at the time: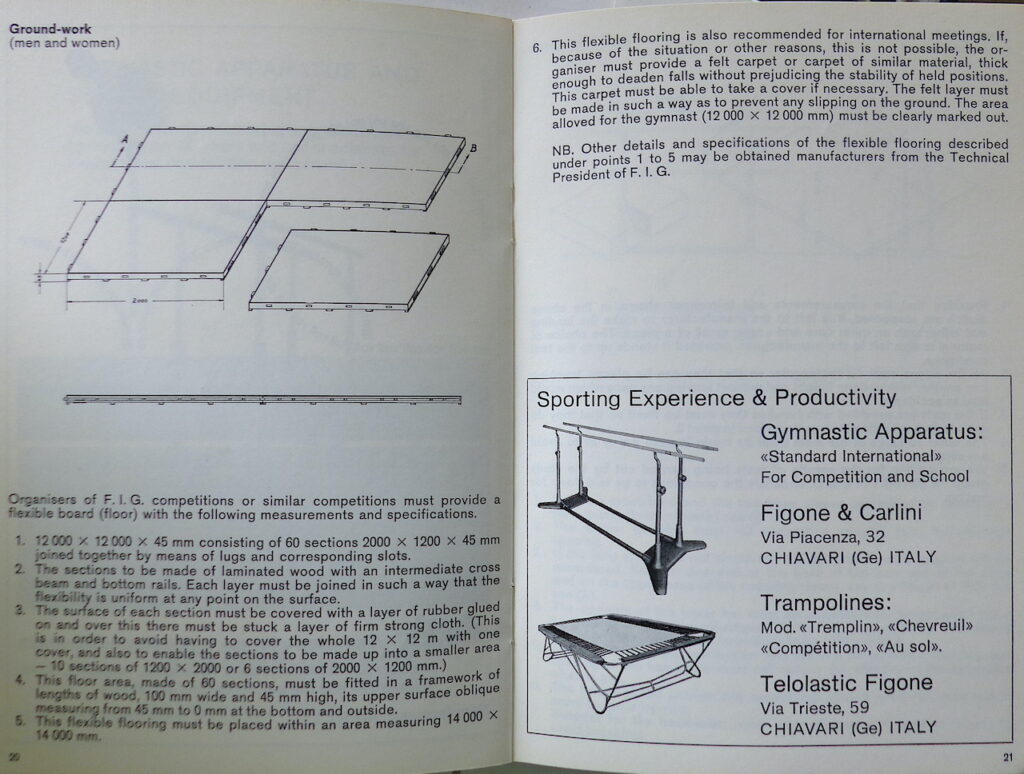 You can see the floor better in this diagram from the 1960 apparatus norms: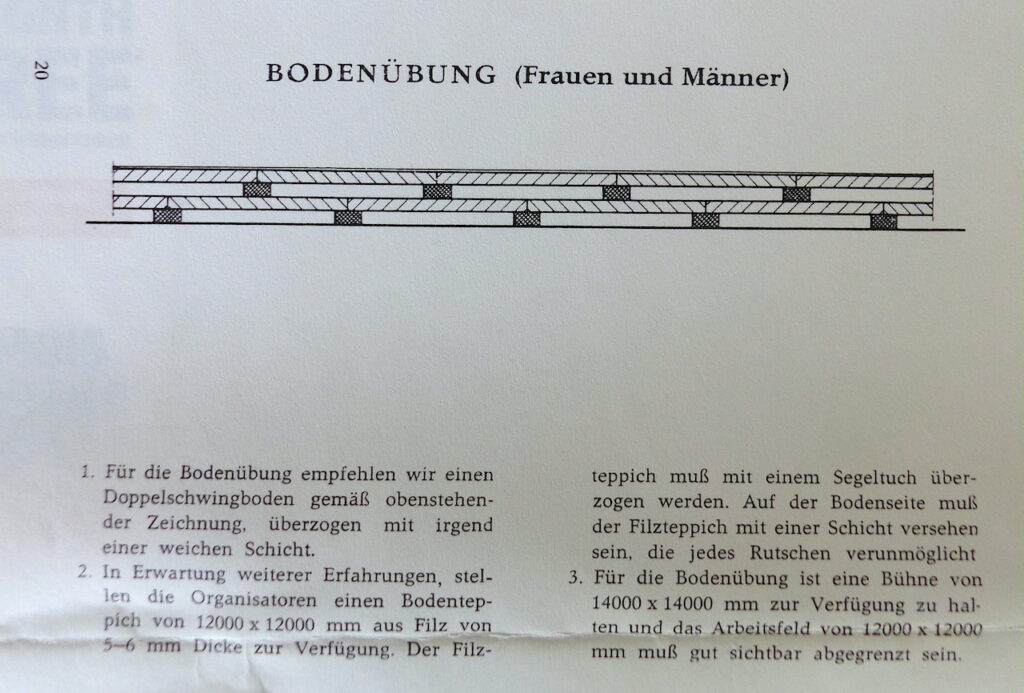 During a coaches' conference in 1969, after the Olympic Games, Arthur Gander, President of the FIG, had Achilles injuries on his mind. He is quoted as saying:
"​​And we must look into the injury problem to the Achilles tendon."

Modern Gymnast June/July 1969
The Mexican men's performance was "low although not disappointing."
Armando Valles was their high scorer with a 9.30 on parallel bars, 9.15 on vault, and 9.05 on pommel horse and rings. The audience whistled at the team's floor scores, but "they were truly fair."
La actuación del equipo mexicano fue realmente baja aunque no decepcionante. En barra fija Armando Valles logró un meritorio 9.30 en paralelas. Todo el equipo estuvo por debajo de los nueve puntos. En salto al potro Armando Valle logró otra buena calificación con 9.15 y José González obtuvo 9 puntos. En anillos Valles logró 9.05 puntos, lo mismo que en caballo con arzones, pero en manos libres estuvo el equipo muy lento y aunque el público silbaba las puntuaciones, éstas fueron realmente justas.

Informador, October 23, 1968
The U.S. men were the kings of sparking judges' conferences.
From Jerry Wright's article in the November/December issue of Modern Gymnast:
"Allen lost probably up to .5 on his hip circle by coming out level with the bar and caused a conference of the judges, receiving 8.9."
"Allen missed his scale, had two attempts on his handstand and had to hop on his dismount — causing a judges' conference the second on him in two events."
"Fred [Roethlisberger] looked good to me but after a judges' conference he came up with only an 8.85."
"Thor looked perfect and after a judges' conference (I would venture to say that the American team caused more judges' conferences than any other team except maybe Ecuador who got scores in the 3.0s and 4.0s), Dave received 9.5, which was a crime."
"Allen started but could not hold a cross and again caused a judges' conference after which he was awarded a 7.9."
"Allen started off by missing the streili mount, missed the peach basket, took an extra swing prior to his dismount — caused a judges' conference and ended up with 7.7."
The FIG Gossip
Jack Günthard, the head coach of the Swiss men's team, complained about the judging, and Arthur Gander, the FIG president, got ticked off, threatening to ban Günthard from competitions.
Here's a translation of the article from L'Express, Saturday, October 26, 1968
Warning to Günthard

The remarks of the Swiss coach did not please Mr. Arthur Gander

We know that, after the compulsory exercises, the Swiss national trainer Jack Günthard protested against the way his "protégés" had been judged. Reproducing his statements more or less exactly, a major Mexican newspaper noted that Günthard had said that Switzerland "had been robbed by at least five points." This statement and its reproduction did not fail to attract the attention of the committee of the International Gymnastics Federation and, in particular, of its president, Mr. Arthur Gander (Chiasso).

Although a fellow countryman of Jack Günthard, Arthur Gander intends to make him eat his words, which he considers to be insults, and he asked the [Swiss] Federal Gymnastics Society to take the necessary sanctions. He added: "We don't want to take any action against Günthard here in Mexico City, but sanctions will be made because this is not the first time he has behaved like this. If he should again behave in this way during the next gymnastics events, he will be forbidden to enter the room with his men."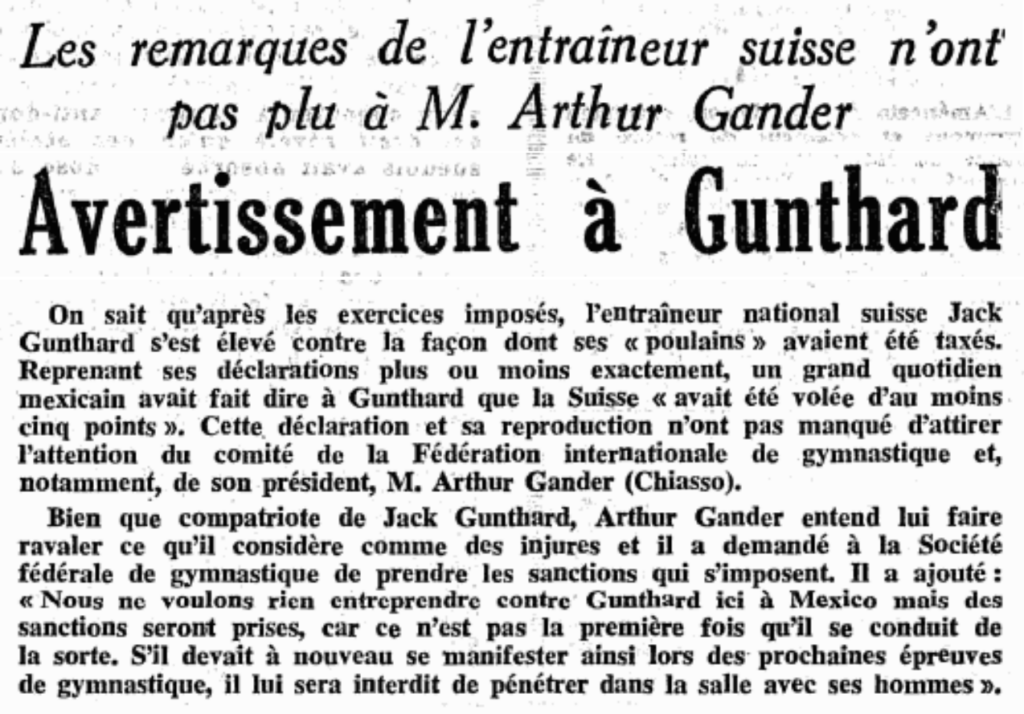 In 1969, Günthard and Gander had to go to a mediation season. Here's the translation of an article from L'Impartial on January 6, 1969:
Cordial Agreement between Mr. Gander and Mr. Günthard

The central authorities of the Federal Gymnastics Society held a working session in Aarau, under the direction of Mr. René Schaerer, central president of the SFG, coach Jack Günthard, and the president of the International Gymnastics Federation, Mr. Arthur Gander, also attended this meeting. Discussions focused in particular on the dispute that arose during the Olympic Games in Mexico between Jack Günthard and the President of the International Gymnastics Federation. The situation was examined in an atmosphere of confidence, and all contentious points were ironed out. The interested parties have declared themselves willing to work in the future in a spirit of frank collaboration for the good of Swiss and international gymnastics.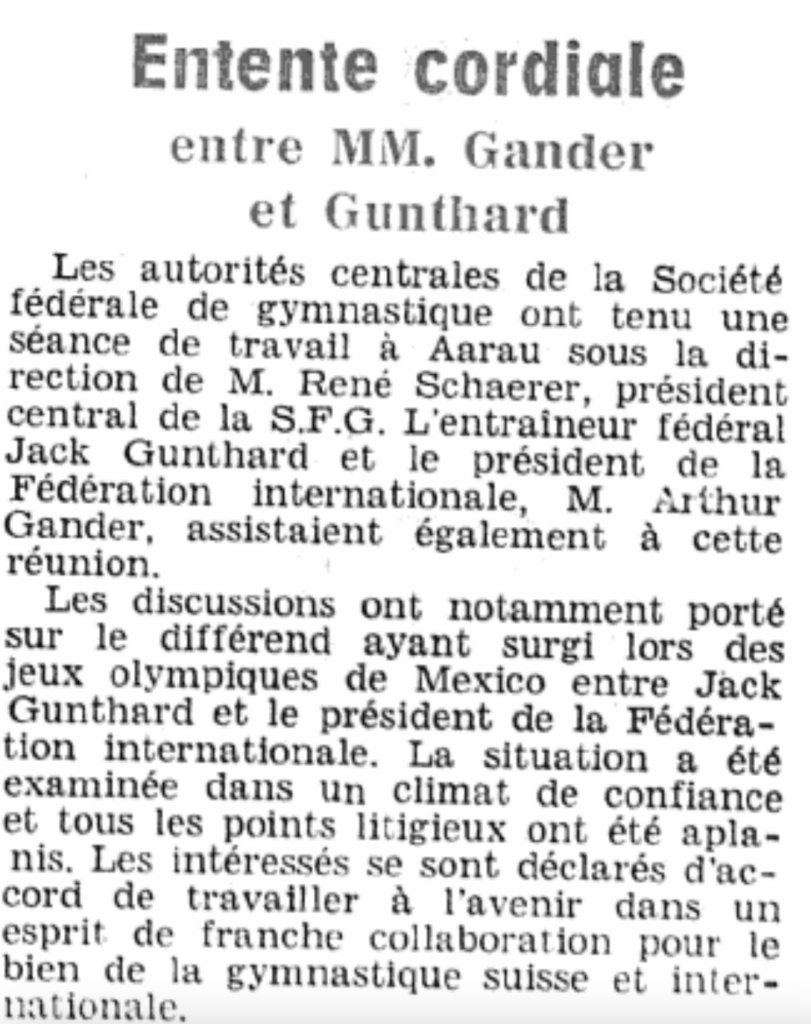 A little more about Jack Günthard…
He was the gold medalist on high bar at the Helsinki Games in 1952, where the Swiss team also won silver. He coached the Italian team for many years. Then, the Swiss gymnastics federation brought him back to Switzerland to revive the men's team. In the January 1966 issue of Modern Gymnast, it said:
Of course, the goal of Gunthart to bring back Swiss gymnasts within the best in the world is very tough, but if one can really "move some mountains" then it is obviously Jack, who of course warned in his take-over-speech not to expect wonder but work, training and training again.

Modern Gymnast, Jan. 1966
---
More from 1968