On Sunday, August 27, 1972, the women's artistic gymnasts started the long slog of the Olympics. This was the first Olympic Games with a separate all-around final. As a result, the top gymnasts faced four days of competition (compulsories, optionals, all-around finals, and event finals). Previously, they had had only three days of competition (compulsories, optionals, and event finals).
From the start, it looked as if the Soviet Union and East Germany had gold and silver locked. But bronze was still up for grabs, and it would cause a lot of heartache in the U.S. gymnastics community.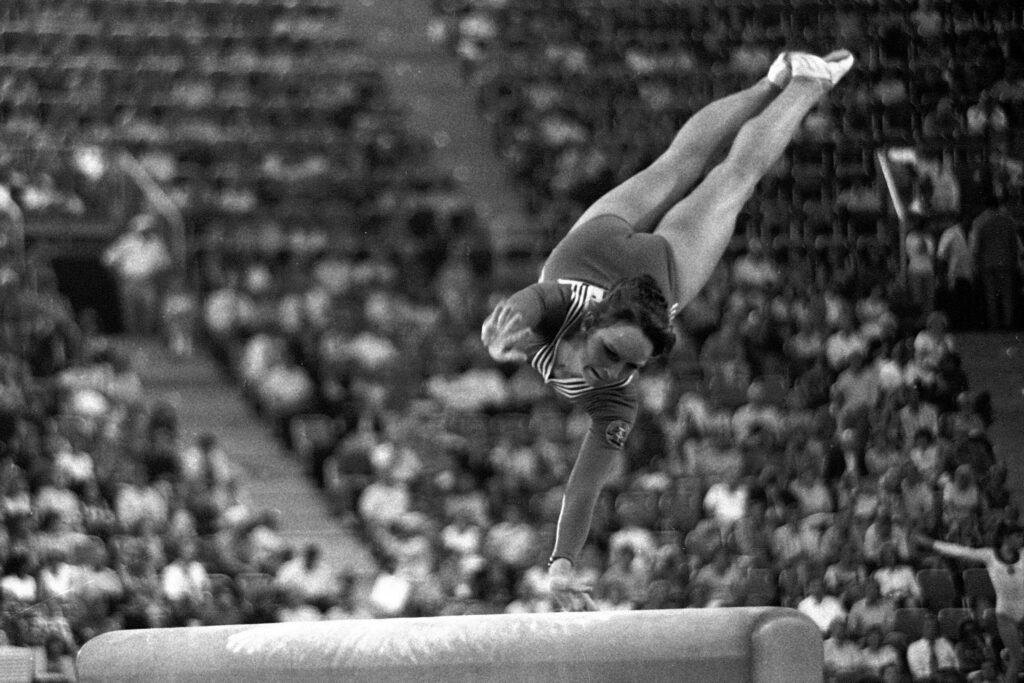 Quick Links: Gymnastics Context | Results | Commentary | Videos
Gymnastics Context
Reminders
Reigning Olympic Champions (1968)

Team: Soviet Union
All-Around: Věra Čáslavská (TCH)
Vault: Věra Čáslavská (TCH)
Bars: Věra Čáslavská (TCH)
Beam: Natalia Kuchinskaya (URS)
Floor: Věra Čáslavská (TCH) and Larisa Petrik (URS)
More on the 1968 compulsories, optionals, and event finals.

Reigning World Champions (1970)

Team: Soviet Union
All-Around: Ludmilla Tourischeva (JPN)
Vault: Erika Zuchold (GDR)
Uneven Bars: Karin Janz (GDR)
Beam: Erika Zuchold (GDR)
Floor: Ludmilla Tourischeva (URS)
More here on the 1970 World Championships

Reigning European Champions (1971)

All-Around: Ludmilla Tourischeva (URS) and Tamara Lazakovich (URS)
Vault: Ludmilla Tourischeva (URS)
Bars: Tamara Lazakovich (URS)
Beam: Tamara Lazakovich (URS)
Floor: Ludmilla Tourischeva (URS)
Note: Karin Janz (GDR) did not compete in this meet
More on the 1971 European Championships here
Note: You can read the previews and predictions from around the globe here.
---
Results after Compulsories
Team Standings after Compulsories
| | | | | | |
| --- | --- | --- | --- | --- | --- |
| | VT | UB | BB | FX | Total |
| 1. URS | 47.55 | 47.70 | 45.90 | 48.00 | 189.15 |
| 2. GDR | 46.85 | 48.00 | 45.80 | 46.65 | 187.30 |
| 3T. HUN | 44.70 | 47.00 | 45.40 | 45.05 | 182.15 |
| 3T. TCH | 45.95 | 46.30 | 44.80 | 45.10 | 182.15 |
| 5. USA | 45.10 | 45.75 | 45.60 | 45.65 | 182.10 |
| 6. JPN | 43.65 | 45.90 | 45.05 | 44.50 | 179.10 |
| 7. ROM | 44.05 | 45.05 | 44.10 | 45.80 | 179.00 |
| 8. FRG | 44.50 | 45.15 | 43.35 | 44.50 | 177.50 |
| 9. BUL | 45.15 | 43.00 | 42.60 | 44.05 | 174.80 |
| 10. NED | 43.70 | 44.00 | 42.80 | 44.00 | 174.50 |
| 11. POL | 43.45 | 43.45 | 42.25 | 44.95 | 174.10 |
| 12. SUI | 43.50 | 44.00 | 42.60 | 43.55 | 173.65 |
| 13. ITA | 43.20 | 43.90 | 42.35 | 44.00 | 173.45 |
| 14. CAN | 43.65 | 42.80 | 42.05 | 44.20 | 172.70 |
| 15. NOR | 42.90 | 43.45 | 42.30 | 43.70 | 172.35 |
| 16. FRA | 43.30 | 42.20 | 42.75 | 43.70 | 171.95 |
| 17. YUG | 43.30 | 40.25 | 41.55 | 43.00 | 168.10 |
| 18. MEX | 42.55 | 41.25 | 40.40 | 41.75 | 165.95 |
| 19. GBR | 40.70 | 40.95 | 41.35 | 42.50 | 165.50 |
The All-Around Standings – Top 15
Gymnast
Country
VT
UB
BB
FX
Total
1. Lazakovich
Tamara
URS
9.60
9.55
9.40
9.70
38.25
2. Janz
Karin
GDR
9.45
9.85
9.35
9.50
38.15
3. Tourischeva
Ludmilla
URS
9.60
9.60
9.05
9.80
38.05
4. Korbut
Olga
URS
9.45
9.60
9.25
9.60
37.90
5. Zuchold
Erika
GDR
9.45
9.70
9.25
9.40
37.80
6. Hellmann
Angelika
GDR
9.35
9.60
9.15
9.40
37.50
7. Burda
Lyubov
URS
9.50
9.45
9.00
9.50
37.45
8. Saadi
Elvira
URS
9.40
9.20
9.20
9.40
37.20
9T. Schmeißer
Richarda
GDR
9.25
9.55
9.15
9.05
37.00
9T. Koshel
Antonina
URS
9.20
9.50
8.95
9.35
37.00
11. Rigby
Cathy
USA
9.10
9.20
9.25
9.30
36.85
12T. Békési
Ilona
HUN
8.90
9.60
9.15
9.10
36.75
12T. Némethová
Mariana
TCH
9.30
9.25
9.10
9.10
36.75
14. Schmitt
Christine
GDR
9.30
9.30
8.90
9.20
36.70
15T. Császár
Monika
HUN
9.05
9.15
9.25
9.15
36.60
15T. Dorňáková
Zdena
TCH
9.30
9.30
8.85
9.15
36.60
---
Commentary
Reminder: There weren't set compulsory routines for the Munich Olympics. There was a set of compulsory skills that had to be performed in a specific order, and each country had to construct its own routine.
Quick Links: USSR | GDR | HUN | USA | FRG | ROU | JPN
The Soviet Union
The Soviet and East German teams were far ahead of the rest of the field.
The duel between the strikingly slim Soviet Russians and the gymnasts from the GDR provided interesting information about the outcome of the team competition. After this dazzling performance, there is no longer any doubt that the decision in the optional program will only be between these two great squads. They outclassed their rivals to a depressing degree.

Neue Zürcher Zeitung, Number 400, 28 August 1972 Edition 02

Das Duell zwischen den auffallend schlanken Sowjetrussinnen und den Turnerinnen aus der DDR ergab interessante Aufschlüsse über den Ausgang des Mannschaftswettkampfes. Daß die Entscheidung in der Kür nur zwischen diesen beiden großartigen Riegen ausgetragen wird, darüber bestehen nach dieser blendenden Vorstellung keine Zweifel mehr. Sie deklassierten ihre Rivalinnen in einem deprimierenden Maße.
The competition between the top two teams was close until the final rotation. Then, the East German gymnasts struggled on beam.
Up until the last change of apparatus, the level of performance between the gymnasts of the Soviet Union and the GDR was very balanced. After the girls from the USSR had completed their floor exercise routines and the gymnasts from the GDR had completed their uneven bars exercises, the difference in the team score was only 0.10 points. In the last round, however, the Soviet team was able to improve considerably. With scores between 9.40 and 9.60 points, they scored 47.55 points on vault — the required wheel turn was performed in an exemplary manner in both phases. The GDR gymnasts, on the other hand, could not fully convince on the balance beam as their last apparatus and had to be content with scores between 8.90 and 9.35 points.


Berliner Zeitung, August 28, 1972

Bis zum letzten Gerätewechsel war das Leistungsniveau zwischen den Turnerinnen der Sowjetunion und der DDR sehr ausgewogen. Nachdem die Mädchen aus der UdSSR die Boden-Pflicht und die Turnerinnen der DDR ihre Stufenbarrenübungen absolviert hatten, betrug die Differenz in der Mann- schaftswertung nur 0,10 Pkt Im letzten Durchgang vermochte sich die sowjetische Mannschaft jedoch dann noch erheblich zu steigern. Mit Wertungen zwischen 9,40 und 9.60 Pkt. erzielte sie beim Pferdsprung — die geforderte Radwende wurde in beiden Phasen mustergültig geturnt — 47,55 Pkt. Die DDR- Turnerinnen konnten dagegen am Schwebebalken als ihrem letzten Gerät nicht voll überzeugen und mußten sich mit Wertungen zwischen 8,90 und 9,35 Pkt. begnügen.
That said, the Soviets had their own struggles on beam.
The beam, even at such a bright event as the Olympics, still caused troubles. It almost shook off Koshel, so she had to do with only 8.95 points (the only one of the 24 scores of our gymnasts that was below 9 points). Tourischeva's balance was shaky; Burda was struggling to hold it too. Only Lazakovich managed not to lose her usual elegance. She got the best score in our team – 9.4.

Sovetsky Sport, August 29, 1972

Бревно, даже на таком ярком празднике, как Олимпиада, не отказалось от коварных «подножек». Чуть не стряхнуло оно Кошель, и той пришлось довольствоваться 8,95 балла (кстати, это единственная из 24 оценок наших гимнасток, которая оказалась ниже 9 баллов). Качнуло Турищеву, с трудом устояла Бурда. Лишь Лазакович сумела не утратить обычной 'элегантности. У нее лучшая оценка в нашей команде — 9,4.
The Soviet gymnasts were delightful on floor during compulsories.
Gymnastics on the balance beam got a little weaker; a "consolation" that even great athletes struggle with balance. The Soviet Russians—perfect ballet dancers—improved their floor exercise routines, and the spectators were delighted. Already Lyubov Burda opened her graceful performance with 9.50 points, Tamara Lazakovich did even better with 9.70 points and then the tall Ludmilla Tourischeva, who even scored 9.80 points.

Neue Zürcher Zeitung, Number 400, 28 August 1972 Edition 02

Im Bodenturnen steigerten sich die Sowjetrussinnen — perfekte Ballettänzerinnen —, die Zuschauer waren begeistert. Bereits Liubow Burda eröffnete ihre graziöse Vorführung mit 9,50 P., noch besser machten es Tamara Lazakowitsch mit 9.70 P. und dann die großgewachsene Ludmila Turischewa, welche sogar 9,80 P. erzielte.
But perhaps they were overscored on floor.
While the Russians were indeed good on the floor, the 9.7 awarded Lazakovitch and 9.6 awarded Korbut seemed generous but Turischeva may just have deserved her 9.8.

Gymnast, Nov. 1972
Ludmilla Tourischeva was not in the lead after compulsories, but her routines were a cut above the rest.
Highlights of the Soviet team were floor exercise and uneven bars. On both apparatus, the gymnasts around world champion Ludmilla Tourischeva knew how to perform the compulsory elements prescribed by the international federation with great perfection and to combine them expressively with one another.

Berliner Zeitung, August 28, 1972

Glanzpunkte der sowjetischen Riege bildeten das Bodenturnen und die Übungen am Stufenbarren. An beiden Geräten verstanden es die Turnerinnen um Weltmeisterin Ludmilla Turistschewa, die von der internationalen Föderation vorgegebenen Pflichtejemente In hoher Perfektion darzubieten und ausdrucksvoll miteinander zu verbinden.
---
East Germany
The East Germans excelled on uneven bars.
Karin Janz, Erika Zuchold, and Angelika Hellmann are not yet sufficiently supported by their young comrades. The East German gymnasts were more convincing on the uneven bars; with 48 points, they equalized the scores of the Soviet Russians. There was not the slightest flaw in their performances.

Neue Zürcher Zeitung, Number 400, 28 August 1972 Edition 02


Karin Janz, Erika Zuchold und Angelika Hellmann werden von ihren jungen Kameradinnen noch nicht genügend unterstützt. Uebcrzeugendcr wirkten die ostdeutschen Turnerinnen am Stufenbarren; mit 48 P. egalisierten sie die Wertung der Sowjetrussinnen. Ihren Vorführungen haftete nicht der geringste Makel an.
Even though the East German gymnasts were trailing the Soviet gymnasts, there was still optimism.
Birgit Radochla, who won a silver medal in gymnastics in Tokyo, said yesterday evening on GDR television about the exciting duel between the two friendly teams from the USSR and the GDR: "Nothing has been decided yet, even though the Soviet girls appear a little more balanced."

Berliner Zeitung, August 28, 1972

Birgit Radochla, Silbermedaillengewinnenn von Tokio im Turnen, meinte gestern abend im DDR- Fernsehen zum spannenden Zweikampf zwischen den beiden befreundeten Mannschaften der UdSSR und der DDR: "Noch ist nichts entschieden, wenn auch die sowietischen Mädchen etwas ausgeglichener erscheinen."
---
Hungary
After three rotations, the Hungarians were scoring low, but on their final apparatus, bars, they finally got the boost they needed.
In the small warm-up room, it seemed as if our gymnasts were breathing harder. Anikó Ducza, one of the team's coaches, tried to reassure the girls: a little hair straightening here, an unexpected kiss there, and the removal of a non-existent speck of dust from the warm-up area here and there indicated that the competitive mood was good.

We started on the beam, and the scores we got gave us a bit of a scare. Later, we found out that the beam judges were also strict with others: their pencils were thin.

The warm-up vaults were excellent and made our supporters feel confident. Unfortunately, the judged vaults were much less successful, so that, after three apparatus — floor, beam, and vault — the competition looked very "sad" for us.

Then came the uneven bars, and the exercises presented by Ilike Békési on this set made up for all the previous excitement. Nothing proves the value of their performance better than the fact that only women from the Soviet Union and the GDR scored higher on this apparatus.

A quick calculation: we were five-hundredths of a point ahead of the American team.

Képes Sport, August 29, 1972

A melegítésre kijelölt kis teremben bizony mintha nehezebben szedték volna a levegőt a mieink. Ducza Anikó, a csapat egyik edzője igyekezett megnyugtatni a lányokat: itt egy kis frizura-igazítás, ott egy váratlan puszi, amott egy nemlétező porszem eltüntetése a melegítőről jelezte, hogy jó a versenyhangulat.

Gerendán kezdtünk, s bizony a kapott pontszámok egy kicsit megijesztettek bennünket. Később aztán kiderült, hogy a gerendánál dolgozó bírák másokhoz is szigorúak: vékonyan fog a ceruzájuk.

A lóugrás előtt a melegítő ugrások remekül sikerültek, s bizakodóvá tették isis szurkolótáborunkat. Sajnos, az értékelt ugrások már jóval kevésbé sikerültek, így háromszer — a talaj, a gerenda és a lóugrás — után igencsak "bánatosan" festett számunkra a verseny.

Aztán jött a felemáskorlát, s Békési Ilikéék ezen a szeren bemutatott gyakorlatai minden előző izgalomért kárpótoltak bennünket. Mi sem bizonyítja jobban teljesítményük értékét, mint az, hogy ezen a szeren csak a szovjet és az NDK-beli nők értek el később magasabb pontszámot.

Egy gyors számolás: öt század ponttal megelőztük az amerikai csapatot.
The U.S. media was baffled that the Hungarians were in front of the American team after compulsories.
The Hungarians did not measure up to the US in their vaulting, they used a definite 1,2 placement of the hands on the horse with much of the twist completed before hitting the horse. They did push off strongly and got good post-flight and solid landings. They netted 44.7, however, only 0.4 off the US pace. Their uneven bar work was smooth with moderate rhythm and showed good technique. Particularly noticeable was the layout somie dismount from the high bar which showed a little lift in contrast to the roll backwards approach of the US women. They topped the U.S. 47.00 to 45.75 for reasons difficult to explain solely on the basis of composition or technique. This was the only event in which they outscored the U.S.

Gymnast, Nov. 1972
---
The U.S.
The U.S. team reportedly appealed their scores after compulsories. The West Germans agreed that the U.S. had been underscored.
After the USA team had been underscored by 0.2 to 0.8 points in the first round, we believed that this team could also become interesting for our performance again. The team captain of the USA appealed after the competition because the score was too low, but without success.

Jahrbuch der Turnkunst, 1973

Nachdem beim ersten Durchgang die Mannschaft der USA um 0,2 bis 0,8 Punkte unterbewertet worden war, glaubten wir, daß auch diese Mannschaft für unser Abschneiden wieder interessant werden könnte. Im übrigen erhob die Mannschaftsführerin der USA nach dem Wettkampf Einspruch wegen zu niedriger Wertung, jedoch ohne Erfolg.
The U.S. felt that they were underscored on bars and that the judges were biased against them.
The US women were up first on the uneven bars. Thies received an 8.85, Moore a 9.00, Chace a 9.1, Rigby a 9.2, Pierce with a very smooth routine a 9.2, and Metheny with an attention-getting performance highlighted by a full hold in the handstand prior to the sole circle and received but a 9.25. The first evidence of the judges' bias showed here, yet the U.S. totaled 45.75.

Gymnast, Nov. 1972
The cartwheel gave the U.S. gymnasts problems on beam.
On the balance beam, the U.S. composition of the exercise won high praise. Thies led off, receiving 8.65, Pierce 9.0; Moore 9.2, while Chace with excellent tempo and even rhythm scored but 9.25, and Metheny who suffered a break by walking in her handstand although she did not falloff received 8.4, Cathy Rigby, a silver medalist in the 1970 World Games on this event, bungled a little cartwheel to receive also a 9.25. The cartwheel caused nearly all of our girls some deduction so the event total of 45.6 seemed reasonable at the time.

Gymnast, Nov. 1972
Rigby's 9.30 on floor was the highest score for a U.S. gymnast in the compulsory round.
The composition of the U.S. floor exercise compulsory had been changed between the time of the trials and the Games, yet it was car ried off by the girls with rhythm and style and won plaudits from Ms. Niemeyer for superb composition and mature delivery. The scores ranged from 8.95 for Thies and Pierce to 9.3 for Rigby, which was the highest awarded a U.S. competitor in the compulsory series. Joan Moore's exercise was very free-flowing and very well done but she was scored only 9.15, too low to ensure that she could make it into the finals.

Gymnast, Nov. 1972
The U.S. women were weak on vault.
During the vaulting competition, the U.S. women seemed to have a soft take-off with weak push-offs from the horse, and only moderate post-flight, while the landings were generally solid. At the conclusion of the vault, the US team accumulated 45.10 for a team total of 182.10 which was by far the best score of the morning.

Gymnast, Nov. 1972
---
West Germany
Like the U.S. gymnasts, the West Germans were upset with their scores. For example, they thought that Jutta Oltersdorf should have scored higher on floor.
The last gymnast, Jutta Oltersdorf, was the only one who showed the expression and elegance that we had seen from other top gymnasts up to that point. Her score of 9.00 points should have been a little higher.

So the floor compulsory was not a good start, but we already knew the weaknesses since the first qualifying competition.

Jahrbuch der Turnkunst, 1973

Die letzte Turnerin utta Oltersdorf zeigte als einzige den Ausdruck und die Eleganz, die wir von anderen Spitzenturnerinnen bis dahin gesehen hatten. Ihre Wertung mit 9,00 Punkte hätte etwas höher ausfallen müssen.

Die Boden-Pflicht war also kein guter Beginn, aber wir kannten die Schwächen ja bereits seit dem ersten Qualifikationsturnen.
West Germany struggled on vault, which typically is one of their better events.
But vault, otherwise one of our strong events, hardly brought us any higher scores. Andrea Niederheide: bad push off the horse (8.95 points), Ulrike Weyh's vault had the same defect (8.90 points). Angelika Kern had difficulties with the landing on the first vault; on the second vault, there were open legs and a landing error (8.70 points). Ingrid Santer could not stand up both of her vaults and received 8.90 points for the better one. Jutta Oltersdorf was underrated for her second vault, which was very good, with 8.95 points. Uta Schorn's excellent second vault landed on her seat, score 8.90 points.

Jahrbuch der Turnkunst, 1973

Doch auch der Pferdsprung, sonst eine unserer Domänen, brachte uns kaum höhere Wertungen. Andrea Niederheide: schlechter Abdruck (8,95 Punkte), Ulrike Weyhs Sprung wies den gleichen Mangel auf (8,90 Punkte). Angelika Kern hatte beim ersten Sprung Schwierigkeiten mit dem Stand, beim zweiten Sprung gab es offene Beine und einen Standfehler (8,70 Punkte). Ingrid Santer konnte ihre beiden Sprünge nicht stehen und erhielt für den besseren 8,90 Punkte. Jutta Oltersdorf wurde für ihren zweiten Sprung, der sehr gut war, mit 8,95 Punkten unterbewertet. Uta Schorns hervorragender zweiter Sprung landete zum Sitz, Wertung 8,90 Punkte.
---
Romania
It was a mixed bag for Romania with two good events and two weak events.
As for the performance of the Romanian team, it is worth noting that, in two of the four events, the performance was correct and the scores were promising, especially on bars and floor, events in which most of our girls achieved scores of over 9. However, on vault and balance beam, the performances were modest, with faulty landings which resulted in poor scores. Not a single athlete from the Romanian team scored a 9 on these two apparatuses! Our direct opponents, the gymnasts from Hungary, were superior to us precisely on these apparatus, obtaining a significantly higher score.

Sportul, August 28, 1972

În ce privește prezentarea echipei române, este de reținut faptul că la două din cele patru probe execuțiile au fost corecte, iar notele promițătoare, paralelele și solul, probe în care cele mai milte dintre fetele noastre au obținut note de peste 9. La sărituri și bârna, în schimb, comportarea a fost modestă, cu aterizări defectuoase, ceea ce a dus la notări slabe. Nici o sportivă din echipa română nu a obținut vreo notă de 9 la aceste două aparate! Adversarele noastre directe, gimnastele din Ungaria, ne-au fost superioare tocmai la aceste aparate, obținind un punctaj simțitor mai mare.
---
Japan
The U.S. media felt as if the Japanese gymnasts were also treated unfairly. Reportedly, they were not allowed to warm up between routines while other gymnasts were allowed to do so.
The Japanese suffered the same indignities at the hands of the judges as did the US team, (the Japanese had the potential for a 4th or 5th place finish), but at every turn, they were severely penalized, and the floor officials were overzealous in enforcing the peculiar rule which did not permit gymnasts to do any stretching and warming up behind their row of chairs (Eastern bloc gymnasts were never told to return to their seats). In vaulting, they had a hard run but they did not get enough height in the pre-flight for good pushoff and their low angle caused them to take steps to recover balance on the landing.

Gymnast, Nov. 1972
Japan started on bars, and Miyamoto got the nickname "Japan's Korbut."
Japan's first event in the compulsory competition was the uneven bars. Miyamoto, who is making her first appearance in the Olympics, is known as "Japan's Korbut." She was the lead-off on all events and entered the competition with a heavy mental burden on her shoulders. She put it all together well, scoring 8.95. It was a bit too close to call. Second was Hanyu, who has competed at the Mexico Olympics and Ljubljana World Championships, and has a lot of experience. The third one is Saka, who has a lot of international experience as well as Hanyu, and she showed good movement on bars in the first half, but her dismount at the end was not big enough, scoring 9.10. The fourth was Hasegawa, who is relaxed and has a sharp performance. In the 5th position, Hirashima, the biggest and the most dynamic gymnast on the team, was competing in the Olympics for the first time. She had a comfortable start, and then a slightly tight dismount, scoring 9.30. It was really regrettable that she could not land perfectly. In the 6th position, Matsuhisa, who has a lot of experience on the international stage, showed fine movement and made her small body look bigger. She showed a big performance, but her dismount was off to the right. She landed well, scoring 9.25 and 45.90 among the best 5.

Japan's Official Report on the 1972 Summer Olympics

規定演技,日本最初の種目は段違い平行棒。 トップは"日本のコルブト"といわれるオリンピック初出場の宮本選手。全種目トップを務め,精神的な負荷を背おって演技に入る。うまくまとめて得点8.95。 ちょっと惜しい。 2番手はメキシコ・オリンピックとリュブリアナ世界選手権に出場し, 経験豊かな羽生選手。 前半バーをうまく使って良い動きを見せたが,最後の下り技で空間の大きさが出ず得点9.00に終わる。3番手は坂選手。羽生選手と同じく国際経験が豊かで,それをうまく生かして演技をまとめたが, ややダイナミックさに欠け得点9.10。4番手は独特のムードの持ち主で, シャープな演技力のある長谷川選手。 大胆な動きを見せたが着地の決め方に甘さがあり得点9.25。5番手, チームの中で一番大柄でダイナミックな演技力を誇り, オリンピック初出場の平島選手。 余裕のあるけ上がりから、ちょっと詰った下り技で得点9.30。 着地がピタッと決まらなかったのが誠に残念。 6番手は動きにきめの細かい所を表わし, 小さい体を大きく見せて,国際舞台の経験豊かな松久選手。 大きく演技をまとめたが下り技で右にそれてしまった。 着地はよく決まって得点 9.25 ベスト5で 45.90 とまずまずの出足。
Matsuhisa's compulsories, like Rigby's, ended her quest for a beam medal. Matsuhisa missed her full turn.
The balance beam is the most difficult event in the women's competition, and is the equivalent of the pommel horse in the men's competition. Miyamoto, the leader of this event, was too nervous, and her center of gravity was floating, and her movement was unsteady, scoring 8.60. In second place was Hanyu, who is said to be strong in the competition. Her dislocated right thumb did not get better, and her moves were not flowing. Still, her score was 9.00, which was on the 9-point level. The 3rd position, Hasegawa, could not hit her handstand, and scored 8.90. The 4th position, Veteran Saka, was safe and got back on the 9-point level with 9.10, but the 5th position, Hirashima, was a little too nervous and lost her sense of rhythm, and scored 8.95. The 6th position, Matsuhisa, was trying to win a prize on balance beam, but her turn in the middle phase of the routine was not good enough, and she had to make a big movement to stay on, and her score was 8.95. She was so nervous that she lost her sense of rhythm, and finished with a score of 8.95. On balance beam, the gymnasts need to be precise in the difficult elements, and to add creative movements without wobbling, in order to get high scores.

Japan's Official Report on the 1972 Summer Olympics

平均台は女子の種目の中では一番こわい種目で,男子でいえば鞍馬にあたる。 この種目のトップ, 宮本選手は緊張しすぎて重心が浮いてしまい, 動きにふらつきが目だって得点8.60。 2番手は試合に強いといわれる羽生選手。右足親指の脱臼が良くならず、動きに流れがない。それでも得点は9.00と9点台に乗る。 3番手長谷川選手は倒立が決まらず, 得点 8.90。4番手ベテラン坂選手は安全運転で再び得点 9.10と9点台に乗せ返したが, 5番手平島選手は少し緊張しすぎて, リズム感が狂い得点 8.95に終わる。6番手松久選手は平均台の種目別に入賞を掛けて演技したが, 中盤でのターンで大きくゆれ動き, 得点9.10に終わった。 平均台は特に難度要素を正確に, 独創的な動きを加えてふらつきのない動きをしないと高得点は得られない。
Japan struggled on vault.
On vault, Miyamoto was the lead-off. Miyamoto, the top scorer, had a weak bounce on the Reuther board and could not twist enough in the second half, scoring 8.55; Saka, the second scorer, had a strong body arch at the entrance and a weak block to twist, scoring 8.55; Hanyu, the third scorer, had no speed in her approach. She felt heavy and scored 8.70; Hasegawa, the fourth, had a fast run-up but had too much arch in the first half, scoring 8.70; 5th Hirashima, who came in with her body tightened in the first half, but her hands were slow in the second half, scoring 8.80. 6th Matsuhisa, who slipped in the second half, scoring 8.8.

Japan's Official Report on the 1972 Summer Olympics

跳馬では, トップ宮本選手。 ロイター板でのつっかけが弱くて、後半でひねりきれず, 得点8.55。2番手坂選手,入りで体の反りが強くてひねりの反応が弱く得点8.55。3番手羽生選手,助走にスピードがなく重い感じで得点8.70。4番手長谷川選手は,スピードに乗った助走だったが前半体の反りが強く着手でつき手が入らず, 得点 8.80。 5番手平島選手前半は体をしめて入って来たが,後半つき手がおくれ得点 8.80。6番手松久選手は後半すっぽ抜けて得点8.80。
---
Videos
Unfortunately, very few videos of the 1972 compulsories are currently online.
Janz on vault
Cathy Rigby's Routines on All 4 Apparatus
---
More on 1972