On Sunday, August 27, the men's artistic gymnasts gathered in the Olympic Sports Hall for what could be a long haul.
This was the first Olympic Games with a separate all-around final. As a result, the top gymnasts faced four days of competition (compulsories, optionals, all-around finals, and event finals). Previously, they had had only three days of competition (compulsories, optionals, and event finals).
From the start, it looked like the status quo would be upheld: Japan with team gold, the Soviet Union with team silver, and East Germany with team bronze. (Meanwhile, the U.S. gymnasts had a disastrous compulsory round.)
Let's take a look at what happened…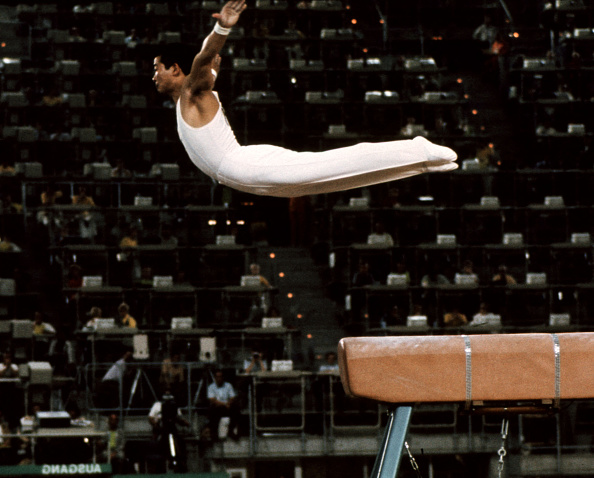 Quick Links: Gymnastics Context | Results | Commentary | A Profile of Li Song Sob | Appendix: The Legacy of 1936
Gymnastics Context
Reminders
Reigning Olympic Champions (1968)

Team: Japan
All-Around: Kato Sawao (JPN)
Floor Exercise: Kato Sawao (JPN)
Pommel Horse: Miroslav Cerar (YUG)
Rings: Nakayama Akinori (JPN)
Vault: Mikhail Voronin (URS)
Parallel Bars: Nakayama Akinori (JPN)
High Bar: Nakayama Akinori (JPN) and Mikhail Voronin (URS)
More here on the 1968 compulsories, optionals, and event finals.

Reigning World Champions (1970)

Team: Japan
All-Around: Kenmotsu Eizo (JPN)
Floor: Nakayama Akinori (JPN)
Pommel Horse: Miroslav Cerar (YUG)
Rings: Nakayama Akinori (JPN)
Vault: Tsukahara Mitsuo (JPN)
Parallel Bars: Nakayama Akinori (JPN)
High Bar: Kenmotsu Eizo (JPN)
More here on the 1970 World Championships
Reminder: Kato tore his Achilles tendon and did not compete at the 1970 Worlds
Note: You can read the previews and predictions from around the globe here.
---
Results
Team Standings after Compulsories
| | | | | | | | |
| --- | --- | --- | --- | --- | --- | --- | --- |
| Team | FX | PH | SR | VT | PB | HB | Total |
| 1. JPN | 47.20 | 46.90 | 47.70 | 46.85 | 47.75 | 48.65 | 285.05 |
| 2. URS | 46.80 | 46.90 | 47.20 | 46.75 | 47.60 | 46.95 | 282.20 |
| 3. GDR | 46.10 | 46.20 | 46.75 | 46.40 | 46.55 | 46.40 | 278.40 |
| 4. FRG | 45.10 | 44.80 | 45.15 | 45.20 | 46.50 | 45.50 | 272.25 |
| 5. POL | 45.90 | 45.25 | 45.50 | 46.10 | 45.50 | 43.75 | 272.00 |
| 6. HUN | 43.70 | 44.50 | 44.55 | 45.80 | 45.55 | 43.95 | 268.05 |
| 7. TCH | 44.40 | 44.90 | 45.00 | 45.90 | 45.35 | 42.45 | 268.00 |
| 8. PRK | 45.00 | 43.25 | 44.85 | 44.35 | 45.55 | 44.80 | 267.80 |
| 9. ROU | 44.80 | 43.70 | 44.05 | 45.85 | 44.40 | 44.00 | 266.80 |
| 10. SUI | 42.85 | 43.65 | 43.10 | 45.55 | 44.00 | 44.65 | 263.80 |
| 11. USA | 43.60 | 40.55 | 44.85 | 45.40 | 43.80 | 43.55 | 261.75 |
| 12. YUG | 42.30 | 41.85 | 42.85 | 45.80 | 44.90 | 43.30 | 261.00 |
| 13. FRA | 42.10 | 39.95 | 41.70 | 45.20 | 43.85 | 43.35 | 256.15 |
| 14. BUL | 42.15 | 39.55 | 43.40 | 43.10 | 43.10 | 41.70 | 253.00 |
| 15. CUB | 42.65 | 37.45 | 41.65 | 43.75 | 42.95 | 42.20 | 250.65 |
| 16. ITA | 41.15 | 38.10 | 41.65 | 43.65 | 43.30 | 41.45 | 249.30 |
Individual All-Around Standings – Top 15
Gymnast
CTRY
FX
PH
SR
VT
PB
HB
Total
1. Kato
Sawao
JPN
9.50
9.40
9.50
9.50
9.60
9.85
57.35
2. Andrianov
Nikolai
URS
9.60
9.50
9.50
9.60
9.50
9.60
57.30
3. Kenmotsu
Eizo
JPN
9.40
9.50
9.60
9.40
9.65
9.65
57.20
4. Nakayama
Akinori
JPN
9.40
9.30
9.70
9.35
9.60
9.65
57.00
5. Kasamatsu
Shigeru
JPN
9.45
9.50
9.30
9.40
9.55
9.75
56.95
6. Klimenko
Viktor
URS
9.50
9.50
9.40
9.50
9.65
9.15
56.70
7. Mikaelian
Edvard
URS
9.35
9.35
9.45
9.25
9.50
9.45
56.35
8. Tsukahara
Mitsuo
JPN
9.45
9.20
9.45
9.10
9.35
9.75
56.30
9T. Voronin
Mikhail
URS
9.00
9.40
9.60
9.30
9.60
9.35
56.25
9T. Köste
Klaus
GDR
9.50
9.20
9.45
9.40
9.50
9.20
56.25
11. Thüne
Wolfgang
GDR
9.15
9.45
9.50
9.20
9.30
9.50
56.10
12. Brehme
Matthias
GDR
9.35
9.25
9.40
9.30
9.30
9.30
55.90
13. Okamura
Teruichi
JPN
9.30
9.05
9.45
9.20
9.35
9.40
55.75
14. Szajna
Andrzej
POL
9.40
8.90
9.40
9.30
9.25
9.15
55.40
15T. Maleev
Alexandr
URS
9.25
9.15
9.25
9.10
9.35
9.20
55.30
15T. Klotz
Wolfgang
GDR
9.20
9.10
9.40
9.30
9.25
9.05
55.30
---
Commentary
Quick Links: JPN | URS | GDR | SUI | PRK | USA
Note: Unfortunately, I have not found any videos from compulsories online.
Japan
The Japanese team came to the Olympics nursing injuries.
Most of the Japanese were working despite injuries: Kato with a shoulder injury, Tsukahara with a knee injury, Nakayama with a foot injury, and the others with minor injuries of one sort or another.

Gymnast, Nov. 1972
Nevertheless, according to the Japanese press, the men's gymnastics team was on its way to victory after compulsories.
It became almost certain that the Japanese team would grab the championship for the fourth consecutive time when the Japanese men turned in good performances in each gymnastic event on the first day.

The Daily Yomiuri, August 29, 1972
The Japanese team was 2.85 points ahead of the Soviet team. The big difference was on high bar.
In the end, on horizontal bar, the gap between the Soviet Union and Japan was widened further by 1.70, and after completing four events, they took a large lead of 2.45. On floor, all gymnasts score solidly and get an average score. On pommel horse, Okamura made a mistake and got a low score of 9.05. After completing the compulsories, the Japanese team scored 285.05, 2.85 ahead of the Soviet Union, and entered the safe zone. I am looking forward to the great success of the optional routines for the Japanese athletes.

Japan's Official Report on the 1972 Olympic Games in Munich


結局, 鉄棒でソ連との差を1.70 と完全にあけ4種目を終了して 2.45と大きくリードを奪い, 日本チームもこのあたりから余裕をもって演技を続ける。ゆかでは,全選手共に手堅く得点し平均した得点を獲得する。 またあん馬でも岡村がミスして 9.05 と低い得点ではあったが, 後続組は安定した演技で,結局ソ連と同点 46.90 をあげ規定を終了する。 規定を終え、日本チームは285.05でソ連との差は, 2.85と離れ安全圏に入った。 自由の日本選手の大活躍が, 楽しみとなる。
But the East German press was quick to point out that the Japanese men had some faults.
Japan's gymnasts were still convincing, but they also showed deficiencies that were previously unknown among the representatives of Nippon (scores of 9.1, 9.2 were seen more often – leg separations on high bar were otherwise never seen!).

Neue Zeit, August 29, 1972

Japans Turner überzeugten zwar immer noch, aber auch bei ihnen zeigten sich Mängel, die man vorher bei den Vertretern Nippons nicht kannte (Noten von 9,1, 9,2 sah man öfter — geöffnete Beine bei Reckübungen gab es sonst nie!)
The Japanese men had low scores on vault.
On the long horse, the Japanese were just a tenth ahead of the Russians, suggesting that stricter standards were being applied. Kato was the only vaulter to score a 9.5. It may have been a portent of things to come but Tsukahara had the lowest score of the team on his compulsory vault with a 9.1.

Gymnast, November 1972
Reminder: At the 1970 World Championships, Endo said that the Japanese men needed to work on their vaulting. And at the Riga International, Tsukahara already started to receive low scores on vault.
According to Japan's Official Report, the team was not excited to have Shakhlin as the head judge on vault.
On vault, which was considered a weak point of the Japanese team, Shakhlin (USSR) was the head judge, which was somewhat eerie. After Okamura and Kasamatsu, the judges gathered to discuss the score for the third performance by Tsukahara. At the World Championships two years ago, Tsukahara had been in the limelight on vault, but he had injured his knee in the final qualifying round in Japan and had been practicing hard, so his performance was still not perfect. His score was as low as 9.10. The evaluation of the angles of the start, the turn of the hips, etc., were severe, and both Nakayama and Kenmotsu could not get high scores, 9.35, 9.40, and finally the last competitor, Kato, gave the best performance, 9.50.

Japan's Official Report on the 1972 Olympic Games in Munich


日本チームの弱点とされていた跳馬では, 主審にシャハリン (ソ連) が、 審判編成されてあり、何か不気味であった。 岡村・笠松と演技し, 3番目の塚原の演技で、 審判員が集まり協議をはじめた, その得点に注目する。 2年前の世界選手権では, 塚原とびを発表し,跳馬の塚原として, 脚光を浴びたが, 日本における最終予選でひざを痛め, 苦しい練習を続けていたために、やはり完璧な演技ではなかったのだ。 得点は9.10と低い点が挙げられた。 着手時の角度, 腰のまがり等その評価はきびしく,中山, 監物共に 9.35, 9.40と高得点は得られず, 結局最後の加藤が最高演技を実施し9.50であった。
The audience sometimes disagreed with the judges' scores for the Japanese.
The Japanese received tumultuous applause from the nearly 20,000 spectators; the judges sometimes received whistles. Unjustified, we think. Consider, for example, rings. Almost across the board, the Japanese had difficulties in the exact execution of the small (or slow) felge into the handstand. Or on vault: What, for example, world champion Tsukahara offered for a hecht, could hardly be described with great characteristics. They also showed some imprecision in their exercises on floor and pommel horse, which they were able to cover up with skillful gymnastic bravura. Nobody doubts their undisputed class, but they were equaled in quality by many gymnasts on individual equipment. What the Japanese offered on high bar and parallel bars, however, was Olympic standard. They were cooking with hot water.

Deutches Sportecho, August 29, 1972

Die Japaner erhielten den stürmischen Applaus der fast 20 000 Zuschauer, die Kampfrichter mitunter Pfiffe, Unberechtigt, so meinen wir. Nehmen wir Zum Beispiel das Ringeturnen. Fast durch die Bank hatten die Japaner Schwierigkeiten bei der exakten Ausführung der kleinen (oder langsamen) Felge in den Handstand. Oder im Sprung: Was zum Beispiel Weltmeister Tsukahara für einen Hecht anbot, war wenig mit Klassemerkmalen zu bezeichnen. Auch am Boden und am Seitpferd hatten sie so manche Unsauberkeit in ihren Übungen, was sie freilich mit gekonnter turnerischer Bravour zu überspielen wußten. Niemand zweifelt an ihrer unbestrittenen Klasse, doch sie wurden von vielen Turnern an einzelnen Geräten in ihrer Güte erreicht. Was die Japaner allerdings am Reck und am Barren boten, war olympisches Höchstmaß. Da kochten sie mit heißem Wasser.
Every Japanese gymnast contributed to the team total.
Our main rivals, the Japanese, did not have any clear "weak" members. Even T. Okamura, who was the first one to perform on three apparatus, received scores that made it to the total team score.

Sovetsky Sport, August 29, 1972

У главных же наших соперников — японцев, заведомых аутсайдеров не оказалось. Даже «забойщик» Т. Окамура на трех снарядах дал оценки, которые пошли в командный зачет.
Interesting tidbit: Japan's Official Report made sure to note that Okamura, the least experienced, had previously beaten Voronin, the 1966 World Champion.
The Japanese team started on rings, and Okamura was the lead-off. Although he is the youngest member of the team, he has a reputation for his reliability, and his past victory over Voronin (USSR), the world champion, has given him a great deal of confidence and hope. Although we were worried about his condition in the compulsories at the main competition site, he was indeed a representative of Japan, and his performance was excellent, with flowing movements and power, and a score of 9.60 would have been good enough. Kasamatsu made a little mistake and got 9.30, Tsukahara got 9.45 with his dynamic performance, Kato and Kenmotsu in the latter half of the rotation steadily scored 9.45, and the last gymnast, Nakayama, did not miss a single beat and got the highest score of 9.70. The Japanese team had been worried about the last dismount, but they decided to play it safe, and the strategy was successful.

Japan's Official Report on the 1972 Olympic Games in Munich


日本チームは,まずつり輪から始まりトップバッターとして岡村選手が台上に上がる。確実さに定評もありまた, チームの中では,最年少ではあるが,過去において, 世界選手権保持者ボローニン (ソ連)を敗った実績は, 彼に大きな自信と希望とをうえつけた。 先日の本会場での規定の試技では調子が出ず心配はしていたが, 本番においてはさすがに日本を代表する選手だけあって, その演技は流れるような動きに力強さが加わり素晴らしいもので, 9.60出ても良いほどのできだった。 続く笠松は少しミスをして9.30,塚原がダイナミックな演技で9.45, 後半の加藤,監物と着実に得点をマークし、最後の演技者中山は一寸のスキもない演技で, 最高点 9.70をあげた。日本チームが心配していた最後の下り技は一応安全を第一に実施することに決定、その作戦はみごとに成功し予想通りの得点を取り跳馬へと移った。
Note: Okamura had beaten Voronin at a competition in Canada in 1970.
---
The Soviet Union
Nikolai Andrianov was the only Soviet who could keep pace with the Japanese gymnasts.
The Japanese mastered the compulsory routines with such perfection and virtuosity that the audience was carried away to a storm of applause. Especially on high bar, they achieved such a standard that one had to ask oneself for which deficiencies the judges took deductions. They got the highest total on all apparatus. Only the young Russian Nikolai Andrianov, who debuted at the European Championships in 1971, was able to keep up with the best Japanese. In the individual competition, he is only five hundredths behind Kato Sawao with 57.30.

Thuner Tagblatt, Volume 96, Number 201, 28 August 1972

Die Japaner beherrschten das Pflichtturnen mit derartiger Perfektion und Virtuosität, dass das Publikum zu Beifallsstürmen hingerissen wurde. Vor allem im Reckturnen erreichten sie einen solchen Standard, dass man sich fragen musste, für welche Mängel die Kampfrichter Punktabzüge notierten. An sämtlichen Geräten holten sie das höchste Total. Einzig der junge Russe Nikolai Andrianow, die Entdekkung der Europameisterschaften 1971, konnte mit den besten Japanern Schritt halten. Im Einzelwettkampf liegt er mit 57,30 nur fünf Hundertstelpunkte hinter Sawao Kato.
It's interesting to see the adjectives that are used to describe the Soviets in the Swiss press: robotic and athletic.
The superior ranks of the second subdivision were those of the Soviet Russians. With almost robotic certainty, the athletic gymnasts overcame all obstacles (floor 46.80, horse 46.90, rings 47.20, horse vault 46.75, parallel bars 47.60, high bar 46.95) and proved with this balanced series that they are again among the world's best nations. The young Nikolai Andrianow with 57.30 points and the senior Viktor Klimenko with 56.70 points contributed to the high 282.20 points, creating a favorable position for the all-around.

Neue Zürcher Zeitung, Number 400, 28 August 1972

Die überlegene Riege der zweiten Abteilung war jene der Sowjetrussen. Mit beinahe roboterhafter Sicherheit setzten sich die athletischen Turner über alle Klippen hinweg (Boden 46,80, Pferd 46.90, Ringe 47,20, Pferdsprung 46,75, Barren 47,60, Reck 46,95) und bewiesen mit dieser ausgeglichenen Serie, daß sie erneut zu den weltbesten Nationen gehören. Zu den hohen 282,20 Punkten trugen vor allem der junge Nikolai Andrianow mit 57.30 P. sowie der Senior Viktor Klimenko mit 56,70 P. bei, die sich damit eine günstige Position für den Zwölfkampf geschaffen haben.

Andrianov struggled on pommel horse.
National gymnastics champion Nikolai Andrianov had a good series with 9.45 on floor, 9.60 in horse vaulting, 9.55 on parallel bars and 9.60 on horizontal bar, but had to leave the apparatus on pommel horse and accept only 8.80 points.

Neue Zeit, August 31, 1972

Landesmeister Nikolai Andrianow turnte mit 9,45 am Boden, 9,60 im Pferdsprung, 9,55 am Barren und 9,60 am Reck eine gute Serie, mußte aber am Seitpferd das Gerät verlassen und nur 8,80 Punkte in Kauf nehmen.
Interesting tidbit: Voronin almost got his foot stuck in the rings on compulsory dismount.
As a note on their rings performance: they did finish the front somersault well above the rings but often touched the straps with their legs in executing the straddle cut. Voronin almost caught his foot in the rings on his dismount. He received a 9.6 for an exercise performed almost entirely with straight arms and maintained his reputation as one of the world's best ringmen.

Gymnast, Nov. 1972
And Klimenko jammed his finger on high bar.
V. Klimenko failed on high bar and scored 9.15 points. His brother and coach, Mikhail, later explained that Viktor bent his finger while changing the grip. Therefore had to make an extra turn, thus losing half a point. M. Voronin did not complete one of the elements on floor and got 9.0. E. Mikaelian didn't make any serious mistakes, but his performance wasn't particularly astonishing either. The lack of experience did not allow A. Maleeev and V. Schukin to help significantly the team's leaders.

Sovetsky Sport, August 29, 1972

У В. Клименко был срыв на перекладине — 9.15. Брат его и тренер Михаил объяснил после, что у Виктора подогнулся палец при смене хвата и пришлось ему выполнить лишний оборот. А за это снимается полбалла. М. Воронин не выполнил один из элементов в вольных упражнениях и получил 9,0. Э. Микаэлян серьезных ошибок не допустил, но и особого блеска в его выступлении не было. Отсутствие опыта не позволило А. Малееву и В. Щукину существенно помочь лидерам команды.
Viktor Chukarin promised a better performance during the optionals.
Viktor Chukarin, the team coach of the Soviet gymnasts, was satisfied with the performances of his protégés: "They achieved good form, and a further increase in the optionals is certainly to be expected." Without a doubt, the USSR squad had its best man in 19-year-old Nikolai Andrianov. He presented the Japanese with compulsory scores on vault, pommel horse, and floor, which, with his well-known exquisite optional routines, give him very good chances for the apparatus finals and also for the individual all-around. Viktor Klimenko, European Champion 1971, performed very safely and also penetrated the phalanx of the best Japanese. The Olympic runner-up of 1968, Mikhail Voronin, who will probably be the calming pole of his team in Munich, was not able to do the same. Their deficit after the compulsory routine to Japan (282.20 : 285.05) is smaller than the Japanese had planned.

Deutsches Sportecho, August 29, 1972

Wiktor Tschukarin, Mannschaftstrainer der sowjetischen Turner, zeigte sich mit den Leistungen seiner Schützlinge zufrieden, "Sie erreichten gute Form, und eine weitere Steigerung in der Kür ist sicher zu erwarten." Ohne Zweifel hatte die UdSSR-Riege in dem 19jährigen Nikolai Andrianow ihren besten Mann. Er legte den Japanern im Sprung, am Seitpferd und am Boden Pflichtnoten vor, die ihm bei seinen bekannten exquisiten Kürübungen sehr gute Chancen für das Gerätefinale und auch für den Einzelmehrkampf geben. Wiktor Klimenko, Europameister 1971, turnte sehr sicher und drang ebenso in die Phalanx der besten Japaner ein. Das gelang nicht mehr dem Olympiazweiten von 1968, Michail Woronin, der in München aber wohldennoch der ruhende Pol in seiner Mannschaft ist, Ihr Rückstand nach der Pflicht zu Japan (282,20 : 285,05) ist geringer, als es die Japaner eingeplant hatten.
Note: After the compulsories portion of the competition, the Soviets also promised a better performance during the optionals in Mexico City.
---
East Germany
All in all, the East Germans felt confident heading into the optional competition.
The sextet from the GDR left a very united impression in compulsories. Matthias Brehme and Klaus Köste gave the young gymnasts Wolfgang Thüne, Wolfgang Klotz, Jürgen Paeke, and Reinhard Rychly the courage to show all their gymnastic skills. Köste scored 9.50s on floor, rings, and parallel bars, and Wolfgang Thüne performed brilliantly on pommel horse and high bar, where he has good hopes for the apparatus finals. On all six pieces of equipment, our men scored over 46 points, which prompted coach Peter Weber to say these optimistic words: "We now have six points over the FRG and Poland as a good cushion for the optionals. I think it's going better than we expected after the preparation."

Deutsches Sportecho, August 29, 1972

Einen sehr geschlossenen Eindruck hinterließ in der Pflicht das Sextett aus der DDR. Matthias Brehme und Klaus Köste gaben den jungen Turnern Wolfgang Thüne, Wolfgang Klotz; Jürgen Paeke und Reinhard Rychly den Mut, unbekümmert all ihr turnerisches Können zu zeigen. Köste turnte am Boden, an den Ringen und am Barren jeweils 9,50, Wolfgang Thüne brillierte vor allem am Seitpferd und am Reck, wo man ihm gute Hoffnungen für das Geräteflnale geben darf. An allen sechs Geräten erreichten 'unsere Männer über 46 Punkte, was Trainer Peter Weber zu. diesen optimistisehen Worten veranlaßte: "Sechs Punkte haben wir nun gegenüber der BRD und Polen als Polster für die Kür gut. Ich glaube, es läuft besser, als wir es uns nach der Vorbereitung ausgerechnet hatten."
---
Switzerland
Hans Ettlin sprained his neck on an Arabian dive roll, which greatly impacted the team.
Reminder: The competition format was: 6 gymnasts compete with the top five scores counting.
Hans Ettlin, with his usual vitality, jumped backwards to roll over and fell but on his head and had to be carried off the floor with a bruised skull and a sprained neck vertebra. That was not only a hard "blow" for Ettlin, but also for the team. It had to continue the competition with only five gymnasts and had to do without a result that was discarded. The gymnasts were not able to completely overcome this handicap. Above all, they were not able to overcome the shock caused by the elimination of the team. Unusual mistakes increased, the Swiss were dismayed to finish their workload, but the enthusiasm that otherwise inspired them to above-average performances was broken.

Neue Zürcher Zeitung, Number 400, 28 August 1972

Hans Ettlin setzte mit seiner gewohnten Vitalität zum Sprung rückwärts zum Abrollen an, stürzte aber auf den Kopf und mußte mit einer Schädelprellung und einer Nackenwirbelstauchung vom Platz getragen werden. Das war nicht nur für Ettlin ein harter «Schlag», sondern auch für die Mannschaft. Sie mußte nur mit fünf Turnern den Wettkampf fortsetzen und auf ein Streichresultat verzichten. Dieses Handicap, vor allem aber den Schock, den das Ausscheiden der Mannschaft versetzte, vermochten die Turner nicht ganz zu überwinden. Ungewohnte Fehler häuften sich, konsterniert turnten die Schweizer zwar ihr Pensum zu Ende, doch der Elan, der sie sonst zu überdurchschnittlichen Leistungen beflügelte, war gebrochen.
---
West Germany
The West Germans had a good compulsory competition in front of the home crowd.
The West German gymnasts were particularly surprised, although the rather chauvinistic roar of the spectators spurred them on to top performances. The West Germans surpassed themselves on all apparatus; in the end, they had collected the very high score of 272.25. Their best gymnast was Eberhard Gienger, who excelled especially on the horizontal bar

Neue Zürcher Zeitung, Number 400, 28 August 1972

Besonders überrascht haben die westdeutschen Turner, die vom eher chauvinistischen Gebrüll der Zuschauer allerdings zu Höchstleistungen angespornt wurden. An allen Geräten wuchsen die Westdeutschen über sich hinaus; am Ende hatten sie die sehr hohe Punktzahl von 272,25 zusammengetragen. Ihr bester Turner war Eberhard Gienger, der besonders am Reck glänzte.
---
North Korea
In 1970, North Korean gymnasts were supposed to attend the World Championships, but they didn't. In 1972, they showed up and impressed.
In this set, the North Koreans were the most outstanding. They had good straight arm work on rings, although their strength moves needed improvement since most of the levers were held high. They vaulted well, performing the hecht with low pre-flight and a strong arm push. In some cases, there was too much arm action in flight, but their landings were solid. On the parallel bars, Song Sob Li performed a good compulsory set for a 9.25. Their horizontal bar work was good and very much in the Japanese style. However, their floor exercise needed improvement in the aspect of tumbling but their hold positions were solid and the press was usually well done.

Gymnast, Nov. 1972
The East German press was also impressed with the North Koreans, particularly Li Song Sob.
The performance by the gymnasts from the DPRK was eagerly awaited. A good reputation preceded the cat-like, well-trained men with excellent physiques, whose team centered on the internationally well-known Li Song Sob. And of the four teams — Bulgaria, Cuba, DPRK, and Italy, as well as some individual gymnasts — who had to compete on Sunday morning, they left the strongest impression as expected.

Especially on parallel bars, they were able to showcase their strengths, just like at the GDR-DPRK country competition last year in Gera. On this apparatus, they also achieved an internationally respectable result with 45.55 points. However, they had their difficulties on the pommel horse. Here they made mistakes, which can also be seen with world-class gymnasts: No extension on the Schwabenflank, touching the apparatus with their hips or too deep scissoring Overall, they scored only a measly 43.25 points. Nevertheless, with 267.80 points they rank very clearly ahead of the somewhat disappointing Bulgarians (253.00), ahead of Cuba (250.65) and the Italians, whose former "fire department" now only performs at walking pace (249.30).

Deutsches Sportecho, August 28, 1972

Der Auftritt der Turner aus der KVDR war mit Spannung erwartet worden. Den katzengewandten, technisch hervorragend ausgebildeten und von der Statur her gesehen mit sehr günstigen Hebelverhältnissen ausgestatteten Männern um den International schon bekannten Li Song Sob ging ein guter Ruf voraus. Und von den vier Mannschaften — Bulgarien, Kuba, KVDR, Italien sowie einigen Einzelturnern —, die am Sonntagvormittag an die Geräte mußten, hinterließen sie den erwartet stärksten Eindruck.

Vor allem am Barren konnten sie, ebenso wie beim Länderkampf DDR—KVDR im vergangenen Jahr in Gera, ihre Stärken ausspielen. An diesem Gerät erzielten sie mit 45,55 Punkten auch ein international beachtliches Ergebnis. Ihre liebe Not hatten sie allerdings mit dem Seitpferd. Hier unterliefen ihnen Fehler, wie man sie allerdings auch bei ausgesprochenen Weltklasseturnern mitunter sehen kann: Keine Ausgiebigkeit bei der Schwabenflanke, Berühren des Gerätes mit der Hüfte oder zu tiefes Scheren. Insgesamt kamen sie nur auf magere 43,25 Zähler. Dennoch rangieren sie mit 267,80 Punkten sehr deutlich vor den etwas enttäuschenden Bulgaren (253,00), vor Kuba (250,65) und den Italienern, deren einstige "Feuerwehr" nurmehr im Schrittempo fährt (249,30).
---
The United States
The U.S. team majorly struggled during compulsories.
It was difficult following the compulsory exercises to find any Americans who were willing to comment on the US men's team. It was painfully obvious to those who watched them that there was no team spirit. (This impression was obvious from the moment they first stepped on the floor.) During the marches between events, no one marched with his head high and with sure purpose in his stride. There were no pats on the back from teammates following a completion or a good job. In performing as individuals they were team-like only in the contagion with which the breaks spread from one to the next.

Among the international figures interviewed by ABC's Tom Maloney was Masao Takemoto who offered the opinion that, "Your United States' men's team is quite good insofar as difficult gymnastic movements are concerned, however, their basic movements are really quite poor. They are definitely too heavy for gymnastics and are careless and sloppy on simple gymnastic movements. On the other hand, their originality and difficulty is quite good."

Nick Stuart, National coach of the English team added, "The USA Men's team seemed to me to lack cohesion. They did not seem to be working in the same direction. Your gymnasts as usual have great talent and the ability to win medals, but somehow it ju st does not happen."

Jack Gunthard, Swiss National Coach spoke at great length with Tom Maloney entering as his opinion that, "It (the US team) is certainly a team with potential and plenty of optional difficulty. But your compulsory exercises were very bad … As I have always said, you have certainly great talent in America, but it is not being developed properly. Your gymnasts lack discipline, you do not seem able to get the most out of a team. The United States certainly will have a chance for second or third place, but I doubt if they can ever win the team title from the Asians."

Gymnast, Nov. 1972
---
A Profile of Li Song Sob
It was two years ago when DTV junior association coach Wolfang Meyer returned from a visit to the DPRK and raved in the highest tones: I was particularly impressed by one of the Korean team of friends: Li Song Sob. His program includes about 40 elements of the highest difficulty, and I am sure we will hear more from this young man!"

Months went by, but then we were able to warmly welcome Li Song Sob on the occasion of the GDR-DPRK international competition in Gera. He was the most perfect and elegant gymnast of his squad. The sports student from Pyongyang is considered to be an excellent gymnast on parallel bars and rings, whose strengths lie especially in the optionals. "I still have to work hard on the compulsory routine if I want to be in the lead at the Olympics," he said with a smile.

In the meantime, the gymnasts of the DPRK have also made their debut in the Olympic arena. And the fact that their team after the compulsory exercise ranks in the front field of the 15 countries that provided complete squads, is not least to be attributed to Li Song Sob.

Deutsches Sportecho, August 28, 1972

Es war vor zwei Jahren, als DTV-Nachwuchs-Verbandstrainer Wolfang Meyer von einem Besuch in der KVDR zurückkehrte und in höchsten Tönen schwärmte: "Einer aus der Riege der koreanischen Freunde hat mir ganz besonders imponiert: Li Song Sob. Sein Programm umfaßt rund 40 Höchstschwierigkeiten, und ich bin sicher, von dem jungen Mann werden wir noch hören!"

Monate gingen noch ins Land, dann konnten wir Li Song Sob anläßlich des Länderkampfs DDR gegen KVDR in Gera herzlich begrüßen. Er war der perfekteste und eleganteste Turner seiner Riege. Der Sportstudent aus Phoengjang gilt als ausgezeichneter Barren- und Ringeturner, dessen Stärken besonders in der Kür liegen. "An der Pflicht muß ich noch mächtig arbeiten, wenn ich bei Olympia auch vorn sein will", meinte er damals lächelnd.

Inzwischen haben die Turner der KVDR auch ihren Einstand in der olympischen Arena gegeben. Und daß ihre Mannschaft nach der Pflicht im Vorderfeld der 15 Länder, die komplette Riegen stellten, rangiert, ist nicht zuletzt Li Song Sob zuzuschreiben.
---
Appendix: The Legacy of 1936
As gymnastics fans, we often focus on the spectacular performances in Munich, and we forget about the historical significance of holding the Olympics in West Germany. The memories of the 1936 Berlin Olympics and nazism were never far away.
For example, the concentration camp at Dachau was only 22 miles away (35 km) from the Olympic Village. There was a memorial service at the site on August 25.
Also, the torch relay was a creation of the 1936 Olympic organizers. It envisaged human hands transporting a flame from ancient Olympia to the modern metropolis, and Krupp, the 1936 sponsor of the torch relay and Hitler's armorer, once again sponsored the torch relay in 1972.
Entire books have been written about the organization of the 1972 Olympic Games. If you'd like to learn more about this subject, I'd suggest that you start with Kate Schiller and Christopher Young's The 1972 Munich Olympics and the Making of Modern Germany.
On the gymnastics front, the legacy of the Nazi Olympics lingers on. You see, 1936 was the first time that the men competed on the six apparatus (i.e. floor, pommel horse, rings, vault, parallel bars, and high bar) without any additional athletics events or ensemble routines. (More here.)
---
More on 1972