On Monday, August 28, the women's artistic gymnasts competed in the optionals portion of the competition. (You can read about the compulsories here.) Coming into the finals, the Soviet Union had a 1.85 lead over East Germany, and reigning co-European champion Tamara Lazakovich had a 0.10 lead over Karin Janz of East Germany.
Let's take a look at what happened during the final day of the team competition — the day that Olga Korbut enchanted the world.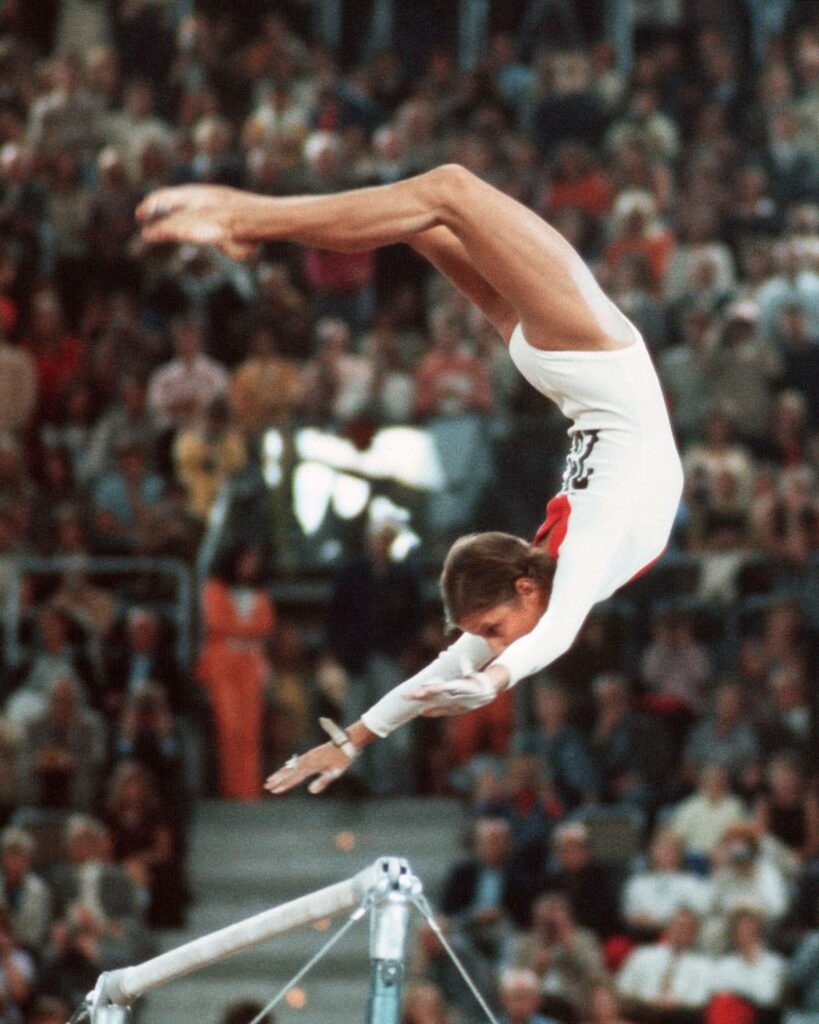 Quick Links: Team Results | Commentary | Videos | Qualifiers for AA Finals
Team Results
| | | | | | | |
| --- | --- | --- | --- | --- | --- | --- |
| | VT | UB | BB | FX | Total | Rank |
| 1. URS | 47.55 | 47.70 | 45.90 | 48.00 | 189.15 | 1 |
| Opt. | 47.65 | 47.55 | 48.20 | 47.95 | 191.35 | 1 |
| Total | 95.20 | 95.25 | 94.10 | 95.95 | 380.50 | 1 |
| | | | | | | |
| 2. GDR | 46.85 | 48.00 | 45.80 | 46.65 | 187.30 | 2 |
| Opt. | 47.90 | 47.65 | 46.10 | 47.60 | 189.25 | 2 |
| Total | 94.75 | 95.65 | 91.90 | 94.25 | 376.55 | 2 |
| | | | | | | |
| 3. HUN | 44.70 | 47.00 | 45.40 | 45.05 | 182.15 | 3T |
| Opt. | 46.65 | 46.85 | 46.10 | 46.50 | 186.10 | 3 |
| Total | 91.35 | 93.85 | 91.50 | 91.55 | 368.25 | 3 |
| | | | | | | |
| 4. USA | 45.10 | 45.75 | 45.60 | 45.65 | 182.10 | 5 |
| Opt. | 45.80 | 46.15 | 45.30 | 46.55 | 183.80 | 4 |
| Total | 90.90 | 91.90 | 90.90 | 92.20 | 365.90 | 4 |
| | | | | | | |
| 5. TCH | 45.95 | 46.30 | 44.80 | 45.10 | 182.15 | 3T |
| Opt. | 46.35 | 46.65 | 43.90 | 45.95 | 182.85 | 5 |
| Total | 92.30 | 92.95 | 88.70 | 91.05 | 365.00 | 5 |
| | | | | | | |
| 6. ROM | 44.05 | 45.05 | 44.10 | 45.80 | 179.00 | 7 |
| Opt. | 46.35 | 45.75 | 43.55 | 46.05 | 181.70 | 6 |
| Total | 90.40 | 90.80 | 87.65 | 91.85 | 360.70 | 6 |
| | | | | | | |
| 7. JPN | 43.65 | 45.90 | 45.05 | 44.50 | 179.10 | 6 |
| Opt. | 45.70 | 46.10 | 43.70 | 45.15 | 180.65 | 7 |
| Total | 89.35 | 92.00 | 88.75 | 89.65 | 359.75 | 7 |
| | | | | | | |
| 8. GER | 44.50 | 45.15 | 43.35 | 44.50 | 177.50 | 8 |
| Opt. | 45.65 | 46.20 | 43.65 | 44.95 | 180.45 | 8 |
| Total | 90.15 | 91.35 | 87.00 | 89.45 | 357.95 | 8 |
| | | | | | | |
| 9. NED | 43.70 | 44.00 | 42.80 | 44.00 | 174.50 | 10 |
| Opt. | 44.50 | 45.55 | 44.05 | 44.90 | 179.00 | 9 |
| Total | 88.20 | 89.55 | 86.85 | 88.90 | 353.50 | 9 |
| | | | | | | |
| 10. POL | 43.45 | 43.45 | 42.25 | 44.95 | 174.10 | 11 |
| Opt. | 44.65 | 45.05 | 42.45 | 44.65 | 176.80 | 11 |
| Total | 88.10 | 88.50 | 84.70 | 89.60 | 350.90 | 10 |
| | | | | | | |
| 11. CAN | 43.65 | 42.80 | 42.05 | 44.20 | 172.70 | 14 |
| Opt. | 45.55 | 44.90 | 42.50 | 44.60 | 177.55 | 10 |
| Total | 89.20 | 87.70 | 84.55 | 88.80 | 350.25 | 11 |
| | | | | | | |
| 12. ITA | 43.20 | 43.90 | 42.35 | 44.00 | 173.45 | 13 |
| Opt. | 41.85 | 46.25 | 43.95 | 44.30 | 176.35 | 12 |
| Total | 85.05 | 90.15 | 86.30 | 88.30 | 349.80 | 12 |
| | | | | | | |
| 13. SUI | 43.50 | 44.00 | 42.60 | 43.55 | 173.65 | 12 |
| Opt. | 43.95 | 43.75 | 42.75 | 44.20 | 174.65 | 13 |
| Total | 87.45 | 87.75 | 85.35 | 87.75 | 348.30 | 13 |
| | | | | | | |
| 14. NOR | 42.90 | 43.45 | 42.30 | 43.70 | 172.35 | 15 |
| Opt. | 44.30 | 43.85 | 41.85 | 44.45 | 174.45 | 14 |
| Total | 87.20 | 87.30 | 84.15 | 88.15 | 346.80 | 14 |
| | | | | | | |
| 15. FRA | 43.30 | 42.20 | 42.75 | 43.70 | 171.95 | 16 |
| Opt. | 43.40 | 45.05 | 41.60 | 44.20 | 174.25 | 15 |
| Total | 86.70 | 87.25 | 84.35 | 87.90 | 346.20 | 15 |
| | | | | | | |
| 16. BUL | 45.15 | 43.00 | 42.60 | 44.05 | 174.80 | 9 |
| Opt. | 44.35 | 41.40 | 41.90 | 43.60 | 171.25 | 17 |
| Total | 89.50 | 84.40 | 84.50 | 87.65 | 346.05 | 16 |
| | | | | | | |
| 17. YUG | 43.30 | 40.25 | 41.55 | 43.00 | 168.10 | 17 |
| Opt. | 42.55 | 43.50 | 42.00 | 43.40 | 171.45 | 16 |
| Total | 85.85 | 83.75 | 83.55 | 86.40 | 339.55 | 17 |
| | | | | | | |
| 18. GBR | 40.70 | 40.95 | 41.35 | 42.50 | 165.50 | 19 |
| Opt. | 42.35 | 42.05 | 41.05 | 43.00 | 168.45 | 18 |
| Total | 83.05 | 83.00 | 82.40 | 85.50 | 333.95 | 18 |
| | | | | | | |
| 19. MEX | 42.55 | 41.25 | 40.40 | 41.75 | 165.95 | 18 |
| Opt. | 42.65 | 41.75 | 40.10 | 43.45 | 167.95 | 19 |
| Total | 85.20 | 83.00 | 80.50 | 85.20 | 333.90 | 19 |
---
Commentary
Quick Links: USSR | GDR | HUN | USA | TCH | JPN | FRG | NED | ITA | SUI | BUL | Improvements
Note: There will be an entire article dedicated to Romania's performance in Munich in the future.
A Rule Change
Teams had to perform a variety of vaults during the optional competition. They could not all perform Yamashitas:
Choice of vaults for them gymnasts of one team — It is decided that only 4 similar vaults may be performed by one and the same team (of the 12 authorized). In the case of infringement of this rule, a team will be given a penalty of 0.30 point.

Minutes of the Women's Technical Committee, held on February, 22, 1971, Paris

Found in: Bulletin d'information de la FIG, No. 2, 1971
The Soviet Union (1)
The Soviet gymnasts were unrivaled on floor.
However, the competition was dominated by the Soviet Russians, who put on an unprecedented show that was impressive in its presentation. They know how to surprise again and again with new things and are also unrivaled in terms of elegance and dance coordination. The team's style is influenced by the Soviet Russian ballet, its performances amazed and fascinated in equal measure.

Neue Zürcher Zeitung, Number 402, 29 August 1972 Edition 02

Den Wettkampf dominiert haben jedoch die Sowjetrussinnen, welche eine noch nie erlebte Schau boten, die in ihrer Präsentation beeindrukkend war. Sie verstehen es immer wieder von neuem mit Neuheiten zu überraschen und sind auch bezüglich Eleganz und tänzerischer Koordination unerreicht. Ihr Stil ist durch das sowjetrussische Ballett geprägt, ihre Vorführungen verblüfften und faszinierten in gleichem Maße.
Here's how the magazine Gymnast (now International Gymnast) described the team's performance on floor:
The Russians started on the floor exercise. Koshel mounted with RO, ff, back, ff, full twist, which was low and caused a step for balance. She was rated but 8.7 by the judges. Saadi mounted with RO, ff, back, ff, layout; kept her exercise moving; and used her height to good advantage to generate a light and airy effect. Her award was 9.4. Lazakovitch had high, powerful tumbling, was light and fast, and made good use of dramatic poses. The heavy Russian music of her accompaniment somewhat detracted from the routine, yet the judges awarded her a 9.6. A little girl, pixie character was the image projected by Olga Korbut (much like the US portrayal of Cathy Rigby in 1968) and her music fit in perfectly with the characterization. There was evidence of much work having gone in to polish her exercise from its appearance at the Moscow trials. Her composition while good was not as smooth as Rigby's, but her tumbling, which included a high arch dive roll, a layout back dive to chest roll out, and fast handsprings, maintained the fast pace and flashiness of the routine.Turischeva did not miss Korbut's 9.75 by much (9 .70) but stirred the crowd with her RO, ff, double full. The crowd liked her music, folklike in character, and clapped in rhythm where they could. All the Russian routines showed good choreography.

Gymnast, Nov. 1972
One gymnast captivated the audience — Olga Korbut.
THE TRIUMPH of our women's gymnastics team was no surprise. The team, which included not only famous, but brightly talented athletes, should have won! But our girls won convincingly, beating their opponents, the team of the GDR by nearly four points. It was especially joyful that our first gold victory was gained by the youngest in the Olympic team. The little girls with bows — how selflessly and boldly, with what enthusiasm and inspiration they fought! Each of the six girls contributed her bit to the overall gold medal. But without belittling anyone's efforts, it is impossible not to speak about one of them, Olga Korbut. She, literally, conquered the Sport Halle filled to the brim. At first there was a doting, "Oh, what a babe!" Then a delighted, "Oh, what is she doing!" And then the newspaper Abend Zeitung came out with two big pictures on the front page – a laughing Olga with childlike delight responding to the applause of the stands and an Australian swimmer Shane Gold crying with joyful excitement and a full house: "Here they are — the favorites of the Munich Olympics! Both made their golden chance come true!" "This 155-cm 'doll' of the Soviet team made a leap into the heart of the audience with her sensational exercise on the uneven bars," the newspaper wrote.

Nedelia, August 28, 1972

ТРИУМФ нашей женской гимнастической сборной не был неожиданностью.
Koмaндa, в составе которой не просто име­нитые, а ярко талантливые спортсменки, должна была победить! Но как убедительно красиво победили наши девочки, опере­див соперниц — команду ГДР почти на четыре балла. И особенно радостно, что наша первая золотая победа одержана са­мыми юными в олимпийской команде. Дев­чушки с бантиками—как самоотверженно и смело, с каким задором и вдохновением они сражались! Каждая из шести внесла в общую золотую медаль свою частицу. Но, не умаляя ничьих усилий, нельзя не сказать об одной — Ольге Корбут. Она, буквально покорила наполненный до краев Шпорт-халле. Сначала было умиленное: «Ох, какая малютка!» Потом восхищенное: «Ах, что она делает!» А потом газета «Абенд цайтунг» вышла с двумя большими сним­ками на первой полосе — смеющаяся Ольга с детским восторгом отвечает на овацию трибун и плачущая от радостного волне­ния австралийская пловчиха Шейн Голд и аншлаг: «Вот они — любимицы Мюнхен­ской Олимпиады! Обе осуществили свой золотой шанс!» «Эта 155-сантиметровая «куколка» советской команды совершила прыжок в сердце публики своим сенсаци­онным упражнением на брусьях»,— писала газета.
Here's how Korbut remembered the team finals in Munich:
The audience protested Korbut's score on bars, and Antonieta Hernández had to try to compete at the same time.

Reminder: Piano music would be hard to hear over a loud audience.
Korbut's exercise must be well engraved upon the minds of the television audience for the many times it was shown as videotape replay. While sometimes accused of having only the big trick of the back layout to regrasp from a straddle sole circle on the HB, she followed this with a wrap around, eagle; seat circle on LB, kip to HB, stoop through and fall to stomach on LB, wrap around; forward circle on HB, half turn, bounce off LB; come through, forward hip circle, forward straddle circle, back layout over the LB. For her exercise she received a 9.7 and much applause from the crowd. (In the din and whistles-European equivalent of booing-trying to influence the judges, poor Antonieta Herna[n]dez of Mexico had to try to hear her floor exercise music and complete her exercise.)

Gymnast, Nov. 1972
Was Lazakovich underscored on bars?
While Koshel missed her mount on the unevens, the rest of the Russian team made up for it with well-composed exercises. Burda, for instance, performed cast to handstand on HB, swing down to LB, rebound and shift grip to LB to wind up in a handstand position. Lazakovitch's exercise was powerful and possibly underscored at 9.5 as her difficulty was so smoothly done that it was not recognized, one such element being her free back hip circle to handstand. She did a 3/4 giant to LB, bouncing back with arched body and on the forward swing getting a beat, kip, back hip circle, bounce, full twisting hecht off the HB.

Gymnast, Nov. 1972
The Soviet team ended on beam, and Tourischeva, Lazakovich, and Korbut scored 9.75s, which was unheard of.
In the end, their strong nerves stood out — at that moment when our girls went to their "chocolate equipment," [i.e. their sweet spot] the uneven bars, and the USSR ladies had to climb onto the "trembling beam." All speculations were thrown out — three scores of 9.75 points for Tourischeva, Lazakovich, and Korbut led them to the point of absurdity. Larisa Latynina on this result: "I have been in charge of our team for some time and was a member of our national team starting in 1954. I can't remember that we were ever so strong on this apparatus."

Deutsches Sportecho, August 30, 1972

Es zeichnete sich letzten Endes durch seine Nervenstärke aus —in jenem, Moment, als unsere Mädchen an ihr "Schokoladengerät", den Stufenbarren, gingen, und die UdSSR-Damen auf den. "Zitterbalken" klettern mußten. Alle Spekulationen wurden über den Haufen geworfen — dreimal 9,75 Punkte für Turischtschewa, Lasakowitsch und Korbut führen sie ad absurdum. Larissa Latynina zu diesem Resultat: "Ich betreue seit einiger Zeit unsere Mannschaft und war von 1954 an Mitglied unserer Nationalvertretung. Ich kann mich nicht erinnern, daß wir jemals auf diesem Gerät so stark waren."
---
East Germany (2)
The East Germans matched the Soviets in terms of difficulty, but they couldn't keep up with the gold medalists in terms of gracefulness.
In terms of difficulty, the East German gymnasts were hardly inferior to the winners; the difference lay in the graceful presentation and choreography, which was particularly noticeable in the floor exercise, but also on the balance beam, where the Soviet athletes were adept at concealing insecurities with improvised flourishes. These differences are also reflected in the final score; the GDR achieved a total of 376.55 points compared to 380.50 points. In the optionals, the East German gymnasts were able to just surpass their rivals on vault and bars, but the Soviet Russians had already achieved a clear lead on floor exercise and balance beam.

Neue Zürcher Zeitung, Number 402, 29 August 1972 Edition 02


Schwierigkeitsmäßig standen die ostdeutschen Turnerinnen den Siegerinnen kaum nach; der Unterschied lag in der anmutigen Präsentation und der choreographischen Gestaltung, was besonders im Bodenturnen auffällig war, aber auch auf dem Schwebebalken, wo es die sowjetischen Athletinnen verstanden, Unsicherheiten mit improvisierten Schnörkeln geschickt zu kaschieren. Diese Unterschiede schlagen sich auch in der Endnote nieder; die DDR erreichte ein Total von 376,55 P. gegenüber 380,50 P. In der Kür vermochten die ostdeutschen Turnerinnen ihre Rivalinnen zwar im Pferdsprung und am Barren knapp zu übertreffen, doch hatten die Sowjetrussinnen bereits zuvor im Bodenturnen und am Schwebebalken einen deutlichen Vorsprung erzielt.
The 3.95 points that separated the teams were a little and a lot at the same time.
Eight-tenths are a little and a lot

[…]

3.95 points separated the GDR women's team from the USSR gold medalists in the final standings late Monday evening. 3.95 points — that is the equivalent of about 0.8 points that each athlete of our republic was weaker than her Soviet competitor.

Deutsches Sportecho, August 30, 1972

Acht Zehntel sind wenig und viel

[…]

3,95 Punktetrennten die DDR-Mannschaft der Damen bei der Endabrechnung am späten Montagabend von der Gold-Vertretung der UdSSR. 3,95 Punkte — das sind umgerechnet etwa 0,8 Zähler, die jede Aktive unserer Republik schwächer als ihre sowjetische Konkurrentin war.
The East Germans believed that the Soviet team won due to their superior floor performances and their improvements on vault.
A very narrow, but quite fair shortfall. It resulted primarily from the expected superiority of the USSR girls on floor, but also from an enormous improvement of Tourischeva, Lazakovich, Burda and Co. on vault. Here the favorites from Vitebsk (Tamara Lazakovich), Grozny (Ludmilla Tourischeva), Grodno (Olga Korbut) and Voronezh (Lyubov Burda) laid the foundation for their later success.

Deutsches Sportecho, August 30, 1972

Ein hauchdünner, aber ein durchaus gerechter Rückstand. Er resultiert in erster Linie aus der erwarteten Überlegenheit der UdSSR-Mädchen am Boden, aber auch aus einer enormen Verbesserung der Turischtschewa, Lasakowitsch, Burda und Co. beim Sprung. Hier legten die Favoritinnen aus Witebsk (Tamara Lasakowitsch), Grosny (Ludmilla Turischtschewa), Grodno (Olga Korbut) und Woronesh (Ljubow Burda) den Grundstein für ihren späteren Erfolg.
The East Germans thought that the right team won.
At the final press conference, some West German journalists tried to provoke East German coach Roselore Sonntag: "Don't you think there were shortcomings in the judges' evaluation?" – Her answer was clear and unambiguous: "It may be that some spectators from different places came to different opinions. I can only say that the judges resorted to completely correct scores. The victory of the USSR women is justified; there is no doubt about it."

Deutsches Sportecho, August 30, 1972

Bei der abschließenden Pressekonferenz versuchten einige BRD-Journalisten, DDR-Trainerin Roselore Sonntag zu provozieren: "Glauben Sie nicht, daß es Mängel in der Bewertung des Kampfgerichts gab?" — Ihre Antwort war klar und eindeutig: "Es mag sein, daß einige Zuschauer von unterschiedlichen Plätzen zu unterschiedlichen Meinungen kamen. Ich kann nur sagen, daß die Kampfrichter zu völlig korrekten Noten griffen. Der Sieg der UdSSR-Frauen ist berechtigt; daran gibt es keinen Zweifel."
All in all, the East Germans felt like their program was heading in the right direction.
Nevertheless, winning the silver medal is a great success for our women. Winning the silver medal is a big step forward compared to 1968 in Mexico, where they fought for third place. Only 3.95 points separated our gymnasts from the Soviet world class team.

Berliner Zeitung, August 29, 1972

Für unsere Frauen ist der Gewinn der Silbermedaille dennoch ein großer Erfolg. Gegenüber 1968 in Mexiko, wo der dritte Platz erkämpft wurde, bedeutet der Gewinn der Silbermedaille einen großen Schritt nach vorn. Nur 3.95 Punkte trennten unsere Turnerinnen am Schluß von der sowjetischen Weltklasseriege.
---
Hungary (3)
The Hungarians were elated with their bronze-medal performance.
Here's what Valerie Nagy (the newly elected President of the Women's Technical Committee) and Anikó Ducza (the coach on the floor) had to say.
NAGY JENŐNÉ: At home we did not have the best conditions, yet we managed to achieve success. The whole year was full of injuries. I think we achieved everything we dreamed of. At home everybody thought of us as a hardworking but necessarily talented team. It was a wonderful experience to see how the girls "grew" up during the competitions. I have been in the sporting discipline for a long time and I am not ashamed to share my age: I will be 72 soon. We had big successes under my lead, but of all of them this one makes me the happiest.

DUCZA ANIKÓ: I keep rereading the results sheet. There is no bigger joy than the joy of success. This is my first success as coach, I can't even describe how happy this makes me. When I was competing, I never thought that one day I could be this happy as a coach.

Képes Sport, Sept. 5, 1972

NAGY JENŐNÉ: "Odahaza nem a legjobb körülmények között dolgozhattunk, mégis sikert értünk el. Az egész évet végigkísérték a sérülések is. Úgy érzem, elértük azt, amiről csak álmodhattunk. Otthon mindenki úgy ítélt meg bennünket, mint egy szorgalmas, de nem éppen tehetséges csapatot. Nagyszerű volt látni, hogyan »nőnek« meg a lányok a verseny alatt. Régen benne vagyok ebben a sportágban és nem szégyenlem a koromat sem kimondani: nemsokára 72 éves leszek. Voltak nagy sikereink már az én vezetésem alatt, de mind között ennek örülök a legjobban."

DUCZA ANIKÓ: "Mindig újra és újra elolvastam az eredménylapot. Nincs is nagyobb öröm, mint a siker öröme. Ez az első igazi edzői sikerem, nem is tudom elmondani, milyen jó érzés. Amikor versenyző voltam, soha sem hittem, hogy az edző is lehet ilyen boldog."
Ilona Békési put their medal in a historical context.
Ilona Békési, who received a 9.60 for her compulsory routine on uneven bars and was the only gymnast left from the 1968 Olympic squad of the Hungarians, explained: "We had not expected this success. In 1956 in Melbourne, we won the last precious medal in women's gymnastics to this day — and now bronze in team gymnastics. We are, of course, overjoyed."

Deutsches Sportecho, August 30, 1972

Ilona Bekesi, die am Barren in der Pflicht eine 9,60 turnte und als einzige aus der Olympia-Riege 1968 der Ungarinnen übrigblieb, erläuterte: "Wir hatten nicht mit diesem Erfolg gerechnet. 1956 in Melbourne holten wir das bis zum heutigen Tag letzte Edelmetall im Frauenturnen — und nun Bronze in der Mannschatt. Wir sind selbstverständlich überglücklich."
The Hungarian media noted that it was a team effort.
We expected the Hungarian team to finish 5-6th, and their bronze medal was a surprise not only for us, but for the world. Such a leap is rare in the top flight. The international recognition is also due to this, but also to the youth of the team, their excellent spirit, discipline, and not least their good technique. The many injuries that hampered the preparation, and the last-minute leg break of Ági Bánfai, could have explained a poor performance, but instead, the girls all outdid themselves and achieved a great result!

Ili Békési was joined by Mónika Császár, who has grown into an international gymnast. Krisztina Medveczky and Aniko Kéry have also been noticed, but the whole team, with Mártina Kelemen, who did gymnastics reliably and well, and Zsuzsa Nagy, who was a great starter, could bask in the glow of international recognition in Munich. If they continue on the path they have begun, if they continue to make their training harder (the girls are learning a whole new set of elements, but they have not yet reached Munich), this team could consolidate its place at the top.

Népsport, Sept. 23, 1972

A magyar csapatot az 5—6. helyre vártuk, bronzérmük nemcsak számunkra, de a világ számára is meglepetés. Ilyen nagy ugrásra az élvonalban ritkán akad példa. A nemzetközi elismerés ennek is szól, de a csapat fiatalságának, kitűnő szellemének, fegyelmének és nem utolsósorban a jó technikával végrehajtott gyakorlatoknak is. A felkészülést nehezítő sok sérülés, Bánfai Áginak az utolsó pillanatban bekövetkezett lábtörése kínálta volna a magyarázatot egy gyengébb szereplésre, ehelyett a lányok mindegyike önmagát múlva felül, nagyszerű eredményt ért el!

Békési Ili mellé felnőtt Császár Mónika, nemzetközi tornásszá érett. Medveczky Krisztinára és Kéry Anikóra is felfigyeltek már, de az egész csapata megbízhatóan, jól tornászó Kelemen Mártával és a kezdő emberként nagyszerűen helytálló Nagy Zsuzsával a nemzetközi elismerés fényében sütkérezhetett Münchenben. Ha tovább haladnak a megkezdett úton, ha tovább nehezítik gyakorlataikat (új elemek egész sorát tanulják a lányok, de ezek még nem értek be Münchenig), ez a csapat megszilárdíthatja helyét az élvonalban.
The U.S. media, on the other hand, thought that the Hungarians were overscored.
Within 20 minutes of the US completion on the uneven bars, the Hungarian team was up and the judges' bias took its Great Leap Forward. The high scores awarded the girls appeared to have no relationship to the difficulty or composition of the exercises and were not any more outstanding than the US in the excellence of their performance. The Hungarians received a total of 46.85, 0.7 more than the US. It was hard to believe that the judges had forgotten the exercises which they had just viewed.

Gymnast, Nov. 1972

An interesting note: Krisztina Medveckzy's floor score was raised after Berthe Villancher, the president of the WTC, intervened.
As for the scoring, the professionals — and the spectators — were not exactly satisfied with the operation of the floor judges.

How was the score of Krisztina Medveczky's routine modified? After the remarkably low score of 9.15, it was not the head judge, but Mrs. Berthe Villancher herself, the head of the technical committee of the international association, the chairwoman of the competition, who called the judges together, and, after several minutes of discussion, they rated the performance of the youngest member of our team 15 hundredths of a point higher. By the way, this was the only such correction during the evening!

Népsport, August 30, 1972

Ami a pontozást illeti, a talajbírák működésével nem voltak éppen elégedettek a szakemberek — és a nézők.

Hogyan is módosították Medveczky Krisztina gyakorlatának pontszámát? A feltűnően alacsony, 9.15-ös pontszám után nem a vezető bíró, hanem maga Berthe Villanchet asszony, a nemzetközi szövetség technikai bizottságának vezetője, a versenybíróság elnöknője hívta öszsze a pontozókat és a többperces megbeszélés után értékelték 15 századponttal magasabbra csapatunk legifjabb tagjának teljesítményét. Ez volt egyébként az egyetlen ilyen helyesbítés az est folyamán!
Note: Villancher had a tendency to intervene. She did so at the 1968 Olympics and at the 1969 European Championships.
---
The U.S. (4)
A Swiss newspaper put the battle for bronze in militaristic terms.
The Americans seemed solid contenders until the penultimate division, but the Hungarians, a squad of graceful gymnasts, had hardly a weak spot in any discipline, impressed with their confidence, and eventually outclassed the Americans. The western incursion into the closed phalanx of the eastern states was therefore unsuccessful.

Neue Zürcher Zeitung, Number 402, 29 August 1972 Edition 02

Bis zur zweitletzten Abteilung schienen die Amerikanerinnen sichere Anwärterinnen, doch die Ungarinnen, eine Riege von graziösen Turnerinnen, wiesen in allen Disziplinen kaum einen schwachen Punkt auf, bestachen durch ihre Sicherheit und waren den Amerikanerinnen schließlich überlegen. Der westliche Einbruch in die geschlossene Phalanx der Oststaaten ist somit nicht gelungen.
Note: Much ink was spilled about the United States' fourth-place finish. There will be a separate post about that.
In the meantime, an important historical oversight.
Oftentimes, gymnastics histories highlight only Olga Korbut's standing back tuck on beam, but she was not alone in Munich. (Though, Korbut had been competing the skill for several years.) Nancy Thies also performed a standing back tuck in Munich.
Individually, Thies had a slight bobble after her back somersault but otherwise carried out her routine well for an 8.9.

Gymnast, Nov. 1972
Note: You can see a video of Thies's standing back tuck below.
Reminder: The beams were not padded at the time. They were wooden. More here.
Should Cathy Rigby have made it into the beam finals?
Cathy Rigby was undoubtedly underscored at a 9.35 which placed her in a tie with Zuchold for 6th on the event. Her only bobble was after a walkover. She left out her aerial walkover to ensure a good team score but still had a very difficult composition which she carried off far better than Csaszar of Hungary who slipped into the finals thanks to a 9.4 gift from the judges.

Gymnast, November 1972
---
Czechoslovakia (5)
From 1936 until 1968, Czechoslovakia always won at least one medal in women's gymnastics at the Olympics. In 1972, that streak ended. It would prompt Czechoslovakia to reorganize its training, which you can read about here.
Shortly after the competition, the Czechoslovak weekly Stadión printed the following summary:
​​It was, is, and certainly will be possible in the future to accuse the judges of gymnastics of inaccuracy, ignorance, and perhaps even bad intentions in their verdicts. However, the recapitulation of the results of individual major world competitions, including the Olympic one in Munich, proves that despite the human and thus fallible element in judging performance, the best of the best came out on top. Those who can, don't have to worry about the judges' disfavor and make excuses for it.

[…]

Aurea prima sata est aetas… [At first came the golden age — from Ovid's Metamorphoses] There used to be a golden age — until recently measured by the Olympic time indicator, mainly for our women. Certainly thanks to two extraordinary personalities — Eva Bosáková and Věra Čáslavská, who determined the direction and pace of the march forward and upward for others as well. But to the fact that, for example, eight years ago in Tokyo, our women came close to the Soviet winners by thousands of points, that they even took over the world championship from them in the interim Olympic period [in 1966], that even in Mexico they were only close behind them again. Even the best training would not have been enough here for a single competitor.

The balance of the whole at the highest level in terms of difficulty, originality, technique, confidence, and expression is the main prerequisite for victory. It did not fall into the lap of the Soviet gymnasts even in Munich. The current team of the USSR prepared hard for them and fought hard for them, even if the resulting impression of their exercises is inimitable lightness and truly feminine charm. In the last two years, GDR athletes have set themselves the goal of getting closer to this as an extension of their precision, and before the Olympics they made no secret of the fact that they wanted to go for gold medals in both the team and individual competitions. However, in both events, it was that stamp of pure femininity that decided in favor of the Soviet gymnasts, who have been sitting on the Olympic throne continuously for twenty years.

The permanence of female champions might lead the uninitiated to believe that women's gymnastics is stagnating. The opposite is true. The ingenuity in discovering new things seems limitless, as proved not only by the interpreters of the most progressive trends of both superpowers, but also in the details by many others. Of course, the difficulty of the elements made it necessary to include younger and younger competitors in the training, who take the risk of their training without the inhibitions that are natural to older age. And this is another typical feature of contemporary women's gymnastics. After all, five fourteen-year-old and twelve female competitors one year older [i.e. 15-year-olds] appeared on the starting list of the Olympic competition, including, for example, in the teams of Mexico and France.

The milestone that was the gymnastics competition of the XXth Olympic Games in Munich will mark the normal end of one rich development stage and the start of another, undoubtedly even richer one. In our history, however, it will be a memento and a reason for reflection, to what extent the Czechoslovak result was just a random deviation from traditions and how much was a logical consequence of the Czechoslovak gymnastics situation. Only the future can provide an answer.

Stadión, September 12, 1972

Bylo, jest a jistě bude i v budoucnosti možno tu či jindy vytýkat rozhodčím sportovní gymnastiky nepřesnost, neznalost, snad i zlý úmysl při jejich verdiktech. Rekapitulace výsledků jednotlivých velkých světových soutěží včetně olympijské v Mnichově však dokazuje, že přes lidský a tedy omylný prvek v posuzování výkonů se do čela dostali nejlepší z nejlepších. Kdo totiž umí, nemusí se bát nepřízně rozhodčích a vymlouvat se na ni.

[…]

Aurea prima sata est aetas… Dříve byl zlatý věk — ještě donedávna měřeno olympijským ukazatelem času, hlavně pro naše ženy. Jistě zásluhou dvou mimořádných osobností — Evy Bosákové a Věry Čáslavské, jež určovaly směr a tempo pochodu vpřed a vzhůru i ostatním. Ale k tomu, že se naše ženy například před osmi lety v Tokiu přiblížily sovětským vítězkám na tisíciny bodu, že jim v olympijském mezidobí dokonce přebraly světové prvenství, že i v Mexiku jim opět zůstaly jen těsně v patách, by nebylo stačilo ani sebelepší cvičení jediné závodnice.

Vyrovnanost celku na nejvyšší úrovni co do obtížnosti, originality, techniky, jistoty a projevu je totiž hlavním předpokladem vítězství. Sovětským gymnastkám ani v Mnichově nespadlo do klína. Současné družstvo SSSR se na ně tvrdě připravovalo a tvrdě si je vybojovalo, i když výsledným dojmem jejich cvičení je nenapodobitelná lehkost a vpravdě ženský šarm. Přiblížit se tomu si vytkly závodnice NDR v posledních dvou letech za cíl jako nadstavbu ke své preciznosti a před OH se netajily tím, že chtějí sáhnout po zlatých medailích jak v soutěži družstev, tak i jednotlivkyň. V obou závodech však rozhodl právě onen punc ryzí ženskosti ve prospěch sovětských gymnastek, které sedí na olympijském trůně nepřetržitě už dvacet let.

Stálost vládkyň by mohla nezasvěcené vést k domněnce, že ženská gymnastika stagnuje. Opak je pravdou. Vynalézavost v objevování novinek se zdá bezmezná, jak dokázaly nejen interpretky nejprogresívnějších směrů obou velmocí, ale v detailech i mnohé jiné. Obtížnost prvků si samozřejmě vyžádala zařazovat do přípravy stále mladší závodnice, které podstupují riziko jejich nácviku bez zábran, přirozených vyššímu věku. A to je další typický rys současné ženské gymnastiky. Vždyť na startovní listině olympijské soutěže se objevilo pět čtrnáctiletých a dvanáct o rok starších závodnic, a to například i v družstvech Mexika a Francie.

Mezník, kterým byla gymnastická soutěž XX. OH v Mnichově, bude ve světové historii tohoto sportu znamenat normální cíl jedné bohaté vývojové etapy a start k další, nepochybně ještě bohatší. V naší historii však bude mementem a důvodem k úvahám, nakolik byl československý výsledek jen náhodným vybočením z tradic a nakolik logickým důsledkem československé gymnastické situace. Odpověď může přinést jen budoucnost.
---
Japan (7)
The Japanese were pessimistic after the competition. They lacked a lot.
Reminder: Their goal was to finish on the podium after a disappointing fourth-place finish in 1968.
I think we have to pursue more originality, accuracy, expressiveness, and speed in our performances.

Japan's Official Report on the 1972 Olympic Games

全体の種目を見て感ずる点は,これからは独創的な演技内容と正確さ, 表現力プラス・スピードのある動きを追求しなければならないと思う。
They concluded that they needed to start from scratch.
As for the women's team, the team finished 7th in the team competition, and it is time to reflect on the causes of the defeat and at the same time, to focus all efforts on rebuilding the gymnastics world as a whole. There may be some differences in technique due to age and physical disadvantages. It is necessary to go back to the basics and start over again.

女子においては団体7位で終わり多くの反省をし,敗戦の原因追求と同時に体操界あげての再建に全力を傾注する時である。 年齢的なもの、 身体的条件のハンディもあり技術的な面での差もあろう。 今一度初心に帰ってやりなおすことが必要であろう。
---
West Germany (8)
Uta Schorn's vault was a high point for the team.
As the last gymnast, Uta Schorn reached her optimum ability with a Yamashita, which earned the team a remarkable 9.40 points.

Jahrbuch der Turnkunst, 1973

Als letzte Turnerin erreichte Uta Schorn mit einem Yamashita ihr optimales Können, das der Mannschaft beachtliche 9,40 Punkte einbrachte.
Jutta Oltersdorf was a finalist at the 1971 European Championships on bars, but she didn't make it to finals in Munich.
The West Germans felt that she was underscored.
Uta Schorn's exercise was another highlight in our entire team gymnastics, there were 9.30 points for it. The same applies to Jutta Oltersdorf, who completed her exercise in the usual confident manner; with a score of only 9.35 points, she was disadvantaged by about 0.2 points.

Jahrbuch der Turnkunst, 1973

Uta Schorns Übung war ein weiterer Höhepunkt in unserem gesamten Mannschaftsturnen, es gab dafür 9,30 Punkte. Das gleiche gilt für Jutta Oltersdorf, die in gewohnt soveräner Weise ihre Übung absolvierte; mit der Wertung von nur 9,35 Punkten war sie um etwa 0,2 Punkte benachteiligt.
The West German gymnasts struggled on beam.
Jutta Oltersdorf was far from able to match the self-confidence and charisma that distinguished her at the European Championships in Minsk (8.55 points). Even Uta Schorn showed nothing of her tomboyish nature, but operated cautiously and with restraint. When she then had to come off the beam, we finally knew that we were completely out of luck in this competition (8.45 points).

Jahrbuch der Turnkunst, 1973

Jutta Oltersdorf konnte bei ihrem Vortrag bei weitem nicht an die Selbstsicherheit und an die Ausstrahlung anknüpfen, die sie bei der Europameisterschaft in Minsk ausgezeichnet hatte (8,55 Punkte). Selbst Uta Schorn zeigte nichts von ihrer burschikosen Art, sondern operierte vorsichtig und verhalten. Als sie dann noch vom Balken mußte, wußten wir endgültig, daß uns bei diesem Wettkampf das Glück völlig verlassen hatte (8,45 Punkte).
---
Switzerland (13)
Switzerland made its WAG debut in 1972, and they brought a high level of difficulty.
The Swiss worked the unevens first. Examples of their difficulty elements included Marti's back hip to bounce on the HB, hecht over the low bar; Fritschi used a back straddle cut over the low bar for her dismount; and Bazzi also showed good difficulty. On beam, they displayed a lack of confidence except for Fritschi who used both aerials and full twisting aerial dismount. The Swiss floor exercise showed strong tumbling and included elements such as back handspring with ½ turn to the straddle split position (Fritschi).

Gymnast, Nov. 1972
More here on Switzerland's long road to competitive women's artistic gymnastics.
They had difficulty but they had a lot to learn.
The Swiss gymnast Käthi Fritschi set off real fireworks on the balance beam. Four C-parts, which can be seen in every routine of the best athletes; aerial walkover, aerial cartwheel, flick flack, and, as a dismount, a full twist. However, like other young gymnasts, she still had to learn the ropes. Larissa Latynina, the nine-time Soviet Olympic champion, commented on this topic: "Women's gymnastics has developed enormously, and many female athletes are trying to compete with the men. But in my opinion, the relaxed performance style should not be sacrificed in the process. The difficult elements must not be placed together like a block. It would be ideal if the gymnast would transfer the lightness of the floor exercise to the beam." The best representative of this interpretation by choice is the Soviet European champion Tamara Lazakovich, who, however, was still "off duty" when the Swiss gymnast was performing.

Deutsches Sportecho, August 29, 1972

Ein wahres Feuerwerk. brannte auf dem Schwebebalken die Schweizer Turnerin Käthi Fritschi ab, Vier C-Teile, die sich in jeder Übung der besten Vertreterinnen sehen lassen können; freier Überschlag vorwärts, freies Rad, Flick-Flack und als Abgang die Mühle. Nur mußte sie — wie auch andere junge Turnerinnen — noch Lehrgeld zahlen. Höchstschwierigkeiten sind das, eine, sie leicht und gefällig darzubieten, das andere, Larissa Latynina, die neunfache sowjetische Olympiasiegerin, meinte auf dieses Thema angesprochen; "Das Frauenturnen hat sich enorm weiterentwickelt, und viele Sportlerinnen bemühen sich, es den Männern gleichzutun. Aber dabei darf meines Erachtens die gelöste Vortragsweise nicht verlorengehen. Die schwierigen Elemente dürfen nicht wie ein Klotz aufgesetzt werden. Ideal wäre es, wenn die Turnerin die Leichtigkeit des Bodenturnens auf den Balken übertragen würde. Wer so turnt, der wird auch Olympiasiegerin." Die wahl beste Vertreterin dieser Interpretation ist die sowjetische Europameisterin Tamara Lasakowitsch, die allerdings beim Turnen der Schweizerin noch "dienstfrei" hatte.
---
Bulgaria (16)
Gheorghieva attempted a handspring + salto on vault.
Gheorghieva attempted the handspring, with 1 ½ somie but landed ingloriously and solidly.

Gymnast, Nov. 1972

Note: A handspring + front salto was sometimes called a handspring 1 ½ at this time.
Reminder: Gehrke competed a Tsukahara at the Riga International earlier in 1972.
Bulgaria was just starting to build its program. They hoped to be ready for the 1974 World Championships in Varna, Bulgaria.
The Bulgarian gymnasts performed below their potential, Maya Blagoeva, their best representative, had some wobbles on the beam (e.g. on the flik-flak), she also lacked accuracy in her final combination – flik-flak to a stretched somersault backward. On the Bulgarian squad, scores over nine were scarce. None of them will probably be included in the 24 best gymnasts who will determine the Olympic all-around champion tomorrow, Wednesday. Bulgaria's coach Alexander Latchev said: "We started three years ago with very young girls. They still lack the experience and especially the confidence to perform their difficult exercises without complications. But in two years it will be different. There we will receive the best in Varna for the World Championships. And there we want to achieve more."

Deutsches Sportecho, August 29, 1972

Unter ihren Möglichkeiten blieben die Sportlerinnen Bulgariens, Maja Blagojewa, ihre beste Vertreterin, hatte zum Beispiel auf dem Balken einige Wackelstellen (u. a. beim Flick-Flack), fehlte es ihr auch an der Exaktheit ihrer Schlußkombination — Flick-Flack — gestreckter Salto rückwärts. In der bulgarischen Riege waren Neunerwerte Mangelware. Keine von ihnen wird wohl Aufnahme in den Kreis der 24 besten Turnerinnen finden, die am morgigen Mittwoch die Mehrkampf-Olympiasiegerin ermitteln werden. Bulgariens Trainer Alexander Latschew meinte: "Wir haben vor drei Jahren mit sehr jungen Mädchen begonnen. Ihnen fehlt es noch an der Erfahrung und vor allem an der Sicherheit, ihre schwierigen Übungen ohne Komplikationen durchzuturnen. Aber in zwei Jahren wird es anders aussehen. Da empfangen wir in Warna die Besten zu den Weltmeisterschaften. Und da wollen wir mehr erreichen."
---
The Netherlands (9)
Ans van Gerwen of the Netherlands left a good impression.
What the young Dutch gymnasts with the already experienced Ans van Gerwen offered, earned respect and spontaneous applause from the audience. They outperformed the gymnasts of Bulgaria and Poland, who were certainly not weaker, and scored an appealing Olympic team result with 353.50 points. What this was worth, however, was only revealed by the gymnastics of the "big ones" in the late evening hours as Ludmilla Tourischeva and Karin Janz led the two leading teams into the gymnastics palace. Ans van Gerwen achieved a remarkable optional result of 37.25 and will probably be one of the [36] participants in the all-around final.

Deutsches Sportecho, August 29, 1972

Was da vor allem die jungen Niederländerinnen um die schon erfahrene Ans van Gerwen boten, rang Hochachtung und den spontanen Applaus des beifallsfreudigen Publikums ab. Sie überflügelten die gewiß nicht schwächer turnenden Sportlerinnen Bulgariens und Polens und markierten mit 353,50 Punkten ein ansprechendes olympisches Mannschaftsergebnis. Was dieses allerdings wert war, ergab erst das Turnen der "Großen" in den späten Abendstunden da Ludmilla Turischtschewa und Karin Janz die beiden führenden Riegen in den Turnpalast führten. Ans van Gerwen erturnte mit 37,25 ein beachtliches Kürergebnis und wird wohl zu den [36] Teilnehmerinnen des Mehrkampffinales gehören.
---
Italy (12)
Italy, like the Netherlands, left a good impression.
But it was not only the Dutch women who performed. Two small Italians stood out with easygoing performances: Gabriella Marchi and 15-year-old Rita Peri performed difficult and effective combinations. Especially on uneven bars they impressed with quick changes between the two bars and with somersaults from the upper bar. The same could be noted from the best Polish gymnast Łucja Matraszek, who received 9.50 points for her bars routine.

Deutsches Sportecho, August 29, 1972

Aber nicht nur die Niederländerinnen geflelen. Da taten sich mit unbekümmerten Leistungen zwei kleine Italienerinnen hervor: Gabriella Marchi und die 15jährige Rita Peri turnten schwierige und effektvolle Kombinationen. Vor allem am Barren gefielen sie durch schnelle Wechsel zwischen den beiden Holmen und mit Saltoabgängen vom oberen Holm.
Gleiches konnte man von der besten polnischen Turnerin Lucja Matraszek notieren, die 9,50 Punkte für ihre schwungvolle Übung erhielt.
---
Improvements
Arthur Magakian, the technical director of the French Gymnastics Federation, had some ideas for improving the team competition.
First, he wanted to have only optional routines at the Worlds and Olympics.
1. Qualification by teams: It is necessary to maintain compulsory events and in addition optional exercises, but only in the qualification events for the major competitions… then participation in the world championships and the Olympic Games… only on the optional exercises.

Revue EP&S, Nov-Dec. 1972

1. Qualification par équipes: II faut maintenir les épreuves imposées et en plus les exercices à volonté, mais seulement dans les épreuves de qualification aux grandes compétitions… puis participation aux championnats du monde et aux Jeux Olympiques… seulement sur les exercices à volonté.
Next, he thought that the gymnasts of each country should be split up and compete in mixed groups.
2. Removal of past value judging by removing the presentation of the entire national team (6 gyms). Gymnasts should, as in Competition 2 [i.e. the all-around final], be placed in mixed groups. Ex.: 1 Soviet, 1 Japanese, 1 GDR, 1 Polish, etc.

Revue EP&S, Nov-Dec. 1972

2. Suppression du jugement calqué sur la valeur antérieure en supprimant la présentation de l'équipe nationale entière (6 gyms). Les gymnast s devraient, comme dans
le Concours n° 2, être placés dans des groupes mixtes. Ex. : 1 Soviétique, 1 Japonais , 1 RDA, 1 Polonais, etc.
Finally, he wanted to prevent score building, where the first gymnast gets the lowest score on a team and the final gymnast gets the highest score.
3. Abolition of the progressive judgment favoring the strong nations: by the fact that the gymnasts would only represent themselves, and could thus try the maximum on each apparatus, whereas the team tactic allows, sometimes, to advantage such or such competitor passing the last or disadvantages the first who is designated? Improvements in the scoring system have reduced this gap, but it still exists.

Revue EP&S, Nov-Dec. 1972

3. Suppression du jugement progressif avantageant les nations fortes : par le fait que les gymnastes ne représenteraient qu'eux-mêmes , et pourraient ainsi tenter le maximum à chaque agrès, alors que la tactique d'équipe permet, parfois, d'avantager tel ou tel concurrent passant le dernier ou désavantage le premier qui est désigné ? L'amélioration du système de cotation a réduit cet écart mais il subsiste encore.
---
Videos
Compilation
Korbut (URS) on Uneven Bars
Joan Moore (USA) on Floor
Moore had some of the hardest tumbling in the world. She opened with a double full, a rare move in women's gymnastics at the time. And she did a front layout, an even rarer move in both men's and women's gymnastics. Nakayama of Japan performed one of the few front layouts on the men's side.
Note: You can read profiles on Moore here.
Nancy Thies's oft-forgotten standing back tuck.
Team USA on Vault
Team USA on Beam
Team USA on Floor
---
The All-Around Qualifiers
Note: The number under each country code is the average of the compulsory and optional scores. That number carried over into the all-around finals and was added to the gymnast's scores from the all-around finals.
Gymnast
CTRY
VT
UB
BB
FX
Total
1T. Tourischeva
Ludmila
URS
9.60
9.60
9.05
9.80
38.05
38.425
9.70
9.65
9.75
9.70
38.80
1T. Janz
Karin
GDR
9.45
9.85
9.35
9.50
38.15
38.425
9.80
9.70
9.50
9.70
38.70
3. Korbut
Olga
URS
9.45
9.60
9.25
9.60
37.90
38.350
9.60
9.70
9.75
9.75
38.80
4. Lazakovich
Tamara
URS
9.60
9.55
9.40
9.70
38.25
38.200
9.30
9.50
9.75
9.60
38.15
5. Zuchold
Erika
GDR
9.45
9.70
9.25
9.40
37.80
38.000
9.70
9.60
9.35
9.55
38.20
6. Burda
Lyubov
URS
9.50
9.45
9.00
9.50
37.45
37.675
9.55
9.30
9.55
9.50
37.90
7. Hellmann
Angelika
GDR
9.35
9.60
9.15
9.40
37.50
37.650
9.50
9.50
9.20
9.60
37.80
8. Saadi
Elvira
URS
9.40
9.20
9.20
9.40
37.20
37.325
9.40
9.40
9.25
9.40
37.45
9. Békési
Ilona
HUN
8.90
9.60
9.15
9.10
36.75
37.200
9.40
9.55
9.30
9.40
37.65
10. Rigby
Cathy
USA
9.10
9.20
9.25
9.30
36.85
37.125
9.15
9.40
9.35
9.50
37.40
11. Némethová
Mariana
TCH
9.30
9.25
9.10
9.10
36.75
37.000
9.40
9.40
9.10
9.35
37.25
12. Császár
Monika
HUN
9.05
9.15
9.25
9.15
36.60
36.925
9.30
9.25
9.40
9.30
37.25
13. Abel
Irene
GDR
9.30
9.20
8.90
9.15
36.55
36.875
9.55
9.40
9.00
9.25
37.20
14. Schmitt
Christine
GDR
9.30
9.30
8.90
9.20
36.70
36.850
9.35
9.30
9.05
9.30
37.00
15. Medveczky
Krisztina
HUN
8.85
9.40
9.15
9.00
36.40
36.800
9.20
9.35
9.35
9.30
37.20
16. Kéry
Anikó
HUN
9.00
9.40
8.84
8.95
36.19
36.695
9.40
9.30
8.95
9.55
37.20
17. Schmeißer
Richarda
GDR
9.25
9.55
9.15
9.05
37.00
36.600
8.45
9.45
8.85
9.45
36.20
18T. Ceampelea
Elena
ROM
8.85
9.00
8.85
9.40
36.10
36.525
9.25
9.15
9.05
9.50
36.95
18T. Chace
Kimberly
USA
9.10
9.10
9.25
9.10
36.55
36.525
9.10
9.20
8.95
9.25
36.50
20T. Koshel
Antonina
URS
9.20
9.50
8.95
9.35
37.00
36.500
9.40
8.50
9.40
8.70
36.00
20T. Kelemen
Márta
HUN
8.90
9.45
9.00
8.85
36.20
36.500
9.35
9.40
9.10
8.95
36.80
22. van Gerwen
Ans
NED
8.85
9.20
8.70
8.95
35.70
36.475
9.30
9.45
9.20
9.30
37.25
23. Dorňáková
Zdena
TCH
9.30
9.30
8.85
9.15
36.60
36.450
9.25
9.35
8.30
9.40
36.30
24. Brázdová
Soňa
TCH
9.20
9.35
8.90
9.00
36.45
36.400
9.15
9.40
8.70
9.10
36.35
25. Pierce
Roxanne
USA
8.90
9.20
9.00
8.95
36.05
36.275
9.25
9.30
9.00
8.95
36.50
26T. Matsuhisa
Miyuki
JPN
8.80
9.25
9.10
8.95
36.10
36.250
9.20
9.40
8.60
9.20
36.40
26T. Moore
Joan
USA
8.90
9.00
9.20
9.15
36.25
36.250
9.10
9.10
8.65
9.40
36.25
26T. Bujnáčková
Zdenka
TCH
9.00
9.15
9.00
8.90
36.05
36.250
9.20
9.15
9.00
9.10
36.45
26T. Metheny
Linda
USA
8.95
9.25
8.40
9.15
35.75
36.250
9.20
9.10
9.10
9.35
36.75
30. Goreac
Alina
ROM
8.90
9.10
8.95
9.05
36.00
36.125
9.35
9.30
8.30
9.30
36.25
31T. Schorn
Uta
GER
8.90
9.15
8.90
8.95
35.90
36.050
9.40
9.30
8.45
9.05
36.20
31T. Grigoraș
Anca
ROM
8.55
9.00
8.85
9.25
35.65
36.050
9.20
9.05
8.95
9.25
36.45
33. Lišková
Hana
TCH
9.15
9.20
8.95
8.95
36.25
36.025
9.15
9.25
8.40
9.00
35.80
34. Hasegawa
Takako
JPN
8.80
9.25
8.90
8.95
35.90
36.000
9.20
9.25
8.55
9.10
36.10
35T. Hirashima
Eiko
JPN
8.80
9.30
8.95
8.60
35.65
35.975
9.15
9.20
8.90
9.05
36.30
35T. Fritschi
Käthi
SUI
8.85
8.90
8.85
8.80
35.40
35.975
9.30
9.30
8.90
9.05
36.55
Note: Oltersdorf (FRG), Thies (USA), and Váchová (TCH) also had a 35.975 average in the all-around. However, their optional scores were lower: Oltersdorf — 35.80; Thies — 36.20; Váchová — 36.20.
---
More on 1972